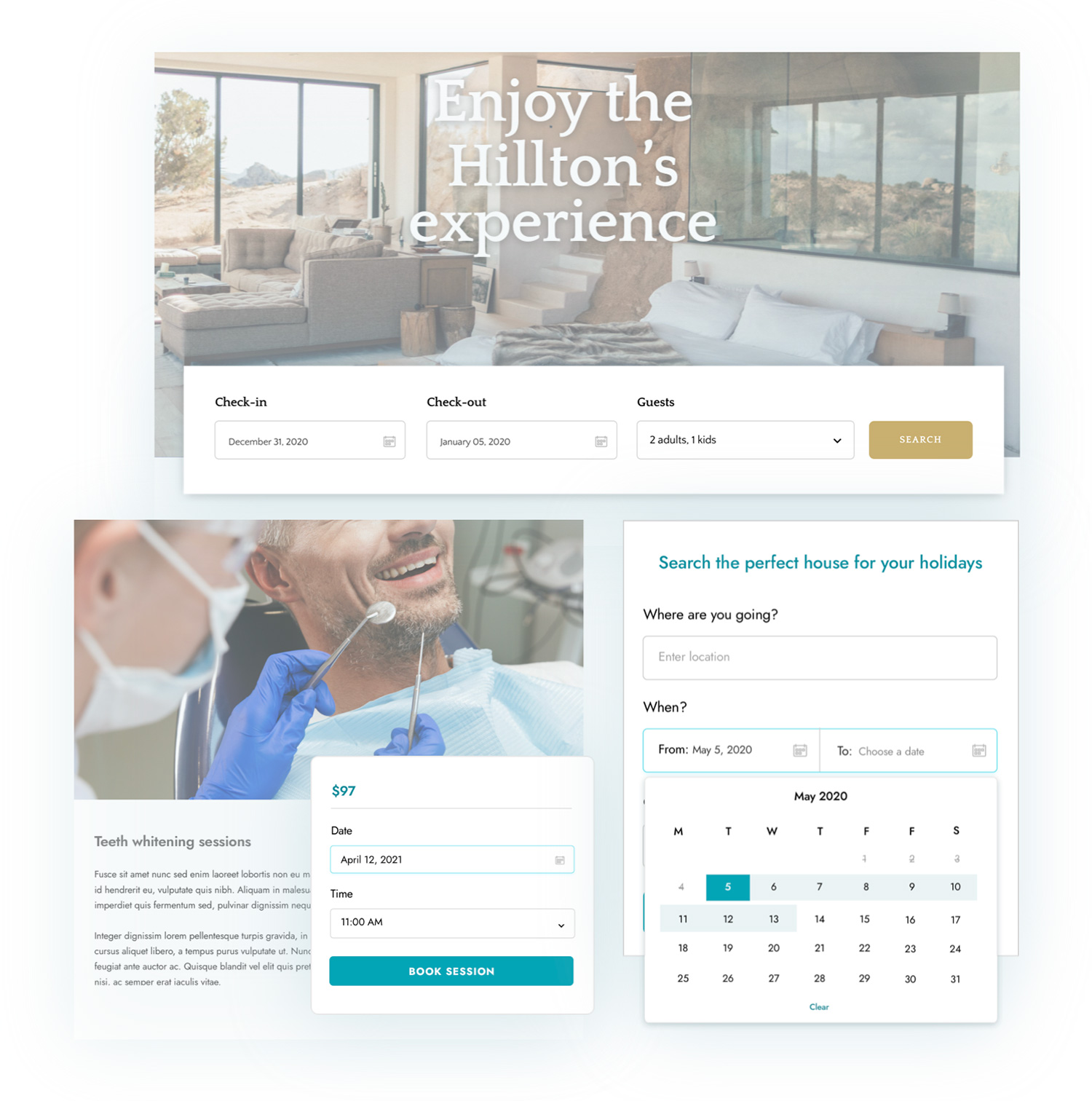 The most complete tool available online to build a Booking, Renting or Appointment website based on WooCommerce
Do you need to see your doctor or book an appointment at the dentist? Even the usual Friday dinner out at your favorite Italian restaurant is possible only if you remember to book a table in advance. And what about your personal trainer, hairdresser, Spanish lessons, plumber, the house by the seaside you need to book for the weekend…? Our everyday life is full of appointments and services to book.
Let's admit that our lives would be much easier if all these businesses used an online booking system. This would prevent us from having endless calls and dates written on pieces of paper we undoubtedly lose.
For both business and customers, the best way to manage bookings, rentals, reservations and appointments is through a WooCommerce site enhanced with a complete booking solution, developed to make everything smoother and easier.
YITH Booking for WooCommerce integrates an e-commerce site built using WooCommerce with a powerful booking system which can be used by both customers and vendors: this is ideal for all of those professionals who cannot base their business on sales alone: real estate and travel agencies, hairdressers, doctors, business consultants, etc.
Create unlimited bookable products and services
Would you like to let your customers book a single service (like, for example, an appointment at the dentist) or create a portal with one hundred apartments for rent? YITH Booking & Appointments for WooCommerce is the perfect solution for any kind of product or service offered as a booking, rental, or hire. Add an image to identify the products, a description, and, if you want, the address or location to help your users find you more easily by taking advantage of Google API.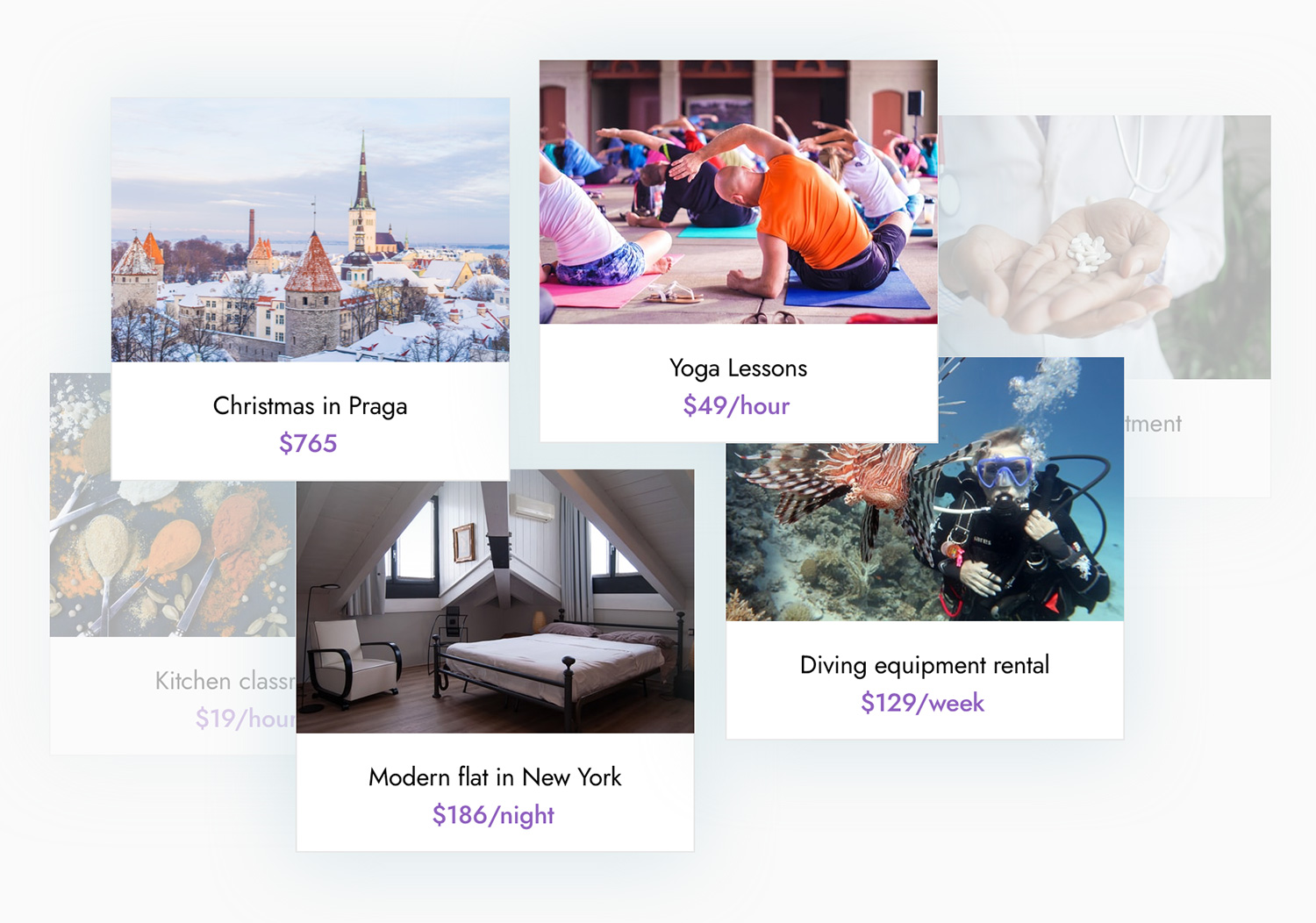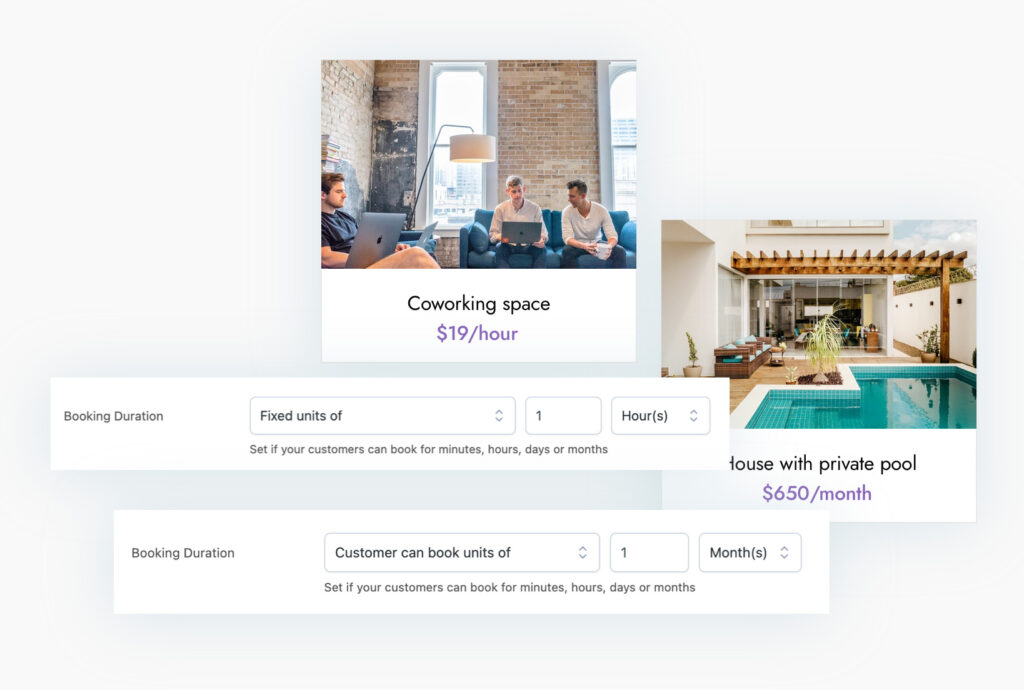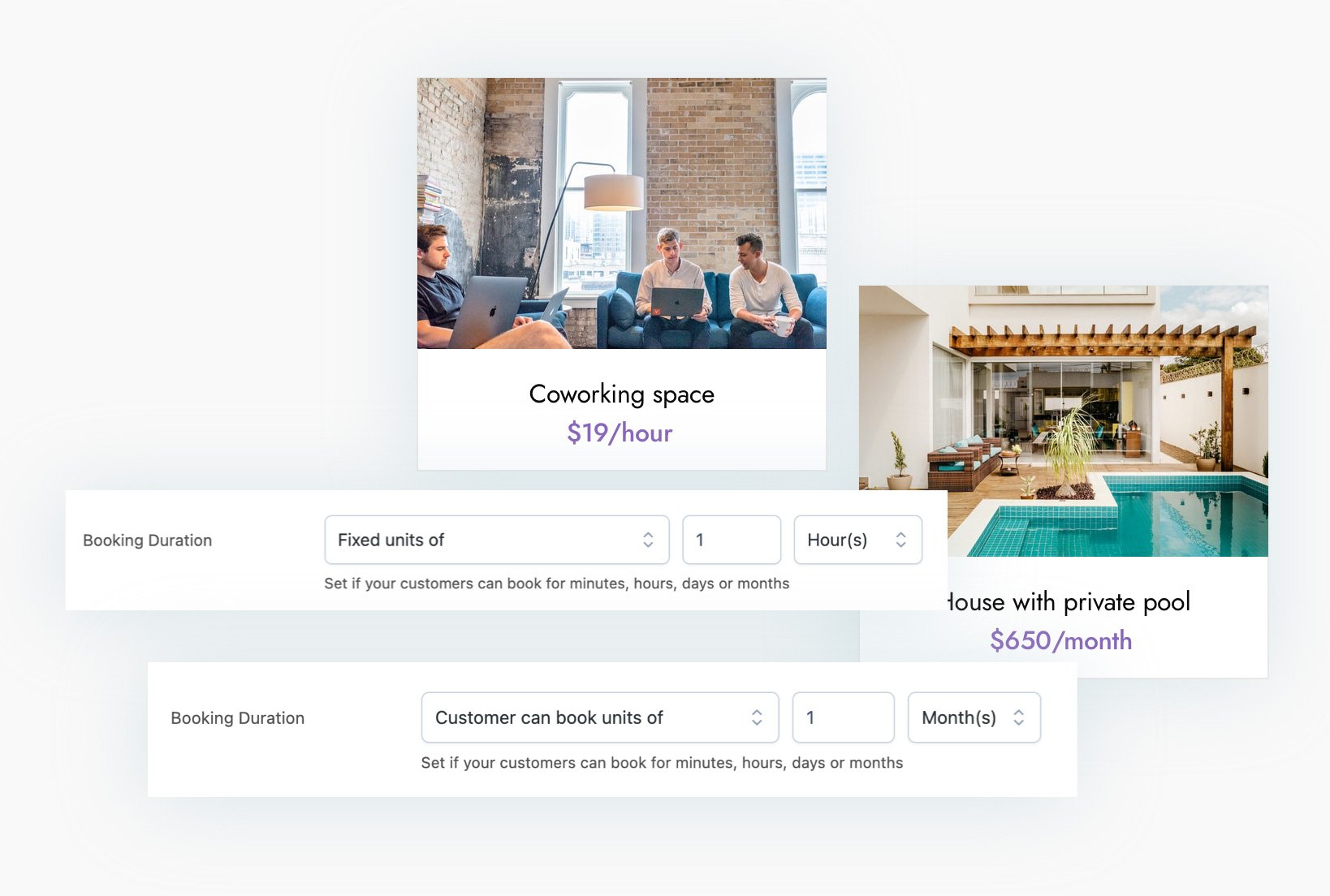 Set the booking duration and if users can book months, days, hours, or minutes
Booking needs change based on the service or product; you can choose to accept only weekly or monthly bookings for apartments and, at the same time, hourly bookings for a counseling service, a therapist, or your personal training session. When creating a booking product, you can define the type of booking and customize the duration, price, maximum number of bookings accepted, and so on. You can accept bookings automatically or set them with the "pending" status and approve them manually. Additionally, you can decide whether to let the user cancel the booking or not.
Set the price for the product or service offered as booking
For each Booking product, you can choose the price that users will have to pay per hour/day/month. You can set a fixed price (e.g. €100 for an apartment) or multiply the cost per person (e.g. €100 for each person staying in the apartment). You can offer last-minute discounts and add unlimited custom prices (cleaning fee, tax, commissions, additional services, etc.).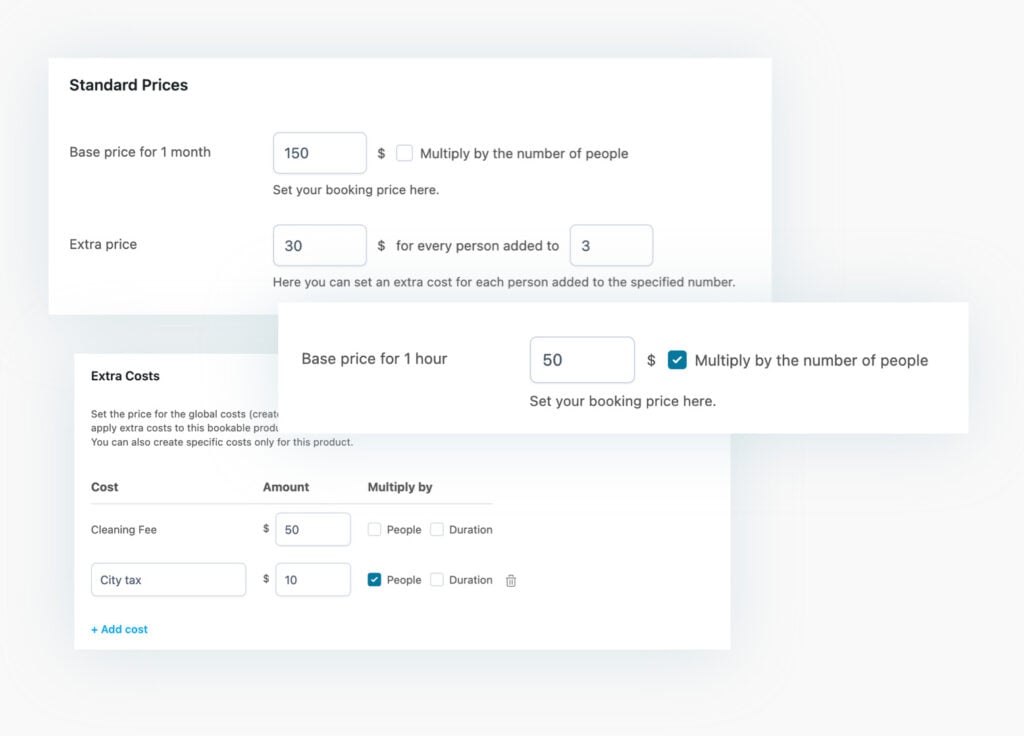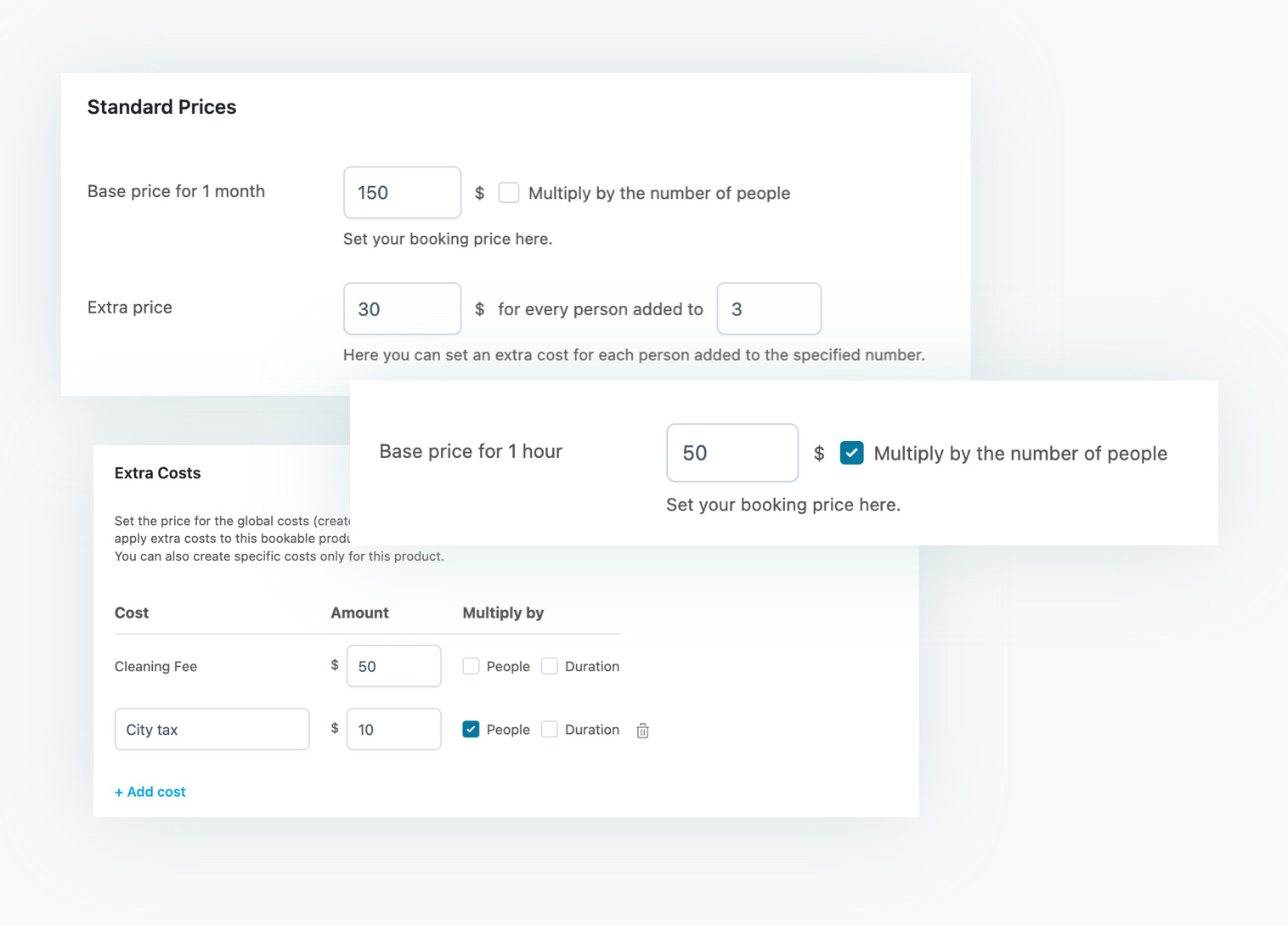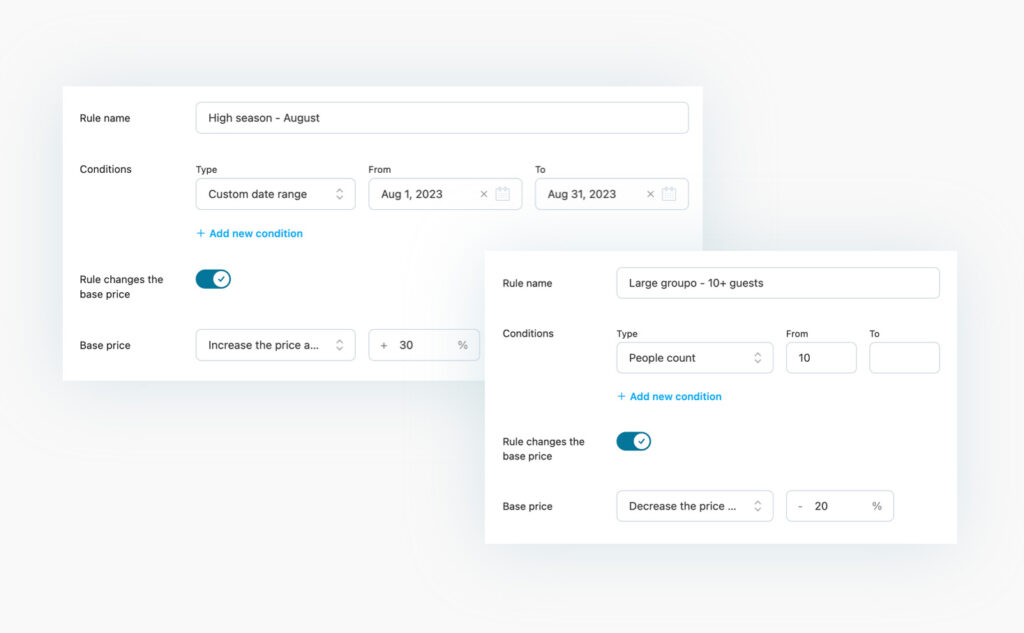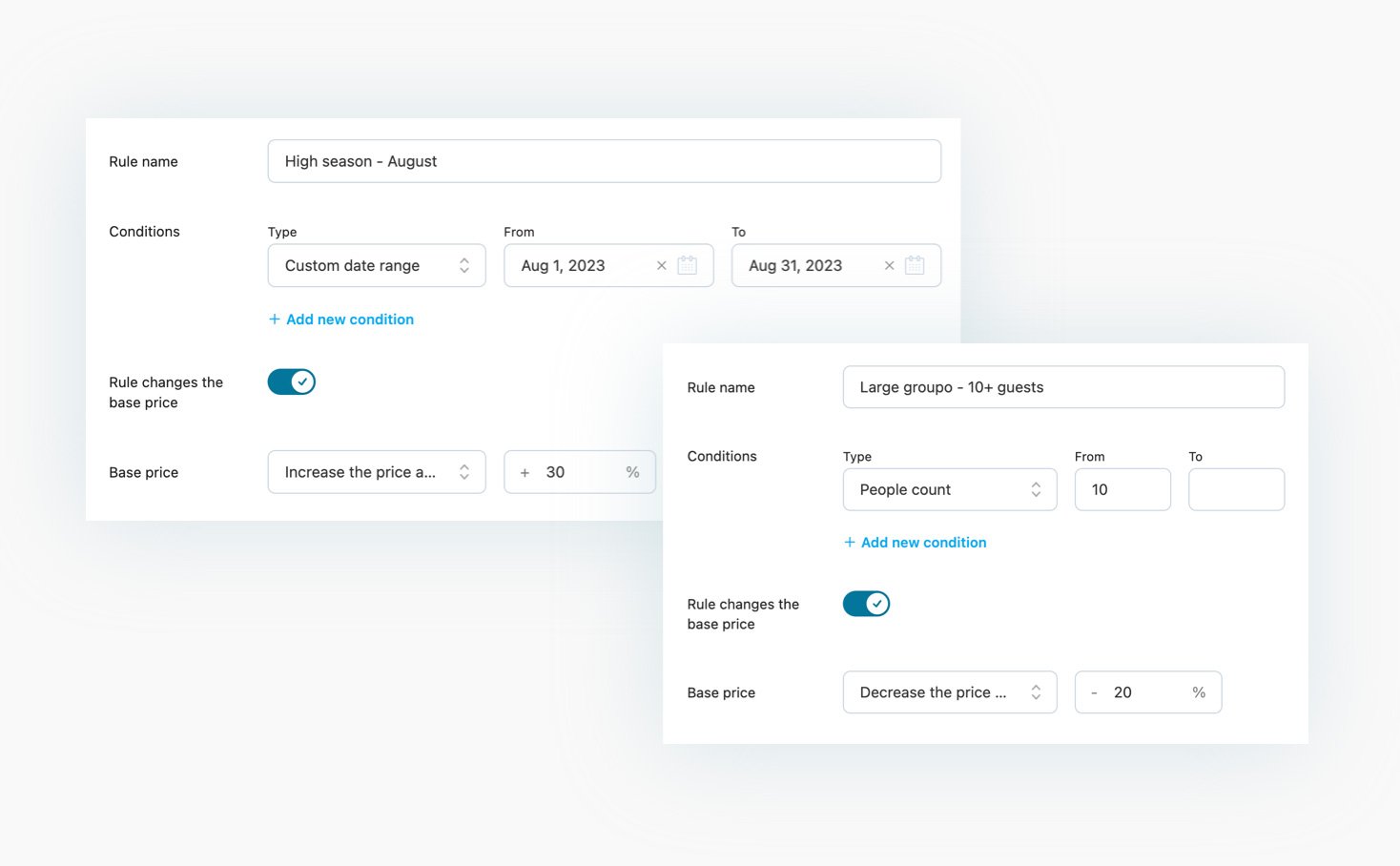 Create advanced price rules to manage high and low seasons, discounts, etc.
Through the advanced price rules, you can override, increase or decrease the default prices of your booking products.
You can, for example, increase prices in August and December (these can be high seasons for your business) and decrease them during the months with less traffic to encourage users to book products or services. You can offer a discount on bookings with a duration of over 2 weeks or to groups of people. The plugin offers unlimited possibilities.
Set a default availability and create advanced rules to manage closures, sickness, scheduled holidays, etc.
You can configure a booking product without any limitations or enable/disable specific days or times. Do you give cooking lessons only on Tuesday and Thursday from 5 pm to 8 pm and do you want your users to be able to book only these days and time slots? You can do it! Do you want to make the sea view apartment unavailable in August because you want to use it yourself? Or not accept bookings and appointments for two weeks so you can go on vacation? With availability rules, you can manage any scenario.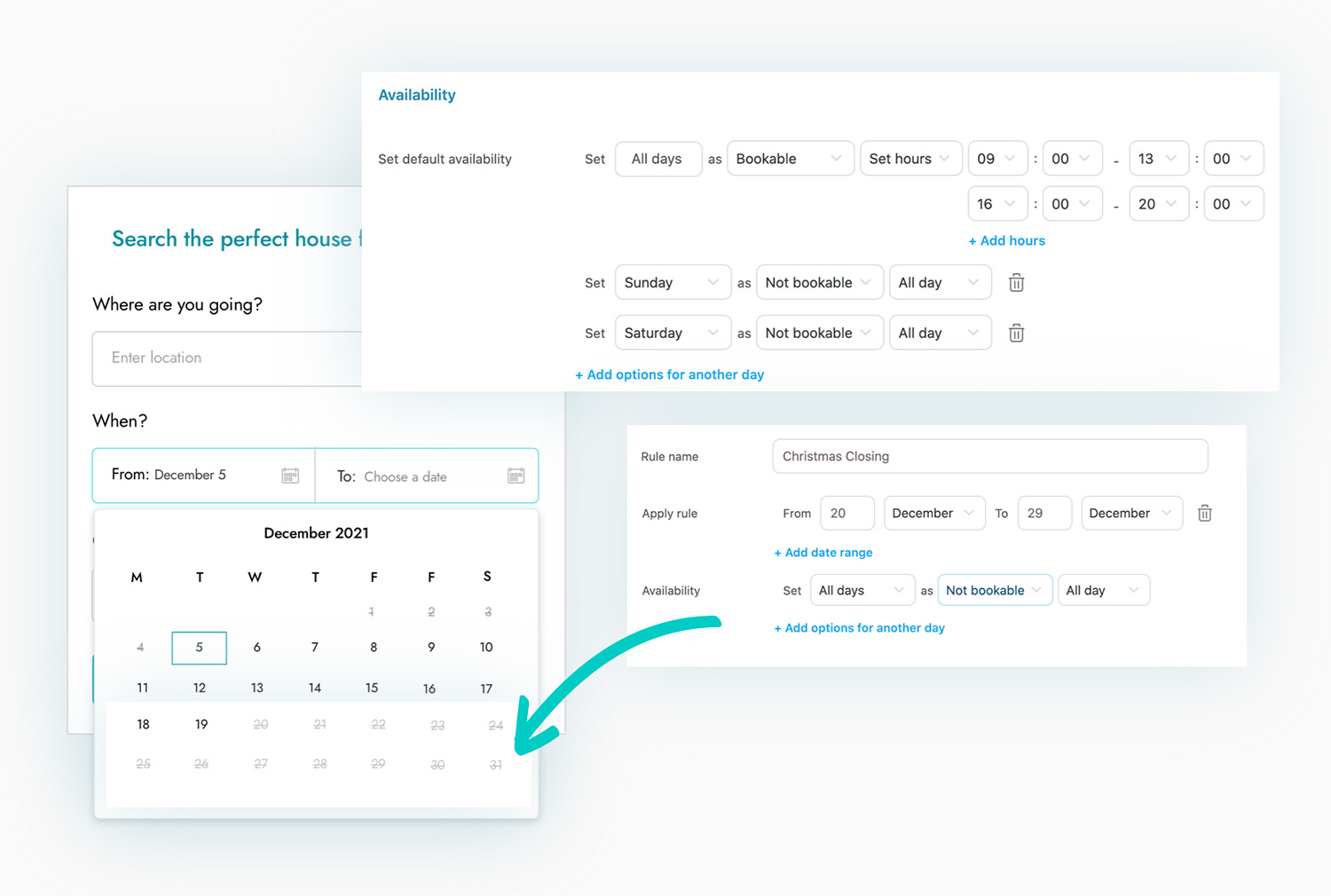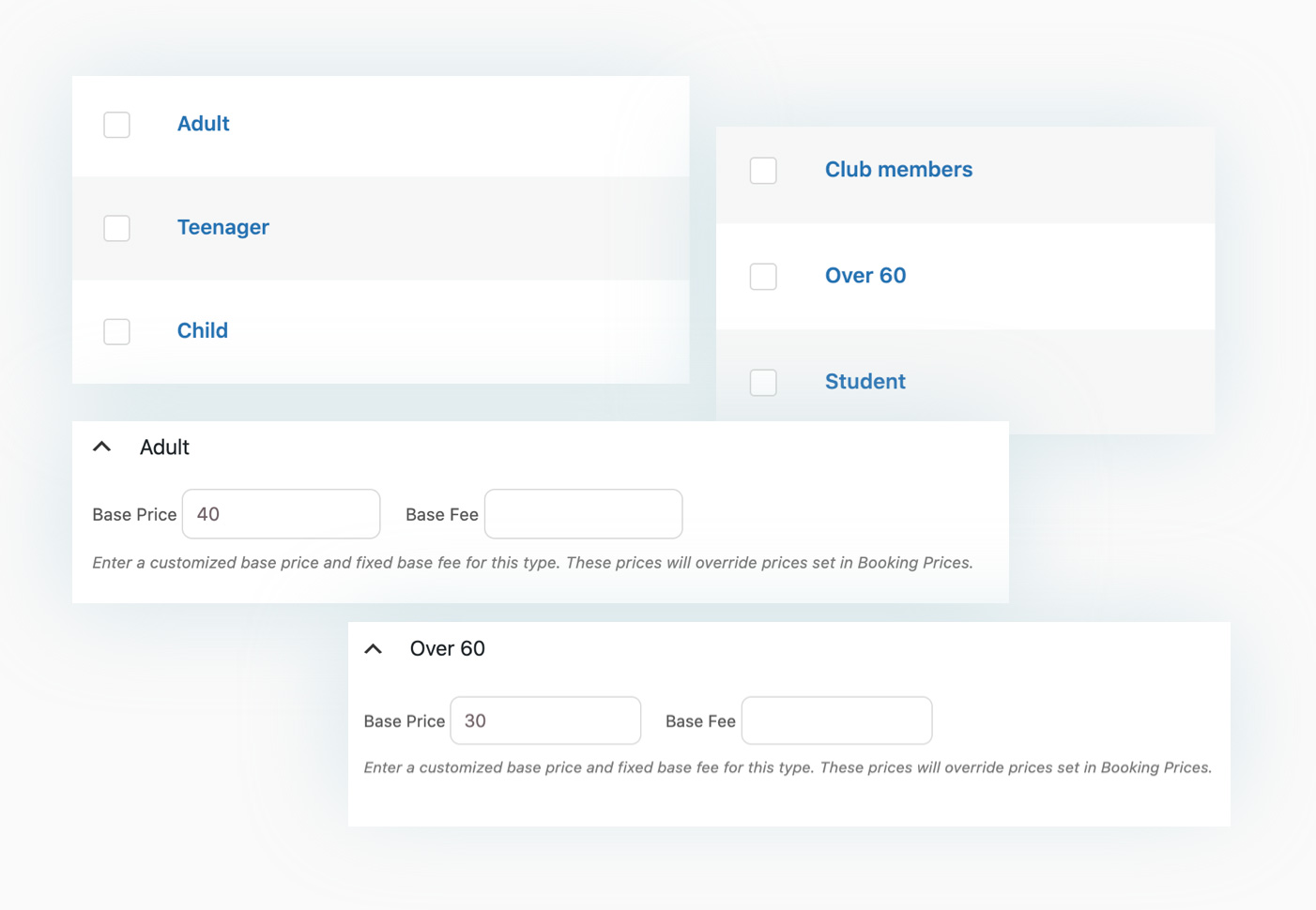 Create unlimited "person" types to set different prices based on age, role, disability, etc.
Men, women, children, adults, over-60 are just a few categories that you will be able to create. But you can also create a category to define students, people with a specific disability, veterans, loyalty card owners, etc. Add unlimited labels to categorize users booking on your site and apply custom prices.
New
Bonus
Create free or paid "resources" for your bookable products
Do you want to book a meeting room and provide your clients with extra resources like a projector, monitors, flipcharts? Or do you want your users to be able to choose the doctor, the legal advisor or the hair stylist they prefer when they book a service on your website? The new "Resources" module is so versatile and flexible that you can manage almost any possible scenario. The only limit is your imagination.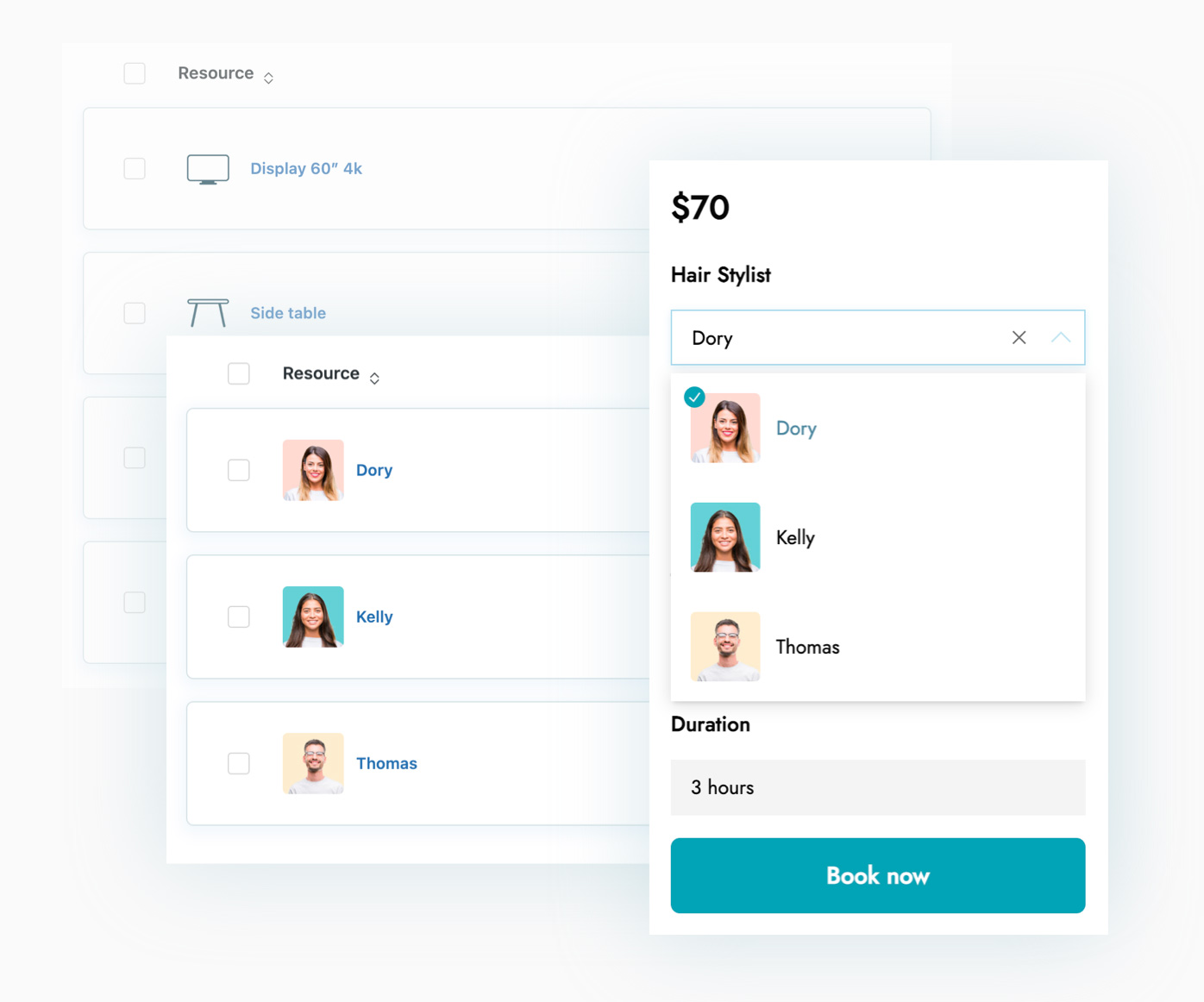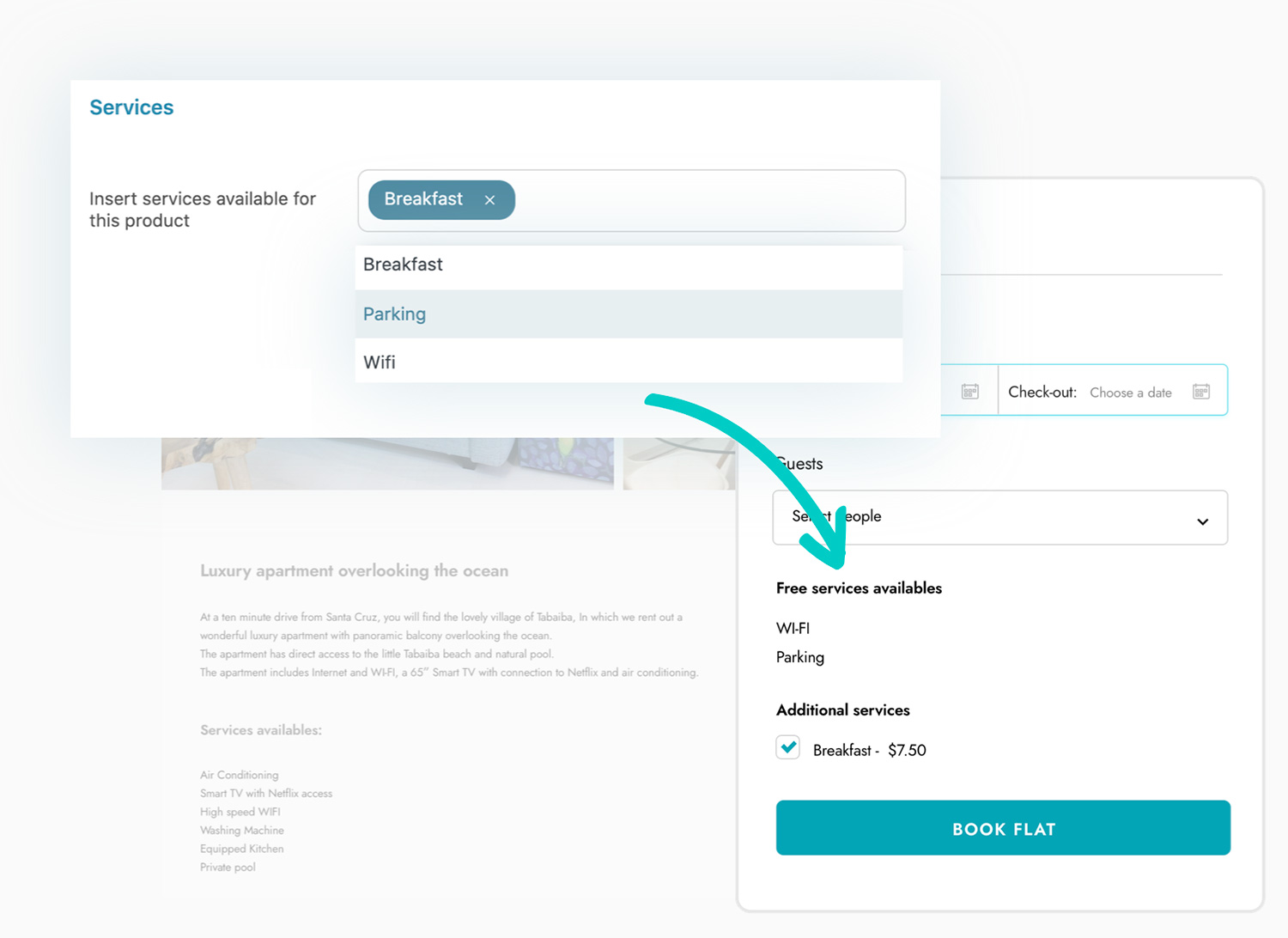 Create unlimited services, free or with a fee, to assign to your booking products
If you have apartments for rent and want to offer free breakfast or a paid cleaning service and extra linen, or if you want to inform customers about the availability of a swimming pool or free parking and offer them the possibility to filter and find apartments with these services only, with just a few clicks, you can create unlimited services, free or with a fee, optional or required, and assign them to book products available on your site.
Create unlimited costs, fixed or multiplied by person, to apply to bookings
Do you want to add a 5$ sign up fee for each person staying in your apartment or a fixed cost of 25$ for cleaning? Through the "Costs" panel, you can create custom costs that will be added to the booking price. You can create ad hoc costs for specific products or global costs to assign to all your booking products.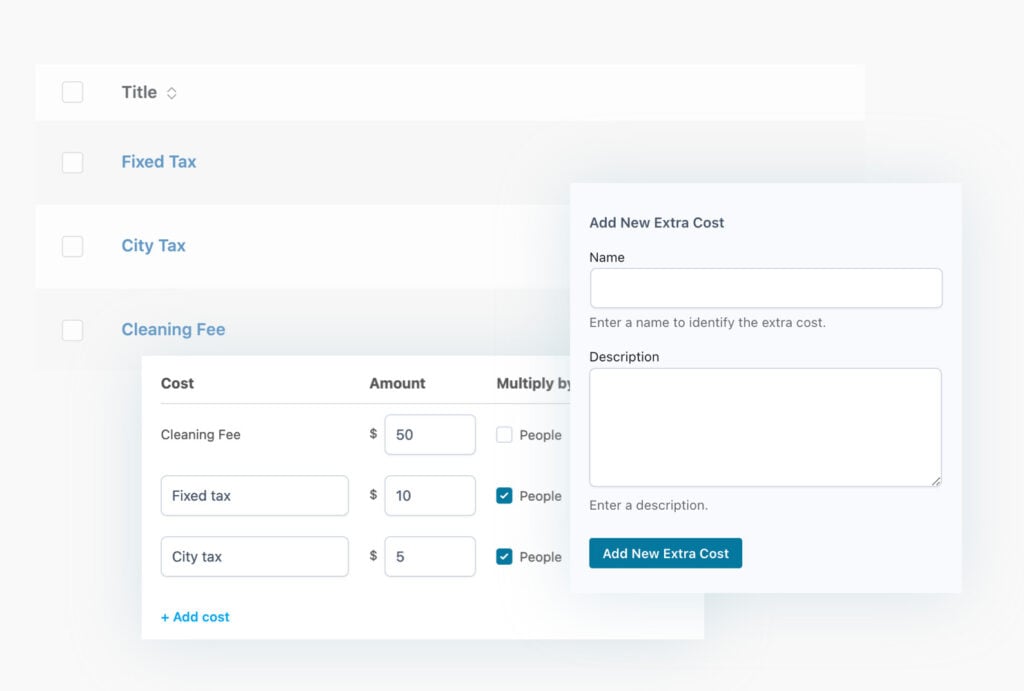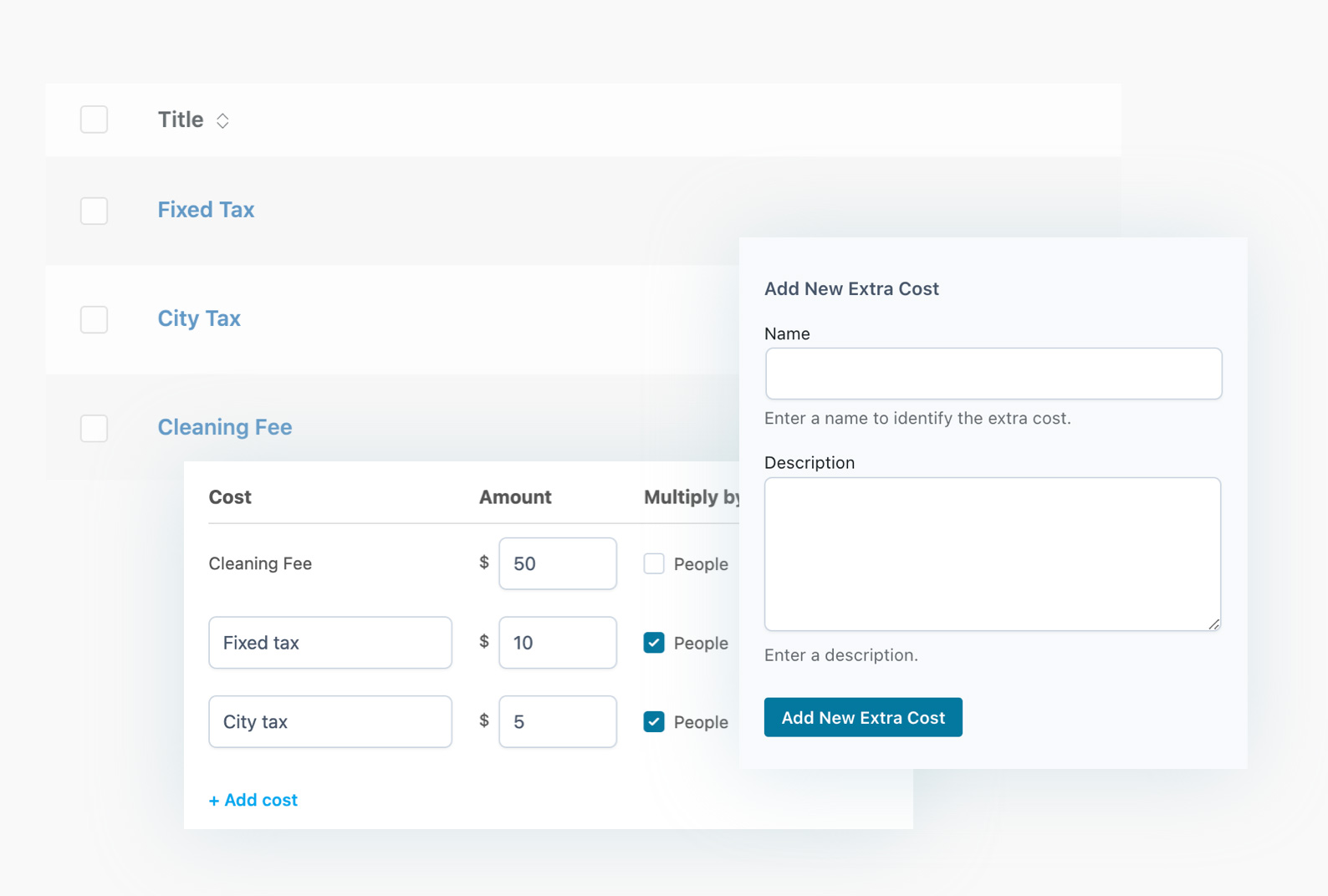 Create custom search forms and use shortcodes to add them everywhere you want on your site
Let your users search by location (e.g. they can search for apartments available in Paris or Lisbon only) or by services (e.g. search only apartments with a swimming pool or air conditioning). Show or hide "dates" and "person" fields, customize texts of search parameters and copy and paste the shortcode wherever you want on the site; in the header, just like in our demos, in sidebars, within a page, etc.
Monitor all bookings through a dedicated panel
Do you have many bookings and don't want to lose your mind? The plugin includes a handy table where all bookings are added automatically. You can filter them by date and choose to view them all or only the next arrivals, bookings already paid, or completed, etc.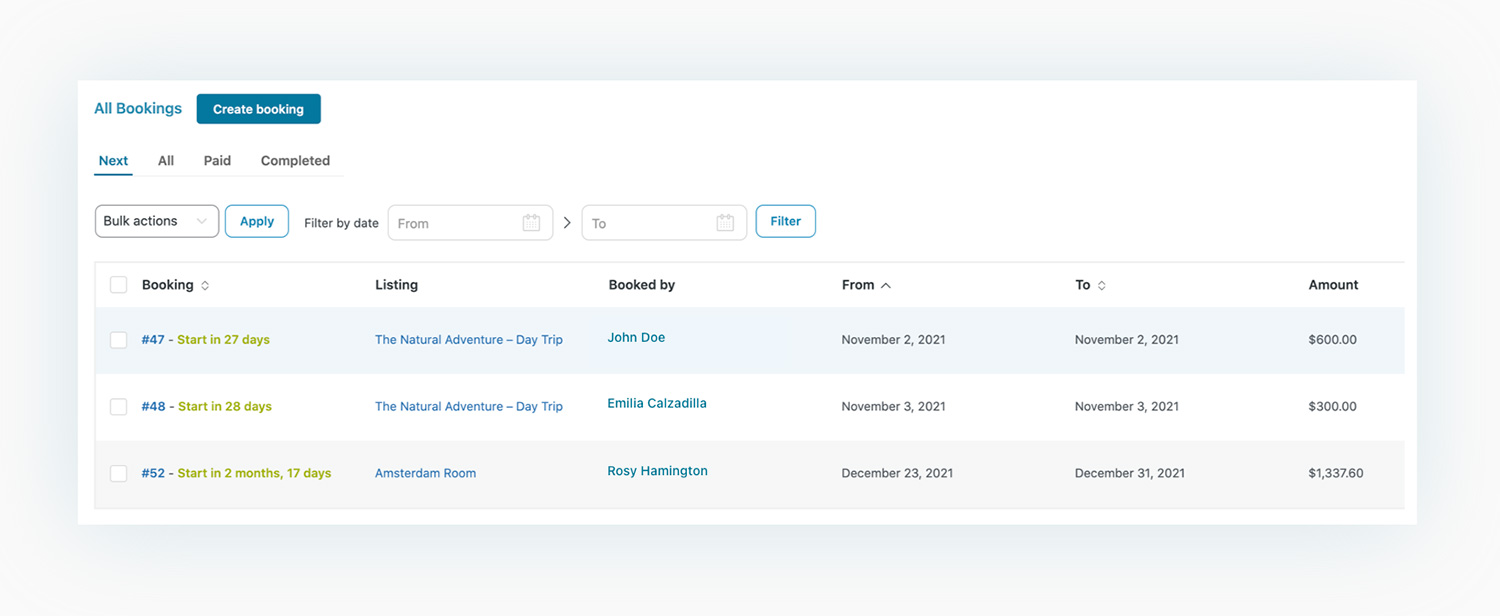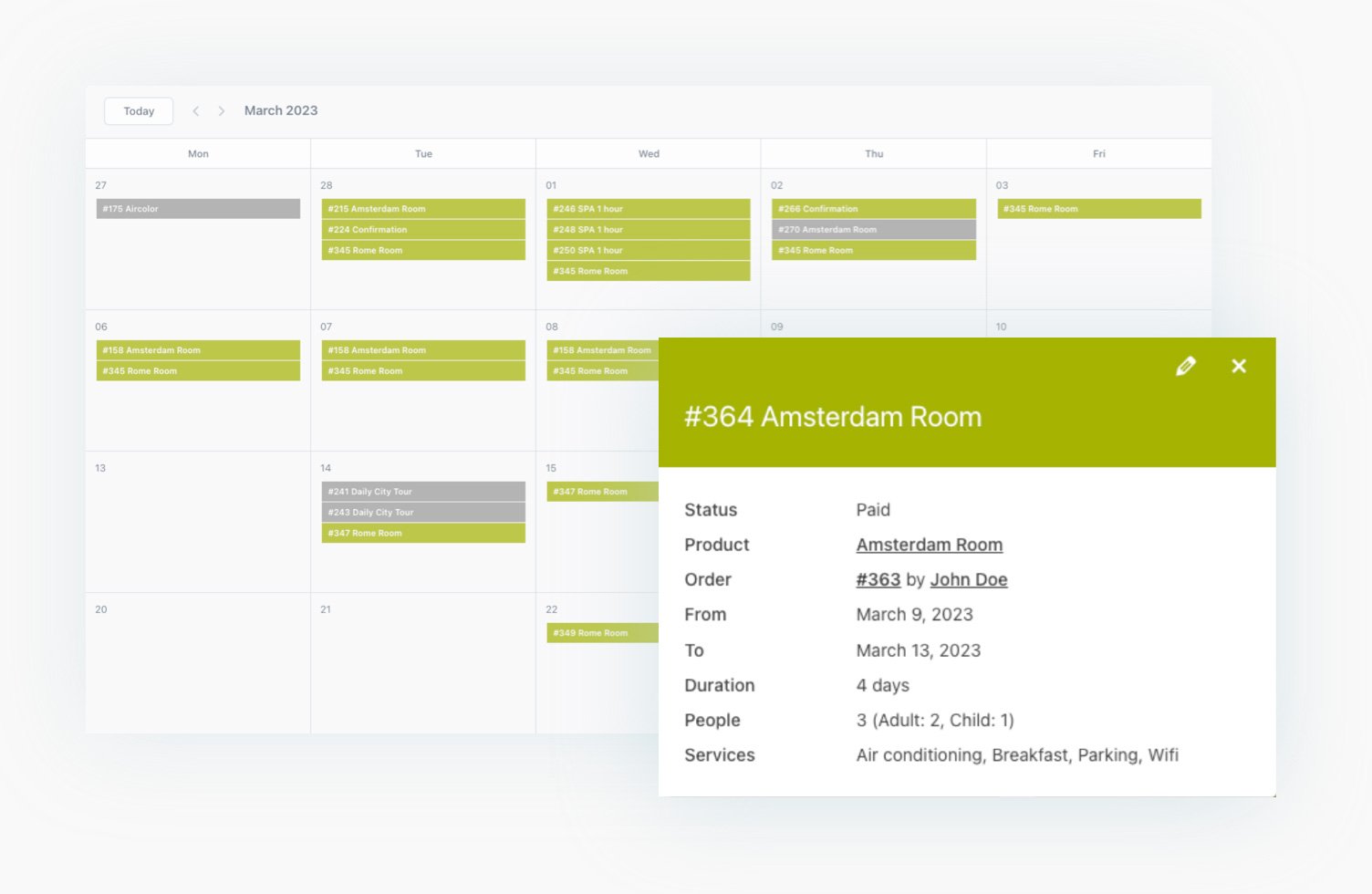 Monitor bookings in the built-in calendar and auto-sync it with services like Booking, Airbnb and Homeaway
The plugin includes a calendar where you can monitor all the bookings. If you rent apartments or houses on other platforms like Booking, Airbnb, and Homeaway, you can enable the auto-sync to avoid mistakes and overbookings.
Integrate Google Calendar to view and synchronize all your bookings
Do you manage everything with Google Calendar and would like bookings to be automatically added to your calendar? By enabling the integration, all the bookings placed on your site will show in your Google account with just a few clicks.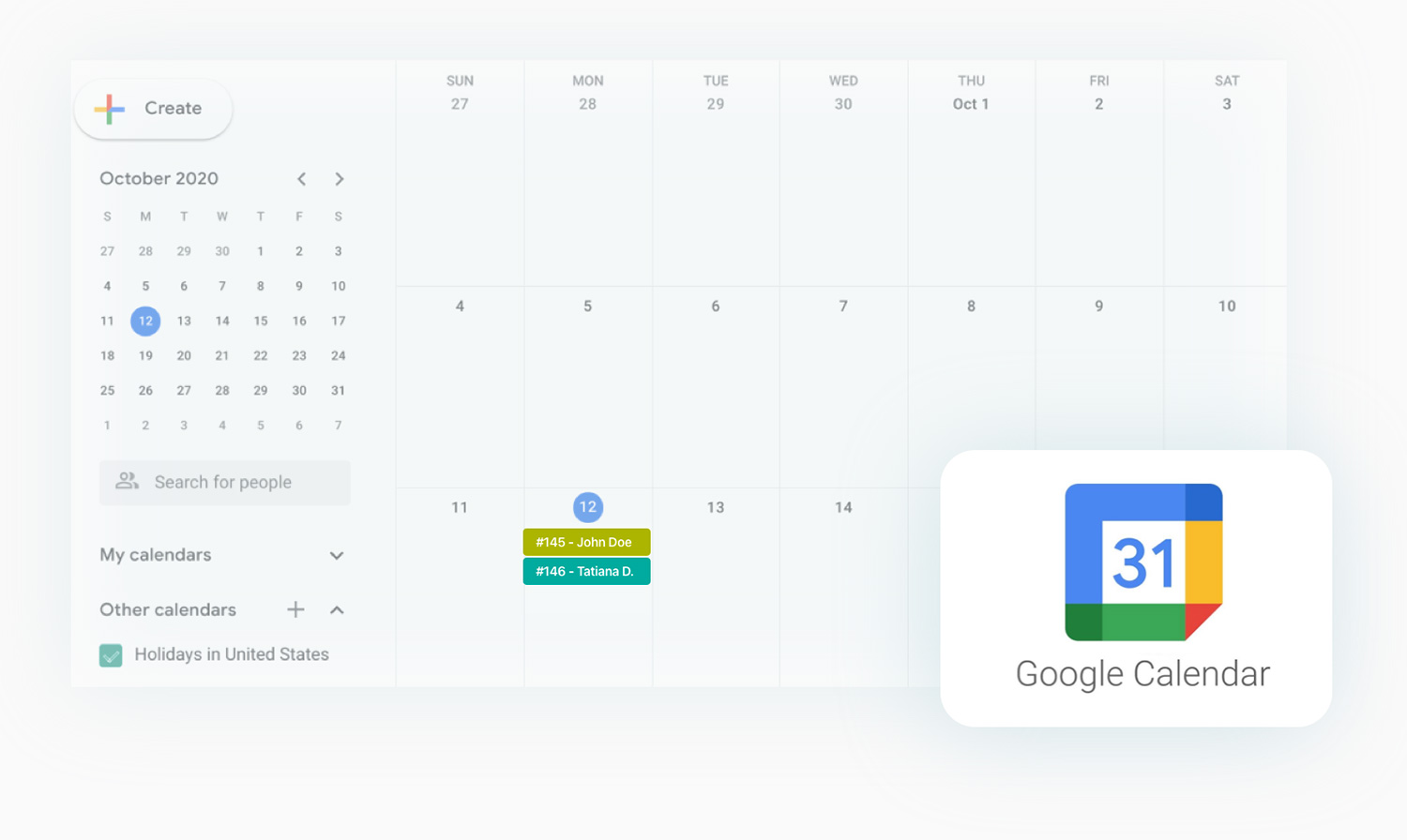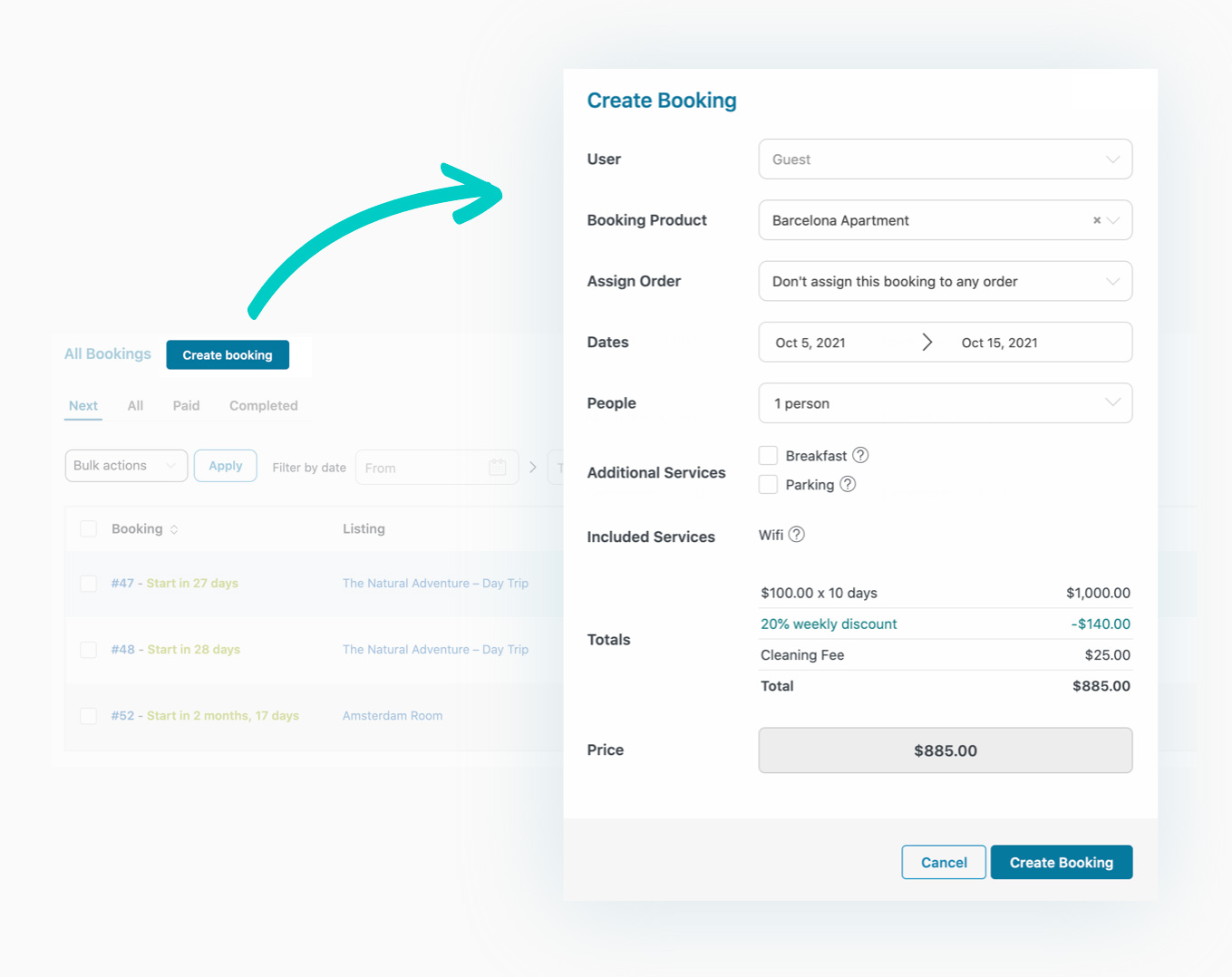 Manually create bookings and assign them to your users
If you need it you can manually create a booking, choosing the booking product, the dates and assigning the booking to an existing user. You can also create a related order or associate the booking to a specific existing order.
Advanced customization options
Replace the "add to cart" button with a "Book now" button and customize all labels. After the click on the "book now" button you can also redirect users directly to checkout (so they will not be redirected to the default cart page). Customize every detail of the search form and of the booking form on the product page to make your site perfect in every detail.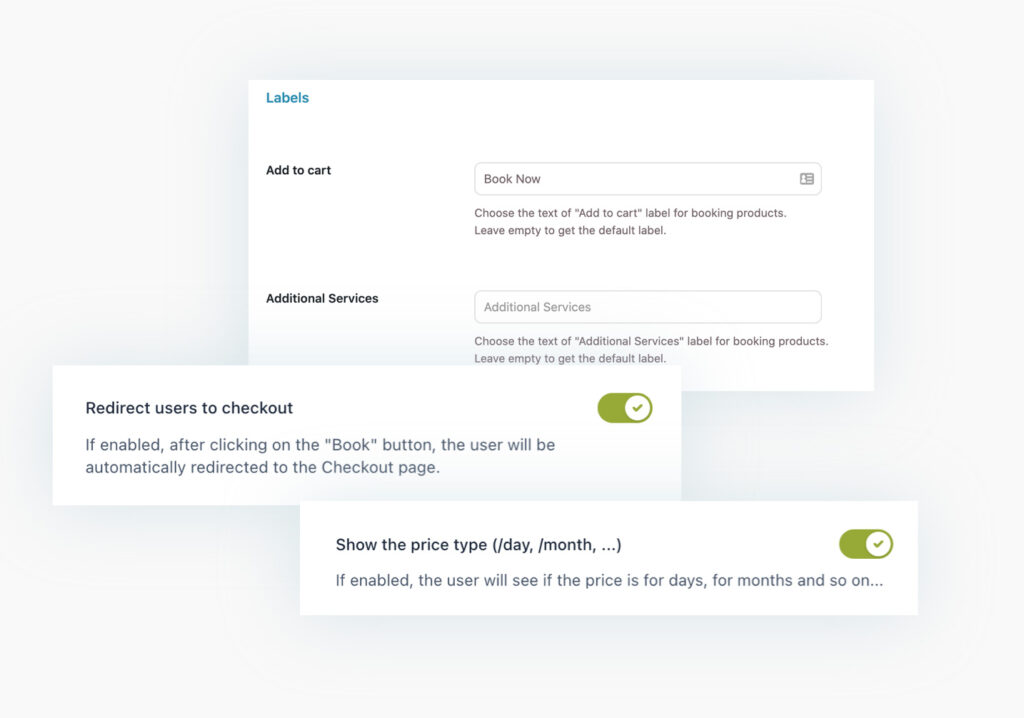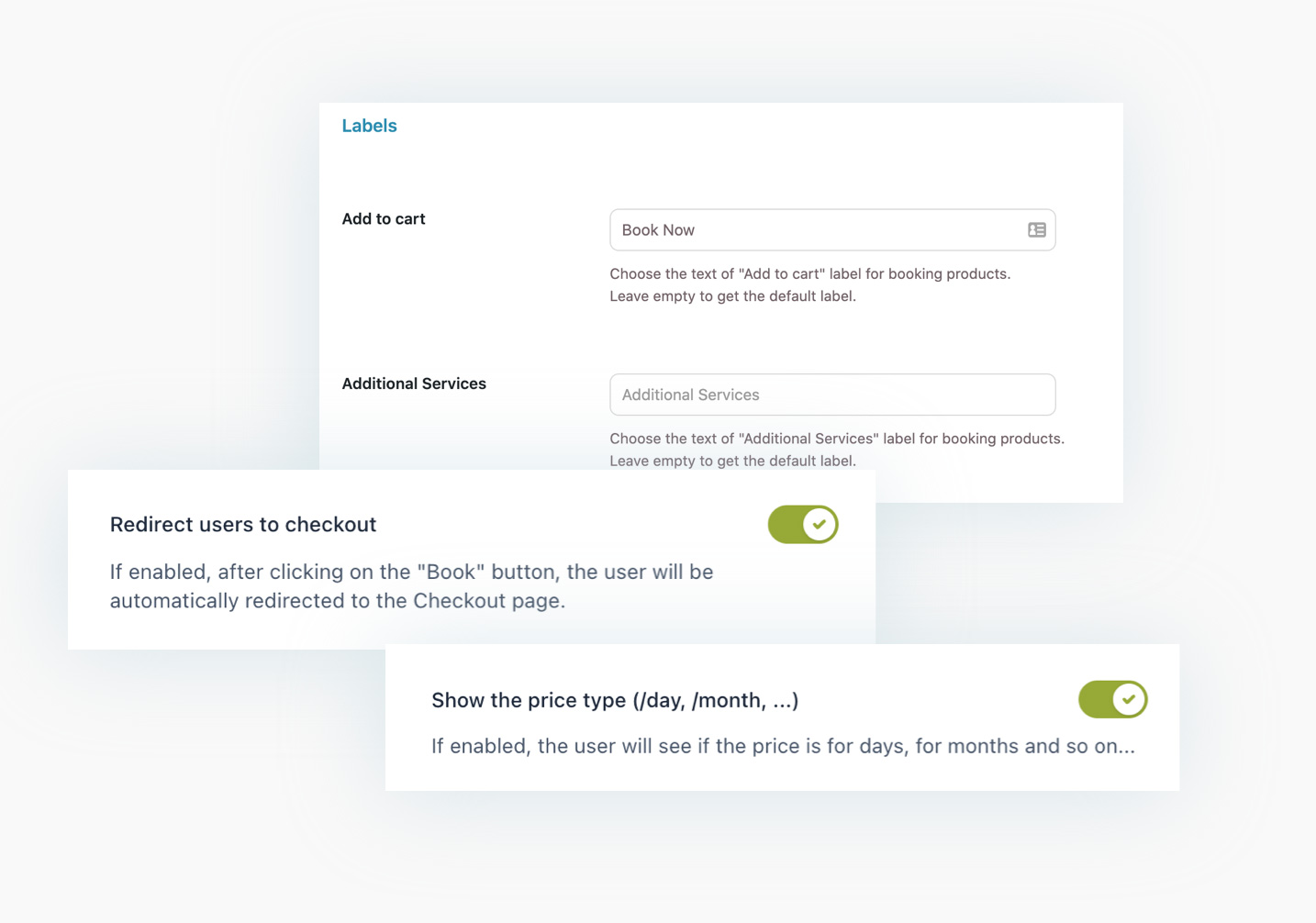 A wide range of notifications for both admin and user
Stay up-to-date about everything occurring in your shop; the plugin sends automatic notifications both to the admin and customer every time a booking is created, edited, or canceled, whenever the booking status changes and the payment is confirmed. You will also be able to send custom emails before the booking starts and after it ends, deciding in both cases when to send them (for example, an email will be sent one week before the booking starts and the other email will be sent three days after the booking is completed).
Hot
Ask users to pay a deposit upfront for their bookings using our YITH WooCommerce Deposits / Down Payments plugin
Thanks to the new integration with our YITH WooCommerce Deposits / Down Payments plugin, you will be able to ask your customers to pay a deposit upfront at the time of booking (e.g. 50%) and request the balance payment of the booking at a later time (for example, one week before the booking starts).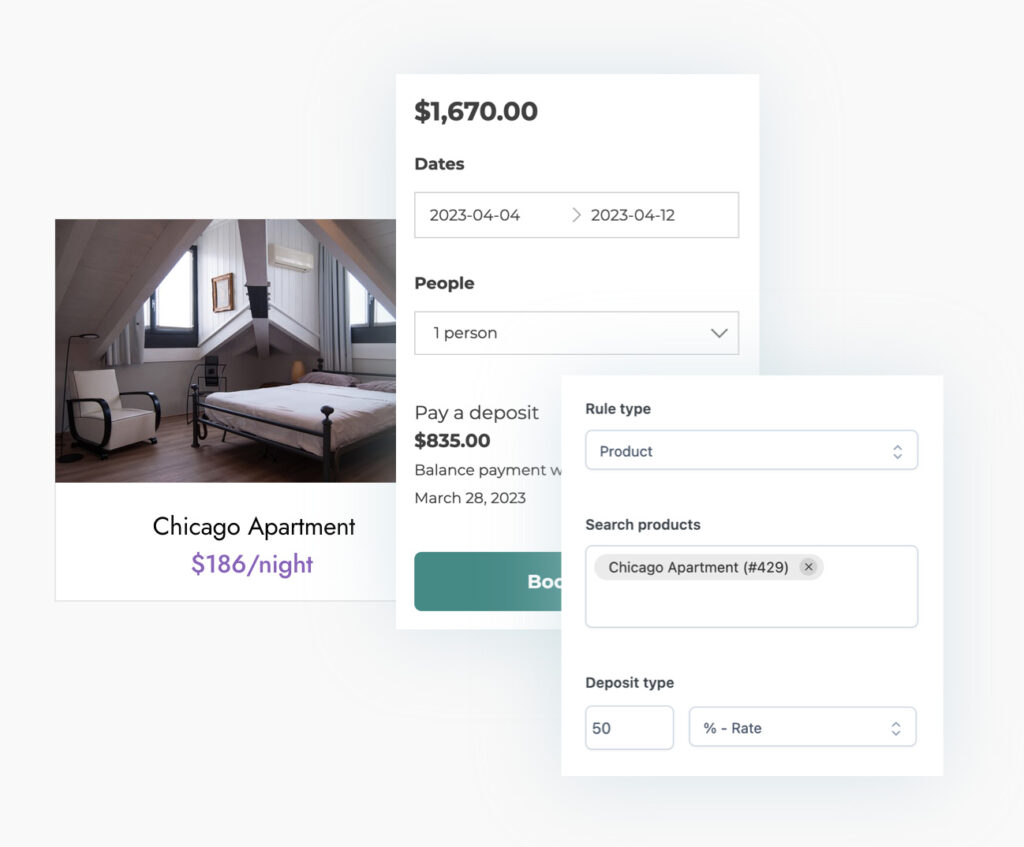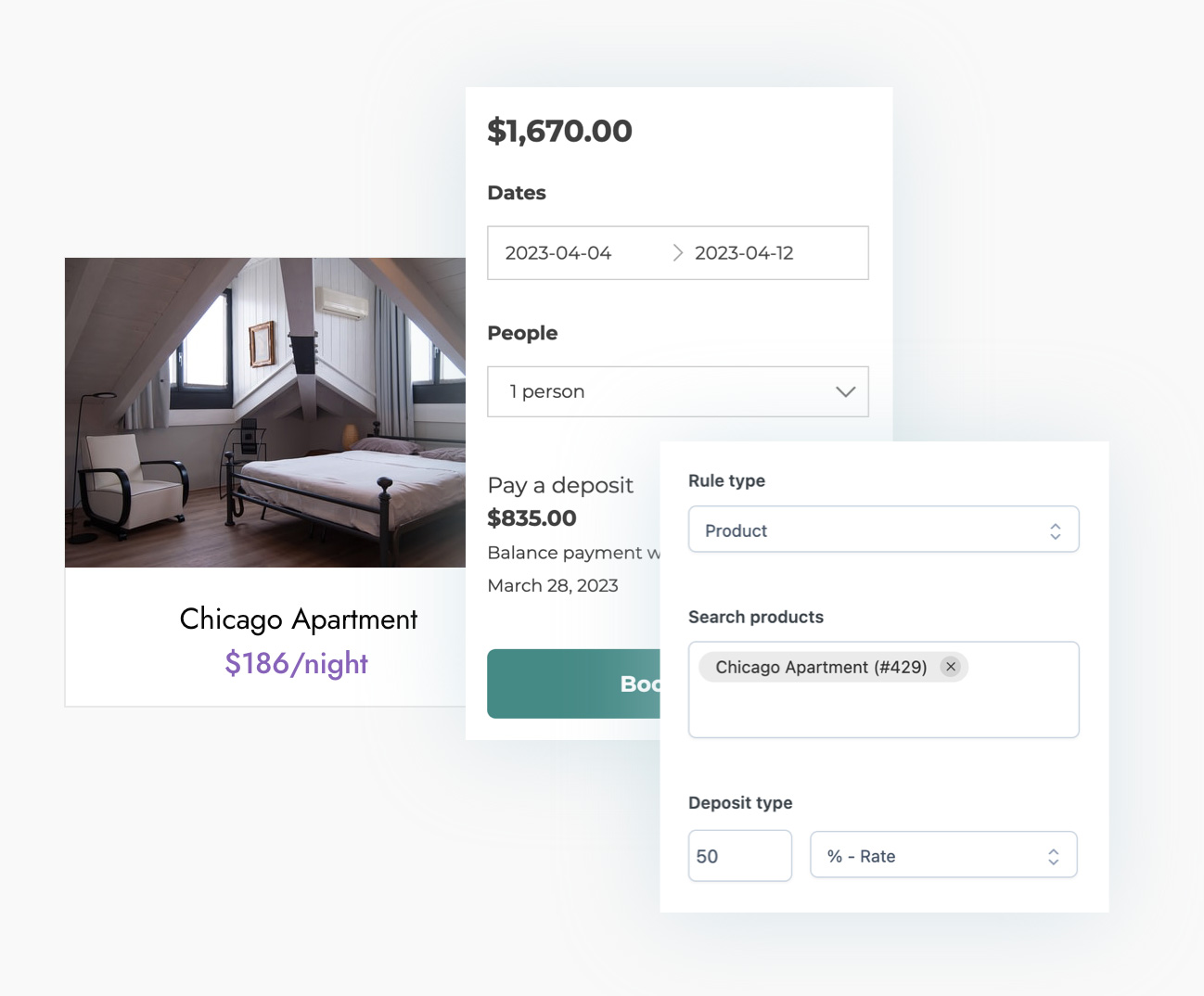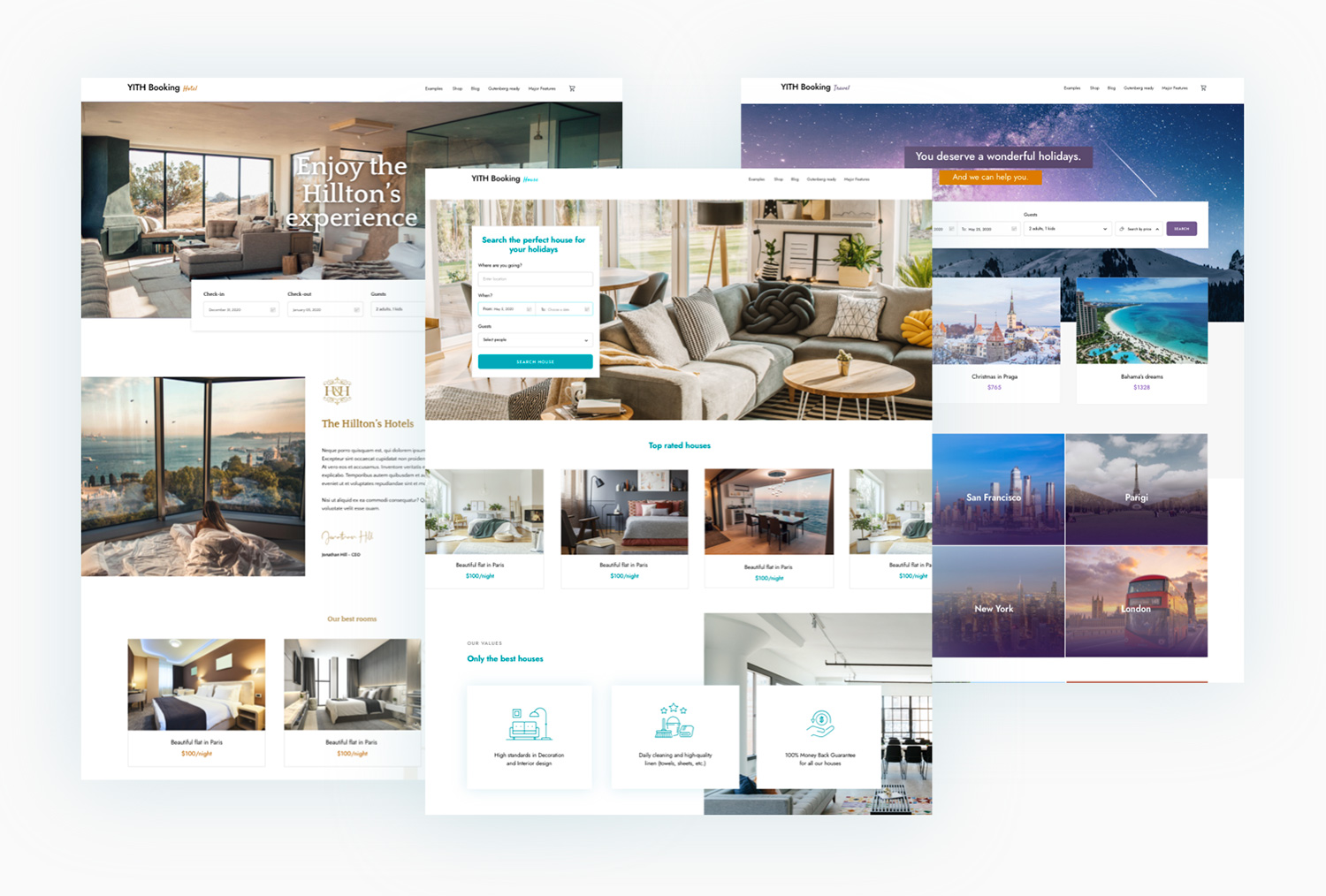 New
Bonus
The new Proteo Booking is available for free to easily import the demo content and settings
Take a look at our live demos; they are amazing, right? We have used our free theme Proteo and have developed the "Booking skin" that you can use in your site, by also importing the full demo content. In a few minutes, you can replicate the same content and settings of our demo by using our beautiful and free theme.