Vende y gestiona tickets de eventos como lo hacen las agencias en línea más grandes
¿Alguna vez has pensado en organizar un evento, una fiesta o una reunión?
Mucha gente trata de organizar esto y muchos de ellos se dan por vencidos justo después de ver que hay muchas cosas que tener en cuenta para organizar un evento de la mejor manera.
Uno de los mayores problemas relacionados con la gestión de eventos es la venta de entradas, que debe gestionarse con cuidado o corres el riesgo de poner en peligro todo el evento.
Esta es la razón principal por la que a menudo dependemos de servicios externos que toman un porcentaje de tus ganancias, afectando a tus ingresos generales y la imagen pública de tu empresa.
Puede resultar complicado gestionar las ventas, los pagos y las entradas del evento; un error durante la fase de ventas puede generar problemas complejos, como personas con asientos no asignados o que compraron las entradas pero que no aparecen en la lista de compradores o personas que podrían haber perdido sus entradas y así sucesivamente…
¡Estamos seguros de que sabes de lo que estamos hablando! Imagina tener que gestionar dos o tres eventos al mismo tiempo sin tener control total sobre todos sus aspectos.
Sin un nivel adecuado de control, sería un caos.
¡Así que hoy es tu día de suerte! Vamos a resolver todos los problemas relacionados con la gestión de entradas utilizando un plugin para WooCommerce que hará tu vida mucho más fácil.
Gracias a YITH WooCommerce Event Tickets podrás vender entradas para todo tipo de eventos.
Todo lo que necesitas hacer es seleccionar el evento, insertar la información de ubicación requerida, el tipo y el número de asientos, la fecha de caducidad y algunos otros datos, y permitirás a tus clientes comprar e imprimir entradas con solo unos pocos clics
Obtendrás información sobre cada uno de ellos y tendrás todo el proceso bajo control. También podrás gestionar los precios dinámicamente, elevándolos cuando solo quedan unos pocos tickets o cuando se acerca la fecha del evento.
Finalmente, obtendrás una forma fácil y sencilla de gestionar este tipo de escenario y resolver todos los problemas que son comunes al tratar de organizar eventos y vender sus entradas.
Versión:

1.23.0

Publicada:

2023-03-13

Versión mínima de PHP:

7.0

Requiere:

WordPress 6.0

and WooCommerce 7.3

Compatible hasta:

WordPress 6.2.x

and WooCommerce 7.5.x

Plugins multidioma compatibles:

WPML, Loco Translate

Traducción lista:

SÍ

Idiomas 100% garantizados por YITH:

Italian, Spanish

Idiomas proporcionados por usuarios:

Dutch (99%), German (99%)

Compatible con:

Tema YITH Proteo.Todos los plugins de YITH

Constructores de página compatibles:

Gutenberg, Elementor

Cumple con RGPD:

Sí
CON
YITH EVENT TICKETS

PUEDES:
Vender entradas físicas y virtuales en tu tienda online
En el caso de la entrada física, aplica los costes de envío como cualquier otro producto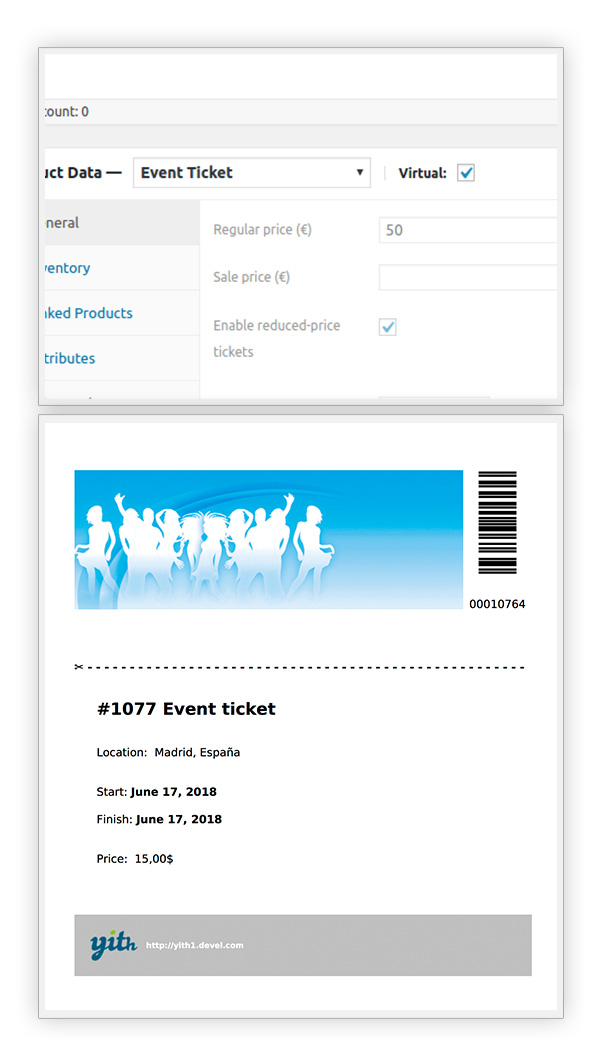 Habilitar ventas de entradas de precios reducidos
Y proporciona detalles sobre los requisitos para disfrutar de entradas a precios reducidos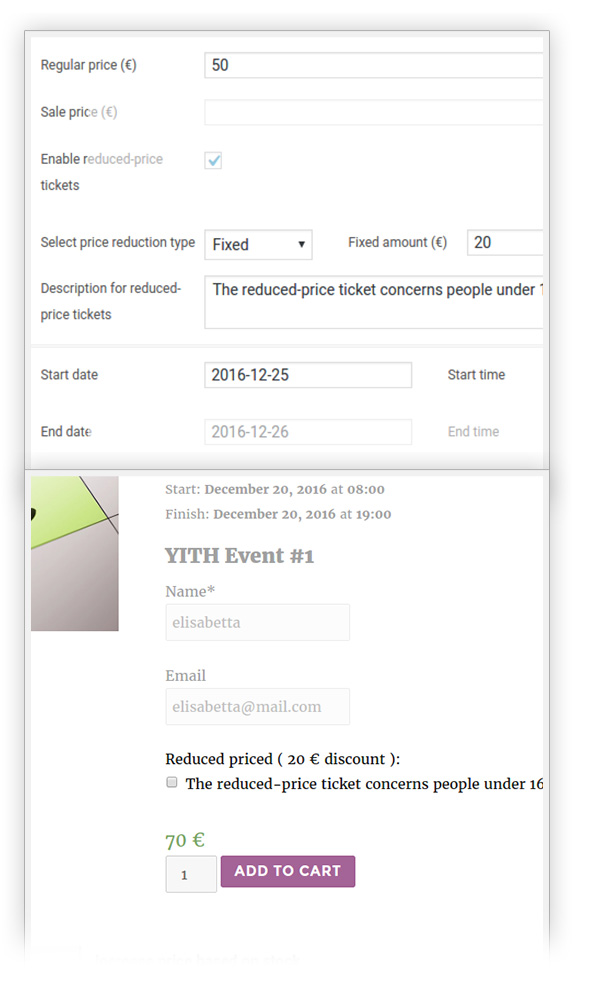 Habilitar la gestión de inventario de entradas
Establece la cantidad de inventario y se disminuirá automáticamente cada vez que se venda una entrada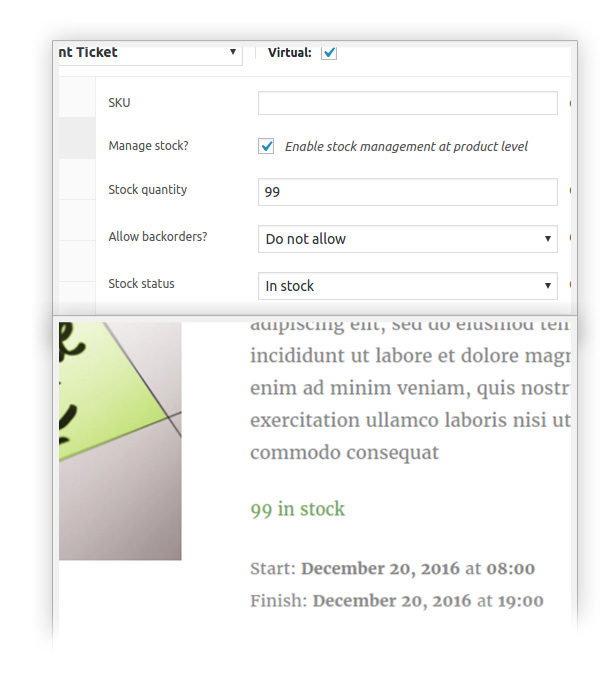 Vender tus entradas a un precio incrementado basado en la cantidad que queda
Crea uno o más umbrales de disponibilidad y pon un precio diferente para cada uno de ellos
Aumentar el precio de la entrada basado en los días que quedan
Un precio diferente basado en el número de días restantes hasta que el evento comience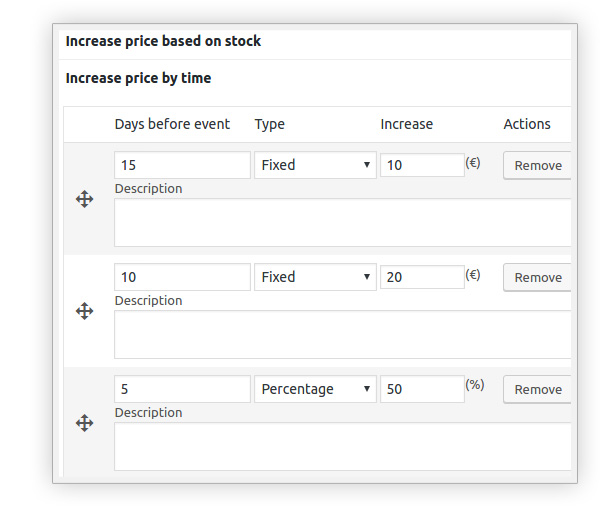 Dar al evento una fecha de comienzo y una fecha de finalización
Esta información se visualizará en la página de detalles del evento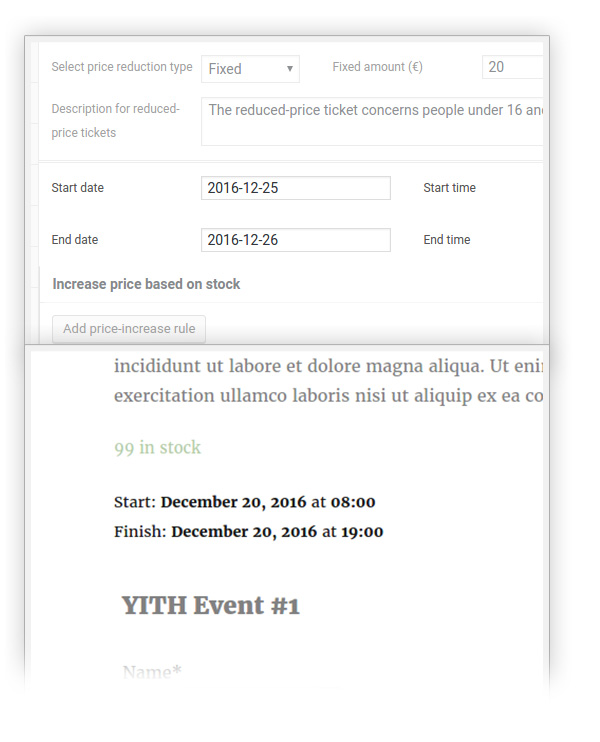 Solicitar a los usuarios que proporcionen más detalles a la entrada
Elegir el número y el tipo de campos de entrada (texto, área de texto, número, dirección de Correo electrónico, fecha, sí/no) y combínalos a tu voluntad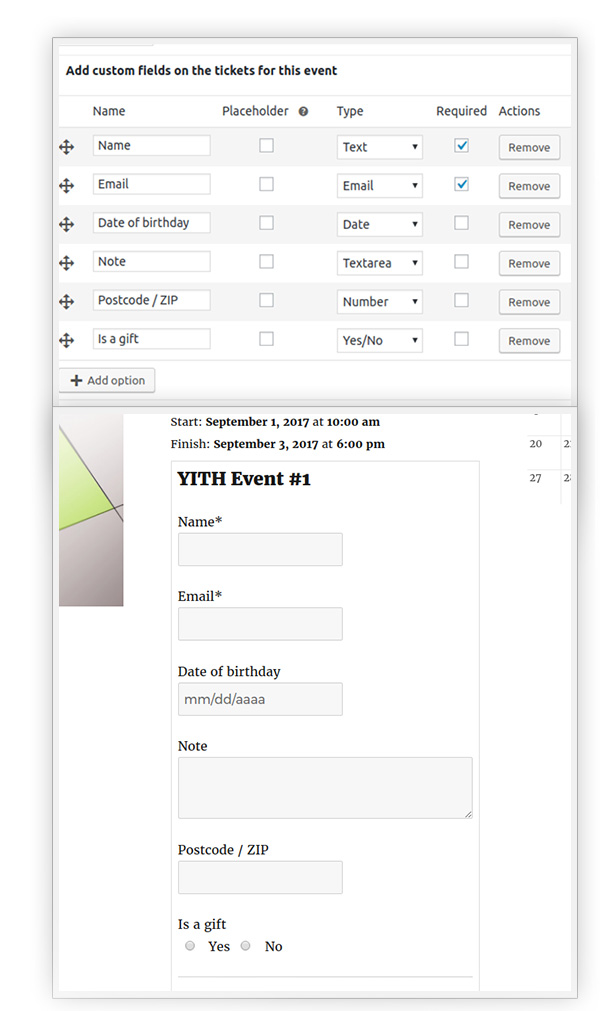 Añadir uno o más servicios opcionales al evento
Por cada uno, puedes establecer la cantidad disponible y el precio que se añadirá al precio de la entrada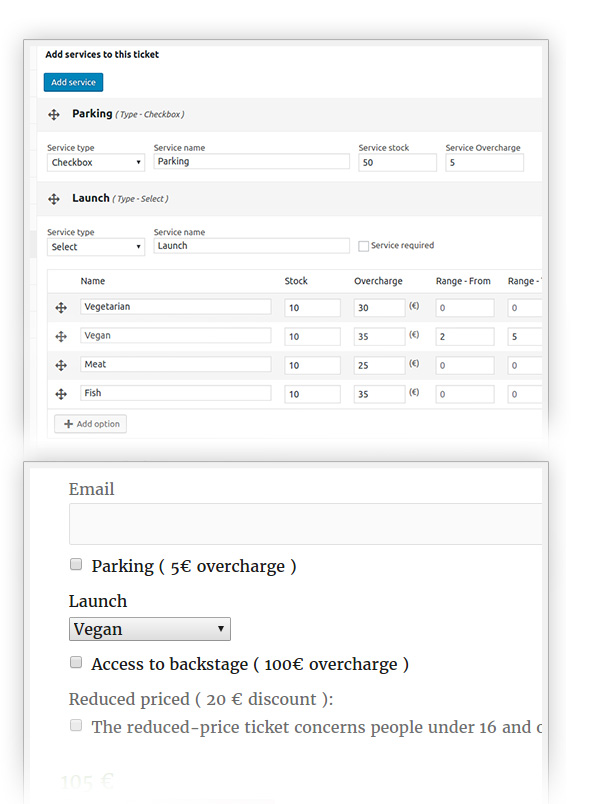 Mostrar la ubicación del evento en el mapa
Gracias al servicio de Google Maps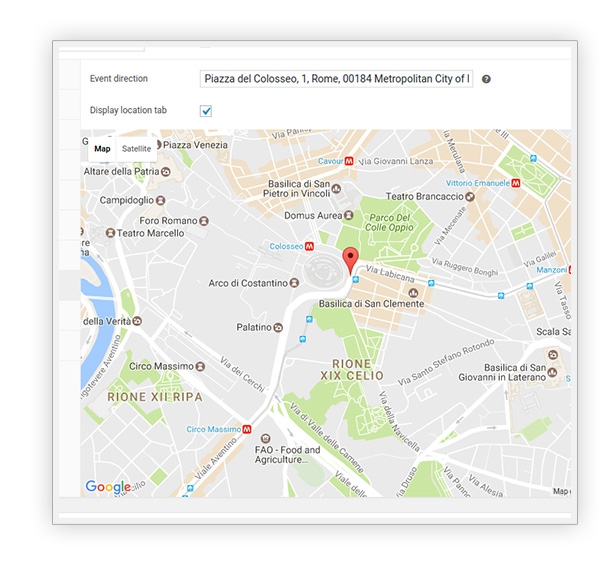 Añadir la pestaña de "asistencia" en la página del evento
Y mostrar la lista completa de organizadores y participantes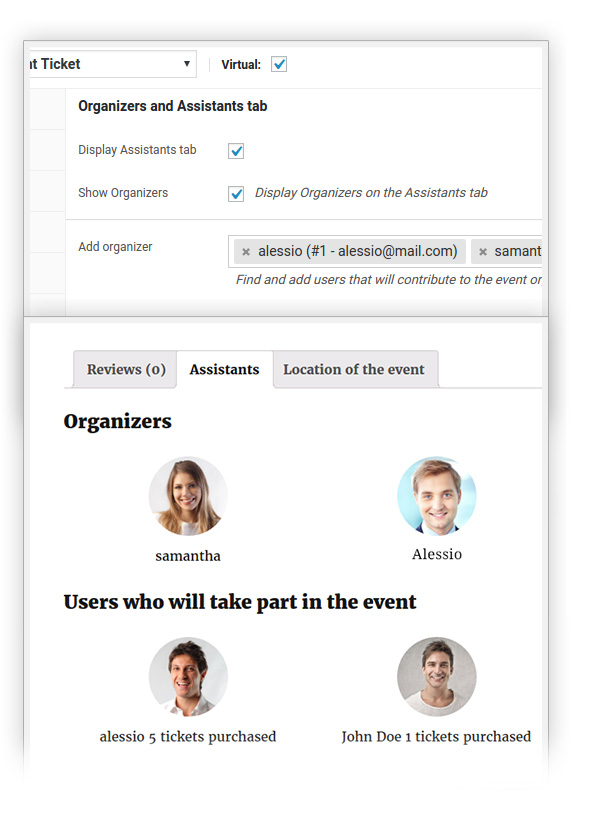 Generar el PDF para la entrada
Cada usuario puede descargarlo desde la página de Mi Cuenta en el sitio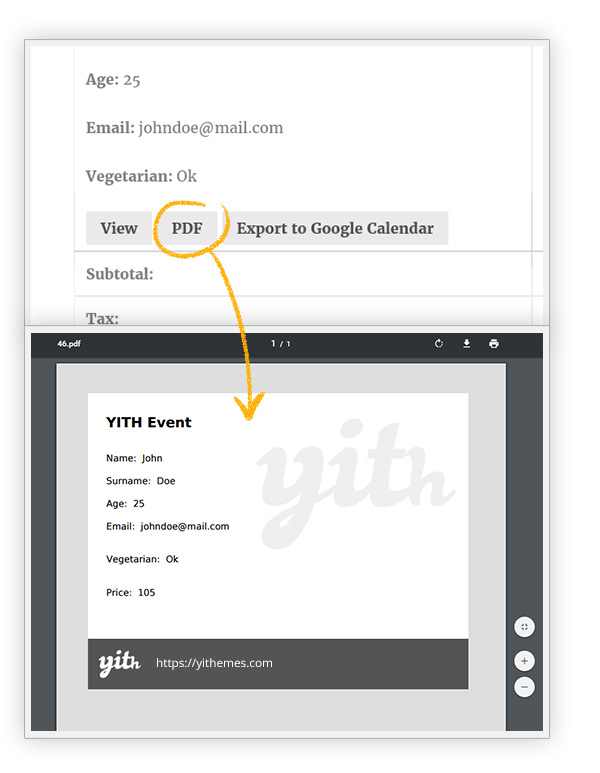 Ofrecer a los usuarios la posibilidad de ver los detalles de las entradas en la página "Mi Cuenta"
Y cada pedido mostrará los detalles de la entrada relacionada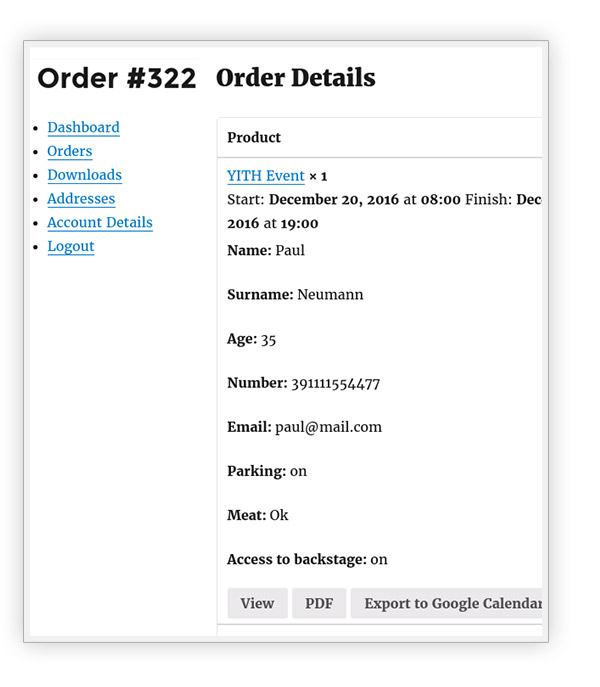 Asociar uno o más archivos al producto de tipo de evento
El usuario puede descargar los archivos desde la página de 'Mi Cuenta' después de completar el pedido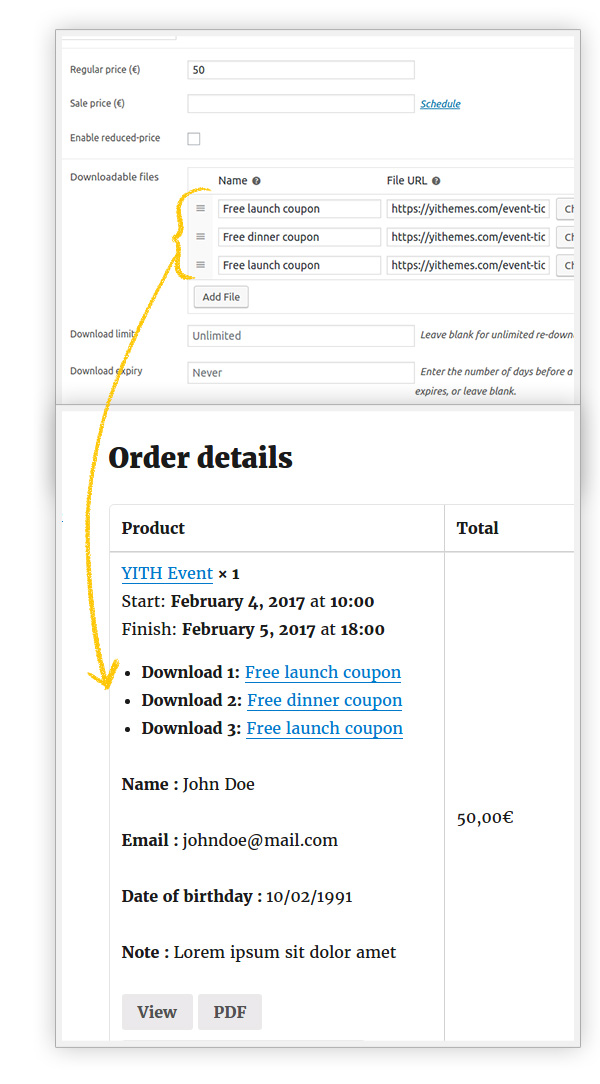 Seguir todas las entradas vendidas
Desde la sección "Entradas" en tu área de administración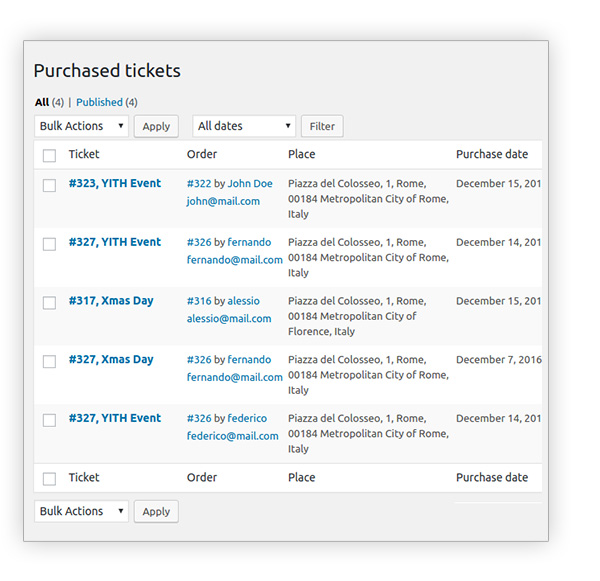 Disfruta de la integración de Google Calendar
Y tu evento será agregado a tu calendario de Google con un solo clic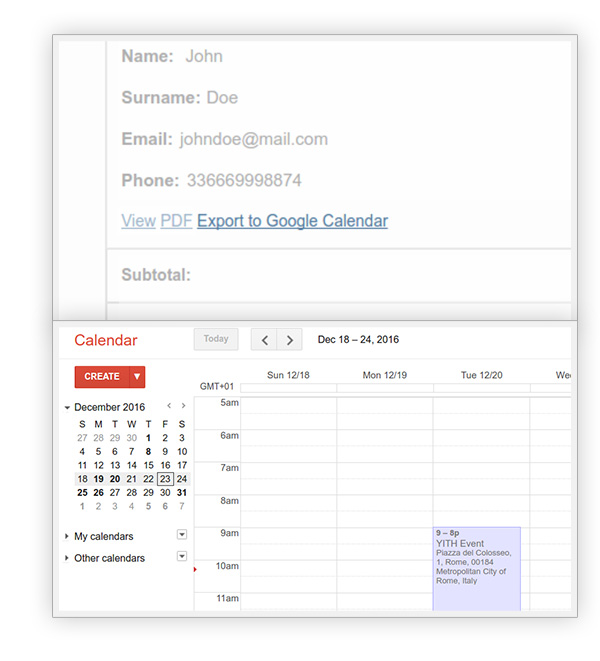 Personalizar la plantilla por defecto de la entrada
Añadiendo tus imágenes y texto personalizados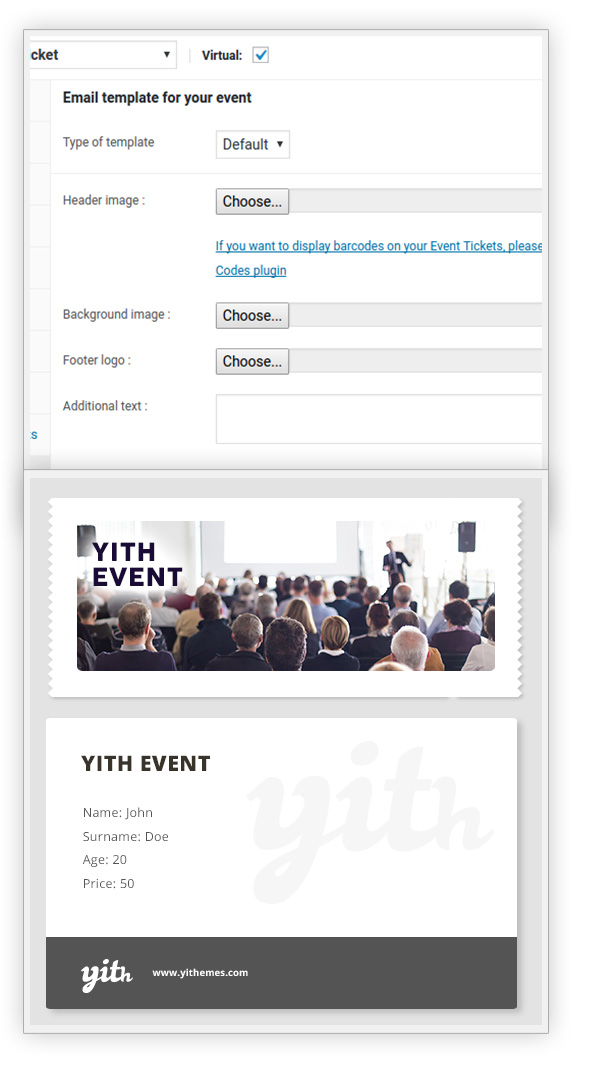 Ayudar a los usuarios a ver los eventos programados
Añadiendo el calendario en una barra lateral donde se añaden fechas y eventos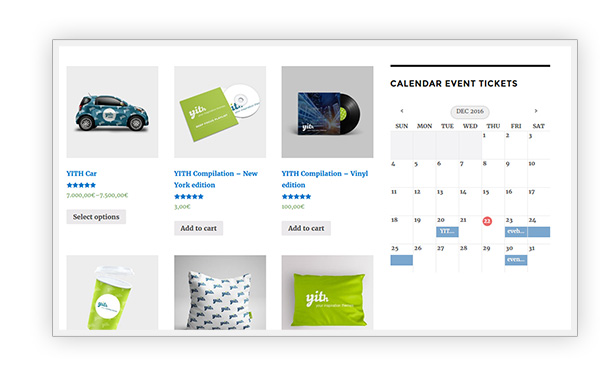 Exportación de entradas a CSV
O ver toda la información directamente en tu navegador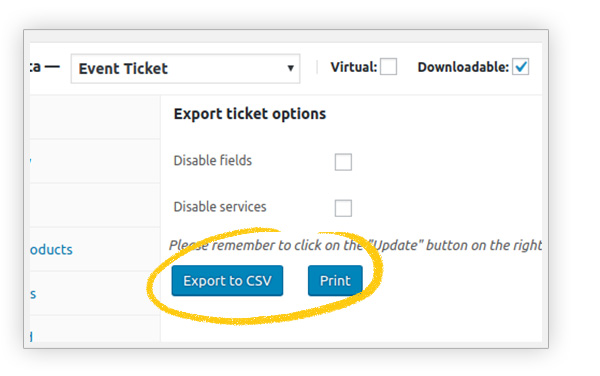 Utilizar el shortcode para la búsqueda de la entrada en la portada
El formulario se mostrará únicamente al administrador del sitio y al administrador de la tienda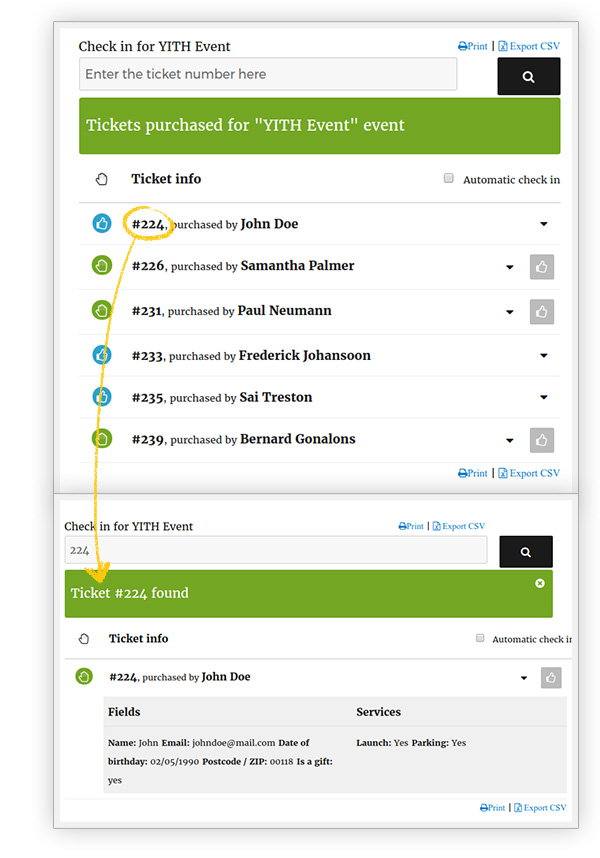 Check-in para tus entradas
Para discernir si son entradas utilizadas o no utilizadas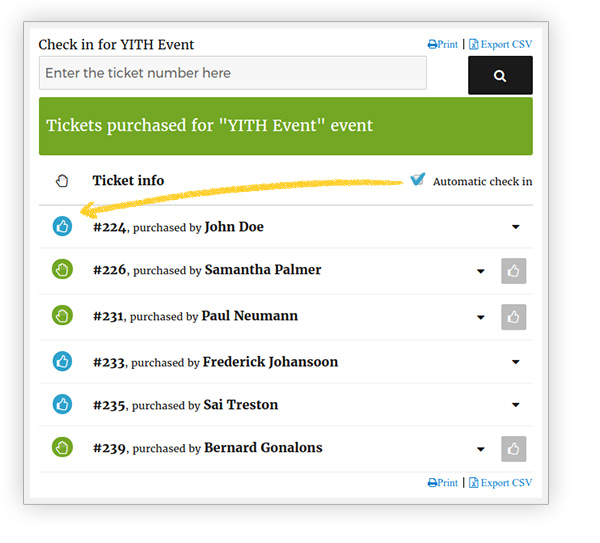 Identificar tus entradas con un código de barras
Al combinar el plugin con YITH WooCommerce Barcodes and QR Codes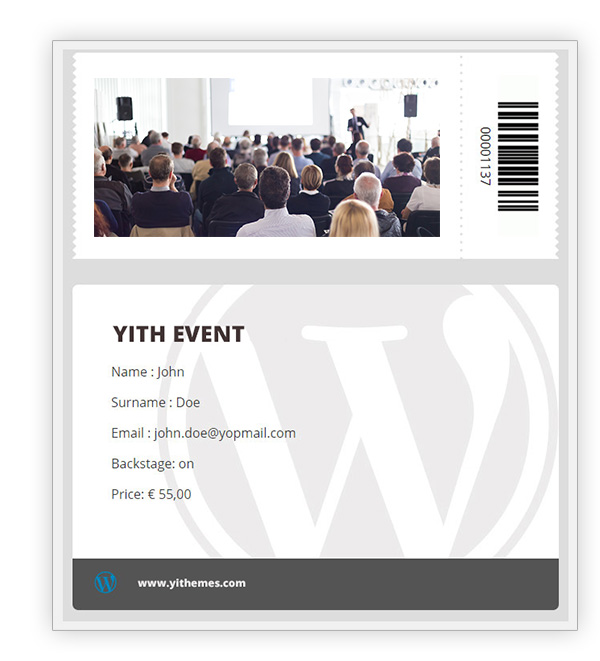 Escanear el código de barras del pedido o entrada
Para acelerar la búsqueda y el check-in de tus entradas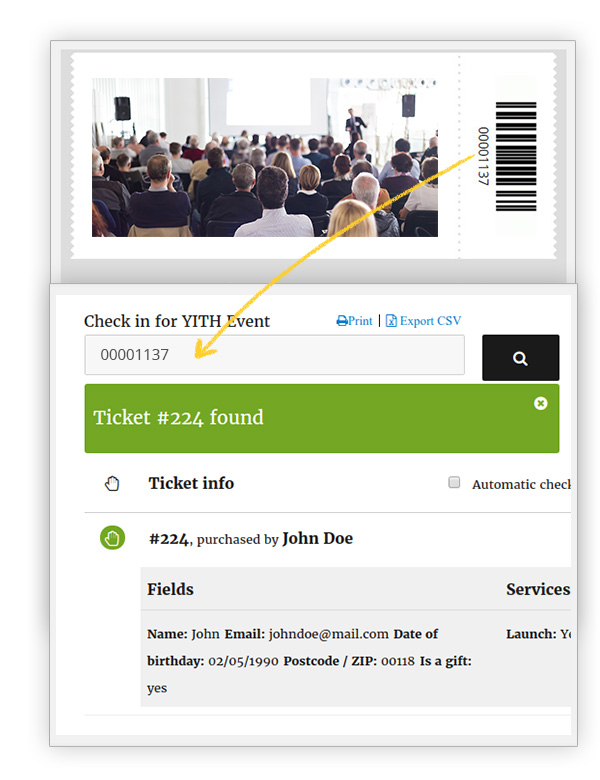 Aprovechar la compatibilidad con WPML
Puedes traducir el plugin fácilmente con la potente herramienta de WPML