Vendi e gestisci biglietti per eventi proprio come fanno le più grandi agenzie online
Hai mai pensato di organizzare un evento, una festa o un meeting?
Molte persone provano ad organizzarne uno e spesso si arrendono subito dopo aver capito che ci sono tante, troppe cose da considerare per pianificare un evento nel migliore dei modi.
Una delle difficoltà maggiori nell'organizzazione di eventi è la vendita dei biglietti che devono essere gestiti con cura per non rischiare di compromettere l'intero evento.
Questo è il motivo principale per cui spesso ci affidiamo a servizi esterni che percepiscono una percentuale sui guadagni incidendo sul profitto complessivo e l'immagine pubblica della tua azienda.
Gestire le vendite, i pagamenti e gli accessi agli eventi potrebbe rivelarsi complicato. Sbagliare durante la fase delle vendite potrebbe causare problemi complessi come ad esempio persone con posti non assegnati o che hanno acquistato i biglietti ma non compaiono nella lista dei partecipanti o altre che potrebbero aver perso i biglietti e così via…
Sono sicuro che sai di cosa sto parlando! Immagina di dover gestire due o tre eventi contemporaneamente senza avere il pieno controllo su ogni loro aspetto.
Senza un livello di controllo adeguato sarebbe un caos.
Quindi oggi è il tuo giorno fortunato! Risolveremo ogni singolo problema legato alla gestione di biglietti usando un plugin per WooCommerce che renderà la tua vita molto più facile!
Grazie a YITH WooCommerce Event Tickets potrai vendere biglietti per ogni tipo di evento.
Tutto quello che devi fare è selezionare l'evento, inserire le informazioni del luogo richieste, il tipo e il numero di posti, la data di scadenza e poche altre informazioni per permettere ai tuoi clienti di acquistare e stampare i biglietti in pochi clic.
Otterrai informazioni su ogni singolo evento ed avrai l'intero processo sotto controllo. Potrai anche gestire i prezzi in modo dinamico, aumentandoli quando sono rimasti solo pochi biglietti o quando la data dell'evento si avvicina.
Potrai finalmente gestire questo tipo di scenario in modo semplicissimo e risolvere tutti quei problemi comuni che si presentano durante l'organizzazione di eventi e la vendita dei biglietti.
Versione:

1.21.0

Rilasciata il:

2022-12-29

Versione minima di PHP:

7.2

Requisiti minimi:

WordPress 5.9

and WooCommerce 7.1

Compatibile con:

WordPress 6.1.x

and WooCommerce 7.3.x

Plugin multilingua supportati:

WPML, Loco Translate

File di lingua inclusi:

SÌ

Lingue garantite al 100% da YITH:

Italian, Spanish

Traduzioni degli utenti:

Dutch (99%), German (99%)

Supporta:

Il tema YITH Proteo. Tutti i plugin YITH.

Page builder supportati:

Gutenberg, Elementor

Conforme al GDPR:

Sì
CON
YITH EVENT TICKETS

PUOI:
Vendere biglietti fisici e virtuali nel tuo negozio online
Nel caso di biglietti fisici, applicando le spese di spedizione come per qualsiasi altro prodotto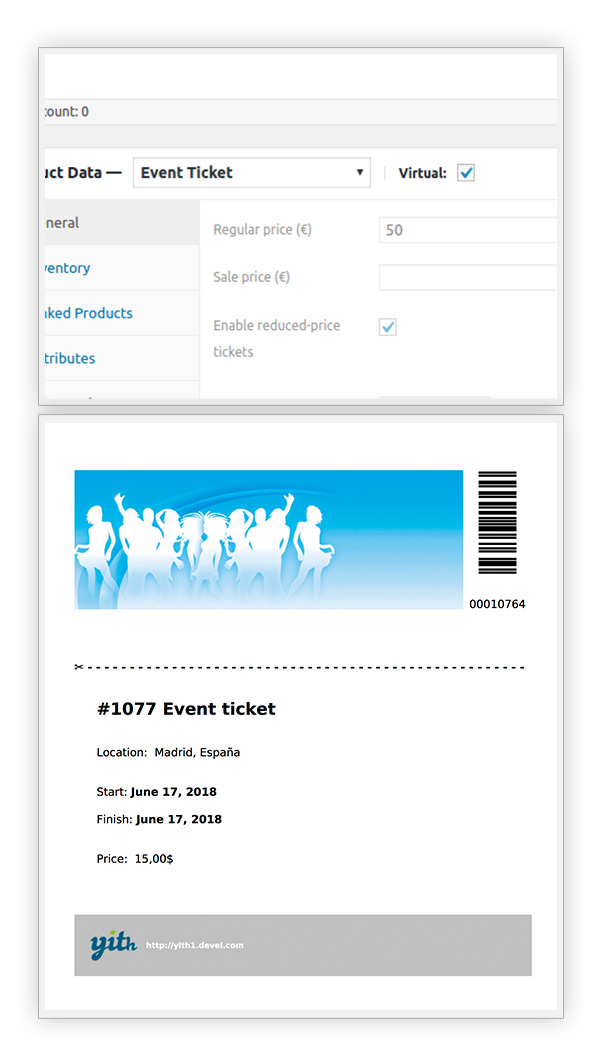 Abilitare la vendita di biglietti a prezzo ridotto
E fornire dettagli riguardo ai requisiti che danno diritto ai biglietti ridotti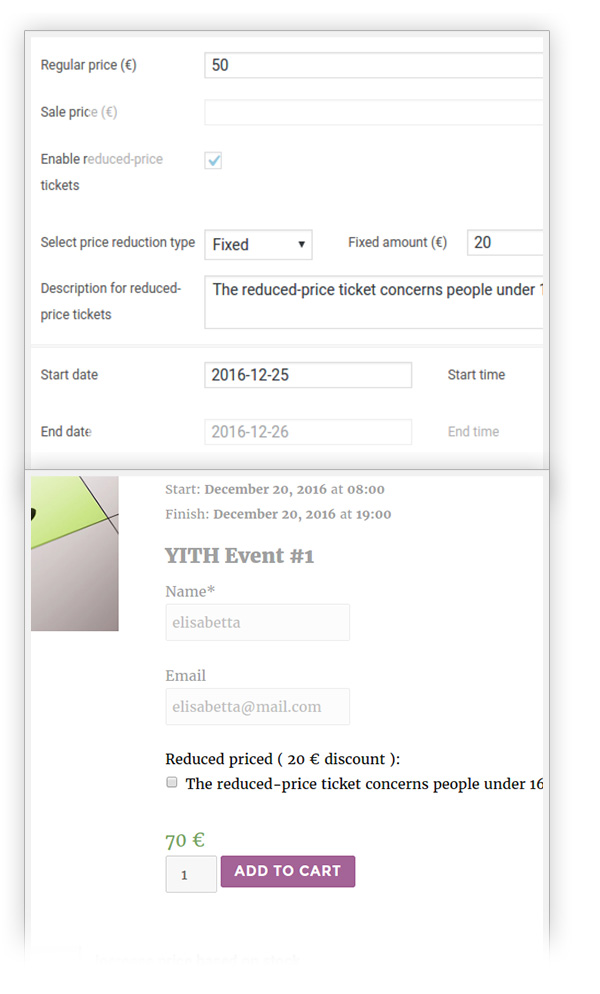 Abilitare la gestione del magazzino per i biglietti
Imposta la quantità che sarà automaticamente scalata per ogni biglietto venduto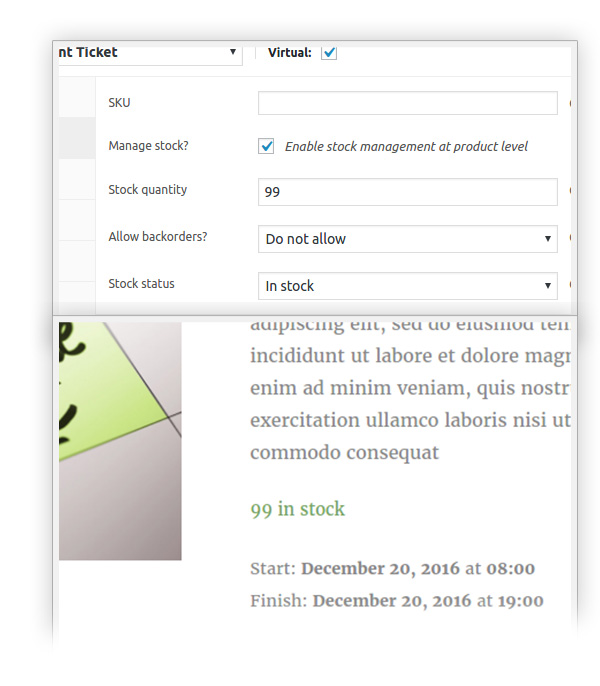 Vendere i tuoi biglietti ad un prezzo più alto in base alla quantità rimasta
Crea una o più soglie di disponibilità ed imposta un prezzo diverso per ognuna di queste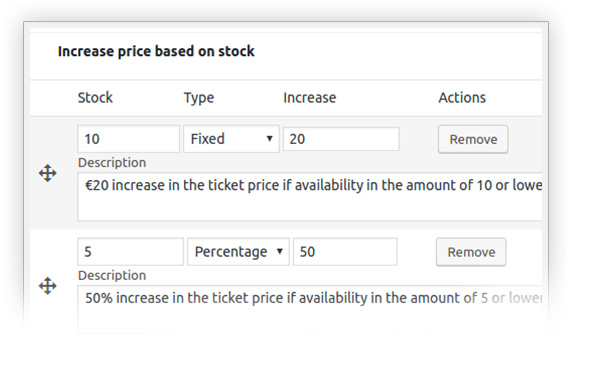 Aumentare il prezzo del biglietto in base ai giorni rimasti
Un prezzo diverso in base al numero dei giorni che mancano all'inizio dell'evento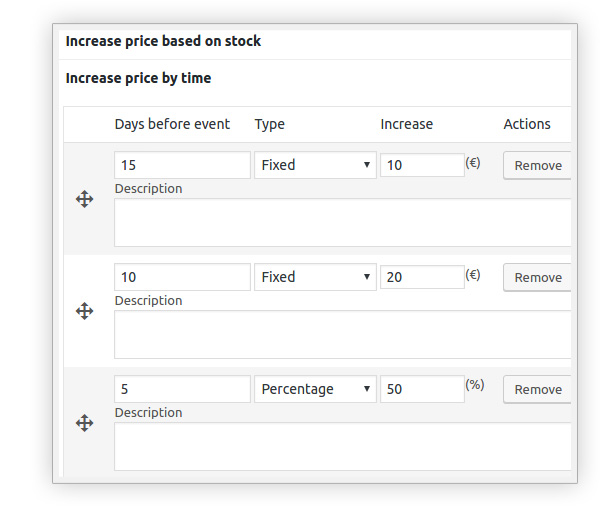 Impostare una data di inizio e fine dell'evento
Questa informazione verrà mostrata nella pagina dettaglio dell'evento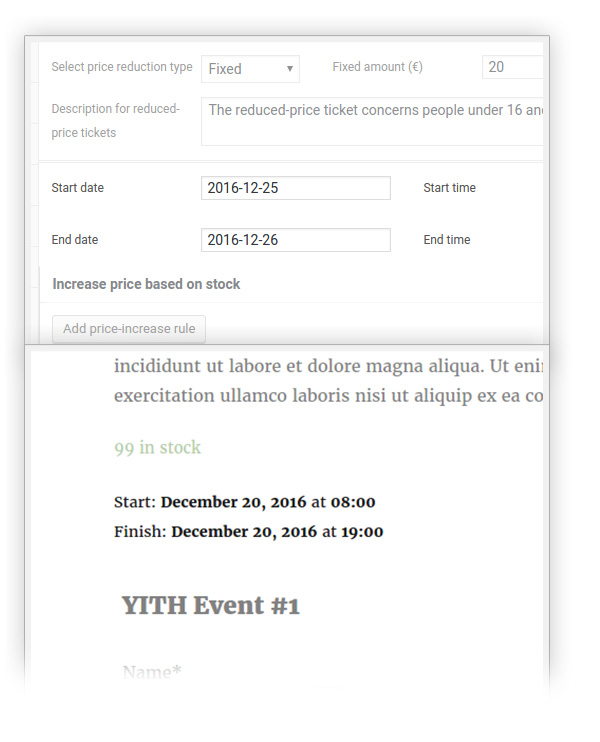 Chiedere agli utenti maggiori dettagli da aggiungere al biglietto
Scegli il numero e il tipo di campi (testo, area di testo, numero, indirizzo email, data, sì/no) e combinali negli eventi a tuo piacimento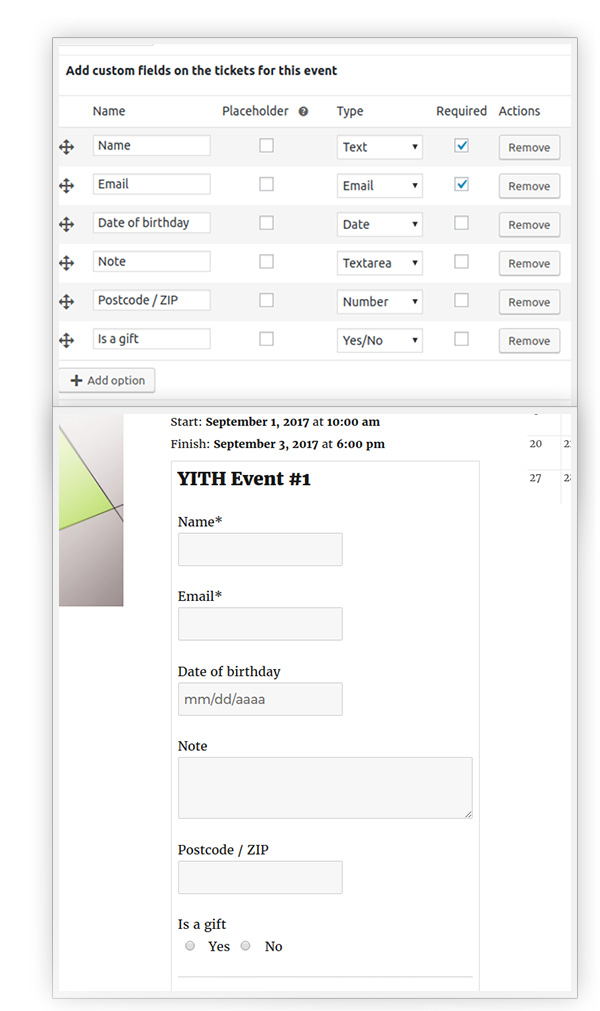 Aggiungere all'evento uno o più servizi opzionali
Puoi impostare per ognuno la quantità disponibile e il prezzo che verrà aggiunto a quello del biglietto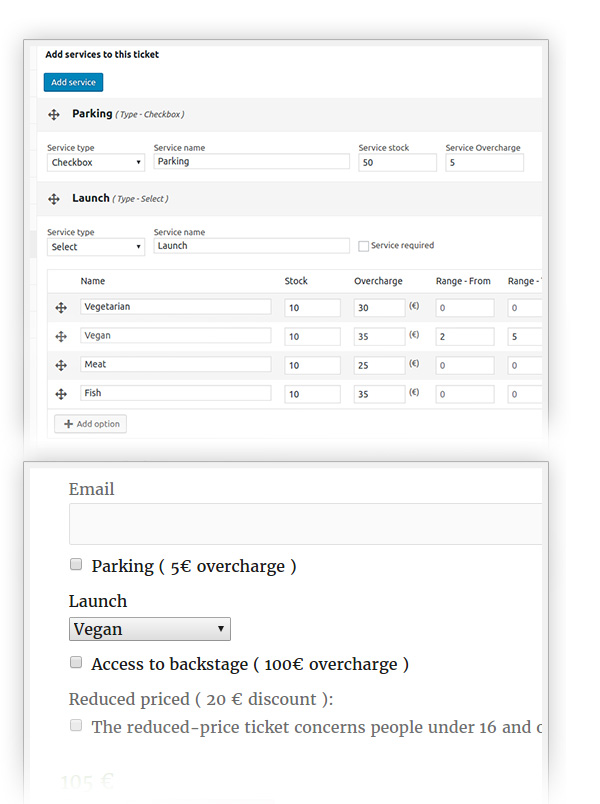 Mostrare sulla mappa il luogo dell'evento
Grazie al servizio di Google Maps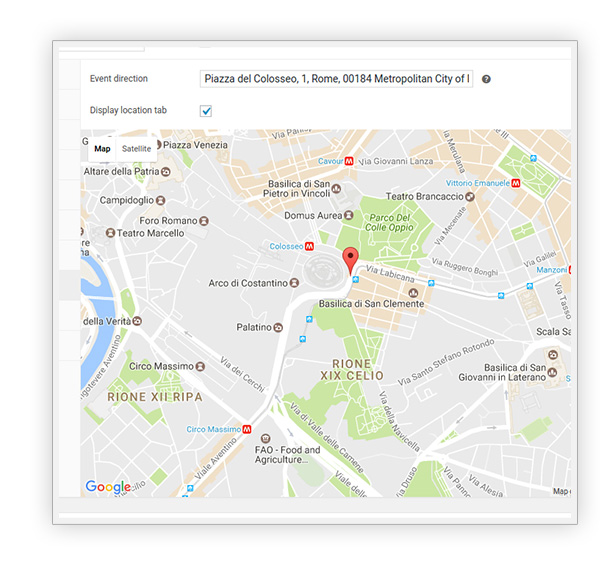 Aggiungere la scheda "Partecipanti" alla pagina dell'evento
E mostrare la lista completa di organizzatori e partecipanti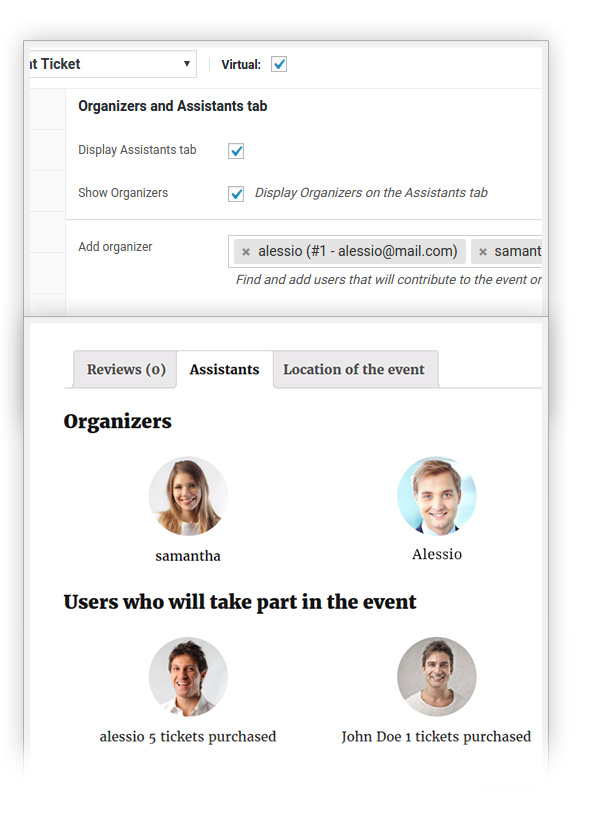 Generare il PDF per il biglietto
Ogni utente può scaricarlo dalla pagina "Il mio account" sul sito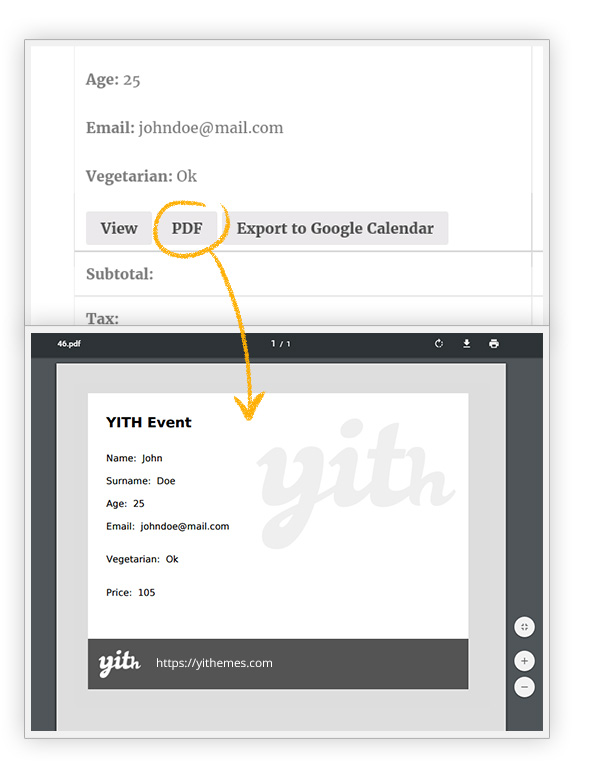 Offrire agli utenti la possibilità di vedere i dettagli del biglietto nella pagina "Il mio account"
Ogni ordine mostrerà i dettagli del relativo biglietto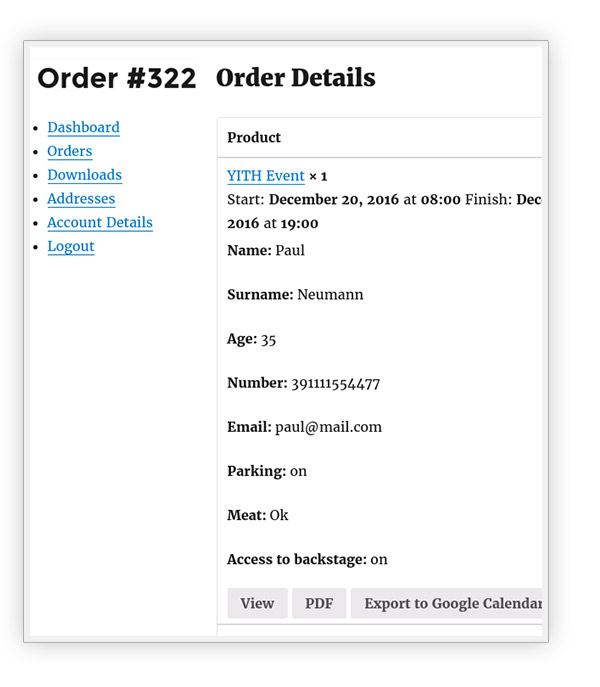 Associare uno o più file al prodotto di tipo evento
Gli utenti possono scaricare i file dalla pagina "Il mio account" dopo aver completato l'ordine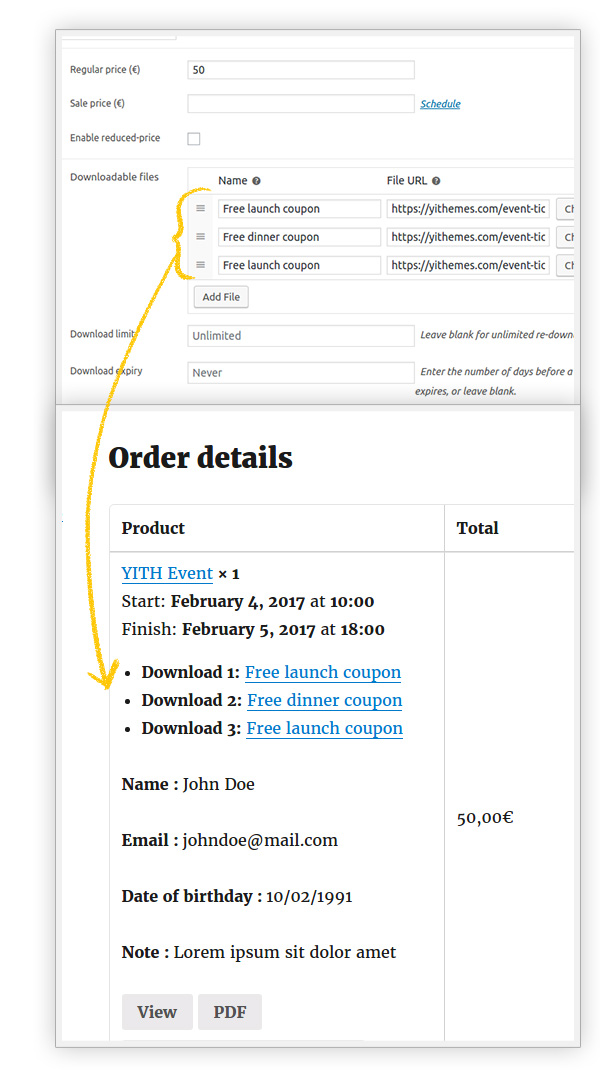 Tenere traccia di tutti i biglietti venduti
Dalla sezione "Biglietti" nell'area amministrazione del tuo sito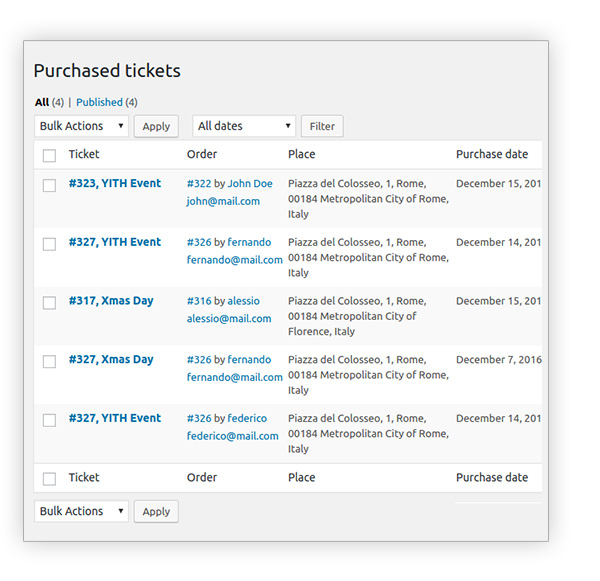 Beneficiare dell'integrazione con Google Calendar
Il tuo evento verrà aggiunto a Google Calendar con un clic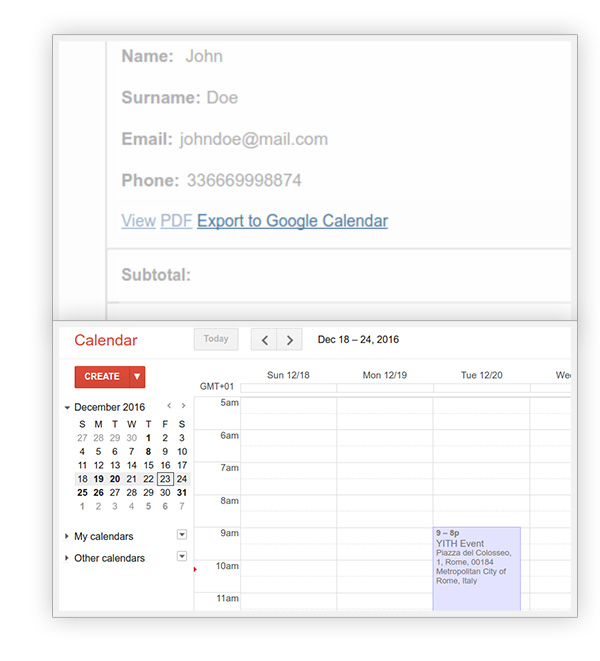 Personalizzare il template predefinito del biglietto
Aggiungendo immagini personalizzate e testo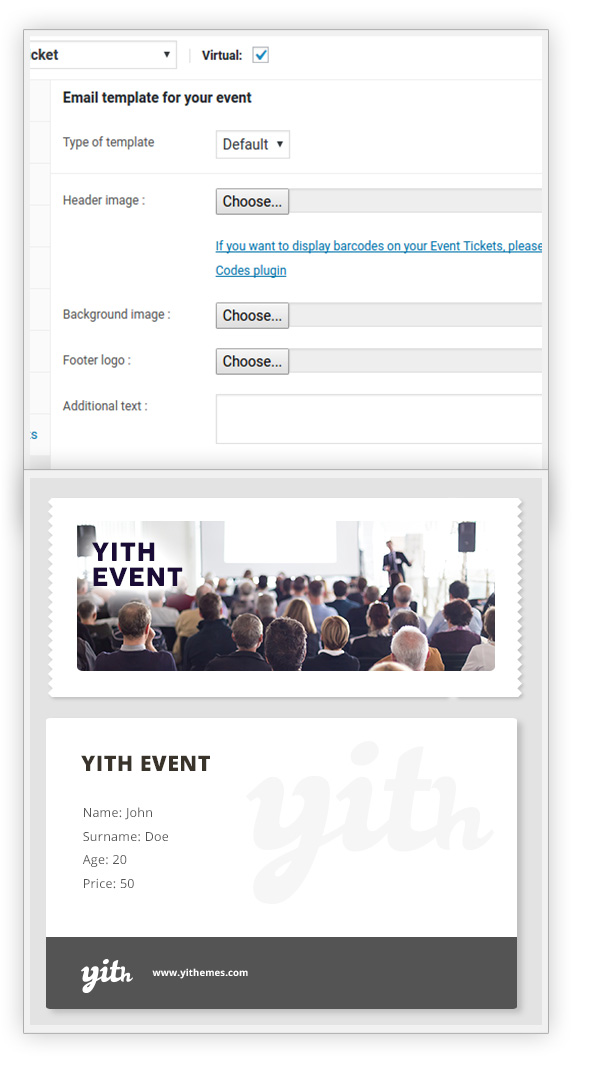 Aiutare gli utenti ad individuare gli eventi in programma
Aggiungendo il calendario ad una barra laterale in cui vengono mostrati date ed eventi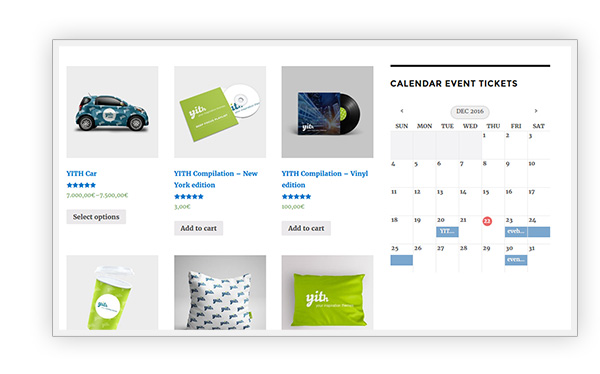 Esportare i biglietti in CSV
O visualizzare tutte le informazioni direttamente sul browser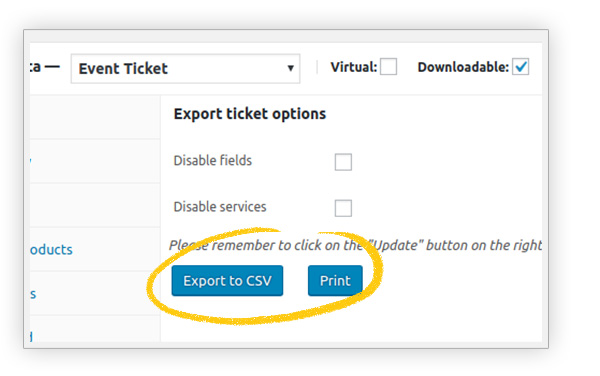 Usare lo shortcode per la ricerca del biglietto a frontend
Il form verrà mostrato solo all'amministratore del sito e agli shop manager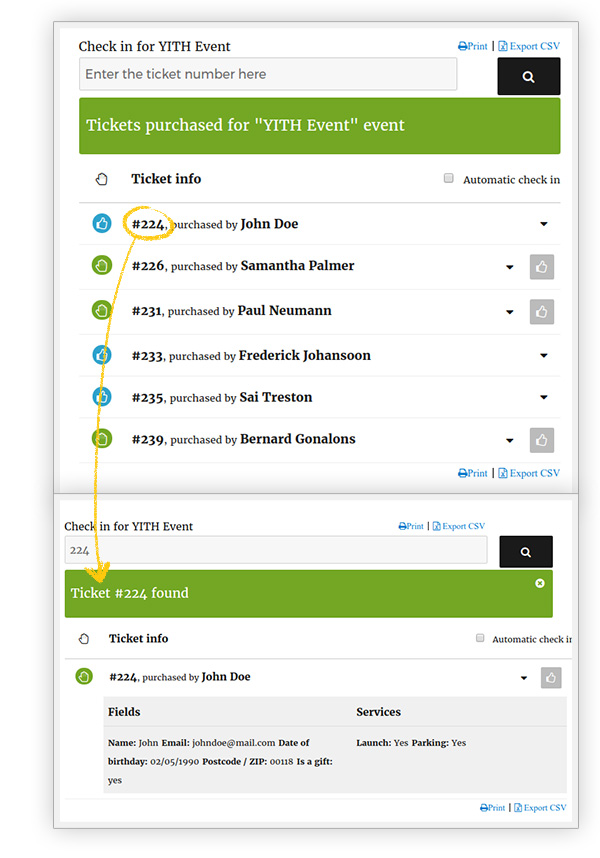 Fare il check in dei tuoi biglietti
Per contrassegnarli come utilizzati e non poterli utiizzare di nuovo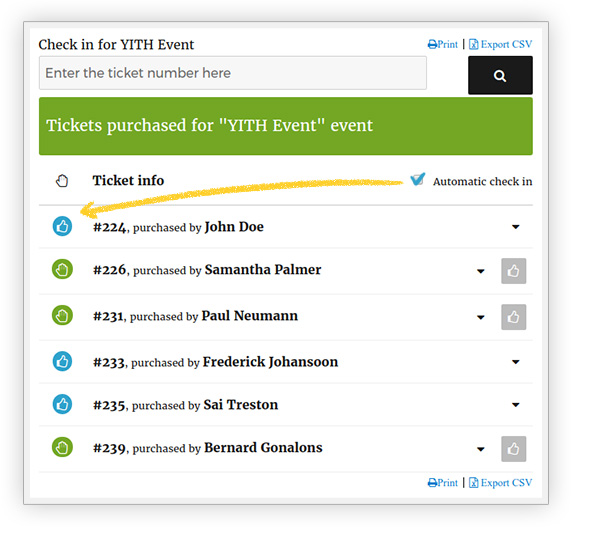 Identificare i tuoi biglietti con un codice a barre
Combinando il plugin con YITH WooCommerce Barcodes and QR Codes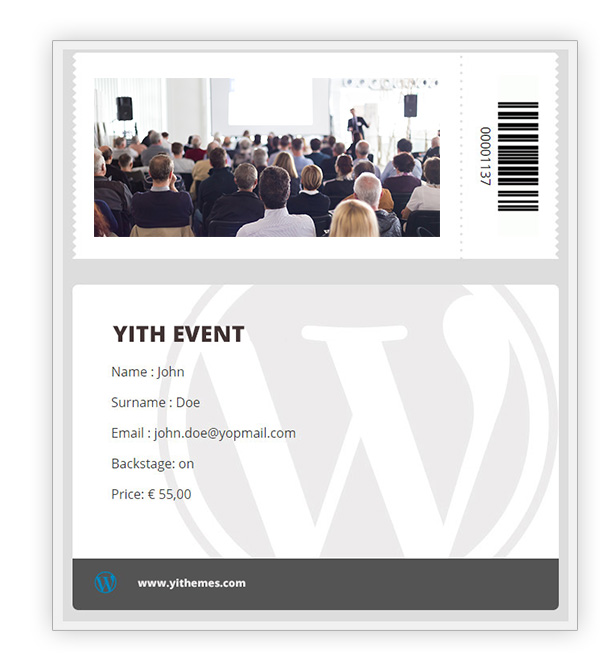 Scannerizzare il codice a barre dell'ordine o del biglietto
Per rendere la ricerca e il check in dei tuoi biglietti più veloce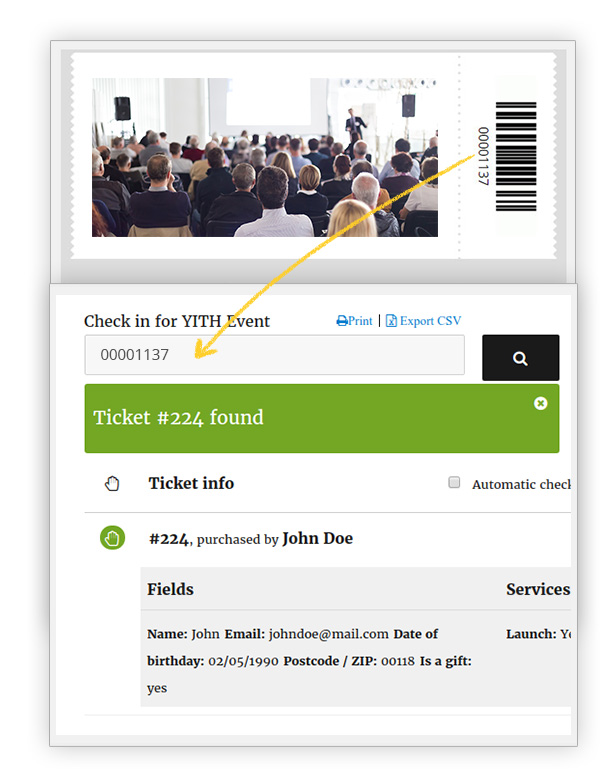 Approfittare della compatibilità con WPML
Puoi facilmente tradurre il plugin con il potente strumento per siti multilingua