Promociona tus productos con el contenido destacado más guay: archivos de audio y video para tus productos
Todos conocemos los beneficios de mostrar imágenes en lugar de un texto de descripción simple y puedes experimentar el mismo efecto de mejora si usas contenido de video y audio, especialmente para aquellos productos para los cuales una imagen no es suficiente, como videojuegos, programas de ordenador o música.
Utilizar un video para tus productos en lugar de imágenes puede ser muy útil para presentar los artículos de una mejor manera, pero resulta especialmente útil cuando se trata de productos digitales, como programas, videojuegos o similares, donde una imagen no es suficiente para mostrar sus puntos fuertes de la mejor manera.
¿Y si vendes música? Nada puede ser tan buena vista previa de tu producto, que un archivo de audio. Y la mayoría de los temas de comercio electrónico te permiten añadir solo imágenes.
Pero, no te desesperes, ahora todo esto es posible y fácil con YITH WooCommerce Featured Audio and Video Content, un plugin que te permitirá adjuntar un archivo de audio o un video a tu producto en lugar de la imagen destacada. Admite los formatos de audio y video más comunes y te asegura de que tu tienda se beneficie mucho de esta característica ilustrativa.
¡No esperes más para probarlo!
Versión:

1.4.0

Publicada:

2021-09-06

Versión mínima de PHP:

7.0

Requiere:

WordPress 5.6 or higher

and WooCommerce 5.3.x or higher

Compatible hasta:

WordPress 5.8.x

and WooCommerce 5.7.x

Plugins multidioma compatibles:

WPML

Traducción lista:

SÍ

Idiomas 100% garantizados por YITH:

Dutch, English, Italian, Spanish

Idiomas proporcionados por usuarios:

German 100%

Compatible con:

Tema YITH Proteo.Todos los plugins de YITH

Temas de terceros compatibles:

Flatsome

Cumple con RGPD:

No aplicable
CON
YITH FEATURED AUDIO & VIDEO CONTENT

PUEDES:
Enlazar a pistas de Soundcloud
Aprovecha la potente plataforma de música en línea para añadir ritmo a tus productos.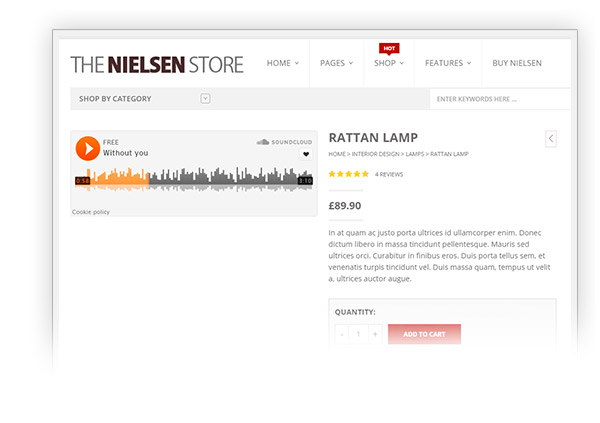 Crear tu galería de video personalizada
Sube tu video y libérate de los servicios de YouTube y Vimeo.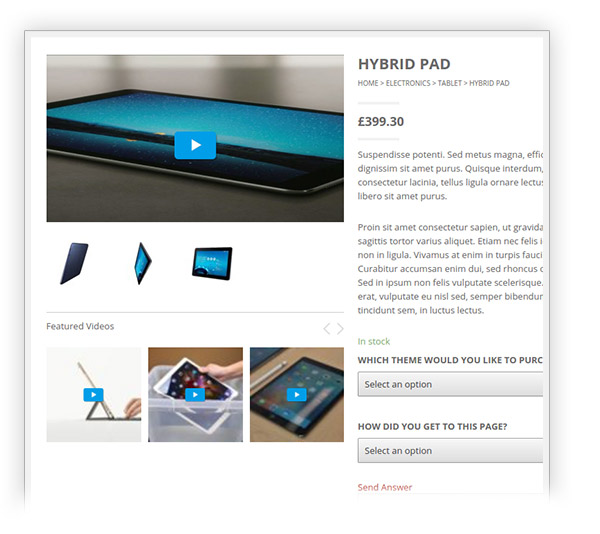 Gestionar videos
Decide si añadir los controles de video, para permitir a los usuarios detener los videos.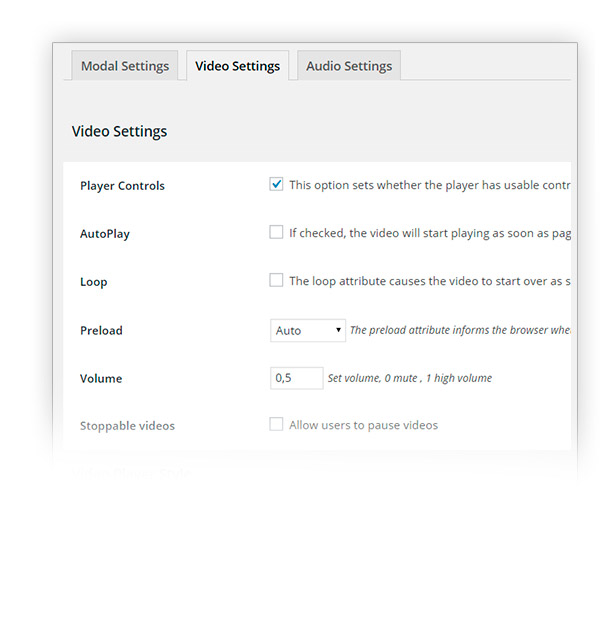 Mostrar videos en una ventana modal
Una elección de estilo cómoda y sencilla.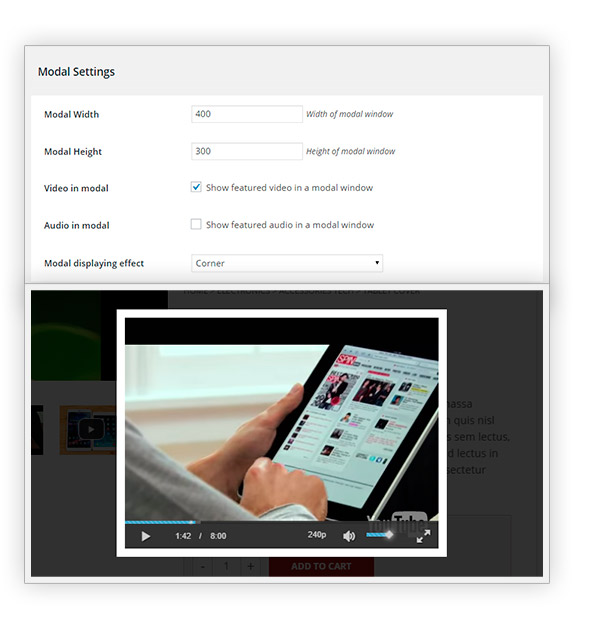 Personalizar el estilo de la barra de control
Cambia todos los colores que quieras de acuerdo a tus necesidades.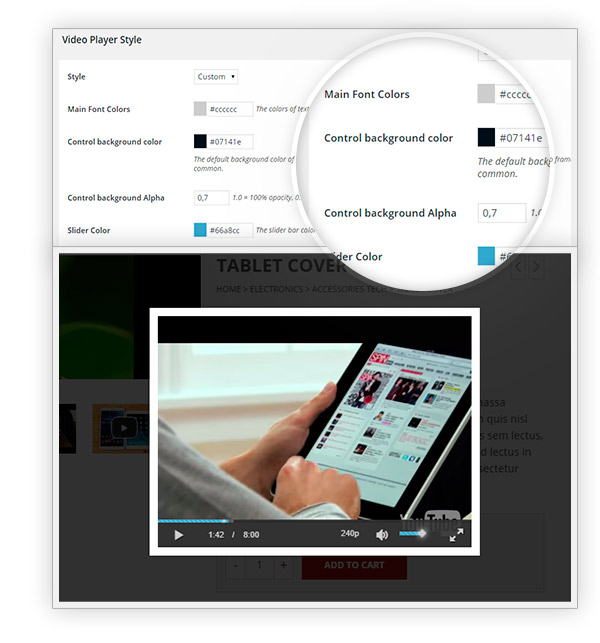 Personalizar los contenidos de los productos variables
Tienes el control total de los contenidos compartidos: ¡cambia aquellos de los productos variables para una experiencia única!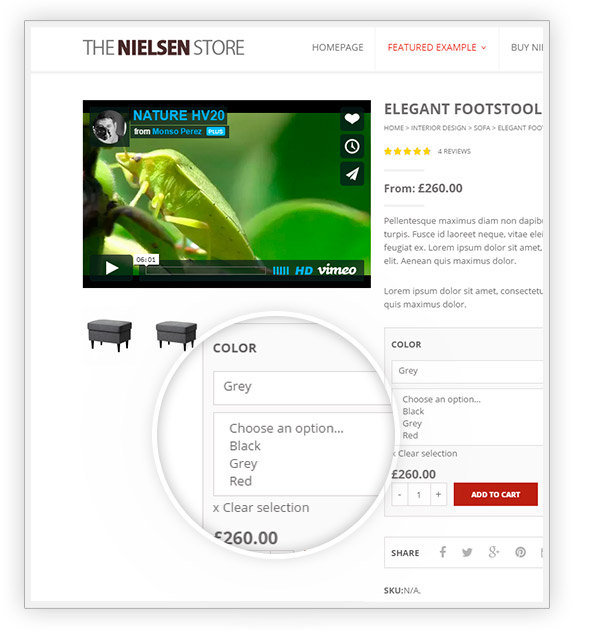 Mostrar videos de productos en la barra lateral
La galería de vídeo se mostrará en un agradable carrusel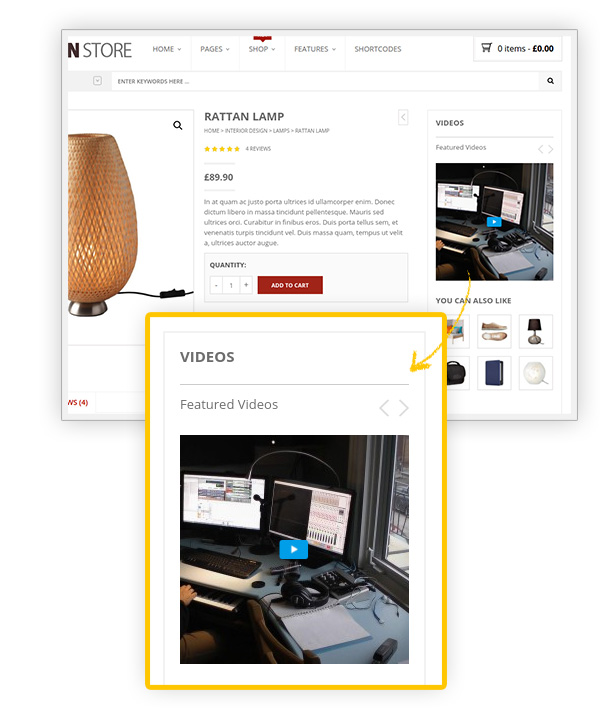 Aprovechar la compatibilidad con WPML
Puedes traducir el plugin fácilmente con la potente herramienta de WPML