No pierdas a los clientes por el tiempo de carga. Vista rápida, carga rápida, ¡compra rápida!
Los clientes que abren una ventana de vista rápida tienen más probabilidades de comprar el producto que están viendo porque no tienen que esperar a la carga de la página y porque no tienen que navegar hacia delante y hacia atrás entre las páginas para encontrar los productos que les interesan.
Entre los muchos productos disponibles en una tienda, volver a la que prefieres a menudo se convierte en una actividad molesta porque siempre lleva demasiado tiempo encontrarla de nuevo. Poder abrir una ventana emergente donde ver detalles sobre ese producto facilita la tarea a los usuarios.
Y hay un botón 'Añadir al carrito' disponible. La posibilidad de ver de inmediato los detalles del producto y las imágenes ampliadas de los mismos hace que los usuarios se sientan más cómodos con el sitio web que están navegando y también más dispuestos a comprar. De hecho, los clics antes de añadir el producto al carrito se reducen al igual que la carga del servidor.
De esta forma, los clientes no tienen que esperar mucho antes de que se cargue la página, porque está allí, dejada atrás, lista para mostrarse tan pronto como se haga clic en ella. ¡Así es como YITH WooCommerce Quick View puede mejorar las ventas en tu sitio web!
Versión:

1.33.0

Publicada:

2023-08-31

Versión mínima de PHP:

7.2

Requiere:

WordPress 6.1

and WooCommerce 7.9

Compatible hasta:

WordPress 6.3

and WooCommerce 8.1

Plugins multidioma compatibles:

WPML, Loco Translate

Traducción lista:

SÍ

Idiomas 100% garantizados por YITH:

English, Italian, Spanish

Idiomas proporcionados por usuarios:

Dutch (97%), French (97%), Russian (97%)

Compatible con:

Tema YITH Proteo. Todos los plugins de YITH

Cumple con RGPD:

No aplicable
CON
YITH QUICK VIEW

PUEDES:
Elegir qué tipo y dónde mostrar el botón
Muestra un botón 'Vista rápida' o un icono personalizado para acceder a la vista rápida, y decidir dónde colocarlo, cerca del botón 'Añadir al carrito' o dentro de la imagen del producto.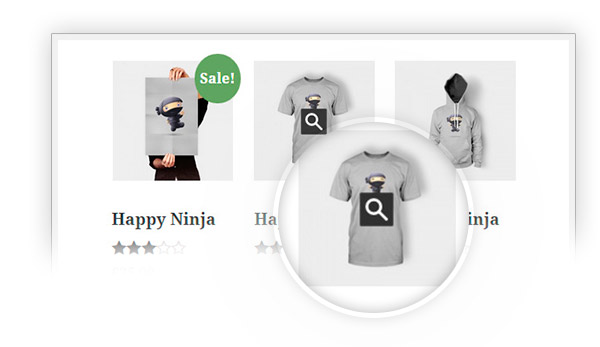 Buscar productos dentro de una vista rápida
Para que puedan moverse rápidamente al producto anterior o siguiente sin salir de la ventana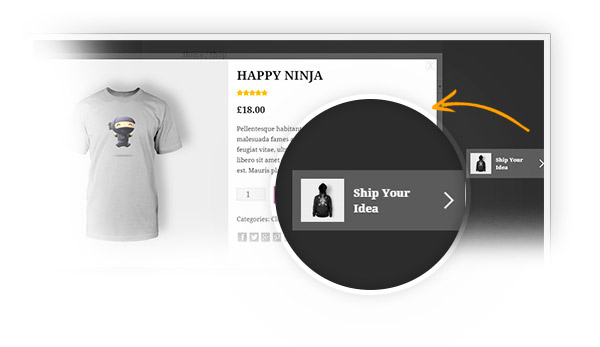 Escoger la información a mostrar
Puedes decidir si mostrar toda la información o sólo una parte de ella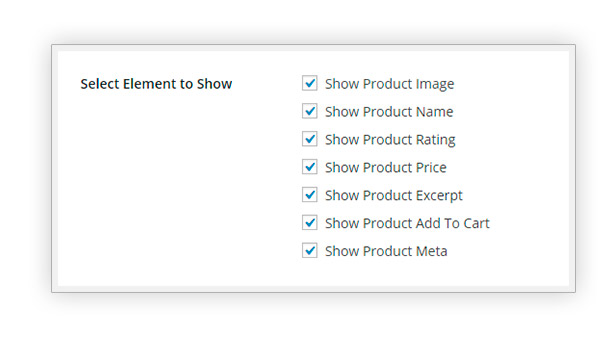 Mostrar diferentes tipos de imágenes
Mostrar sólo la imagen destacada o también otras imágenes a través del efecto deslizante o en la visualización tradicional de WooCommerce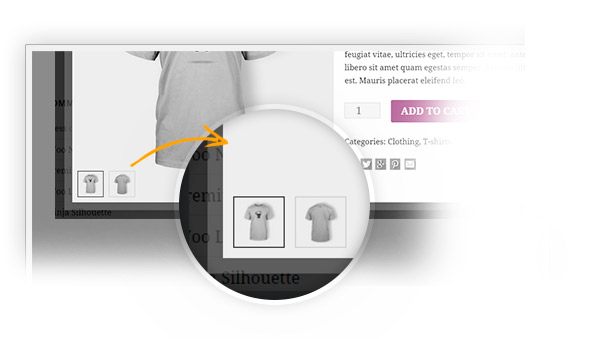 Elegir el método de visualización para la vista rápida
Como una ventana modal o con un efecto deslizante en cascada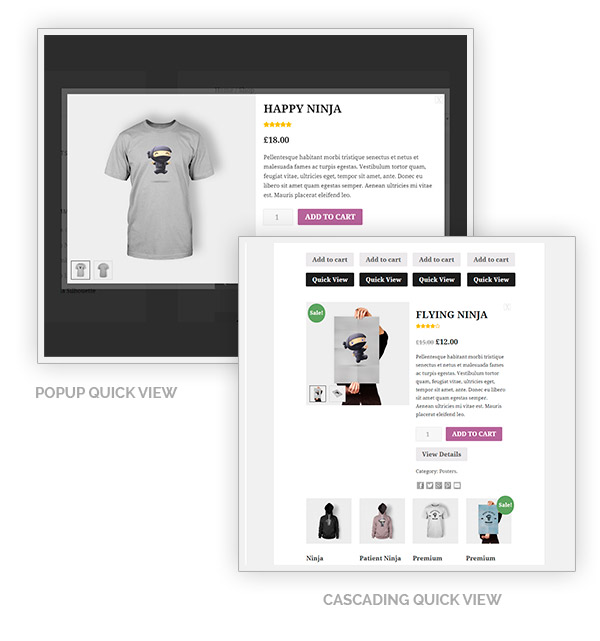 Acceder a la página de detalles del producto desde la vista rápida
Gracias al botón adicional »Ver detalles»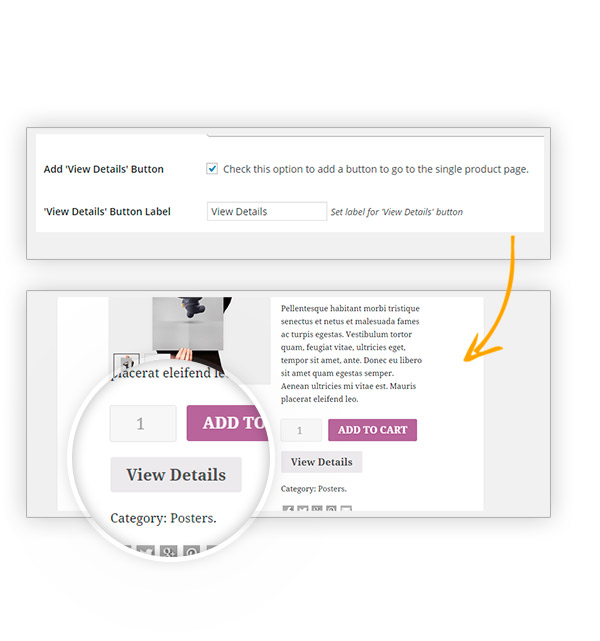 Compartir vistas rápidas en redes sociales
Para compartir vistas rápidas de tus productos en Facebook, Twitter, Pinterest, Google +, o enviar un correo electrónico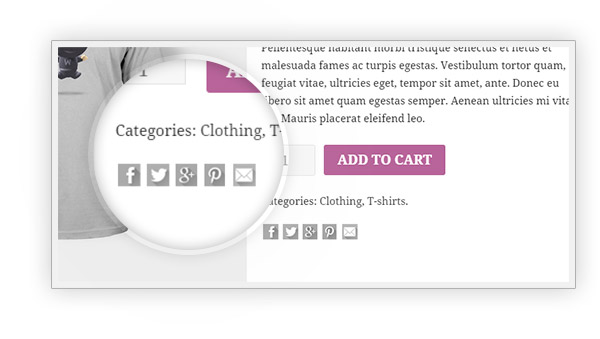 Personalizar estilo
Puedes elegir los colores del botón »vista rápida» y todo lo que está dentro de la ventana modal.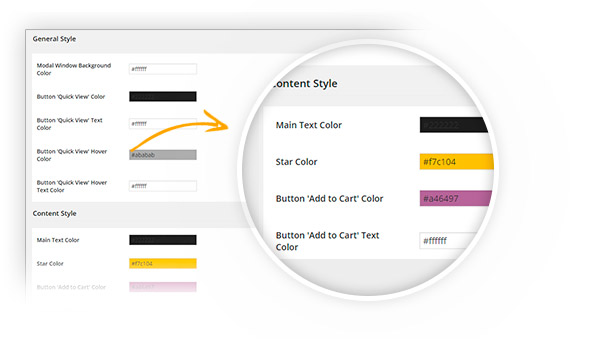 Colocar la vista rápida donde quieras
Utiliza el shortcode disponible para hacer que tus usuarios vean un producto específico en cualquier página.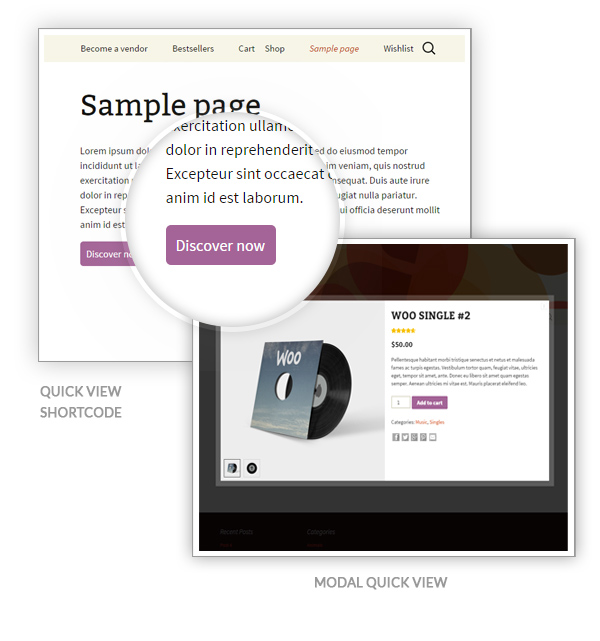 Mejorar tu experiencia con los plugins de YITH
¡Es compatible con YITH WooCommerce Zoom Magnifier, YITH WooCommerce Badge Management y YITH WooCommerce Wishlist para combinar sus características!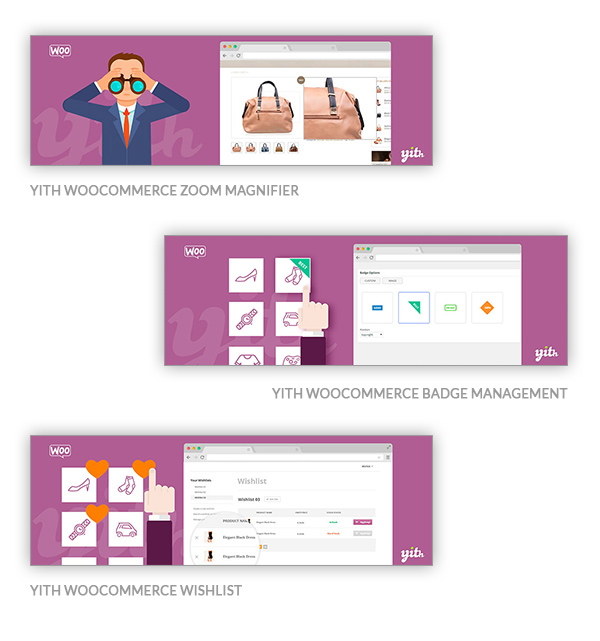 Aprovechar la compatibilidad con WPML
Podrás traducir fácilmente el plugin fácilmente gracias a la potente herramienta de WPML