Guiar a tus usuarios a la compra correcta de algunos productos y establecer la cantidad mínima o máxima para ellos
En la mayoría de las tiendas encontrarás pequeños objetos con un precio muy bajo por artículo, solo piensa en artículos de ferretería o adornos de uñas. Tu cliente puede ser de los que necesite grandes cantidades de dicho producto o uno que solo necesite un par de artículos.
Sin embargo, en este caso, enviar tan pocos requeriría demasiado tiempo en comparación con la ganancia que obtendrías (si es que se obtuviera alguna). Y por no mencionar los costes de envío que serían mucho más altos que el precio de los productos comprados.
¿Y si quisieras hacer ofertas especiales para un producto solicitado? Algunos de ellos pueden hacer un mal uso de esta oferta y agotar tu inventario, mientras que tu intención era promocionar la tienda y llegar a nuevos clientes con esta oferta. ¿No sería una opción ideal para evitar esto establecer una cantidad máxima de artículos a añadir al carrito?
Ofrecer una buena experiencia de usuario en tu sitio también puede ser guiar a tus usuarios hacia la mejor y más adecuada opción para ellos, lo que en ocasiones puede ser la solución más simple y directa: y aquí es donde se encuentra un plugin como YITH WooCommerce Minimum Maximum Quantity, que te permite establecer una cantidad mínima o máxima para la selección del producto, te ayudará a cuidar a tus usuarios, los guiará durante la compra y mantendrá alta su satisfacción.
Ya sea que desees establecer una cantidad mínima o máxima de artículos del mismo producto o en todo el carrito, si deseas establecer un gasto mínimo o máximo, si quieres incluir los costes de envío o no, todo esto solo beneficiará a tu negocio.
Versión:

1.33.0

Publicada:

2023-09-14

Versión mínima de PHP:

7.0

Requiere:

WordPress 6.1

and WooCommerce 7.9

Compatible hasta:

WordPress 6.3.x

and WooCommerce 8.1.x

Plugins multidioma compatibles:

WPML, Weglot, Loco Translate

Traducción lista:

SÍ

Idiomas 100% garantizados por YITH:

English, Italian, Spanish

Idiomas proporcionados por usuarios:

Dutch (100%)

Compatible con:

Tema YITH Proteo. Todos los plugins de YITH

Cumple con RGPD:

No aplicable
CON
YITH MINIMUM MAXIMUM QUANTITY

PUEDES:
Establecer restricciones en la cantidad del producto
Genera un efecto sobre los productos en el carrito, y elige una cantidad mínima y máxima de productos para permitir las compras.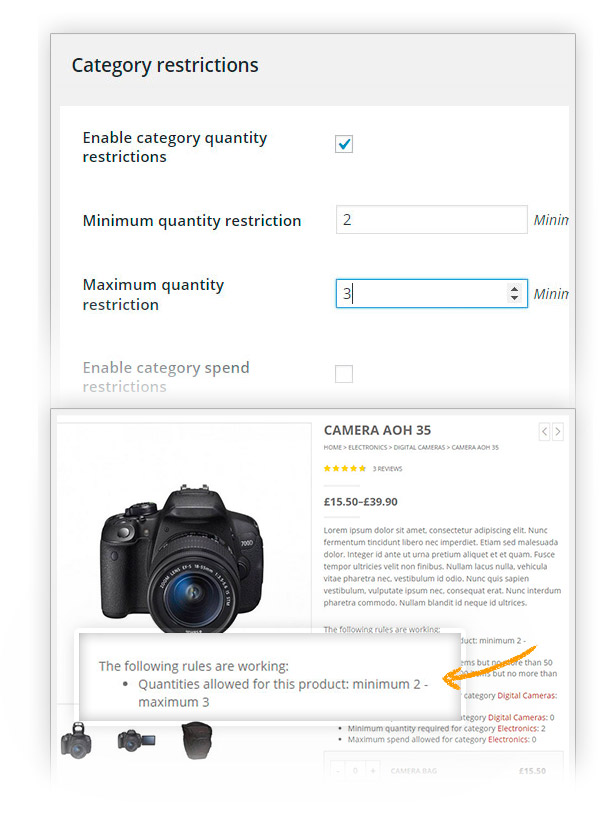 Establecer restricciones en la cantidad de gastos
Selecciona la cantidad mínima y máxima de gastos para completar un pedido.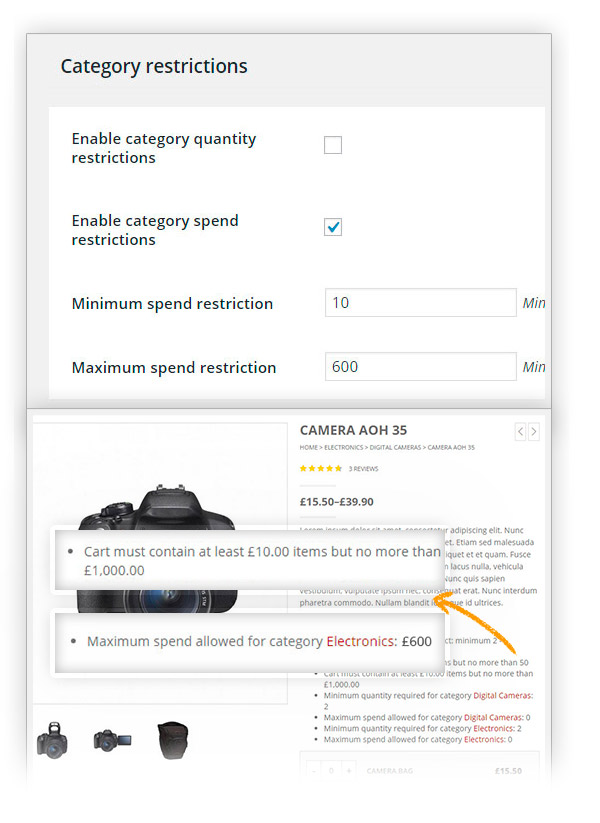 Utilizar tus reglas de compra
Elige las reglas que quieras y aplícalas a tu tienda, mostrando la lista completa a tus usuarios en la página de detalles del producto.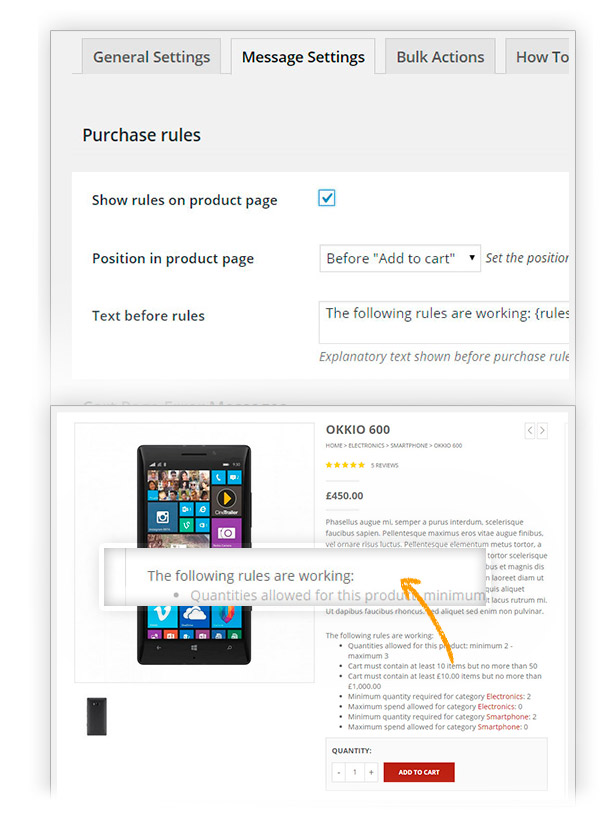 Personalizar los mensajes de error
Obtén el control completo sobre los mensajes mostrados a tus usuarios cuando no siguen tus reglas.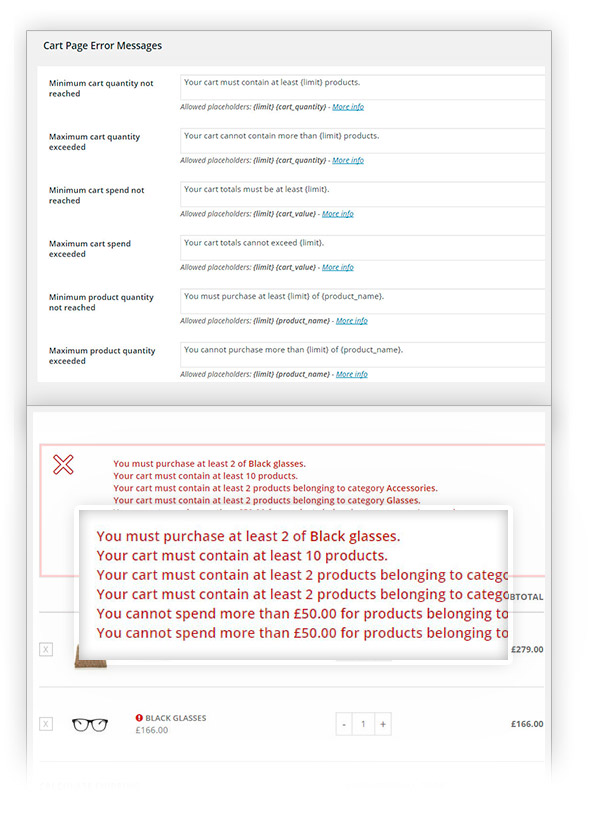 Excluir productos particulares de las reglas de compra
Como administrador de tu tienda en línea, eres libre de excluir los productos que desees en la aplicación de las reglas generales.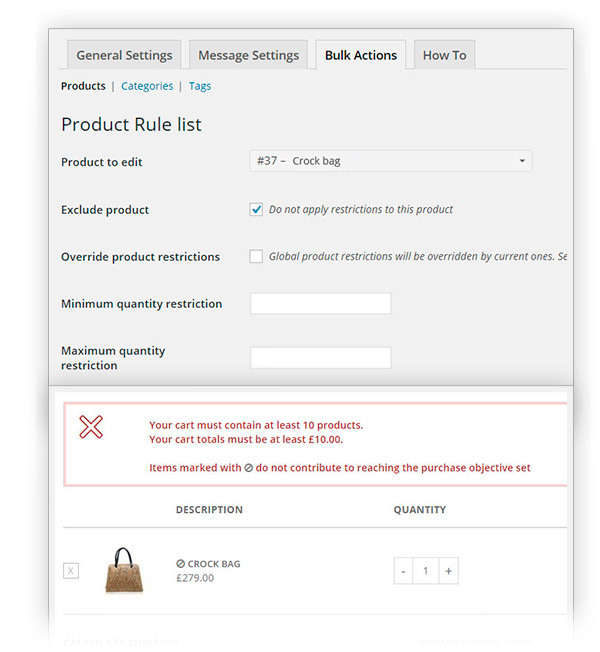 Aplicar restricciones en más productos al mismo tiempo
¡Ahorra tiempo y aplica restricciones con un solo clic!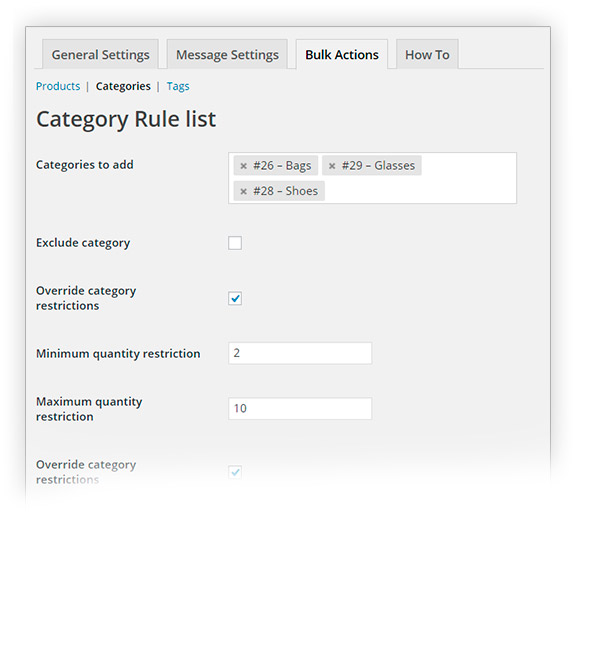 Aprovechar la compatibilidad con WPML
Puedes traducir el plugin fácilmente con la potente herramienta de WPML