Guida i tuoi utenti al giusto acquisto di certi prodotti e imposta la quantità minima o massima per ciascuno di essi
Nella maggior parte degli shop troverai oggetti di piccole dimensioni a costo bassissimo, basta pensare ad un ferramenta o un negozio di decorazioni per unghie. Il cliente che viene da te potrebbe sia avere bisogno di grandi quantità di questi prodotti o solo di un paio di viti. Ma in quest'ultimo caso, spedirne così poche ti richiederebbe troppo tempo in confronto al guadagno che ne avresti (per non dire che il guadagno sarebbe del tutto assente). Senza contare, poi, le spese di spedizione di molto superiori al prezzo del prodotto acquistato.
E cosa dire, invece, nel caso in cui tu voglia fare delle offerte speciali su un prodotto molto richiesto? Qualcuno potrebbe approfittarsene e nel giro di pochissimo tempo si potrebbero esaurire le scorte, mentre tu volevi promuovere lo shop e raggiungere molti nuovi clienti con questa offerta. Non sarebbe l'ideale impostare una quantità massima di articoli da poter aggiungere al carrello?
Offrire una buona user experience nel tuo sito significa anche questo: accompagnare l'utente a fare la scelta migliore e più conveniente per lui, anche per il più distratto o superficiale: ed è per questo che un plugin come YITH WooCommerce Minimum Maximum Quantity, che ti permette di impostare un numero limite (minimo o massimo) di prodotti, ti aiuterà a prenderti cura del tuo utente, accompagnarlo nel suo acquisto e mantenere alto il suo livello di soddisfazione.
Che si tratti di impostare la quantità minima o massima per un solo prodotto o in tutto il carrello, che si tratti di una spesa minima o massima, che in questa tu voglia includere le spese di spedizione o meno, tutto questo sarà solo a vantaggio della tua attività online.
Versione:

1.33.0

Rilasciata il:

2023-09-14

Versione minima di PHP:

7.0

Requisiti minimi:

WordPress 6.1

and WooCommerce 7.9

Compatibile con:

WordPress 6.3.x

and WooCommerce 8.1.x

Plugin multilingua supportati:

WPML, Weglot, Loco Translate

File di lingua inclusi:

SÌ

Lingue garantite al 100% da YITH:

English, Italian, Spanish

Traduzioni degli utenti:

Dutch (100%)

Supporta:

Il tema YITH Proteo. Tutti i plugin YITH.

Conforme al GDPR:

Non applicabile a questo prodotto
CON
YITH MINIMUM MAXIMUM QUANTITY

PUOI:
Impostare delle limitazioni sulla quantità dei prodotti
Da applicare ai prodotti nel carrello e scegliere una quantità minima e massima che è possibile acquistare.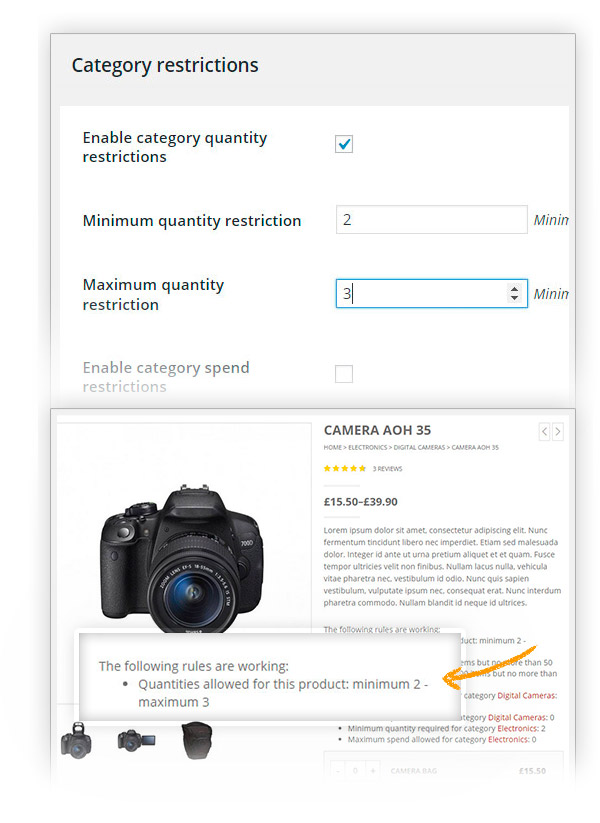 Impostare delle restrizioni sull'importo di spesa
Seleziona l'importo di spesa minimo e massimo per completare un ordine.
Utilizzare le tue regole di acquisto
Scegli le regole che preferisci e applicale nel tuo negozio, mostrando ai tuoi utenti l'elenco completo nella pagina dettaglio del prodotto.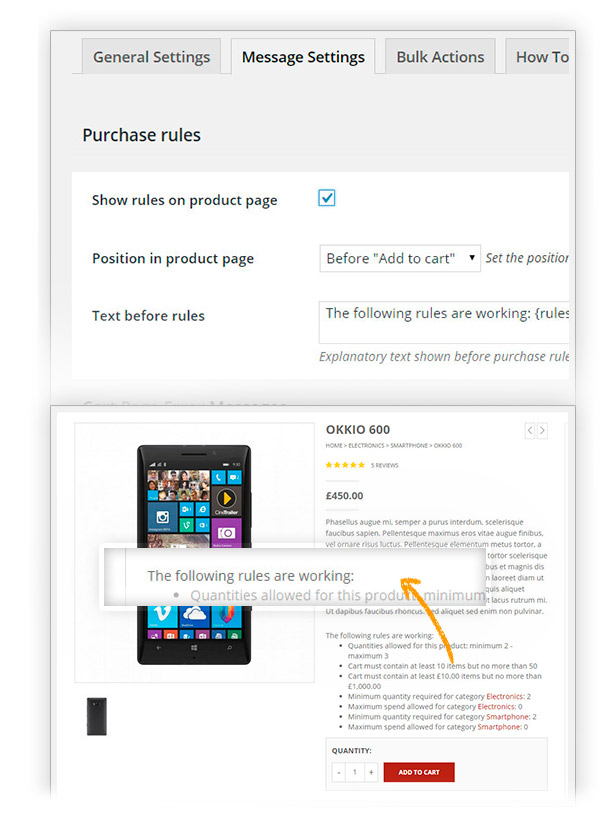 Personalizzare i messaggi di errore
Avrai pieno controllo sui messaggi da mostrare ai tuoi utenti quando non rispettano le tue indicazioni di acquisto.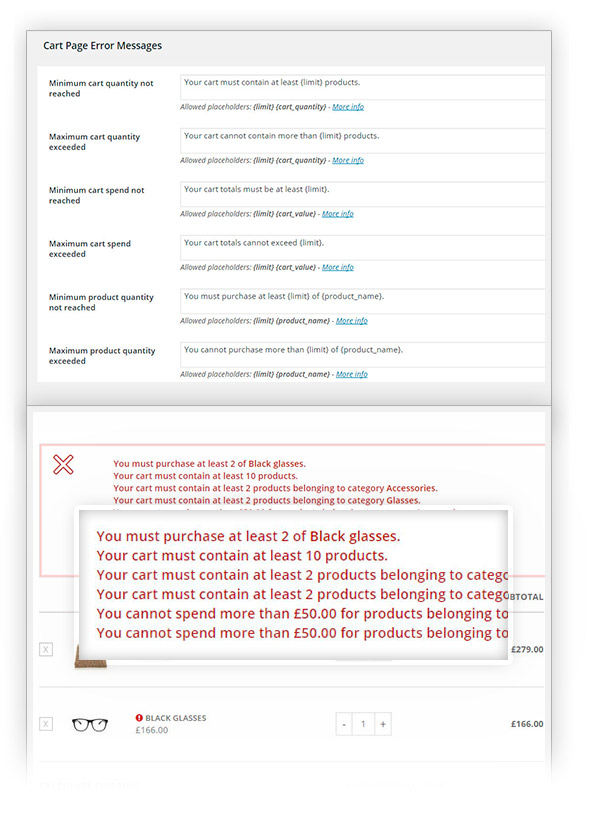 Escludere determinati prodotti dalle regole di acquisto
In qualità di amministratore del negozio, puoi escludere i prodotti che vuoi dall'applicazione delle regole generali.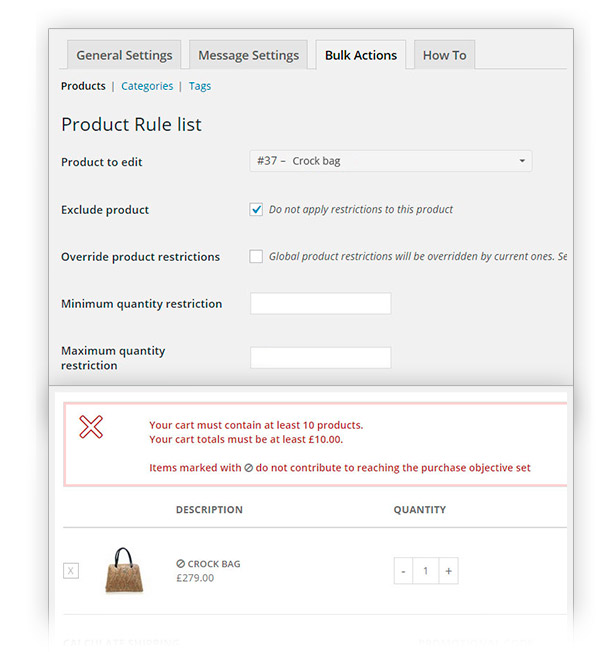 Applicare le limitazioni su più prodotti allo stesso tempo
Risparmia tempo ed applica le limitazioni con un solo clic!
Approfittare della compatibilità con WPML
Puoi facilmente tradurre il plugin con il potente strumento per siti multilingua