Main overview
Guide your users to the correct purchase of some products and set minimum or maximum quantity for them
In the majority of shops you will find small objects with a very low price per item, just think of ironmongery or nail charms. Your customer could either be one who needs big amounts of such product or one who needs just a couple of items.Yet, in this case, shipping so few would require too much time if compared with the profit you would make (If any profit at all). And not to mention, shipping costs that would be much higher than the price of the purchased products.
And what if you wanted to make special offers for a sought-after product? Some of them might misuse this offer and make rid of your stocks, while your intent was to promote the shop and reach new customers with this offer. Wouldn't setting a maximum quantity of items to add to the cart be the ideal choice for preventing this?
Offering a good user experience on your site is also this, guiding your users to the best and most suitable choice for them, also for the most shallow or facile one: and this is where a plugin such as YITH WooCommerce Minimum Maximum Quantity, which allows you to set a minimum or maximum quantity for product selection, will help you take care of your users, guide them during purchase and keep their satisfaction high.
Whether you want to set a minimum or maximum quantity of items of the same product or in the whole cart, whether you want to set a minimum or maximum spend, whether you want to include shipping costs or not, all this will only benefit your online business.
Requires:

WordPress 4.5 or higher

and WooCommerce 3.8.x or higher

Compatible up to:

WordPress 5.4.x

and WooCommerce 4.0.x

Minimum PHP version:

5.6

Version:

1.4.7

Released:

2020-02-27

WPML and Weglot compatible:

YES

Translation ready:

YES

Languages:

Dutch, English, Italian, Spanish

Support to:

All YITH plugins, All YITH themes

GDPR Compliant:

UNNECESSARY
WITH
YITH MINIMUM MAXIMUM QUANTITY

YOU CAN:
SET RESTRICTIONS ON PRODUCT QUANTITY
Have an effect on products in the cart, and choose a minimum and a maximum quantity of products to allow purchases.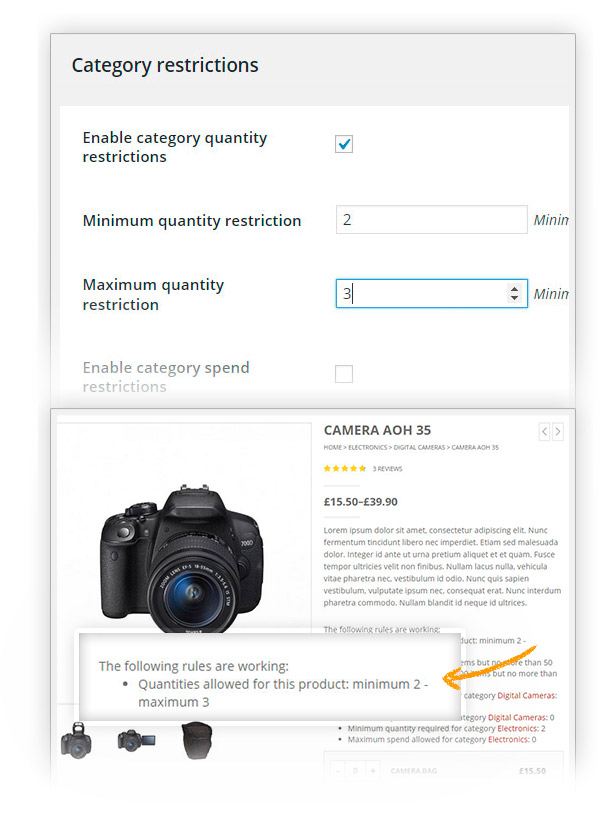 SET RESTRICTIONS ON SPEND AMOUNT
Select the minimum and maximum spend amount to complete an order.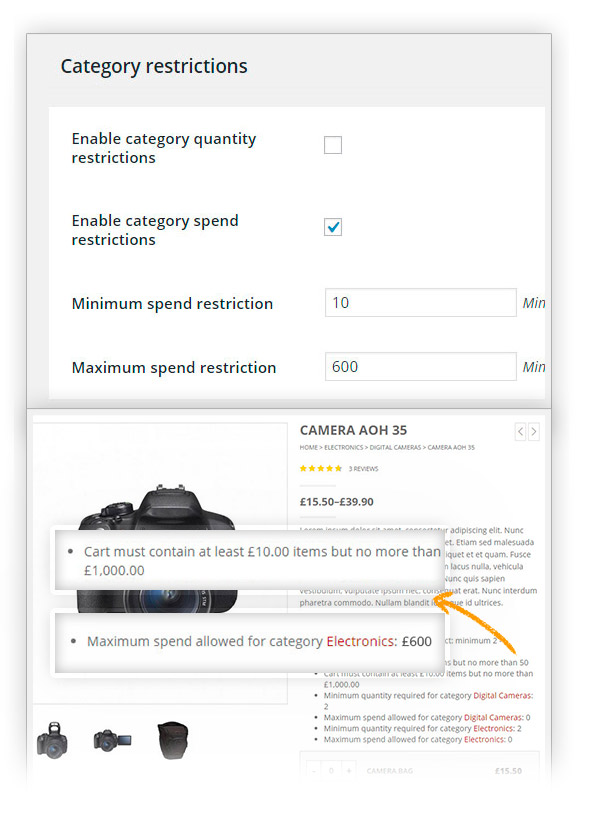 USE YOUR PURCHASE RULES
Choose the rules you want and apply them to your shop, displaying the complete list to your users in the product detail page.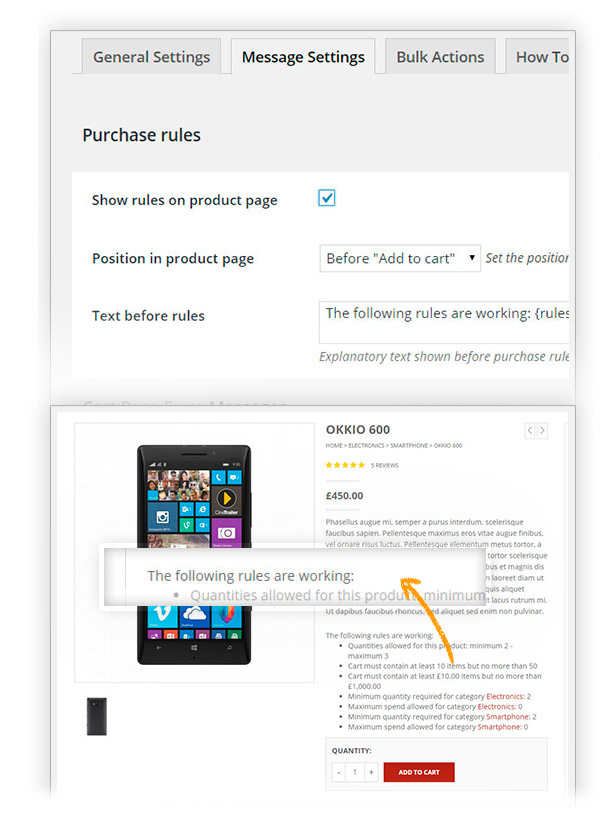 CUSTOMIZE ERROR MESSAGES
You have the full control over the messages to show to your users when they don't follow your rules.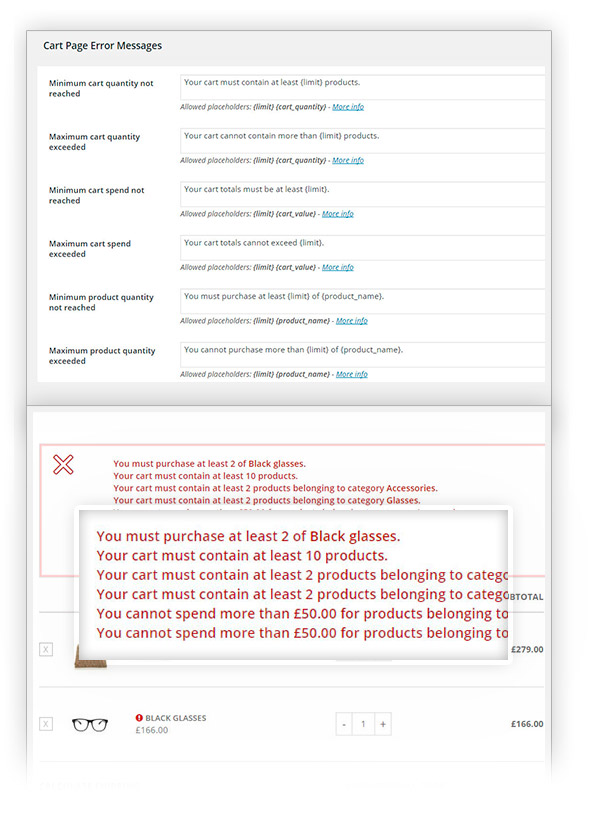 EXCLUDE PARTICULAR PRODUCTS FROM PURCHASE RULES
As administrator of your online shop, you are free too unbound the products you want from the application of the general rules.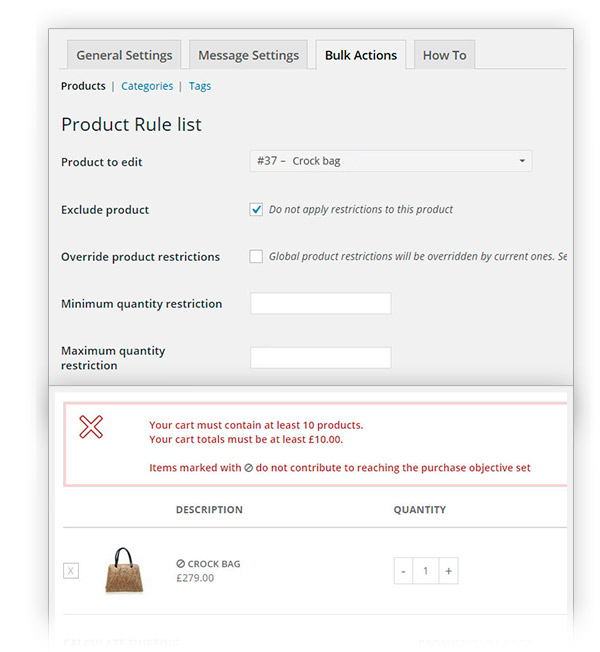 APPLY RESTRICTIONS ON MORE PRODUCTS AT THE SAME TIME
Spare time and apply restrictions with just one click!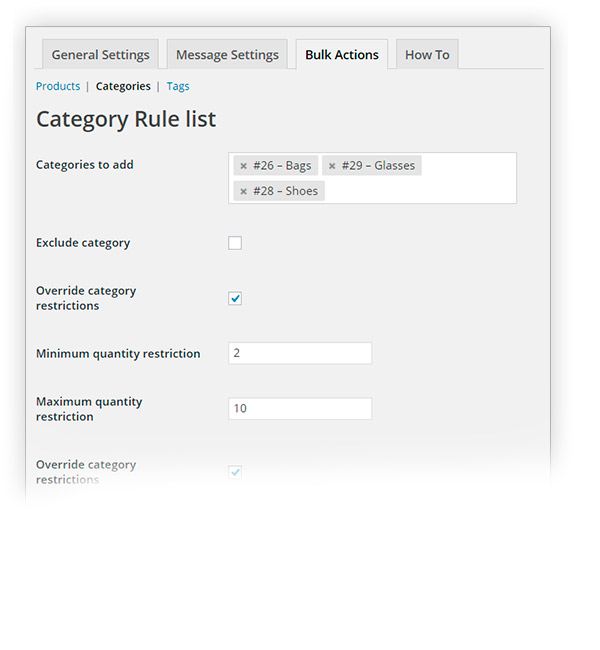 Take advantage of the wpml compatibility
You are free to easily translate the plugin with the powerful WPML tool