Apuesta por los principios de urgencia y escasez con un sencillo pero extremadamente potente plugin
"Explota el principio de urgencia y escasez para tu sitio y verás cómo las conversiones aumentan dramáticamente". Esta es una de las expresiones más recurrentes en la web cuando se habla de estrategias de marketing, pero no podría ser más cierta. Si los usuarios se dan cuenta de que su tiempo para tomar una decisión es limitado o que el producto en el que están interesados está disponible sólo en un número limitado de artículos, decidirán comprarlos antes y más rápido. Eso es exactamente lo que hace una cuenta atrás.
El uso de una cuenta regresiva para tus productos te ayudará a aumentar las compras de manera exponencial. Con YITH WooCommerce Product Countdown, podrás mostrar una cuenta regresiva específica para cada uno de tus productos y activar exactamente el mismo efecto que la oferta de último minuto.
Luego, si añades a esto el efecto del principio de escasez, mostrar el número de artículos que quedan y actualizarlos en tiempo real, ya está: los usuarios interesados se convierten en clientes reales, se apresurarán a comprar porque probablemente ya no encuentren el artículo en el que estaban interesados.
Versión:

1.32.0

Publicada:

2023-09-14

Versión mínima de PHP:

7.0

Requiere:

WordPress 6.1

and WooCommerce 7.9

Compatible hasta:

WordPress 6.3.x

and WooCommerce 8.1.x

Plugins multidioma compatibles:

WPML, Weglot, Loco Translate

Traducción lista:

SÍ

Idiomas 100% garantizados por YITH:

English, Italian, Spanish

Idiomas proporcionados por usuarios:

Dutch (100%), German (100%)

Compatible con:

Tema YITH Proteo. Todos los plugins de YITH

Temas de terceros compatibles:

Avada, Divi, Flatsome, Neighborhood, Storefront, X

Constructores de página compatibles:

Gutenberg

Cumple con RGPD:

No aplicable
CON
YITH PRODUCT COUNTDOWN

PUEDES:
Crear una barra de venta
¡Por cada cantidad de productos vendidos, la necesidad de comprar la última será más fuerte!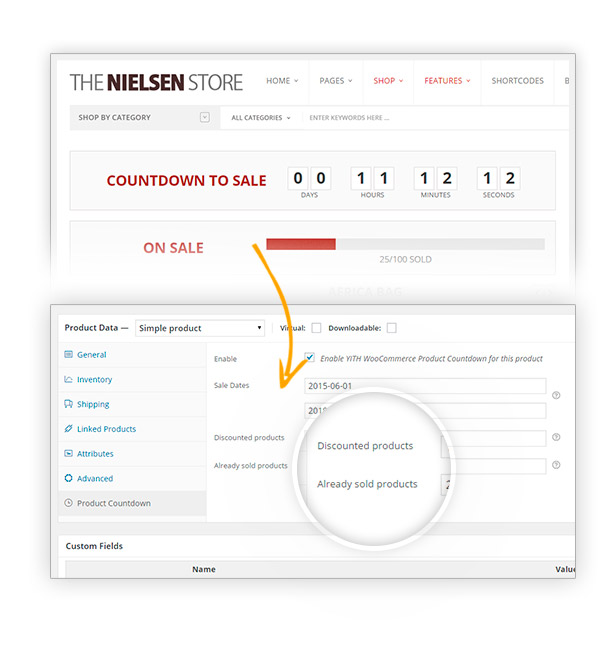 Utilizar una cuenta atrás y/o una barra de venta
Elige la mejor solución para los productos que deseas vender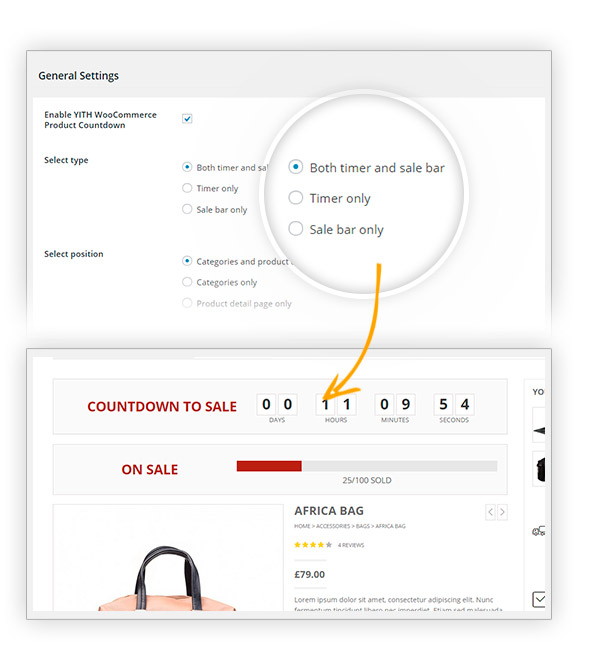 Elegir la posición de la caja de cuenta atrás
Colócala en la página de detalle del producto o en la página de categoría y consigue la atención de tus usuarios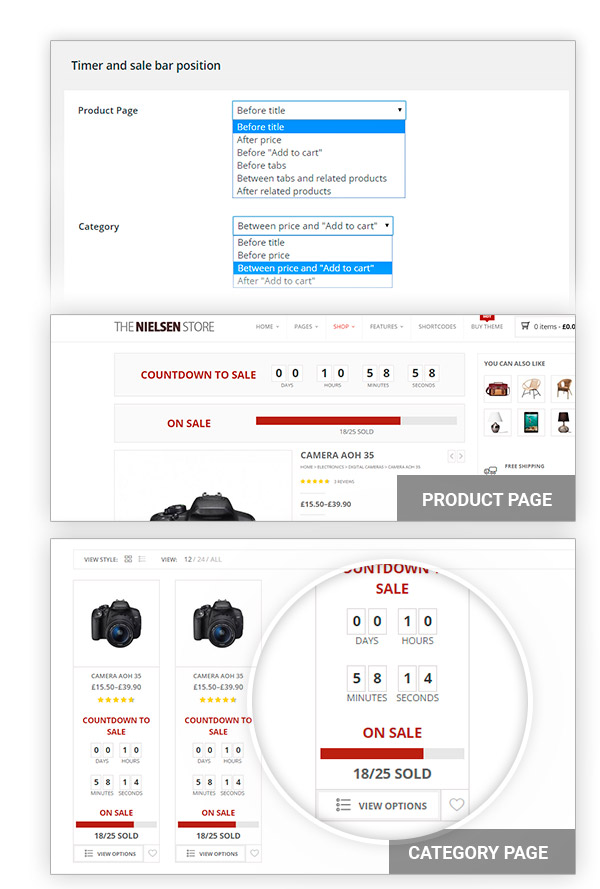 Programar qué pasará después de la cuenta regresiva
¡Actuando directamente en la caja de la cuenta atrás, o modificando el producto en sí mismo!
Hacer uso de shortcodes y widgets
¡Para destacar entre tus páginas, los productos que ya tienen una cuenta atrás!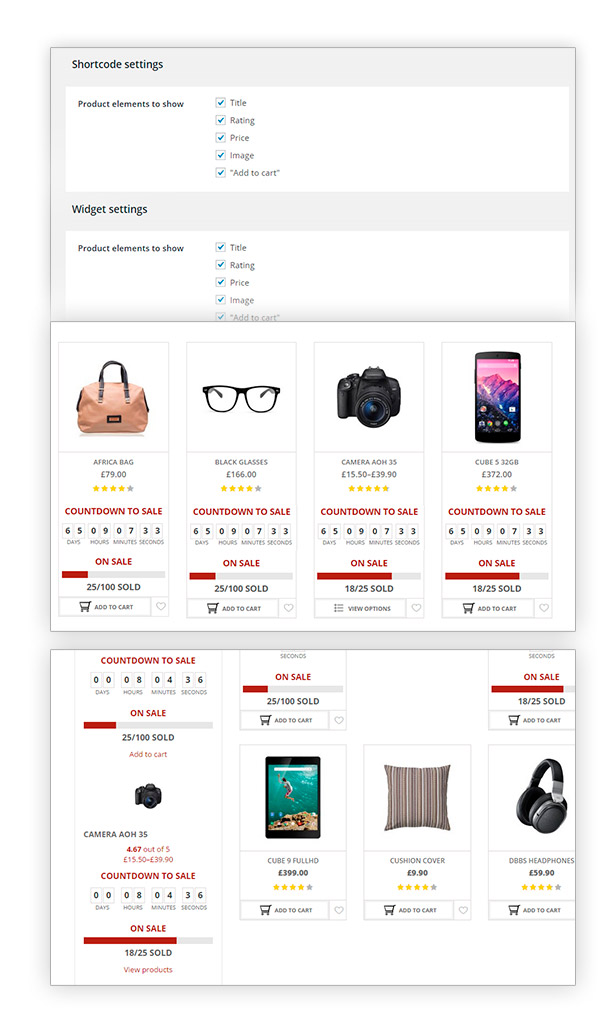 Personalizar los textos
¡Añade un mensaje único para decir a tus clientes la importancia de los productos limitados!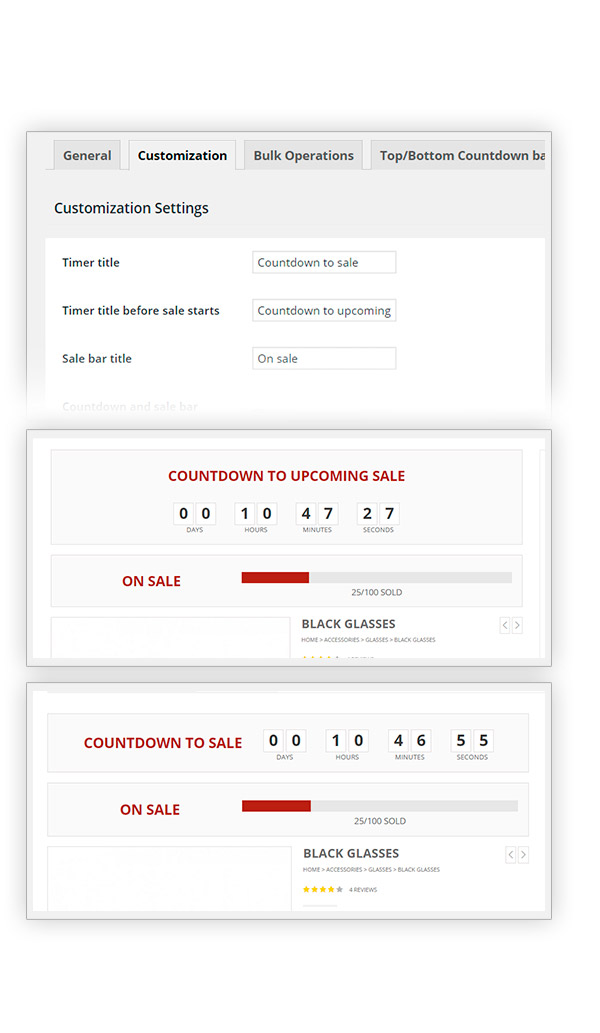 Elegir entre 3 diseños diferentes
También puedes cambiar sus colores y previsualizarlos para comprender cuál es el mejor según tus necesidades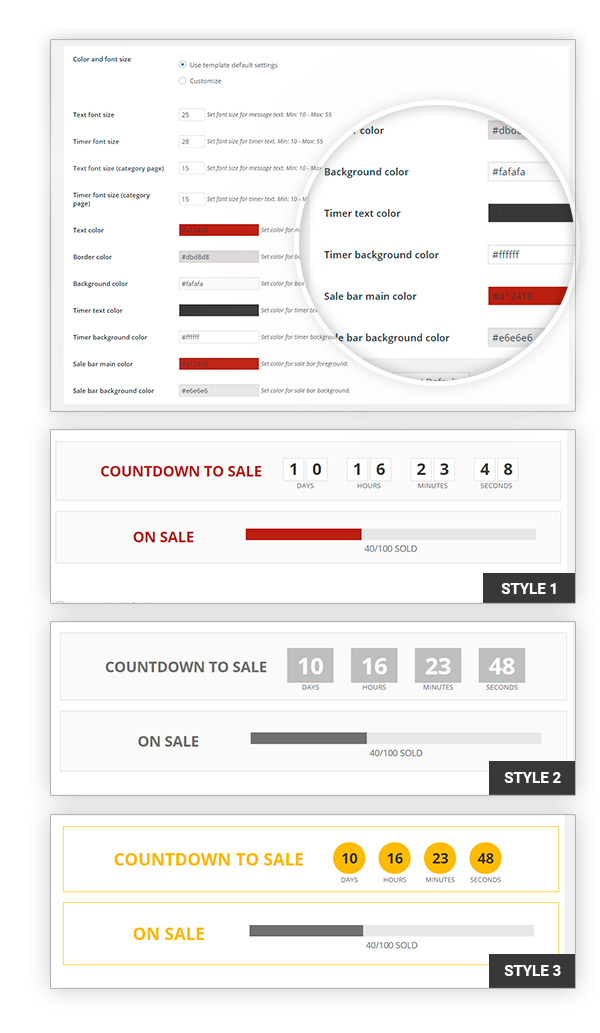 Aprovechar los grupos de productos
Aplicando diferentes cuentas para diferentes grupos de productos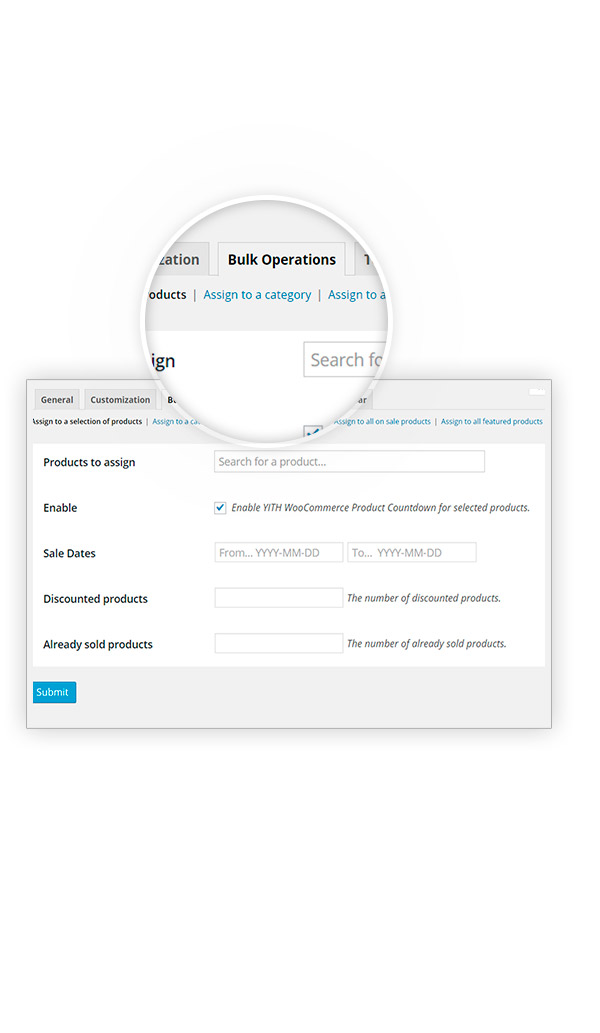 Colocar una barra superior o una barra inferior
¡Esto se visualizará en cada página de tu sitio con la oferta que todos deben ver!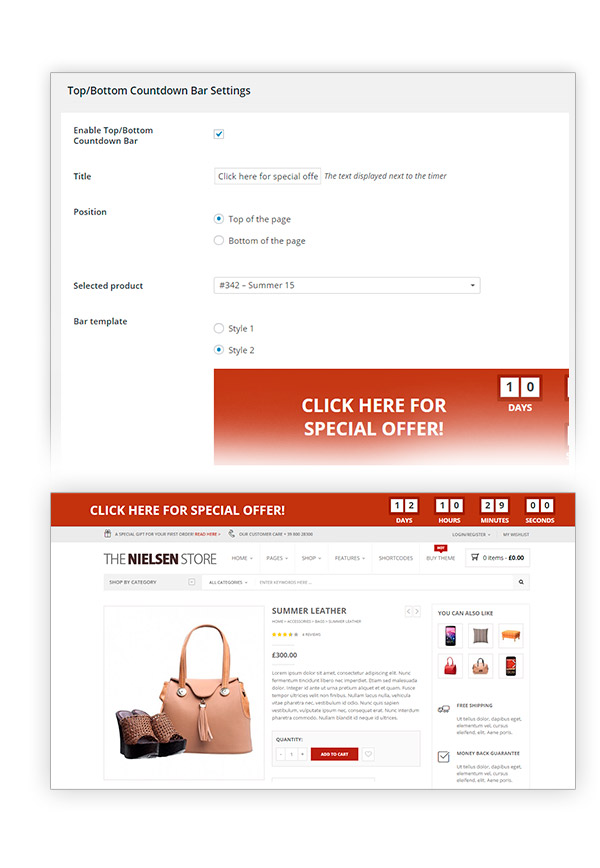 Añadir una cuenta atrás de preventa
¡De esta manera siempre mantendrás informados a tus usuarios, incluso para productos que están por ser publicados oficialmente!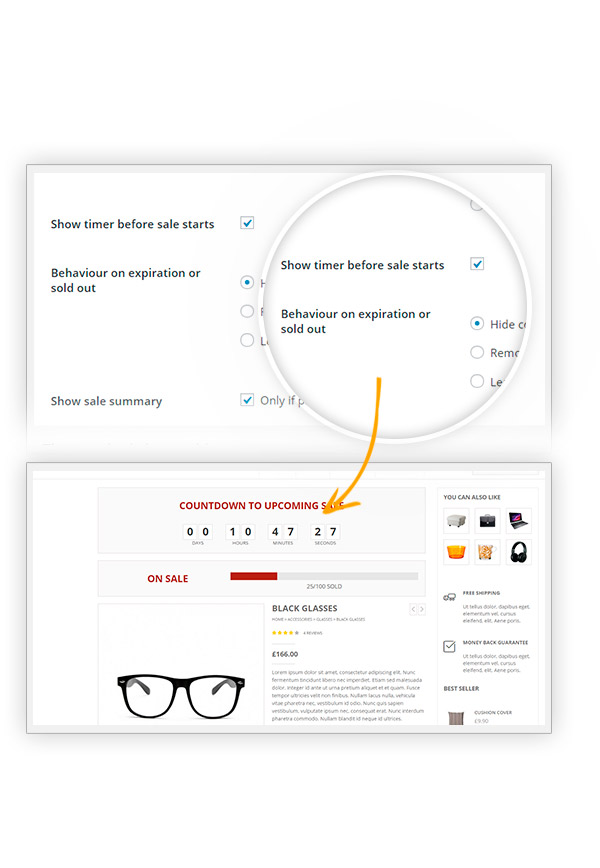 Aprovechar la compatibilidad con WPML
Puedes traducir el plugin fácilmente con la potente herramienta de WPML