Punta sui principi di urgenza e scarsità con un plugin semplice ma estremamente potente
"Sfrutta il principio di urgenza e scarsità per il tuo sito e vedrai l'indice di conversione crescere a dismisura" è una delle espressioni più ricorrenti nel web quando si parla di strategie di marketing. Se l'utente si rende conto che il tempo a sua disposizione per acquistare ciò che desidera è limitato o che il prodotto a cui è interessato è disponibile solo in quantità limitata, si deciderà a comprare molto più in fretta. Questo è esattamente il meccanismo che mette in moto un conto alla rovescia.
Utilizzare un conto alla rovescia per i tuoi prodotti ti aiuterà a far aumentare le vendite del tuo sito in modo esponenziale. Con YITH WooCommerce Product Countdown potrai mostrare un conto alla rovescia per ciascuno dei tuoi prodotti innescando esattamente la stessa reazione di un'offerta last minute.
Poi, se aggiungiamo a questo l'effetto del principio di scarsità permettendoti di mostrare quanti articoli sono rimasti e aggiornarli in tempo reale, è fatta: gli utenti interessati si trasformeranno in clienti, si affretteranno a comprare per timore di non trovare più i prodotti di loro interesse.
Versione:

1.32.0

Rilasciata il:

2023-09-14

Versione minima di PHP:

7.0

Requisiti minimi:

WordPress 6.1

and WooCommerce 7.9

Compatibile con:

WordPress 6.3.x

and WooCommerce 8.1.x

Plugin multilingua supportati:

WPML, Weglot, Loco Translate

File di lingua inclusi:

SÌ

Lingue garantite al 100% da YITH:

English, Italian, Spanish

Traduzioni degli utenti:

Dutch (100%), German (100%)

Supporta:

Il tema YITH Proteo. Tutti i plugin YITH.

Temi di terzi supportati:

Avada, Divi, Flatsome, Neighborhood, Storefront, X

Page builder supportati:

Gutenberg

Conforme al GDPR:

Non applicabile a questo prodotto
CON
YITH PRODUCT COUNTDOWN

PUOI:
Creare una barra con il numero di prodotti acquistati e rimasti
Ad ogni unità venduta, aumenterà il senso di urgenza che spinge l'utente ad acquistare gli ultimi prodotti rimasti!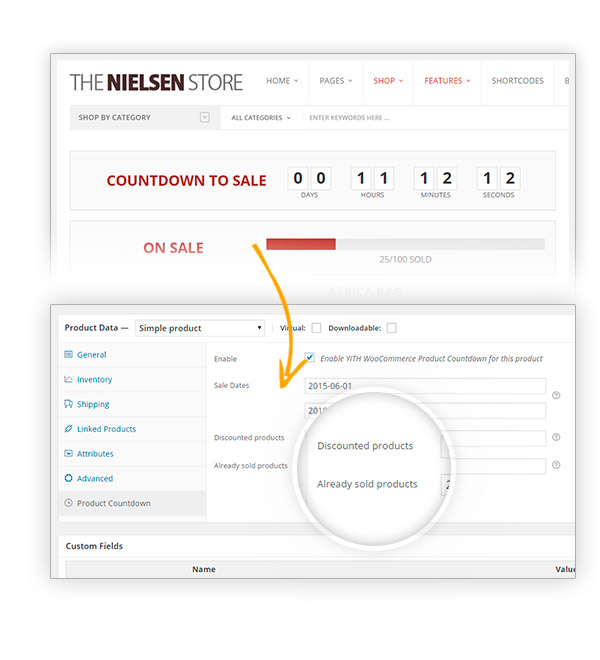 Usare un conto alla rovescia o il conteggio delle unità vendute
Scegli la soluzione migliore per i prodotti che vuoi vendere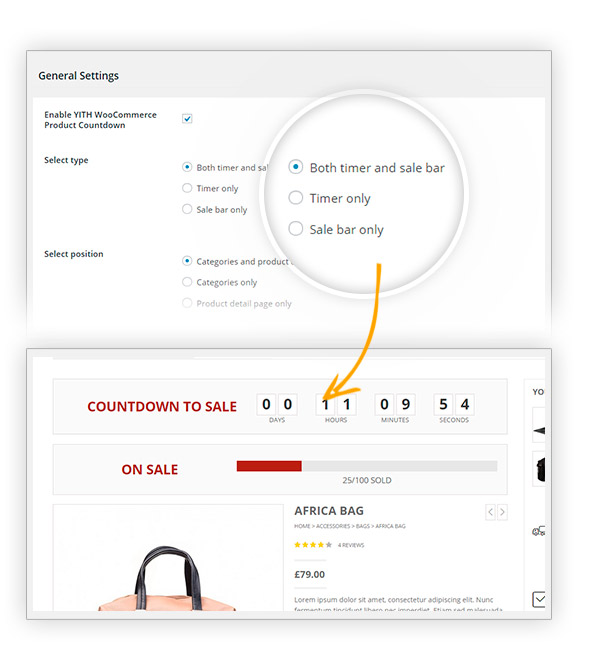 Scegliere la posizione del conto alla rovescia
Posizionalo nella pagina del prodotto o nella pagina categoria e cattura l'attenzione dei tuoi utenti
Programmare l'azione allo scadere del conto alla rovescia
Nascondendo il box del conto alla rovescia o modificando il prodotto stesso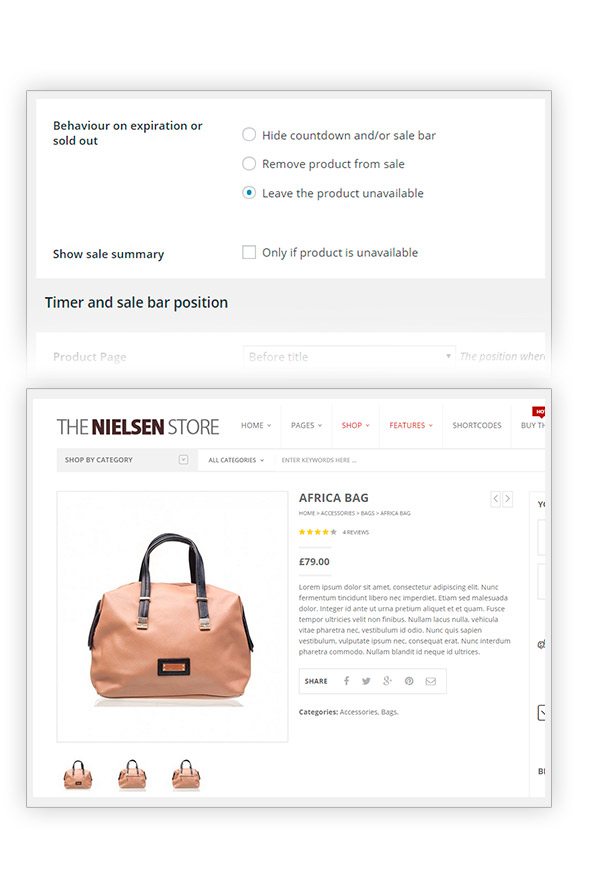 Utilizzare shortcode e widget
Per mettere in risalto i prodotti che hanno già un countdown tra le pagine del tuo sito!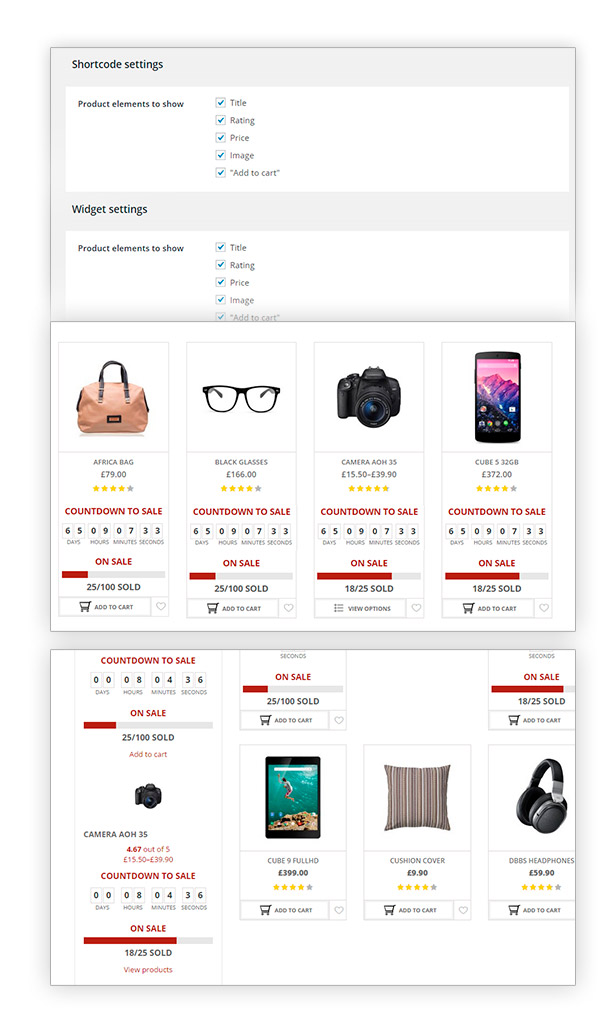 Personalizzare i testi
Aggiungi un messaggio unico per comunicare ai tuoi utenti l'importanza di quel prodotto disponibile soltanto per un tempo limitato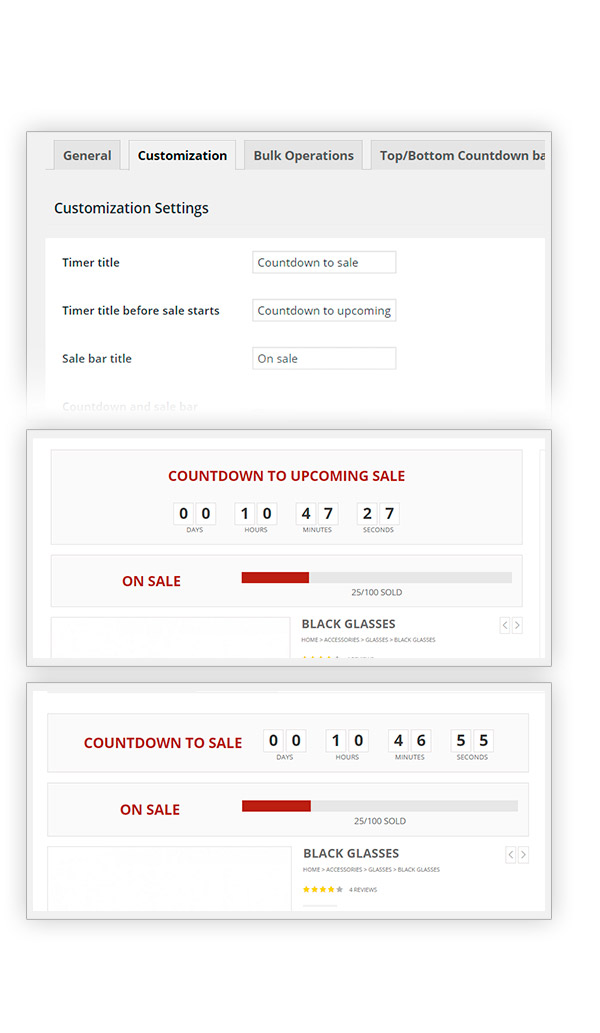 Scegliere fra 3 diversi layout
Puoi anche modificarne i colori e visualizzarne un'anteprima per capire quale meglio si adatta alle tue necessità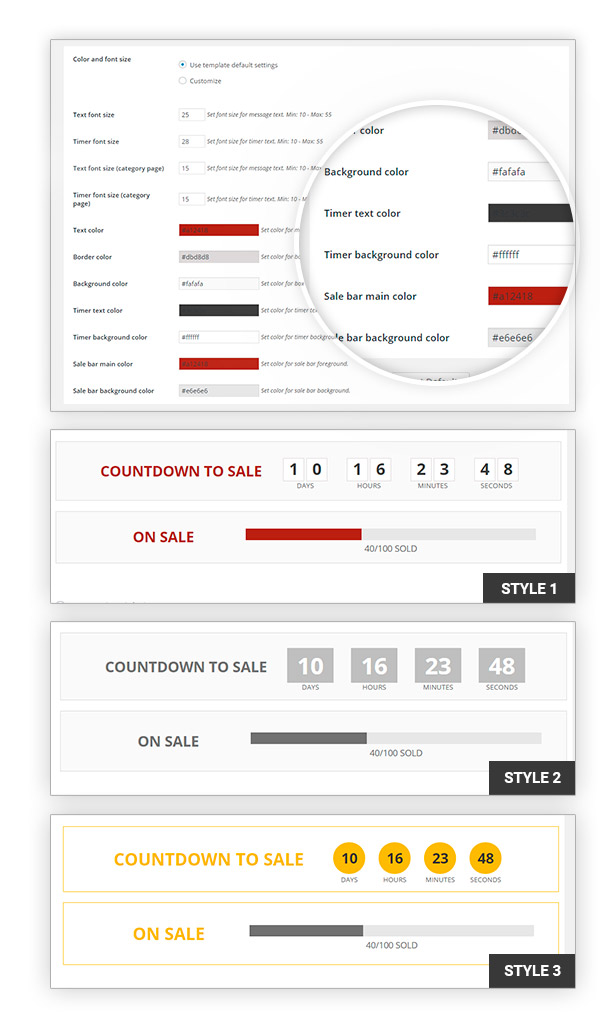 Sfruttare i gruppi di prodotti
Applicando conti alla rovescia differenti per gruppi di prodotti diversi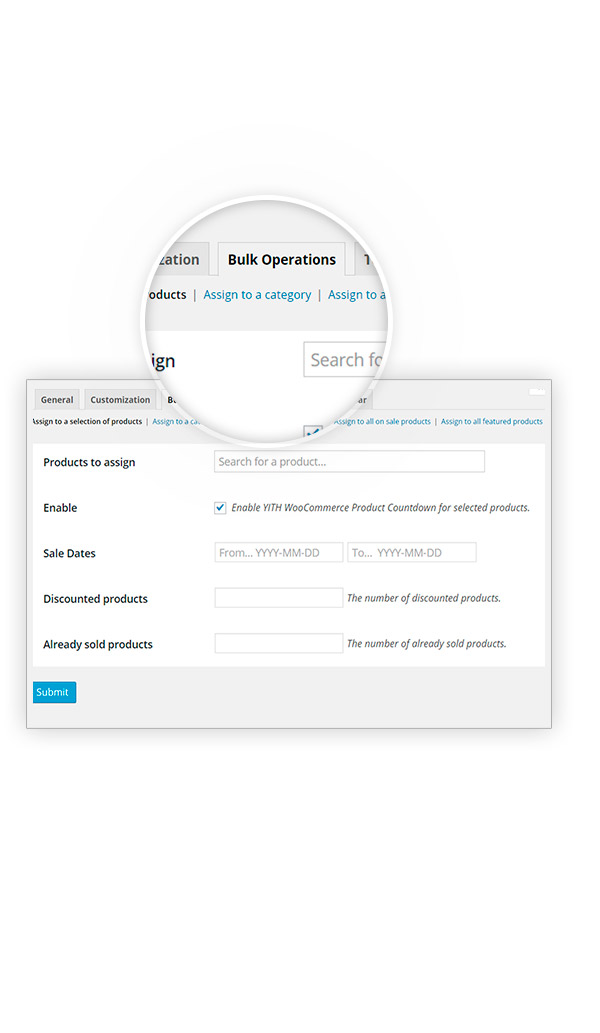 Posizionare la barra in alto o in basso
E sarà mostrata in tutte le pagine del tuo sito con l'offerta che vuoi mettere in risalto!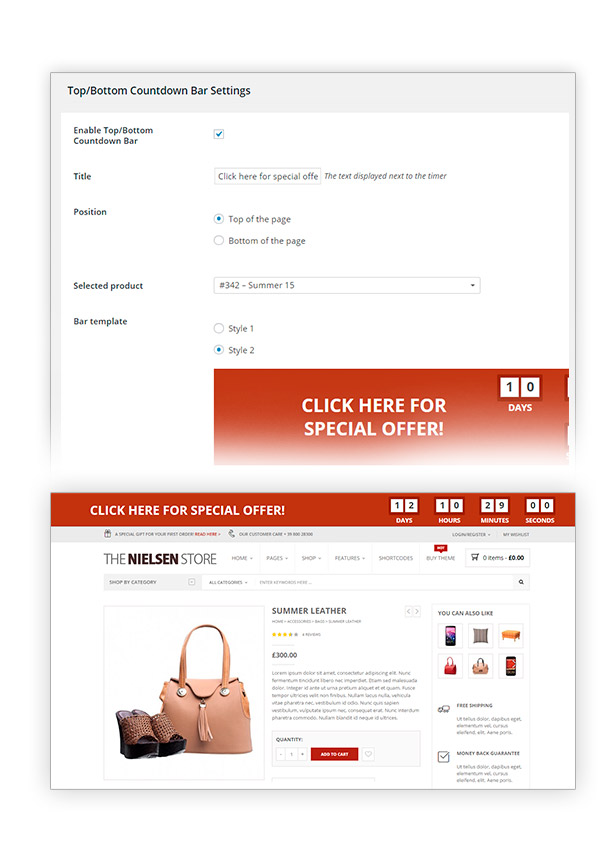 Inserire un conto alla rovescia pre-vendita
Così facendo terrai sempre informati i tuoi utenti anche sui prodotti che devono ancora diventare disponibili!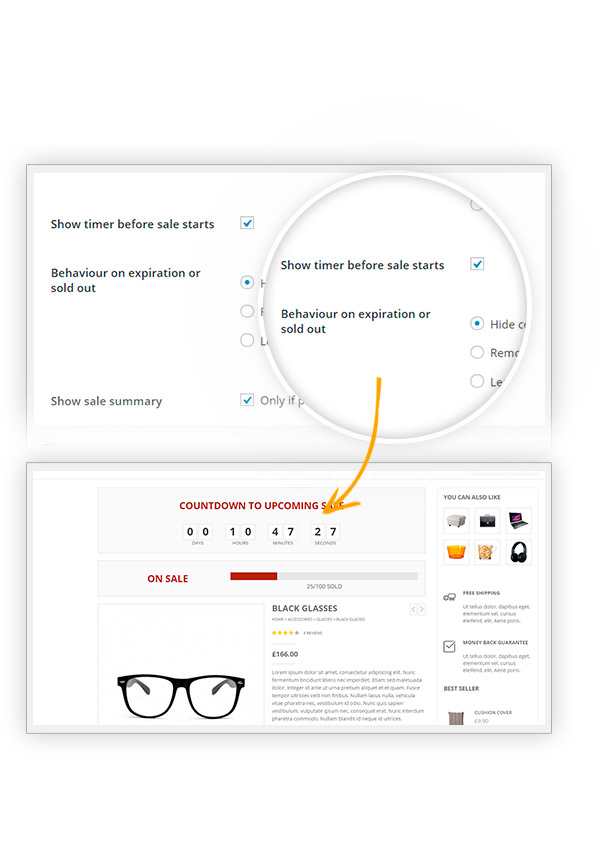 Approfittare della compatibilità con WPML
Puoi facilmente tradurre il plugin con il potente plugin per siti multi-lingua