Una buena manera de mostrar el precio adecuado para tus usuarios
Cuando los vendedores crean una sociedad contigo, esperan tener la posibilidad de comprar en tu sitio con una lista de precios dedicada, sin demasiada dificultad y sin la necesidad de tener un intercambio ilimitado de correos electrónicos o llamadas telefónicas con la administración por cada pedido.
Esto pondría en peligro la colaboración, con el riesgo de que tu usuario pueda preferir otra tienda.
Lo mismo ocurre con otras tipologías de clientes, como gerentes de tiendas, socios o clientes que compran grandes cantidades de productos.
Esperan algo de ti.
Sería bueno tener la posibilidad de aplicar y mostrar el precio correcto para cada función de usuario de tu tienda después de su autenticación.
Nuestros «precios basados en roles» lo hacen de una manera sumamente rápida y fácil.
Además, también puedes optar por mostrar el precio (regular, en descuento, basado en roles) o añadir al carrito para cada rol de usuario, para tener el control máximo.
YITH WooCommerce Role Based Prices no permite crear nuevos roles. Solo administra los que ya están disponibles. Sin embargo, puedes crear nuevos roles con el uso del plugin gratuito Members
Versión:

1.4.0

Publicada:

2021-09-07

Versión mínima de PHP:

7.0

Requiere:

WordPress 5.6 or higher

and WooCommerce 5.3.x or higher

Compatible hasta:

WordPress 5.8.x

and WooCommerce 5.7.x

Plugins multidioma compatibles:

WPML

Traducción lista:

SÍ

Idiomas 100% garantizados por YITH:

Dutch, English, Italian, Spanish

Idiomas proporcionados por usuarios:

German (100%), German Formal(100%),French(59%)

Compatible con:

Tema YITH Proteo.Todos los plugins de YITH excepto:YITH Donations for WooCommerce, YITH WooCommerce Name Your Price, YITH WooCommerce Request a Quote

Temas de terceros compatibles:

Avada, Divi, Flatsome, Neighborhood, Storefront, X

Plugins de terceros compatibles:

Aelia Currency Switcher, WooCommerce Multilingual

Cumple con RGPD:

No aplicable
CON
YITH ROLE BASED PRICES

PUEDES:
Crear reglas basadas en roles
Y fijar condiciones de compra específicas para los usuarios registrados en tu tienda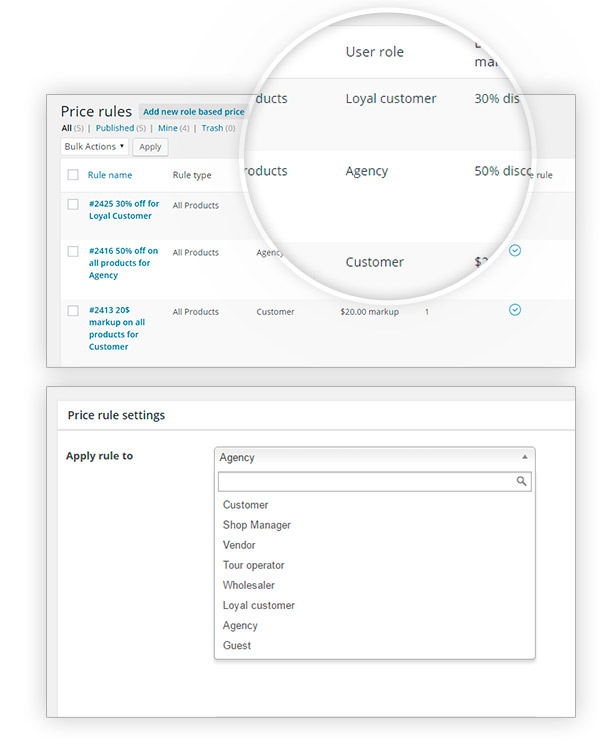 Aplicar una regla basada en el rol a algunos productos específicos
Y extender la regla a todos los productos o a los que pertenecen a categorías específicas o etiquetas
Subir o bajar el precio del producto
En base a los roles que se han asignado en tu sitio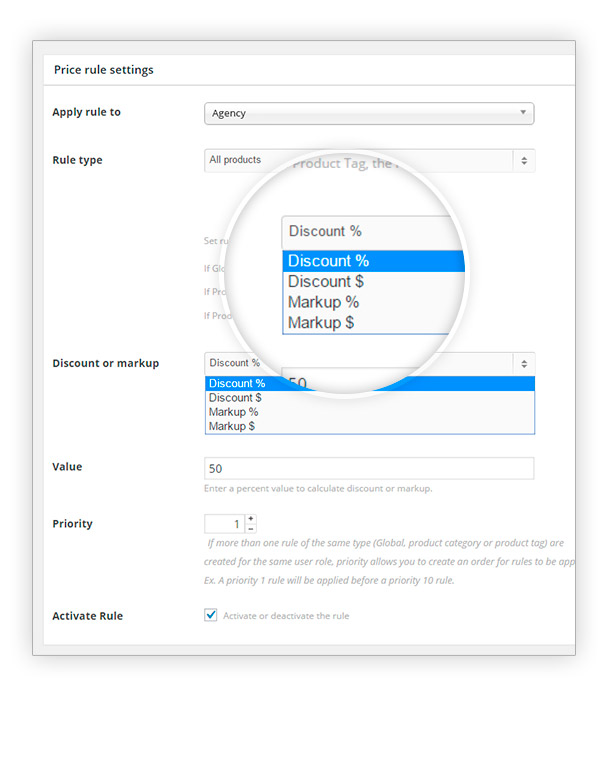 Combinar más de una regla de precios
Y aplicar, por ejemplo, un descuento doble para usuarios específicos solamente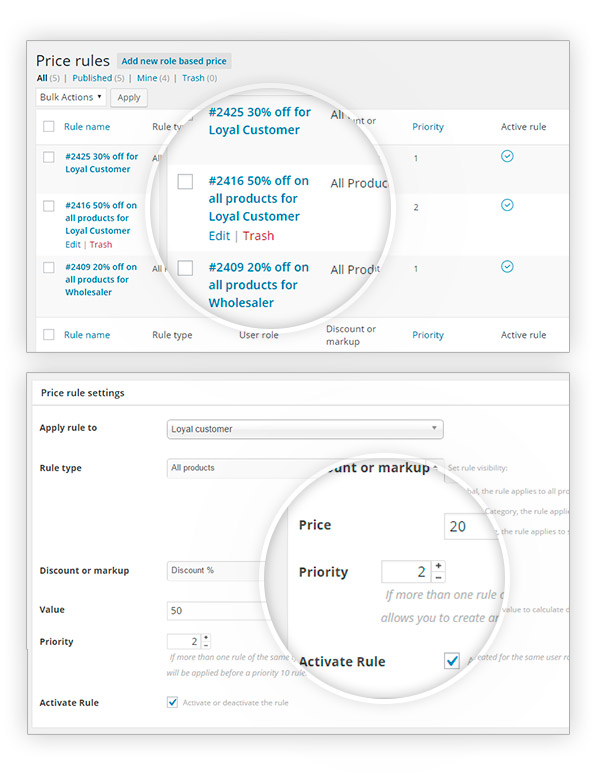 Mostrar uno o más precios para cada rol de usuario
De entre precio regular, en descuento o basado en rol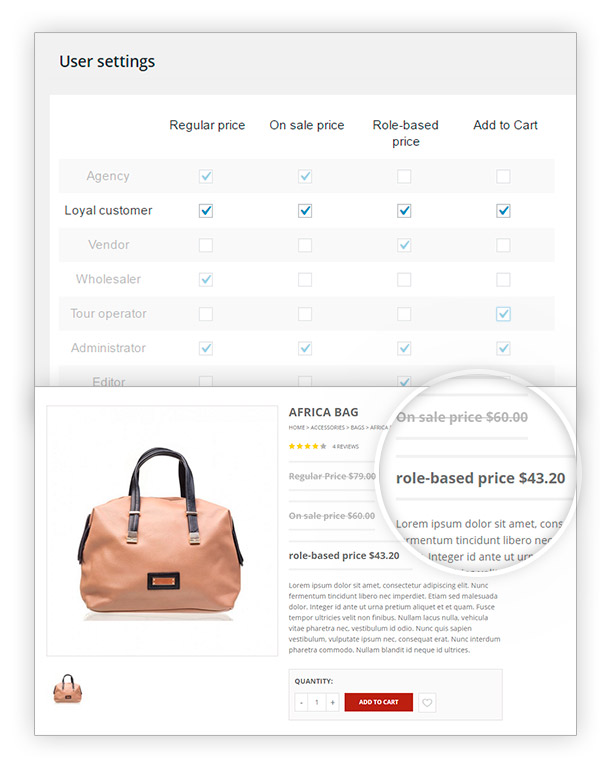 Mostrar un mensaje personalizado
Si no se muestra ninguno de los precios disponibles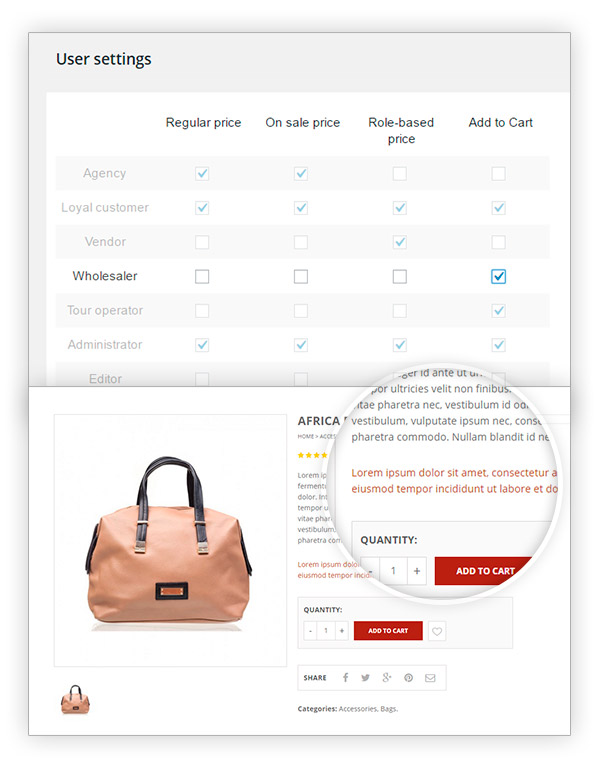 Convertir tu tienda un catálogo
Evitando que algunos grupos de usuarios compren
Seleccionar cualquier rol de usuario
Integrados gracias a un plugin dedicado como 'Members'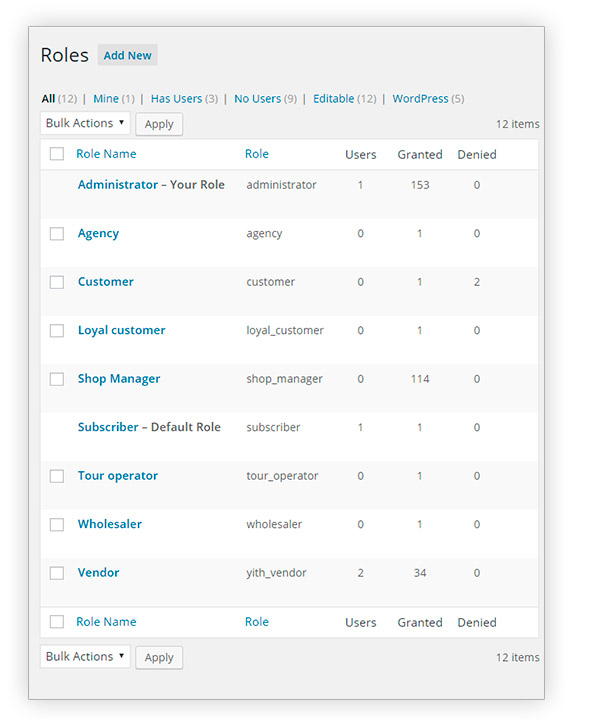 Asignar etiquetas personalizadas a los precios
Y diferenciar el precio de rol del precio de venta al por menor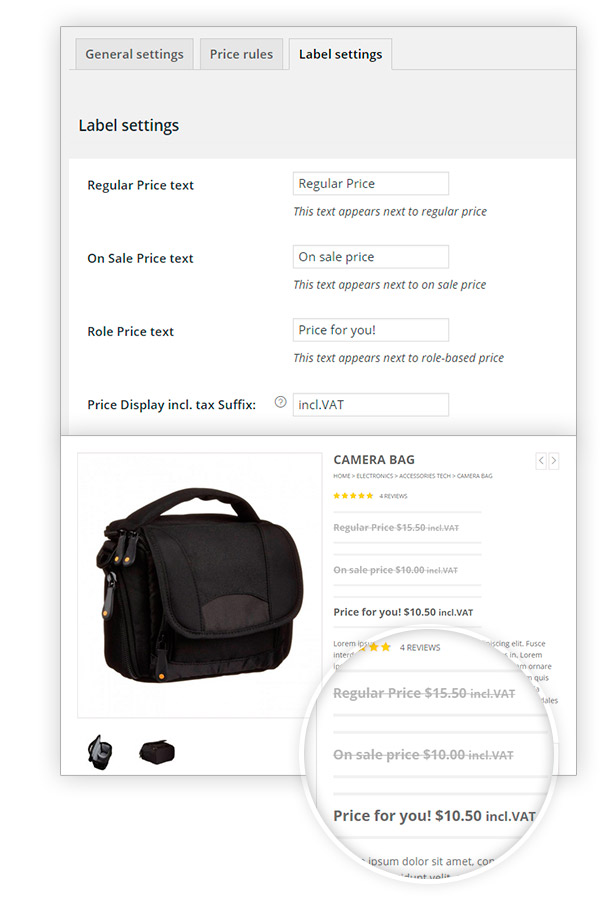 Mostrar impuesto incluido en el precio
Al elegir aplicar la acción a cada rol del usuario de la tienda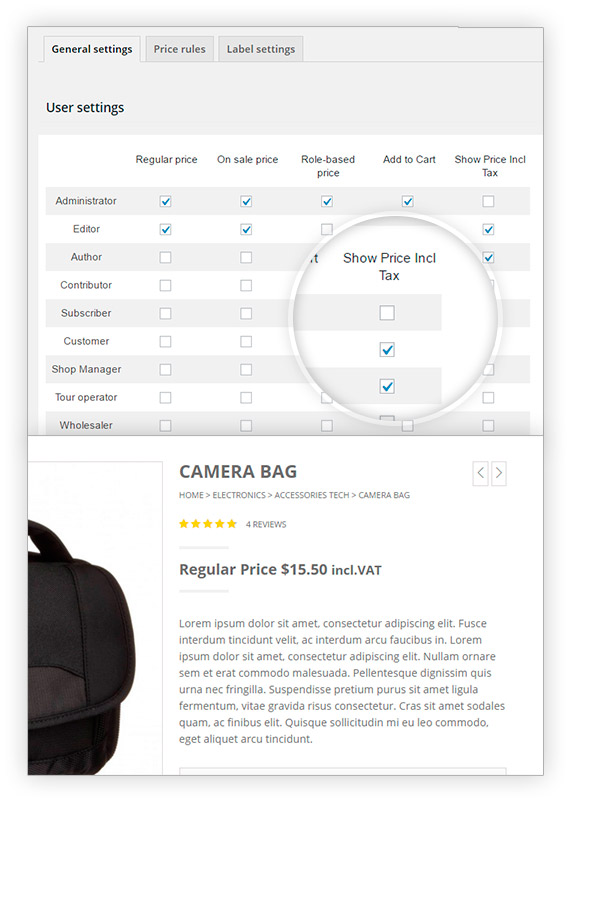 Elegir el precio en el que se aplicará la regla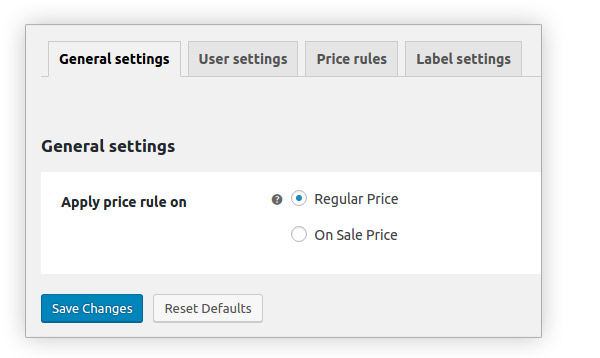 Proporcionar un mensaje diferente
Si los precios están ocultos para los usuarios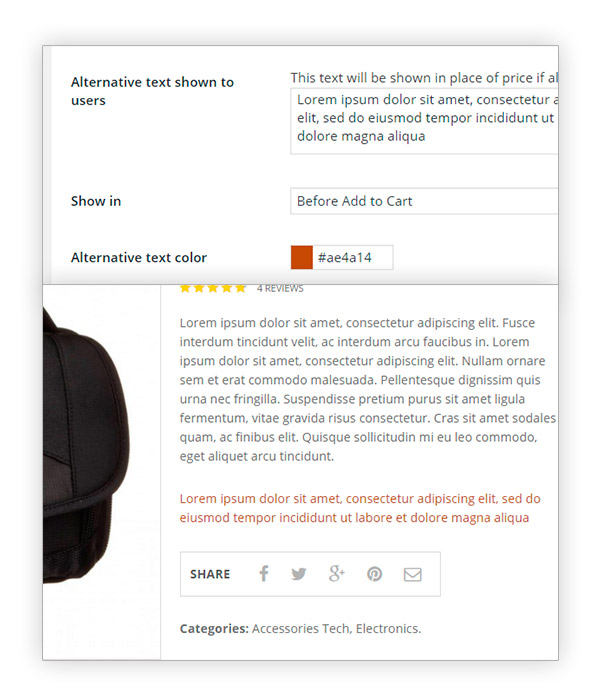 Mostrar el precio de rol de usuario diferente
Permite que el cliente sepa qué pagaría en caso de ser otro tipo de usuario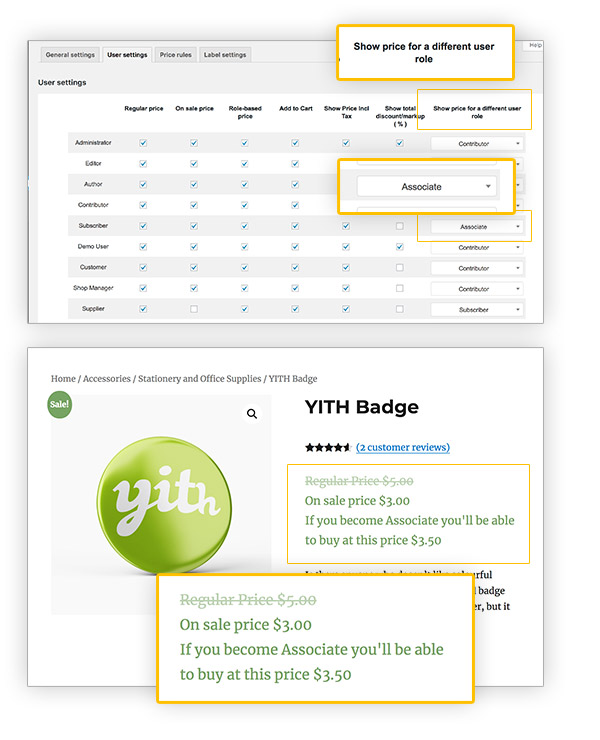 Compatible con Aelia Currency Switcher y WooCommerce Currency Switcher (WPML)
Y podrás hacer que el precio por rol de usuario se convierta automáticamente en la moneda que ven tus usuarios.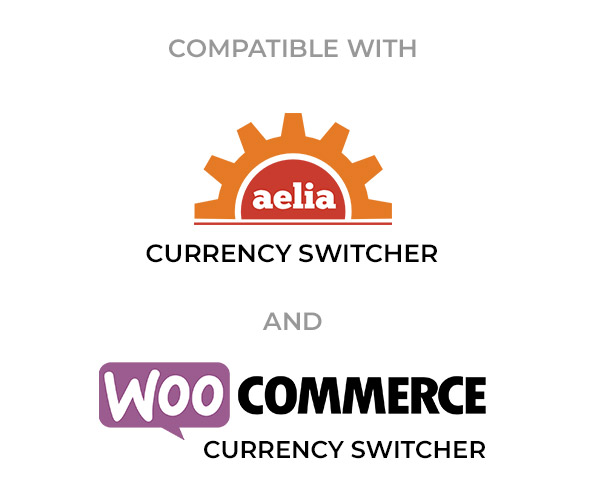 Aprovechar la compatibilidad con WPML
Podrás traducir el plugin fácilmente con la potente herramienta de WPML