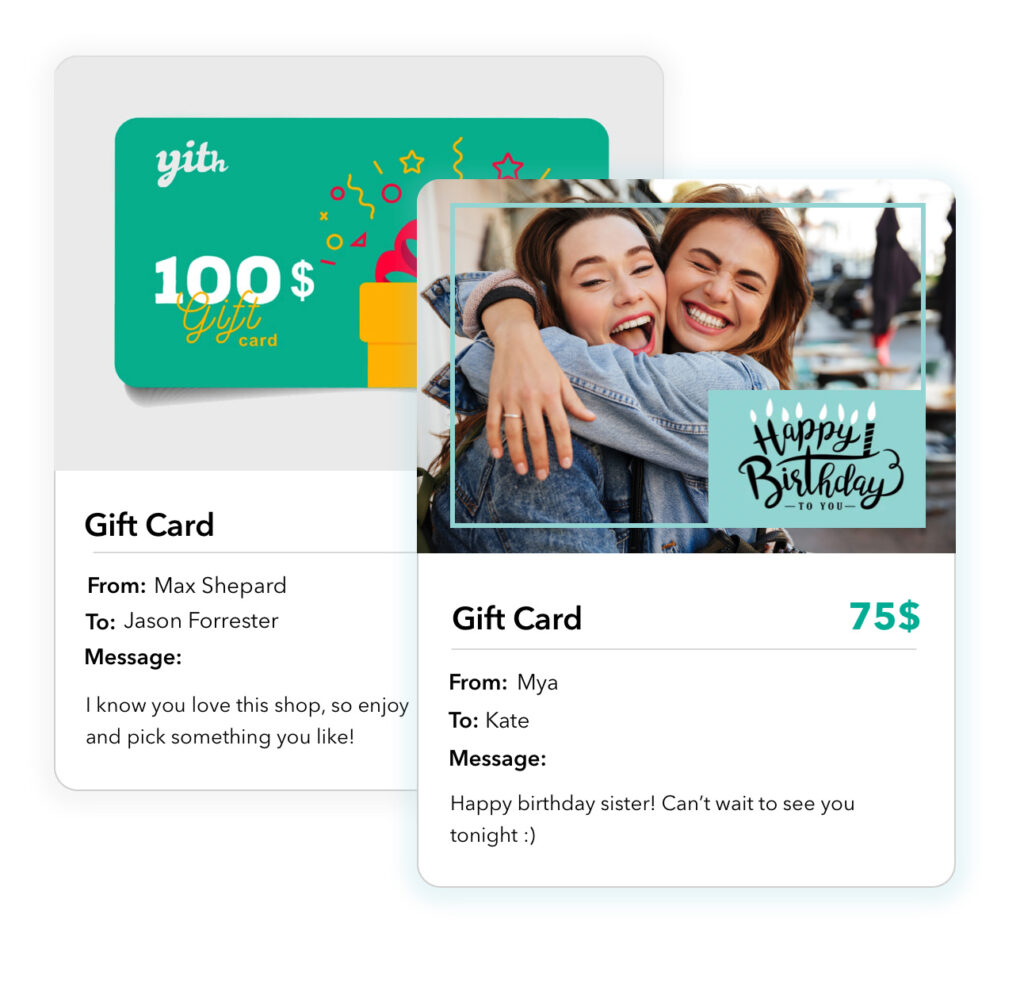 Gift cards: the number one marketing tool to increase your shop sales
Gift cards — aka gift certificates — have always been the best option whenever we have to choose a gift for a friend or workmate, as they guarantee flexibility and are also easy to use. They just make things easier both for those who buy them and for those who receive one.
According to a report by Allied Market Research, the gift card turnover (which has been constantly growing in the past decade) will soon record a 14% upsurge and go from 5.7 billion in 2020 to 16 billion by 2028. By 2030, online sales of gift cards will reach a value of 1.1 trillion dollars. That is why 98% of e-commerce stores are already selling gift cards: it is a powerful marketing tool to increase sales — especially during the holiday season — and loyalize customers over time.
If you are running an online shop and looking for the easiest way to start selling gift cards, YITH WooCommerce Gift Cards will be your best ally and mark a turning point: our plugin is the best and most complete solution available online. Thanks to it, you will be able to create gift cards in a few minutes and your customers will be able to customize them, send them by email, or print them at home.
Create digital gift cards to sell in your shop and send by email
Gift cards are quick, simple, and flexible: you can buy one in just a few clicks and email it in real time to the recipient.
Configuring a gift card is a piece of cake: create the "gift card" product, set the amount ($25, $50, $100, etc.), and decide if customers can enter their own custom amount, then upload a catchy image and you're all set! In less than 3 minutes, you can start selling gift cards in your shop.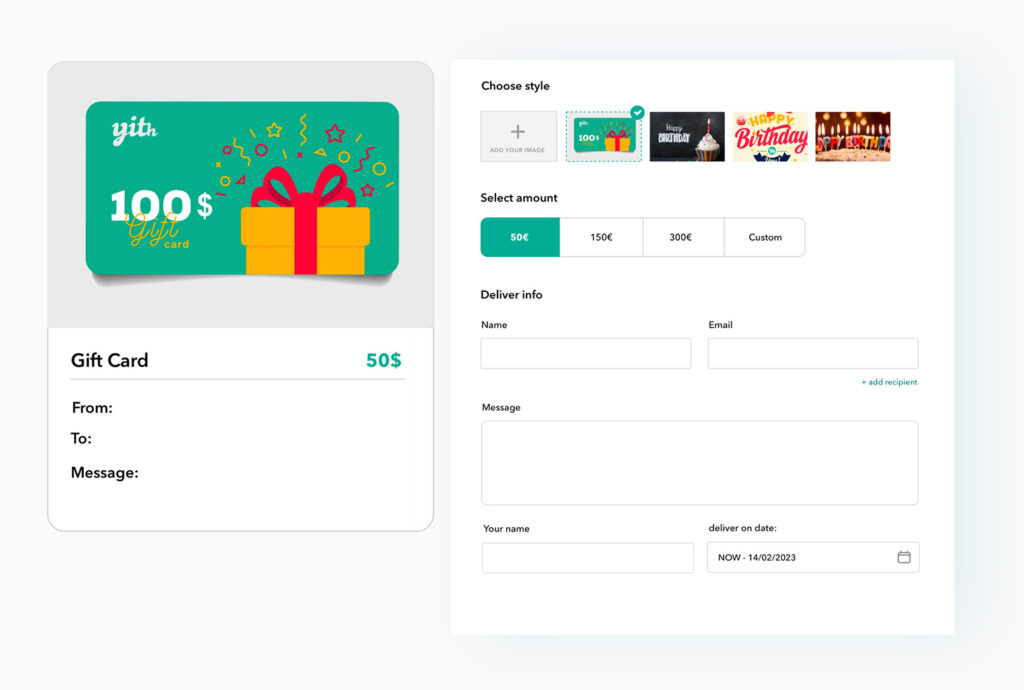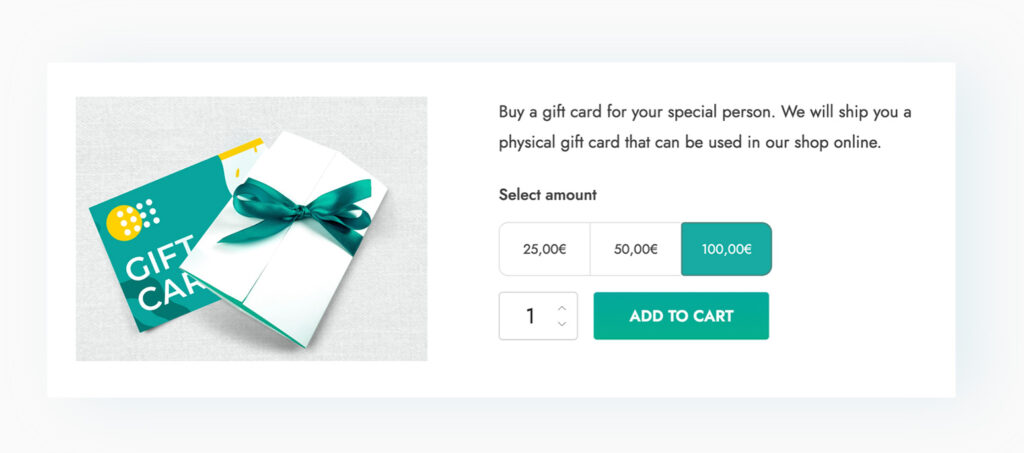 Create printable gift cards to ship to your customers
Do you sell physical printable gift cards in your physical shop and would like to replicate this user experience in your online store too? You can easily sell non-digital gift cards and, after the order is completed, ship it to the customer.
Create several gift codes for the same amount with just one click
Do you want to quickly share 10 gift card codes, each with a $50 credit, without asking your customers to manually buy them from your shop and without generating new orders? With the new bulk option, you can now create multiple gift codes for the same amount in the plugin panel with just two clicks.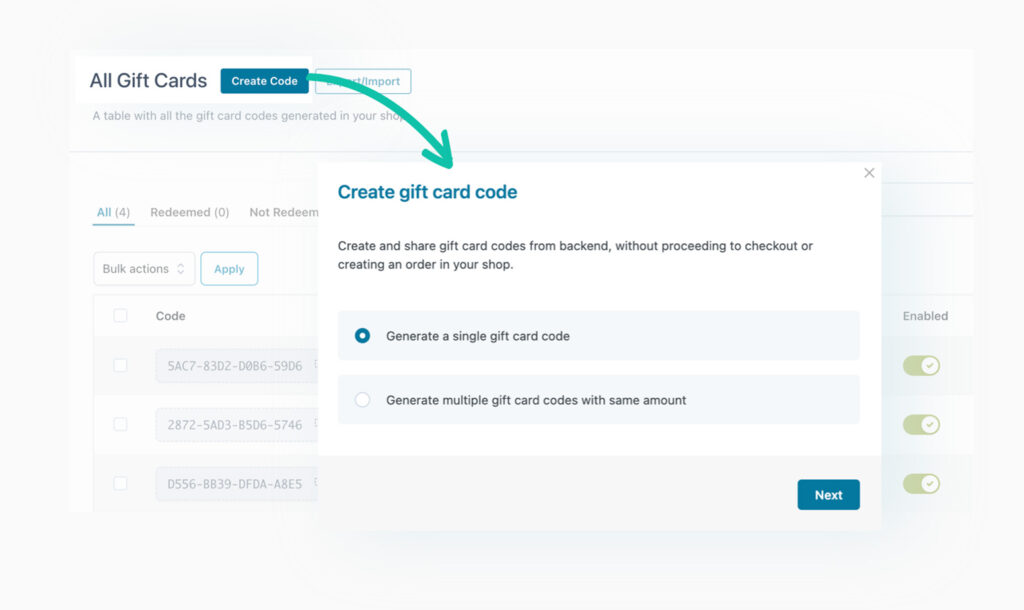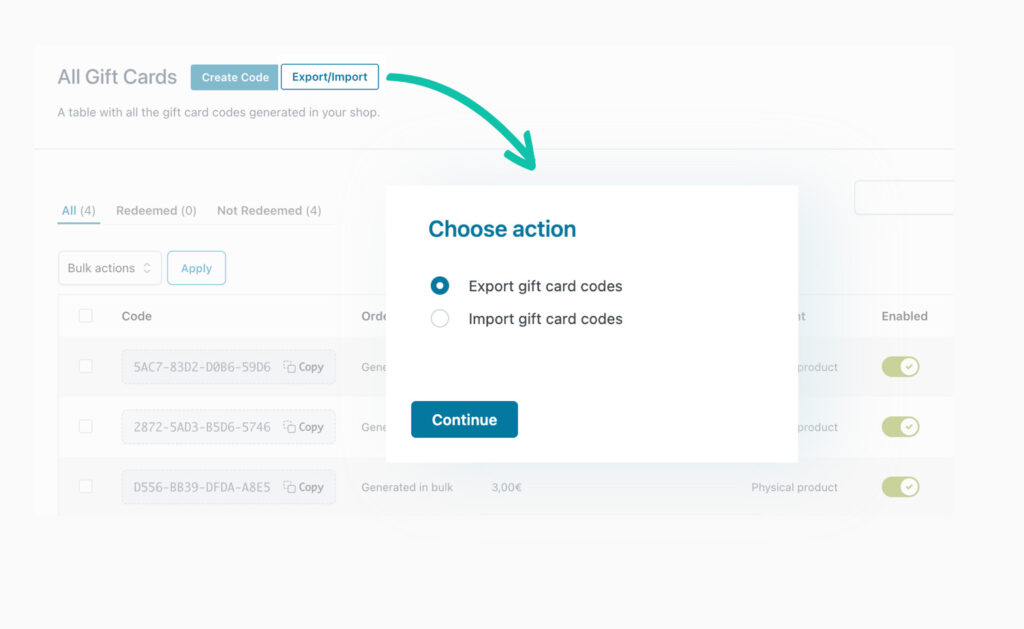 Import and export gift cards into a CSV file
To fulfil one of the most requested features, we have recently added the option to import and export gift cards into a CSV file right from the plugin.
Easily migrate from Smart Coupons to YITH Gift Cards
Thanks to the built-in option, you can easily remove Smart Coupons and convert the Store Credit / Gift Certificate coupons on your site into gift cards.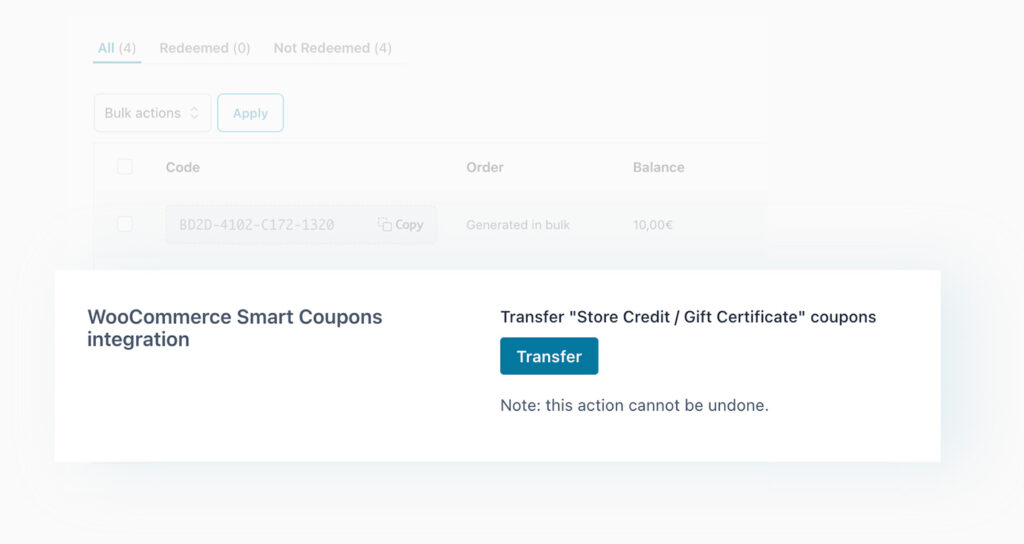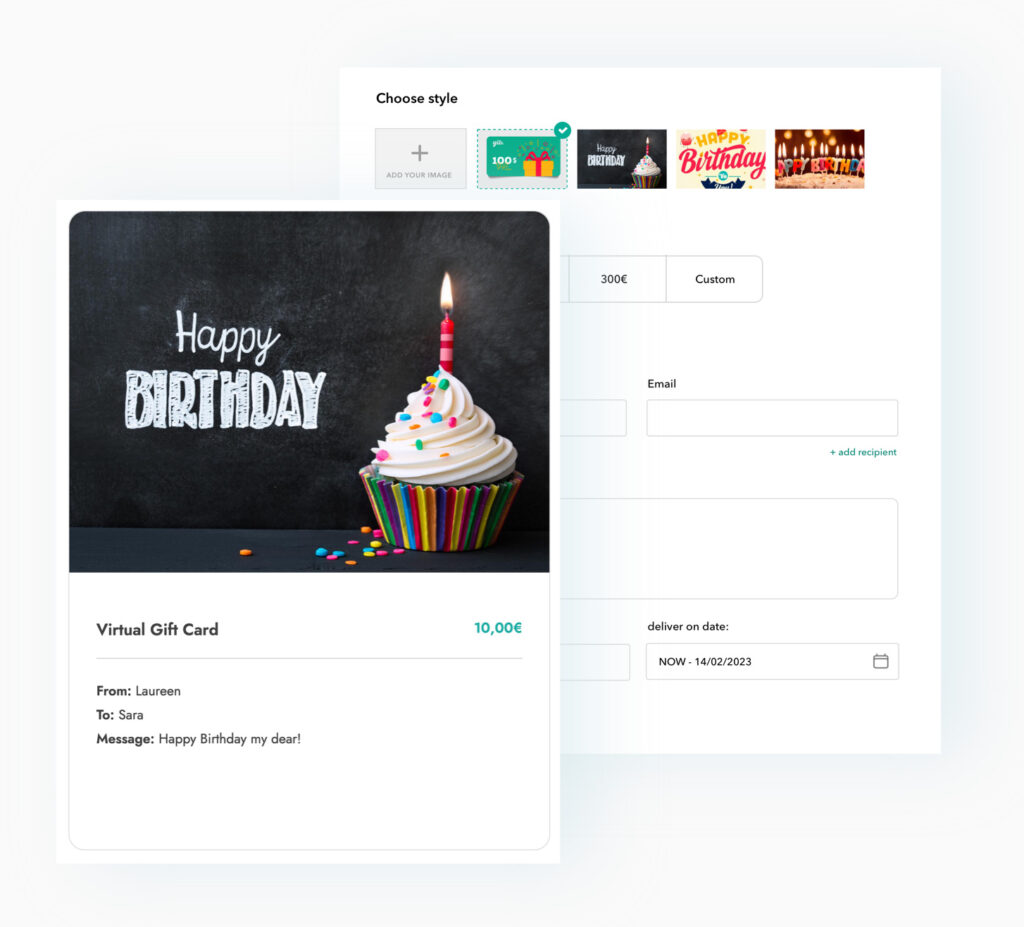 Modern and minimal design that works with every theme
We update the plugin design on a regular basis to make sure that its look is always modern and can fit every WordPress theme.
Thanks to the new interface, buying and customizing a gift card from your shop will be child's play, even for customers that are not tech-savvy. They will simply have to choose the gift card amount, add a custom message, and enter the recipient's email address.
Hot
Create themed image galleries to customize your gift cards
An exclusive feature of our plugin and that we added by looking at Amazon: you can create unlimited image categories to customize your gift cards. For example, you can add themed images for Christmas and birthdays, or about friendship and family, and offer your customers a wide selection to set up the gift cards. An emotional image or a witty illustration can add that special touch that makes a difference for the person who receives the gift.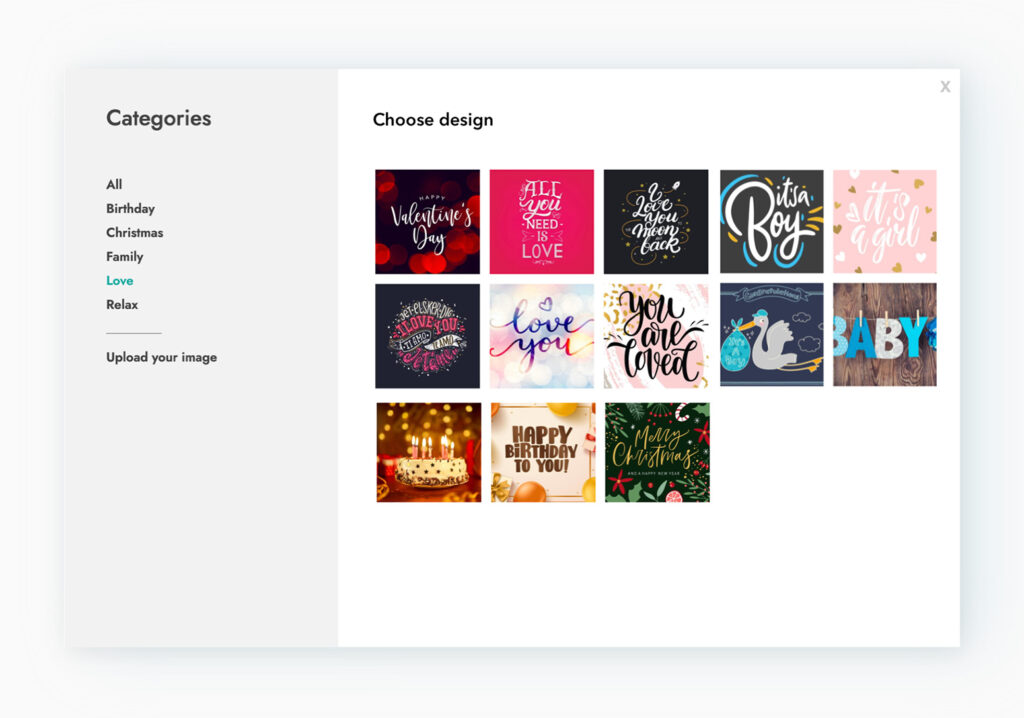 Let your users customize the gift cards with their own pictures or images
Sometimes, a gift card may look like an impersonal last-minute option to just spare the trouble of looking for the ideal gift. This is why it is key to let your users customize their gift cards with their own special pictures or images: market research shows that 68% of users feel frustrated if they cannot enter a custom message or upload their own images when purchasing a gift card. If you can get rid of this frustration, you will be able to offer a positive buying experience and increase sales of gift cards in your store.
Set the gift card amounts or let customers enter a custom one
You can create gift cards with fixed amounts or configure several pre-set amounts and let your customers choose the one they prefer. Or for even greater flexibility, you can show an input field where they can enter a custom amount — you can anyway set a minimum amount to enter for the gift card.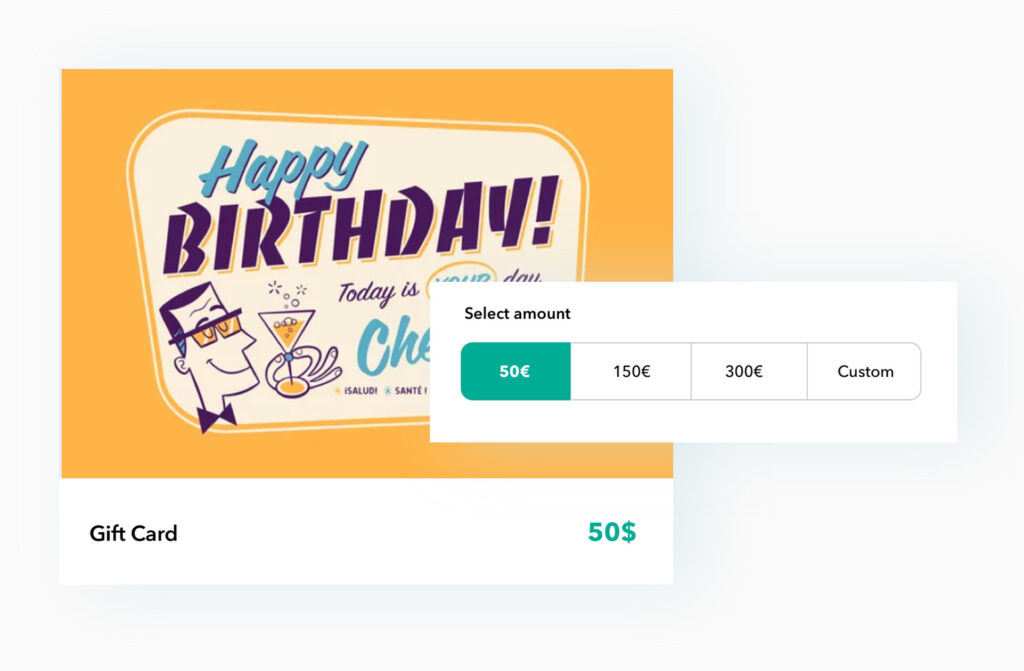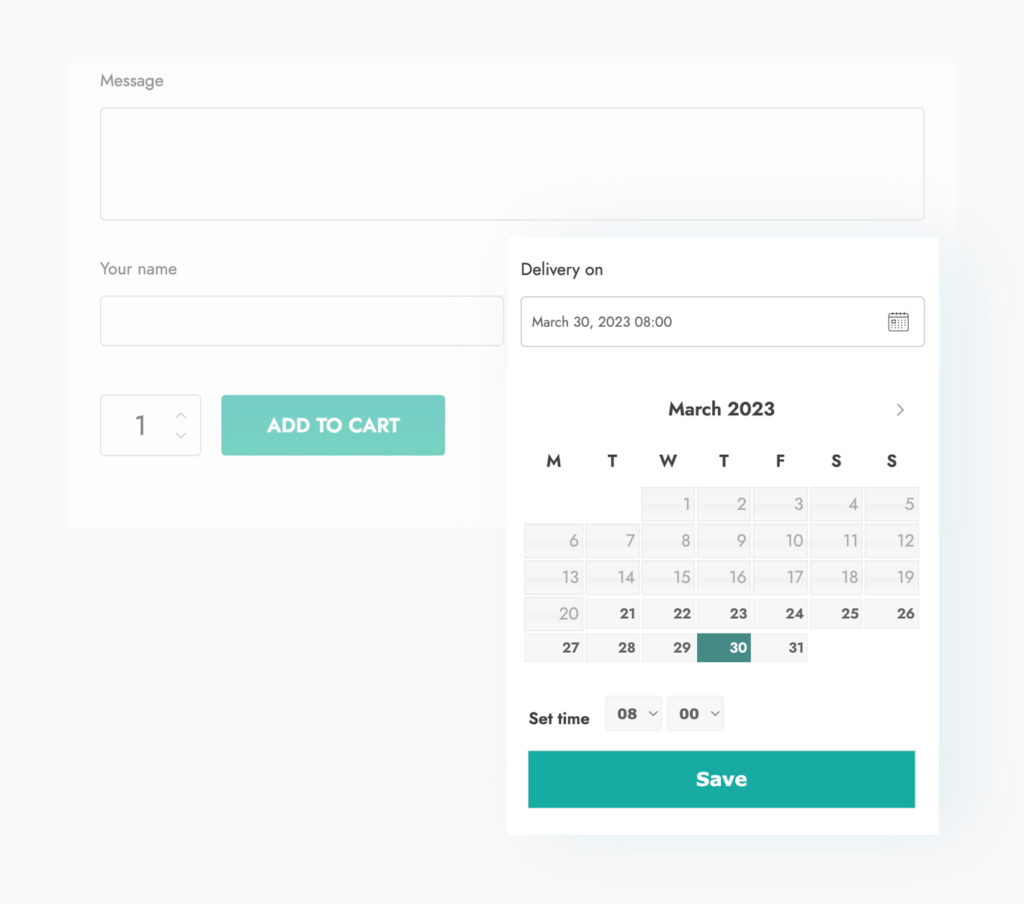 Let customers choose when the gift card will be sent to the recipient's email address
It's important to be able to choose when the gift card is delivered: thanks to the date and time picker, you can buy the gift card well ahead of time (up to three months in advance) and make sure it is delivered on your friend's birthday or on Christmas Eve. But obviously, if it's a last-minute gift, they can always take advantage of immediate delivery 😉
Let your customers send a virtual version of the gift card or download a PDF version
Do your customers want to print their gift cards at home? No problem at all. They can get it as a PDF file by email, print it easily at home, and then deliver it personally to the recipient.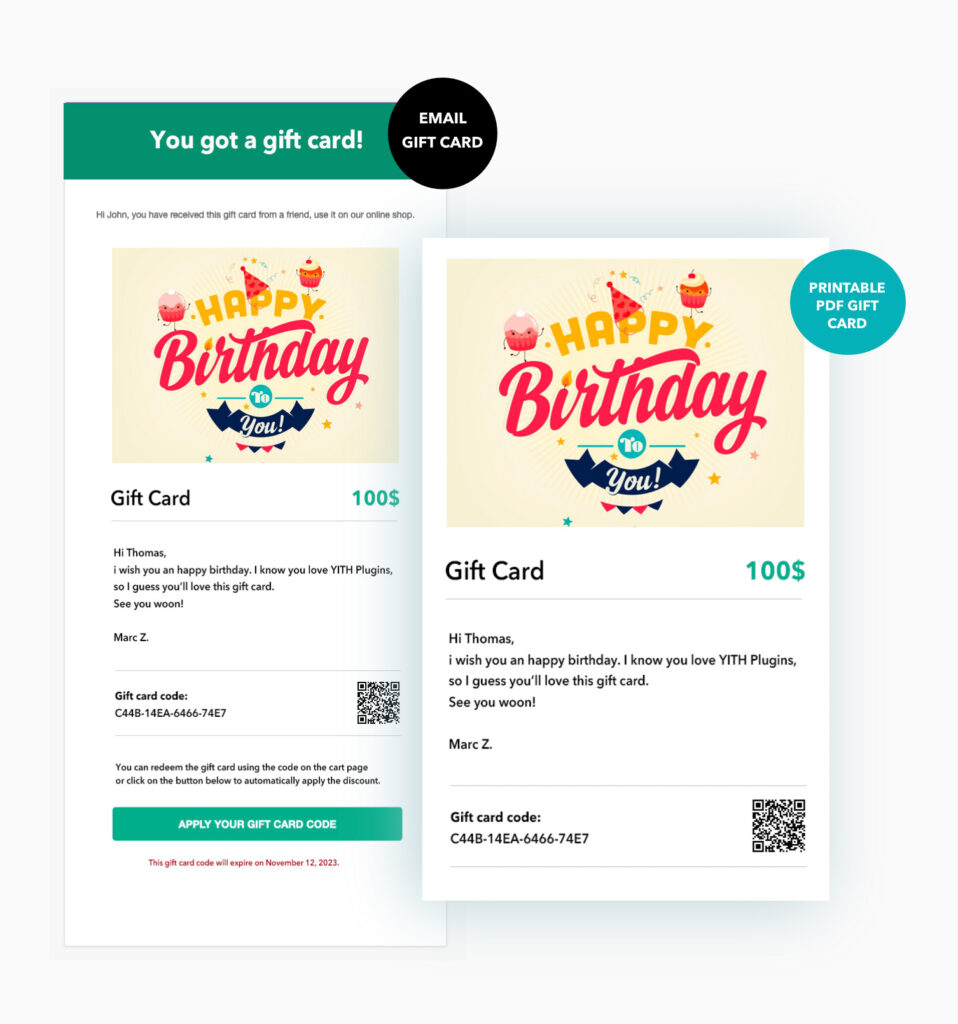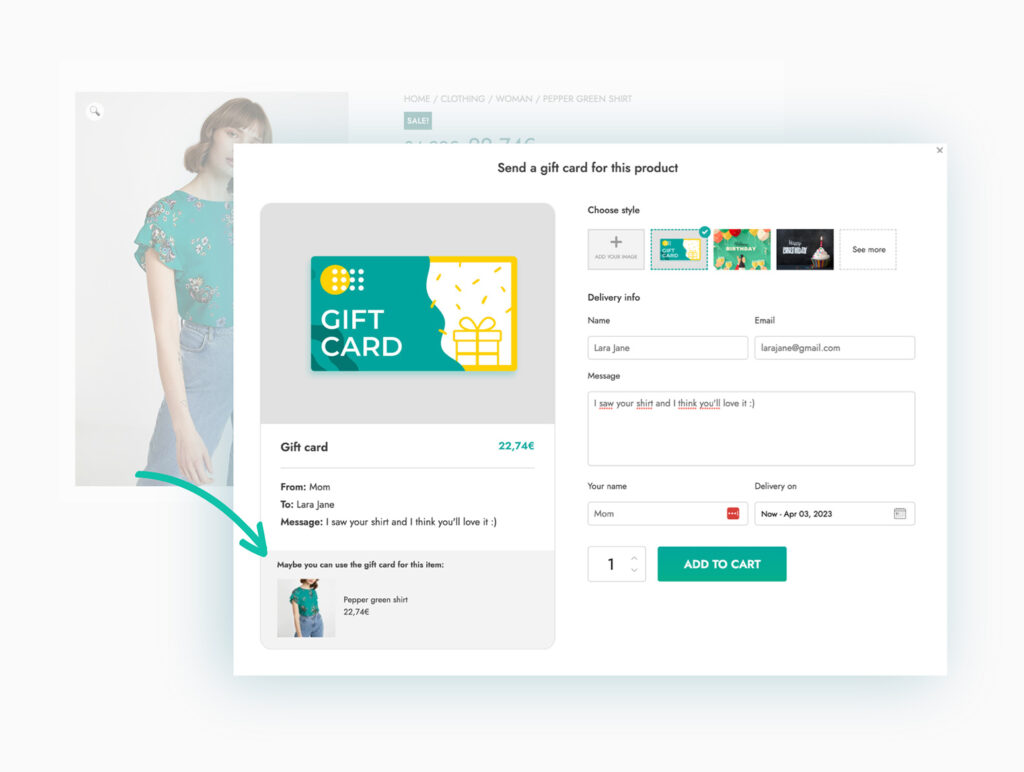 Hot
Let customers buy a gift card for a specific product of your shop
Another exclusive feature of our plugin: you can show a call to action in your product pages to push users to send a gift card that will be automatically generated for the same amount as a specific product's price and that will recommend that product to the recipient. This is a nice way to recommend a product that you think your loved one would like. You will find an additional option in the plugin that allows the sender to also include shipping costs for the recommended product.
Insert a QR code into the gift card
Decide if you want to insert a QR code into the gift card. By scanning the code with a smartphone, the recipient will be redirected to the Shop page of your site and the gift card code will be automatically applied to the cart.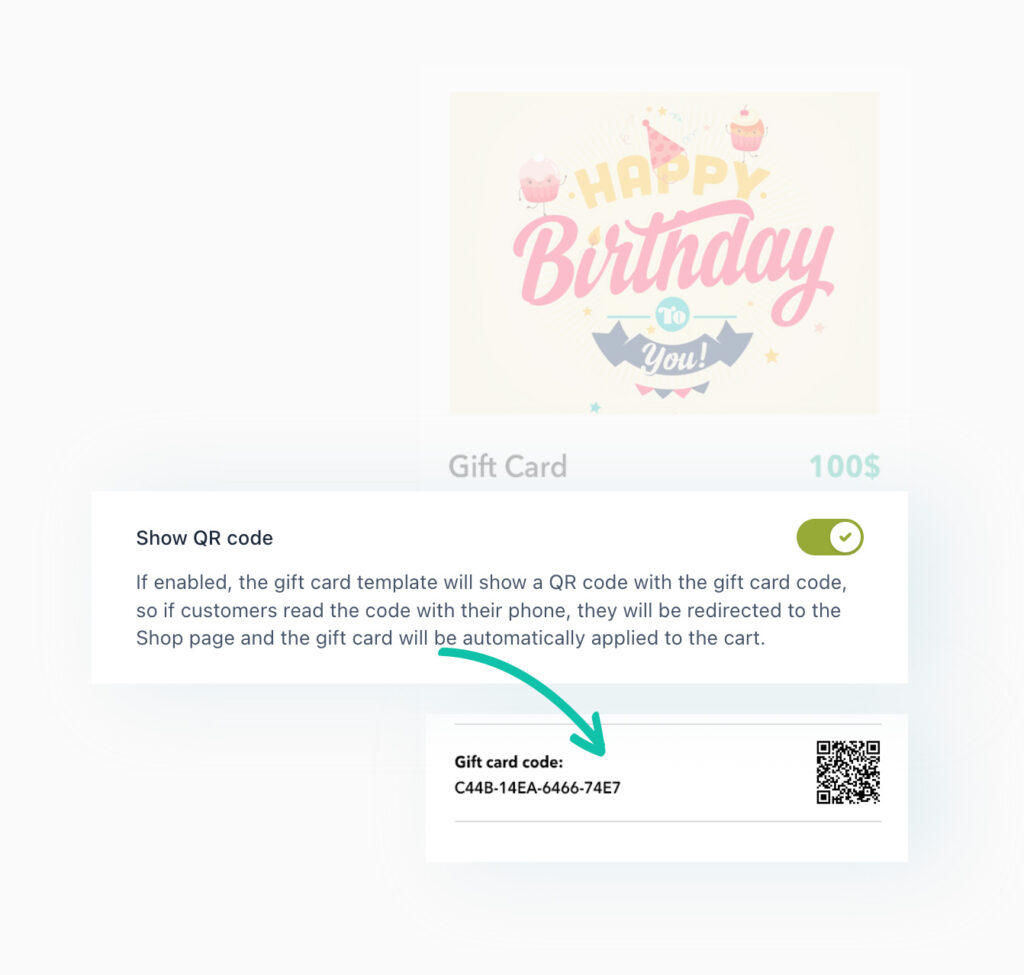 Hot
Notify the sender when the gift card is delivered and when it is used in your shop
Senders often have many doubts about the gift cards: has the recipient received it? Was the delivery successful? Did the recipient appreciate the thought? To provide a positive experience for your customers, you can set up a delivery notification (to confirm to the sender that the gift card was sent correctly) and an additional notification to let them know that the gift card was used on a purchase in your shop.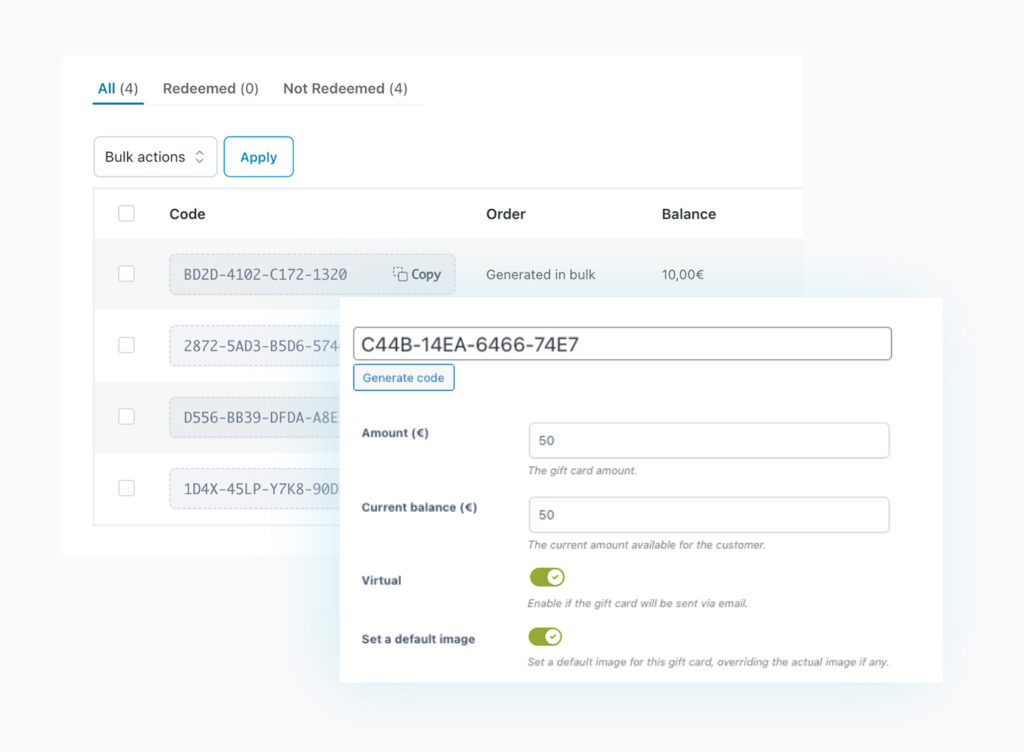 Monitor and manage the gift cards sold on your shop through the dedicated dashboard: disable gift cards, check the orders they were used on, view the used and remaining balance, etc.
Thanks to the dedicated table, you can easily monitor and manage all the gift card codes purchased in your shop. For each gift card, you can view the redeemed credit, the order in which it was used, and the remaining balance. You can also change the current balance and the expiration date on the gift card, or disable it altogether.
Configure the options for the Cart and Checkout pages in an advanced way
Choose where to display the gift card code form on the Cart and Checkout pages, customize the design, and allow your customers to review and edit the delivery information directly on the Cart page. From version 3.0, users can enter the gift card code into WooCommerce's default coupon form, avoiding a duplicate input field and improving page design and usability.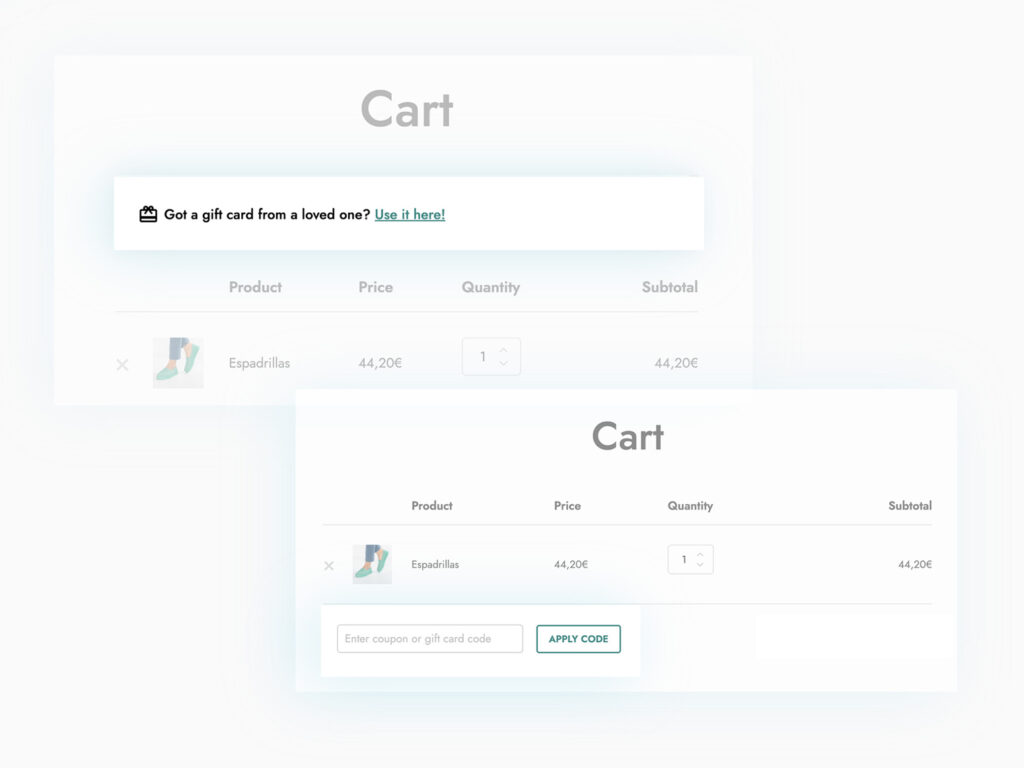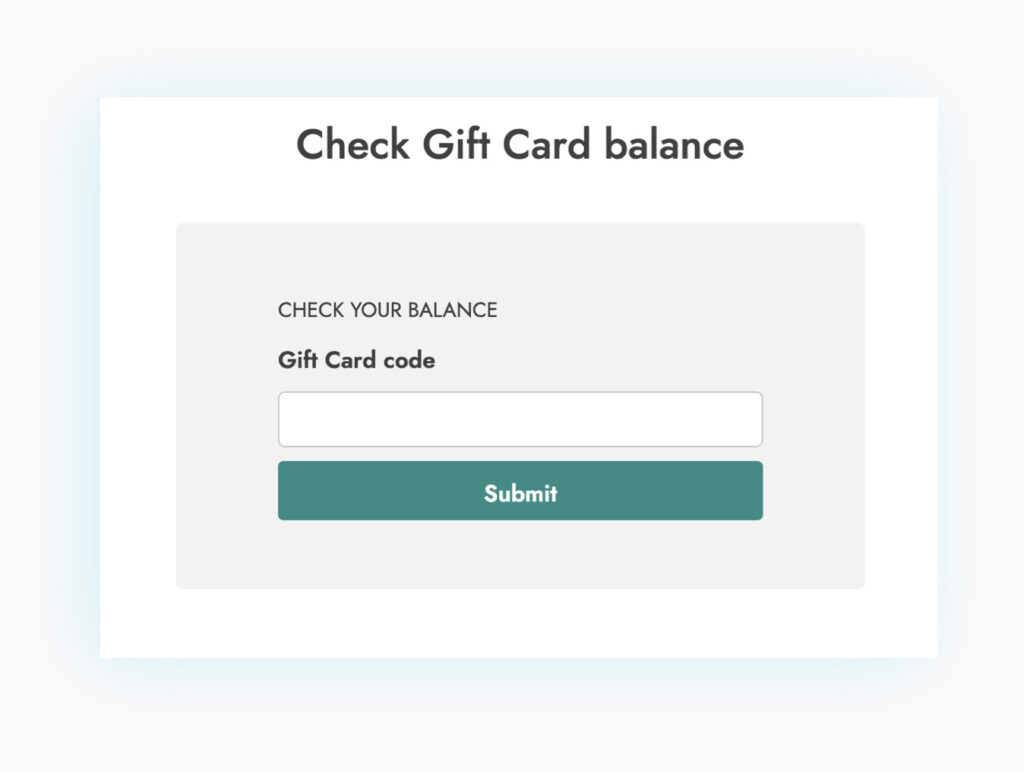 Create a page where your customers can check the available balance of their gift cards
Using the shortcode found in the documentation, you can insert a form into any page of your shop to allow customers to check the remaining balance of a gift card by entering the code in the dedicated field — a feature they will certainly find useful.
Create a page where your staff can update the remaining balance of a gift card
A handy feature to manage gift cards used in your physical store: thanks to the dedicated shortcode, you can create a page where the remaining balance of any gift card can be updated. This way, when a gift card is used to purchase in your physical store, you can just enter the code and amount to be deducted to quickly update its balance — no need to manually edit the gift card on the backend!