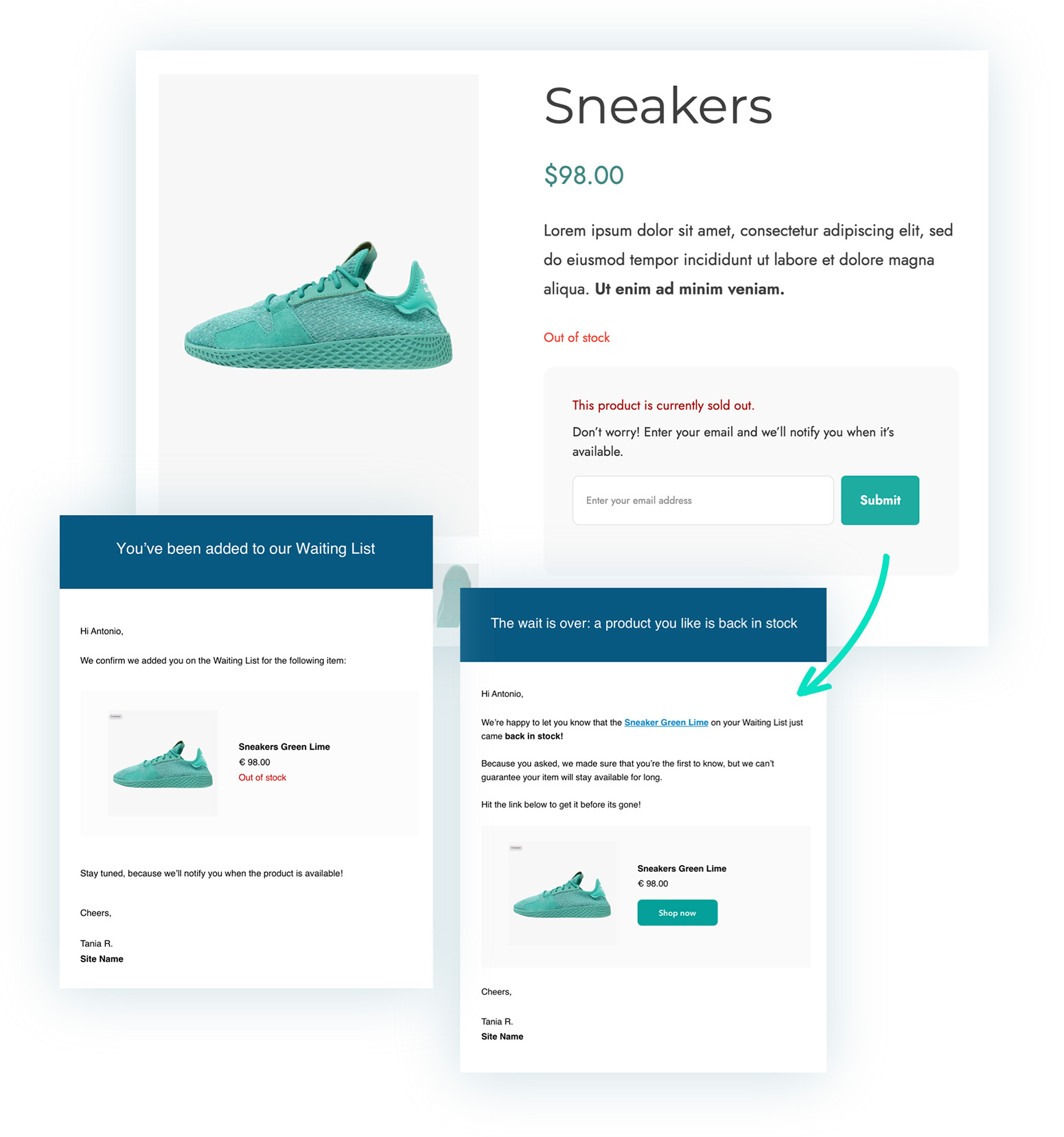 Win back lost customers and sales when your products go out of stock or are not available and send automatic back-in-stock notifications to push your users to buy.
A waiting list plugin is extremely flexible because it allows you to address different needs: you may want to launch a new product/service/event, build hype by disabling sales, and create a waiting list with a custom discount or a bonus for those who subscribe to it.
Or maybe you have a best-selling product and want to be sure you don't lose any prospective customers when it goes out of stock.
Let's think of the most likely scenario: Jerry finds an interesting product in your shop, it's exactly what he was looking for, the same model and color, amazing! But then he realizes that he cannot buy it because his size is not available.
He goes through the product page looking for information about when that product size will be back in stock or how he can be notified when it is, but there's no mention of that. Now, his purchase experience is at risk: his frustration hits the roof and he can't help leaving the shop and looking for that product elsewhere.
Now let's consider the same scenario, but with the possibility for him to subscribe to a waiting list: even if the product is not immediately available, Jerry reads that his size will be back in stock shortly and he can leave his email address to be notified as soon as this happens. One week later, he receives an email informing him that his size is now available with a $5 discount code as a gift for his patience.
Thanks to YITH WooCommerce Waitlist and just one email – with a conversion rate of around 10-15% according to market research – you converted a prospect into a customer and made a sale that would have been lost otherwise.
Choose the products on which you want to activate the waiting list option
Choose whether to activate the waitlist option on all out-of-stock products or use the exclusion list to pick specific products to enable or disable the option.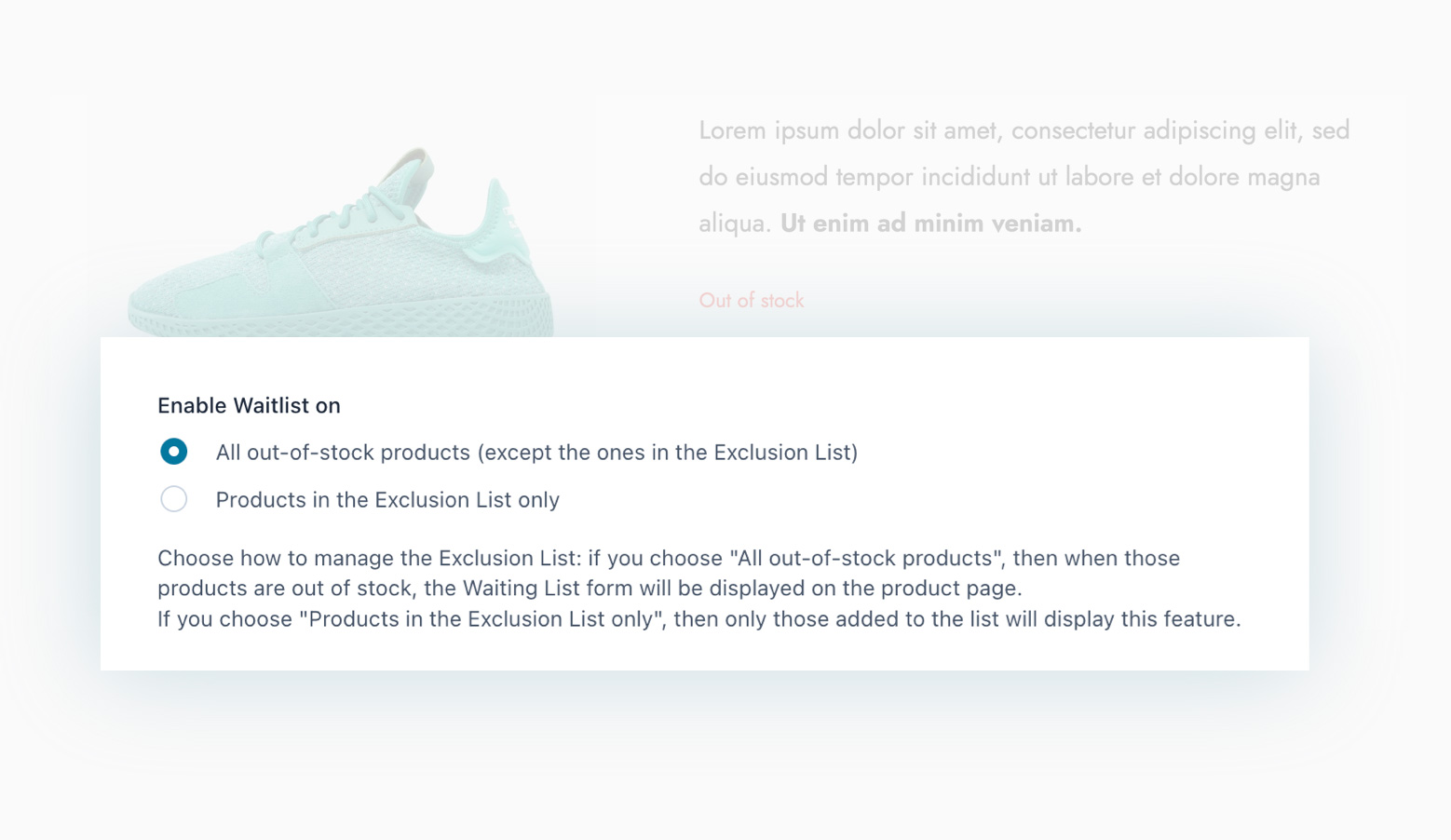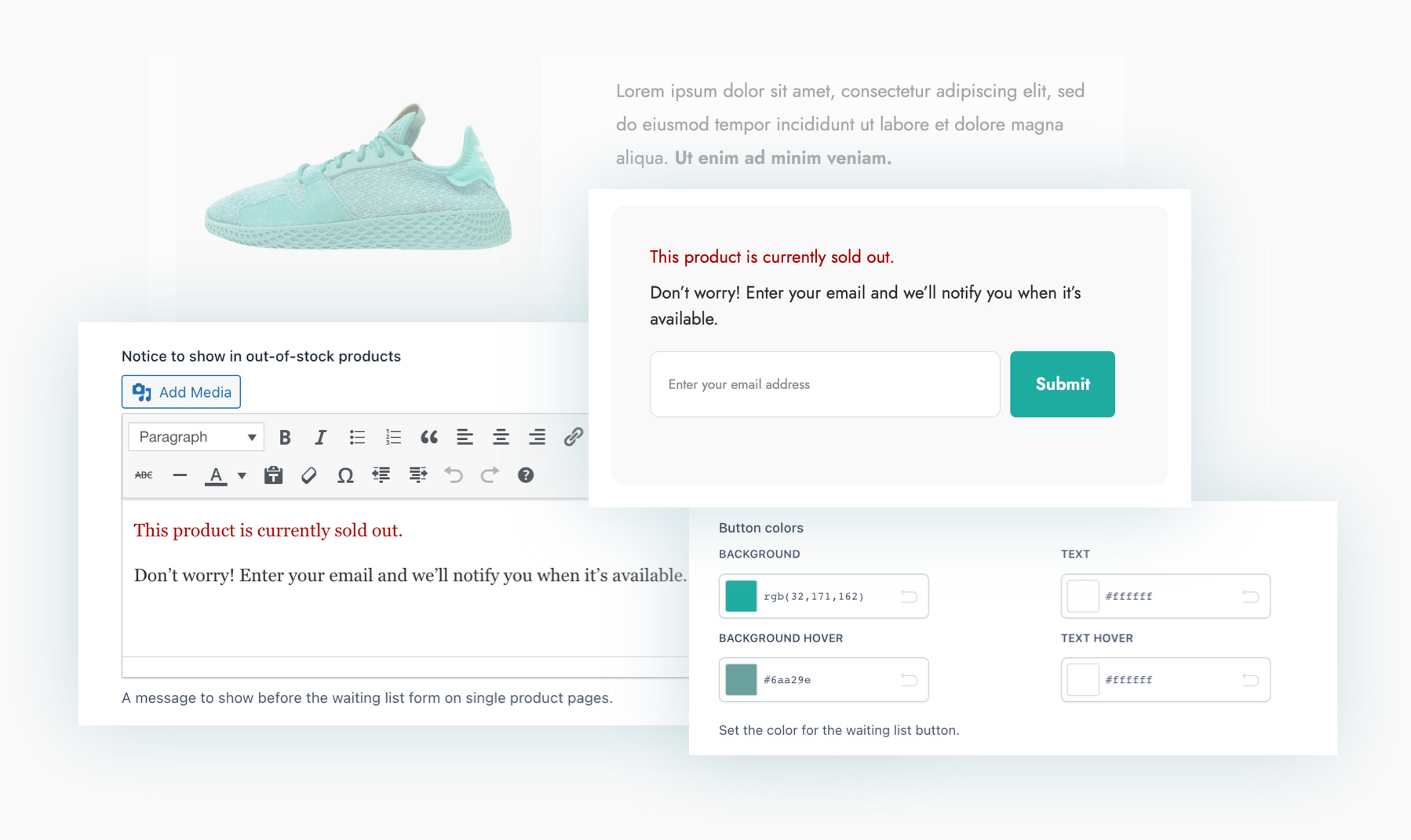 Customize the text and the form to show on the product page
Show a custom notice on the product page to inform users about the product stock. You can also use this section to offer an incentive (a bonus, discount, etc.) and encourage users to subscribe! Moreover, you can also customize the button text, the error message, or the subscription confirmation message.
Enable the Privacy Policy checkbox to be GDPR compliant
You can freely enable a checkbox to require users to read and accept your shop's Privacy Policy. Depending on where your shop is based on or where you sell, this option is a key feature to fully comply with GDPR (General Data Protection Regulation).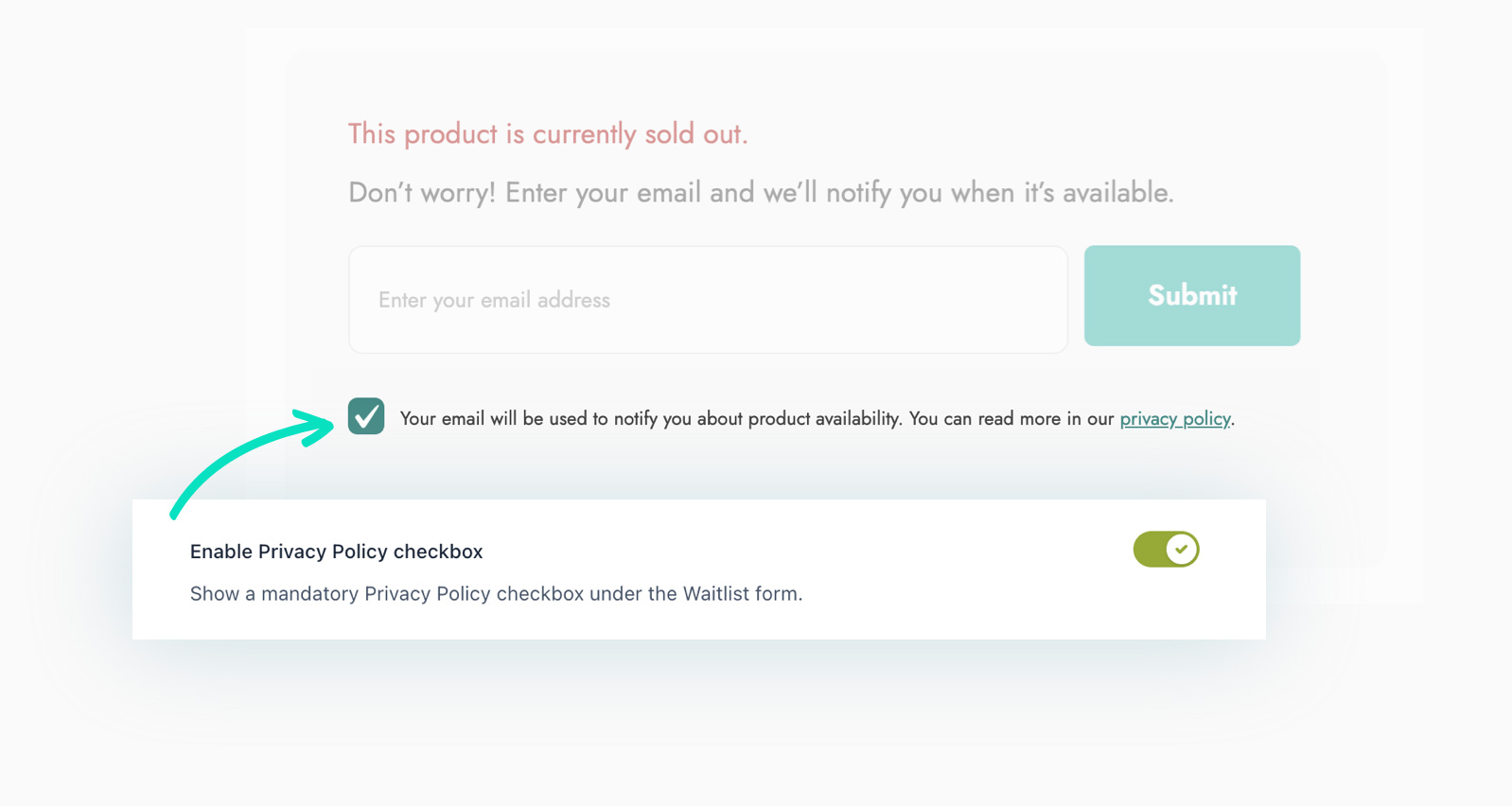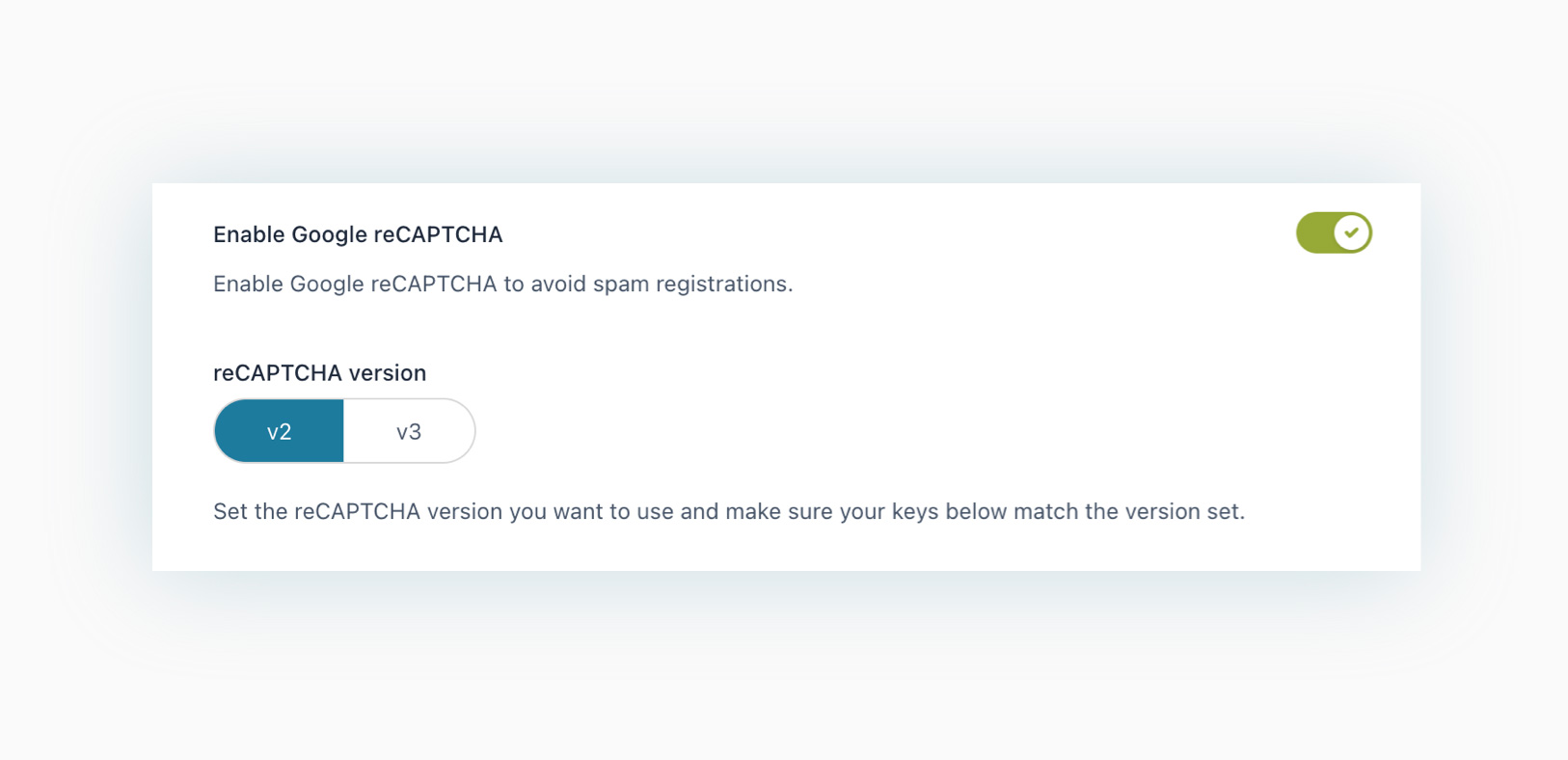 New
Enable Google reCAPTCHA to prevent spam subscriptions
An email input field can be easily attacked by bots. From version 2.0 on, you will be able to prevent spam subscriptions by enabling Google reCAPTCHA and choosing which version to use.
Require your users to confirm their subscriptions to the waitlists
Choose whether to send an email to request your users to confirm their subscriptions to these mailing lists. You can send this email to either all users or only to those that are not registered in your shop.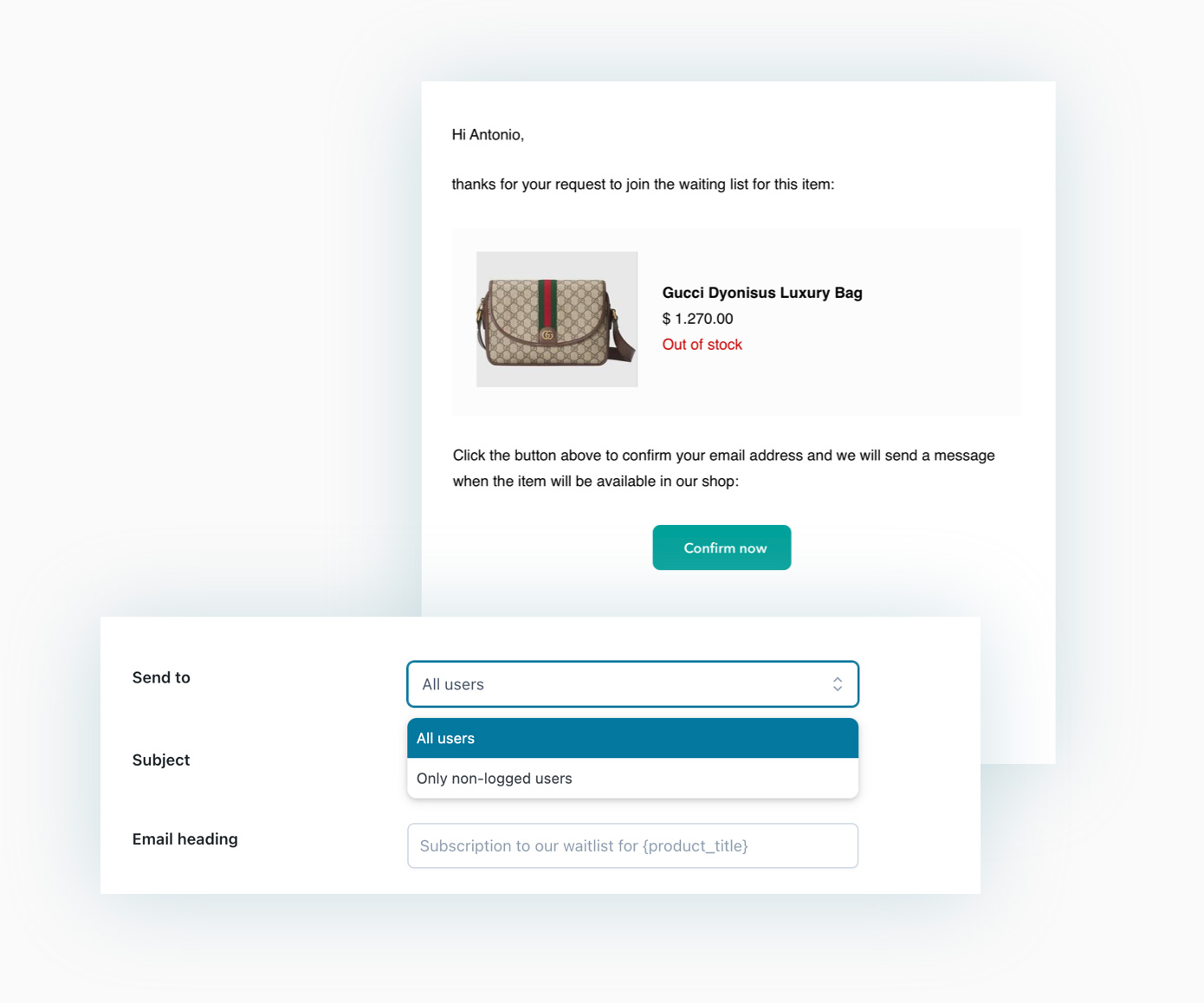 Build a mailing list for future marketing campaigns
A waiting list includes the email addresses of all users that are interested in your products, it can be a powerful tool for future marketing strategies or to promote specific products. If you enable this option, you can make sure that the addresses are not deleted after sending the back-in-stock email and use it to build a targeted mailing list for your marketing strategies.
New
Leverage the social proof principle with a counter that shows how many people have subscribed to each product's waiting list
The social proof principle is quite basic but still extremely effective: if you display a counter with the number of people that have subscribed to be notified about the out-of-stock products, then more users will feel the urge to subscribe to make sure they do not miss any news or updates about your popular products.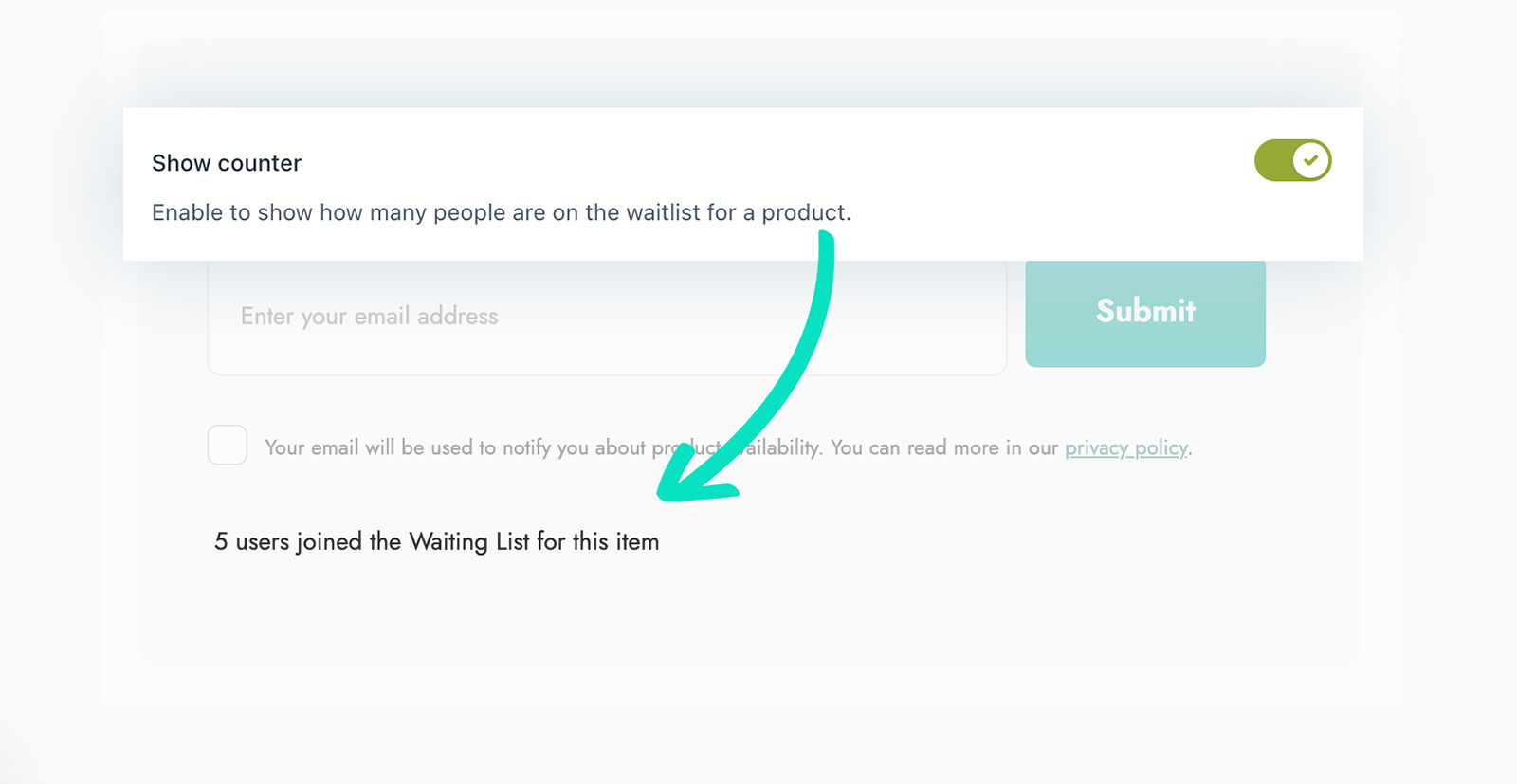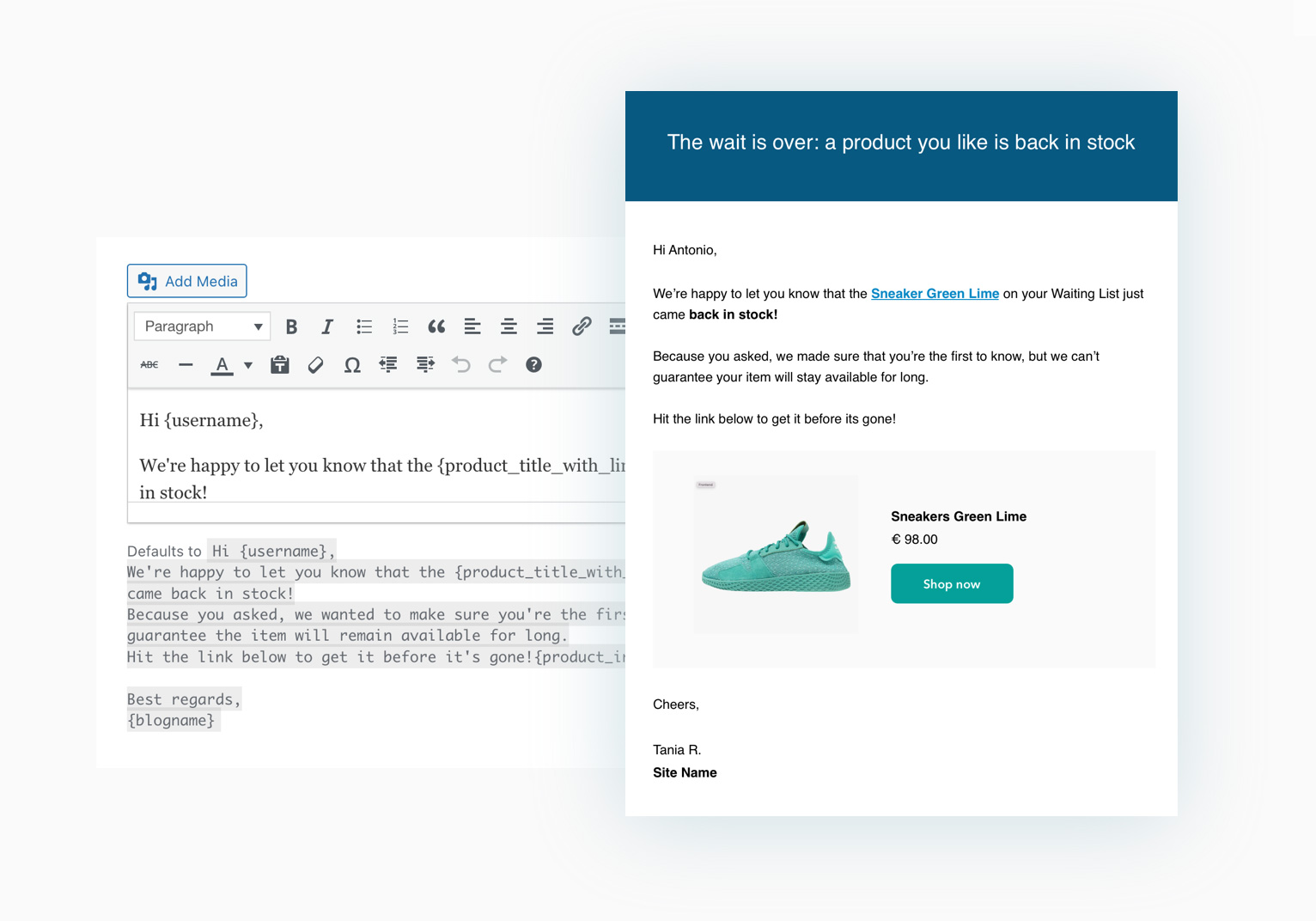 Customize the back-in-stock email sent to your users
Use the editor to customize the content of the email that will be automatically sent to all subscribed users when the product is back in stock and ready to be purchased.
Take advantage of the Mandrill integration for advanced email management
Do you want to monitor your back-in-stock emails in an advanced way? Take advantage of the Mandrill integration if you use this tool for your email campaigns.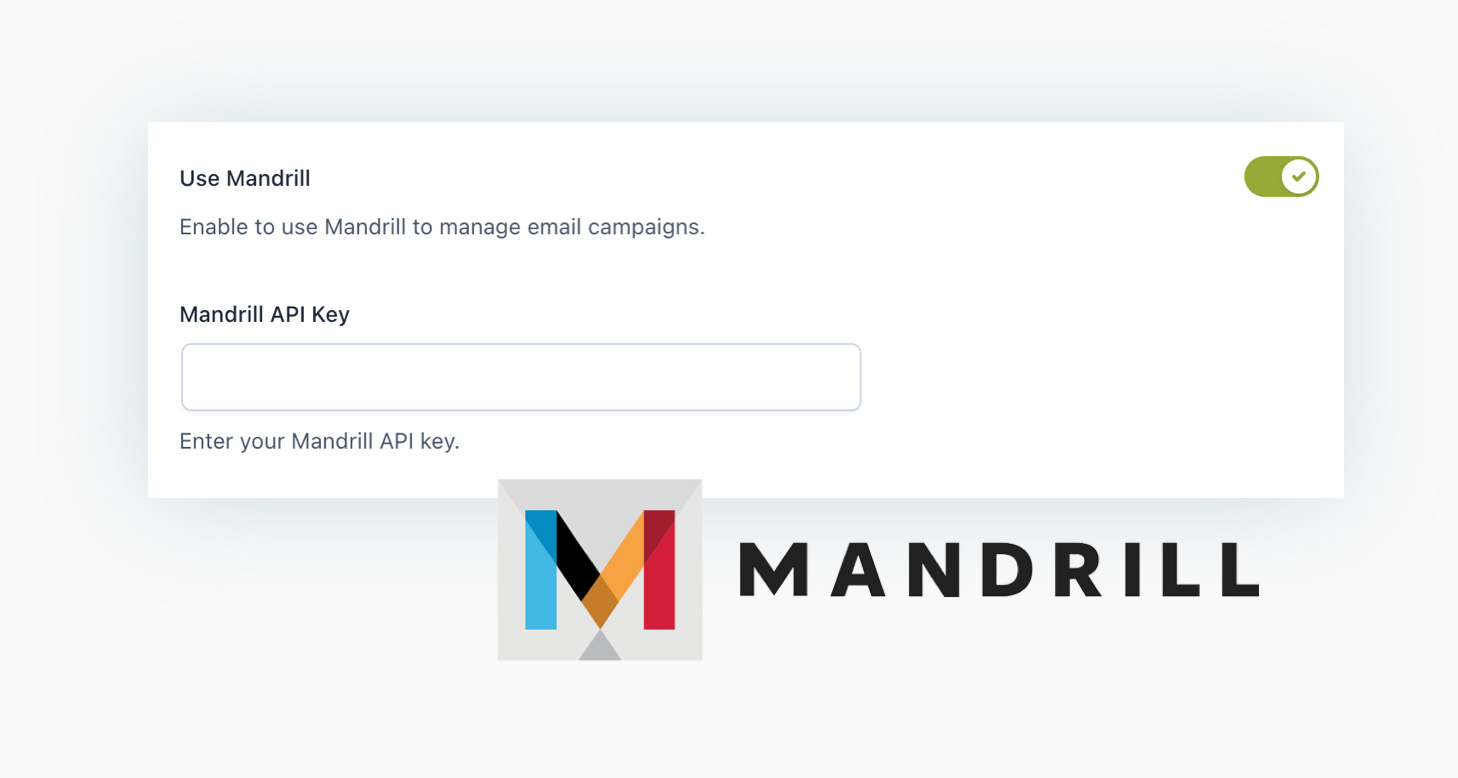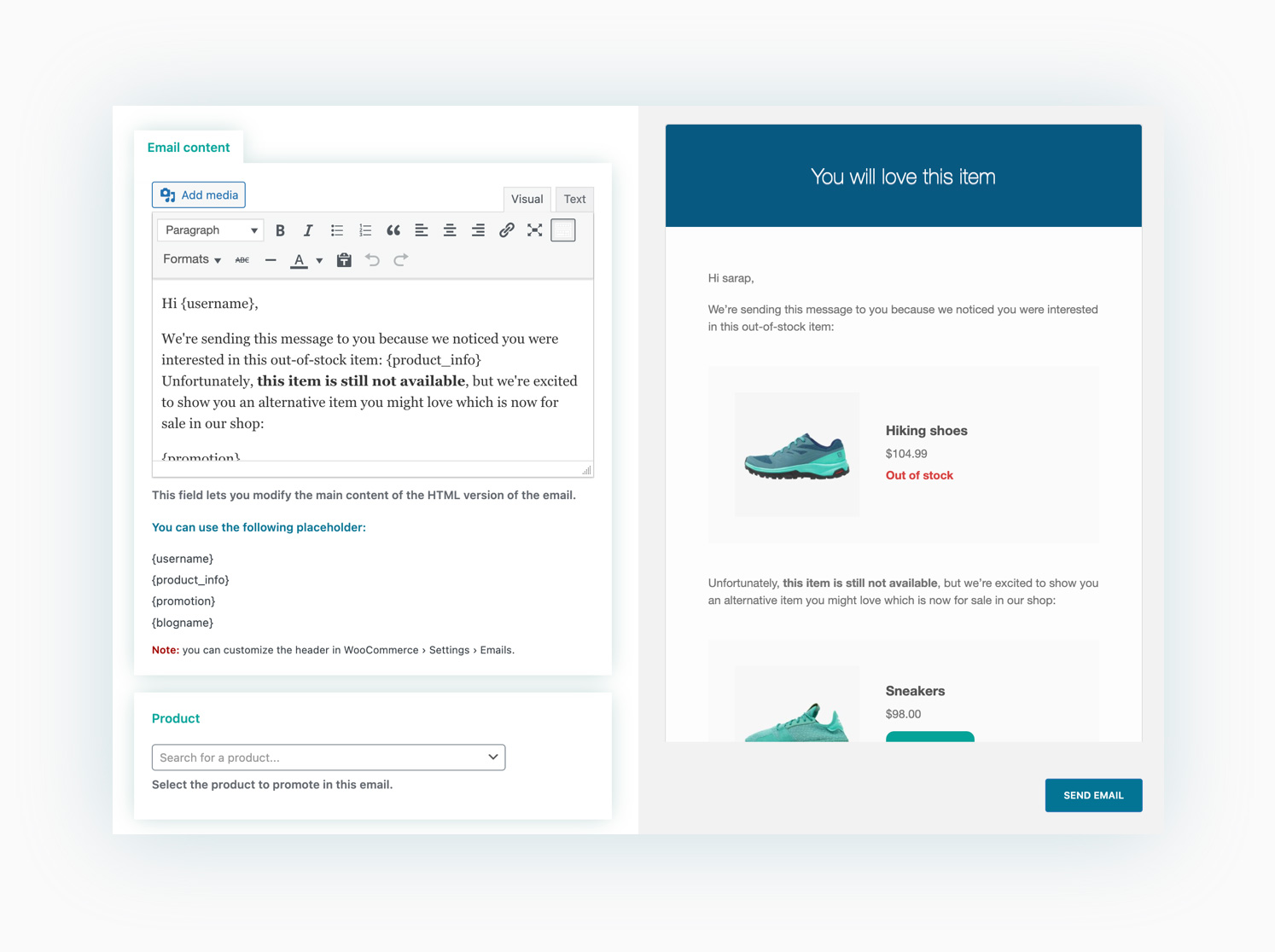 New
Send an email to recommend alternative products when the selected ones are not in stock
You have enabled the waiting list option but the supplier informs you that they will not be able to restock the products. What then? Since version 2.0, you will be able to send a product recommendation to all users who subscribed to a specific product waitlist. With the right words and a small discount, you have plenty of chances to make more sales out of it. Just give it a try to see if it works
Monitor and manage the products with a waitlist
In a dedicated table in the plugin panel, you will be able to monitor the products with the waitlist option enabled: you can see how many users subscribed, send the back-in-stock email or the cross-sell one with alternative products, remove users or waitlists, and much more.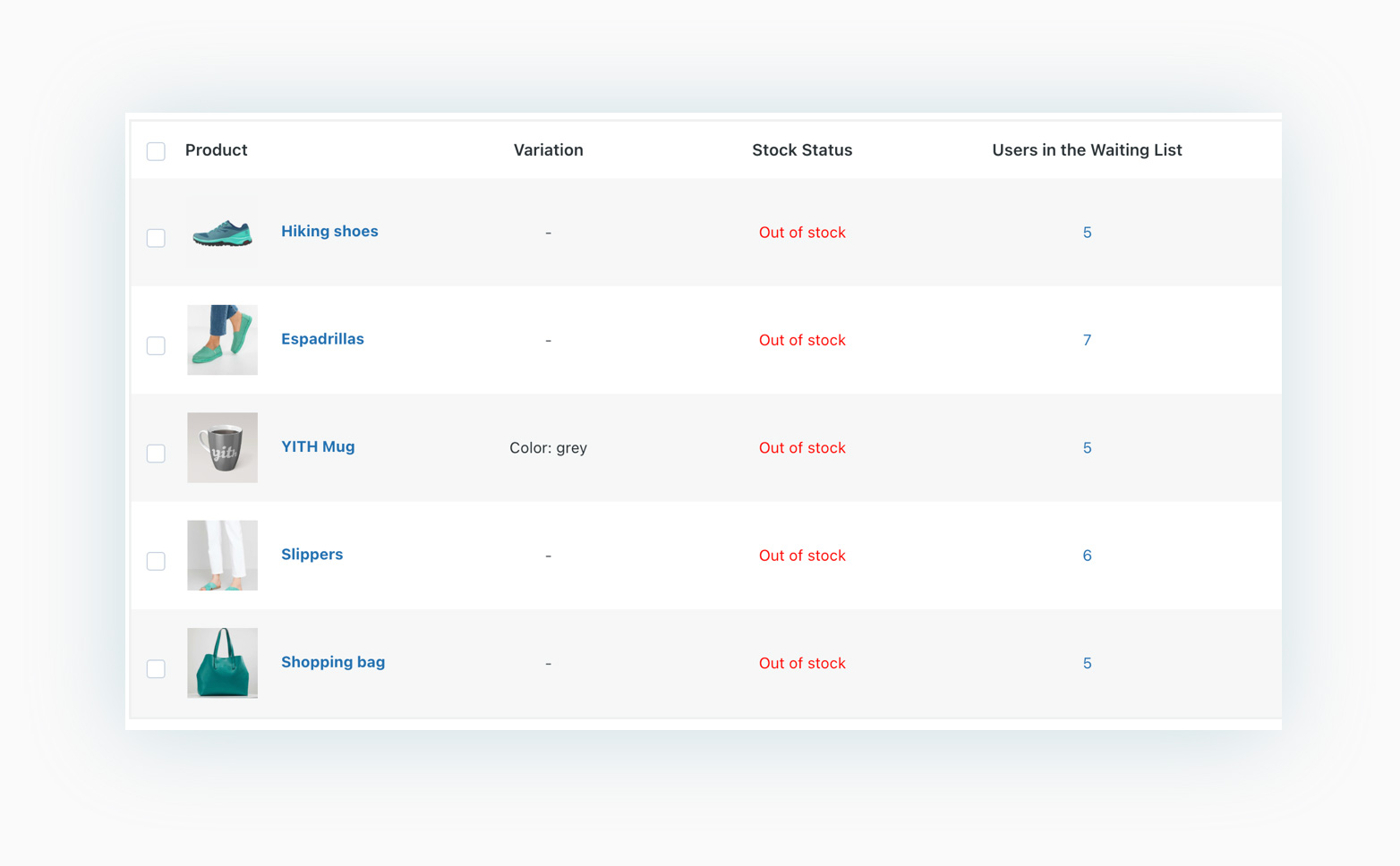 Let your customers monitor the products they have subscribed to in their reserved area in My Account
Your customers can monitor the lists they have subscribed to – and check the products' availability at a glance – in a dedicated section in their account area.
New
Hot
Monitor the emails sent to users and the sales generated from each email
With the new report dashboard, you can easily track all emails sent to users that are subscribed to the waitlists and the revenue generated from each campaign.