Paraphrasing the great John Donne, "No WooCommerce user is an island." Even though newcomers to this eCommerce platform may be confused by the open source nature of the CMS and the lack of direct support, the WordPress and WooCommerce community has consistently shown their strength in numbers.
But in response to those who decide to invest in quality tools, some WooCommerce tops addresses a support system. In fact, while some companies may view customer assistance as "just a task", YITH has been sharing customer support benefits and results with its customers for years, happy to go above and beyond to provide the best possible service.
And this emerges not only in the support-related statistics, which we will discuss later, but also in the existence and continuous evolution of our framework on which all our plugins operate.
Clearly the various plugins operate in perfect harmony with each other, never conflicting, but our developers have decided to go beyond that: each of our plugins includes the framework that will only be included once on your site.
The plugins, then will share this framework that allows you to update and manage the licenses of the plugins, as well as offer common points and features to the various plugins. This has enabled the creation of a common and consistent interface: once you learn how to use one plugin, you will have no difficulty interacting with the rest since they will have numerous shared visual elements and functionality.
This framework also holds promise for the future: its nature makes it easy to apply enhancements to all plugins, significantly reducing the response to your eCommerce store questions and needs, both in terms of features and security.
But the focus on users is not limited to this, as you will discover below.
YITH WooCommerce Plugins Support Statistics
What are the highlights of great expert support? The customer satisfaction rate? The number of requests that are resolved in the first 24 hours? The speed of response? The constant updating of products?
All of these are key elements, which we will discuss shortly, but first, there is an even more important factor: mission. Once support is no longer a secondary element, it can reach its full potential.
This is demonstrated by the evolution of YITH's technical support over the years, particularly since 2014 when the investment was redirected toward it.
As a result, a multi-sided intervention took place to solve problems at their root (by continuously updating and improving video tutorials and producing content such as articles and demos to guide users) and to give a quick and comprehensive response to every ticket request.
Response time of the best support for WooCommerce plugins
When it comes to technical support, it is better to have high-quality guidance rather than a fast and sloppy fix. Although it can be frustrating to contact technical support and wait to receive a message, good customer service can't always guarantee that a problem or error will be fixed in a short time.
For this reason, the technical support team has invested time and resources to reduce the average first response time as much as possible.
To give you an idea, from 2013 to 2015, the response time was between 19 hours and 24. In 2022, after many years of hard work to optimize it, the average response time was reduced to an hour and a half.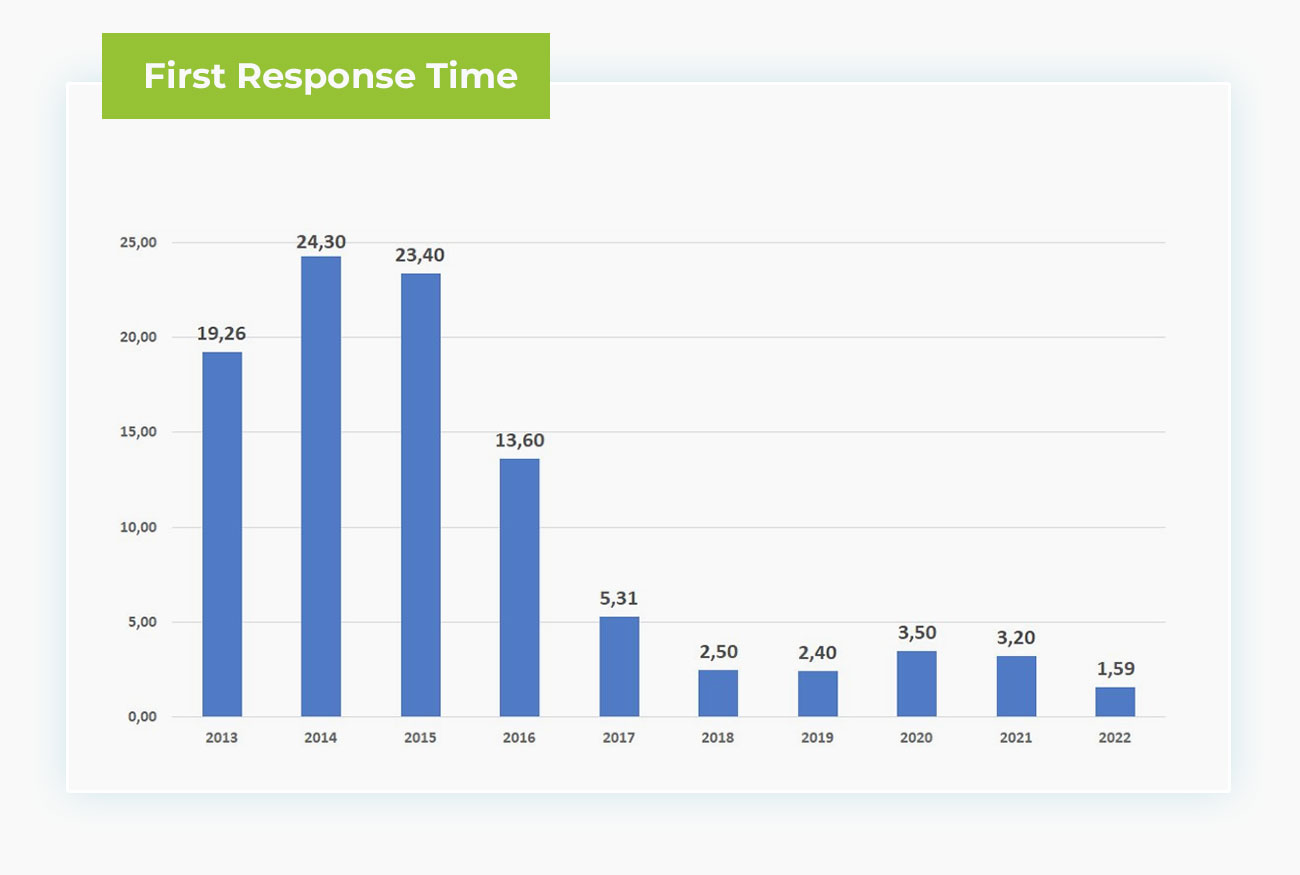 All this was possible without reducing the quality of service, as is evident from the percentage of customer satisfaction. Let's look at it together.
Toward 100 percent customer satisfaction
One of the factors that has seen the greatest growth over the years is the user satisfaction rate. Back in 2013, ten years ago, YITH enjoyed a customer satisfaction of around 75%.
There was room for improvement, so since 2014, our technicians have been improving every aspect of communication and troubleshooting to reach new heights. The results were immediate, with 83% customer satisfaction achieved in 2014.
Just a year later, this figure jumped to 94%, and then reached 97% in 2016. Since then, the percentage has never dropped below that level. On average, it hovers around 98%.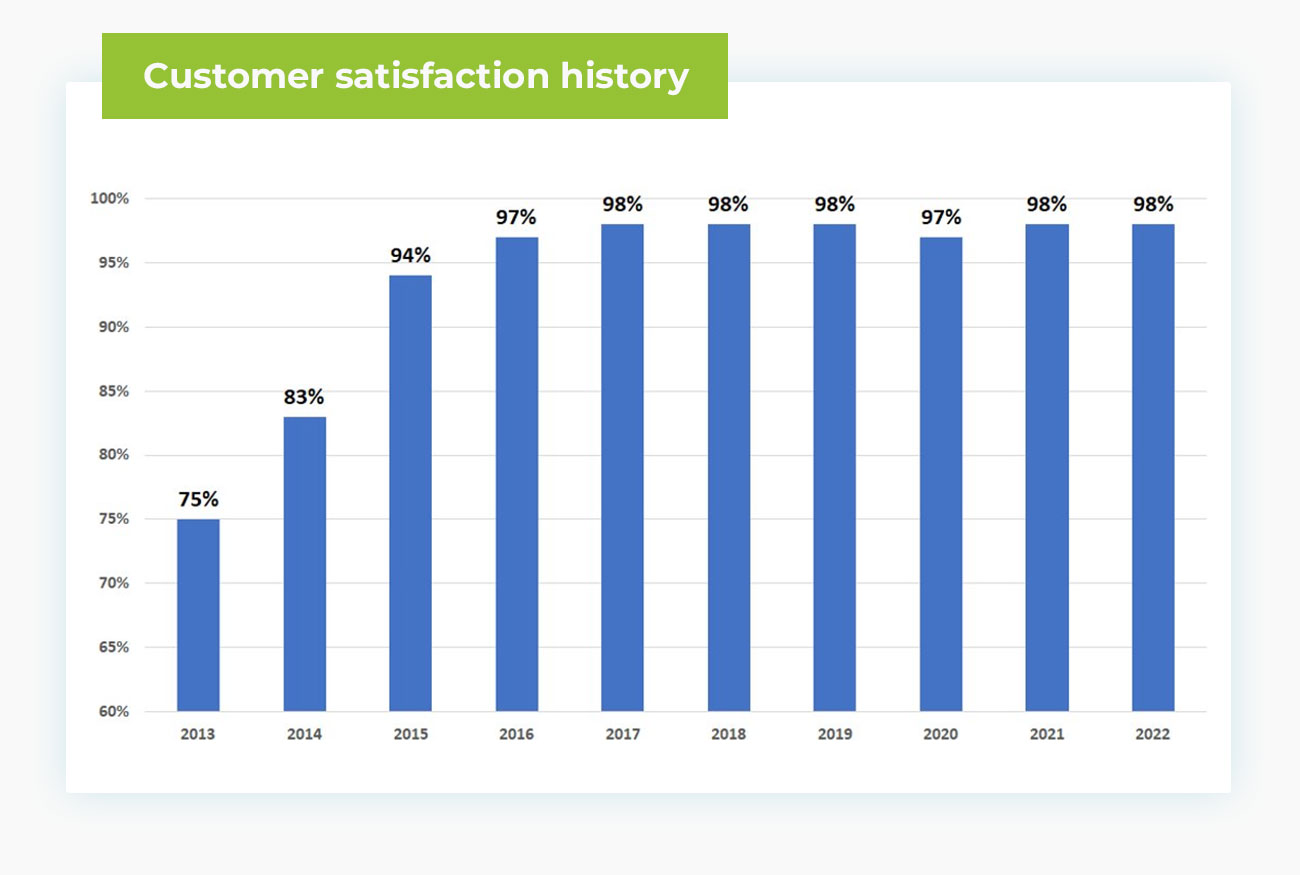 Of course, nothing's ever perfect; but being so close to 100% motivates our technicians to give their best to reach new records.
The number of tickets received every year has also changed over time, in an ongoing struggle between developers fixing all plugin issues that could result in a report and the growing number of customers who choose to purchase YITH plugins each year.
More than 25,000 tickets were opened in 2022, still managing to maintain a 98% satisfaction rate.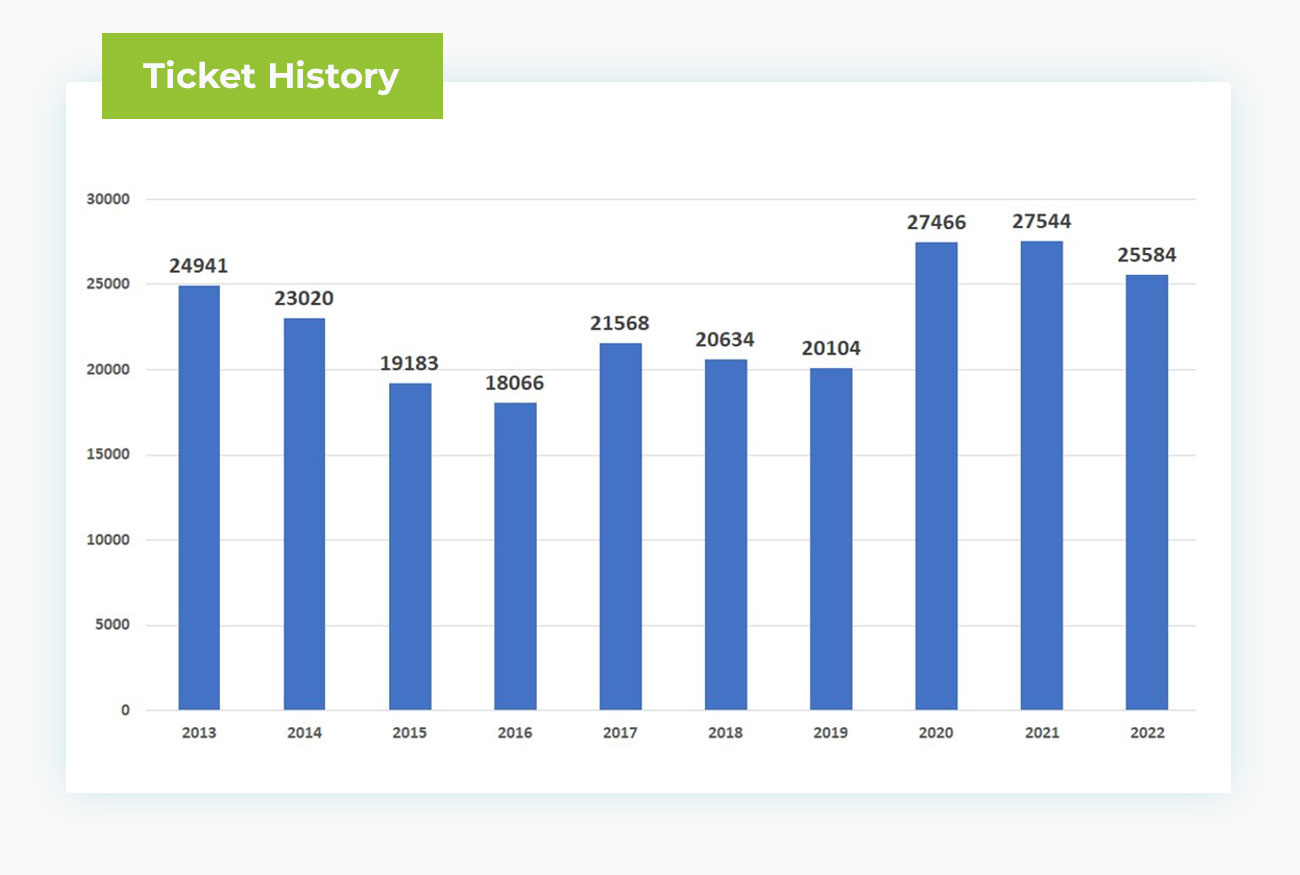 The voice of customers
One of the most reliable tools for determining a company's service quality is always customer reviews. So we thought we should share your feedback with Trustpilot.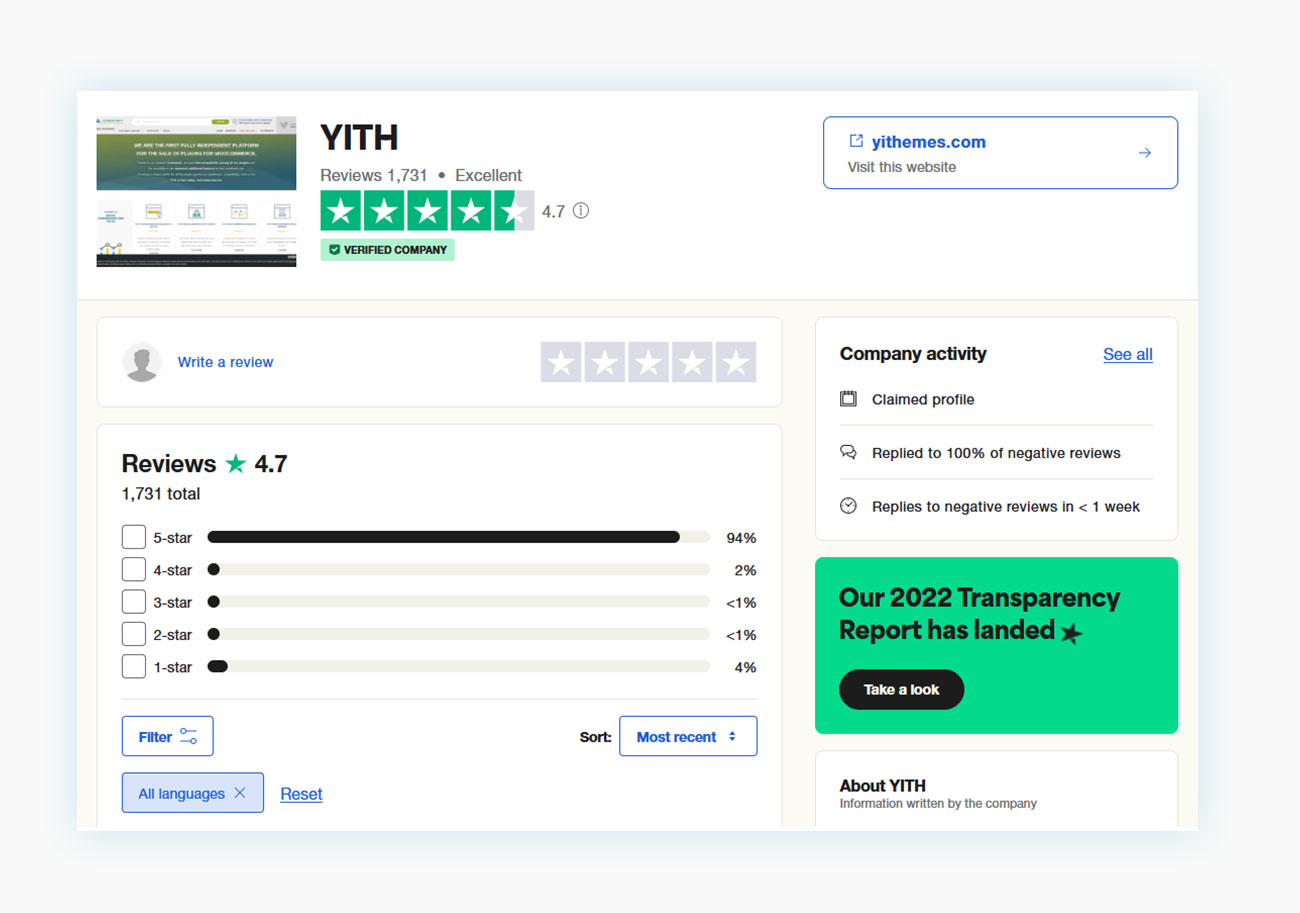 With over 1700 reviews (at the time of writing), YITH has an average rating of 4.7/5, with over 94% giving the highest rating.
These reviews are of great value because they allow us to improve our service over time. For this reason, we are grateful to all of those who have rewarded our support and assistance: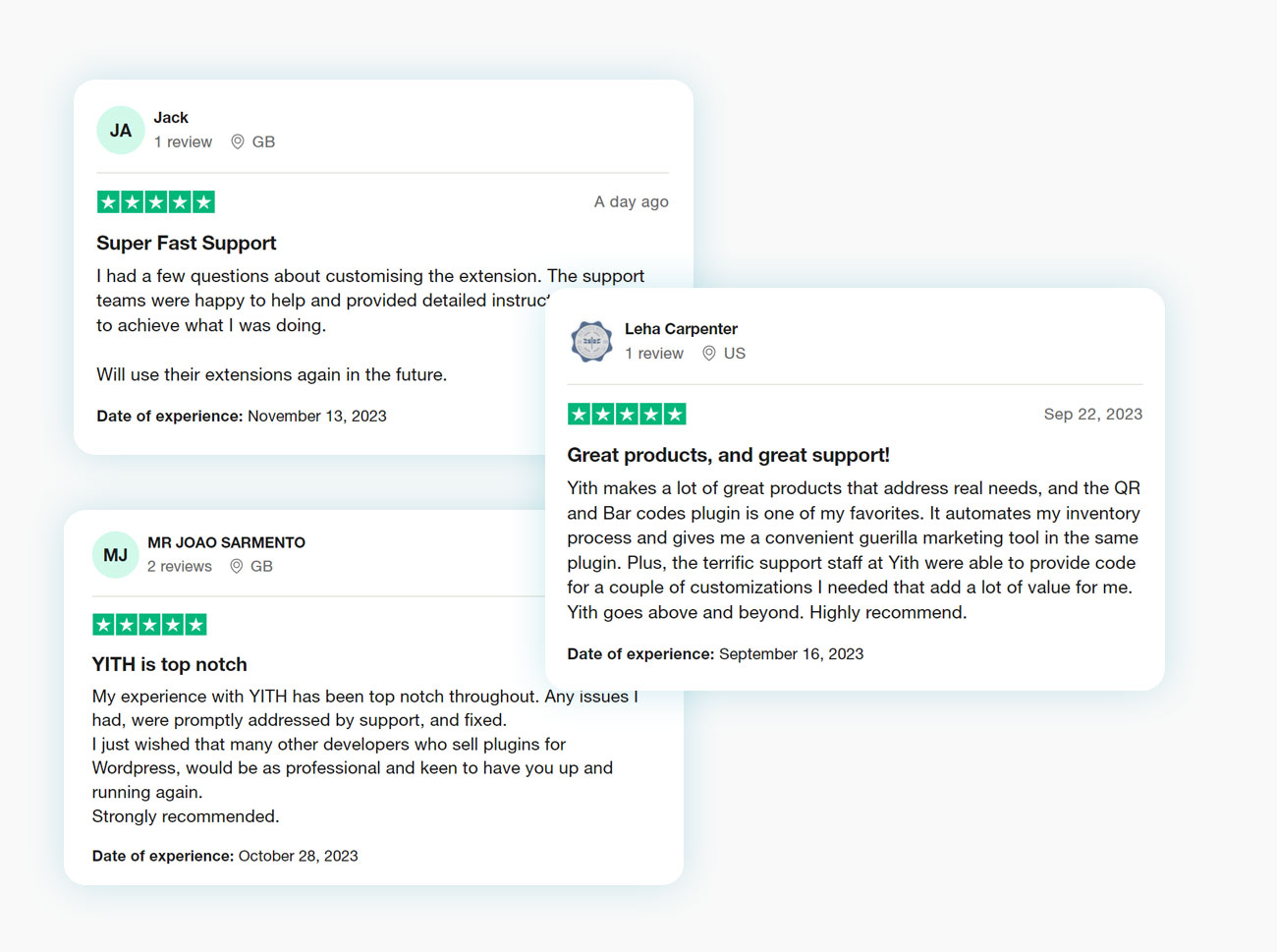 This also applies to those who have been critical, helping us to learn how to make ourselves even better. In fact, YITH now has a 100% reply rate to negative reviews, so we carefully analyze each situation to understand where problems occurred.
How you can get support for YITH plugins
YITH provides support to its customers via a ticket support platform that is active 7 days a week, from 9 am to 5 pm (CET – Rome time), and our team's goal is to provide comprehensive (i.e. not rushed) and quality answers in the shortest possible time.
In most cases, however, you only need to consult the Help Center, which lists numerous FAQs with a search function, to find your problem.
Conclusion
Opening and running an eCommerce store is a challenge. Tools like WordPress and WooCommerce make this easy, but sometimes you might need to contact a team to resolve your doubts or possible errors.
This is why YITH has decided to improve the support for its products year after year. To ensure constant updates and support over time for your website, the same business model of annual licenses is used. Every customer who comes to us is welcome to stay.