On 17-19 May 2019, WordCamp Bristol took place at the University of Chemistry. A well-attended event that represented the South West of England's WordPressers as well as the many UK and international users, coders, developers, sponsors, and contributors.
About Bristol WordCamp 2019
After two years, we finally got to enjoy another brilliantly organised WordCamp. Okay, I might be a little bit biased here as I was one of the 9 organisers and coordinated the volunteers. But as always it takes a whole group of dedicated volunteers to put up a show. This time the number of attendees had grown to almost double, which meant a new location to accommodate this fantastic community. This is not an exaggeration as the vibe, inclusion, and accessibility meant that everyone felt welcome. There was also a big emphasis on creating a low carbon footprint and 'being green'. I think few people would disagree that being conscious of these factors is a bad thing.
Day 1- the contributor day
The contributor day took place right by the water called The Pavilion, No1 Hannover Quay. Various contributions were made to WordPress from theme reviews to support and WordPress TV. However, I wonder how you could stay focused in such a lovely location and view. In the evening this was transformed to the social venue and to thank all the sponsors, volunteers, speakers and organisers.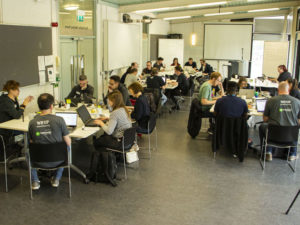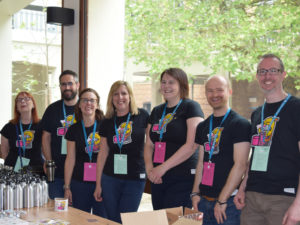 Day 2 – Conference day and after party
An early start for as I needed to set up the sponsorship table before the attendees would embark onto the University of Bristol's Chemistry department. The location and venue was a big part of the success of this year's WordCamp. Two lecture rooms, a quiet room and a huge space for all attendees to mingle with sponsors while drinking coffee or having lunch. It is usually the case that the first part of the day just flies by. Many WordPressers love a bit of swag and our #KeepCalmAndClearCache t-shirts did not disappoint the Bristol crowd. What was lovely to hear was that so many of those who came to see me are users of our plugins. This is one of the main reasons why we attend so many WordPress events, to meet you… It is also a great opportunity to hear feedback, discuss new launches and get ideas by talking to users.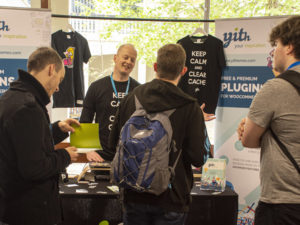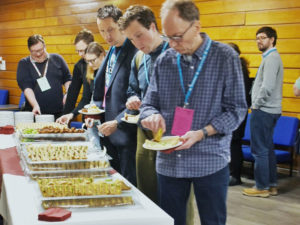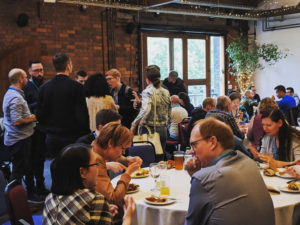 The evening social took place at the Watershed. You get the chance to catch up with old and new friends whilst reflecting on all the new things you've learned that day. 'Make your own burritos' is a great way to feed a large group with various dietary requirements. The atmosphere was a bit too good to not finish the evening in various other bars down by the quay.
Day 3 – Conference day
Another fine and quiet morning marching up the hill for a slightly later start than the day before… For those that attended WordCamp Bristol, you probably regretted not getting a hotel higher up the hill as it was most certainly a steep one. As usual, the catering was set up and coffee and biscuits were welcoming the WordPressers that would attend day two. A whole day of 2 tracks with speakers lined up kept everyone wondering which talk to attend till the last moment. Often to make mental notes to catch up on the 'other' talk on WordPress TV. As most YITH plugin users probably met up with Ronald on Saturday, it was more obvious that on Sunday it was the turn of WordPressers that wanted to find out more. This is just as important to us, as WordCamps are a great way to introduce new users to the extended world of WooCommerce.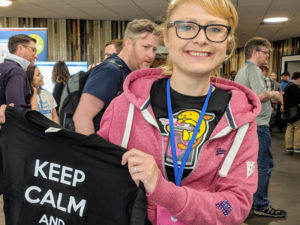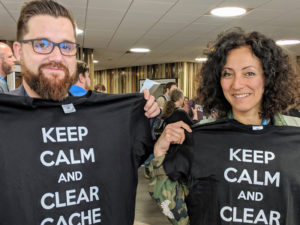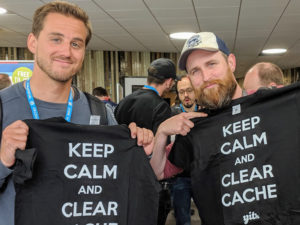 YITH as a gold sponsor of WordCamp Bristol
As a company, we felt honoured to be part of WordCamp Bristol and to be able to sponsor such a great and well-run event.
Thank you to each and every one of you
As much as I'd like to thank every person that made WordCamp Bristol possible, it would be an impossible task. Hannah and Janice, who were the leads, most certainly know how to put a super team together. They, in turn, the volunteers, speakers, venue, staff and every ticket holder they invited to join in one of the best WordCamp experiences of this year. It got me and the rest of YITH inspired and already looking forward to the next one.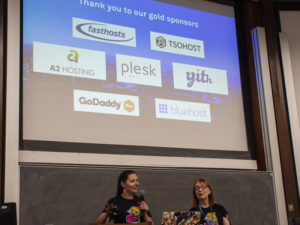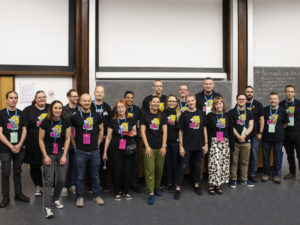 WordPress Community and what it means for YITH
All of our staff contribute to the community in one way or another, whether it is by translating, coding or giving up time to teach the next generation about WordPress. While WordCamp Bristol was in full swing, two of our developers were at WordCamp Bari contributing, speaking and also sponsoring. You see, we love WordPress here at YITH!
Upcoming WordCamp events to meet us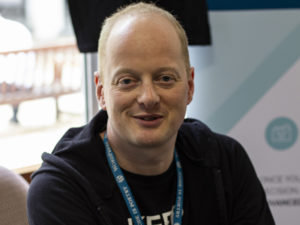 The next WordCamp is most certainly going to be the biggest and the best. Yes, you guessed it… on 21 and 22 June, aver 3000 WordPress enthusiasts will embark on Berlin to listen, socialize, engage and get entertained by the WordPress Community. Many of the Bristol team will be there too and we will most certainly keep an eye out for them. Will you come to Berlin? Make sure you let us know on social media or during the event.
Further on in the year, we will be in Brighton (UK) Catania (It) and Nijmegen (NL) with further WordCamps in the planning. If you'd like us to get involved in your WordPress community event, why not contact us and we would consider supporting it.
Looking forward to seeing you at the next community event!
And finally, there is only one thing to remember…
#KeepCalmAndClearCache