In its third year, WordCamp Nijmegen obviously enjoyed a wealth of experience in the organisation of a WordCamp. The team really put up a good show! The location was ROC Nijmegen which is a professional education centre where youngster train for all sorts of jobs in a real-life environment. WordCamp Nijmegen partnered with ROC, and with the help of students they set up a perfect WordCamp environment. A great format that hopefully is copied a lot more.

On Friday 20th September there was a contribution day. This was a well-attended day by local and also some international WordPress users. I popped in to see some familiar faces and make acquaintance with the organising team. For the afternoon I set up the YITH stand. This was followed by a speaker and sponsor dinner in the city centre. As a sponsor, it is really heartwarming to be appreciated for your contribution to the effort of making a WordCamp great.

WordCamp Conference day
The conference day was on Saturday 21st September… From 9 am, Dutch, Belgium German and many other nationalities of WordPressers started flooding in. For me, it was the first Dutch WordCamp and although I have been busy in the community, it was the first time to meet many of the familiar faces. 
Marcel Bootsman, for example, is quite a well-known person since he walked to WordCamp EU last year in support of the mental health charity, WP&UP. I finally managed to ask home some interesting questions about his efforts and journey. 
Nijmegen is not far from Yoast HQ in Wychen. It was pretty much expected to bump into quite a few of the known contributor and community staff of Yoast. They and also Savvii are two of the supporters to their local WordPress Meetup, I learned. Furthermore, Olaf, who runs a web development company, was the Sponsor wrangler and has been a great support in helping us prepare for the event. There have been many more interesting people and conversation I had with many of the attendees and 'you' are most certainly not forgotten. For YITH this is one of the most important factors to get feedback and build up new and stronger relations with users. It always astonishes me how popular the company is and I can assure you that this love is passed to the whole team our CEO, Nando Pappalardo. 

The talks that were in the planning were varied and many tweeted Marieke van de Rakt's talk about empowering women in the community. She had her eldest daughter on stage which must have been quite a nerve-wracking experience for her. Diversity and equality is such an important part for YITH too and we support every effort and conversation in this subject. Other talks and masterclasses were held over three different tracks and the feedback from the attendees was very positive. Many agreed that you sometimes get the most surprising and useful takeaways from the talks that you least expect it from. It's an encouraging way to sometimes be brave and bold.
She is my hero! https://t.co/R0Z6iikqRu

— Marieke van de Rakt (@MariekeRakt) September 21, 2019
After a busy day, we concluded the conference with a 'borrel' a Dutch way of describing drinks and snacks to finish off a fantastic day. 
It was one of the most intensive WordCamp days and by the time I arrived home, I was tired but satisfied. A quick flick through twitter and I think pretty much everyone agreed with me too who attended #WCNMGN
As usual, we want to thank each and every organiser, volunteer, venue staff, speaker and you, the attendees, to have made WordCamp Nijmegen 2019 such a pleasant experience. We are looking forward to the much-anticipated news on WordCamp NL and possibly the fourth edition for WordCamp Nijmegen.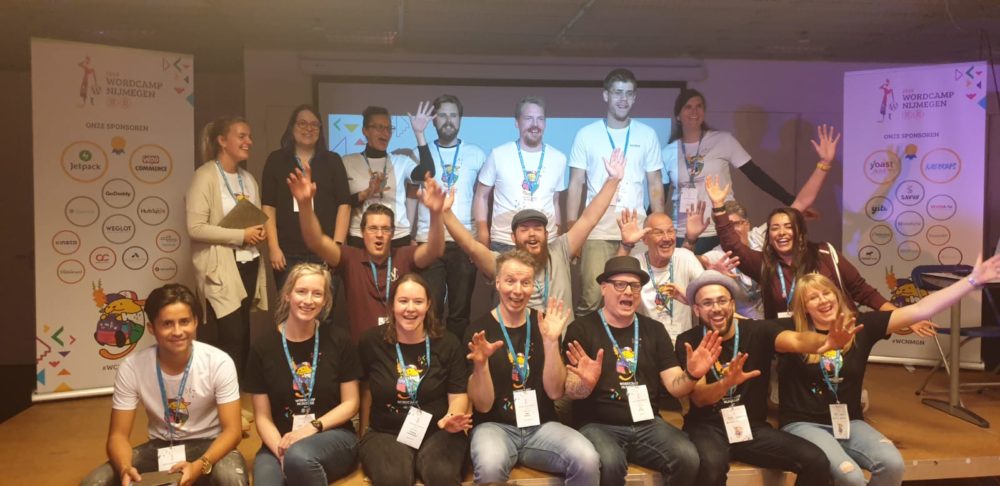 WordCamps and what it means to us
WordCamps and sponsoring these great events organised by volunteers is something that is very dear to us. Not only do we give something back to the community, but we also get to meet current and new customers. The conversations and experiences always make us buzz with excitement. If you like us to sponsor another WordCamp, please get in touch with us so we can consider it. If you like to find out more about what it means for YITH to contribute, we have written a nice blog post here>
Where to find us next:
WordCamp Verona
WordCamp Valencia
WordCamp Dublin
WordCamp Milano
WordCamp US
WordCamp Granada
Hope to see you at one of these WordCamps soon!