How does it feel after a 3-day event that registered about 25 thousand attendees? We tell you: obviously tired.
And also satisfied.
Euphoric.
We come back home with our luggage filled with T-shirts and expectations on our way there that is now full of ideas, energy, and new synergies.
This is what the Web Marketing Festival, the biggest Italian event/fair specialized in online marketing, gave us this year, for the third year in a row.
21.000 attendees, 70 events, 55 training rooms, 500 exhibitors and partners, 600 startups, 500 speakers. YITH couldn't miss it and we were there indeed, represented by Marco Salvo, Alessio Torrisi, and Andrea Grillo.
Here is how the YITH team experienced this edition of the Web Marketing Festival starting from the location.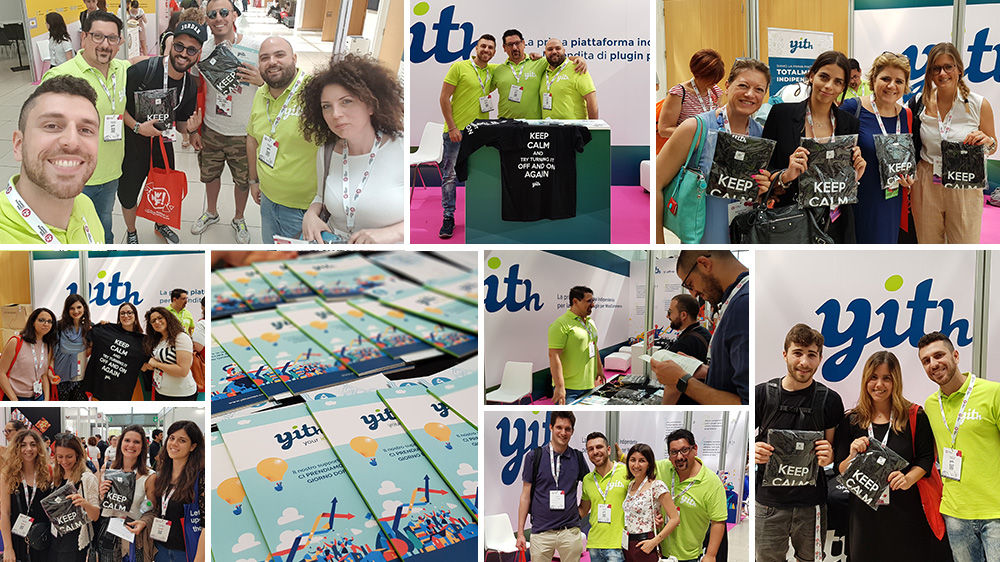 Location of Web Marketing Festival
The event took place in the Palacongressi in Rimini, the biggest congressional building in Italy, recognized as one of the most majestic in Europe.
It's a huge place stretching for over 38 000 square meters where there is a plenary room with a stage where bands, artists, and celebrities from the show business performed.
During the Web Marketing Festival, this amazing location came alive thanks to the several exhibitors' stands and to a group of street artists and jugglers who cheered everyone up with their joyfulness and lightheartedness.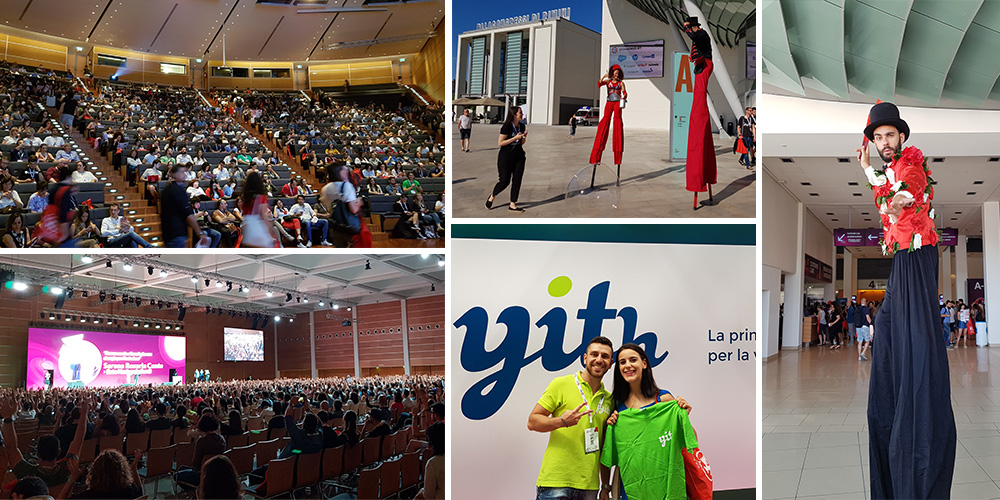 Our 3 days at Web Marketing Festival
During these 3 days, we shook hundreds of hands, hugged many friends and met a lot of new people. Our stand was a meeting point where many people, after breaking the ice, shared their projects, ideas, dreams, and ambitions with us.
T-shirts we bring to the events just became a must. Many people wore the last two years' ones and approached our stand looking for the new ones. We have also met some collectors who have been knowing us for years and have all of our T-shirts!
Everyone was excited about our new T-shirts "Keep calm and try turning it on and off again". Indeed, we gave out over 700. We thought we brought so many but they kept on asking them even after the event was over and when we only had empty boxes left.
The most amazing thing about this event was the cooperation among people who had a stand. We had the tangible and pleasant feeling to know each other since ever, to be everyone's friends.
We want to thank all the people who came especially to look for us at our stand and bring us their gadgets as we rarely went away (only to get some beer at the stand where they placed the beer tap). We really appreciated your help. 🙂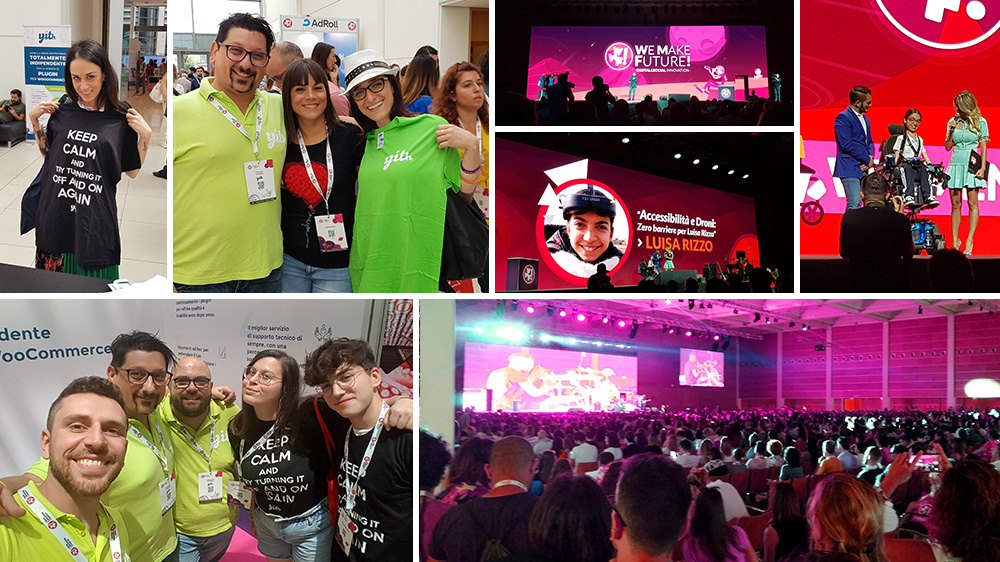 And after the WMF…around Rimini in the evening
Every time we go to Rimini, we stay at the same hotel (the Baltic hotel) where we feel like at home and get spoiled by the owners Corrado and Lorella.
Corrado is a funny guy who likes providing good company. Every time we came back to the hotel, exhausted by a day spent at the event, he welcomed us with one or more "spritz" or a good home-made sangria.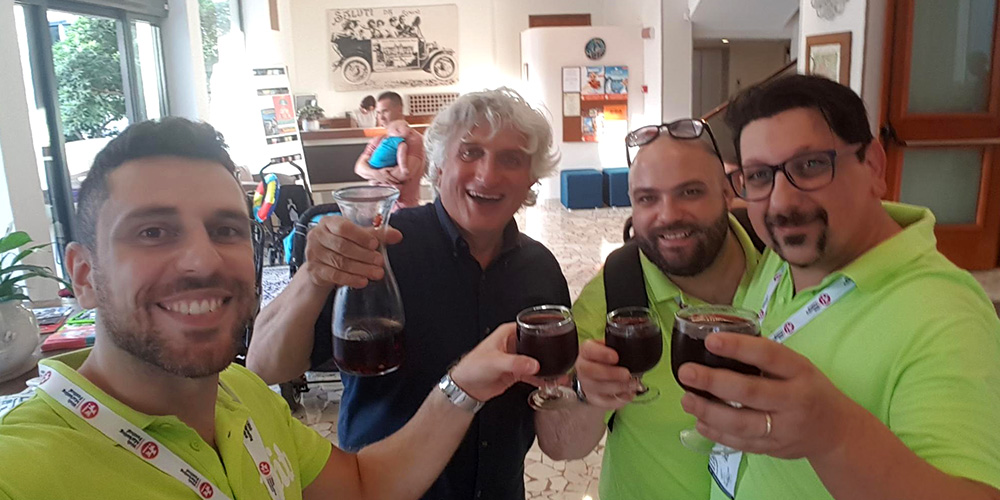 After a restoring shower, we went strolling around Rimini to enjoy its people's politeness and to eat at Bounty, a place we hang out at since three years now that never disappoints us for its quality, quantity, and kindness.
At the Bounty, in addition to Jack Sparrow in person (as you can see in the picture), we have also met other people we knew at the event.
This allowed us to know some of our customers better and feel even more at home.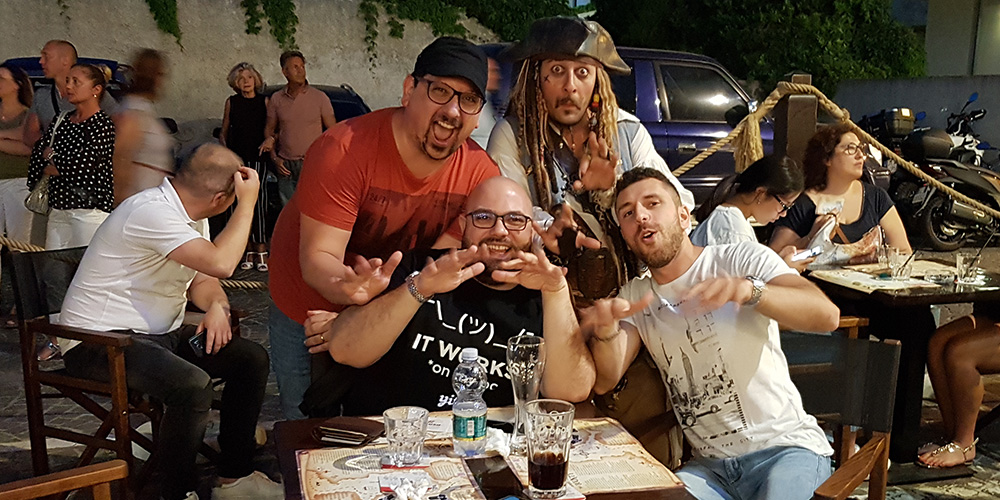 Ending
We feel like recommending this event to all the people involved in online marketing and, in general, to everyone working on the web. One of a kind occasion to get off from the screen, hug friends, meet new people and start, why not, new cooperations.
YITH thanks the organizers and all the people who made this wonderful event possible. An event that makes the difference in Italy.
We will meet you again next year with our new T-shirts! 🙂