As far as local WordCamps, this is one of those WordCamps that you expect a lot from due to the location. And we can safely say, the experience didn't disappoint us… far from it! The city, the people, the speakers, the venue and just the total atmosphere… everything was just beyond expectations.
The devil is in the detail
The planning of attending and sponsoring a WordCamp like this takes quite a bit of time. YITH decided to sponsor New York City some time back as it worked out well in our busy calendar. Working out numbers, order swag and transport, flights, hotel and also a competition… it surprises us that it takes so much more time for each event. Yes, there is a moment where you doubt all is going to fall in to place, but when this happens and you arrive and all bags and boxes are delivered, the WordPress bug is back again… (Thank you, Laura, for helping me find the last box) It is something magical when you see new and familiar faces and you all have something in common. The love of WordPress!
The welcome I received on Friday Night at the speaker and sponsor social was heartwarming. We had some delicious food and drink at a rooftop bar on Roosevelt Island. Just take a look at the picture of the view… it is not every day you get invited to these places with a view over Manhattan. But, sadly we soon had to get back to our hotels as it would be an early start… please remember that by that time it was actually 3 am since I left the UK that morning…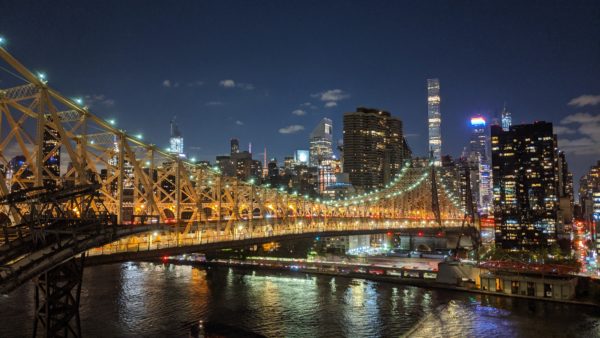 The Conference – two days of WordPress
Day one is a usual early start for the organisers and sponsors… set up, and some much-needed coffee, with some traditional American breakfast from 'Dunks'.
Before you realize it is the turn of the attendees that have been eagerly waiting and started flooding in. The first half of the day felt like it went by within seconds. Hundreds of WordPress fanatics came to see me for not just our super cool t-shirts but also to strike a conversation and ask about the company. I must compliment the attendees for patiently waiting for their turns to speak to me… on numerous occasions, I saw people waiting but then moving to the next talk and after coming back. The chats I had were at times in-depth and challenging to either support or find a solution to the problems they've come up with. 
All throughout the event attendees made use of the so-called 'hallway track' to speak to sponsors and at times to pull a chair and show something on a laptop.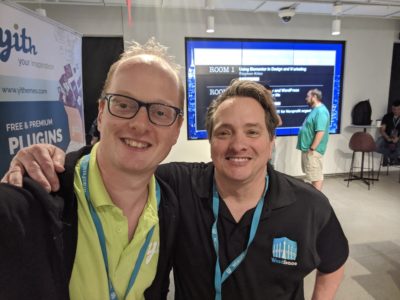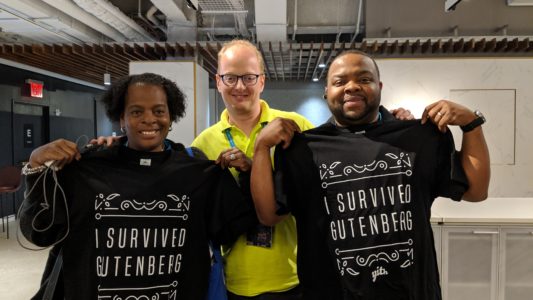 The venue was at the Convene, near Times Square. An event space that was equipped and very experienced to deal with events like a WordCamp. This was very obvious during the lunchtimes when they managed to feed around 350 in about 20 to 25 minutes. The food was pretty and of outstanding quality.
We were treated to an 'after-party' social in a nearby bar where there was plenty of drink and finger food to be had. Probably a pretty normal bar for New York residents but for me it was a great and authentic experience with American football being shown on the screens and all different types of drinks being served. I think that anybody that made their way across the Atlantic was pretty much done by that time. For example, I was right awake by 4 am, which is in my local time of 9 am…
The Competition – two lucky winners
Sunday was looking just as promising as Saturday with an excellent line-up of speakers across three tracks. Due to the popularity, I had run out of t-shirts and brochures the day before so the main thing was to talk to people and encourage the completion of our Wordsearch competition. Two lucky winners would be picked out for a chance to win a $50 Hard Rock Cafe gift voucher. 
At the closing remarks, the winners were announced by the organising lead, Mervin. Both winners were over the moon to win a Hard Rock Cafe gift voucher.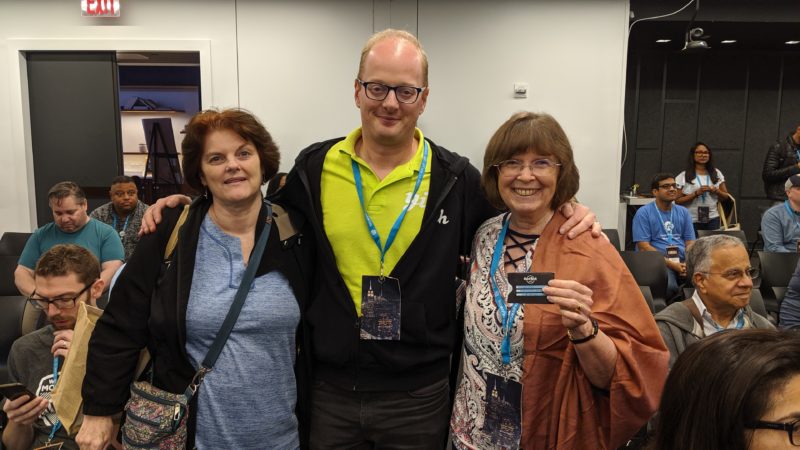 Conclusion
WCNYC is one WordCamp that will not easily be forgotten. Is it the location, city or the people? It is probably a mix of all. We have been made very welcome and the attendees have shown a real interest in the company and its plugins. We will no doubt be visiting more WordCamps in the US if not NYC again for next year. 
As usual, it is important to highlight that WordCamps are organised by some very dedicated volunteers that spend many days preparing these great events. I think it is important to show our appreciation to the team lead by Mervin. So thank you to the organisers, volunteers, speakers, venue staff and everyone that attended,
I leave you with some impressions of WordCamp NYC and the many t-shirts that made lots of people very happy.

WordCamps and sponsoring these great events organised by volunteers is something that is very dear to us. Not only do we give something back to the community, but we also get to meet current and new customers. The conversations and experiences always make us buzz with excitement. If you like us to sponsor another WordCamp, please get in touch with us so we can consider it. If you like to find out more about what it means for YITH to contribute, we have written a nice blog post here>
Where to find us next:
WordCamp Verona
WordCamp Valencia
WordCamp Dublin
WordCamp Milano
WordCamp US
WordCamp Granada
Hope to see you at one of these WordCamps soon!