WordCamp Europe was suddenly upon us, and now it seems to have passed us in a flash. So many days crossed out on our calendar for it to pass almost without our noticing. Though the event was slightly smaller than in previous years, it still impacted us and the audience. Sometimes it is not about the quantity, but the impact like any marketeer would tell you.
As many as 3290 registered to attend WordCamp Europe from no fewer than 131 countries
As always, one of the things we could appreciate the most was the effort of so many people so that we could all enjoy an event as important as this one.
As a Global Leader my greatest feeling is to live the great opportunity of working closely with a great team full of amazing people and at the same time, to include new value to the event in order to upgrade the attendees and sponsors online experience.

Jose Ramon Padron
The highlight was the pleasure of the teamwork on the 3 days during the presentations. There is nothing like the pressure of reacting to live events, seeing the needs, and making things up on the spot!

Janice Tye
As an organiser for this WordCamp edition, I've had several highlights. The first one was when all the Super Admin and Admin sponsor (and also almost Editor) packages were sold out in very no time. It was so great to see that fantastic support from sponsors. Then, organizing a WordCamp Europe is always something magical. All the team works hard for many months. It seems that we can't do that. Then, the WCEU simply happens, and all the hard work is forgotten.

Laura Sacco
We also experienced a new platform and one of the surprises of this WordCamp: Hubilo, to view and interact with the attendees. You were able to connect with them directly, or you could visit some of the sponsor's virtual booths. The platform was really thought through well and easy to navigate. When visiting different rooms, you could clearly see who was there. But for sure, even if you did not know, the welcome from others is always heartwarming. This must have been quite a task to test and prepare for the organizing team.
We also wanted the event experience to be great without the need to use all kinds of other tools, just the web browser. So this year it was not necessary to use Zoom to chat with other participants. ~ WordCamp Europe team
Speakers and talks
Most of the talks were around one of two themes, how to contribute or the imminent beat release of 'full site editing'. This surely was on purpose to help the community to prepare or to get involved more. Some of the most useful talks on Full Site Editing were from:
It surely has to be the last talk "in conversation with Matt Mullenweg", as this was a window into the future of what will be happening in the coming months with regard to WordPress, the block editor and FSE. In these talks we could see Matt Mullenweg talking with Matías Ventura, talking about blocks, or with Brian Krogsgard.
Future of themes discussion, with a panel discussion with experts familiar with the new type of WordPress themes such as Ben Dwyer, Daisy Olsen, Imran Sayed and Raitis Sevelis who shared information, tips and opportunity that the ecosystem provides.
Building great experience in the new editor. Fabian Kägy discussed the different options, benefits and downsides of building blocks, as well as general good practices for building great editorial experiences.
And on the subject of contributions we particularly liked:
Workshop: Getting started translating WordPress themes and plugins into different languages. This workshop covered several topics: how to find a suitable translation project, how to suggest a translation and where to find information on standards and glossaries for your locale. Also how to get involved with your local translation team and how to get your translations approved, so that others can benefit from your contributions.
All the interviews with the top-level sponsors all answered the same question of how they support the contribution effort, or "five for the future", but in particular Marieke van de Rakt from Yoast.
In this way, you realize that many companies profit from WordPress, and by giving back – or investing into the future – companies can make sure that the project remains a community effort.
To learn more about contributing to WordPress, WordCamp Europe posted this link to help you get started. An important note is that each year, a dedicated contribution day is one of the event's days, though this year this was not the case. We think this is unfortunate as it is one of our favorite ways to get involved and gives a sense of community achievement. At the same time with the changing digital times, this is understandably difficult to achieve by volunteers. We just hope we can have a double portion of the contribution day next year in Porto and soon via local meetups, WP related events, and hopefully a 2022 full of WordCamps 🤞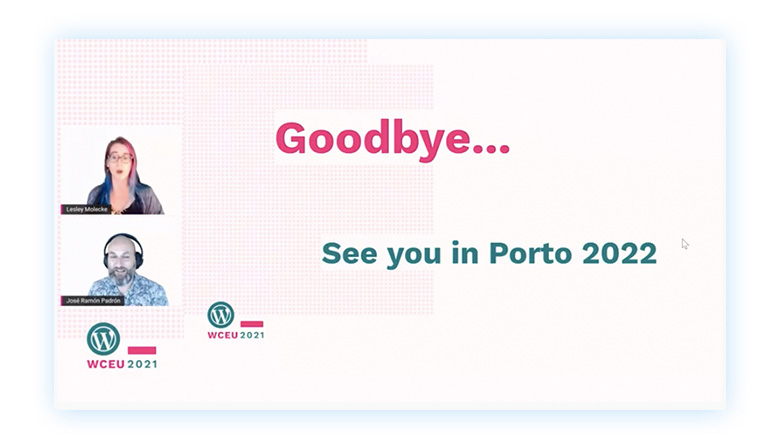 In terms of other subjects, it is worth watching these talks again
Invisible CMS. With this talk, we tried to harness the power of WordPress without WordPress marketing.
Workshop: Are your customers looking for you? How to do keyword research. In this workshop, David Zimmerman will teach you his process to determine whether or not your customers are looking for you in Google and, if they are, what phrases they might.
WooCommerce Data Hub. Mitko Kochkovski taught us how to create an order data center using WooCommerce and receive payments from eight different domains and orders from 6 more partner sites.
With these recommended links you should be able to catch up on some great topics and discussions.
Do you want to speak at a WordCamp?
Some stats which we'd like to focus on is that In 2020 51% of speakers were women, but in 2021, this was a lot less at an estimated 38%. We totally appreciate how difficult it is to create diverse events, and it can not be easy for speakers to come forward to create a balanced schedule. If you have been contemplating speaking, please take a look at the WordPress diversity projects by Jill Binder.
How to catch up if you missed WordCamp Europe?
Here is the main link to all days with two tracks. The link to the schedule you can find here so it will be easier to jump to the talk you want to catch up on.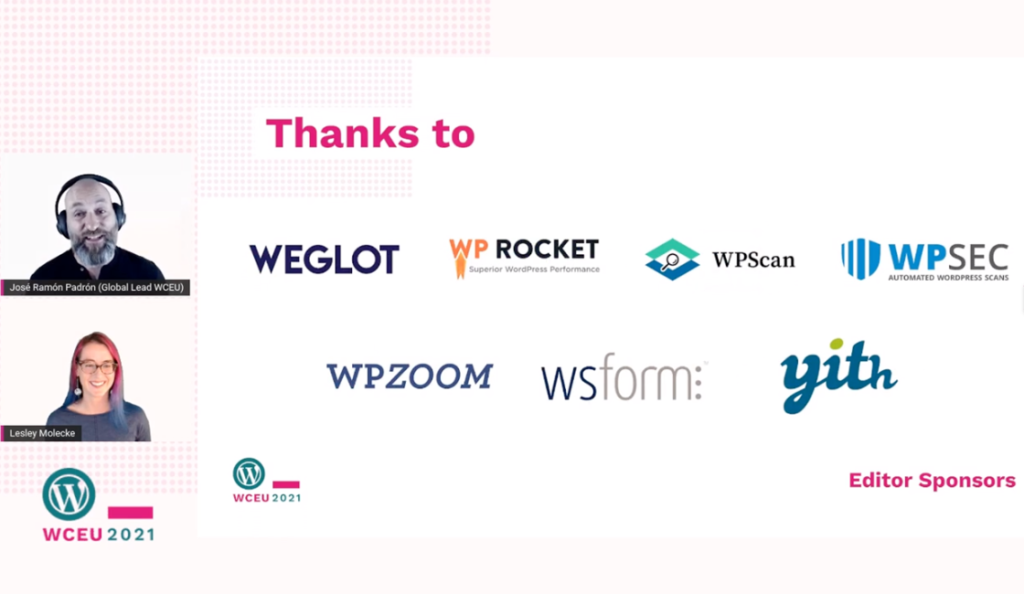 It is always a lot of pleasure to contribute to any WordCamp. It has been our fifth year sponsoring WordCamp Europe. The online WordCamps are a great way to keep the community together and focussed, but we all know that nothing beats a physical WordCamp and we simply cannot wait to meet you all in Porto 2022. Here you can see the Welcome to WordCamp Europe 2022.
Thanks to the organisers
Organising a WordCamp is a huge task and we are super grateful to all of the organising team. At YITH we have a number of WordCamp organisers and it is something anyone can do or help with. The satisfaction you get after an event is hugely appreciated. But after a digital event, this is less obvious than when you get a round of applause. So hereby a round of applause to all volunteers and organisers 👏 👏
We leave you some quotes from three of the organisers to look forward to next year>
What I most look forward to in an actual live WordCamp Europe is the casual meetings and conversations that happen. A virtual room comes nowhere near it.

Janice Tye
People, the WordPress Community itself, the people I'd like to hug from 2019 and I didn't have the chance to do it. And also being in an in-person event of this size and importance again.

Jose Ramon Padron
I can't wait to meet people in the flesh, give a lot of hugs, and have a drink with the most people possible.

Laura Sacco