We're here again wrapping up another event of the WordPress family: the WordCamp that took place in the past week in the wonderful city of Verona.
If William Shakespeare made Romeo and Juliet (Romeo and Giulietta in Italian) the symbol of the city, today the WordPress community replies with Wapeo and Wapetta, the tender mascots of WordCamp Verona.

Going through the two days we spent there will help us convey the feelings and amazing experience we had there.
The YITH staff in Verona was made of Nando Pappalardo (CEO), Marco Salvo (Project Manager) and Alessio Torrisi (Developer).
We arrived on Thursday 10, in the evening, the day before the Contributor Day. We just had the time to unpack and soon we met the other members of the Italian WordPress Community. No better time to start networking and having fun together, that's the spirit!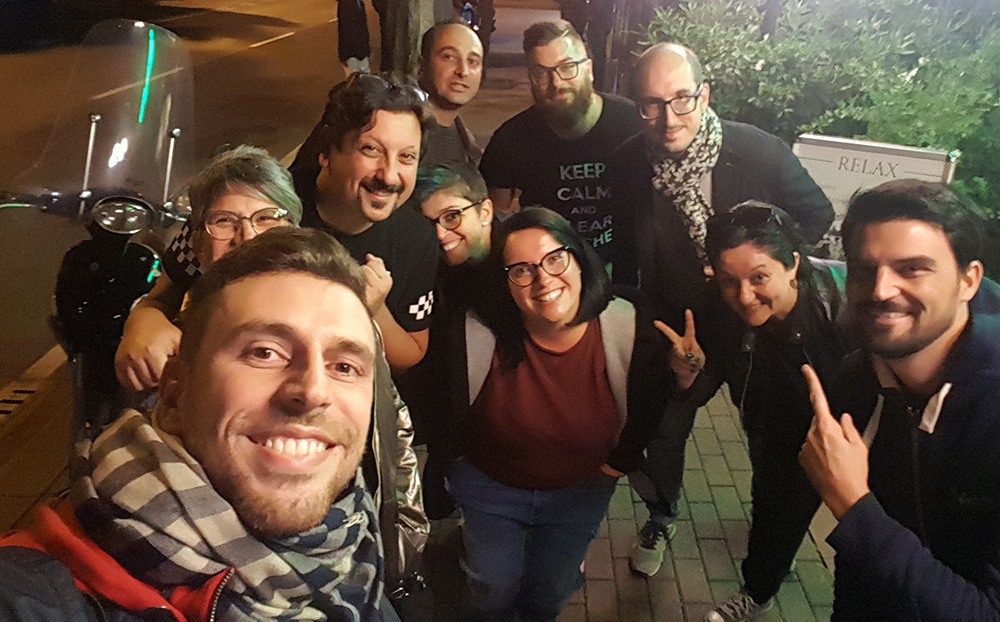 Thursday morning: after a proper breakfast, we are ready to tackle the Contributor Day.
There are many people in the room and a huge will to become a part of the WordPress project in the air: everyone is sitting at one of the contributing tables, based to their inclinations or interests.
There are seven tables at our disposal:
Core
Accessibility
Community
Polyglots
Support
Themes
TV
Anyone who wants to become part of the WordPress world should take part in a day like this, as this will immediately make better understand what the Community universe is like.
Between delicious desserts and pleasant conversations, time is running so quickly that it's evening soon: we are at the dinner with sponsors, volunteers and speakers, gladly drinking a beer in good company.

It's Saturday finally, the day when the organisers can see all their efforts bear fruit: the WordCamp begins!
Everyone can smell enthusiasm, happiness, curiosity and the eagerness of listening to the speeches that will follow one another during the day.
Honestly… isn't it true that attending a WordCamp also means gathering gadgets from the sponsor booths?
We can admit that much to our own amazement, our booth is mobbed by attendees 😀
Our T-shirt "I survived Gutenberg" becomes a legend in no more than one second.
We just have the time to open the box and show one T-shirt that… well, the rest is history!
We run out of all the T-shirts we have, around 150, in less than two hours.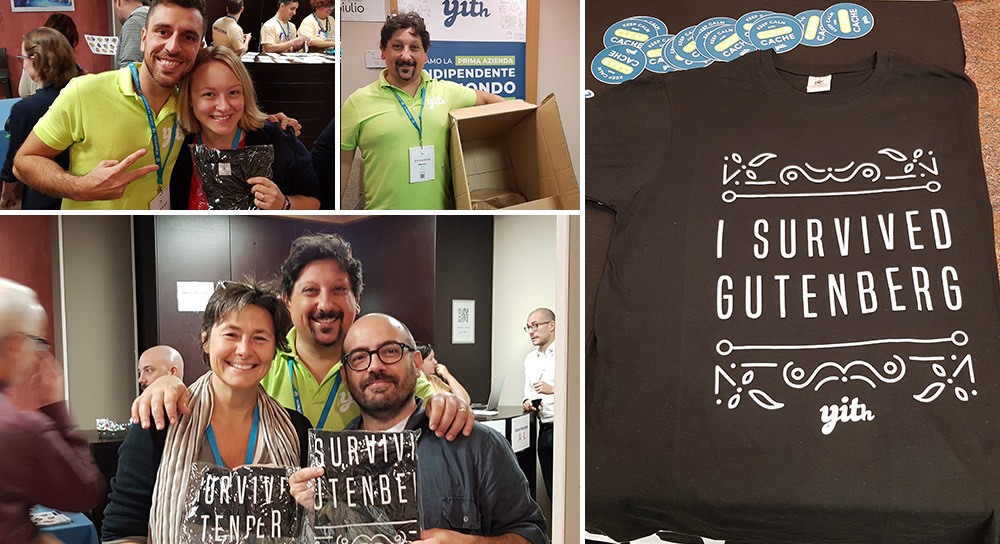 All the speeches are interesting and this is confirmed by the participants who are happily inspired when they come out of the tracks.
Our CEO, Nando Pappalardo, motivates many of the attendees with his speech about how putting limits can make a difference in the workplace and in life.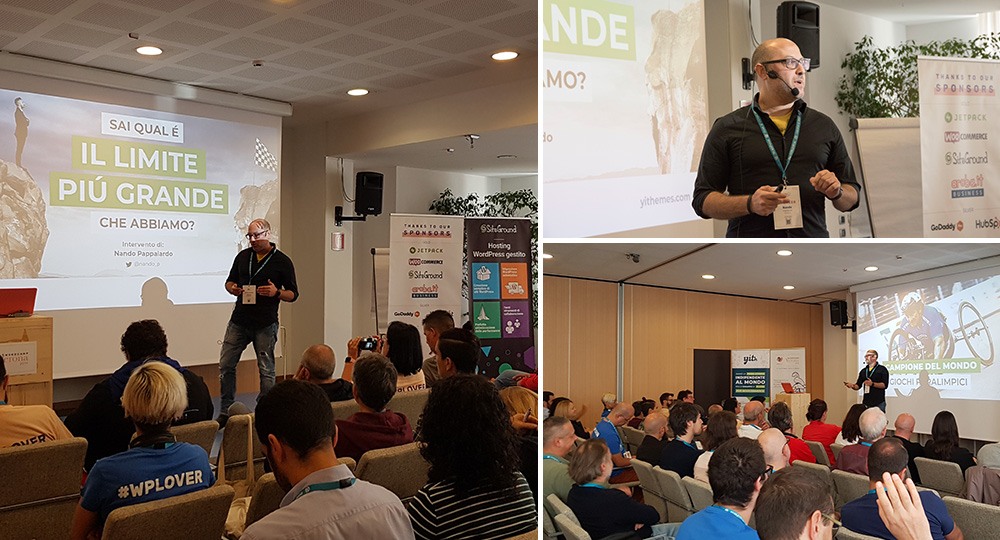 Better Drupal or WordPress? Do you ever happen to think of the accessibility of your website when you're coding it?
Gutenberg is clearing a path to the future of WordPress.
These are just a few of all the topics debated in the varied schedule that suits all targets.
The lightening sessions tell human stories, like the one of Valentina Azzi, who overcame her shyness thanks to the WordPress community, or the one of Mauricio Gelves who wants to share his personal experience in a list of 10 steps that every person should follow to find their way as a freelancer with WordPress.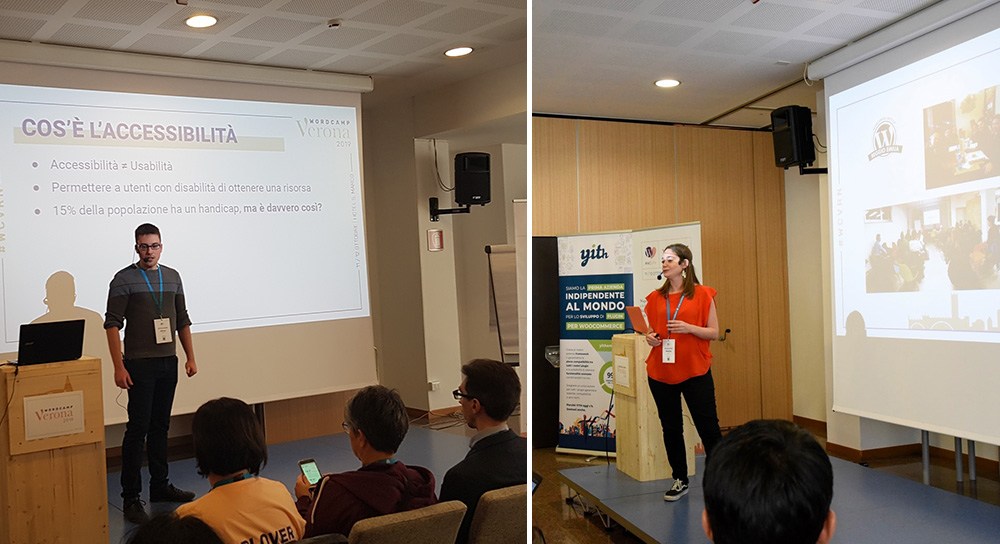 As for any other event, being able to attend a WordCamp allows us both to develop empathy with people that are meeting us for the first time and with people that come to our booth just to say hello or to thank us for our daily work.
This gives us the strength to do better work and to grow every day more.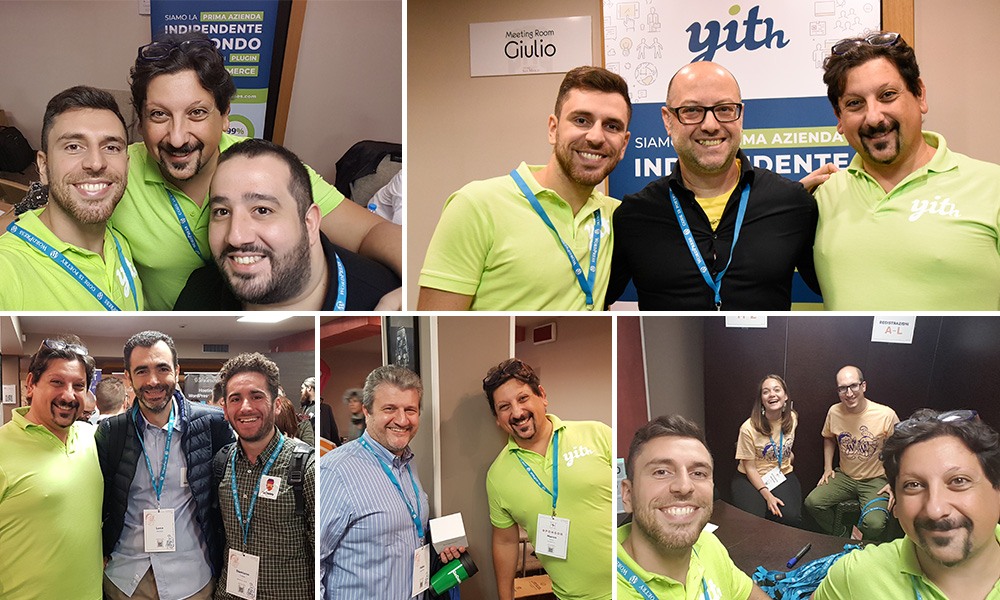 The clock is ticking fast and it's already 6:30 pm: the event has come to an end.
Tired faces but incredibly happy not only for the amazing learning experience of this day but also for having had the chance to make new friends and new business acquaintances.
A few hours later, we find ourselves again gathered at the Hacca Caffè & Bistrot for the after party: we are talking to many people and we are certain that the following consideration can be shared by everyone:
When you attend a WordCamp, you are never alone, whether you're from the North or South, whatever your skin colour and whatever your faith is, you always know that you can find a big family where it's so easy to do networking that you even forget about being the shiest person on earth. WordPress is not just a tool, WordPress is all this.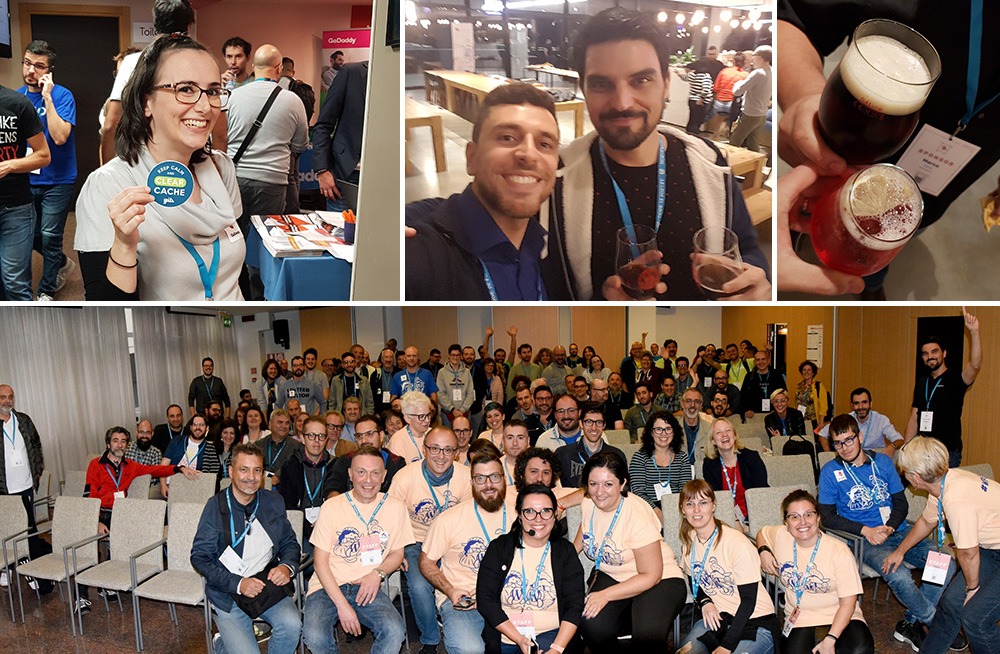 We want to thank every single person that made this WordCamp happen and a special mention goes to the organisers who made this two days perfect.
Where to find us next:
About the WordCamp…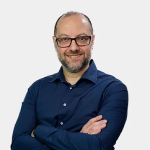 Nando Pappalardo
Being able to hug the members of the community once again and to spend two days with so many people that share the same passion as you is something incredible that simply cannot be explained. You must be there to understand and perceive the galvanizing energy that comes over everyone.
The organisation of WordCamp Verona was simply great, prepared with attention to the smallest detail. I was also surprised by the huge number of talks, all of them of great depth, both the technical and the non-technical ones.
My personal thanks are for all the organisers and volunteers who put their time at our disposal to make such a big event successful. Congratulations! We'll see again at the next event!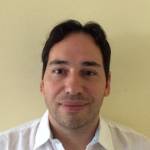 Riccardo Mancinelli
Every WordCamp begins with the Contributor Day, a whole day to delve into one specific topic or to have the opportunity to repay the Community with a short talk for what you've received from it.
As I consider the WordPress Community the strongest thing I have ever seen, I decided to work on the Community table.
The Community turned out to be very inclusive, something that is not common to find elsewhere, and it pays extreme attention to Everyone.
Every WordCamp is the result of a joint effort of the sponsors, of a tight-knit and involved team, motivated speakers ready to share their knowledge and experience as good as they can, as well as people that immediately understand the importance of meeting each other offline.
The networking opportunities and ideas were countless and exchange of views extremely fruitful.
There was room for different kinds of talks: inspirational, entry-level, entrepreneurial, marketing and, last but not least, technical ones, a well-sorted selection for all tastes.
A huge thanks to the YITH staff and to Nando for their extraordinary contribution during the years.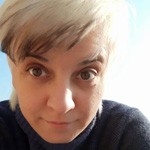 Lidia Pellizzari
WordCamp Verona was not only the Conference day, but also the Contributor Day. It came first and was full day devoted to teamwork and contribution to the WordPress open source project.
It was nice to see so many people actively working during the Contributor Day, as well as the sponsors' representative like you! This was a proof of true love for WordPress in the city of Wapeo and Wapetta.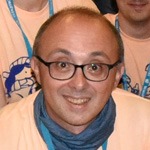 Stefano Cassone
A wonderful WordCamp, perfectly organised. After being an attendee in 2018, this time I attended it as a volunteer and I enjoyed these two days a lot.
Congratulations to the super-hero organisers who have arranged everything with unparalleled passion: thanks ❤
Now let's get down with WordCamp Verona 2020 😀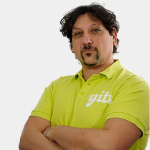 Marco Salvo
I had so much fun and I had the opportunity to understand the spirit behind the community, which is not just a wonderful family, but it's full of professionals too.
From this WordCamp I'm taking away the energy and the will of sharing that you can hardly find in other similar events.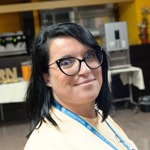 Carola Speri
The best compliment I could dream of, as an organiser, is to hear people tell me that they felt like at home, and it couldn't be otherwise in the city of Love!
WordCamp Verona was a perfect time to celebrate our local community with friends from all over Italy.
The schedule was rich and ranged from the socalled 'emotional' talks dealing with subjects like shyness or the overcoming of one's own limits – as in Nando's speech who told his story and the importance of believing in yourself besides having solid technical knowledge – to technical talks dedicated to those in the know.
In any case, the most important thing about WordCamps is the sharing of knowledge and the desire of meeting new people, and there were many possibilities to socialise! A special thanks to the YITH guys, who are always present and they are now an important part of our WordPress family!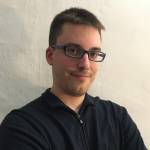 Simone Mignami
An unforgettable weekend within a genuine, inclusive and cheerful community. It was like living out of time.
I spent every free moment with someone, even someone that I had never met before, exchanging tips and opinions, learning and teaching.
What made all this unforgettable to me was the Baptism of fire: the Speech. It was a privilege for me to deal with a professional and well-organised team, as well as speaking with an empathic audience like the one that was listening to me that day.
Shall I say that I'm already looking forward to coming back here again next year?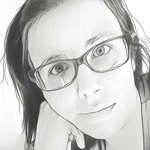 Gloria Liuni
An unexpected trip. This was WordCamp number seven for me and I'm so proud of my badge showcase on my desk. And yet, even this one brought me something new and delightful. I decided to experience it not much from the business side, but from the personal side and primarily listen to non-technical talks.
Today, I can say that this was a great choice. The speakers brought their own stories on stage and I love stories. We coined a new term, the 'Emotional Track', because of the way we all felt after coming out from that room.
On stage, I saw 'the human people' with their own weaknesses and their victories, the mirror of my own life and ambitions.
What I take away from this event is Simone's talk that literally enchanted me. I devote a substantial part of my time to other people and thinking that I could help them also with my own work was huge inspiration.
And Nando Pappalardo proved what it means to BE an entrepreneur and not just to ACT like an entrepreneur, sharing tips about how important it is to go beyond your own limits, but also how important it is to move them always forward and make an adventure out of your life.
Then, there were lots of friends there. On the one side, the ones you speak with every day in chat and that you want to meet in person, give them a hug, share a relaxed evening with while laughing and thinking of new projects; and on the other side, the ones that have organised every detail and will let the smile cover their faces when they can finally say: "We did it, and we did it well!" (That's true!)
And finally the sponsors: on the one hand, those people from sponsor companies that you know so well that you end up asking if their family is well, and on the other hand, those people that you've never met before and with whom you – unbelievably – manage to speak for over 20 minutes, them speaking English and you Italian, and still understand each other perfectly!
Could it be the magic atmosphere of Verona that made everything enchanted? It might be. In my opinion, it was the people.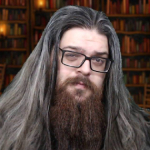 Andrea Presenti
In times when most people complain about how technology has replaced the human relationships, attending an event like this gave me the opportunity to put a face to the voices that I had only heard beyond a screen.
For me now WordPress has a real face, which is a mosaic made of hundreds of different people, from users that approach to WordPress for the first time to companies like YITH that have been working with it for years.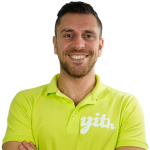 Alessio Torrisi
Feeling like at home, in your own family, this is what I primarily take away from this WordCamp: it seemed to be at an amazing party with friends from all over Italy. Bravo to all the organisers for the perfect organisation of the event.
We got many compliments this time too, for our work, and this is the best gratification we could get for the daily work that we do every day.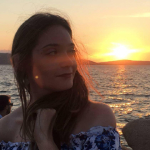 Valentina Azzi
WordCamp Verona was a two-day event full of emotions, interesting ideas, smiles, cheerfulness and YITH was part of all this too.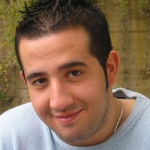 Severino Ciancio
What you can smell at a WordCamp has no equals and cannot be described. To understand it, you must be in it and live it and you will realise what a beautiful community WordPress has been able to build!
People that meet again each other after countless hours of chat messaging has no equals, like in a real family.
While chatting with Stefano Cassone, we discovered the truth: we're all WordCamp-addicted, once you're in, you can't live without it, and if you really can't, since you had other plans for those days, well, you end up hoping that you can skip them and catch the first train to go meet your friends.