As one of the biggest global WordCamps, the US didn't disappoint to the 1500 attendees. A huge international presence descended onto the Mississippi CIty of St Louis. Also, YITH was one of the many companies that represented a part of this wonderful global WordPress community. We sent Ronald, our brand ambassador to represent YITH. Here is his story:
WordCamp US can be a bit overwhelming…
So I have got to admit that I was quite overwhelmed by the prospect of going to St Louis to attend WCUS. The idea started 6 months before and as the weeks and days closed in, I had a slight panic as there was so much that potentially could go wrong. Unlike attending a local WordCamp where I put banners, swag and leaflets in a suitcase and off I go, for WordCamp US the planning was on a different scale. Sending swag by courier, printing in a different country, the suitcase weight allowance and so on… and would it all arrive intact and on time? Nevermind heading out on my own and not knowing what to expect and who I'd meet…
Why do we sponsor WordCamps?
Most importantly it is about giving back to the community. Yes, without WordPress and the millions its users YITH would have been a very different company. We love the journey that our company embarked on over the years and see the growth and popularity of WordPress and of course WooCommerce. You can read more about it here >

Secondly, meeting new and existing users is by far the biggest advantage of attending a WordCamp. We all work behind screens and mostly alone too. So to share stories, finally meet face 2 face or introducing to new users are just some of the best parts. Honestly, I could write a book about the people I have met and their individual stories on how they got into WordPress. Each individual person shares a bit of that during a WordCamp with the community.
Many users come up and ask questions and tell me what plugin they use for what type of solution. Some very creative ones too. I love the more challenging questions whereby someone comes with a scenario and we work out a solution, whether it is using our plugins or something else. It makes me happy that someone will walk away from this WordCamp a wiser person with my contribution. 
And finally meeting fellow sponsors, who took on the same journey, or the ones that only just now discovered the WordPress community. We regularly see the same people and businesses and this creates a great bond over various WordCamps around the globe. It can be quite a 'small' community at times…
The conference days and WordFest
Waking up at 5 am seems to have been lay-in for many Europeans who recently travelled to attend WCUS. Also for me, I was ready to Rock 'n Roll by 4-5 AM…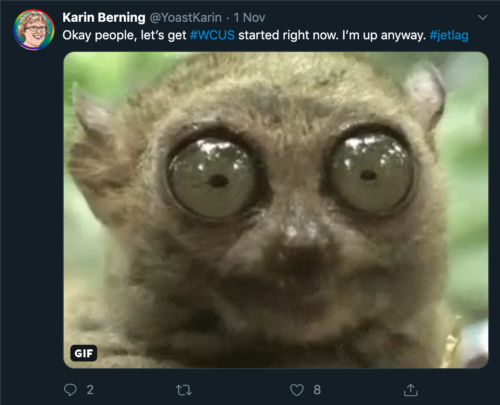 So, nice and early, I was ready to greet the hundreds of attendees. With the many t-shirts to give away as swag, it didn't take long to realise the doors were open. The day looked like it was going to be very busy with all the WordPressers with 3 tracks of talks and many workshops. All the sponsors were exhibiting in the main hall.
It was obvious that our t-shirts were a big hit. After the first attendees collected their T-shirts, many more followed because they absolutely love the quote. Not just the attendees but also what Wapuu the WordPress mascot made an appearance. The quote on the t-shirt got so many responses both positive and sometimes not even sure if 'they' survived it yet… it really got the conversation going, that's for sure.

Because of the size of WCUS's conference space, the American Centre, it wasn't quite obvious how big the event actually was… Not until I went for lunch did I see the scale as most attendees were gathered in one enormous space.
The day went by really quickly with most people starting to get all excited about the WordFest venue. The after-party AKA WordFest was held at the St Louis City Museum. It was originally a dilapidated packhouse there was now transformed in an absolutely amazing, sometimes crazy, exhibition of all things weird and wonderful. In order to get through the exhibition, you'll have to climb through caves spanning over 10 stories high. Eventually, you get to the top of the building where there is a Ferris wheel, slides, climbing frames and a school bus hanging over the edge of the building. If you're lucky you'll find your way down to the 10 story slide. Of course, I had to go down the slide as well.
Most attendees were a little bit uncomfortable to start with but I think after five minutes you just have to accept that this museum was a giant playground to be enjoyed by adults alike. I've seen people with blue knees climbing and sliding down all sorts of objects. Let's not forget that a WordCamp after-party, or WordFest, is just as important as the conference itself. It's an opportunity to make friends, to network and to get to know each other a little bit better. Exactly what I did… OK accompanied by a few drinks. 

The second conference day was just as busy as the first what I've noticed that US WordCamp attendees do take their time to come and see the sponsors. Ot just to talk to them but also to thank them for sponsoring the event. The conference ended with the latest State of the Word, a regular big speech by Matt Mullenweg the CEO of Automattic. He generally shares his view of what's been happening and what the future will hold for the Open Source WordPress community. Two topics really stood out; -the Gutenberg adoption across all WordPress users. This followed some interesting discussions and also about 5% to give back to WordPress > WordPress.org/five-for-the-future/. Or read Matt's original blog here. It is something that YITH is busy with calculating… so more on that soon!
The after-parties
The second evening was reserved for the after-parties. The exciting thing about it was that throughout the event you realised there wasn't just one you were invited to, but several of them depending on which sponsor you visited. I was not left out from the after-party dashing around and I firstly attended the WPengine after-party at the Hilton rooftop bar. The views were absolutely astonishing and after quick social a drink and bite, I headed for the next after-party. This was the WordFence movie premiere of Open – the community Code. This film represents the WordPress community and was an idea by Mark Maunder and Kathy Zant. I am particularly excited that I managed to talk to Mark at the airport and where he shared his vision that it could be a global thing with new stories coming from different parts of the world.
WordCamp US contributor day
The contributor day was held on Sunday the 3rd of November. For me, contributing to WordPress, and I can speak for the rest of our team, is an important personal achievement. To contribute at WordCamp US was an opportunity I did not want to miss. I found myself at the community table and I spent my time writing an invitation email on how to get Meetups and WordCamp organisers more aware of the diversity within speakers as well as attendees. When it came to about 5pm, everybody was exhausted but very satisfied with the last 3 days off WordPress. 
St Louis is known for the Mississippi River and also the home of Budweiser so I went to see the brewery for a quick tour. Soon after that, I picked up my luggage and headed to the airport for an 18-hour trip back home. 

Looking back a couple of weeks since WordCamp US, I still feel a bit of a buzz around the whole event. So many people spoken with, new impressions, improved friendships and lots of information to process. Reading many other WCUS blogs, I am certainly not the only one. I'd like to highlight that my story is very much from a sponsor point of view there are several blogs written by attendees and organisers that will give you a more global view of the event. Make sure you read those and hopefully you will get the bug too and we'll see you at the next WordCamp.