Close your eyes and try to imagine a warm sunny day, where the sunshine's rays touch and caress things, peoples, buildings and the white stone is enlightened by the sun's light.
Imagine a millenary arena, crossed everyday by hundreds and thousands of feet, usual visitors, casual tourists, daily workers, people who wander without a destination within the city and arrive here, in the heart of the Empire, where the Empire is born.
The development process has been long and complex, but at contemporary eyes it seems simple and linear, it seems like a model easy to imitate and to put into practice. From the jump in the past and from the consideration of the present this vision has taken place and our Theme Impero is born.
Download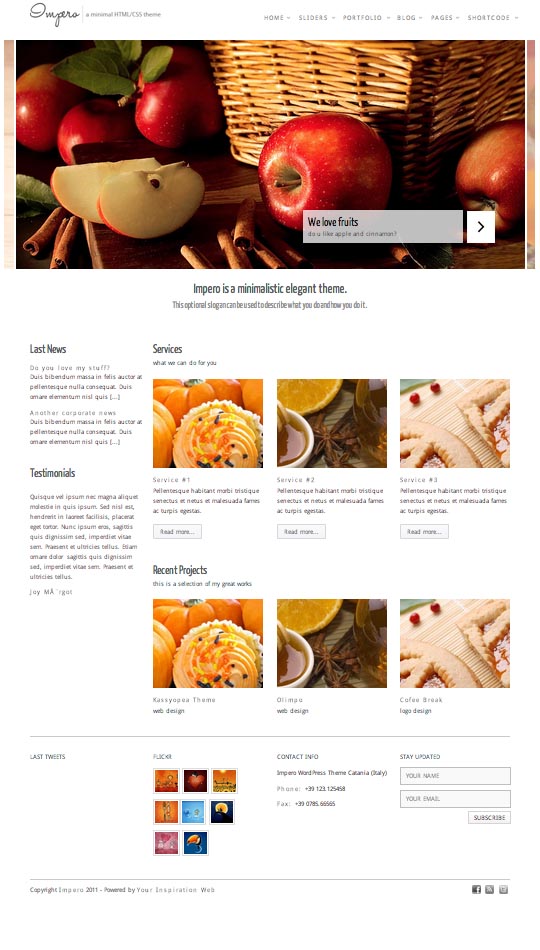 It is a clean, minimalist XHTML/CSS template and it will be the arena where thousands of visitors and virtual users will meet and interact among them and with you, giving you the chance to create your little Impero on the web.

General Specifications
Impero has been thought and built for your corporate/portfolio website, or even for your personal blog. Impero is easy to set and customize so you can create a lot of different layouts according to your needs. If you want, you can manually change fonts, colors, sliders and images of the template, so that you will have a completely changed look and style of your site.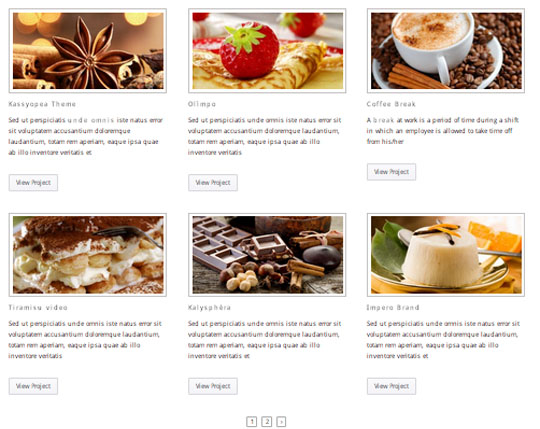 In the template features, there are some fundamentals sections for those who decide to promote their own business through the Internet network: the blog and testimonials sections, which cannot be missing.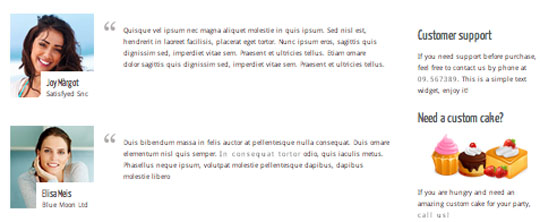 THE XHTML/CSS VERSION OF IMPERO

The XHTML/CSS template of Impero has a lots of advanced features to create an even more enjoyable and unique website.
You will have 4 types of Homepage sliders (Carousel, Elegant, Cycle, Nivo), or if you have no slider in your front page you can set a static image or a video and enter your text!
To display your work and images, you can choose among 5 different portfolio templates and 2 different blog styles: with big or small image. Impero Template is already setted to use any kind of Google Fonts and it already includes 20 Cufon font. The template is developed with a 960 grid system layout and an Unobtrusive Menu. It works also if JavaScript is disabled.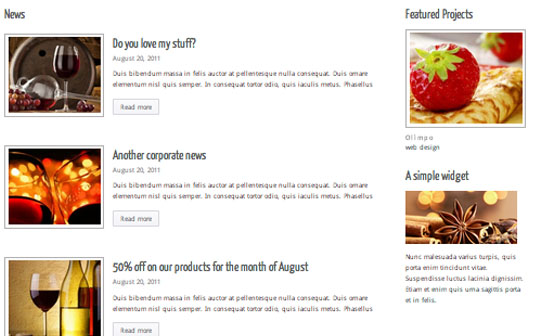 Like the historical Roman Empire which inspired our brand new template, Impero is a powerful template, well projected and rich of functions and features, easy to use and ready to turn your standard website into a fascinating place of big conquests, similar to the historical arena which has enchanted billions of people during the centuries.
Download