Sometimes we make decisions that may seem crazy in a priori, but sometimes those decisions can become a great opportunity or learning of our life. Armando is a person who several years ago made one of the most important decisions of his life and, without a doubt, has achieved great results.
Armando is one of our most veteran developers, with almost 6 years at YITH. But his story is worthy of a movie. He was born in Naples and studied Archaeology, but his love for computers and codes drove him to learn on his own. Tired of the hustle and bustle and the big city, he decided with his current wife to go to a quiet place with a beach, good weather, and good people. Exactly, they thought of Tenerife (Canary Islands). But how did he end up becoming part of YITH's family?
Well, that has been a lucky coincidence. I arrived in Tenerife in October of 2014, just hoping to start a new life elsewhere, and I shared a flat with another Italian guy that was working in an Italian Restaurant here in Tenerife. At this restaurant, he met Nando and introduced me to him. So after a coffee and a talk with Nando, I did a little examination test for the job, and after a week I started to work for YITH.
Armando's story was a wonderful coincidence, but since he started working at YITH he fell in love with his work.
Since I started to work in YITH I mainly dedicated to technical support on Themes and then on Plugins too. I like to be helpful to our customers, to solve their problems and to leave them happy. So at least they have something less to worry about, and their day maybe will be a little bit lighter 🙂
Helping customers gives him satisfaction and he knows that not everyone is the same, so he also has a favorite type of customer:
And what makes them unique? Well, the best customer is the one that understands you are not a machine, but you are there to help him, so the educated ones are for me the best ones. That customer that says good morning and that understands that you are doing your best to help him.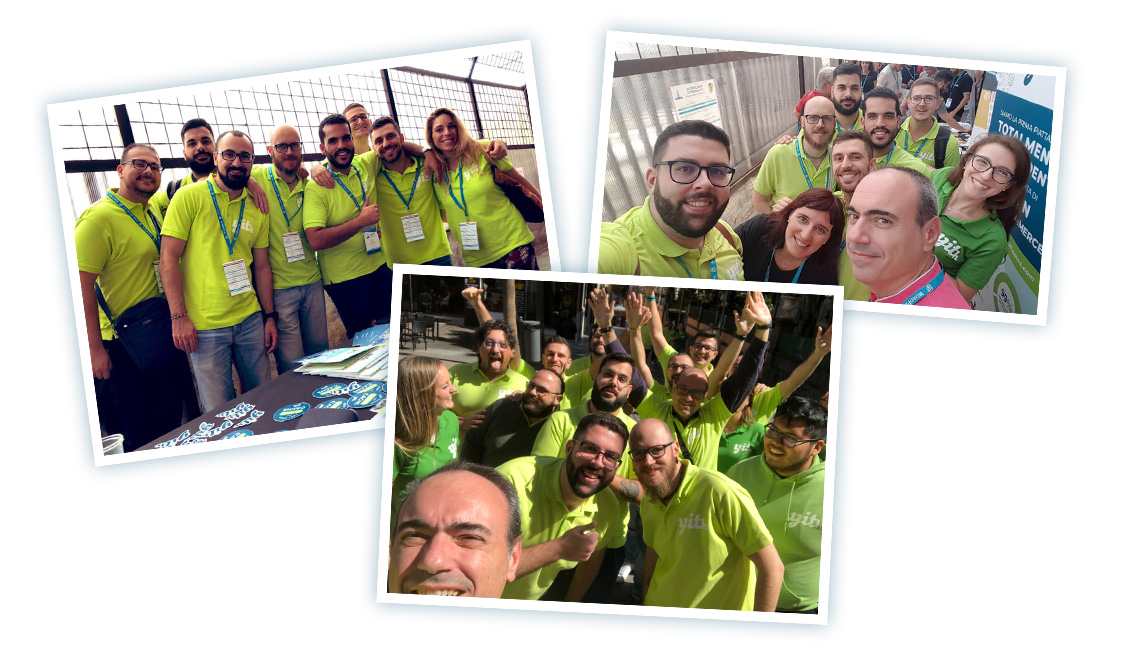 We now know our Neapolitan developer a little better, but how would you describe a typical working day?
My working day starts at 8 am when I connect to my YITH family by our internal chat, say good morning to all, and start to work in support with my colleagues. The first part of the day more or less we all dedicate to answering, best as we can, the tickets. Just if it is my turn I can take about an hour, or less, to accomplish other small projects (that could be check wp.org, and asana messages). After lunch, I will join back my team to continue working on tickets, or in the case is needed and it is my turn I will take some time to work on plugins updates or improvements.
Armando talks about YITH saying 'family', 'colleagues', 'team'… He only has good words for the group.
The best colleague is one that is funny, available to help you in case you need and one that you can talk also about something that is not only work, and honestly, I don't really think there's someone at YITH that is not like that. Of course, there are some of them with I am much more in contact because we work in the same team, so I can feel more connected with them all day, all the days we grow together.
Although Armando spends much of his day working, he also has other hobbies such as drawing and reading. And we can't forget the question about food either. If you ask him what he thinks about pizza with pineapple he will think it is "a crime", like a good Italian. But if he thinks about a favorite food he also thinks about Italy:
Just thinking about it now, I really would eat a big amount of Mozzarella di Bufala
We were imagining the response to the pizza, but he also wanted to share something amazing about it.
I have been on mount Kadath (yes, an imaginary mountain from a Lovecraft story) and one thing I do a lot is drawn horrible things.
Finally, Armando wants to give us a lesson:
Something I learned is that it is better to take some more time to accomplish something in a good way than to do it faster and not as well as you've hoped.
Check out other crew-members' stories and how they started working at YITH.