If we had to say who Sara Presenti is and what she does at YITH, it would take a long time to answer. UX/UI Designer, copywriter sometimes because she loves writing, youtube video content creator, and video reviewer… Someone once told her that her job is "to design kick-ass plugin UX and keep the guys in line with her vision," and she thinks it's like that too.
Sara's job is much more complex than that. As the title suggests, 'making the completed simple'.
My job is to study and read many UX research and analyze the common users' requests and which are the must-have features of the biggest e-commerce sites to review the trends to use for our plugins. Then I design the UX to create tools that a user can easily use and understand, and I design the UI because these tools need to be also beautiful for the eyes on the customer side. I'm focused on the Interplay between usability and Aesthetics: for sure, my job-role include the words "beauty" and "usability".
But the truth is that Sara has not always been at the forefront of UX design. Before this, she worked in an immigration office, an inspiring job for her. Then she met Nando and also her first love. No, this wasn't design or Nando; it was coding… Sara loved creating HTML/CSS sites. Eventually, she started working as a designer at "Edi Group" followed by dozens of freelancing roles for various web agencies in Italy and other countries.
Sara and Nando became top authors at Envato Marketplaces and their themes. Within years of launching their themes, they got to the top 3 best-sellers, selling millions worth of theme designs. For many of their customers, they had to suggest various external plugins to make the themes more functional. As a result, they realized that they spent a lot of time solving compatibility issues, so Nando thought: "wait…why don't we start to create and sell these plugins ourselves?" That changed everything, and YITH was born.
Sara grew up in Italy, but six years ago, she moved to Tenerife (Canary Islands) with her family. You might think: "from Italy to a small island lost in the Atlantic, how crazy!" but the truth is that she loves it, and rightly so.
We love this place because people are very different, and life too. No stress here. And nobody calls me "Madame" like in Italy, where I feel like I'm 70 years old. Here people call you "my love" and "dear." At first, it a bit weird, but now is one of the things I most love about this island.
Now knowing what Sara's role is inside YITH, you may be thinking: what is her day-to-day life like? She's come across as stressed, but when you do what you love, it's not always like that, it is a mixture of passion and determination to create the best.
First of all, a 'ton' of coffee, before I start with a review of our video tutorials, recorded by Tania or Marco. Then I check the plugin redesign and development process; sometimes, the guys need a suggestion, a specific icon, and various requests like it. If everything is calm, I can focus on redesigning the UX/UI of one of our plugins, or if there is something almost ready to be released, I work on the landing pages (I'm re-writing the text of all our sales pages). I spend a lot of time on the new live demos because they are the only way to show how good our job is to our customers. I try to dedicate a bit of time each day to our Proteo theme: designing new skins, improving the UX of the customizer, searching for solutions to improve the mobile design, and so on.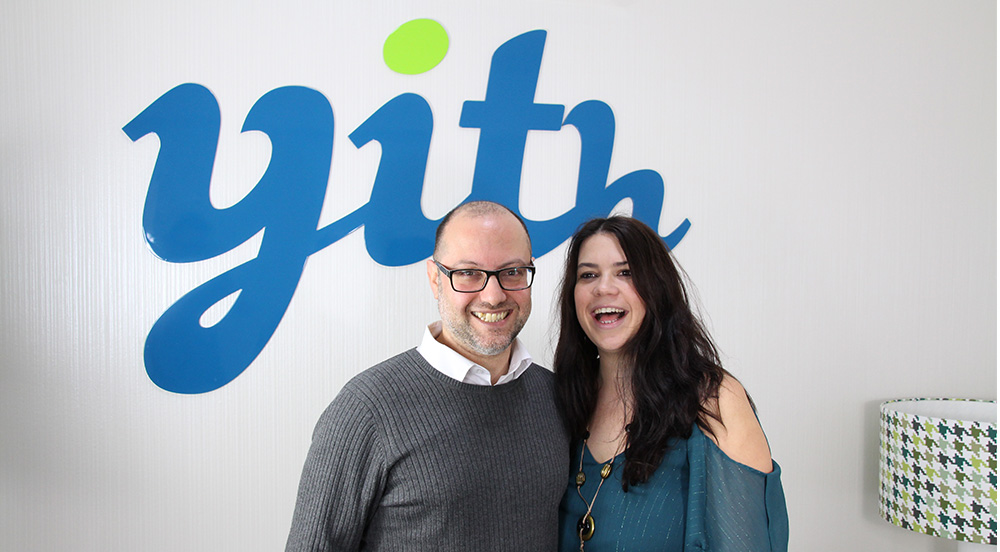 You see, as chaotic as it may sound at first, Sara's organization makes everything less complex. Except for one thing: the pandemic and working from home.
Working from home is very hard. I'm an emotional person, and I love rituals, like drinking a coffee with Kevin (our video person) and give him a hard time 😀 I think it's important to schedule a video call, at least one for the day, just to remember we are still all connected. My suggestion is to avoid working in pajamas; the first 2-3 days maybe is funny, but then this has a big impact on mood and knocks you down. And also, we all need to go out and breathe fresh air. Sometimes I'm blocked on some usability issues, and I feel like, "ok, it's impossible to find a solution, that's all." So I turn off my Mac, go out, even at the grocery to buy something (coffee!) and after 15 minutes far from the monitor, the solution pops in my mind, so clear and straightforward.
Maybe because of this, her best moment of the day is video calling with the developers. It reminds her that they are a team and how fantastic the whole team is, even though their designer vs. developers' arguments are not so funny in discord. But don't panic; despite them Sara loves it when a developer questions himself and remains open to improving.
And with all the plugins Sara has been able to design, and even though she likes them all because you can see the workings behind them, her favorite is the first one she designed: Gift Card. Despite the difficulties she experienced, it was the first one she worked on with a developer from the Spanish team, but it is now the best gift card plugin available online.
I'm really proud of this. I'm also happy about the job we did with Ajax Product Filter. Antonio was great to develop this and the result for me is quite impressive. The challenge was to design and build a new version, different from the previous one, without affecting the thousands of customers that had the plugin installed and working on live shops. Antonio spent a lot of time on this upgrade and on the mobile design, which was crucial to me. He has always been very patient with me 😀
Believe it or not, Sara Presenti also has (very little) free time (even though it seems impossible with work and two kids under 10. She's a series-addict, but she also finds time for "Santa's Helpers".
I made it before Christmas to collect a gift, toys, and clothes for kids of families in economic difficulty. Still, the project has grown so much, and now I have to manage a team of 10 wonderful girls that collect money to help a lot of families with food, clothes, medicine, and toys daily. We've helped 300+ families in the last five months, which is something that soothes my soul.
Despite her little free time, Sara is very clear about two things: that the first thing she will do when the covid restrictions are lifted, to go to Italy to embrace her family, including the YITH family, but especially her granny.
YITH is my family. I was there when it was born (my only remorse is about the name.." YITH".. c'mon, nobody understands how to pronounce it!) and, after a break where I had two kids, I came back to my place. I missed this part of my life, and I love to be part of a strong team like this one. I'm also grateful because my work is my biggest passion, and not many people have this luck).
Check out other crew-members' stories and how they started working at YITH. If you want to connect with Sara Presenti, you can do it via Twitter: @sara_presenti