Hi and welcome back to our guide on how to properly install and configure WooCommerce.
We finally reached the moment in which we get to add products to our store, this article and the ones that will follow will be focused on how to correctly upload physical, digital and variable products and much more.
Let's not waste any more time and dive right in with the most important options offered while entering a product in your store.
To create a new product you need to go to Products > Add product: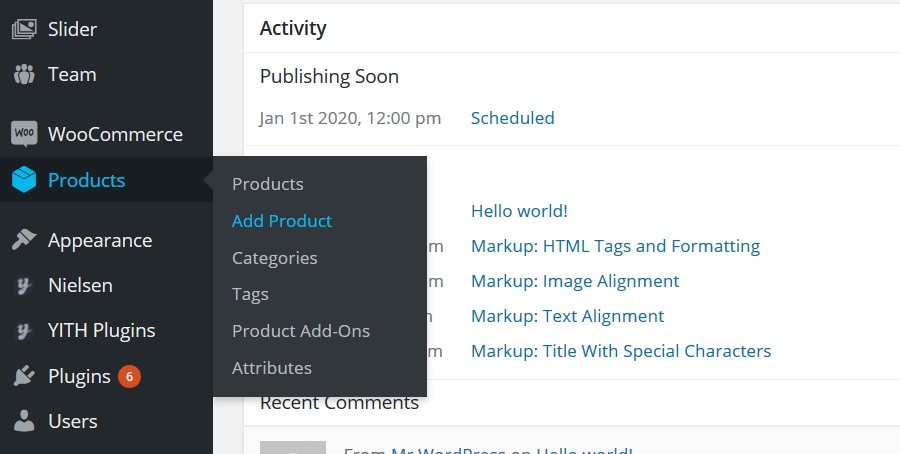 Now the product creation page will open up: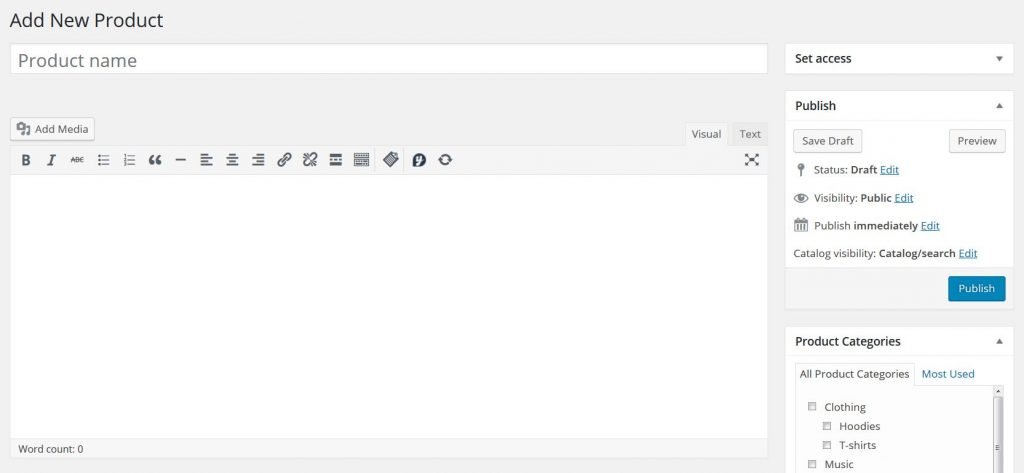 In detail: In the upper part you will find the bar where you get to insert the product name, in the central area you will be able to enter a longer, more detailed description of the product.
WooCommerce also allows you to enter a short description where you enter the main features, we'll see this one later: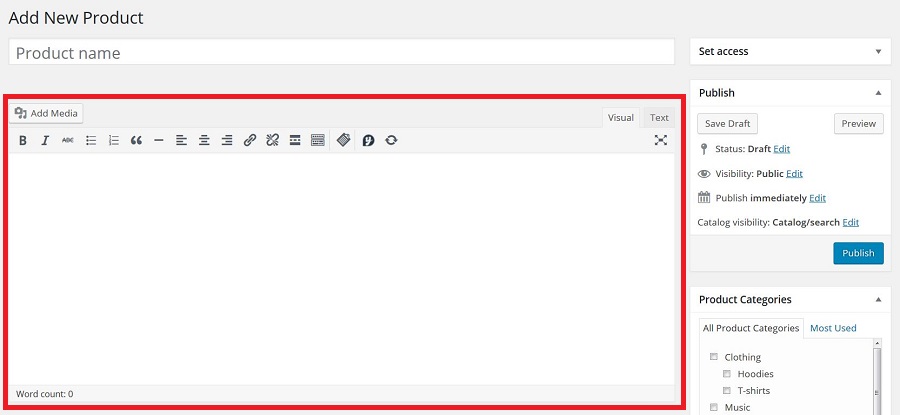 Once inserted, it will appear in this position in the product page: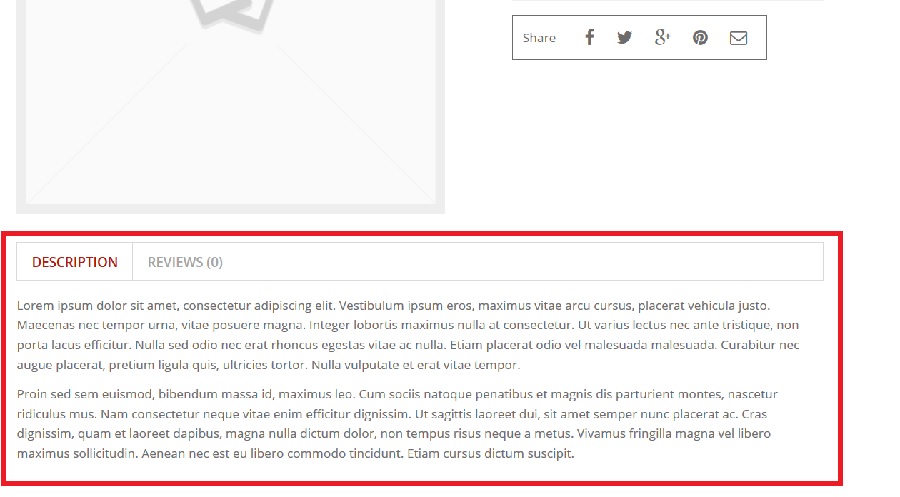 In the upper right corner you will find the publishing options: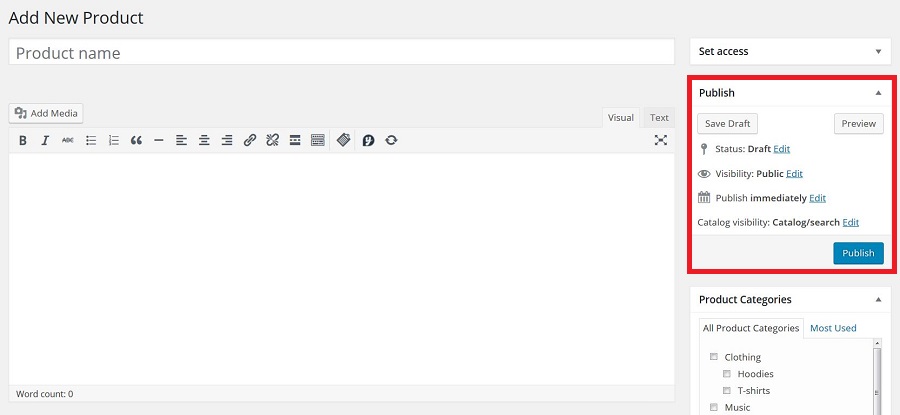 Among these you will find:
Save Draft – Allows you to save the product page you created this for without publishing it yet.
Preview – Allows you to see a preview of the page you created without publishing it yet.
State– Displays the product status (either Draft or Published)
Visibility – Tells you who can see your product. In this case, it's public.
Publish Now – Leaving this setting as it is, once clicking on "Publish", the product will immediately go online. Alternatively, clicking on "Edit", you can set a specific publishing date, or decide to do so later.
Catalog Visibility - In this option, you get to pick one of four choices:
Catalog/search - It's visible anywhere in your website, including the shop page and the search results.
Catalog - Shows the product only in the shop page and its related categories, excluding it from search results.
Search - The product is only going to be visible in the search results, excluding it from the shop page.
Hidden - The product is only going to be displayed in its shop page and it will only be possible to access it by knowing the link.
Right underneath the publishing options  you will find the categories section, which we already described in the article"WooCommerce: How to configure product categories and tags":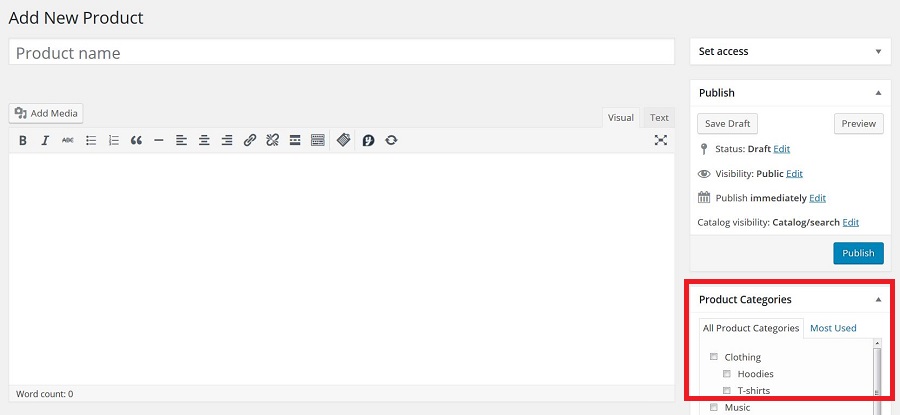 Now let's move towards the bottom of the page to see more customization options: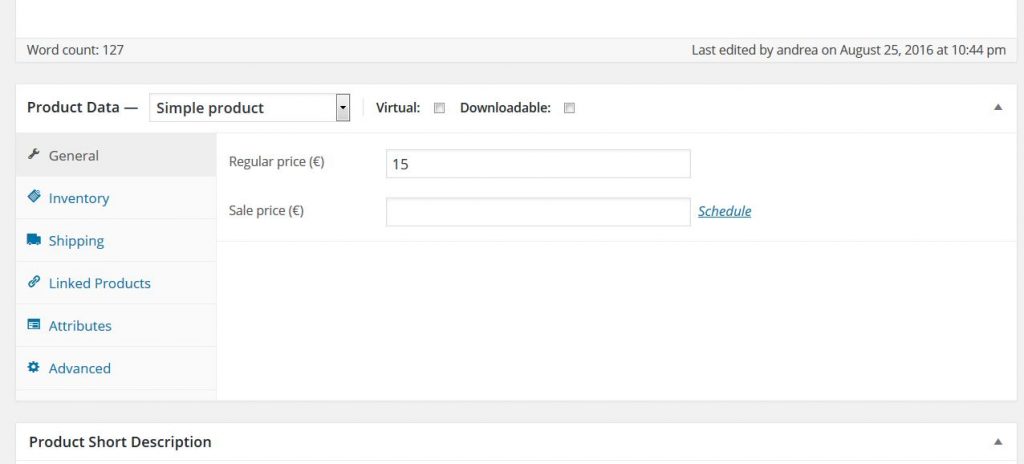 Before going through the central part, on the left we will find more options: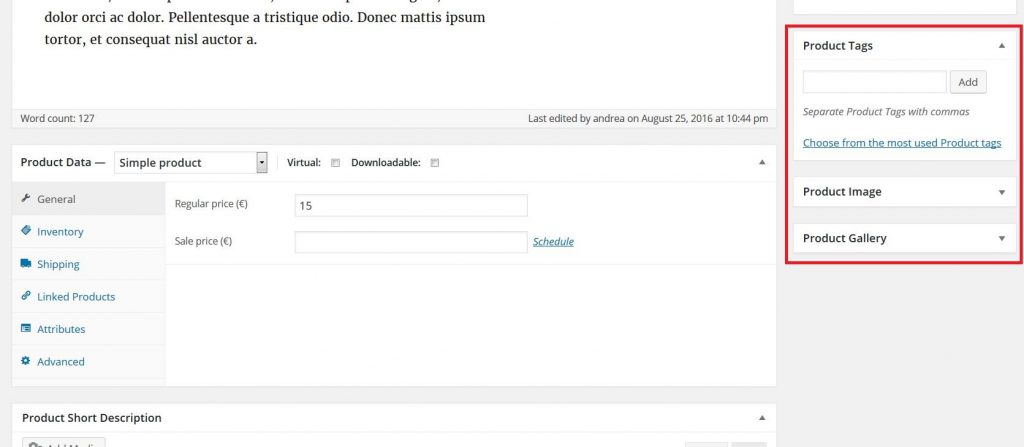 Such as:
Product Image – This is the main product image, you can choose a new one or choose one from your media library
Product Gallery – These are the secondary product images displayed in its page: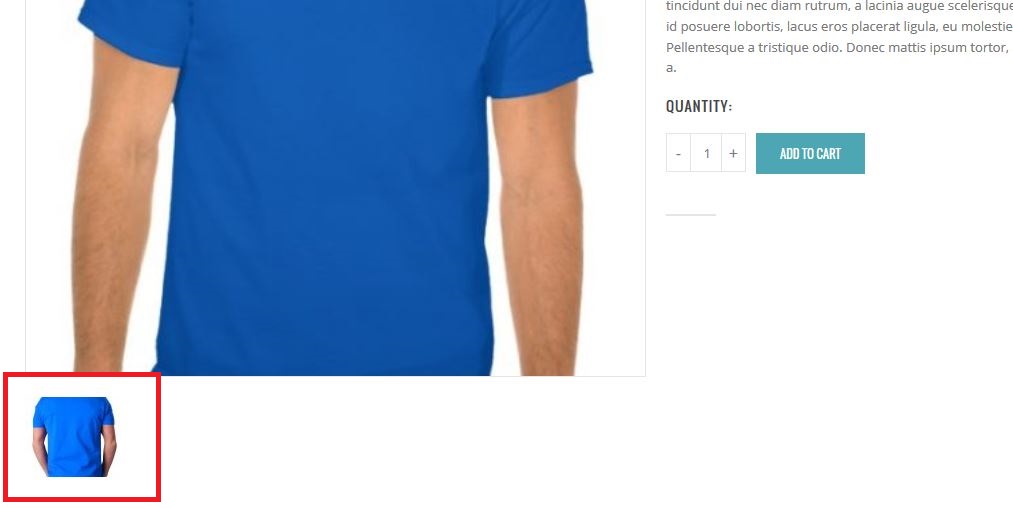 The ultimately the product tags, which we encountered and described in the previous article.
In the central section we find the product information: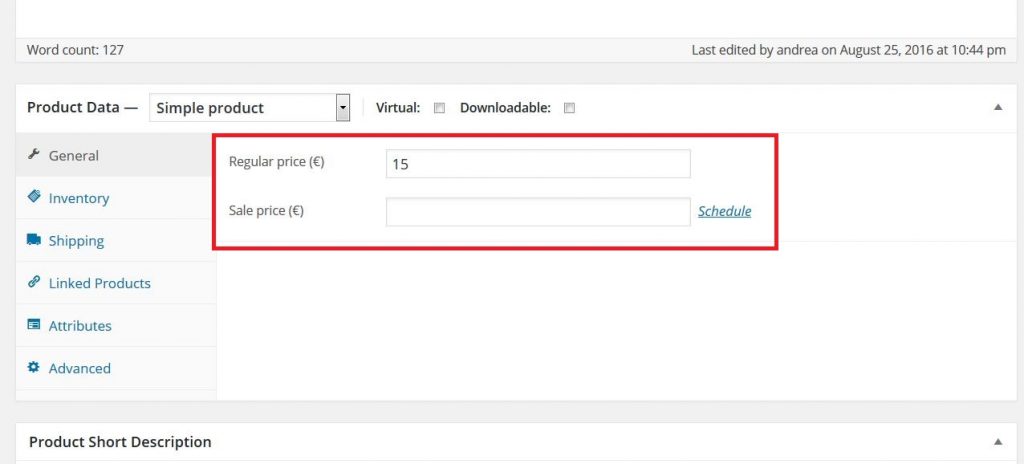 In the upper part. as you can see, we find a drop down menu which allows us to choose the product type between Simple (the one we are creating in this article), Variable (In which it's possible different product variations, each with its image and price) and Grouped (a collection of Simple products which can also be purchased individually).
Both of these product types are going to be analyzed in the next articles.
In Sale Price, you can set the product price while if you want to offer a special or temporary discount, you can enter a special discounted price right underneath.
It's also possible to set a beginning and an end date for the product discount, by clicking on "Schedule":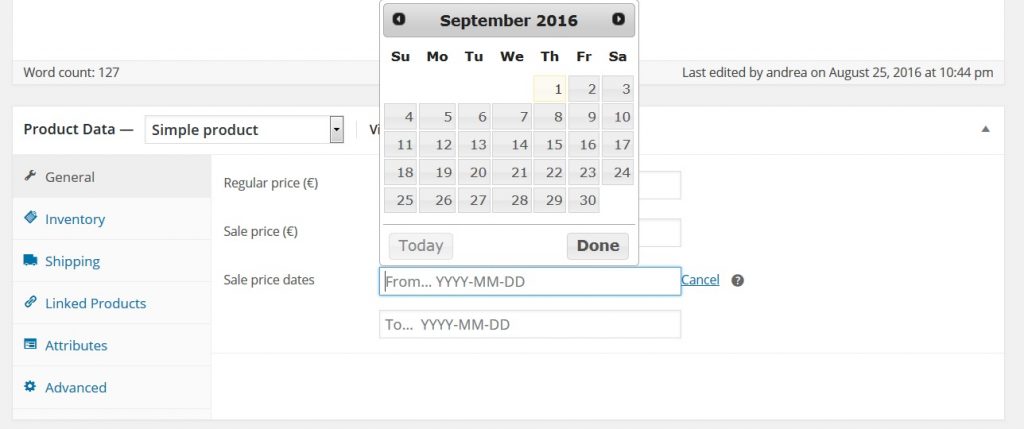 In the next tab we get to see the options to manage your stocks:

Once in this section, if you click on "Enable stock management at product level", WooCommerce will offer several options to handle the amount stock remains, among which:
SKU - An acronym that stands for "Stock Keep Unit" and it's the product's unique ID number. in order for it not to be the same as other codes in the same website, it's advisable to create an alphanumeric code. For instance a black t-shirt could be TSB001.
Stock Amount – In case you have a limited stock amount and wish to sell it.
Allow Pre-Orders – Allows customers to make orders even in case the stock amount reaches 0.
Stock Status – Allows you to set the product status to available or out of stock.
By selecting "Sold Individually" you can set for a product to be only purchasable once per order.
In the third tab of this section, we find the shipping options:

In the shipping section, you can set the price of a product (in case you set your shipping fees based on the weight), the size and the shipping method.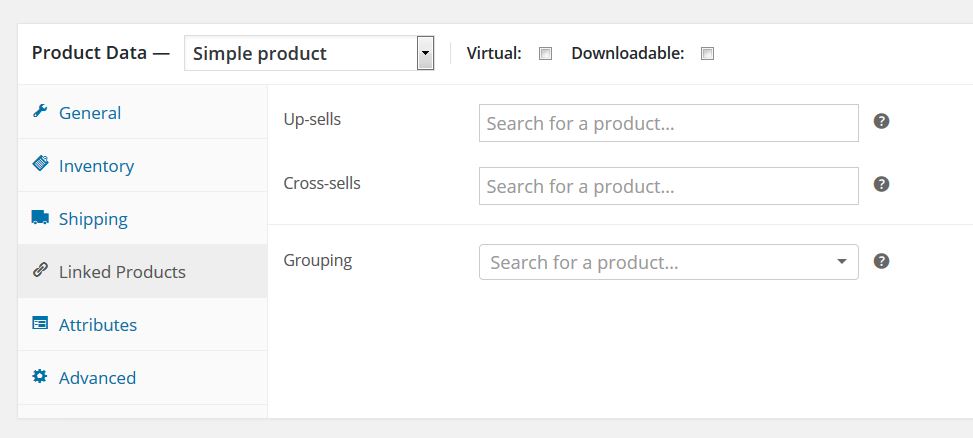 In the "Linked Products" tab you can link a product to other products, in order to do up-selling and cross-selling using your store.
Cross Selling is a method that brings customers to buy multiple products instead of just one. An example could be: buying a camera and being offered a case and memory card with it.
Up Selling is a system that makes customers want to buy a product with a higher cost then they anticipated. For instance: being offered a higher quality but more expensive camera rather then the one I originally intended to buy.
Ultimately, Grouping allows you to make a product part of another "Grouped" type of products, which we well talk about in a future article.
Here is how an example of upselling may look like, at the bottom of the product page: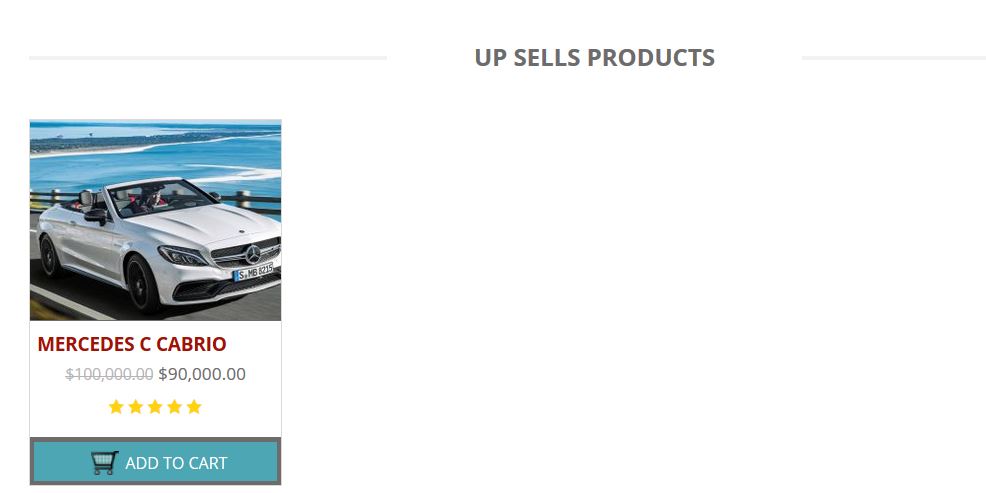 We have already seen in a previous article (inserire link) how to use the attributes tab: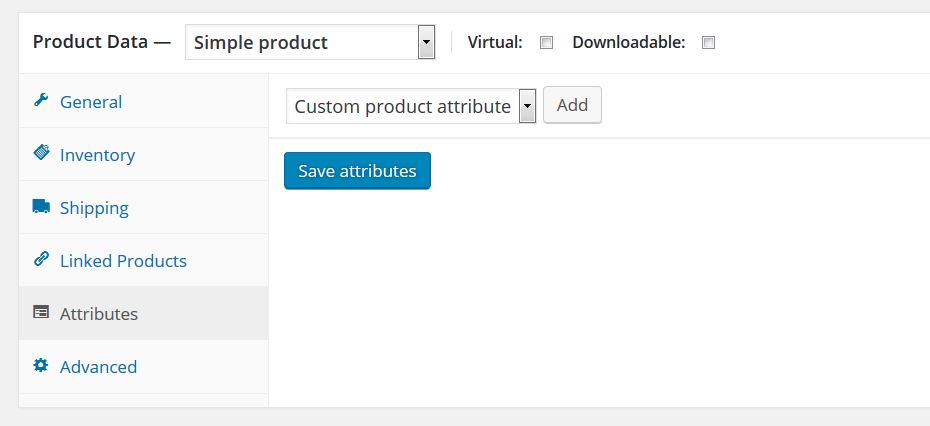 In Advanced you can insert notes to display during the purchase, whether you want your product to have a custom position in your products list (the default WooCommerce value is 0, so by assigning it any higher value, it's going to be displayed after these items) and whether or not you wish to enable reviews for that specific object (activated by default):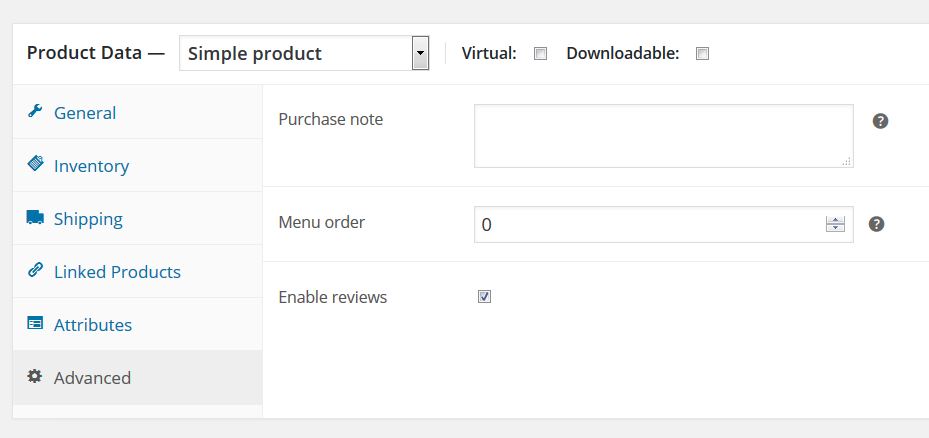 We almost reached the end of our product creation, lower down we find the "Product Short Description"
This text is particularly important since it's going to be the first one to get your customer's attention when they open the product page: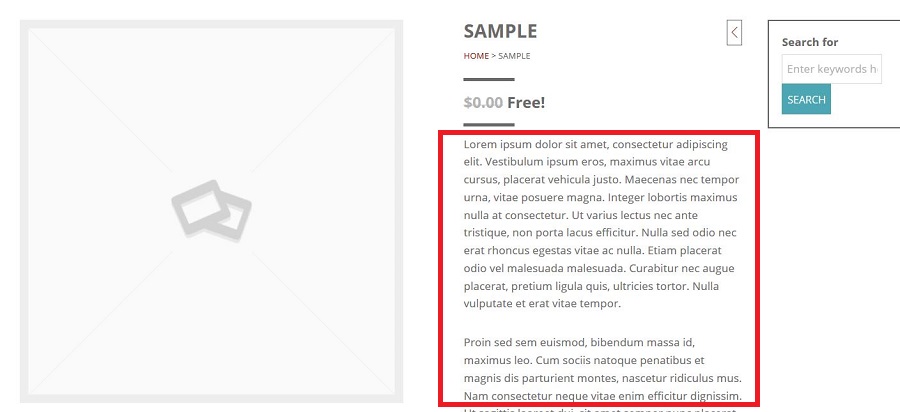 And so this is how you can create a simple product, in the following chapters we will see how to create other types of products!