Welcome back to this WooCommerce configuration guide.
In the previous chapter we finished configuring the checkout and payment options.
In this chapter I'm going to show you how to set the general shipping options, in the next ones I'm going to explain the different shipping methods allowed by WooCommerce.
In order to configure this section you need to go to : WooCommerce > Settings > Shipping > Shipping Options.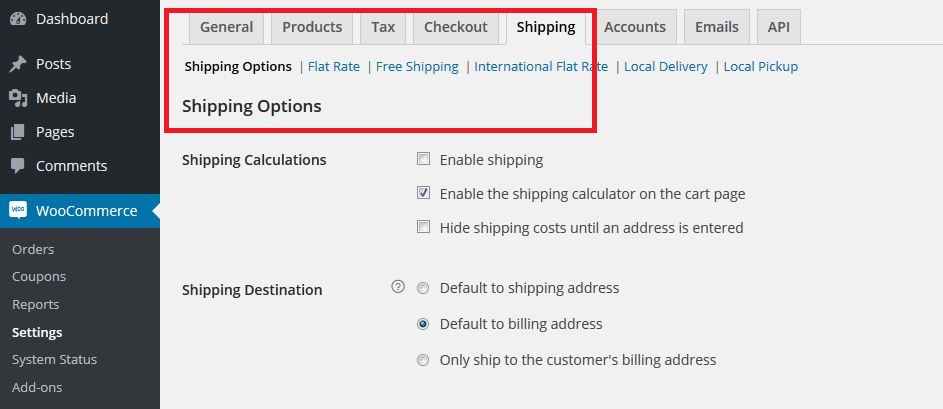 The first section is about the activation and calculation of the shipping fees on your website:

Enable shipping – By activating this option WooCommerce will allow you to add shipping (and related costs) to the products on your website.
Enable the shipping calculator on the cart page – This option allows your customers to calculate the shipping fees directly in the cart page, based on the country the product is going to be shipped to.
Hide shipping costs until an address in entered – Shipping fees are not going to be displayed until customers enter their shipping address (this option is useful in case they need to be calculated based on their location).
The next step is the Shipping Destination:

In this section you can chose which customer address use as default shipping address: you can chose whether to use the shipping address, billing address or force shipping to the billing address.
Now you can pick to what countries you are going to ship your products to:

Thanks to a handy drop down menu you are going to be able to chose between:
Ship to all customers you sell to.
Ship to all countries.
Ship to specific countries only.
The last section in this page displays different types of shipping, but I'm going to talk about it in the next three chapters.