In the previous chapter, we've gone through how to configure two of the shipping methods allowed by WooCommerce: Free Shipping and International Shipping. Now, to conclude this section of the guide, we need to learn how to configure the remaining shipping method available: Local Pickup.
WooCommerce Local Pickup is not a real shipping method: as the name goes, you can use this option to allow customers to pick up their products personally in order to practically avoid any shipping fee.
This system is useful especially if you have a small store and you sell in your city/area or in case you own physical stores your customers can gather the products they bought from.
Let's see how to quickly configure it. To do this, let's go to WooCommerce > Settings > Shipping.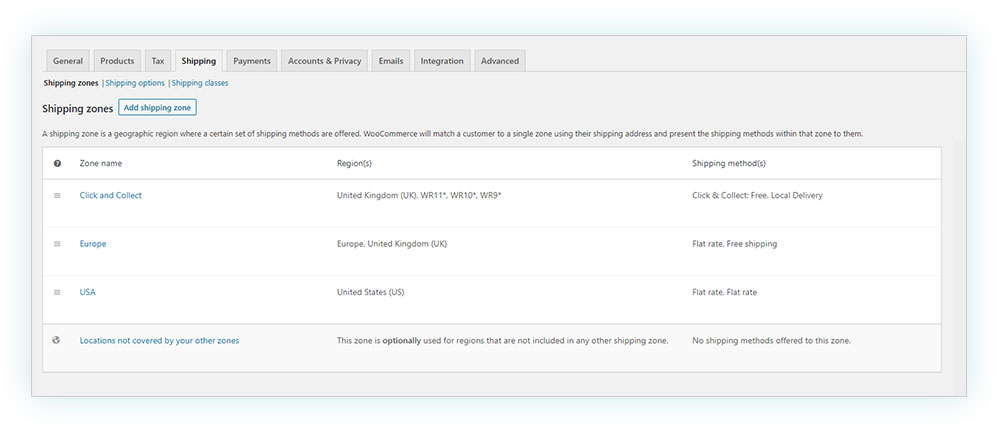 When we select Shipping, we will find several options at the top: Shipping zones, Shipping options and Shipping classes. Let's stay with the first one. 
A shipping zone is a geographic region where a certain set of shipping methods are offered. WooCommerce will match a customer to a single zone using their shipping address and present the shipping methods within that zone to them.
First, let's create a new one. Click on 'Add shipping zone'.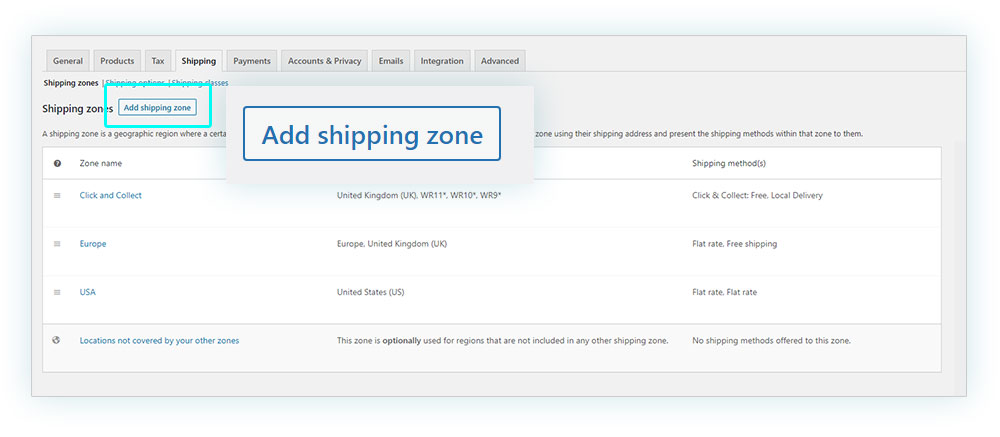 And we will find the following options: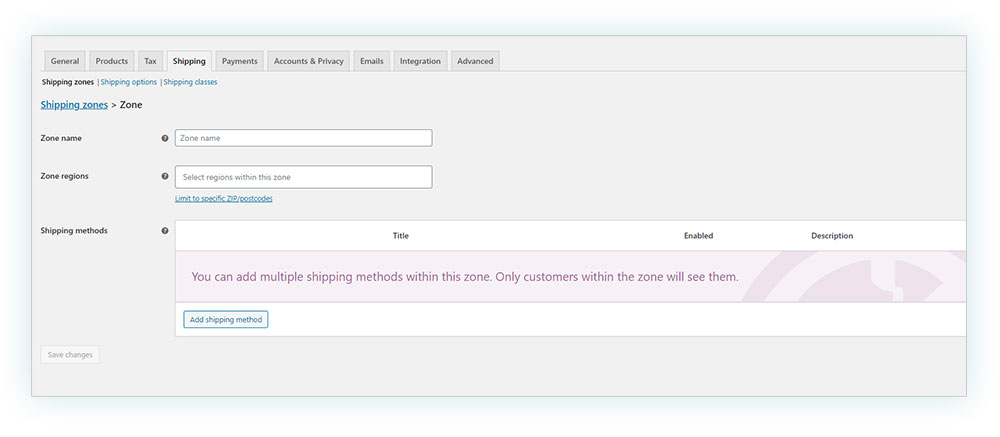 Zone name – The name of the zone for your reference. For example, Spain.
Zone regions – These are regions inside this zone. Customers will be matched against these regions. For example, Santa Cruz de Tenerife. We can also add ZIP/postcodes containing wildcards or fully numeric ranges. For more information, see the shipping zones documentation.
Shipping methods – This is the option we were looking for. Shipping methods added in this zone will be applied to customers with shipping addresses within this zone.
We select 'Add shipping method' and the following happens: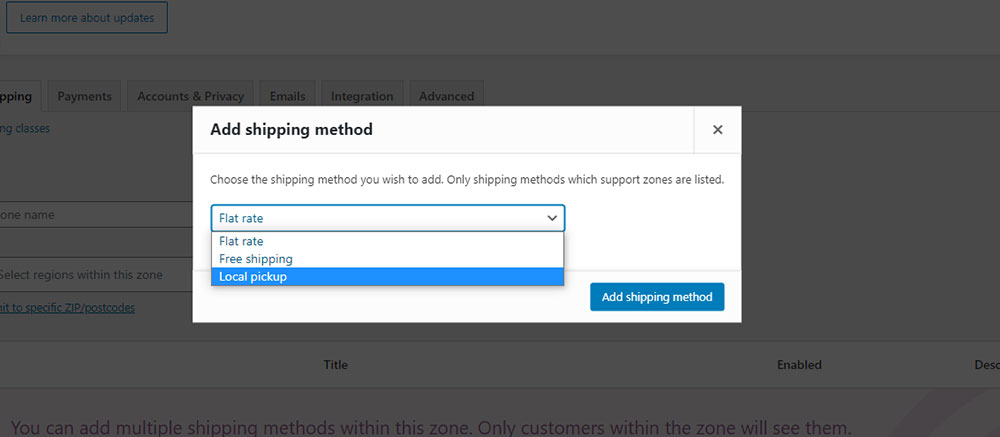 We found three options: Flat rate, Free shipping, and Local pickup. We must choose the method we want to add. In this case, we will select 'Local Pickup'.
The shipping method added can be enabled or disabled. But adding the shipping method is not enough; we have to configure it. So we click on edit.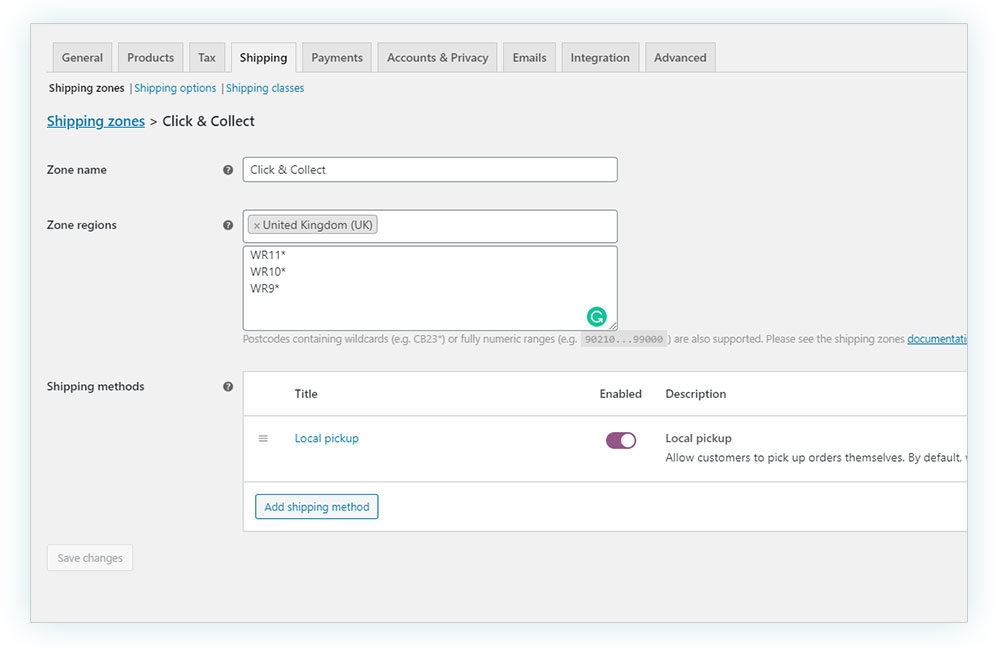 A popup will open on the screen with the Local pickup configuration.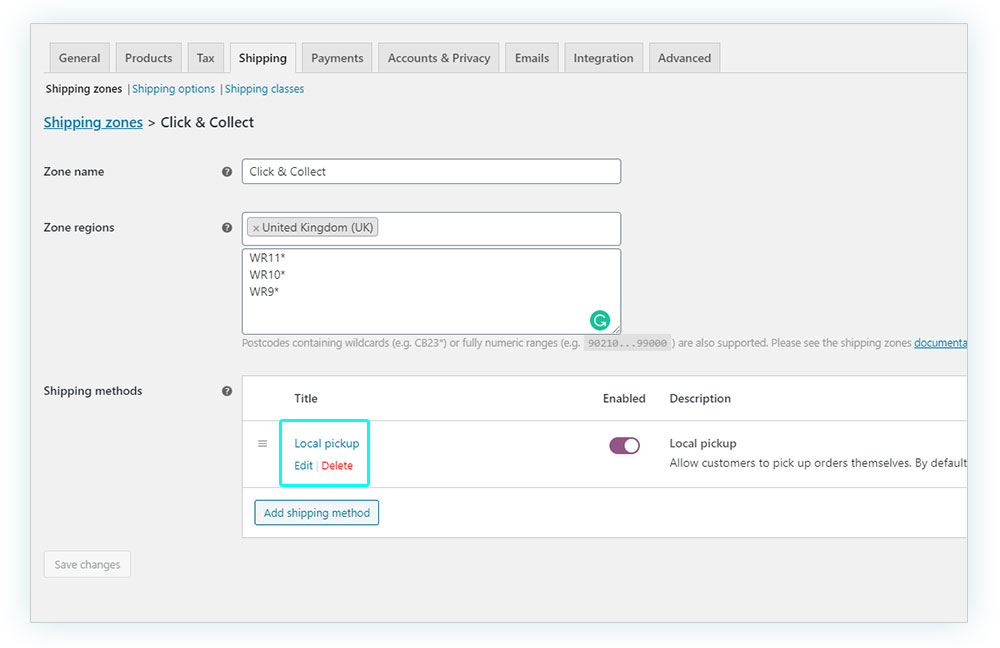 Method title – This allows you to choose the name your customers are going to see for this shipping method. We leave the default name, but you could set another as the name of the courier.
Tax status -This allows you to choose whether you intend to apply taxes to the shipping fees or not.
Cost – This allows you to choose the cost of this shipping method.
Once we have added all the information, this is how our configuration will look like.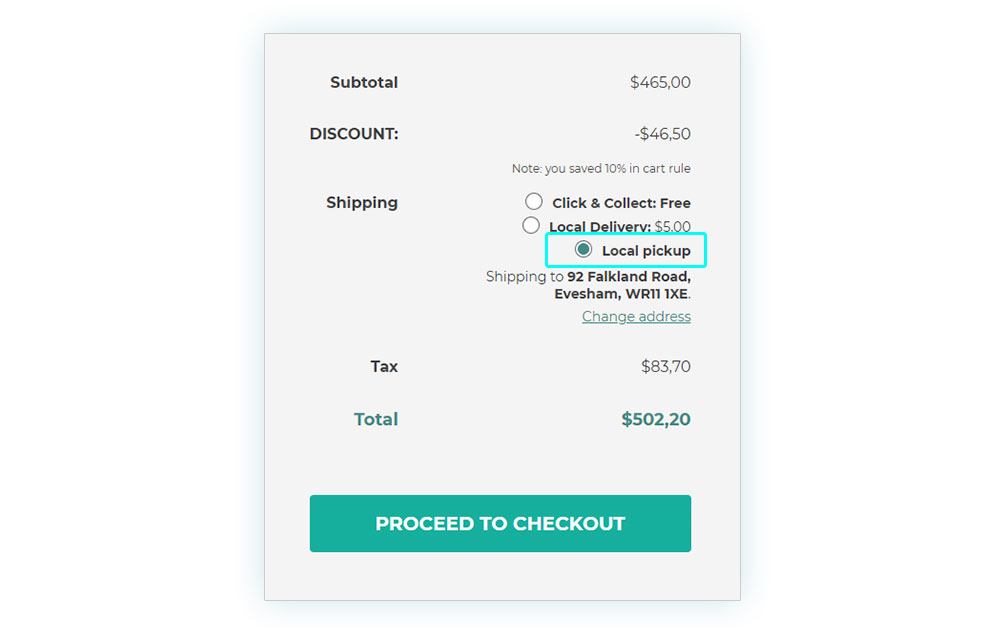 And you are set: we are at the end of this part of the guide concerning the configuration for the WooCommerce shipping systems.Do you want to take 'collection' to the next level? Follow the guide on how to set up 'Click and Collect and Local Delivery'.