Welcome back to this WooCommerce configuration guide!
In the previous chapter, I've gone through how to configure two of the shipping methods allowed by WooCommerce: Free Shipping and International Shipping. Now, to conclude this section of the guide, we need to learn how to configure the remaining shipping method available: Local Pickup.
WooCommerce Local Pickup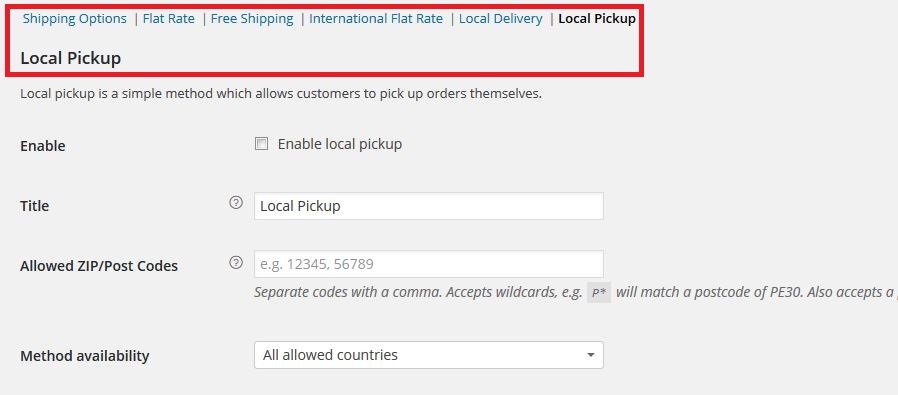 WooCommerce Local Pickup is not a real shipping method: as the name goes, you can use this option to allow customers to pick up their products personally in order to practically avoid any shipping fee.
This system is useful especially if you have a small store and you sell in your city/area or in case you own physical stores your customers can gather the products they bought from.
Let's see how to quickly configure it:
Enable – Allows you to use this shipping method.
Title – Allows you to chose the name the customers are going to see for this shipping method.
Allowed Zip/Post Codes – Chose the allowed zip codes or areas you wish to allow this method to.
Method Availability – Allows you to pick which you wish to allow this shipping method to.
And you are set: we are at the end of this part of the guide concerning the configuration for the WooCommerce shipping systems.
Do you want to take 'collection' to the next level? Follow the guide on how to set up 'Click and Collect and Local Delivery'.
Latest update: 24 April, 2019