As you may have heard, YITH became part of the Newfold Digital family in March (you can read the official announcement here in case you missed it). Newfold Digital is a powerhouse in the digital world and the parent company of many leading web presence brands, such as Bluehost, Web.com and Yoast.
Since March, we have collaborated effectively – and proudly – with the Bluehost team. Our shared goal was an ambitious one: to design an all-inclusive solution for anyone who wants to sell online but doesn't know where to start.
Many offerings promise to make it "easier than ever to build an online store," and navigating those options isn't easy. The truth is that creating an eCommerce store isn't all that easy. In fact, doing it with WordPress and WooCommerce can be frustrating at times.
Every task, from choosing a hosting provider and installing WordPress and WooCommerce to customizing a theme and configuring plugins, can be a real challenge, especially for users who aren't as tech-savvy and who may be starting from scratch.
But wherever there's a problem, an opportunity arises.
That's where Bluehost came in, as the team invested its time and resources into providing customers with a comprehensive solution that includes:
The perfect hosting plan for those who wish to create an online store.
WordPress and WooCommerce as a supporting structure.
Wonder, a beautiful new eCommerce-focused block theme created by the YITH team.
Enhanced versions of some of YITH's most popular and versatile plugins.
Advanced payment and shipping management tools.
A simple, smooth and intuitive onboarding process that allows users to configure and customize their stores one step at a time.
Our goal is to reshape the entire user experience to make it a positive one while offering the right solution for users who want to create an online store with WordPress and WooCommerce. This project has been long and complex, yet extremely enriching; we are proud to have been a part of it.
That's why we are so pleased to announce to the whole YITH family – to our valued customers, who have trusted us for years – that two new plans are available from Bluehost as of today:
Online Store – An all-inclusive plan offering everything you need to create an online store.
Online Store + Marketplace – A plan designed for those who want to both create their online stores, and sell on popular platforms like Amazon, eBay and Etsy.
Here's a quick preview of what you can expect from the new online store experience.
An onboarding process that helps you configure and customize your shop one step at a time
Once you've purchased a plan, the adventure begins. You will be guided through a straightforward onboarding process that shows you how to configure and customize your online store in a few quick steps. Each step is structured with simplicity in mind; all you'll have to do is answer a few questions and follow the instructions provided.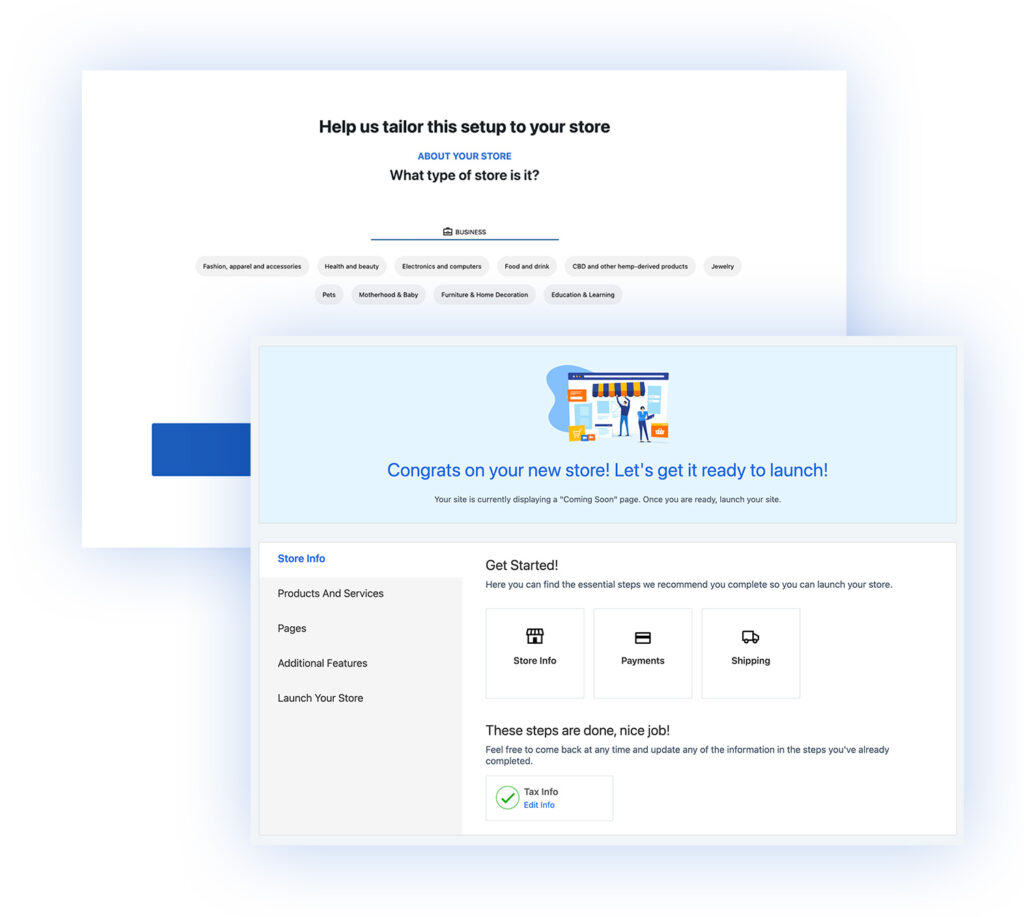 Wonder, the new block theme designed and released by YITH
Block themes that are compatible with WooCommerce and fully designed for eCommerce implementation are rare. At YITH, we're proud to have been the best-selling authors on the ThemeForest marketplace for years now, with over two decades of experience designing eCommerce themes. We put that expertise to work designing a modern, elegant and versatile theme that's easy to configure and customize and is suitable for any online store.
Starting a store from an empty template (without a graphical style) can be frustrating this. The new onboarding process will allow you import the content, images, icons and every graphic element you see in the live demo of the theme. You can easily and quickly replace them later, before publishing your store.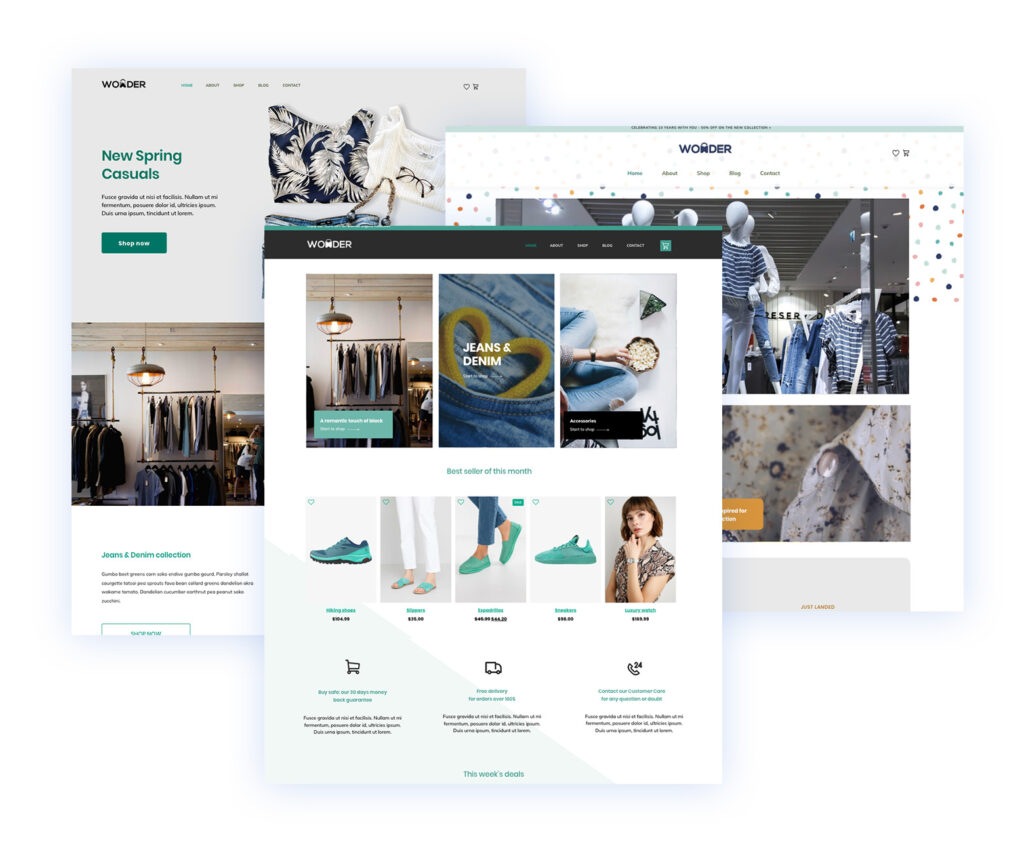 Enhanced versions of our most popular plugins
In the new Bluehost plans, you will find enhanced versions of our plugins, developed especially for these packages. You'll be able to start selling Gift Cards right away (after all, Christmas is right around the corner!), enable Wishlist and allow your customers to save their favorite products in lists to share with family and friends (did we mention that Christmas is just around the corner?), enable Bookings & Appointment and empower customers to make reservations for services (suitable for doctors' or dentists' offices, gyms, physical therapy services, counselling appointments, etc.) or bookings for apartments, rooms, offices, sports equipment and more.
The integration of these plugins into Bluehost's plans make the offer even more versatile (for creating a simple store to sell physical or digital products, and for advanced solutions to manage all kinds of different sites) and, above all, convenient. Customers will also save on the cost of purchasing plugins individually (each plugin has an average value of $80 to $120), as they are already included in the price of the plan.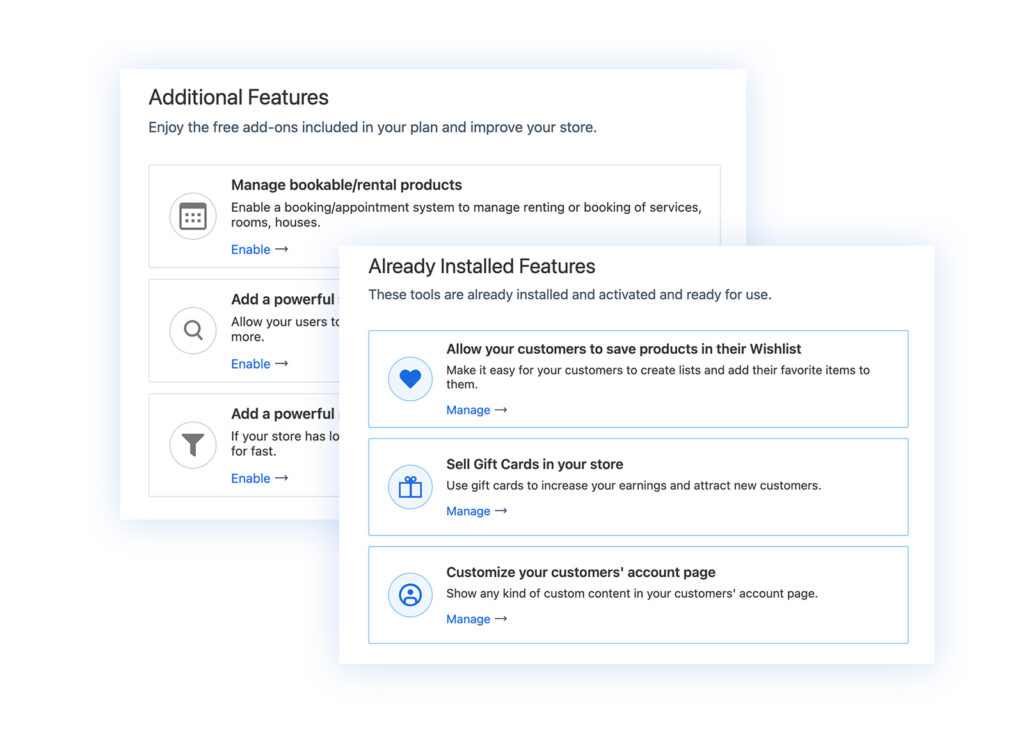 Shippo and PayPal payments plugins for advanced shipping and payment management
The plans include a plugin that we've developed exclusively for Bluehost customers, called "YITH Shippo Shipment for WooCommerce". With this plugin, you'll be able to connect your Shippo account to your shop and manage advanced shipping of products to your customers. And, to give your customers the ability to pay by PayPal and credit card, you can enable the YITH PayPal Payments for WooCommerce plugin, which is bundled with both plans.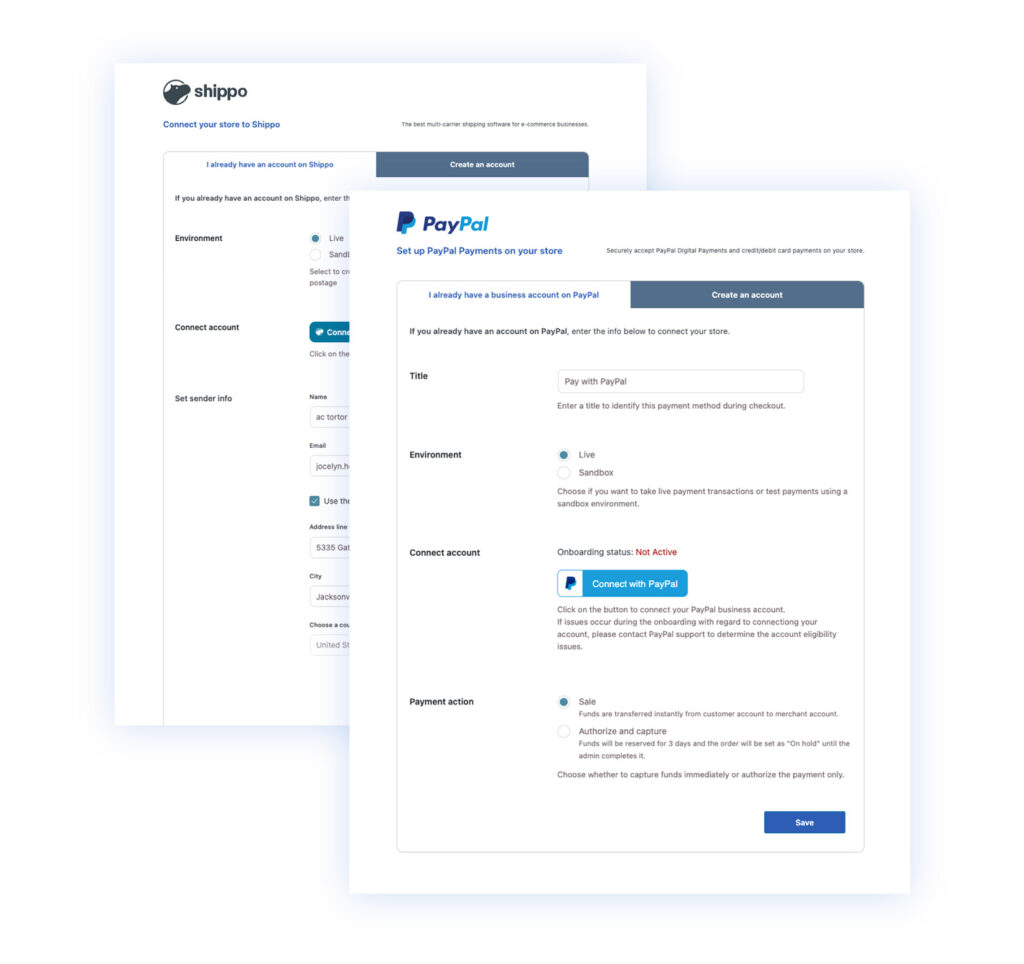 Today we're taking "one small step for man, one giant leap for mankind," or at least, one giant leap for anyone who wants to build an online store. There are more steps to be taken to enrich these offerings, and we will propose new themes, plugins and solutions based on your needs and the feedback we receive.
This is a journey we'll take together: YITH, Bluehost and the many, many customers who already support our work and who we are confident will place their trust in us again.
Want to learn more? View Bluehost's online store packages now >