Have you ever searched for a store address only to be disappointed by the store's website due to the lack of a store locator functionality and as a result not bothered to visit? Well, this is a very common occurrence with many customers and a big loss of revenue to stores if not addressed. With a good store locator you should be able to find your nearest branch and not only that, but also filter it based on your requirements like parking, products and menu selection and washroom facilities for example.
A good store locator is a plugin that our customers have requested many times and that for many various reasons we had to put off.
Yet, during our usability studies and after building our first course about how to build an effective Customer Service area in your e-commerce, we had the opportunity to analyze hundreds of store locator tools both in big shops (like Ikea, Target, Primark…) and in small companies too. We took note of the strengths and weaknesses of their store locators and highlighted the features that make a store locator for WordPress a really effective instrument for the company and a usable tool for the customer who will interact with it.
"Users often combine online and offline purchasing experiences". This is the first statement of the video lesson dedicated to the Store locator. And it is true: statistics confirm that 75% of users try to locate a store even before purchasing a product online, to see if and how long the delivery might be delayed, or if there's a brick and mortar store where to test the product or where to give it back if it's not good for them.
Information available on Google is often incorrect or outdated: this is why almost every user prefers using the store locator of the company website.
A store locator that works well and fast conveys reliability and improves the user experience of your website. With this in mind, we have designed and developed one of the best store locator plugins for WordPress.
A must-have solution that those businesses, shops or offices that intend to help customers spot the available locations must absolutely integrate into their website.
The plugin includes all the most important functionalities of a textbook store locator. But which ones exactly? Let's find them out.

1. Automatic geolocation and geolocation option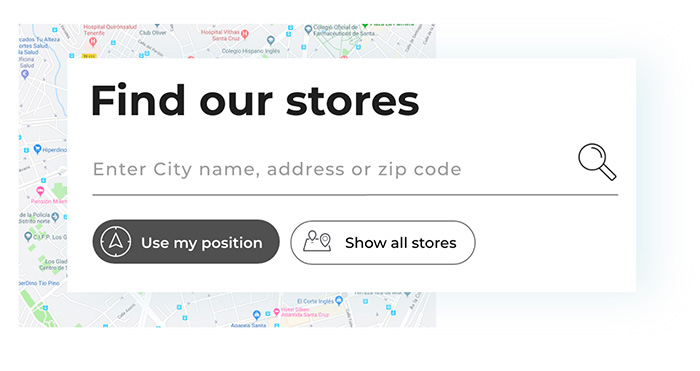 One of the most popular features is by no doubt the geolocation: it gives the website permission to locate the user's position automatically and return targeted and real-time information, without wasting time with typing the city or address in the search form.
The plugin includes two options:
Automatic geolocation, which asks users for permissions to find their position automatically as soon as they access the store locator page.
The geolocation, a text link or a button on which users can click as an alternative to the standard search.
2. Instant search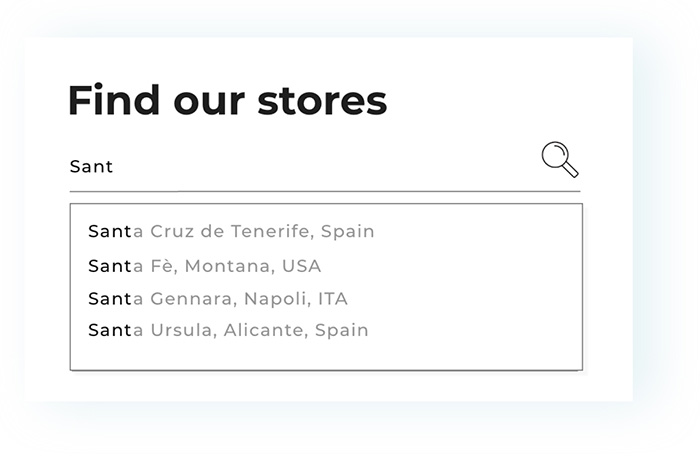 What if the user does not want to be geolocalized? No worries, we've just made the search process as easy and intuitive as possible by activating the instant search. This means that if users start typing the first letters of the city where they want to find the shop, they will get search suggestions immediately. Results are updated in real time as you type: so you can choose one of the suggested options and be spared the trouble of typing the full address or town name.
This helps saving time, reducing efforts and minimizing typing errors that could compromise the outcome or show wrong results based on inexistent postcodes or an address not found because of a missing letter, just to mention a few.

3. The possibility to create countless stores
YITH Store Locator for WordPress is a perfect solution, whether you have just one point of sale or you have 300. You can create as many Stores as you need (we call them Stores, but it can also be offices, branches etc) and set up different information for each of them: a picture of the shop, a description, contact information, opening hours and address.
Moreover, you can highlight some of the stores (with a different background color and a "Featured" badge on them) and choose your favourite layout for the store detail page (that users can reach by clicking on the Store name, unless you disable this option).

4. The possibility to create countless filters for your stores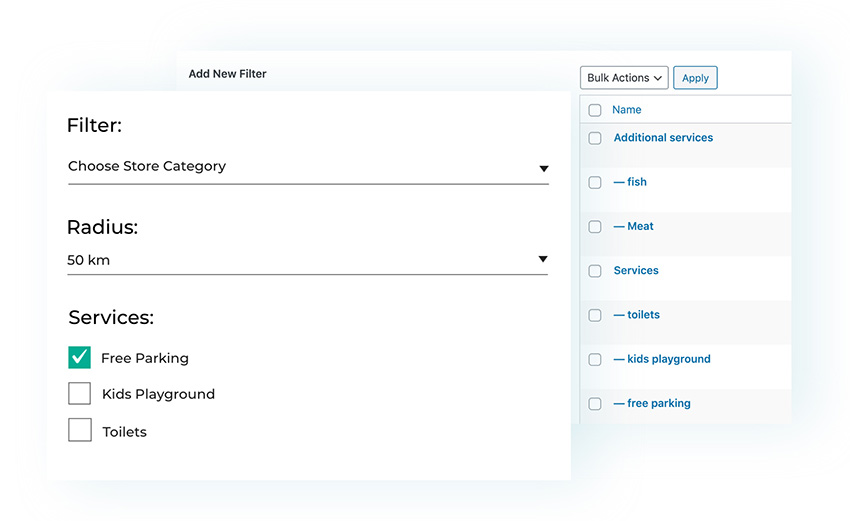 If you have many shops where you offer different services (e.g. free parking, children area, returns and changes, home delivery and so on) or where you find a specific product stock (like the Disney section at Primark, which is only available in some branches, or the vegan menu, which is only available in some McDonald's restaurants), you'll certainly need to create filters to let users find out which shop/point of sale/office is the most suitable one.
You can create any kind of filters and choose whether to use the "checkbox" option (and allow users to select multiple stores at the same time) or "select" option (and let the user pick only one at a time). Additionally, you can choose whether to show them open on the page or wrap them in an expandable menu: the ideal solution for pleasant look and good usability, especially when you have many filters to show.

5. A versatile and completely customizable layout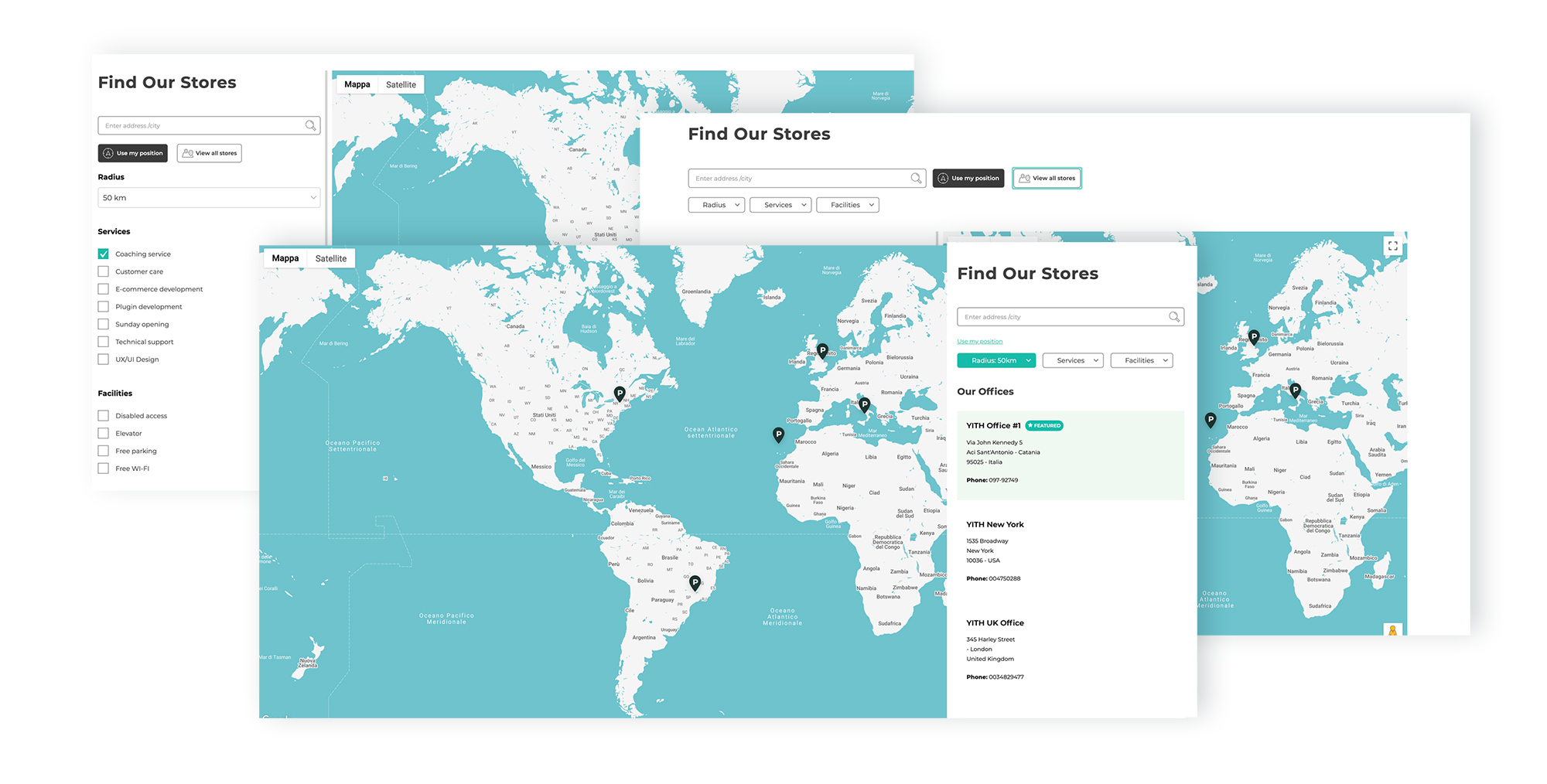 We always aim at offering versatile plugins that can suit many different sites and layouts.
This is why in YITH Store Locator for WordPress you will find many options to customize the page of your store locator. For instance, you will be able to choose whether to show the map on the left or right hand side, set the size, choose the style of the filters, edit all text labels and customize the button styles. And there's more: show results in one or two-column layout, choose which specific store details to show, customize colours.
There are so many options that it would be impossible to list them all here and now.
That's why I suggest you take a look at our WordPress Store Locator Live Demo, where you can test by yourself the store locator functionality. To view the plugin option panel and test it inside out, just click on "Launch admin demo".
For further details, you can also check out the page of our WordPress Store Locator plugin. If you have any questions or doubts, feel free to contact us through our live chat or leave a comment to share your view: your opinion is important to us!