The promotion is expired and it is not available anymore
.
October is the perfect month for sales and discounts and even here at YITH we have planned some SPECIAL OFFERS exclusively dedicated to our clients.
 SPECIAL OFFER N.1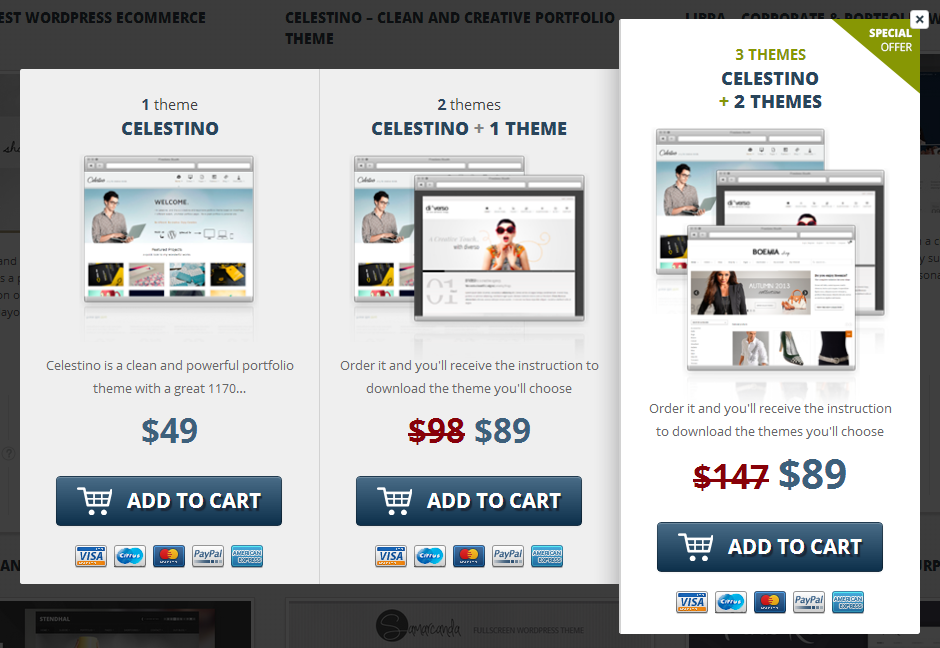 Our themes usually cost 49$.
Just for the month of October we have thought about something special for you: if you buy two themes you'll pay 89$ instead of 98$.
But that's not all: if you buy three themes you'll pay only 89$ instead of 147$… convenient, don't you think?
After purchasing a promo theme, you will immediately receive a coupon to receive another or two other themes for free! The coupon lasts one month.
The offer lasts until the 31st of October… don't miss it!
SPECIAL OFFER N.2
What is it about?
It is pretty simple and convenient: If you like one of our themes and products and you buy one or more of them within the 31st of October, you'll receive by mail a 15% discount coupon that you can use on your next purchase on YIThemes, within the end of November.
What does it mean?
Let's do an example:
You have already decided to buy our wonderful new e-commerce theme, Boemia. But wandering around the website, you have even noticed Celestino and PinkRio, which can be perfect for your next corporate website projects.
Well, this is the perfect chance to have all of them at a convenient price.
Here we are, indeed: If you buy Boemia (or any other theme) within the end of October (and you can even take advantage of the first special offer), you'll receive a coupon with the 15% discount on the purchase of your next product on our website.
The offer is available for every purchase you do on YITH within the 30th of November.
The Offer
The coupon can be used until the 30th November, so you'll have a month to think about which product you like most and you think may be more suitable for your next wonderful and inspiring project!
What are you waiting for? Let's go and take advantage of our special offers!