We at YIThemes value our customers above all and we strive to make your experience with our themes as straightforward as possible. As our themes continue to grow in number and features, we wanted that our help system stays up on par.
Until now we offered support using a standard forum. It is a great medium, because it enables the user to search through existing topic for the problems he's experiencing and it makes possible for users to help themselves answering open topics.
On the other side, it's an awful medium for support: topics get lost, there isn't an analytics feature and answering simple questions like "How many support tickets are opened in this moment?" was just straight impossible.
So we realized that it was time to change. We searched for specialized hosted support platforms and we landed on Zendesk.
Zendesk comes packed with a lot of features and integrations that enable us to provide our customers with the highest level of product support and community.
"What do I need to do?"
Almost nothing. The new platform will live at http://support.yithemes.com as it is now. New support requests will not be issued via forum, but by submitting a support ticket. Registration isn't required for the new system: you will continue to use yithemes.com credentials (the same as the old forum).
As it stands now, the Knowledge Base contains only standard topics like our video tutorials or information about importing sample data.
We understand that there is a lot of valuable content in our older forum. Gradually we'll migrate the most informative topics from the old forum which will be read only until the switchover is complete.
Where do I find sample data and video tutorials?
While we are still migrating the most relevant topic from the old forum, we already moved the sample data and video tutorials section. You can find them in the Themes Section of the new Knowledge Base. There you will find all the instructions needed to download the sample data and all the links to our screencast.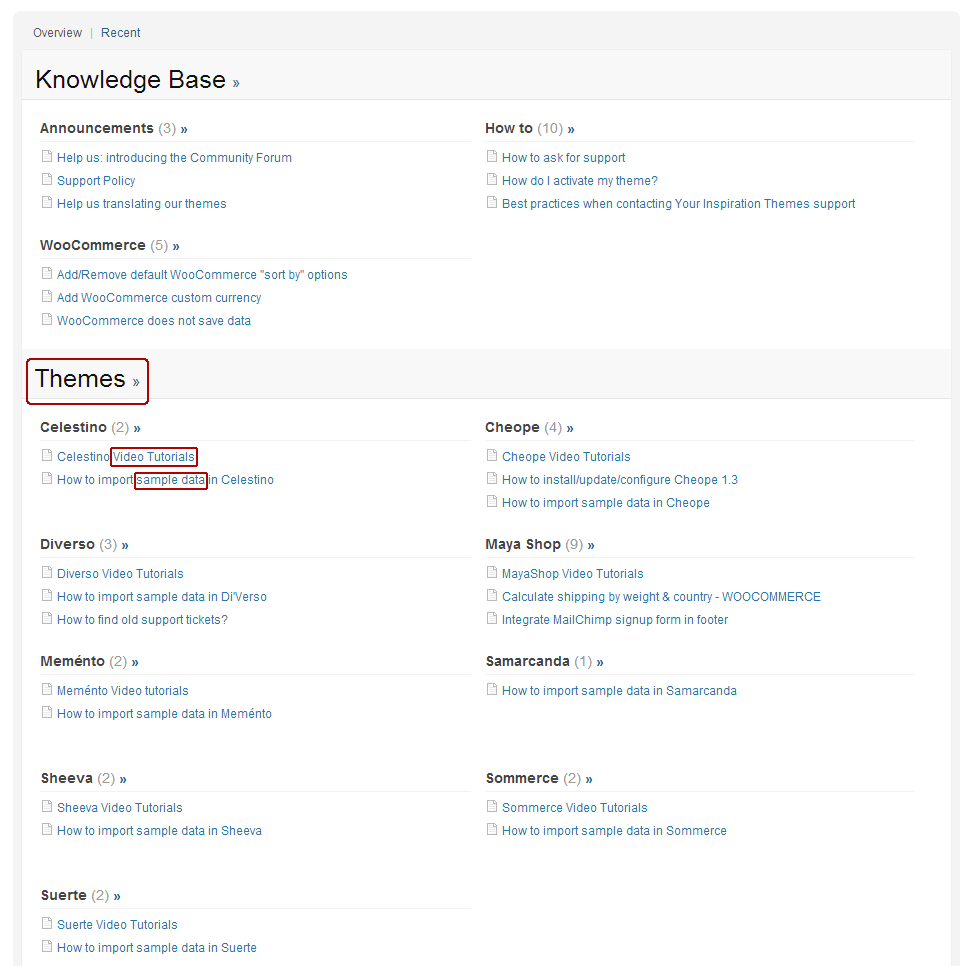 How to ask for support
As said before, new support requests will be issued via support ticket. If you bought your theme on ThemeForest, you'll need to activate your theme before being able to ask for support. If you bought your theme here on YIThemes there is no activation needed.
First you have to select the theme for which you are asking support for. You can ask support only for themes you have bought.
Next you can submit a new ticket. Please be as specific as you can describing your problem: subjects like "Please help me!" or "It doesn't work" can't help us understanding what's going on.
If you think it could be useful in solving your problem, you can specify your WordPress' installation URL together with an admin username and password (this data will be kept safe and visible only to our staff).
To help us understanding your problem, you can also attach screenshots and/or record a screencast.
This is a preview of how the submit ticket form will look like: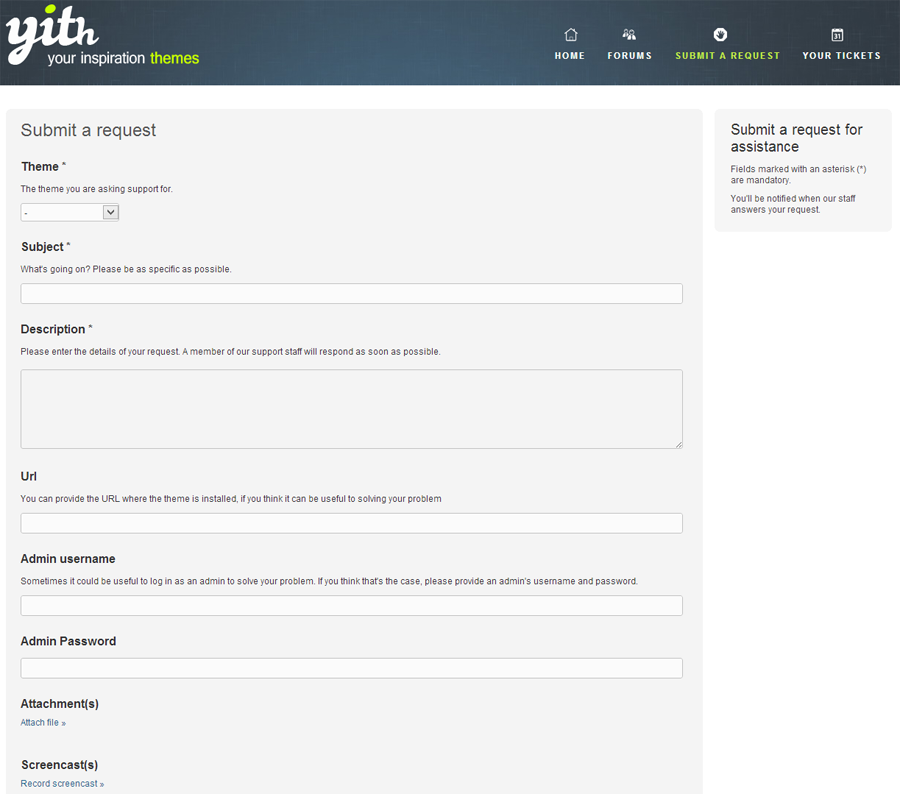 We did this for You. What do You think?
We love our job. We love crafting WordPress themes and we'd like to let you make the best out of our work. But problems do happen. But we think you should spend less time as possible solving problems and more time designing and creating your next wonderful work. And we think this is a good step towards that goal.
For now, we look forward to hear your feedback and squash any bugs that we may have missed. So please, leave a comment here telling us what you think and what we could improve.