Responde a las dudas de tus clientes y persuádeles a comprar de una vez por todas
Los usuarios que compran en línea siempre dudan cuando adquieren un producto que no pueden ver ni tocar.
Ponte en el lugar de tus clientes potenciales: todo lo que saben sobre el producto está representado por una imagen y unas pocas líneas descriptivas, no pueden verificar personalmente los detalles, o pedir más información a un vendedor como lo harían en una tienda física. ¡Cuántas preguntas harían antes de hacer clic en el botón de compra, y qué frustrados están comprando a ciegas!
Cuanto más se satisfaga la necesidad de tus clientes de obtener más detalles sobre tus productos, más conversiones tendrá tu comercio electrónico. YITH WooCommerce Questions And Answers te permite dar una respuesta positiva a todas las dudas que puedan impedir que tus clientes adquieran productos: puedes usar el plugin para crear una sección de preguntas frecuentes en cada página del producto y añadir independientemente las preguntas y respuestas más frecuentes.
De la misma manera, tus clientes podrán escribir sus preguntas fácil y rápidamente, y esperar a que tú, o tal vez un cliente que ya haya comprado ese producto en particular, les brinde toda la información que necesitan. Gracias a YITH WooCommerce Questions And Answers, podrás establecer una línea directa con tus clientes potenciales y tranquilizarlos con respecto a la compra: una verdadera herramienta de marketing que tu tienda no puede perderse.
Versión:

1.25.0

Publicada:

2023-05-15

Versión mínima de PHP:

7.0

Requiere:

WordPress 6.0

and WooCommerce 7.5

Compatible hasta:

WordPress 6.2.x

and WooCommerce 7.7.x

Plugins multidioma compatibles:

WPML, Loco Translate

Traducción lista:

SÍ

Idiomas 100% garantizados por YITH:

Italian, Spanish

Idiomas proporcionados por usuarios:

Dutch (100%)

Compatible con:

Tema YITH Proteo. Todos los plugins de YITH

Temas de terceros compatibles:

Avada, Divi, Flatsome, Neighborhood, Storefront, X

Constructores de página compatibles:

Elementor

Cumple con RGPD:

Sí
CON
YITH QUESTIONS AND ANSWERS

PUEDES:
Establecer cuantas respuestas quieres mostrar
Gracias a una paginación controlada para mantener estable el diseño de la página del producto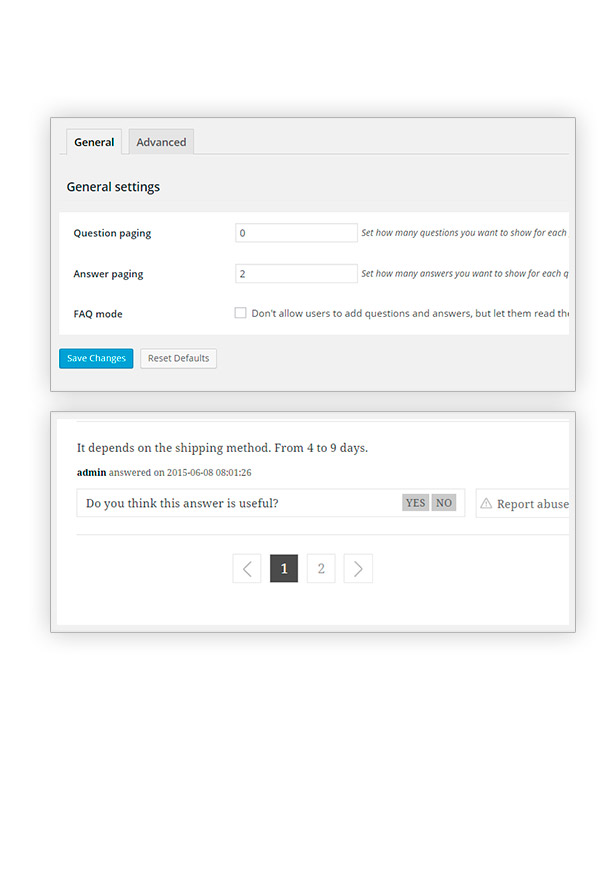 Aprovechar el sistema de votación
De esta manera, los usuarios destacarán las preguntas y respuestas más útiles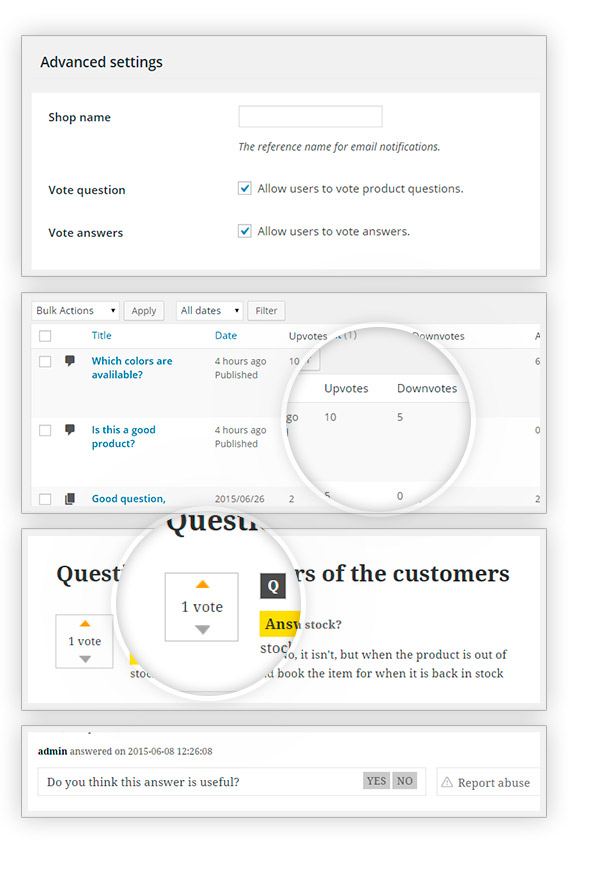 Activar un proceso de notificación de correo electrónico
Puedes recibir un correo electrónico de notificación por cada nueva pregunta sobre tus productos, además de notificar a los usuarios que han escrito preguntas anteriormente para ese producto en particular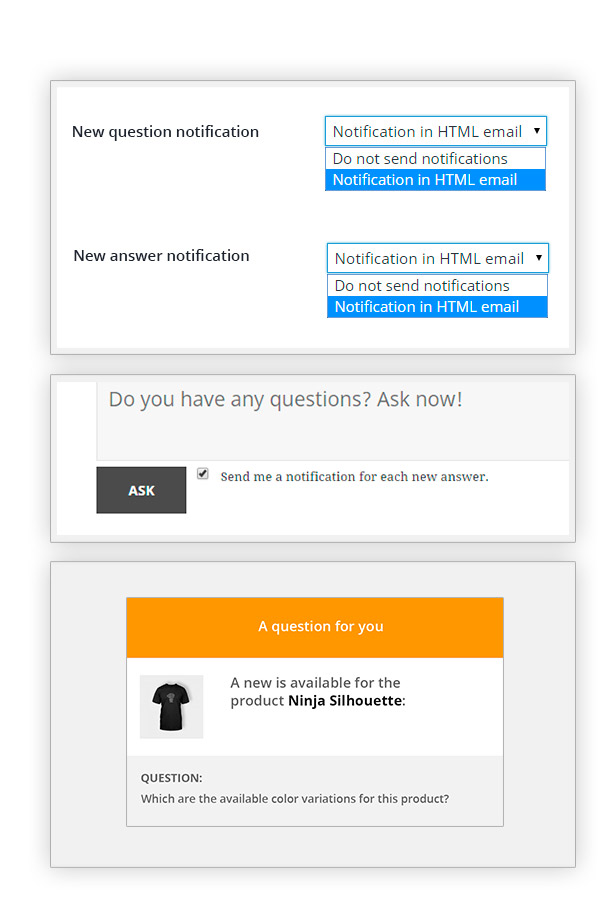 Ocultar respuestas inapropiadas automáticamente
Tus usuarios serán libres de identificar como 'contenido inapropiado' todos esos mensajes fuera del lugar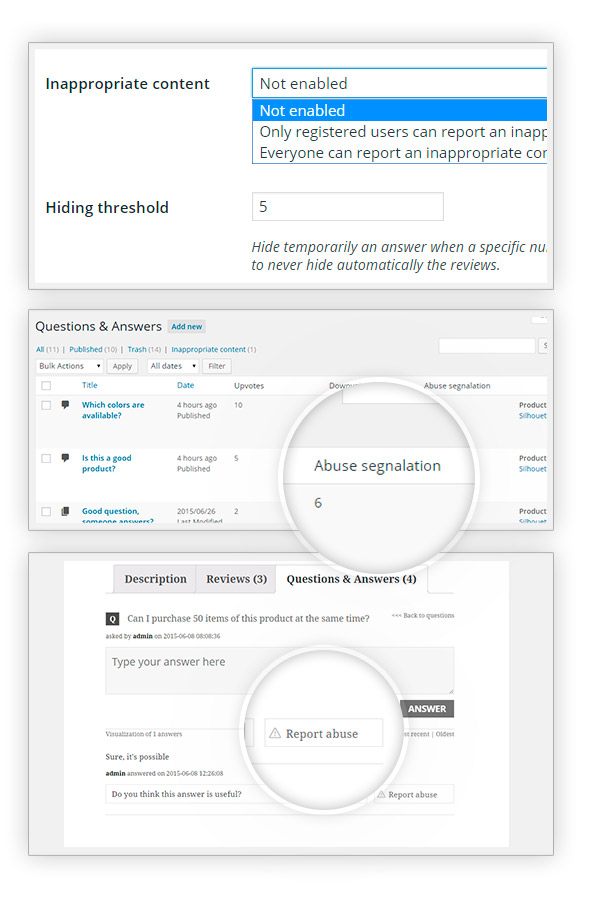 Proteger la privacidad de tus usuarios
Con el modo anónimo, ocultarás el nombre de quién escribe preguntas o respuestas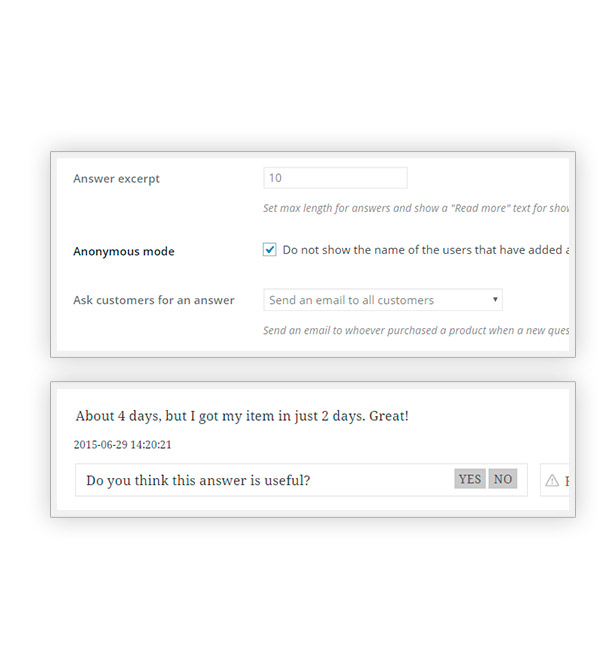 Animar a los usuarios a responder
Para obtener una opinión directa de las personas que ya compraron un producto, puedes enviarles un correo electrónico pidiendo responder a una nueva pregunta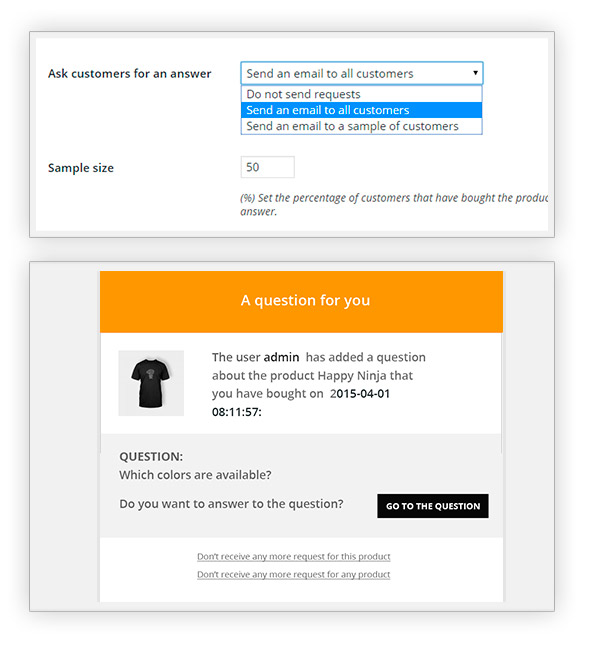 Proteger tu sitio contra contenidos molestos
Usando el sistema captcha de Google, el No CAPTCHA reCAPTCHA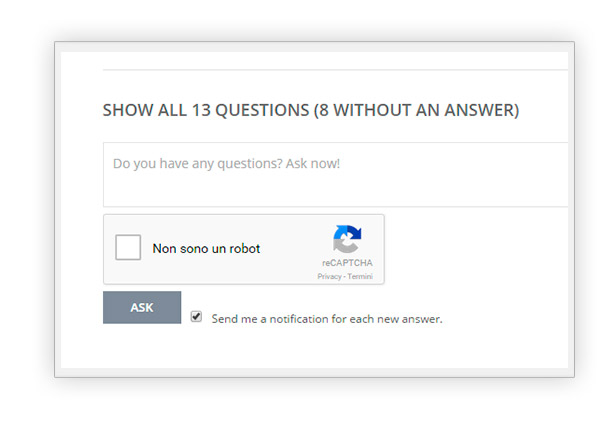 Establecer preguntas y respuestas en la página del producto
Eligiendo mostrarlas justo dentro de la pestaña específica o en cualquier otro punto de la página a través del shortcode específico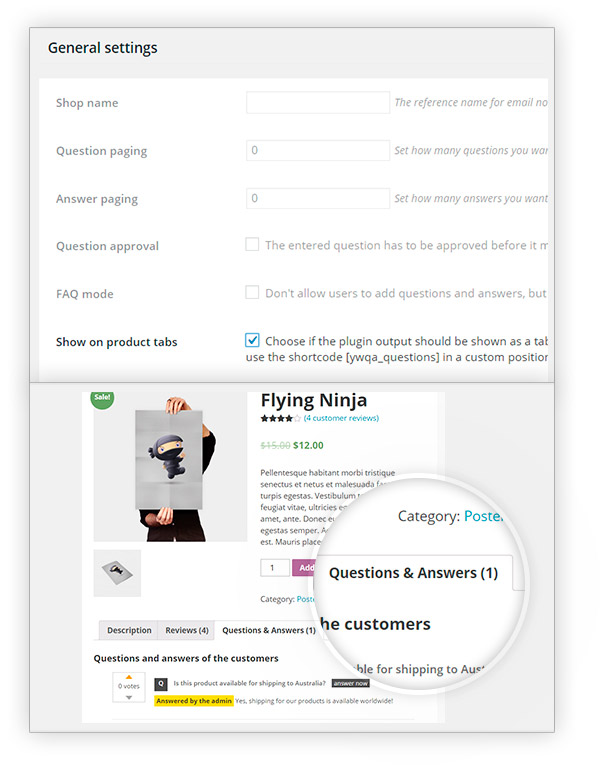 Evitar el spam en las páginas del producto
Las preguntas y respuestas se publicarán solamente después de la aprobación del administrador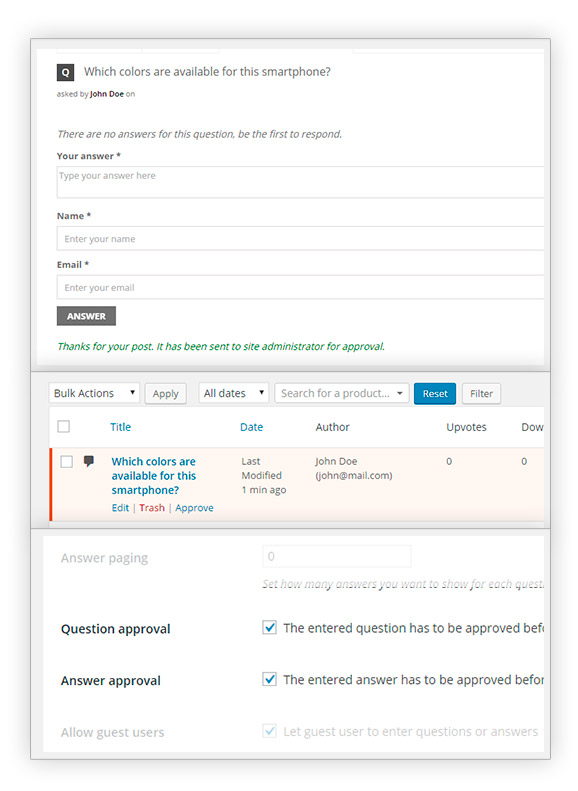 Habilitar a los usuarios no registrados para agregar preguntas y respuestas
El nombre y dirección de correo electrónico es obligatorio para enviar el contenido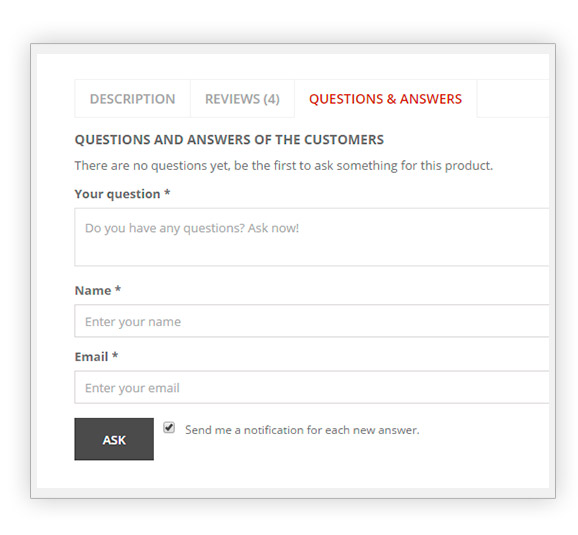 Crear un sistema FAQ
Las preguntas y respuestas se mostrarán a los usuarios, pero solo el administrador puede insertar contenidos
Aprovechar la compatibilidad con WPML
Puedes traducir el plugin fácilmente con la potente herramienta de WPML