Rispondi ai dubbi dei tuoi clienti e convincili a comprare una volta per tutte
Gli utenti che acquistano online hanno sempre qualche esitazione quando si tratta di comprare un prodotto che non hanno modo di vedere né di toccare.
Mettiti nei panni di un tuo potenziale cliente: tutto ciò che sa del prodotto che vendi è rappresentato da un'immagine e da poche righe di descrizione, non ha modo di controllarne personalmente i dettagli e di chiedere maggiori informazioni al commesso come succederebbe in un negozio fisico. Quante domande vorrebbe porre prima di cliccare sul pulsante di acquisto, e che frustrazione dover comprare a scatola chiusa!
Tanto più soddisferai la necessità dei tuoi clienti di ottenere maggiori dettagli sui prodotti, tanto maggiori saranno le conversioni del tuo e-commerce. YITH WooCommerce Questions And Answers ti permette di dare una risposta positiva a tutti i dubbi che potrebbero impedire ai tuoi clienti di acquistare il prodotto: puoi utilizzare il plugin per creare una sezione FAQ in ogni pagina dettaglio prodotto e aggiungere le domande e risposte più frequenti.
Allo stesso modo i tuoi clienti potranno inserire le loro domande in modo semplice e veloce e aspettare che tu, o magari un cliente che ha già acquistato quel prodotto, dia loro le informazioni di cui hanno bisogno. Grazie a YITH WooCommerce Questions And Answers potrai instaurare un filo diretto con i tuoi potenziali clienti e rassicurarli spingendoli all'acquisto: un vero e proprio strumento di marketing che non può mancare nel tuo shop.
Versione:

1.29.0

Rilasciata il:

2023-09-11

Versione minima di PHP:

7.0

Requisiti minimi:

WordPress 6.1

and WooCommerce 7.9

Compatibile con:

WordPress 6.3.x

and WooCommerce 8.1.x

Plugin multilingua supportati:

WPML, Loco Translate

File di lingua inclusi:

SÌ

Lingue garantite al 100% da YITH:

Italian, Spanish

Traduzioni degli utenti:

Dutch (99%)

Supporta:

Il tema YITH Proteo. Tutti i plugin YITH.

Temi di terzi supportati:

Avada, Divi, Flatsome, Neighborhood, Storefront, X

Page builder supportati:

Elementor

Conforme al GDPR:

Sì
CON
YITH QUESTIONS AND ANSWERS

PUOI:
Impostare quante risposte mostrare
Grazie a una paginazione che puoi controllare per adattare al meglio questa sezione al layout della tua pagina prodotto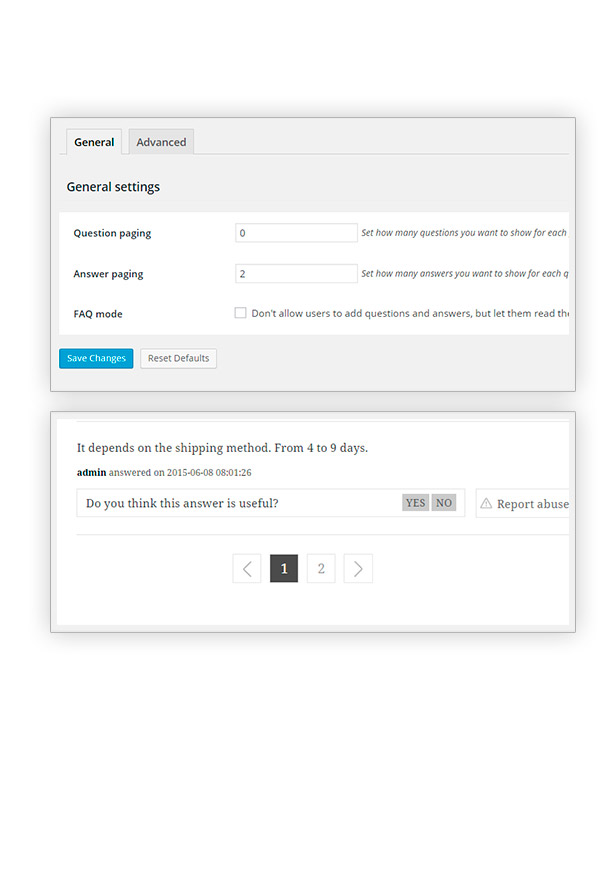 Sfruttare un sistema di votazione
In questo modo gli utenti stessi metteranno in risalto le domande e le risposte più utili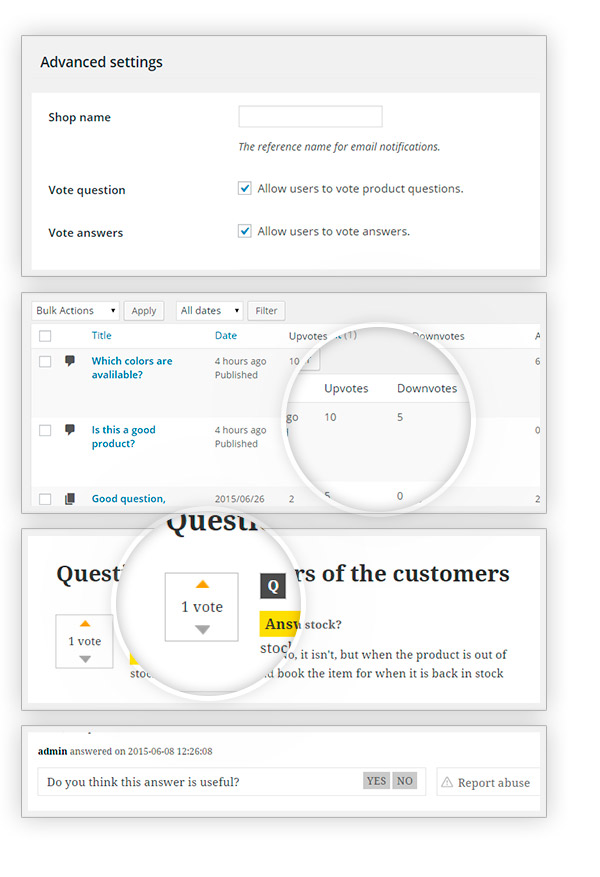 Attivare un processo di notifiche email
Per ogni nuova domanda sui tuoi prodotti puoi ricevere un'email di notifica, oltre a informare gli utenti che hanno precedentemente inserito una domanda per quel determinato prodotto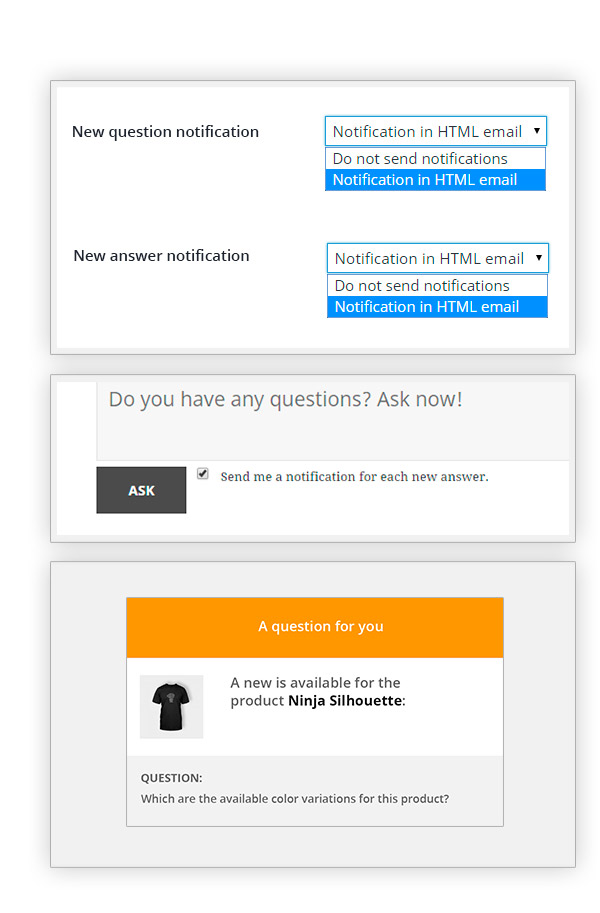 Nascondere automaticamente le risposte non adatte
I tuoi utenti saranno liberi di identificare come "contenuto inappropriato" tutti quei messaggi fuori luogo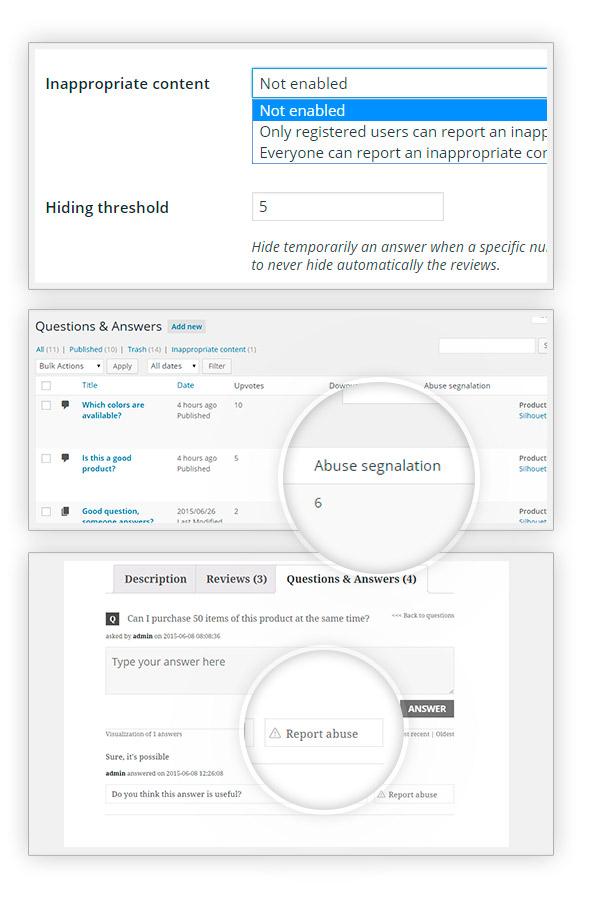 Proteggere la privacy dei tuoi utenti
Con la modalità anonima, nasconderai il nome di tutti coloro che scriveranno una domanda o una risposta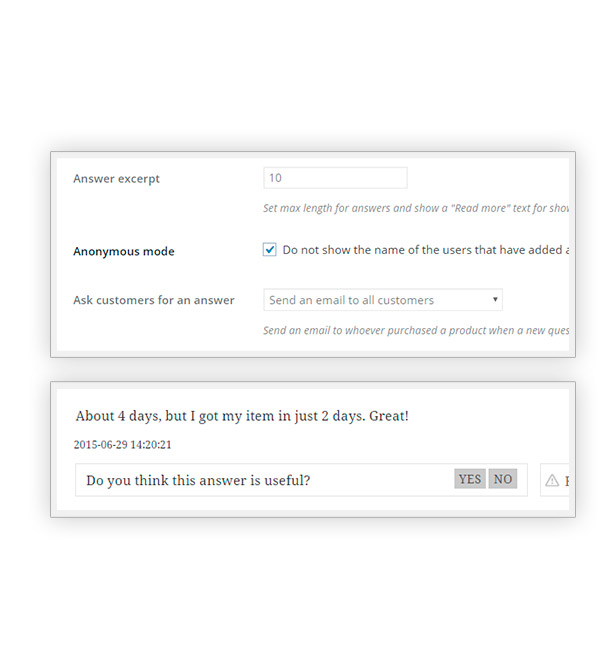 Invitare gli utenti a rispondere
Per avere il parere di chi ha già comprato un prodotto, puoi mandare loro un'email chiedendo di rispondere a una nuova domanda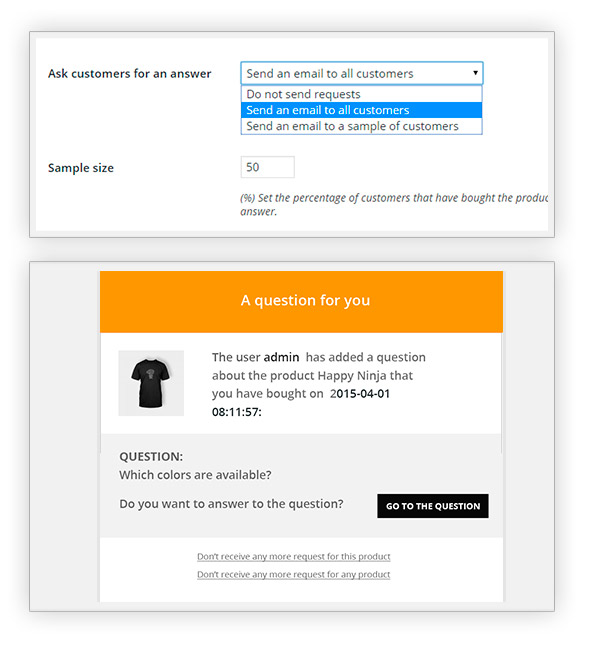 Proteggere il tuo sito da contenuti fastidiosi
Utilizzando il sistema di Google No CAPTCHA reCAPTCHA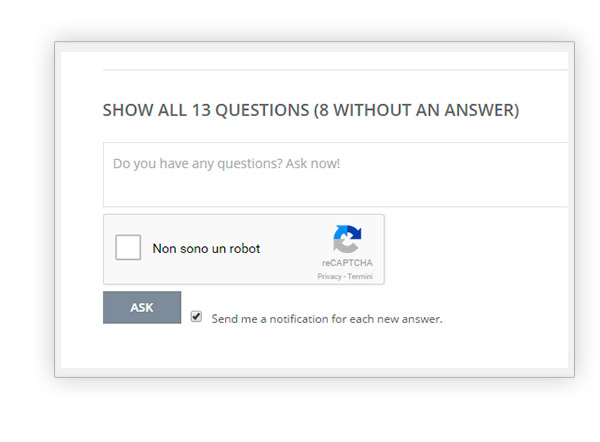 Impostare domande e risposte nella pagina prodotto
Scegliendo se mostrarle all'interno della tab dedicata o in qualsiasi altro punto della pagina grazie all'apposito shortcode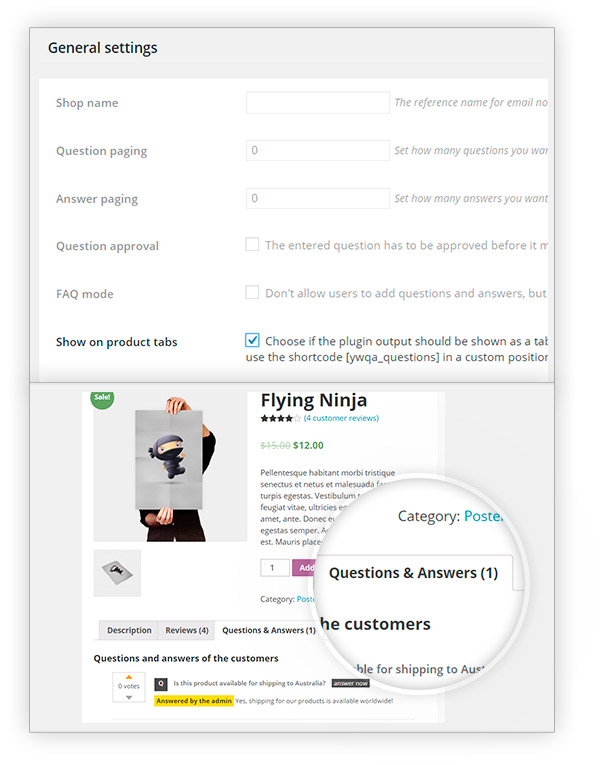 Evitare lo spam nelle pagine prodotto
Le domande e le risposte saranno pubblicate solo dopo l'approvazione dell'amministratore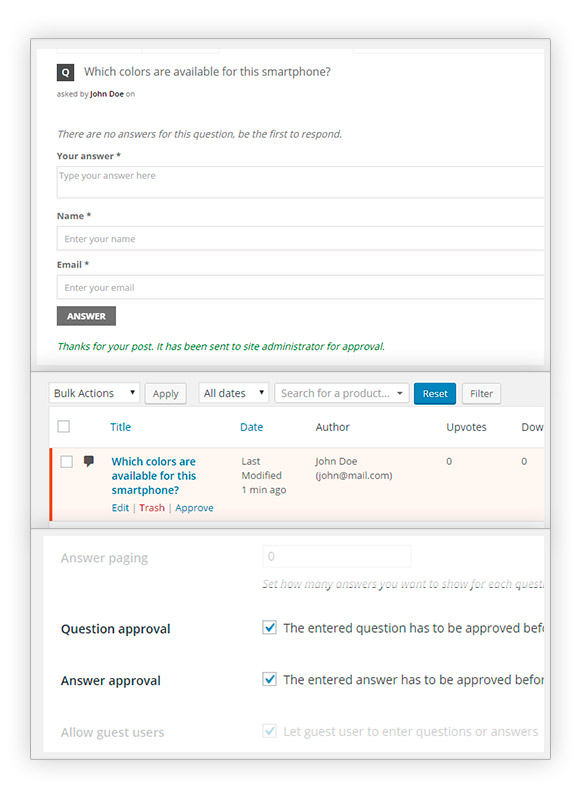 Abilitare gli utenti non registrati a inserire domande e risposte
Per inviare il contenuto sono obbligatori il nome e l'indirizzo email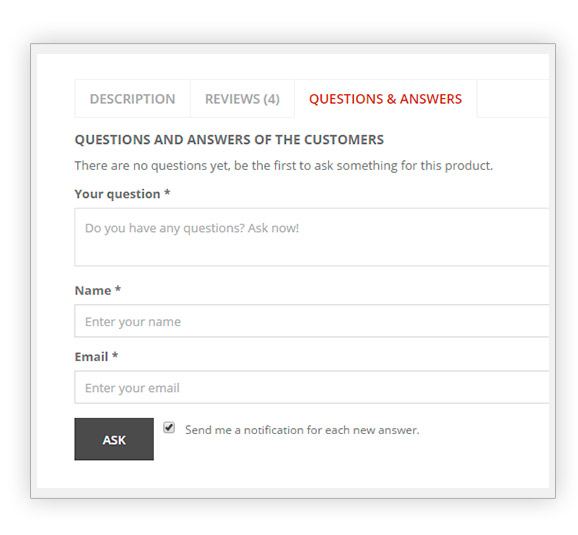 Creare un sistema di FAQ
Le domande e le risposte saranno mostrate agli utenti ma solo l'amministratore potrà inserire il contenuto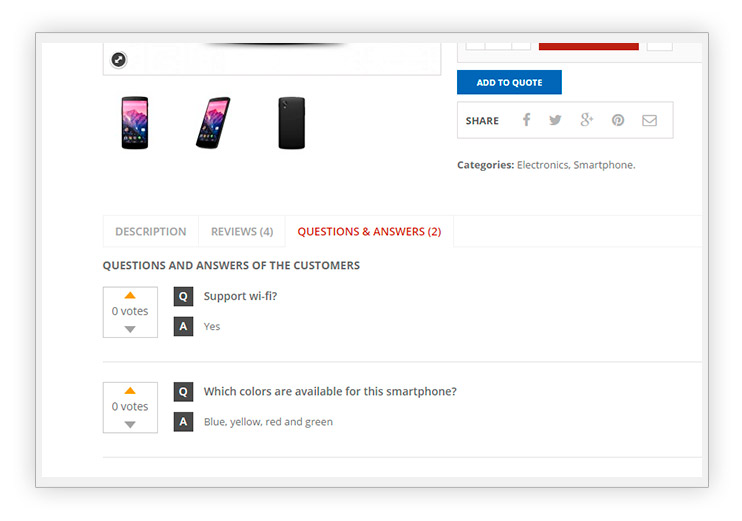 Approfittare della compatibilità con WPML
Puoi facilmente tradurre il plugin con il potente strumento per siti multilingua