How to improve the communicative and negotiating side of your e-commerce platform
Many shopkeepers sell goods or services for which a label with price is not enough. For off-the-shelf items, for which big quantities of the same product might be purchased, a buyer usually prefers to get in touch with the supplier to negotiate an ad hoc price solution. A quote request is a channel that allows that negotiation, that otherwise is difficult to achieve in online shops.
YITH WooCommerce Request a Quote has been explicitly conceived to grant a meeting point between customers and suppliers, going beyond traditional and sometimes restrictive e-commerce platforms where price only can be shown for a single product and no possibilities to deal with many products at the same time are conceived.
One of the main obstacles of online shopping, that is, communication with potential customers and negotiation, might be solved thanks to forms for quote requests.
This plugin offers customers the possibility to add items to a list and then submit it to the site administrator to get a quote for them. At the same time, administrators who receive requests for quotes can get an idea of the degree of appreciation for their products and make ad hoc offers according to customers' requests.
To grant you this, main features of the plugin are the possibility to display an "Add to Quote" button or link in product page that adds the item to the list for products to be quoted.
It is also possible to hide, if necessary, "Add to cart" button to encourage customers to get in touch with suppliers, and the creation of a list where all products can be collected and that can be submitted to the shop owner: it is right here that the very negotiation occurs.
Version:

2.4.3

Released:

2020-12-01

Minimum PHP version:

5.6

Requires:

WordPress 5.3 or higher

and WooCommerce 4.2.x or higher

Compatible up to:

WordPress 5.6.x

and WooCommerce 4.9.x

Supported multilanguage plugins:

WPML, Loco Translate

Translation ready:

YES

Languages 100% guaranteed by YITH:

Dutch, Italian, Spanish, Greek

Languages provided by users:

German (100%), Hebrew (74%), French (100%), Polish (100%)

Support to:

YITH Proteo theme. All YITH plugins except for: YITH WooCommerce Dynamic Pricing and Discounts, YITH WooCommerce Role based Prices

Supported third party themes:

Flatsome, Storefront

Supported third party plugins:

Contact Form 7, Gravity form (simple fields), Elementor

Supported page builders:

Gutenberg, Elementor

GDPR Compliant:

YES
WITH
YITH REQUEST A QUOTE

YOU CAN:
Add items to your quote request from any page in your shop
Enable this option and "Add to quote" button will be shown not only in product detail page, but also in many other pages of your store where the item appears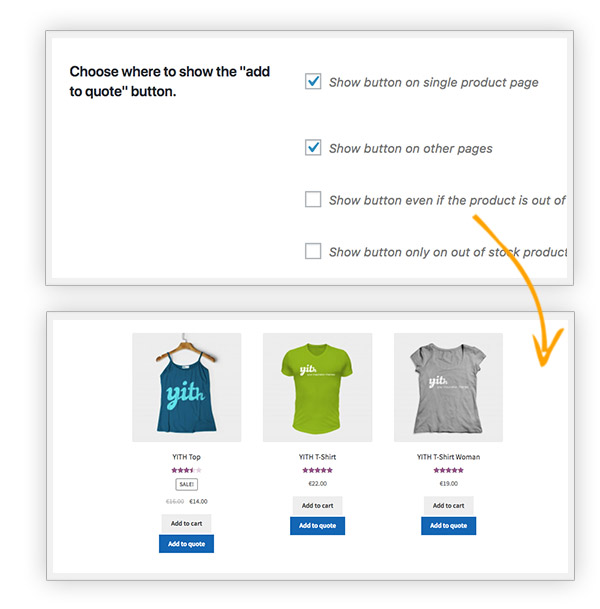 Hide product price
If you do not want to show the price of your products, just click to make your wish come true. Enable the option "hide price" and it's done!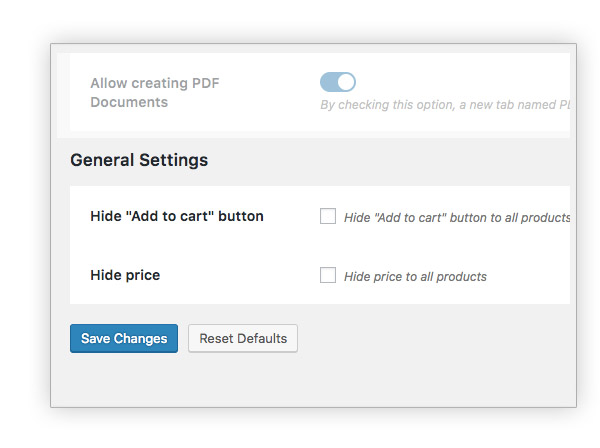 Show the quote button just on a few products or on all except for a few
Thanks to the advanced Exclusion List tab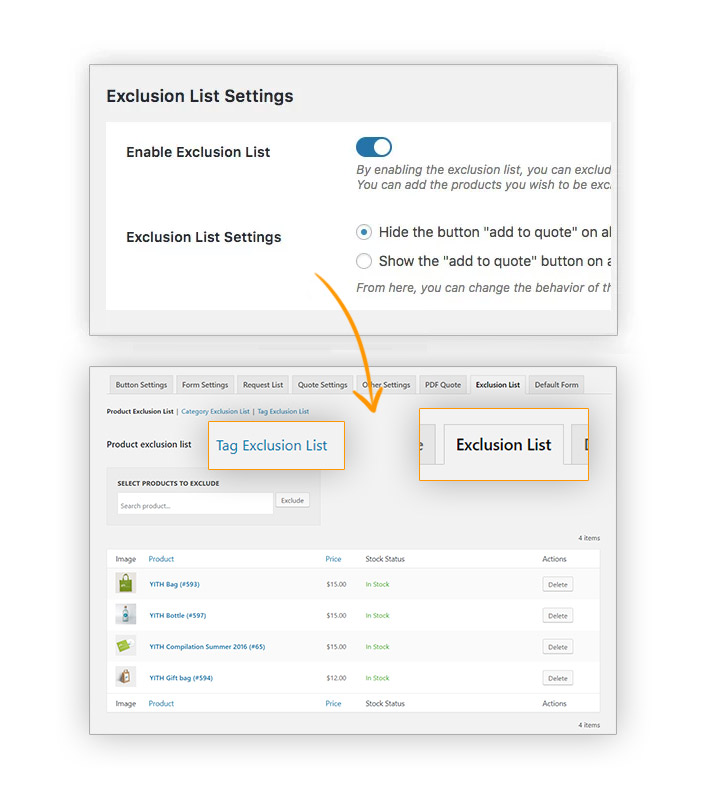 Include specific categories or tags to the Exclusion list
And show/hide the quote button on all products in those lists automatically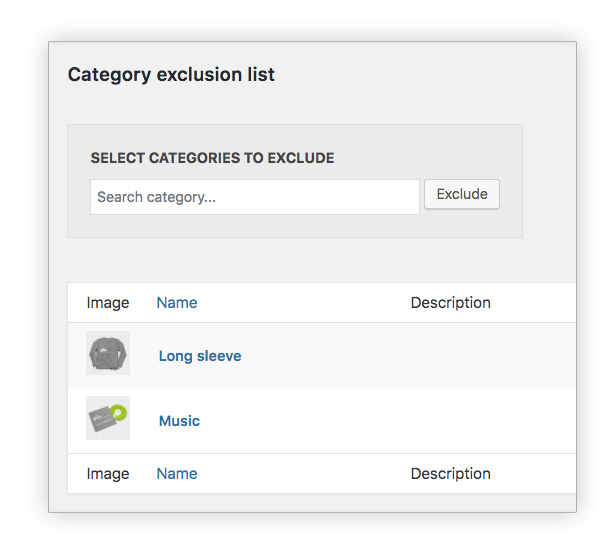 Enjoy a fully redesigned form option with advanced fields of any sort
To customize your form as you prefer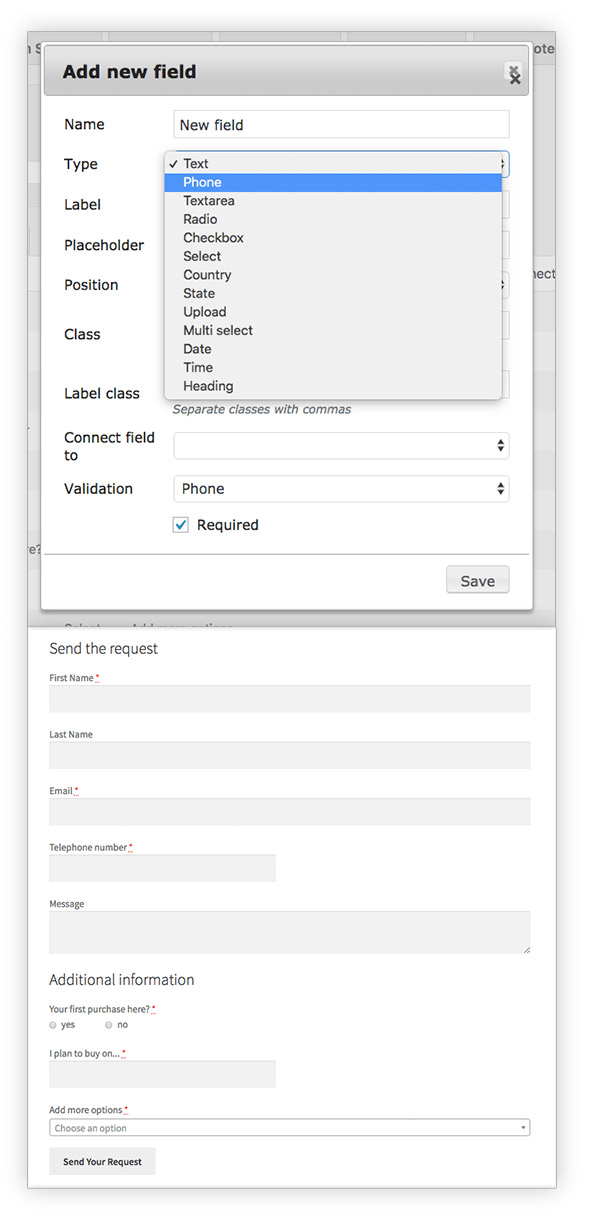 Match your users' data with WooCommerce fields
And automatically get their information in all their orders and quotes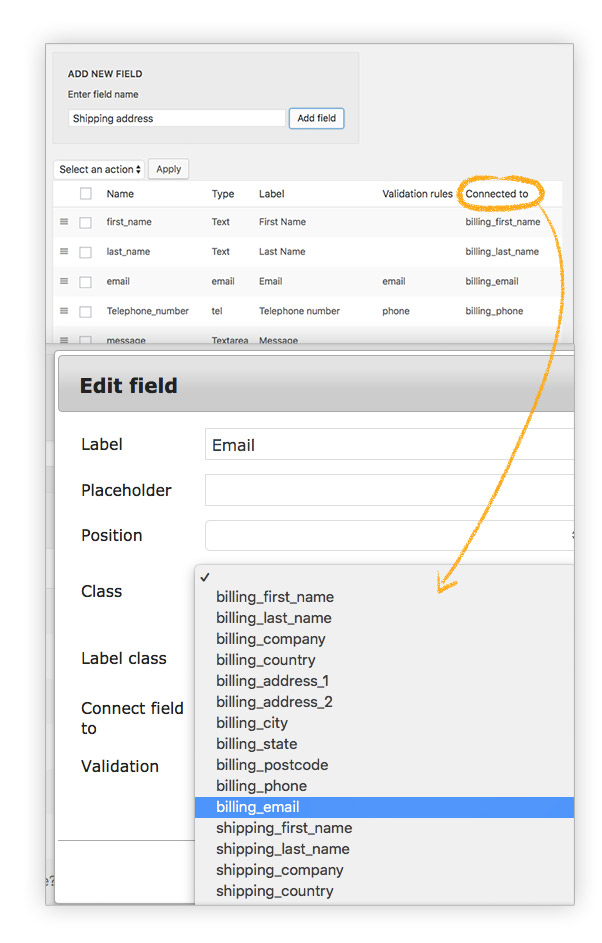 Choose one among "Gravity Forms", "Contact Form 7" or "YIT contact form"
If you need an alternative and keep customizing the form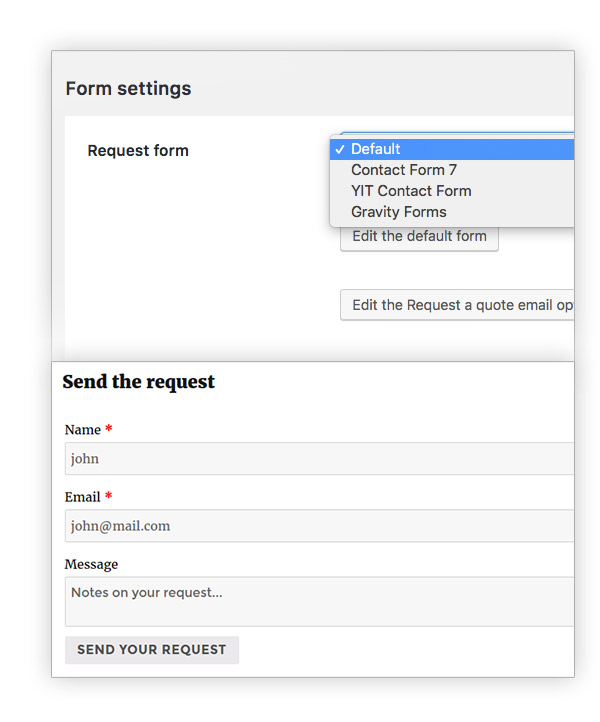 Filter users
Allowing quote requests either to everyone or only users with a specific role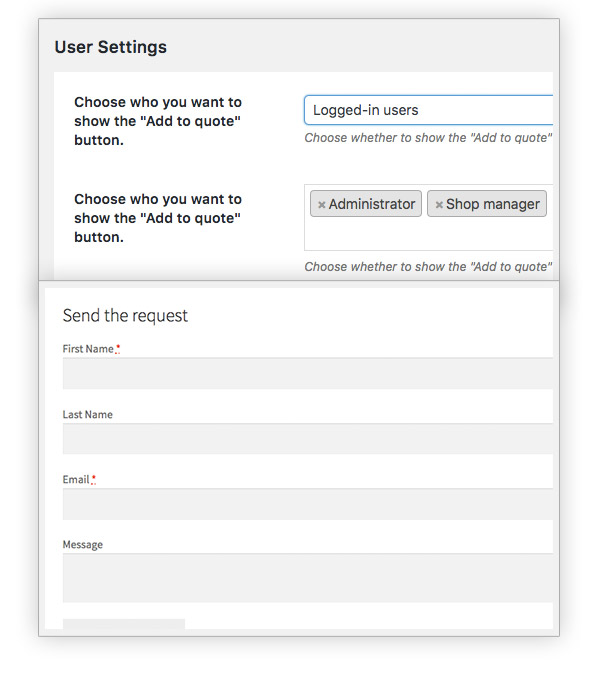 Make only "out of stock" products available for the quote
And show the 'Add to quote' button only on unavailable products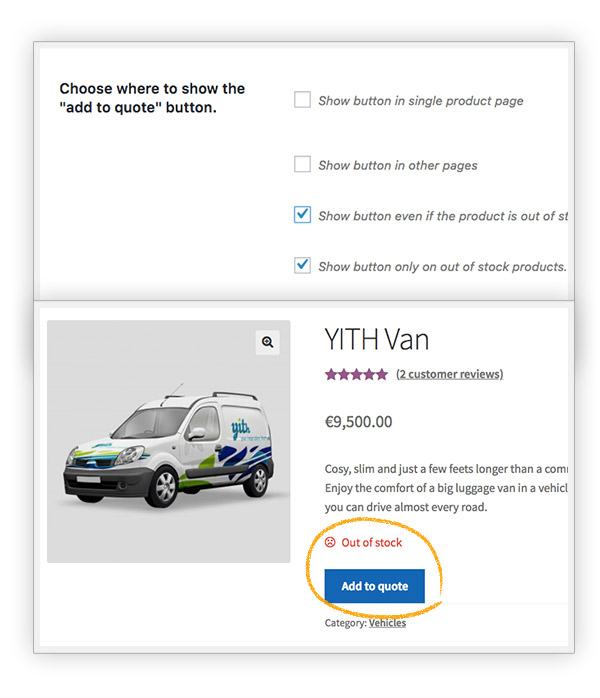 Show the list of products added to the quote request
Two widgets that will help users in placing their request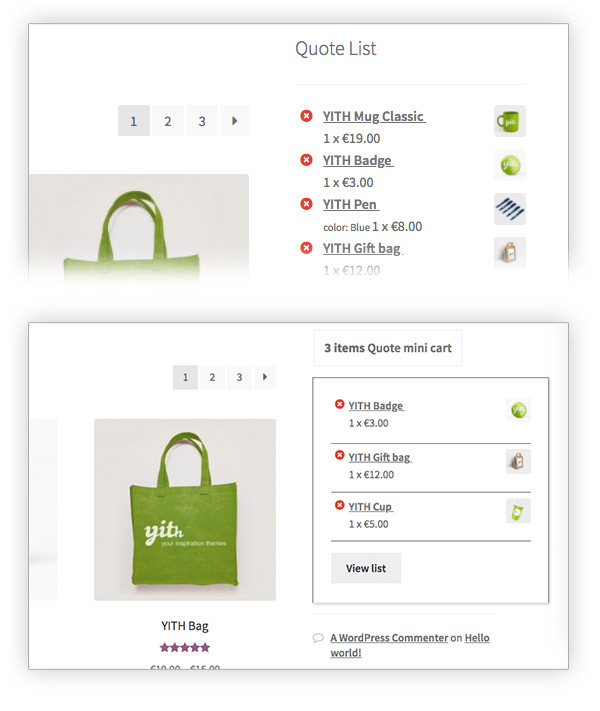 Enable the registration on 'Request a quote' page
And give new users their own space in your shop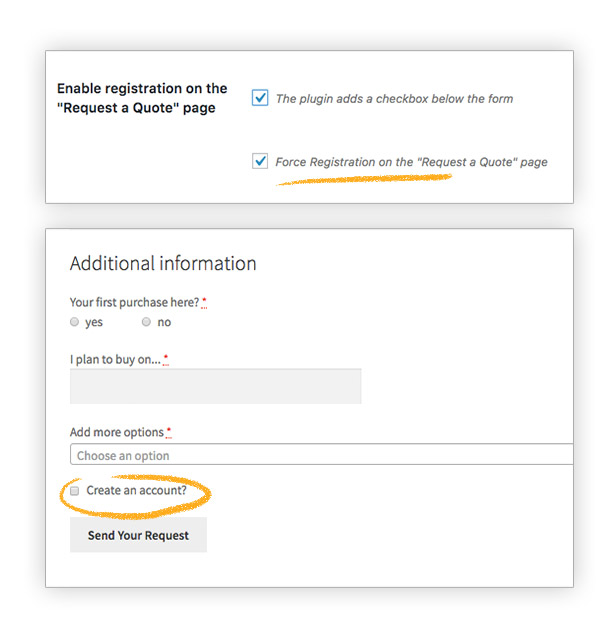 Enable the auto-complete option
To fill out the quote request fields of logged-in users' automatically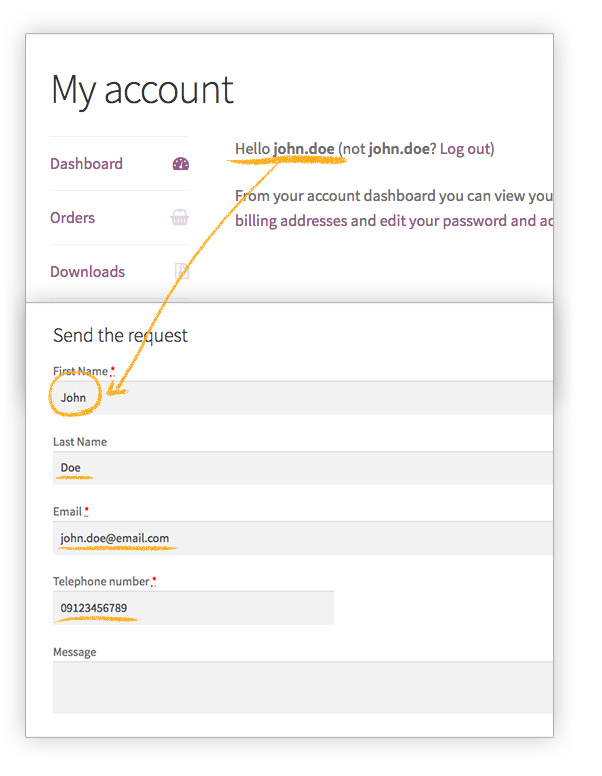 Manage quote requests easily from your WooCommerce 'Orders' page
As if it were an order and keep details such as current status or username at a hand's grasp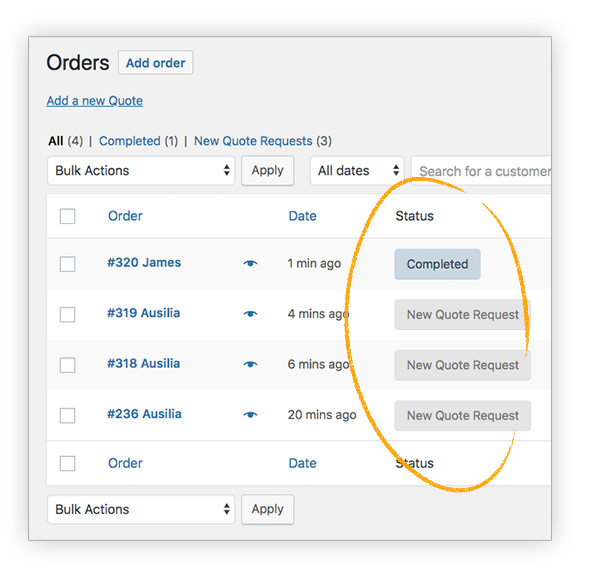 Persuade your customers with a quick answer
Send the quote directly from your admin panel, in few and quick steps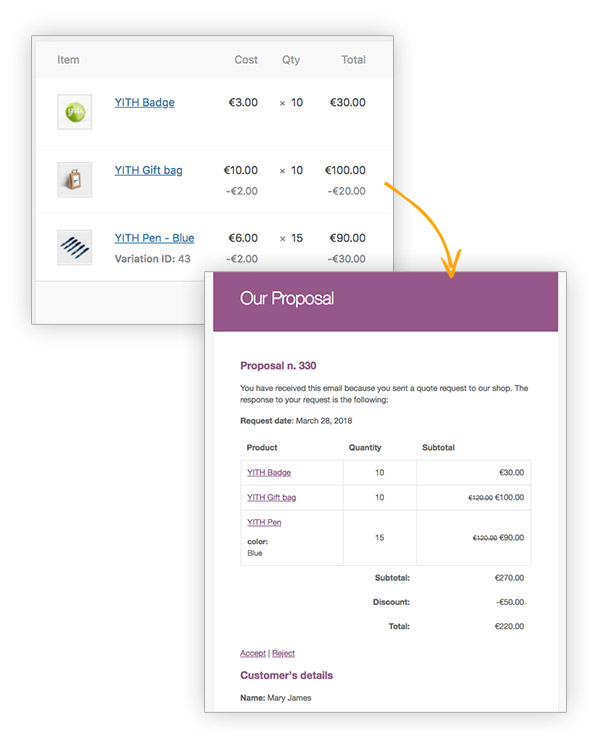 Urge customers to buy using a quote expiration date
Make your customers an offer they cannot refuse and urge them to purchase by adding an expiration date, which makes the quote available only for a limited time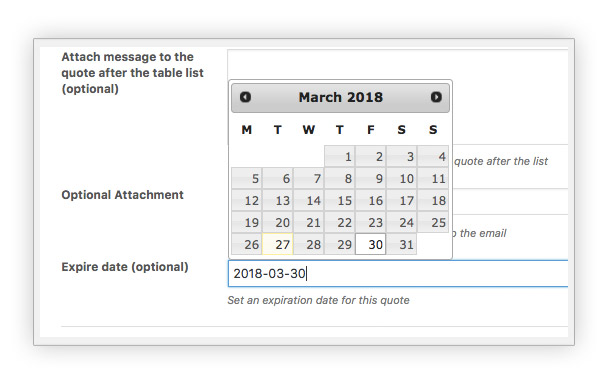 Let your customers check their requests from their account on your site
And display the request status and all details concerning the request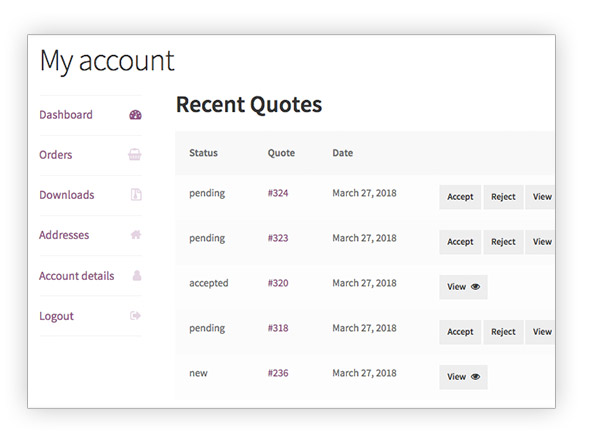 Let customers accept the quote from the email
Two simple buttons in the quote email for a quick choice will let them accept or reject your quote in one simple click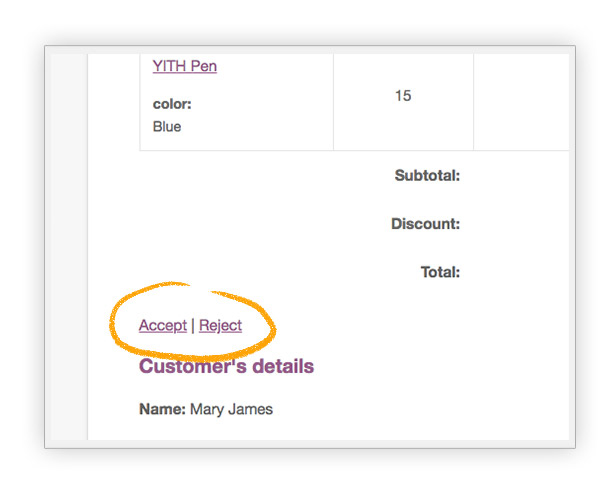 Send your quote offer as a PDF attachment
And/or in email body and choose the form that best fits your professional needs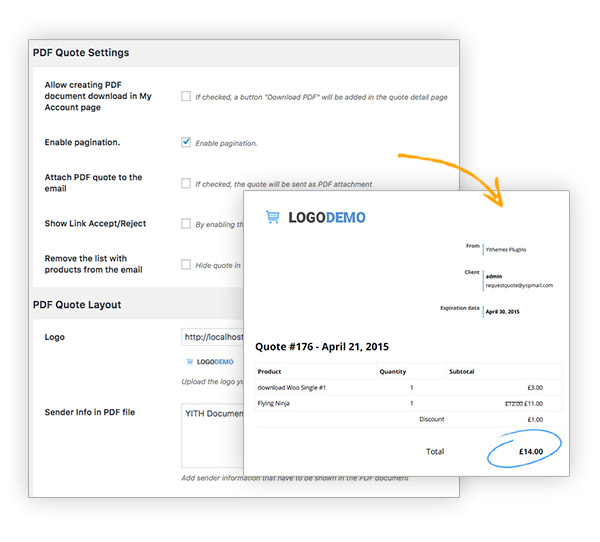 Download the quote PDF
At any time from the 'My account' page as an alternative to the email PDF attachment
Attach files to emails
To make the quote richer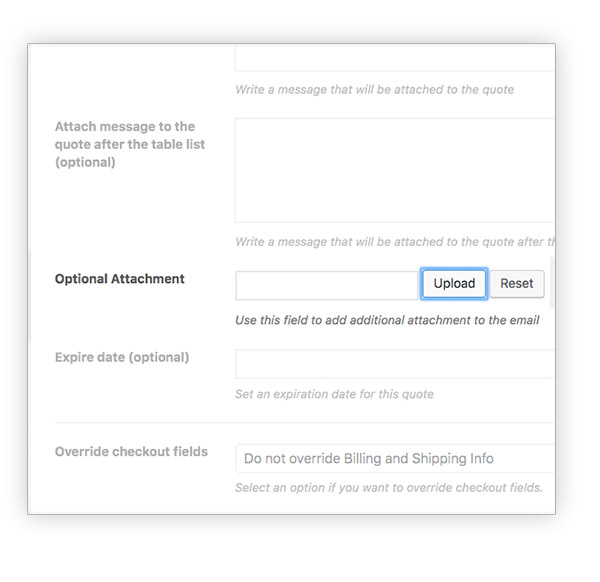 Insert a PDF footer text
Adding useful and appropriate information to the quote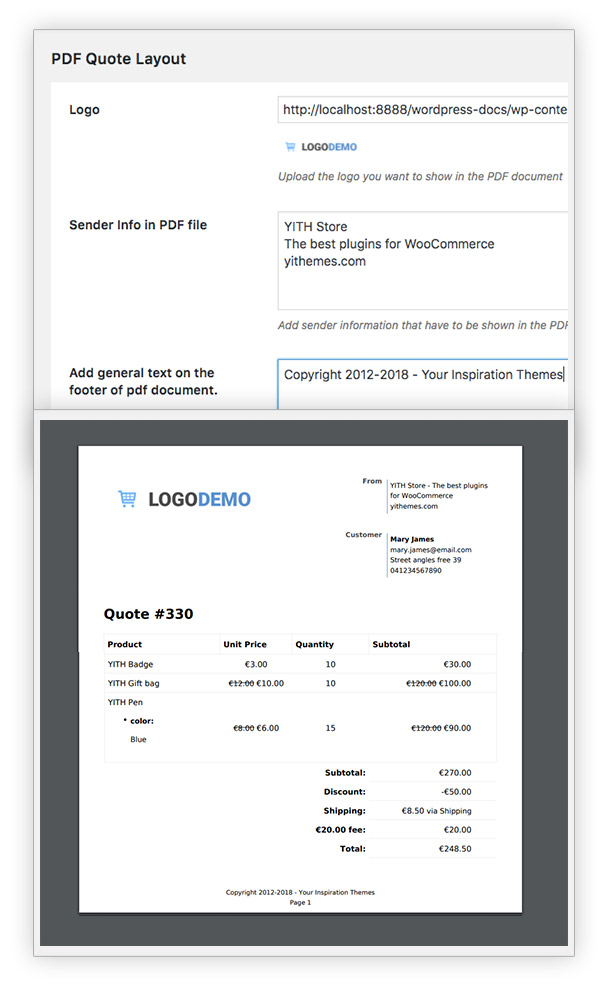 Activate PDF paging
For easy reading without scrolling the page repeatedly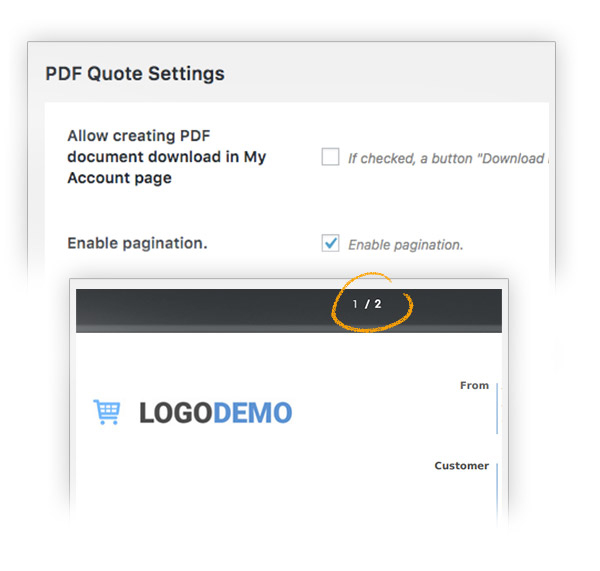 Add extra costs
And shipping costs to create an accurate quote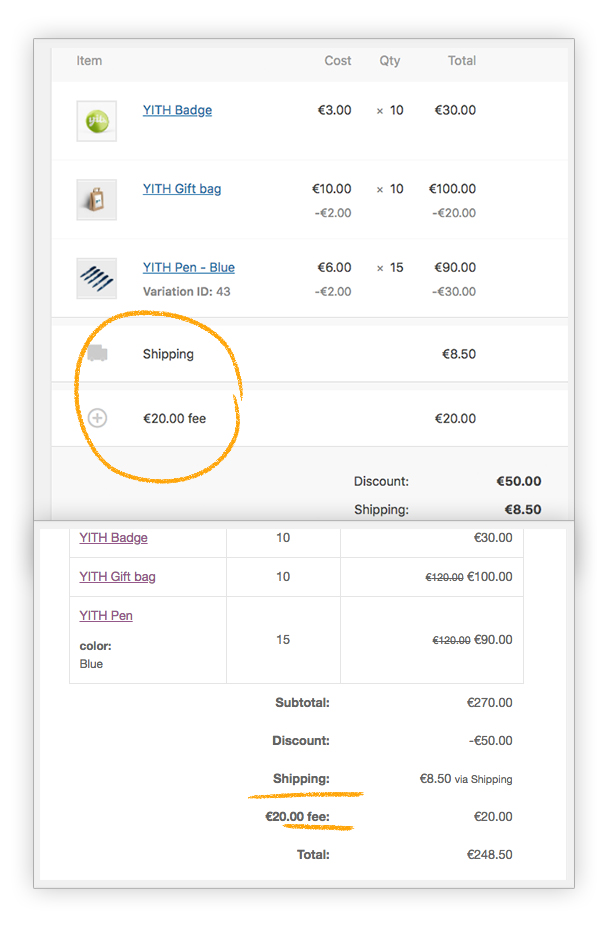 Change prices
Applying special fees without modifying the prices in the shop
Edit the shipping and billing address when creating the quote
Or prevent users from editing them again at the checkout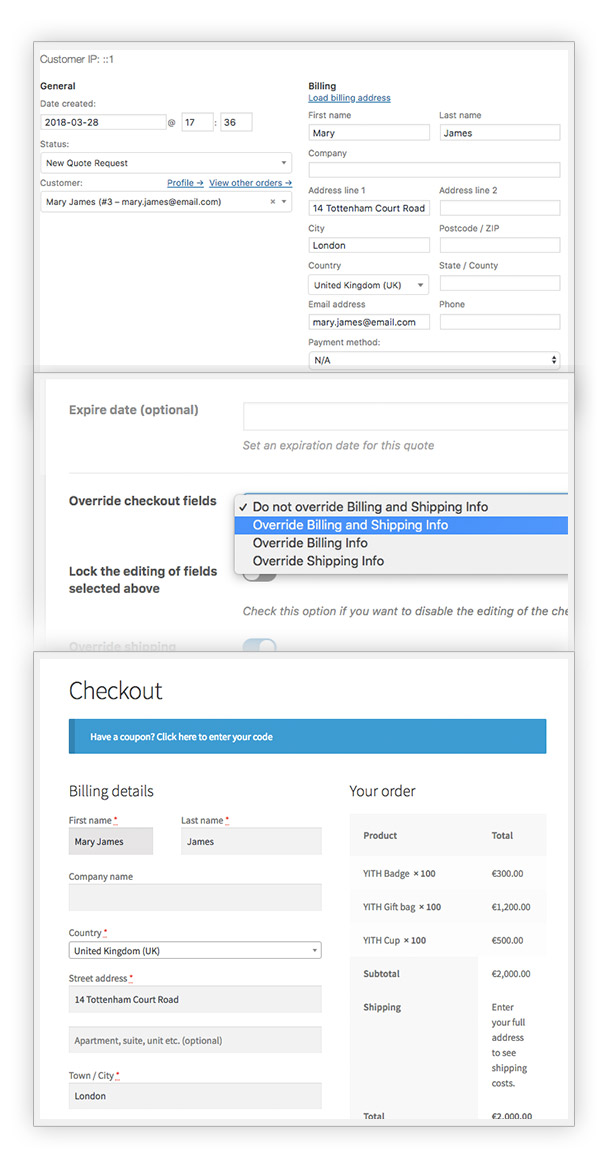 Add shipping fees
Disabling the possibility, at the checkout, to choose a shipping method different from the one specified in the quote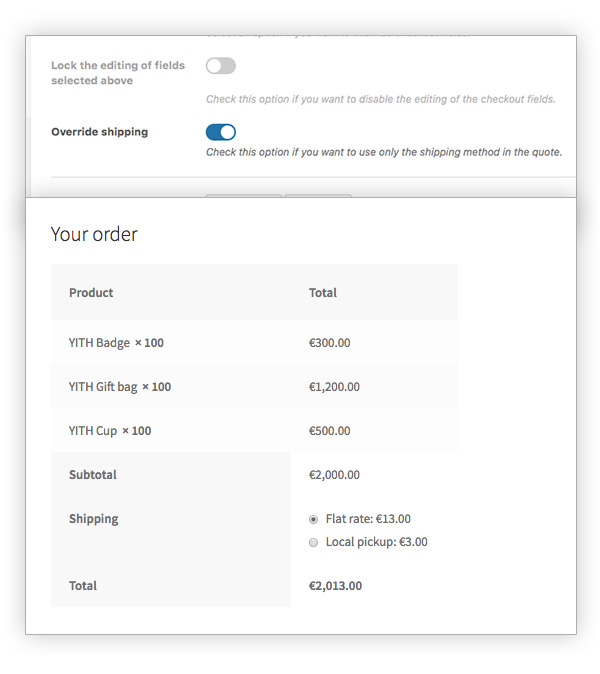 Confirm the request has been correctly received
Or redirect them to a selected page on your site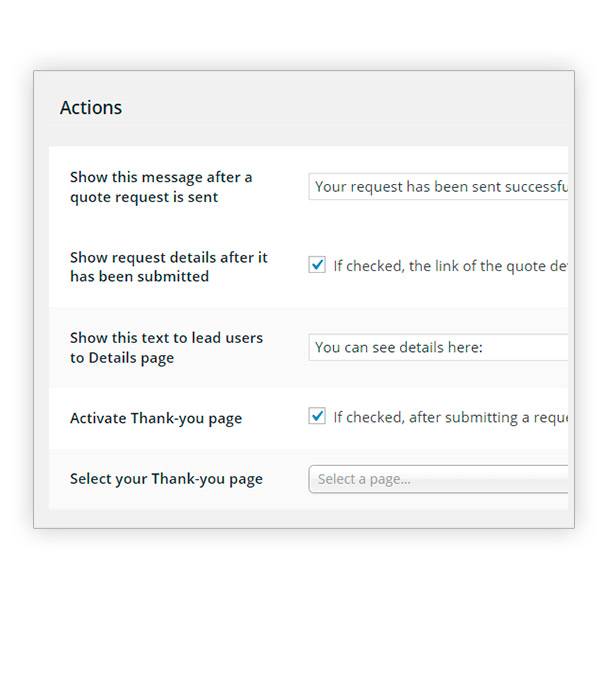 Take users to checkout after accepting the quote
To let them purchase the products at the agreed price in few steps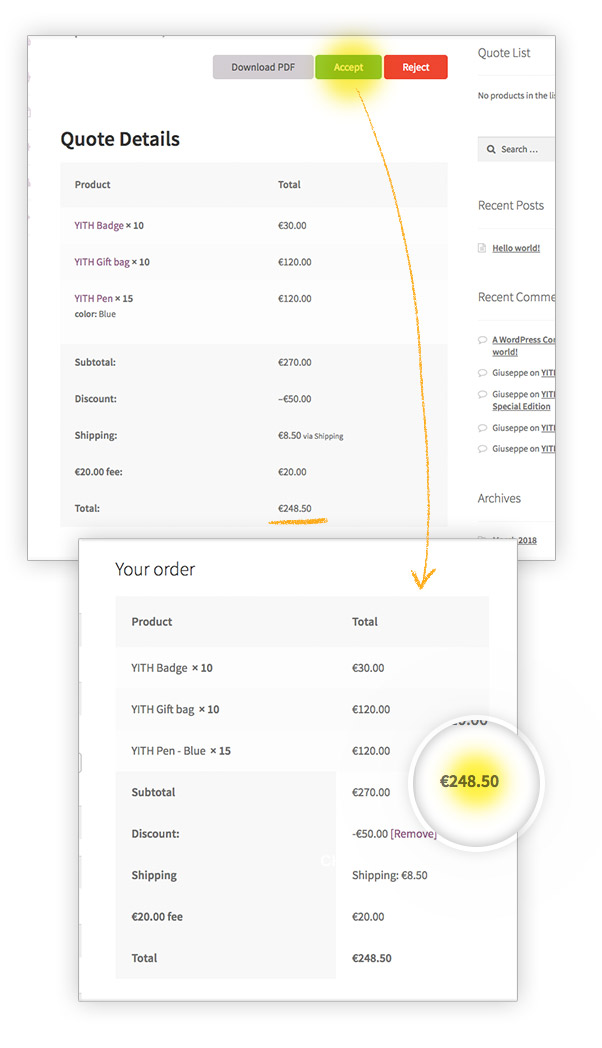 Show request a quote button on checkout page
The customer will be able to change his cart into a quote request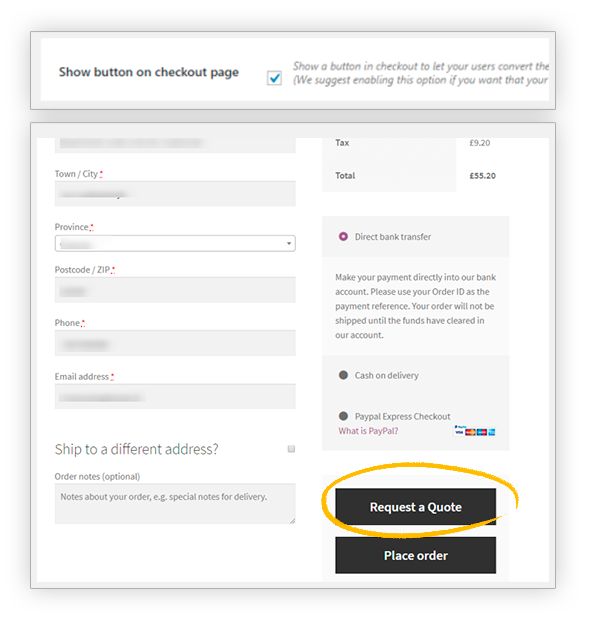 Collect the data you need privately and process the quote
This way, you will be able to forward your offer without necessarily having to invite a user to fill a form on your website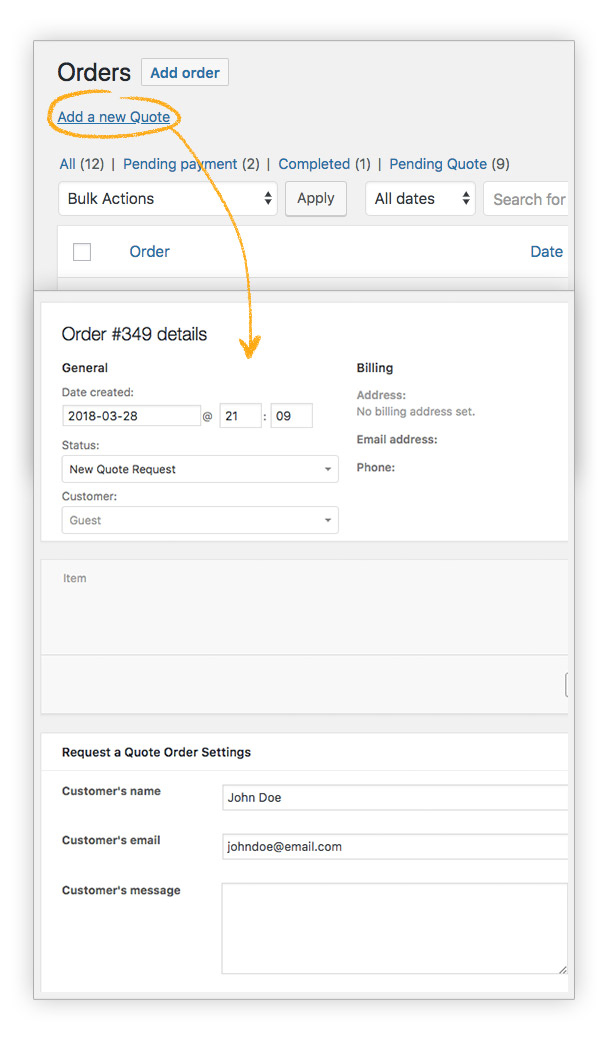 Create the quotes automatically
The system automatically sends a quote calculated on the original price of the products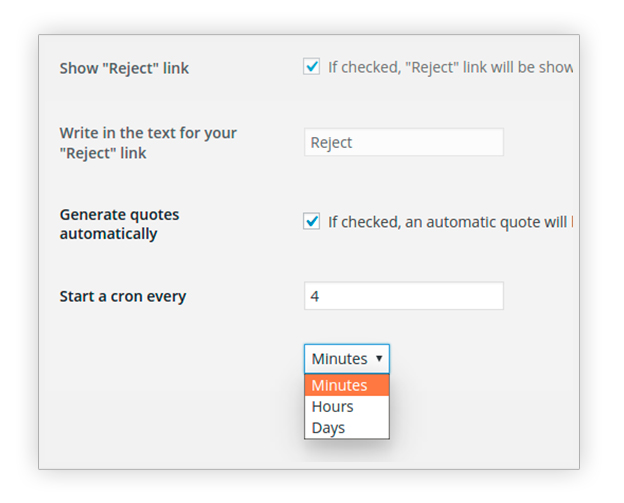 Take advantage of the WPML compatibility
You are free to easily translate the plugin with the powerful WPML tool