Before reading this article, you probably thought: what is AOV? AOV stands for 'Average Order Value,' and it's calculated by your total revenue through your e-commerce website divided by the number of orders.
For example, if your total revenue is $10,000 and you have 100 orders, the AOV is $100.
Marketers often use this value to calculate the cost for marketing per order, return on investment (ROI), and other measurable goals based on promotional activities. So, why does it matter, and how can you increase it?
Apart from the obvious of making more revenue, many shops offer free shipping. To get a higher profit margin per shipped order, you can decrease the shipping costs or increase the value of the order.
Also often overlooked is that it is good customer service to offer complementary or alternative products when shopping. Just like you would expect when visiting a physical store and an assistant is helping you, not everything is visible to a visitor without searching in your store, or worse, going to a competitor's site. The main reason is that if done right, it offers value to the customers. And when they feel they get a good deal, they will come back to buy more and tell friends about their experiences. This seems so straightforward, and it should be, yet most shops don't pay attention to it.
We've come up with three solutions that can help you increase the AOV. Of course, there are many more ways, but these seem to be tried and tested methods that most of the bigger e-commerce stores apply.
Complete the package with Bundling Products
To start with, we create product bundles to offer a complete solution to the customers. One of the most straightforward examples is a camera, skateboard, or a bed in the example screenshot where you select the frame (color and size), the bed base, and a mattress.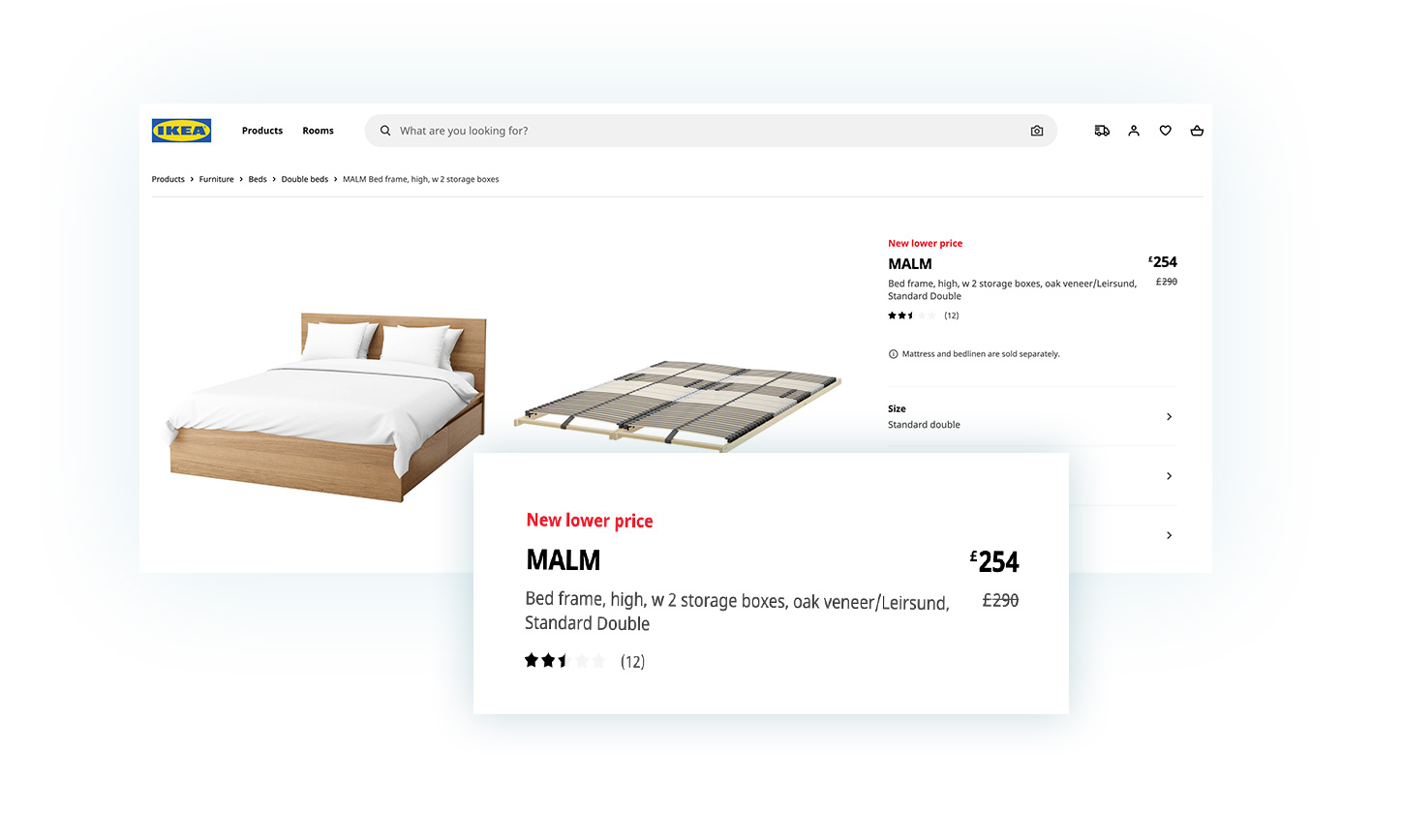 This is probably the easiest way to increase the average order value. Not only do you offer more items to add to the basket in one go, but you can also sell them at a better price compared to when buying them individually. This will give the user a sense of 'getting a good deal.'
But put yourself in the buyer's shoes, and you quickly realize this is also good service. When you go to a physical store, you often see essential products surrounded by additional products to complement this.
Buy a curry sauce, and you will find relishes, poppadoms, side dishes right next to it in the supermarket. This is often supported by a deal like 'Buy any four and get 20% off, for example. Customers often think in 'complete solutions' where everything that you need is included, like 'a new bed to a total room make-over,' and buying a surfboard set, ready to go surfing for the weekend.
You can replicate this on your WooCommerce store quite easily with YITH Product Bundles for WooCommerce. This plugin allows you to create one product consisting of several other simple or variable products to make up one bundle.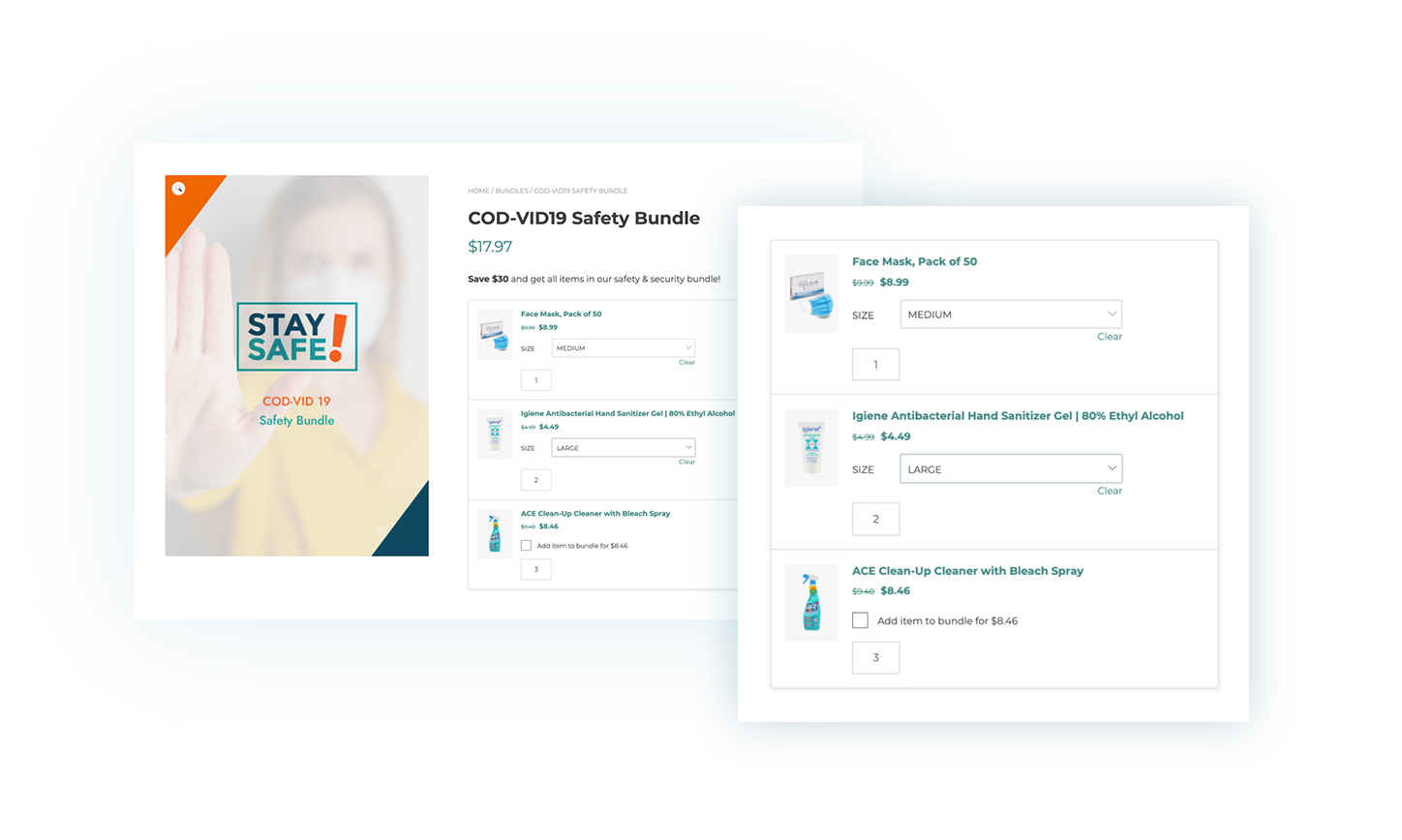 An example of a more complex set up of 3 products with variations
Sometimes, you want to offer different styles, sizes, or colors within the same bundle. Add variations to the product bundle and give more options without navigating to another product. A user can customize the product bundle and see the total (and savings) before adding them to the basket in one action.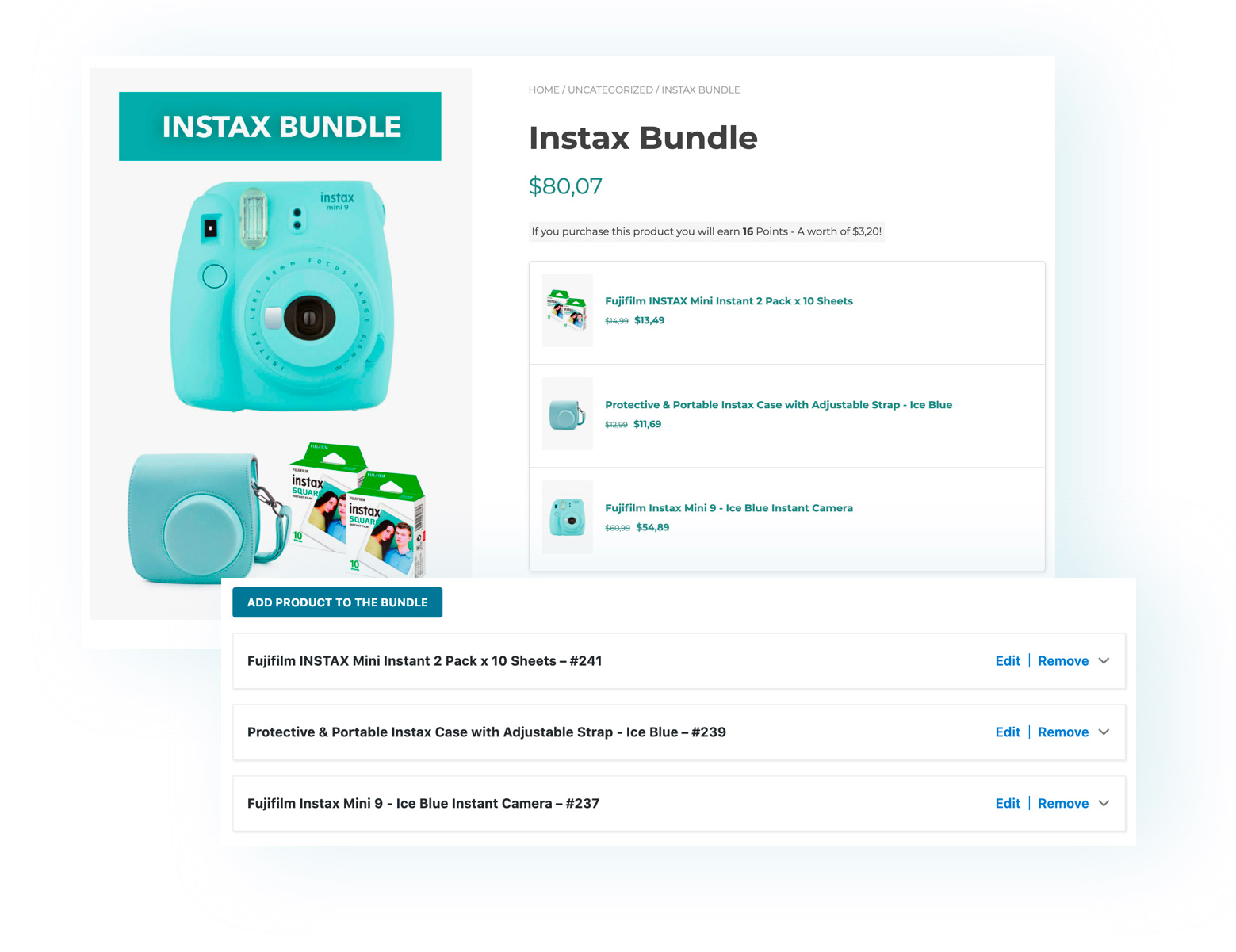 The highest chances of conversion are when you offer a discount that only applies to adding the full bundle to your order. You can even combine it with bonus points that can be used as a reward and create a loyal customer – for this, you need to have YITH WooCommerce Point and Rewards activated.
The options of creating bundles are limitless – consider them as a landing page or create a separate menu item to direct customers to these saving bundles. For products that can complement another product without making this part of a bundle, you can utilize 'frequently bought together'.
Suggestive selling showing Frequently Bought Together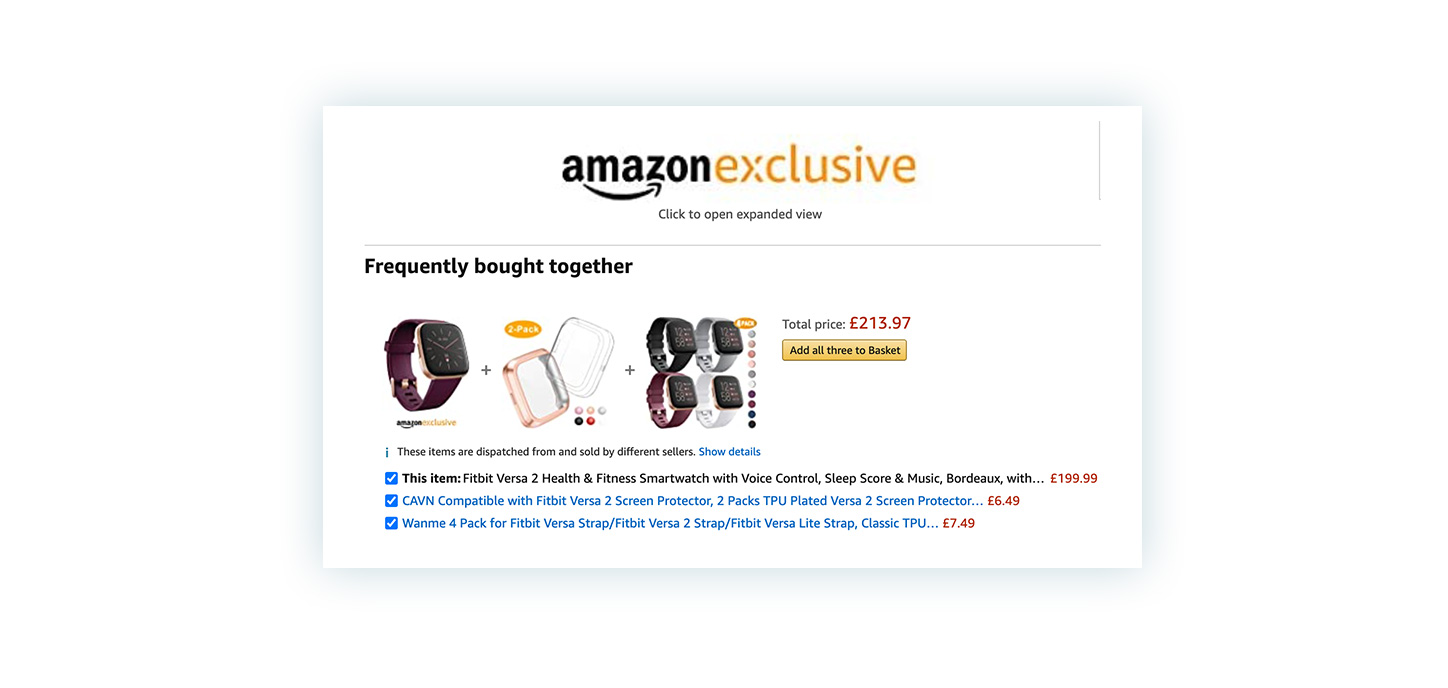 Probably the best-known example is shown here from Amazon 
You can utilize ' frequently bought together' to also show what other users bought when they purchased this product. Still, it can also help navigate and suggest alternative or complementary products. Not everyone is familiar with your product range, and many items just don't get the same exposure or ranking on Google as others. As standard, the shop's catalog is arranged by 'date listed,' or a user can change this by lowest price first, etc. So without changing the menu order, publishing date, the older products will get less exposure over time.
Creating a section on your product page and share complementary products makes total sense. With the flexibility of YITH WooCommerce Frequently Bought Together, you can take advantage of many features like setting your own rules to suggest products, 'add all to cart,' adding a discount when purchased together, and many more.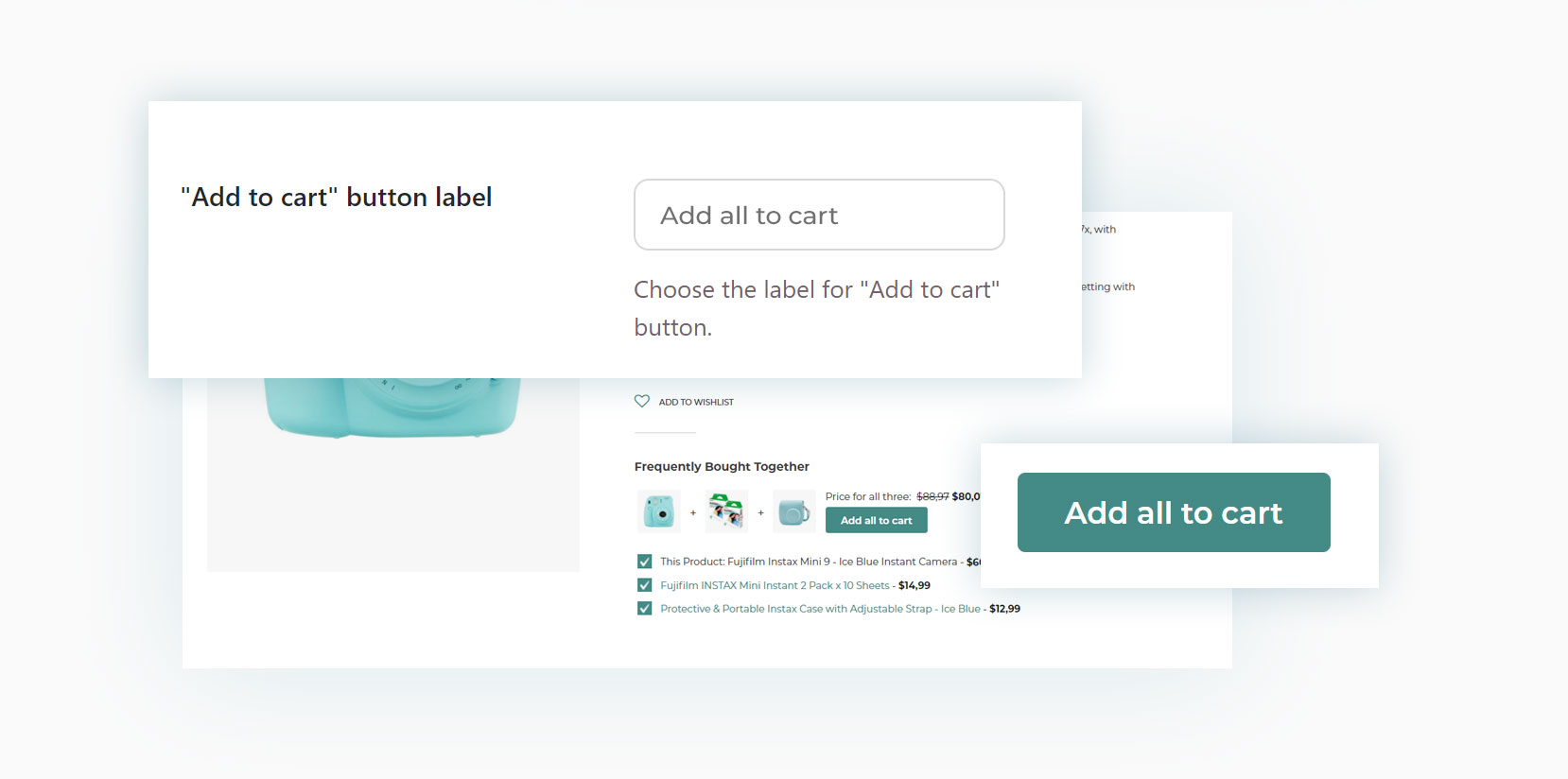 One of the options: 'add a discount rule to encourage buying all three products at once.
We had discussed two ways to sell more products than what the user most likely wanted to buy in the first place when they Googled 'Fujifilm Instax.' We've tempted them to buy a cover and some films. Instead of the order value is $54,89, we have raised this to $80,07—an increase in AOV of almost 60%.
But there are more ways to encourage the user to buy more and dynamic pricing offers the flexibility to set up any type of pricing incentive.
Offer a better price when buying more, using Dynamic Pricing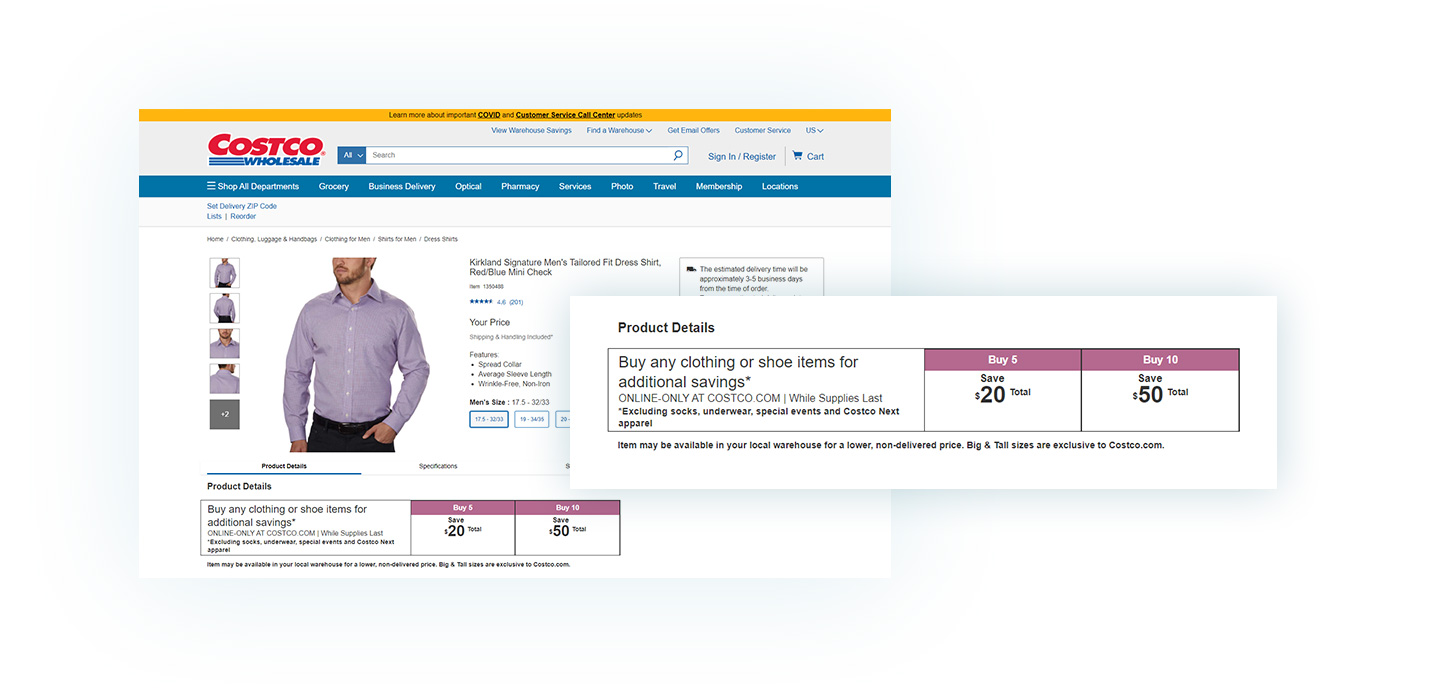 Buy one get one free, buy five and save $20, 'free shipping,' and so on… research has shown that when using specific keywords like 'free,' 'save' or 'discount' this will get your attention, and the ability to reason quickly leaves you. Everyone wants to feel they are getting a good deal and possibly a bargain. Using this psychological phenomenon is something most more prominent retailers use all the time to drive up sales. Knowing this, why not copy this and apply this to your store? It is straightforward to implement, and once you've set the rules and promotions, you can see your revenue increase.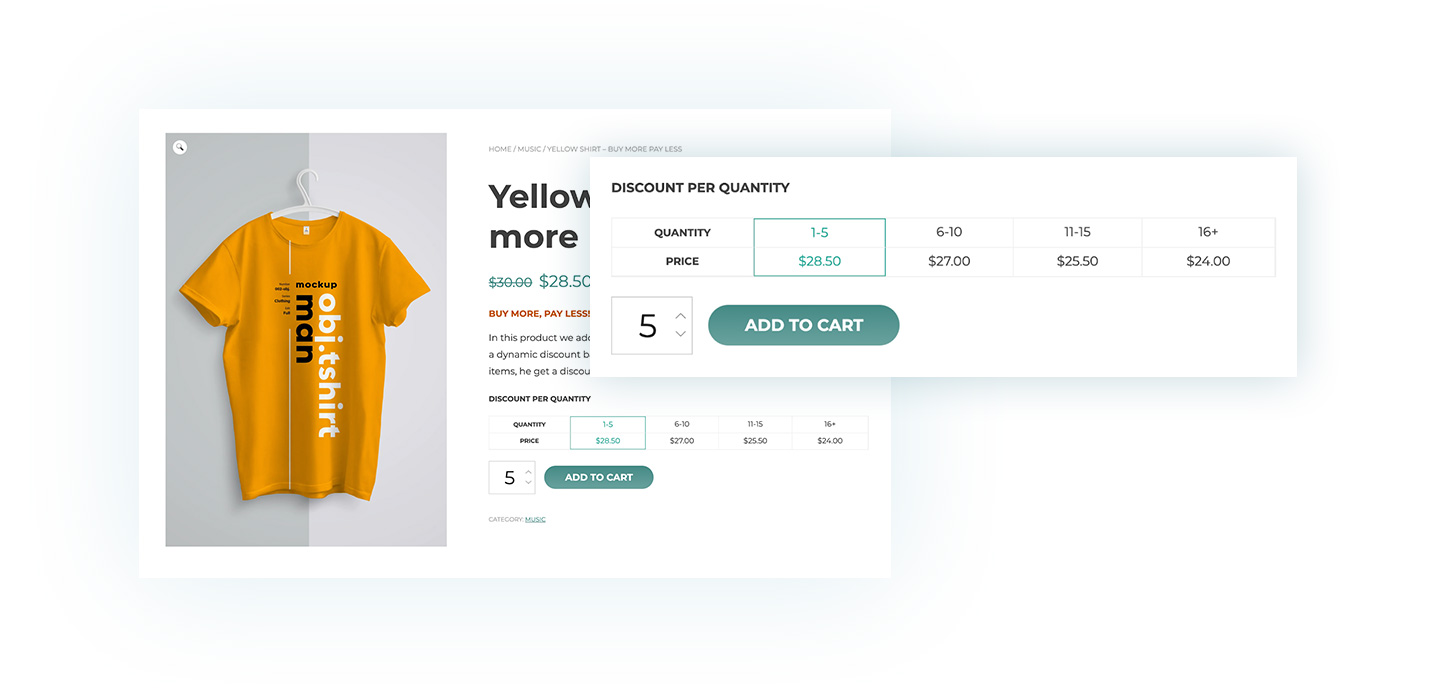 As shown in the example, the plugin allows you to set different pricing rules and offer a discount based on the quantity bought. This can help convince your users to buy one more to qualify for the extra discount.
You can also set different pricing discounts for members as described in this blog post about Prime Service like Amazon.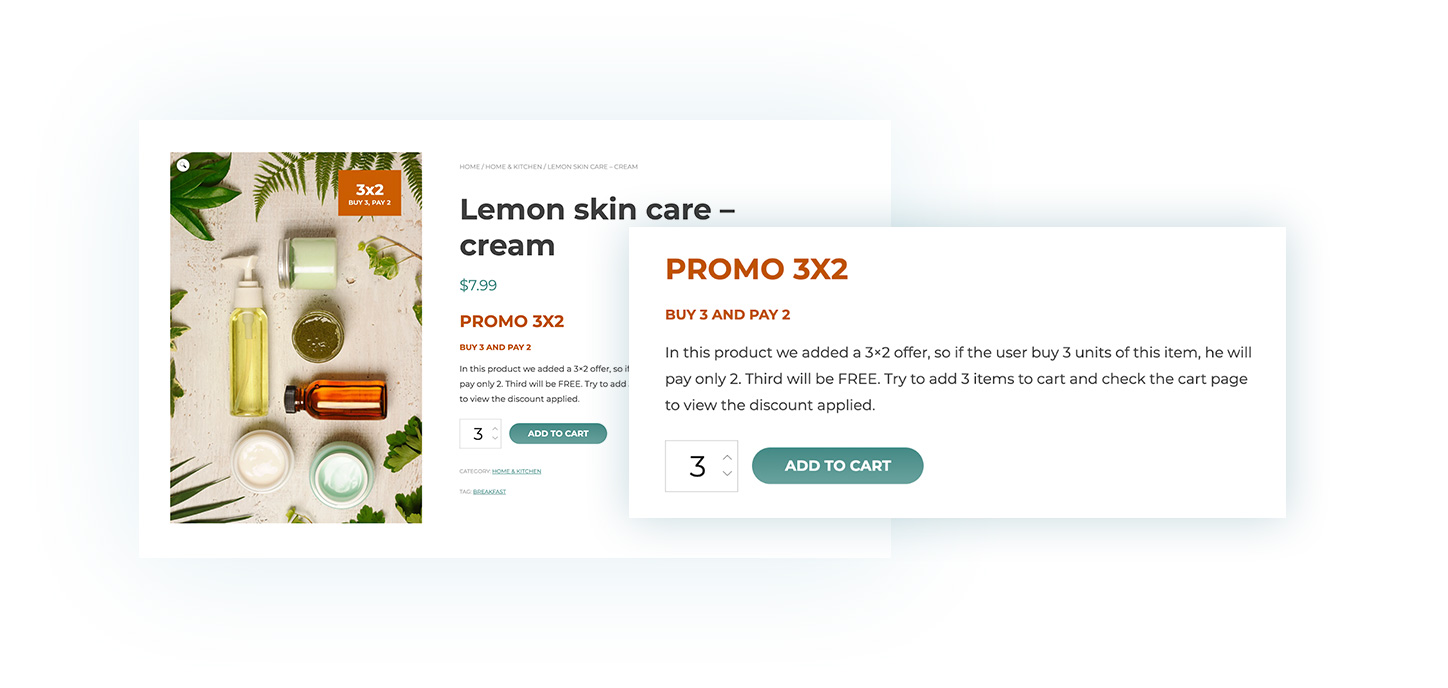 This is an example of how you can be more creative in offering promotions and increasing your spending.
Next time you visit your local supermarket, look at the number of similar promotions and deals to increase the number of items in your shopping basket. No doubt you can learn a few tricks and apply these to your WooCommerce Store.
How do you measure success and increasing AOV?
Assuming you have connected Google Analytics and also e-commerce tracking, this is remarkably easy to do.
Go to: Google Analytics > Conversion > Ecommerce > Overview and select a comparable time period.
When comparing a set period, make sure you keep seasonal trends in mind or variations like the number of weekends in that period.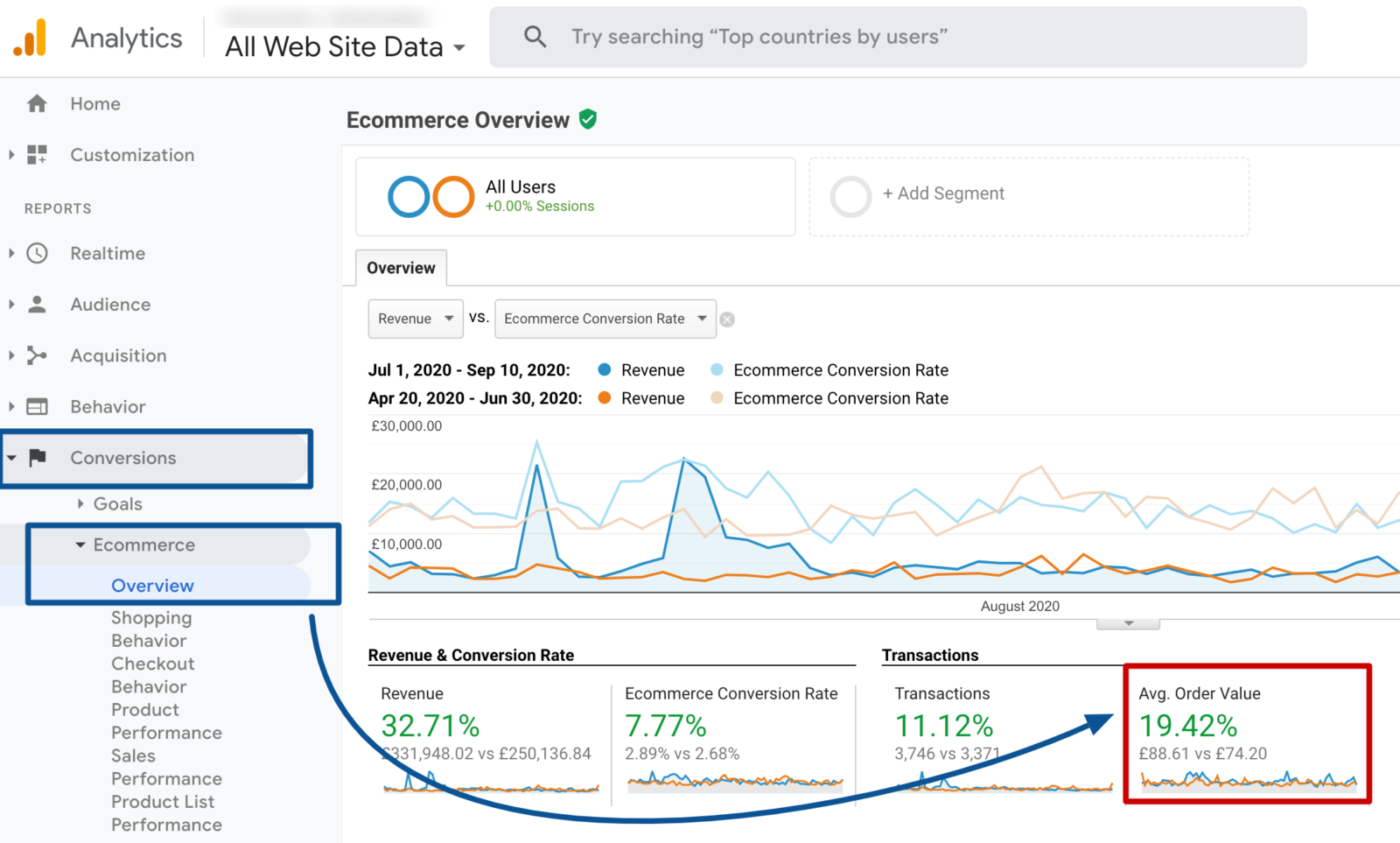 Do you want to level up your WooCommerce store with YITH?
Undoubtedly, investing some time in implementing the solutions as suggested to increase AOV will be one of the best and most straightforward investments you can make in your business. Why not make use of YITH's compatibility and use all three plugins and transform your website?
Documentation and Resources
If you want to know our YITH WooCommerce Product Bundles, click here. You can find its documentation and live demo. 
The same for YITH WooCommerce Frequently Bought Together: visit its documentation and live demo. 
And also, if you want to read more information about YITH WooCommerce Dynamic Pricing and Discounts, check the documentation and also test it in our live demo.
Remember that one in the live demo you can access the admin demo by clicking on the green button on the top right 'Launch admin demo'.