Keep Calm and Clear your Cache
This was not just a WordCamp it was a WordCamp multiplied by three… London, Madrid and Turin all supporting #yithevents… But there was an added connection, which was the hashtag that linked us all – #keepcalmandclearcache. The t-shirts, with the motto printed on, that we gave to our new and existing customers went down a storm.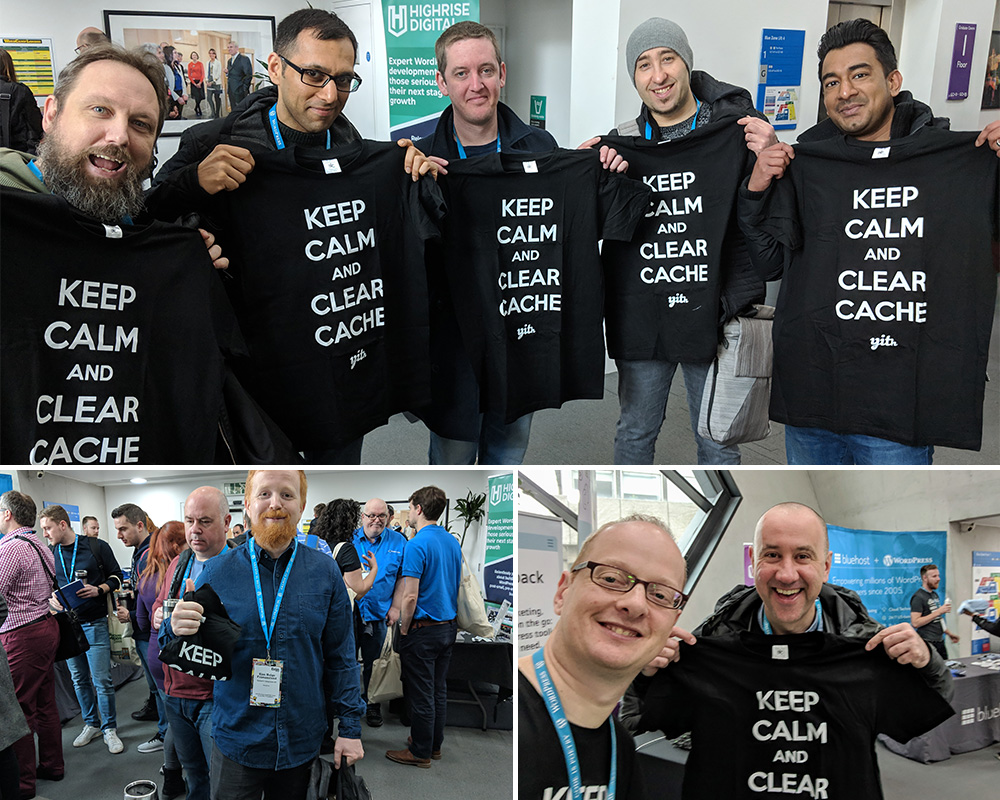 I had the immense pleasure to represent YITH in London and it was my third time attending London WordCamp. Also, two years ago was the first time that I met up with Ausilia and Alberto. Read about it here > The event still has the same excitement and buzz as every year with this year's theme around the London markets. It would also be the first time I was going to give a full-length talk at a WordCamp.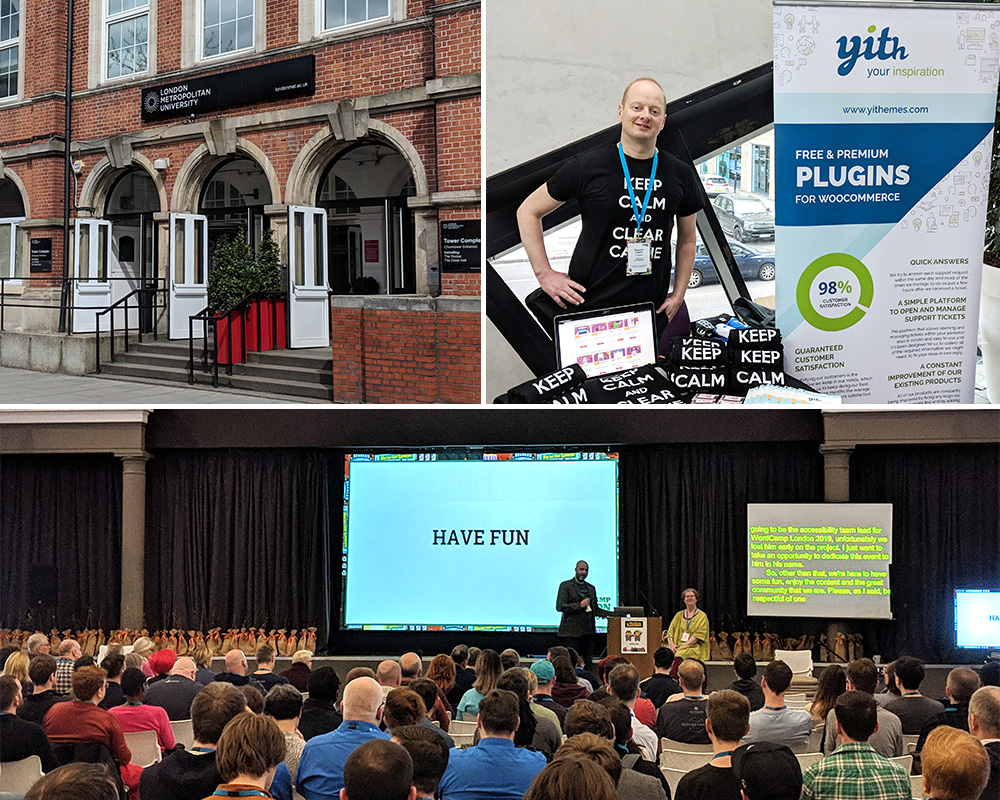 Day one – Saturday 6 April 2019
An early 6:30 start meant that I could take my time in setting up the YITH sponsor table in the graduate centre at the Metropolitan University. I was not the first to arrive, as the organisers were in full swing putting up posters and setting up the registration desk. What a commitment from the organising team, as I found out some were still setting up and testing the video streams at 1 am that morning! Coffee was my next thing to sort out at this time of the day. This year's swag included a water bottle and a reusable insulated coffee cup. A really nice thing as everyone is much more conscious about the environment and sustainability.
The next three hours went by very quickly and before I realised I was surrounded by WordCamp attendees asking questions, collecting swag including the hottest item at the event, the 'Keep Calm and Clear Cache' t-shirt.
I was pleasantly surprised by the number of existing customers coming over and simply saying: 'I use a couple of your plugins and they are great and easy to use'. That is just so lovely to hear, but I do admit I was also enjoying the more challenging questions… like for example: 'what should I use to have a video playing in the gallery of product images?'
The day passed very quickly and I soon found myself in the 'rocket'. This part of the building is were the bar and track A is located. With a couple of hours to spare, I met up with some old friends and chatted over a few beverages. The main conference room was changed over to accommodate the hundreds of attendees soon to enjoy a delicious filled baked potato with various types of chillies. After dinner, the beers were calling though I chose to get back to the hotel for a good night sleep as the next day would be a big one…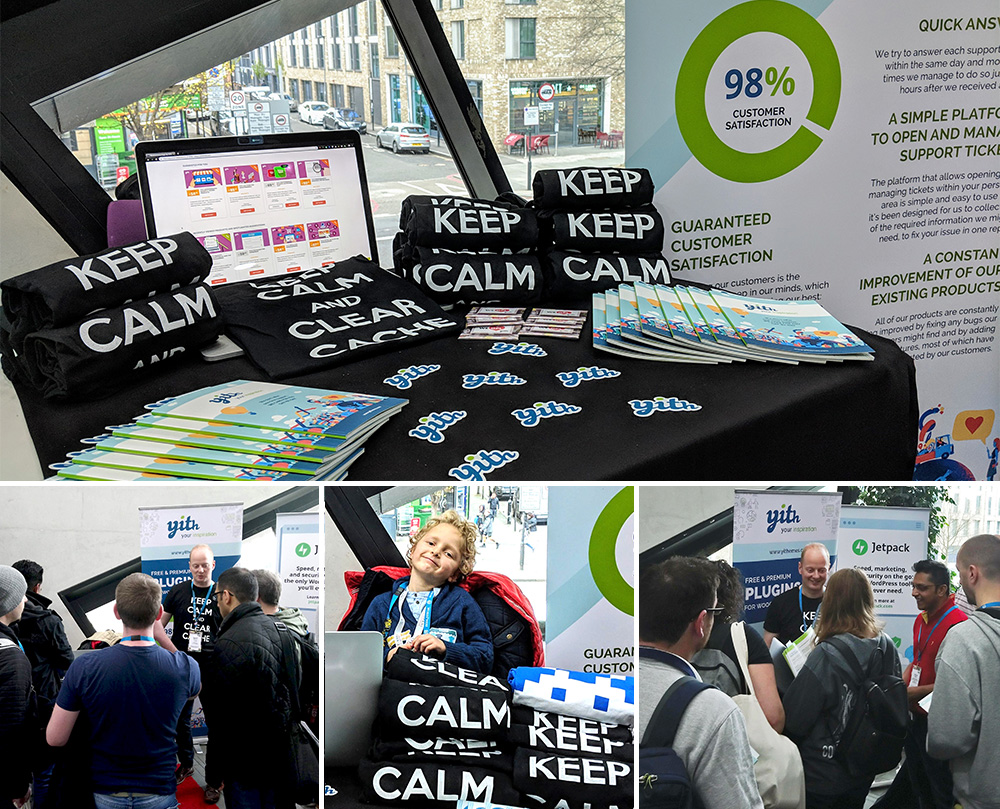 Day two – Sunday 7 April 2019
Good Morning London! It was a nice and quiet early start but I had some revision to do. Before I tucked into a full English breakfast, I went over my talk, again. I love early mornings in a busy city as you see everyone setting up and travelling to start a new day of work or pleasure. My first priority was to get myself sorted in track B for my talk: 'Are you ready to publish? The afterlife…' I was talking about the value of blogs and news for small and medium businesses and that you should consider whether your efforts actually pay off. In the complex world of SEO, publishing, analytics and setting up goals, there is so much to consider. My main aim was to set off a spark to those that attended.
I received amazing feedback from those in the room the ones outside, including from Team Yoast and even those who watched the live stream from the hotel room… it was Sunday morning after all.
My helpers took charge of the YITH sponsor table and I was delighted to see a small crowd gathering around it again… While other talks were taking place I managed to finally chat to some of the other sponsors in my area. Team Yoast, A2 Hosting, Weglot, Jupiter X, WooCommerce, Jetpack, Bluehost and WP&UP (a mental health charity dedicated to WordPress users) It is such a great community and we all supported each other over the two days whether it was to get some coffee or take turns going for lunch or just general feeling great being here and doing what we do.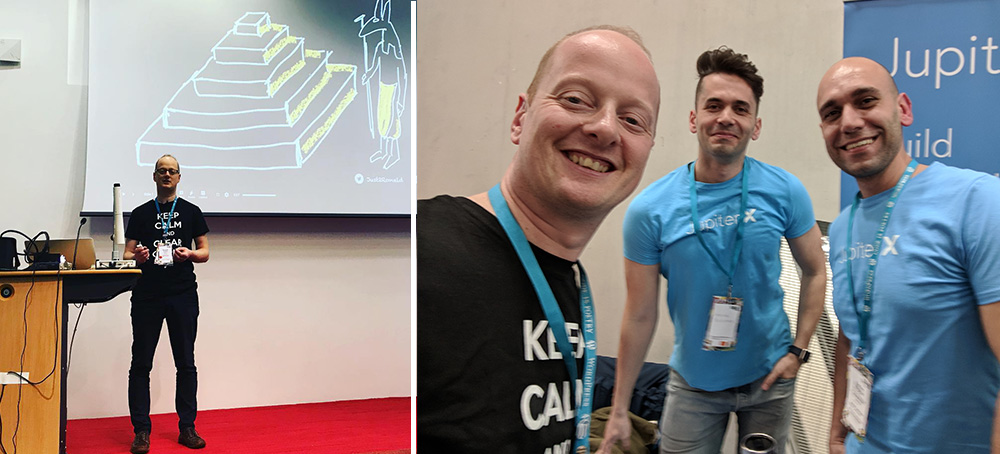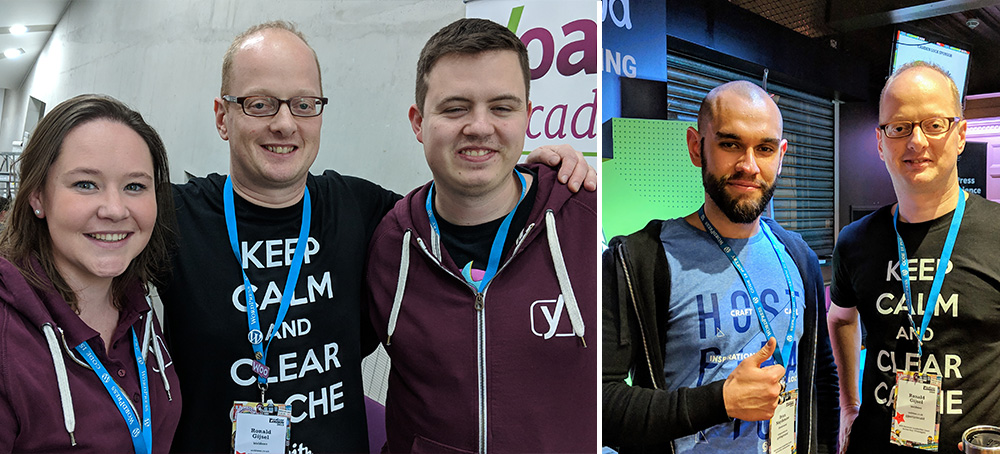 The afterthoughts
Organising a WordCamp is one of the most rewarding things to do but it really takes a lot of time and energy. I, myself am in the process of organising the second Bristol WordCamp and YITH will soon announce more details on a WordCamp in Catania. I want to thank each individual organiser, volunteer, university staff member, caterer for their efforts to make this a super exciting and smoothly run event. Dan Maby and Barbara Saul, in particular, deserve a special mention. They were the leads for this year's WordCamp London and at the closing remarks, there was already talk about 2020…. I mean, what energy these two have and how truly inspiring to the rest of the WordPress community.
For YITH it has been very humbling too, to have taken part again in this event. But most importantly it is because of you, our supporters, users, club members that we love what we are doing. Thank you for coming over to see us and just one last thing… 'Keep Calm and Clear your Cache'

Where to see us next?
Our next WordCamps will be in:
Ronald Gijsel