The free version of this theme is no longer available
Kids are an important target in the advertisement world and market. Products related to children's world are definitely growing and if you have such business you absolutely need to make your presence online visible and, obviously, with a great design up-to-date with the current web design trends.
YIThemes has worked for you: here you can find our new ecommerce theme, Kidshop.
Kidshop is a clean and minimal WordPress shop theme, realized with a high quality responsive design. It uses a powerful plugin, WooCommerce, which enables the creation of a versatile and rich Wordpress ecommerce, with several layout options and a lot of features to customize your shop following your needs.
Toys, clothes, playmats and floor gyms are waiting to be presented and inserted in your new shop! With Kidshop, realizing your website has never been so easy!
Start now and download it immediately!
GENERAL SPECIFICATIONS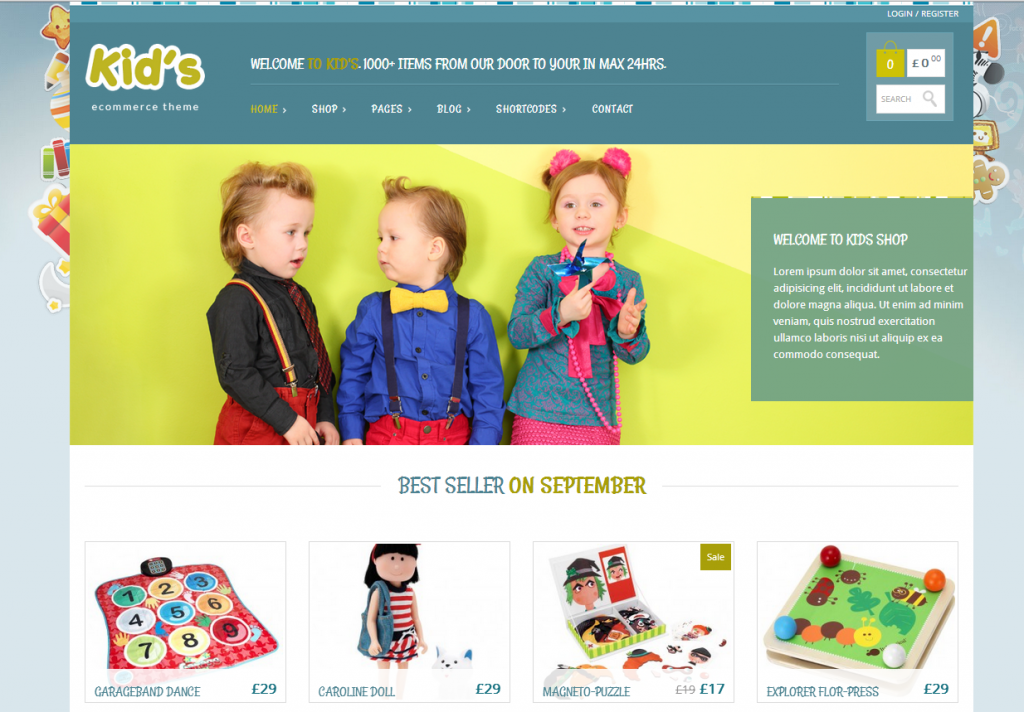 Do you want to have more info about our brand new theme? Here we are to update you about Kidshop.
The first question you will pose, if you're not a webdesigner or developer is: How can I set the theme to customize it following my business needs? Easy answer.
You can use our videotutorials to set the theme and to modify it according to your ideas and design. Watching the videotutorials you can discover how to set each page of the theme step by step.
If you've problems with the theme, to set some theme's features or if you find some bugs which require to be fixed, don't worry! We provide free support for our themes: you can open a ticket on our support platform and ask help to our developers.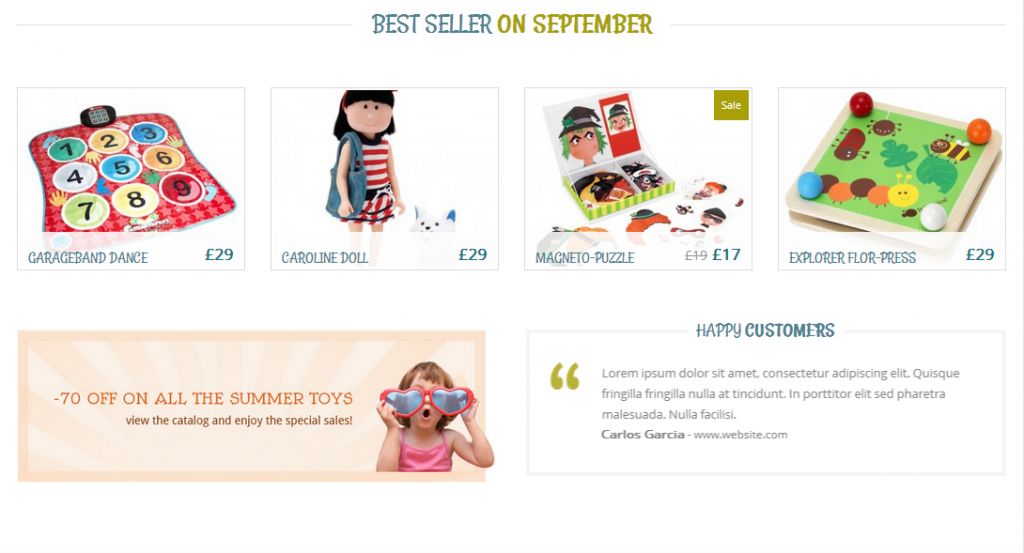 PREMIUM FEATURES
If you purchase the premium version of Kidshop, the amazing features of the basic theme will be enriched by lots of other important features, starting from an extensive theme option panel. With it, you are given complete control over your theme and its settings, and you have the chance to modify it completely, according to your needs.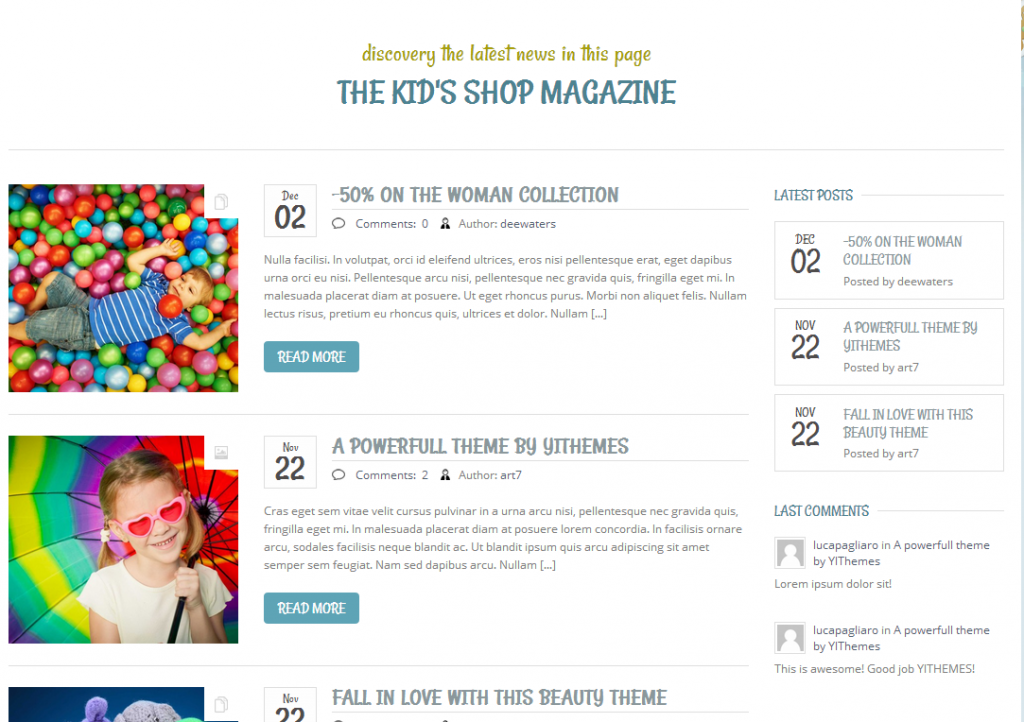 STYLE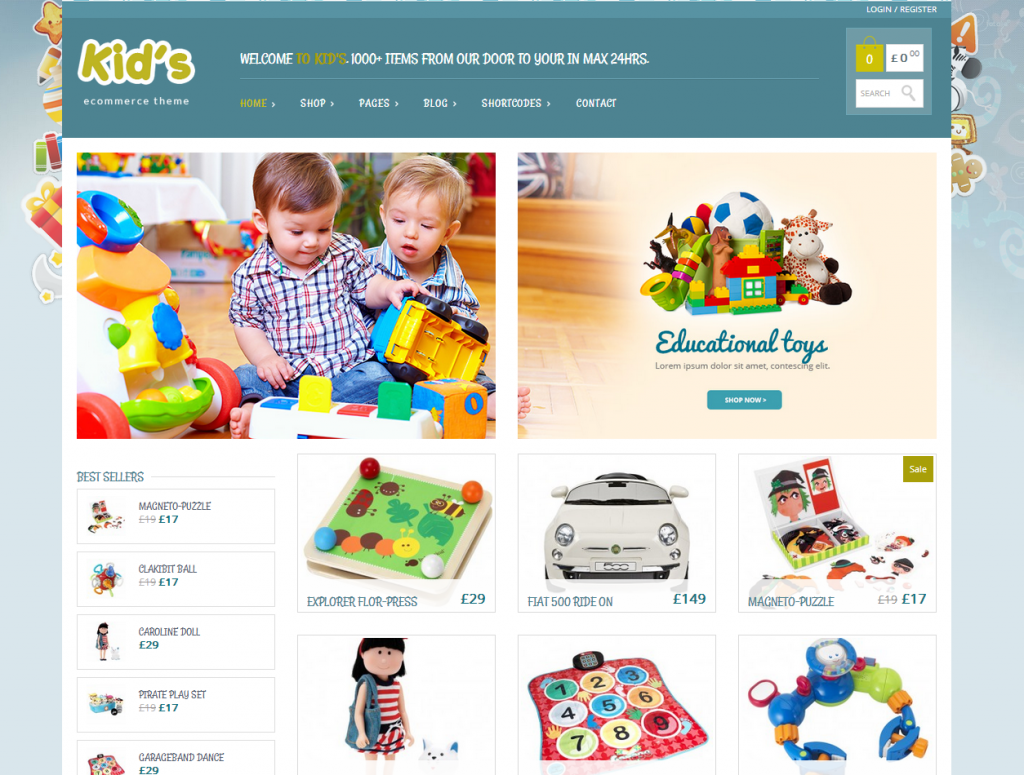 With the premium version of Kidshop, you have at your disposal two different slider types, Rotating and Flexislider, and three portfolio layouts, to customize your pages and home page and to display your product and services as you want. Colors are completely editable, In the premium version of the theme you can easily edit the colors of all the sections and elements like text, links, slogan and so on.
PRODUCT PAGE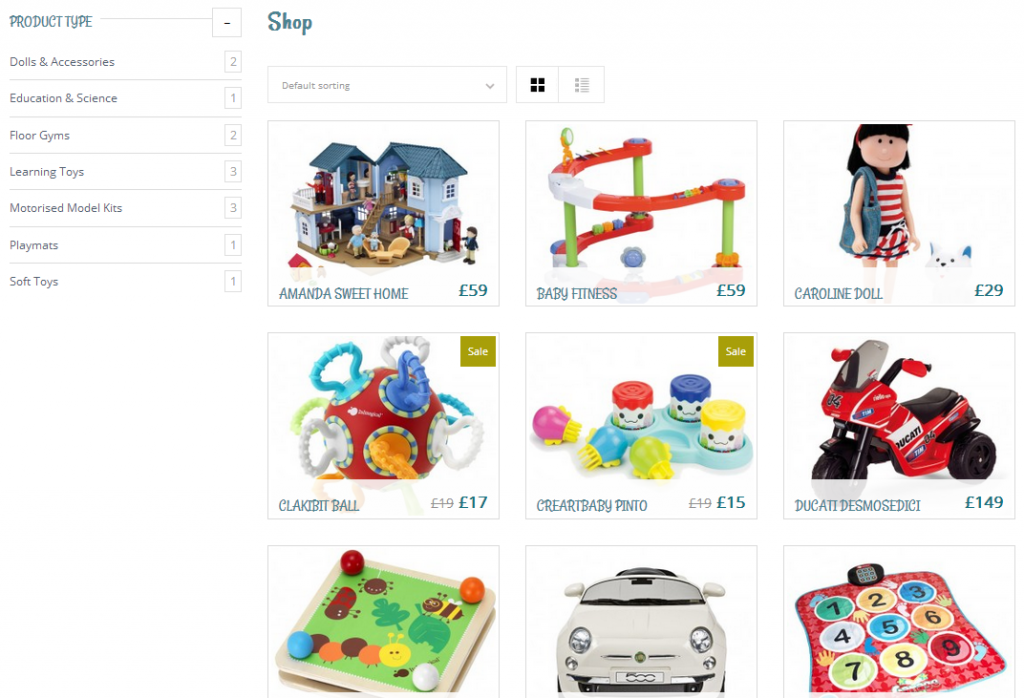 Presenting at the best your products, highlighting all the features and information about it, is the key role of an ecommerce website.
With our Kidshop Wordpress theme, you can easily set the product pages of your website to show all the information related to them.
You can decide to show your products according to a grid or list view, choosing your favorite layout to display your items.
You can add more tabs in the product detail page to add more features and information about your products. Users can compare several products of your shop in a single table and you can add an enquiry form for each product detail page.

In the premium version of Kidshop, you can set the Wishlist feature, thanks to which users can add their favorite products to their own wishlist.
With premium version you can have a new checkout layout with a multistep feature and you can choose the layout for the product list in the shop page.
To perfectly show the item of the product page, you can profit of the Zoom Product image, a feature to add images of the products on the product detail page.
And, if you have some special offer dedicated to your clients, you can signal them through a popup window where users can even subscribe to your newsletter system, if you have one, another special feature of the premium version of Kidshop.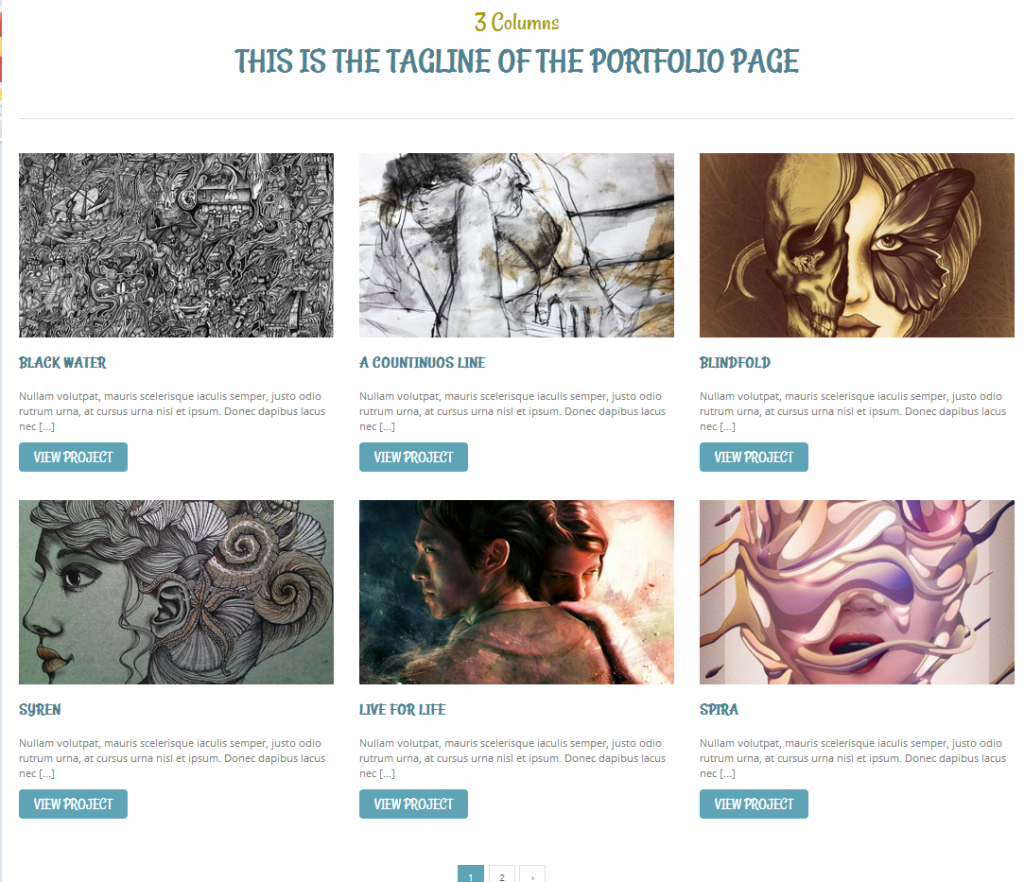 SAMPLE DATA
With a simple click you can import our demo files, so your theme will appear exactly like the theme preview. And remember that if you need any help, you can contact our support team and ask support.
CONCLUSION
Everybody knows that kids are demanding. You have to capture their attention and feelings to make them happy.
And if you want to conquer them, you have to conquer their parents too. The best way to do so is using Kidshop, to create your responsive website, with a captivating and high quality graphic design.
Download it now.
The free version of this theme is no longer available