You don't need a lot of experience to become very good at what you do. You just need training, a willingness to learn, good colleagues, a great opportunity and, let's not lie, a bit of luck. This is what happened with our November crew member: Giuseppe Arcifa.
Many of us call this little developer 'Peppe', and others 'Peppe Junior' (we already have Giuseppe Madaudo as 'Peppe Senior'). Giuseppe came to YITH just one month after graduating in 2020 to become the youngest member of the company. In fact, this is his first full-time job in an IT company and, although many do not know it, being part of YITH was his goal since he started his university studies.
Despite his short experience and that he barely knew what WordPress was, after 5 months of training he started working on a project he is especially proud of: YITH Multi Currency Switcher for WooCommerce, the first of many plugins he will work on. And we say many plugins because he is already taking care of the version 2.0 of another one of them: YITH WooCommerce Badge Management. You will hear news about this plugin veeeeery soon.
These led him to face challenges he had never faced before.
The most stressful part of the project is for sure the release one, made up of coordinating different activities like last tests and fixes, documentation, and translation.
But it was finally published in April, after months of mistakes and lessons learned. Most of these, as Giuseppe rightly says, "was learned from my colleagues who are always available and ready to help".
The lesson that I learned is that in those moments when you are overloaded with work you have to stop for a moment and understand what to focus on, and completing them one by one you will come out sooner than you expected!
In fact, Giuseppe's relationship with his colleagues has been fantastic from the first moment.
The relationship with colleagues is fantastic, productive and welcoming . Everyone is kind and open to opinions and suggestions. […] YITH for me is a family that welcomed me by believing in me, seeing my potential and gave me the opportunity to express it.
And a calm atmosphere is very important when you work with clients, a situation that can be very stressful.
The experience of working with demanding clients sometimes may seem stressful but this motivates us every day to give our best!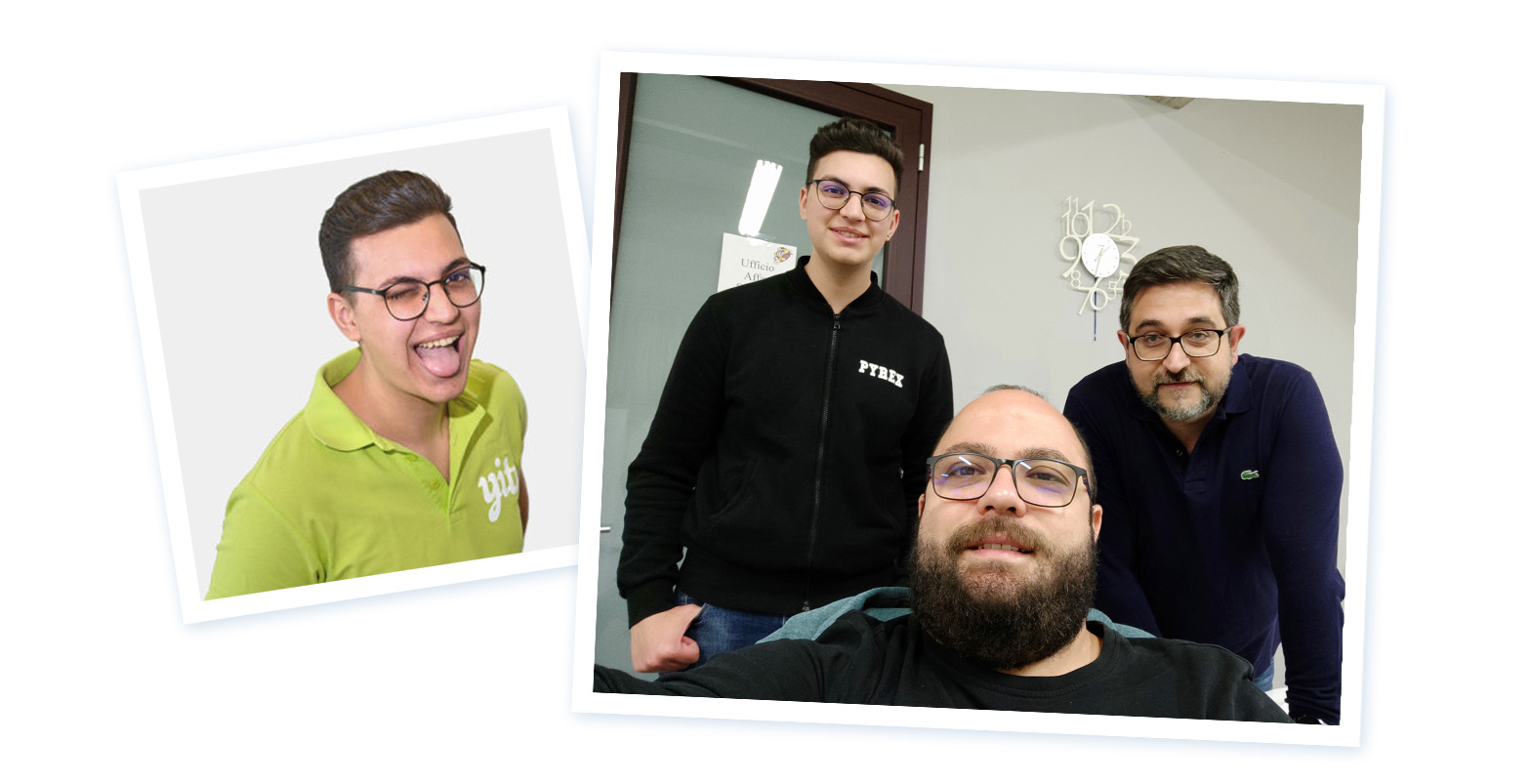 Giuseppe was born in Catania, Italy, at the origin of YITH. And although he has always lived there, he wants to move as soon as possible to get to know new cultures and environments. But first, he has to finish the studies he started after finishing his degree in computer science.
Yes: in 24 hours he must work, study and take some time to live with his head at ease, or just live. It is a very big sacrifice of which he should feel very proud, as YITH does. And even if he doesn't have much free time, he takes advantage of it to dedicate time to his hobbies.
In addition to work and studying, I still have time to go to the gym to keep fit, or to do my favorite activity: watching movies and TV series!
His hobbies, the little things and being appreciated for what he does make him really happy. In fact, if he had to choose three things he needs in his life it would be his friends, Internet connection and a laptop. As you can imagine, the things he likes most in life are closely linked to technology and his friends.
If I had a time machine and could go to the past or the future, it would be clear to me: the future! I really like technology and innovation, so I'm curious to know how far we'll arrive 🙂
But first, would love to know if he could fulfill one of your dreams:
In the future I'd like to start my own business, most likely in the IT industry. I'd like to get involved.
As you have been able to read in this short description that helps you to get closer to our young developer, Giuseppe is a great example of perseverance, will to learn and improvement everyday. That's why he is very clear about the advice he would give to anyone.
If you never stop learning and growing, and focus on your passions and what makes you happy, trust me that you will become unstoppable.
And it is precisely along these lines that his greatest ambition lies:
I want to become one of the best in what I do, the programming is not just a job for me but a passion!
Find more information about our team, and about YITH Multi Currency Switcher for WooCommerce. If you want to contact Giuseppe, you can do it via Twitter @_GiuseppeArcifa.