One of the most frequently searched topics on the Internet is undoubtedly how to make money online. The Internet has expanded the scope of possibilities in all areas of our lives, such as entertainment and accessing information. This leads us to question whether it is feasible to earn money online as a supplement or alternative to traditional work.
There are many ways one can generate income online, but they are often misunderstood or overestimated in terms of the necessary effort and potential earnings. A well-established method of earning money nowadays is affiliate marketing, and it is used by millions across the globe.
In this article, we will delve into the details of affiliate marketing, including its fundamental concepts and the necessary steps to engage in it. Think of this as a complete handbook to help first-time users avoid common mistakes and equip them with the necessary tools to maximize their affiliate income.
Let's start by defining what affiliate marketing is.

What is affiliate marketing?
The term is commonly used to describe an Internet-based income-generating system that involves three distinct categories of individuals. These are:
The seller – The individual responsible for selling a particular product or service. Let's take Amazon for example, it serves as the seller.
The affiliate – They act as a middleman (in this scenario, let's say that's you), they promote the products and services offered by the seller with the goal of earning a percentage from the generated sales.
The customer – Naturally, without the presence of the end users that the affiliates aim to reach with their marketing efforts, this system would not be effective.
The idea is pretty straightforward: an affiliate markets a specific product or service and receives a personal benefit that is directly proportional to the amount of sales they generate.
The popularity and usage of this marketing system have led to the creation of numerous platforms with built-in affiliate programs. This system, as we will explore further, is designed to benefit all parties involved.
So, how does this actually work? And how can sellers stay informed about their affiliate sales?

How does affiliate marketing work?
The affiliate system also works in offline settings, such as door-to-door salespeople who receive compensation for each product they successfully sell. Obviously, in the online realm, the affiliate marketing program proves to be significantly more efficient and lucrative (we'll delve into this later), but it's worth questioning its functionality.
In the e-commerce world, it works differently. Instead of the affiliate physically having the product and manually informing the seller about sales, everything is automated.
The affiliates never actually interact with the products, they simply redirect their customers to the seller's sales channel. Now, how can one monitor affiliate sales in this scenario?
Most affiliate programs operate in a similar way, following a set of sequential steps:
The potential affiliate comes across the affiliate marketing program on a specific website and submits an application to join that program.
The affiliate is granted access to their personal control dashboard upon accepting this request. The dashboard includes a tool for generating a unique affiliate link.
The affiliate has the option to insert a product URL into the generator and get a personalized affiliate link that includes their unique identification code.
The affiliate shares this personalized link through the channels they find most suitable.
Customers are encouraged to click on the link and, ideally, make a purchase.
A sale is created in the control panel, which includes a commission.
Once the affiliate commissions have reached a specific threshold, they have the option to request payment using the site's available payment methods.
The concept behind this is very simple, but how does the system identify which affiliate made the sale? Usually, a cookie system is implemented. When a customer clicks on an affiliate link, a cookie is stored in their browser. This cookie remains active for a specific time period, and any sales made within this period will be attributed to that particular affiliate marketer as long as the cookie remains active.
You might find this somewhat intriguing but keep in mind that since everything happens automatically, the quicker the sale is finalized, the higher your chances are of correctly getting the commission assigned.
When it comes to affiliate income, every portal offers different profit margins. These can vary greatly, ranging from fixed amounts to extremely low percentages (1/2%), all the way up to areas that boast high-profit margins, reaching percentages as high as 30% (we will explore a few examples later on).
Why is it the perfect choice for freelancers?
Freelancers often gravitate towards affiliate marketing because it can fulfill common needs within this community.
To start with, it provides significant flexibility when it comes to working hours. As we will discover later on, there are several ways to distribute your personalized links, but overall you can structure your work according to your preferences and even accommodate it during your free time.
Furthermore, the affiliate typically does not have any obligations to the seller when it comes to productivity or consistency. This grants even greater flexibility for affiliate marketers to invest in this field at their own discretion.
You won't need much of an initial investment, if any at all. While some methods may involve setting up additional sites, you can typically get your money back within the first few days of work.
In conclusion, scalability should be considered when it comes to affiliate marketing. There are countless possibilities for expansion in this field. It can be considered by aspiring affiliate marketers looking to earn some extra money each month, as well as those aiming to turn it into a full-time job with significant profitability.
That's why it's the perfect choice for freelancers: the simplicity (no need for technical expertise or skills), the flexibility in terms of time and workload, and the complete absence of additional obligations (it's the seller who handles all aspects of selling and shipping) make affiliate marketing increasingly appealing to freelancers across most fields.
Advantages of making money online
We can say earning money with this approach brings extra benefits. Unlike other methods that demand a significant time investment with low earning potential (such as click-through rewards), this method relies solely on your persuasion abilities and reaching a wide audience.
A piece of content focused on a product can reach millions of readers, offering you the chance to generate hundreds or even thousands of sales with just a few hours of effort.
Undoubtedly, the potential of online platforms cannot be denied when it comes to creating content and products, though the outcome will differ based on various factors such as the nature of the product and the content.
Furthermore, the lack of limitations provides an opportunity to explore different options without being bound by financial or contractual commitments in the long run.
Pay Per Sale
You will frequently come across the term PPS, or Pay Per Sale, as you navigate through this affiliate marketing world. This concept pertains to the subject we discussed earlier: specifically, it's a business structure where an affiliate marketer receives a preset payment or percentage for the direct sales they achieve using their unique affiliate link.
The term "PPS website" is commonly used to differentiate it from a PPA website. This abbreviation stands for Pay Per Action, or Payment Per Action, a particular business model that compensates its affiliates not only for every sale they generate but also for various other activities carried out on the website, including sign-ups, newsletter subscriptions, and more.
Typically, the application of the PPS model is more common than that of the PPA model. This is primarily because it significantly minimizes the store's risk by ensuring that only affiliates who have generated profits are compensated accordingly. Furthermore, PPA is susceptible to potential abuse as affiliates may try to manipulate their outcomes manually (although this behavior is generally not accepted) and it is linked to a lower rate of return in comparison to other options.
Essential tools to get started in affiliate marketing
Earlier, we mentioned this business model offers the benefit of a minimal upfront investment. But what specific resources are necessary to embark on this venture?
Some affiliate marketers prefer using social media platforms (which we'll talk about later on), but it is widely acknowledged that having at least one website is necessary in general. Blogging and articles have immense potential to connect with a wide-ranging audience, especially when crafted from an SEO standpoint. It's important to note that the key lies in boosting these figures since the conversion rate, while fluctuating, tends to be relatively low.
It's also important to consider the user traffic you're targeting when determining the specifications your website will require for optimal performance. This doesn't mean you need to get an expensive hosting service and invest thousands of dollars, but understanding your target audience will help in selecting the best hosting plan.
Once you've done that, all you have to do is familiarize yourself with the necessary resources for writing articles. Additionally, acquire knowledge of tools for conducting keyword research and understanding the common searches made by your specific target audience.

How to find affiliate programs
If you're all set to start making money through affiliate marketing, the first step is to find platforms that offer affiliate marketing programs. For this, affiliate marketers might take different paths: some focus on a specific market they are familiar with or passionate about, and seek out related affiliate programs.
On the flip side, there are countless affiliate marketers who seek insight into the most desirable product categories prior to deciding on their topic of discussion and target audience. Regardless, it is essential to know where to locate the platforms that offer this solution.
The search engine is undoubtedly a valuable tool. When you have a specific niche or website in mind for affiliation, simply searching for "affiliate marketing program" can yield numerous options to consider. Alternatively, there are various online resources that you can use to your advantage.
Affiliate networks
A great way to begin is by seeking guidance from an affiliate network, a platform that connects affiliates and sellers. Using this method not only allows you to discover various affiliate marketing programs but also provides access to several helpful features.
Among these you can find:
Lists of programs, which are frequently categorized by specific areas of interest.
Affiliate link generation based on a particular platform.
Payments, traffic, and performance management.
These websites are generally valuable for connecting with the marketing community, offering numerous benefits and ensuring you're following the correct guidelines to avoid any penalties in different programs. By joining these communities, you can access a wealth of knowledge and support while minimizing the risk of getting sanctioned.
For affiliate marketers who are only working with one affiliate program, all of this may be unnecessary. However, for those who have multiple programs to manage, it is crucial to stay organized and keep track of everything.
Here are some websites you can visit:
Amazon Associates – Used to monitor and record the sales made by different vendors of the platform.
ShareASale – A vital tool for your decision-making process, it stands out as one of the most extensive and varied options available.
CJ Affiliate – Just like ShareASale, you'll be able to try different approaches and discover what works best for you.
And there are numerous alternative options out there, like FlexOffers (which offers a wide range of affiliate categories) and ClickBank (specifically designed for digital products).
Independent companies
While networks are undeniably valuable, it's important to note that they don't cover all online businesses. When it comes to small or new companies, it is highly likely that their affiliate marketing system has not yet caught the attention of affiliate networks. Additionally, there are many websites that choose to function on their own without depending on an affiliate network.
That's why it's important to broaden your search. If you have specific websites in mind that you want to promote, and they're not available in your network, try doing a search using their name as a keyword. This could lead you to discover new opportunities for generating revenue through affiliation.
Fortunately, it is easy to determine if a website is reliable or not, even when it promises significant gains but is new or unfamiliar. All it takes is observing the transparency and functionality of its dashboard or conducting initial online transactions. This way, any hidden risk factors can be uncovered and evaluated.
Examples of affiliate programs
When it comes to citing examples of affiliate marketing programs, the initial one that springs to mind is undoubtedly Amazon's. This is primarily because this renowned marketplace allows the creation of affiliate links for any product available on their platform (although, as we will explore later, with varying commission rates).
Amazon's affiliate marketing program is incredibly user-friendly. Once you sign up, you can easily generate a unique link for every product page and share it with others externally.
Amazon is just the beginning when it comes to affiliate marketing. There are numerous other fascinating aspects, such as web hosting. For instance, SiteGround has its own unique affiliate marketing program where affiliates receive a set amount for every customer they refer. Starting at a base rate of $50 per order, the commission increases based on the number of sales achieved within a month. For instance, if you make between 11 and 20 sales, you can earn up to $100 per sale. Sales beyond this threshold will qualify for personalized commission rates.
Digital services and products, as we will discover later on in this article, are some of the most lucrative forms of affiliation. One example is YITH's affiliate program, which will be covered towards the end of this piece.
How to become an affiliate
Becoming an affiliate marketer is an easy process. Once you find the platform(s) you want to be affiliated with, all you need to do is register by clicking on the button provided on the dedicated page of the website.
When registering, you will only need to provide information about you and select a payment method. If you choose PayPal, for example, you will also be asked to provide your email address.
Occasionally, it is possible to complete the registration process by submitting a request and waiting for approval. Within a few hours, you should receive a response from the website.
Typically, the registration process is incredibly quick, and in just an hour you can sign up for several affiliate programs.

How to earn money online with affiliate marketing
At this point, you should have a solid understanding of what affiliate marketing entails and how to start your journey in this field. Nonetheless, we want to share a few additional pointers to ensure that you move in the right direction without any difficulties. Let's go over them together.
Find a niche that will bring you profit
Picking the specific field you want to focus on is an essential initial step. Some websites try to cover a wide range of products for affiliate marketing, but this approach often lacks precision and struggles to consistently target the right customers effectively.
The design of the website is heavily influenced by the specific market you wish to target, and consumers typically prefer to trust a platform that positions itself as an expert in that field. For instance, if you are looking to advertise fishing articles, a website focused on fishing with well-written articles will hold more weight in terms of conversion compared to a generic platform.
But how do we decide which one is the right choice? It's important to consider that each affiliate marketing platform has its own rates for affiliates. A survey conducted by Influencer Marketing Hub provides valuable insights into these differences.
The SaaS model, also known as Software as a Service, is highly prevalent in web hosting portals and YITH. It boasts impressive conversion rates that can range from 20 to 70%.
The finance sector also experiences impressive outcomes and a lesser fluctuation, stabilizing at approximately 35 to 40%. And the third place is taken by eLearning platforms and beauty as well as health products, with their figures varying between 10 and 30%.
Choose the product to promote
After pinpointing the niche you wish to capitalize on, the next step is determining which products to endorse. Over time, these will change (you won't always talk about the same products). However, it is often crucial to determine which one is most suitable for you, taking into account its cost, affiliate rate, and market fluctuations.
If, for instance, there is a specific style of shoes that is currently trendy, it would be ideal to center your online content around them in order to maximize its impact.
Create content that generates commissions
After identifying the specific target market and products, the next step is to generate content that can effectively convert ordinary users into paying customers.
In this context, content of high quality that doesn't come across as solely intended to promote sales is often preferred by customers. Articles need to provide value without making readers feel like they're being pushed into a purchase.
Producing content that addresses the inquiries of customers and directs them towards making a purchase, rather than pressuring them to do so, leads to better outcomes.
This is undoubtedly a world that requires exploration and experimentation. Each specific aspect, like the positioning of the product you are endorsing and the approach employed, can yield significantly varied outcomes.
Some affiliates incorporate the product by inserting a basic link within the text, while others prefer a clickable image. There are also those who leverage standard WooCommerce functionalities to establish an online store where products connect directly to the primary sales website.
Developing a list of potential contacts
Newsletters are an underestimated yet powerful tool that should not be overlooked. If you haven't already, it's essential to start building an audience to whom you can send emails that include affiliate marketing links. This is vital for achieving long-term success and obtaining positive outcomes.
Once again, it is crucial to bear in mind the significance of crafting captivating and high-quality emails. By doing so, you can avoid being flagged as spam and ultimately maximize the effectiveness of this powerful tool.
Creating an audience using social media and Telegram
Social networking platforms are extensively used in affiliate marketing. In these online communities, administrators recommend links embedded with their unique ID codes to large groups of users.
It is evident that in order to encourage people to become part of such networks, it is necessary to provide incentives such as real-time discounts on products. This approach also takes advantage of the Scarcity Principle proposed by Robert Cialdini.
Even if you don't use these methods, social media is still essential for connecting with a larger audience and distributing your content. Once again, you'll need to test it out, since numerous social networks limit the visibility of links that redirect users to another platform.

Scaling affiliate marketing is a straightforward process
Once again, we would like to highlight this particular point. Affiliate marketing encompasses various entities that can differ significantly from one another. You can go from earning just a few bucks per month through affiliate marketing to generating tens of thousands.
Don't be intimidated by this. There's always an opportunity to invest more time and money into this venture. You can start with just one affiliate marketing program and grow from there.
It is advisable for those who lack experience in this field to avoid hastily registering on numerous websites, as this may result in poor performance across all platforms.
Don't forget that affiliate marketing programs often have a minimum payout threshold. Instead of trying to earn just $1 from 100 different programs, invest your time in one program and gradually build it up according to your own preferences.

Become our affiliate
If you're unsure where to start, we suggest checking out our affiliate program. YITH offers a generous 30% commission and a wide range of plugins that are suitable for any online business. With these tools at your disposal, you'll be able to start earning right away.
We currently have affiliates who are making over $25,000 a year through our affiliate program, and you have the potential to join them!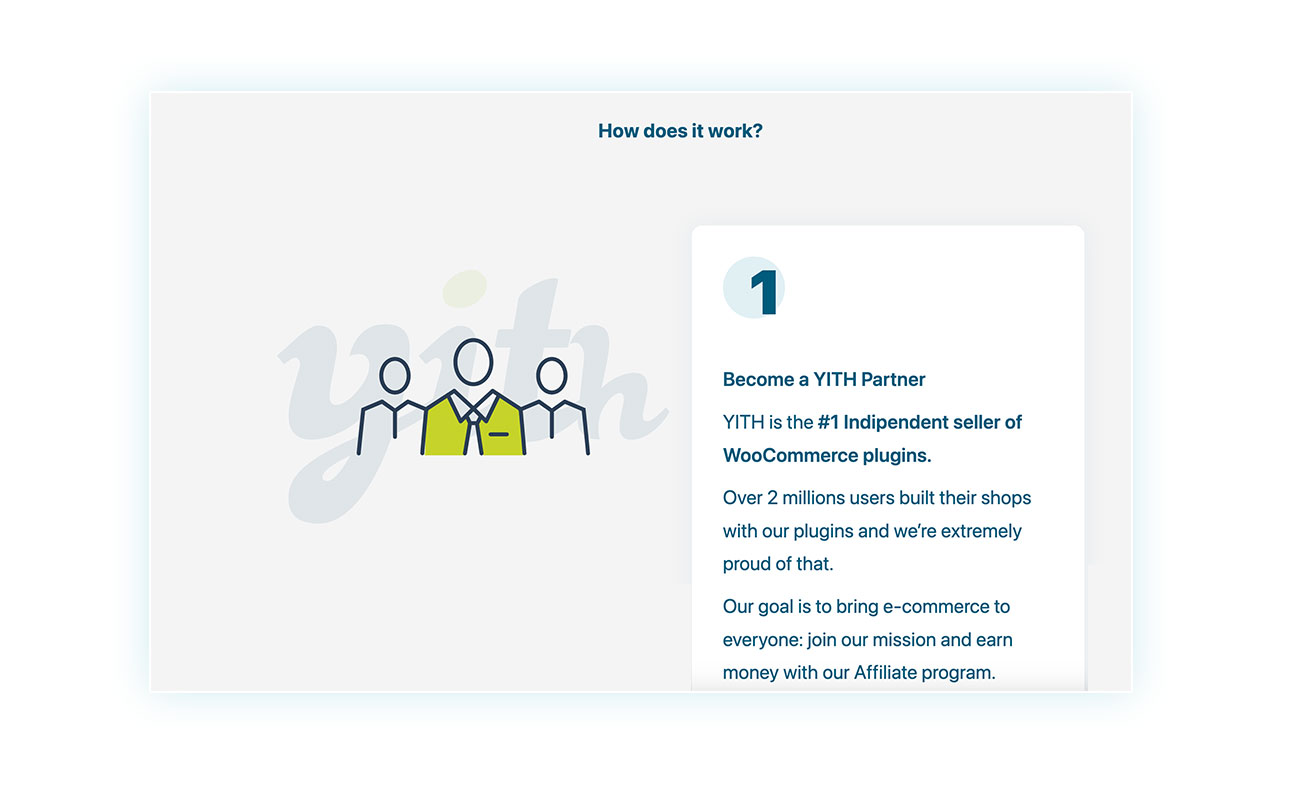 Conclusion
Affiliate marketing offers great opportunities and works on a fair system. Start exploring this field now and earn a substantial income while working only a few hours a day!
Pick a specific area of interest, enroll in the affiliate marketing program of your choice, and start making money by promoting and selling products created by others.