Use YITH WooCommerce Compare to allow your customers to compare products using a high quality tool
Each time I open a website and look for a specific product, I like analysing all features in detail, because I want to be well informed about what I am going to purchase.
In these days, I'm looking for a new mobile phone: I like reading details about properties of each model available that draws my attention in a technology store. For example, core, battery life, RAM memory, capacity, display resolution, camera and much more.
Yet, keeping each specific data in mind is difficult, even if the number of models is limited. I should take pen and paper and write down all information for each of them. Imagine the mess I could make!
However, I have no longer such problems, because more and more websites provide a comparing tool and this makes them be a step behind, in my opinion: any good online shop should have it to allow users to browse products more easily and save a lot of time. In fact, the more time we have to spend in collecting and comparing data, the more we grow weary. I think you know that as well as me.
Clearly, the compare tool has to be a good one and not a limited one, otherwise it could make users even more annoyed.
If you have got a shop, I would sincerely suggest you install one of the best comparing tool for e-commerce shops on the market, YITH WooCommerce Compare, which will definitely turn your WordPress shop into a more powerful sales tool.
We can see together how it works!
YITH WooCommerce Compare allows your users to add products to a compare table that opens in a modal window or in a new page and that shows all attributes available for the two or more products compared.
Let's recover my previous example for my new mobile phone: if for the selected products core, RAM, battery life, capacity and display resolution have been set, they will appear in a very useful comparing table that makes differences immediately visible, price included. So, I will be able to see and choose the product that best meets my needs and the one I consider worthiest of its price.
Then, an "Add to cart" button at the end of each product line, allows me to add to the cart the one or the ones I prefer with a simple click, directly from the modal window, without having to close it and to recover the product in the store.
That's fantastic! Just a few moves to see the product that best suits me and purchase it immediately, if I want.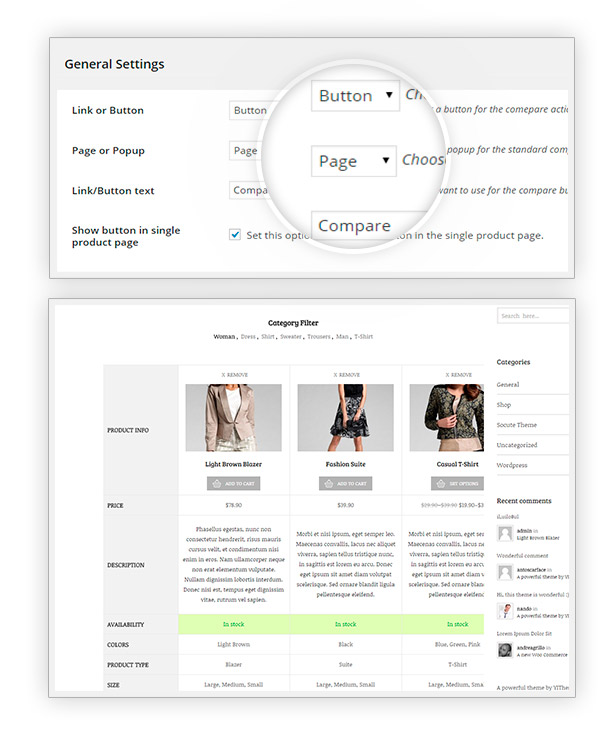 And you can set your WordPress shop so that the modal window opens automatically each time a new product is added to the compare list or when at least two (or more) products have been added or even let users add as many products as they want and let them later open the compare table to view items added.
In fact, many users do not know exactly how the comparing tool works and making it open automatically as soon as they add a new product makes them discover a very useful and time-saving tool that your site puts at their disposal.
Moreover, the modal window or with the products is highly customisable.
You can allow its opening both in product and in shop page and allow users adding products both from product page and shop page.
You can customise it with images: show an image on top of it and set size for images of products shown in it. This latter feature is very important, because, depending on the type of products you sell, it might be essential to show a bigger image that allows your users to distinguish one product from another, especially if they are very similar, as it generally happens for products to compare.
To keep talking about customisation, you can also set your plugin so that users can add only products belonging the specified categories to the compare table. For instance, if you want that customers can compare only mobile phones, but not televisions, you can just specify the categories you want to allow and it's done, users will be able to add only mobile phones to the compare table.
And keeping talking about categories, you can also give your users the possibility to sort their compare table by category. This is very useful for those customers who are interested in more than one product at a time, add more items to the compare table and make comparisons for, say, the mobile and the tablet later.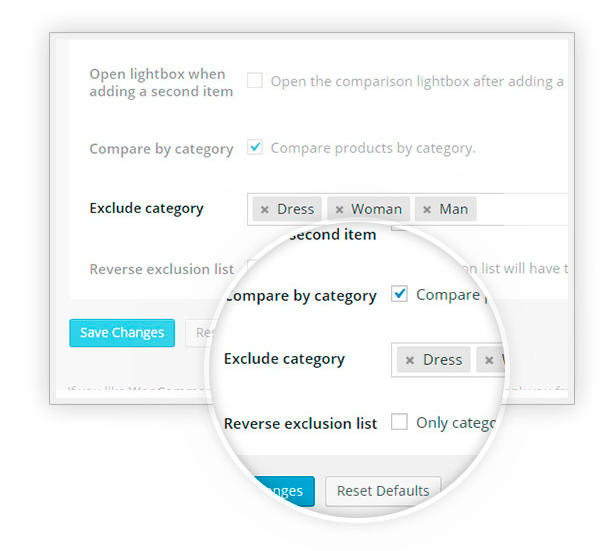 What if they are comparing products in which some attributes have not been specified, for example colour of the mobile, just because there is only one available? In such cases, YITH compare table helps you sort out items. It is "clever": if no values have been specified for some attributes in all products in the compare table, these attributes will be hidden.
If for none of the mobiles added to my compare table the colour attribute has been specified, the field "colour" will not appear and the comparison will not show fields with no information. It might seem a trifle, but think of how many times you have entered no values for some attributes (just because none available): if all products added to compare have no specified values, the attribute will appear anyway, empty, on all products and look as superfluous. This option has been explicitly conceived to avoid that and to make the comparing table as usable as possible. Yet, if only one product has the attribute "colour", the field "colour" will show in order not to make me miss any important information about the products I'm comparing. What should I say more except that it has been carefully conceived to offer your users a great functional tool?
Not only customisable, but also social: why? Because if you want to share your compare table with your friends on social networks, you can! Imagine creating your own compare table and being able to share it and talk about it with your friends or with your followers, discuss what is best for you and what they suggest you or show them a comparison that could help them choose the best item for them: a powerful option!
And last but not least, I want to highlight another important feature in this plugin: a slider below compare table showing products related to the ones in the compare table, products belonging to the same category of the ones added and/or with same tags. This way, I won't miss important products that might interest me as well.
Products in "Related" section are generally able to draw user's attention more than others. Moreover, if I open a compare table shared by someone else, I'm likely not to have browsed the shop: in such cases, suggested products of the same category or with same tags could not be in a better place, because they are exactly what I'm looking for.
Now, after a detailed comparison that I've been able to make with by YITH WooCommerce Compare, I have decided for my new mobile phone model. And you? What are you waiting for? Try the plugin and you won't be disappointed!
On the contrary, i fyou prefer sorting your products and filtering them by category or attributes, you might find a good solution for you in this page.