Use YITH WooCommerce Product Bundles to customise your bundles quickly and easily
How to increase sales for products is one of the most frequent questions that many of us pose every day. In fact, if we browse on the net, we find many suggestions and tricks offered by bloggers and experts who share their own experience.
The topic is so wide that maybe a treaty would not be enough, because besides effective techniques and strategies to apply, experience teaches you the secret winning strategy for your own business.
However, today, we want to focus on a strategy that aims at increasing sales through a specific type of offer, bundles and, specifically, we want to talk to owners of online shops, based on WordPress and WooCommerce.
However an initial remark is due.
Make good offers and in the margin you can still profit
As customers, we all know that is receiving an offer is one much more convincing than something else: it direct and appealing in its essence.
Yet, as shop owners, we should be careful and make offers in the margin we can still make profit and do not make a loss. If I see that my margin is quite limited, I would never dream of crazy discounting every product in my shop, but only on some, maybe the one that could be more appealing for my customers. Be careful, I would never offer the worst product I have, because this could damage my online reputation. Consider that the more people can have it, the more make an opinion that they can share with others about your product and about your shop.
So, offer some of your good products with a good discount, at an interesting price and not a insignificant discount percentage. To do that you can find some very interesting tools to make planning and automation of discounts in your shop easy and quick.
Make bundles and bet on quantity
So, let's come to the core of this post: making special offers so appealing to your customers that they are happy to spend more. This is the case of bundles of products, thanks to which they can get a very good discount in exchange of purchasing more products. In this case you bet on quantity.
What are benefits of bundles?
Your customers can benefit of more products at the same time at a reduced price and you will be more convincing for them, because you can bet on the advantageous price of the bundle offered. Customers prefer making only one purchase to achieve what their primary need is and if products have been bundled according to a real-need logic they are satisfied.
Moreover, another benefit of bundles is that you can also set the price of it in the way you find most suitable.
If you are running a WooCommerce based shop it might be difficult unless you find a practical extension that allows you to create bundles of products. Now, let's see together how to make the pricing suitable both for you and your customers.
After caring of composing together products in the way that they can be really appealing to your customers, you can choose the way to price them. You can either choose to calculate automatically the price, as a sum of prices of all products in it, and apply a percent discount that is again automatically calculated, such as 30% or 50%. This will be easy because a plugin like YITH WooCommerce Product Bundles allows you to do that quickly, just with some settings on the product.
But, if you wanted to set your own price, play on numbers or you just want to ensure that any future change in single product price will not change the bundle price, you can select your own price for it. Let's say you want to offer a New Year's bundle and play on the price figures, you could name the bundle "Happy 2016!" and sell it at 20,16 $ to make it memorable. A simple option of this plugin is enough to allow you to do that.
On the contrary, if you want to differ percent discount for each product of the bundle, you can select a different percentage to be discounted on the price of the single product. Let's say you make a bundle including a T-shirt and a pair of trousers: you want to apply a 50% discount on the T-shirt, but you want to apply only a 20% discount on the trousers, because a 50% would not create you any profit, but a loss. You can use this specific option to create very highly customised bundles.
And to keep talking about price, you can also choose to show shipping fees for products in the bundle or not.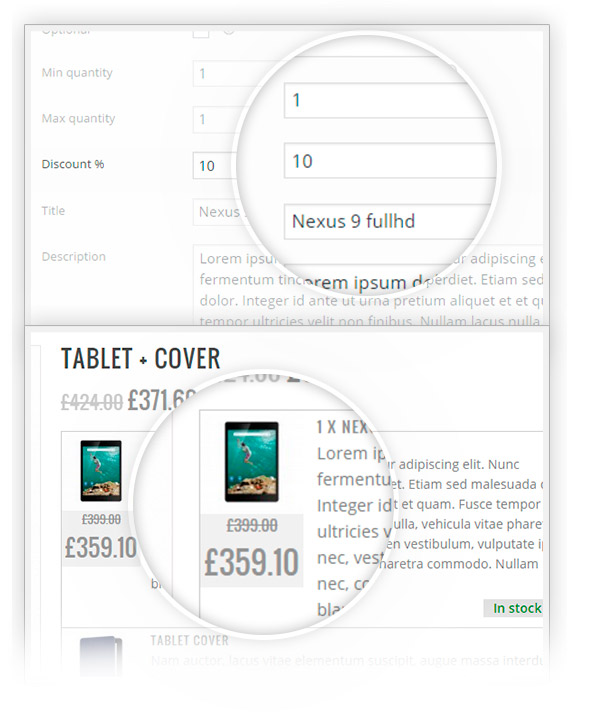 Then, to create very good combinations of products, you might need to bundle, for example, a black T-shirt with yellow trousers, but at the same time being able to pair also shoes and accessories that suit those two colours: you might need to add variable products to your bundle. With this plugin, you can also select specific variations and add them all to the bundle, avoiding mismatching problems and making your bundle extremely more appealing. After all, a good shop assistant (also in the web) is the one who prepares perfect combinations and suggest new combinations so that customers may be immediately convinced about their actual suiting.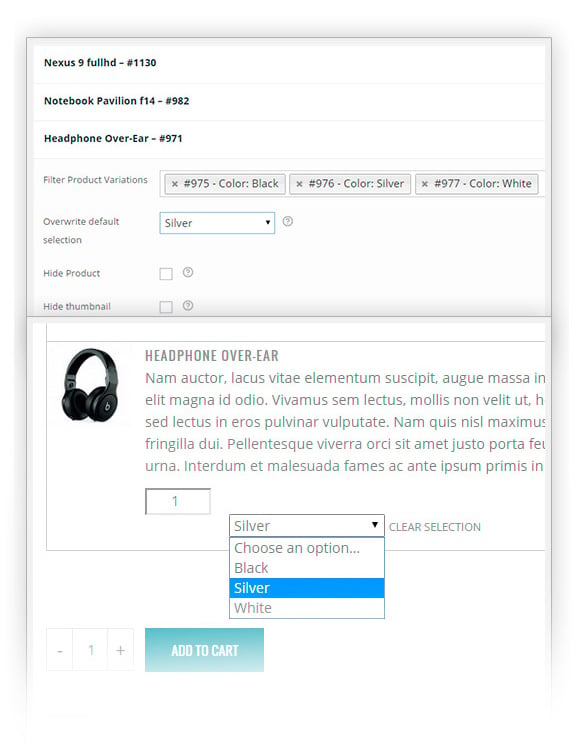 Moreover, you could also set some additional optional products to increase the profit of your purchase. What does this mean? That you have "compulsory" and "optional" products in a bundle? Simply, yes.
For example, over a minimum spend, which is the sum of products in the bundle, you might wish to apply the same discount on additional products that customers might want to add. You might suggest them, and with a high probability some of them will add them to the bundle, even if their initial intention was not to purchase them too. All optional products added to their bundles is income for you.
This is very useful for people selling Christmas baskets or something similar to this idea.
Set a minimum spend, which is the basket price with some indispensable products, like wine, biscuits, gingerbread, sweets and then let users select the ones they want to add according to their own taste and how much they want to spend.
These are just a few features of the plugin, you can discover more and all possible combinations when using the product in the live demo. Now, before concluding, I would like to highlight something that might seem too technical, but which is very important for a shop owner. Bundles created through YITH WooCommerce Product Bundles are treated as individual products in the sales report of your shop, so that counting will not be distorted. An example will make that even clearer.
If you consult regularly your shop sales reports, you can see which products sell more, the more and the less popular ones. But, if you trace actions in your shop, you can understand the reason for weak popularity of certain products: some of them might not be perceived as worth the price you had assigned and some other might just not be of interest to your customers at all. After learning that through an accurate analysis in which your sales report is essential, you can decide which strategy to apply.
But, if you sell also bundled products, counting could be distorted unless the bundle counts as another product on its own. If you sell a "Christmas basket", sales for the product "Christmas basket" have to increase by one, and other values have to remain unchanged. But, as it happens for most of the tools available to create bundles, counting for bundles increases by one sales value of each bundled product instead of the whole product only. This totally distorts real data. Don't worry, though, if you use YITH WooCommerce Product Bundles counting in your sales report will be faithful and correct.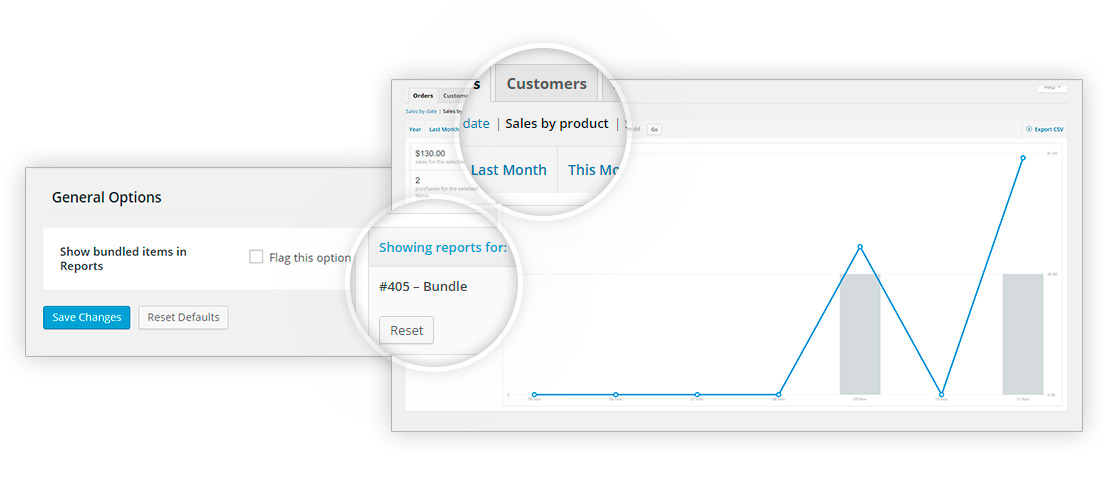 I suggest you discover all other additional features of this great plugin and try all possible combinations to offer bundled products in your shop without having to create everything manually.