---
What is Affiliate Marketing?
An affiliation is a promotional channel that provides a partnership between the owner of a shop and the affiliate, i.e. the person who promotes the shop's products in exchange for a commission generated automatically based on the sales they successfully produce.
Affiliate marketing is definitely not new: Amazon launched its affiliate program in 1996, more than a quarter of a century ago. Since then, and thanks to the introduction of social networks (where we are all a little bit "influencers"), online affiliate marketing has become one of the most popular and effective sales strategies for any type of e-commerce.
Aliexpress, Shein, Zalando are just some of the most popular shops that have made their affiliate campaigns a major hit. But without going too far, also in YITH we have almost 3000 affiliates who actively promote our products in their blogs and social channels. In 2021, affiliates who advertised our plugins earned commissions totaling €64,000 and generated €216,000 in sales. Well, numbers speak!
How does Affiliate Marketing work?
The way affiliate marketing works is quite simple. First of all, the company that sells products or services online focuses on targeting loyal customers, bloggers and influencers to offer the opportunity to advertise products or services through articles and targeted publications on social channels.
Secondly, once selected, each affiliate will have its own "referral link", i.e. a unique code that allows the owner of the shop to track access to the site and sales and to associate them with the affiliate who "encouraged" the customer to buy a certain product.
Finally, once the order has been placed, a commission will be automatically generated for the affiliate who made the sale possible. The affiliate will then be paid, usually weekly, monthly or when a certain threshold is reached.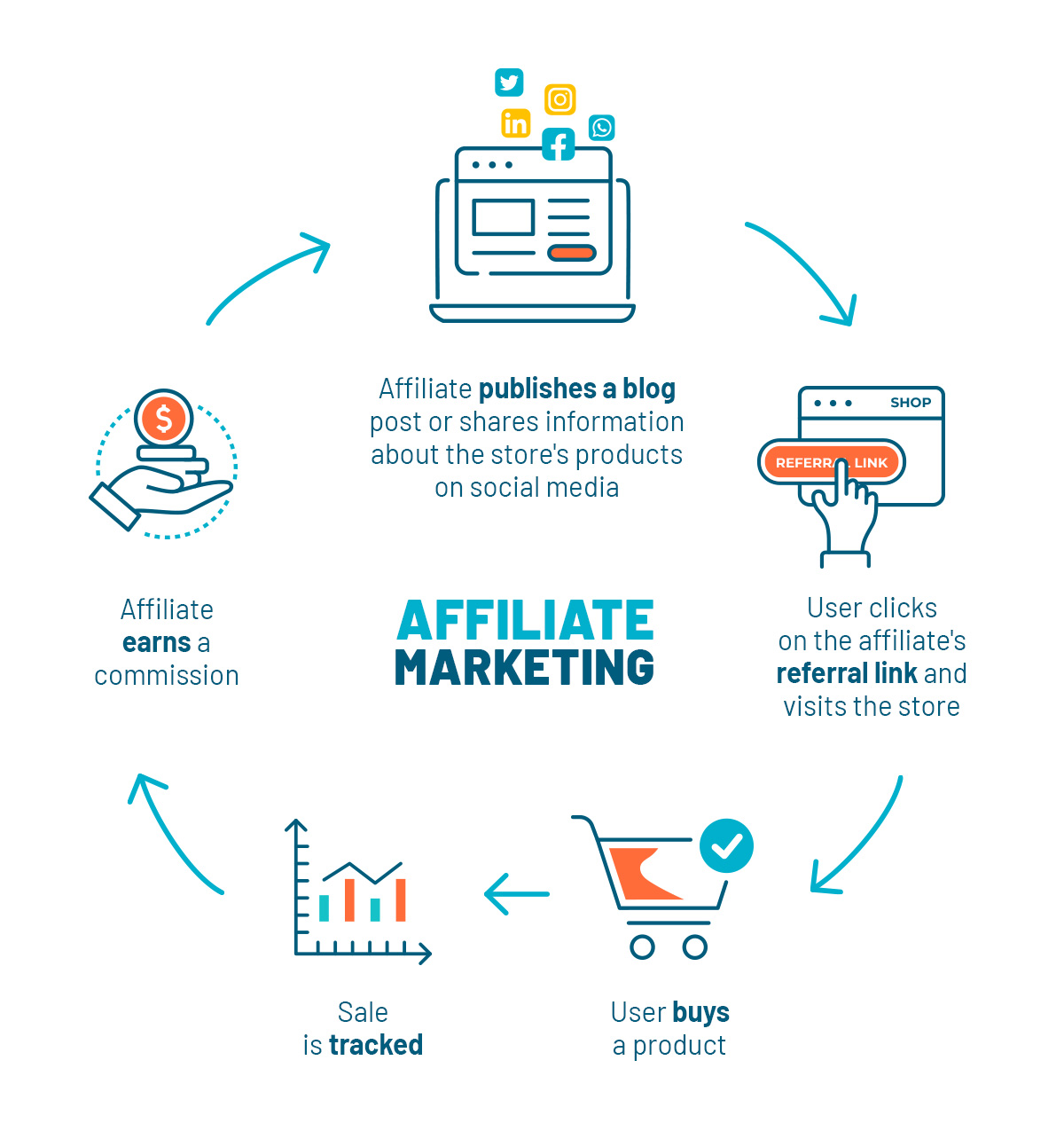 The biggest benefit for the e-commerce owner is that his products are promoted to a target audience and that he will only have to pay the commission (which is usually quite small, from 5% to 20% of the product price) if the sale is successful. There is no need to invest in exorbitant advertising campaigns, anticipate promotion costs and create advertising material: the content of the publications is in itself a job for the affiliate.
Affiliations are an effective way to generate passive income: a blog article promoting a product can generate traffic – and commissions – for months, especially if it is effectively indexed on search engines.
The benefits of running an affiliation campaign in your shop
In the age of social networks, an affiliate campaign represents the most effective and low-effort strategy to promote the products you sell.
Official statistics speak for themselves:
80% of e-commerce shops offer affiliate campaigns, a trend that continues to grow over the years;
25% of the sales of shops that have an affiliate program are generated through referral links shared by affiliates;
In the United States, the country where Affiliate Marketing is strongest, the turnover generated by affiliates is about $7 billion per year.
If it is properly structured, an affiliate campaign can only benefit your shop:
A powerful advertising ​​channel with low budget, little effort and time
The overuse of all those flashing banner ads on blogs and advertisements has caused users to experience what is known in marketing as "banner blindness", a completely unconscious cognitive process that causes people to ignore advertisements on online sites. As a result, the effectiveness of traditional advertising is reduced to the minimum forcing companies to find new ways to promote their products.
This scenario has paved the way for many "mini-influencers" who are not traditionally "famous" but succeeded to build an active niche of "followers". Taking advantage of social media's high traffic, they have become landmarks that provide companies the opportunity to get advertising at cost (only after the sale is generated) without investing in content production or advertising material.
As already mentioned, using banners is no longer effective. It will be up to the affiliate to propose attractive content (articles, videos, photos, reviews, etc.) and drive the customer to your shop in order to earn the commission.
Get targeted traffic and high quality leads
Recruit affiliates that are more in line with your brand and that are able to share messages that represent your target audience. This will allow you to segment the traffic that enters your store: interested people that visit the shop will be naturally attracted by what you offer.
Example:
Mode XLusive is a Canadian plus size fashion blog dedicated to women. Its posts vary among different topics but the main subject is clothing reviews.
The content shared is aimed at a very specific public: "curvy" women that find themselves related to each topic and are looking for a special kind of products. In this way, by sharing dedicated content, she has grown a niche group to which she links to different companies by offering their products.
This behavior can be spotted in a post where she reviews tights by a brand she recommends. The post has an exclusive video where she shows the packaging and tries on a pair of tights, mentioning at all times attributes about the product such as quality, design and industry details. In the description of the post she shares a discount code "CHANTSY20" that will ensure that every sale of the featured shop generated by users from this blog will be tracked.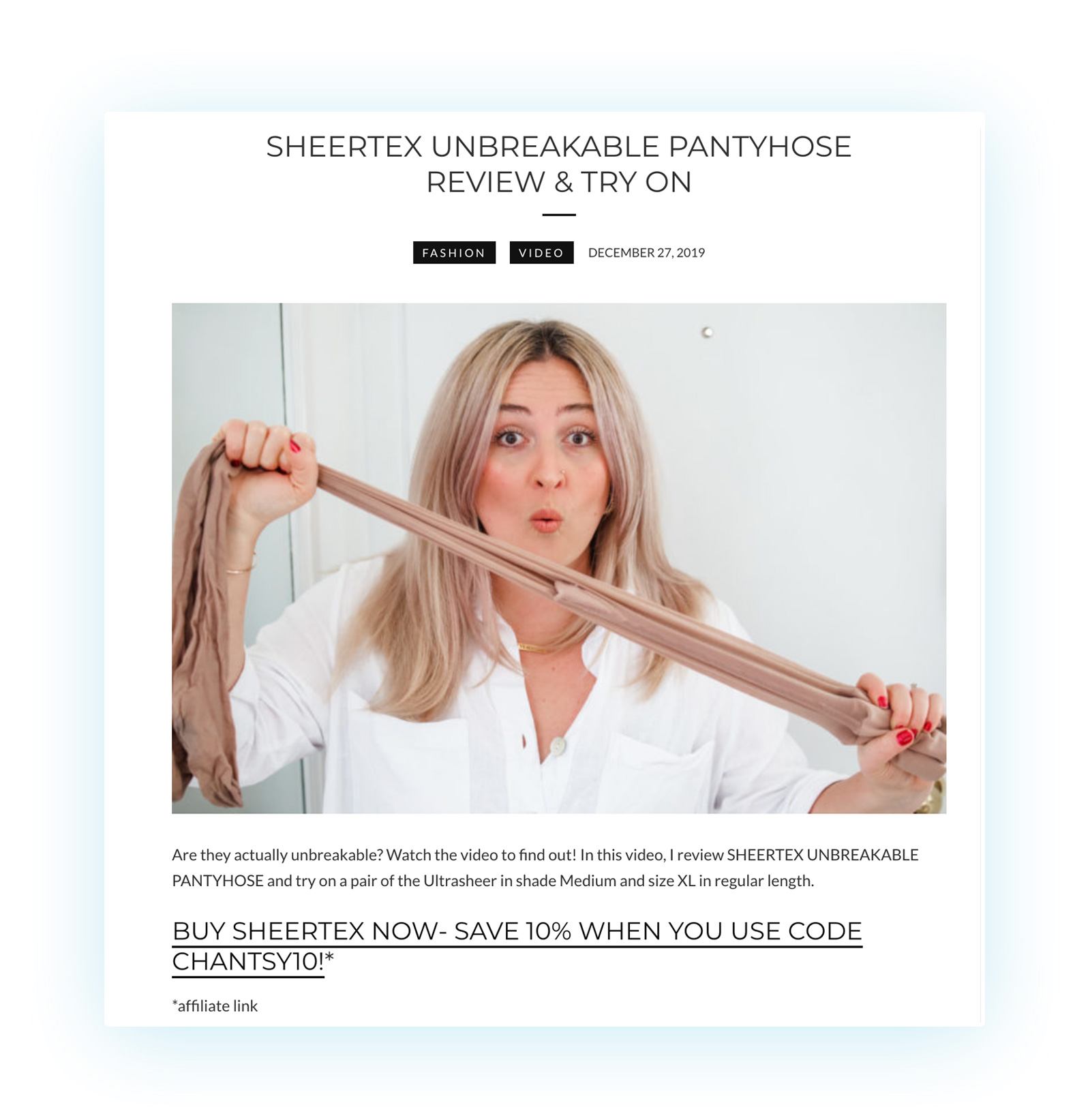 So what seems to be a simple review actually is a non-paid advertisement and the blogger will receive a commission for every purchase coming from the women following her blog.
If the review is honest, in this kind of partnership everyone wins: the shop that through the blogger can reach exactly its target clientele; the blogger who, in exchange for the content and her promotional work, receives a commission; and the readers, who will find a shop where they can buy quality products suitable for their body type.
Loyalize affiliates and customers
An affiliate campaign is a great way to build affiliate loyalty and encourage them to buy products from your shop (products that will then be reviewed through posts and content on social media, for example). According to statistics, affiliates use 37% of the commissions they generate to buy new products in the shop they are affiliated with.
So, on one side you'll retain customers who will reach your shop through sources they consider credible and already trust (especially if you give affiliates the opportunity to offer a discount to their users), and on the other side you'll turn affiliates into customers.
How to create an affiliate program in WooCommerce, step by step
Are you aware of the potential of an effective affiliate program and want to create one in your shop made with WooCommerce, but do not know where to start?
Don't worry, we'll explain what to do, step by step.
Use a WooCommerce plugin to manage affiliates
WooCommerce doesn't have native features to manage affiliates and commissions, so you'll need to install YITH WooCommerce Affiliates, a plugin that allows you to set up your affiliate program from scratch and according to your needs.
The most important features of the plugin are:
A dashboard to monitor the performance of affiliates, commissions generated, the most popular products and revenue earned from affiliations;
The ability to create a custom registration form, to properly filter affiliate requests (and decide whether or not to accept certain affiliates);
The possibility to set a global commission but also to create rules to define different percentages based on the affiliate, the user role or the product;
The ability to create discount coupons to assign to affiliates, to help them promote your products by offering a small discount to those who follow them on social;
The different options to choose how and when to make commission payments.
Installing and activating the plugin on your shop is the first step. Once the plugin is activated, you can proceed with the next step.
Set your affiliate commission rates
In the General Options > Commissions and Payments panel you can set the commission percentage (1) that will be assigned to all affiliates by default.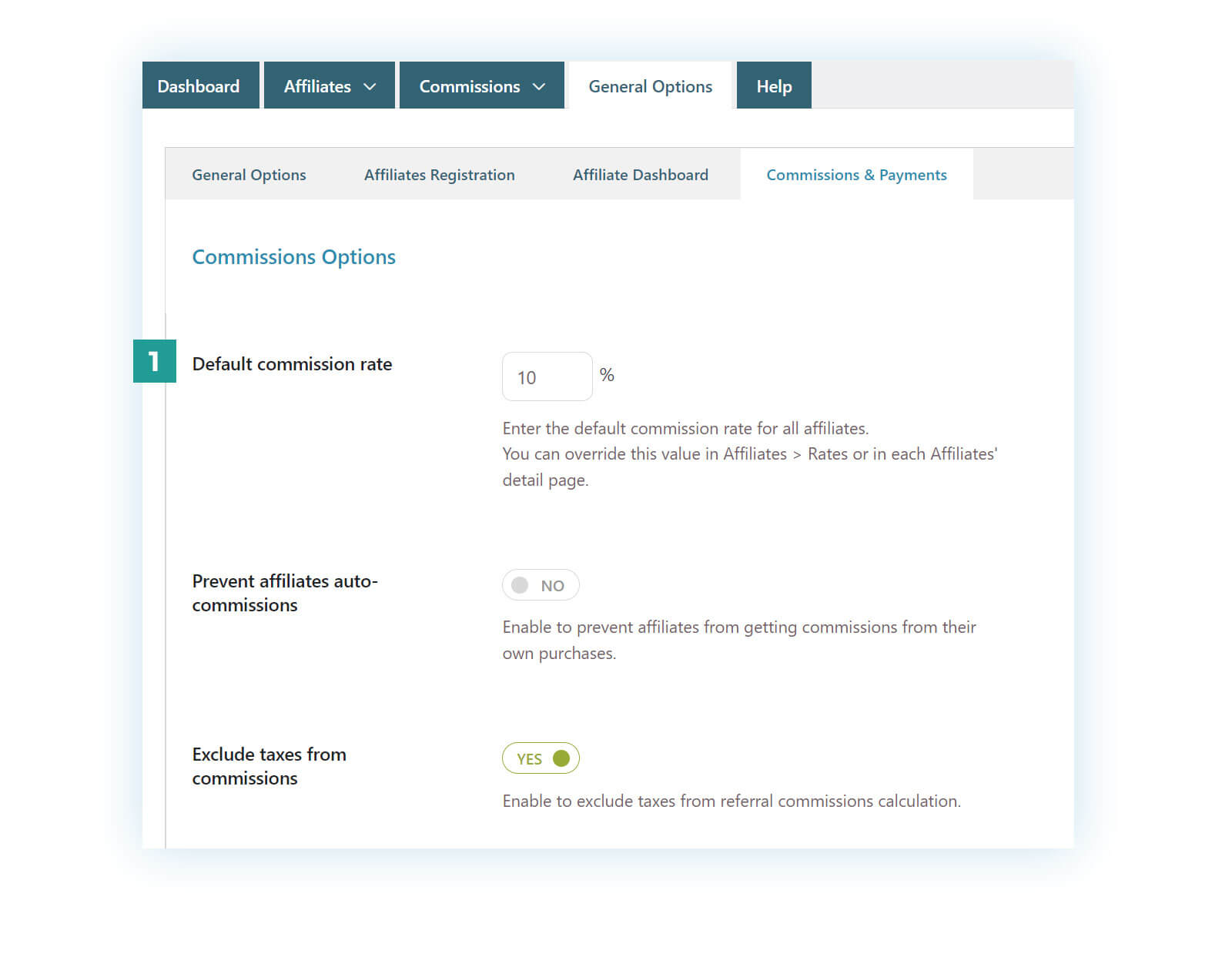 Note: do you want to use this default commission BUT set a higher or lower commission for certain products? You can do so by creating ad hoc rules, in Affiliates > Rates (2).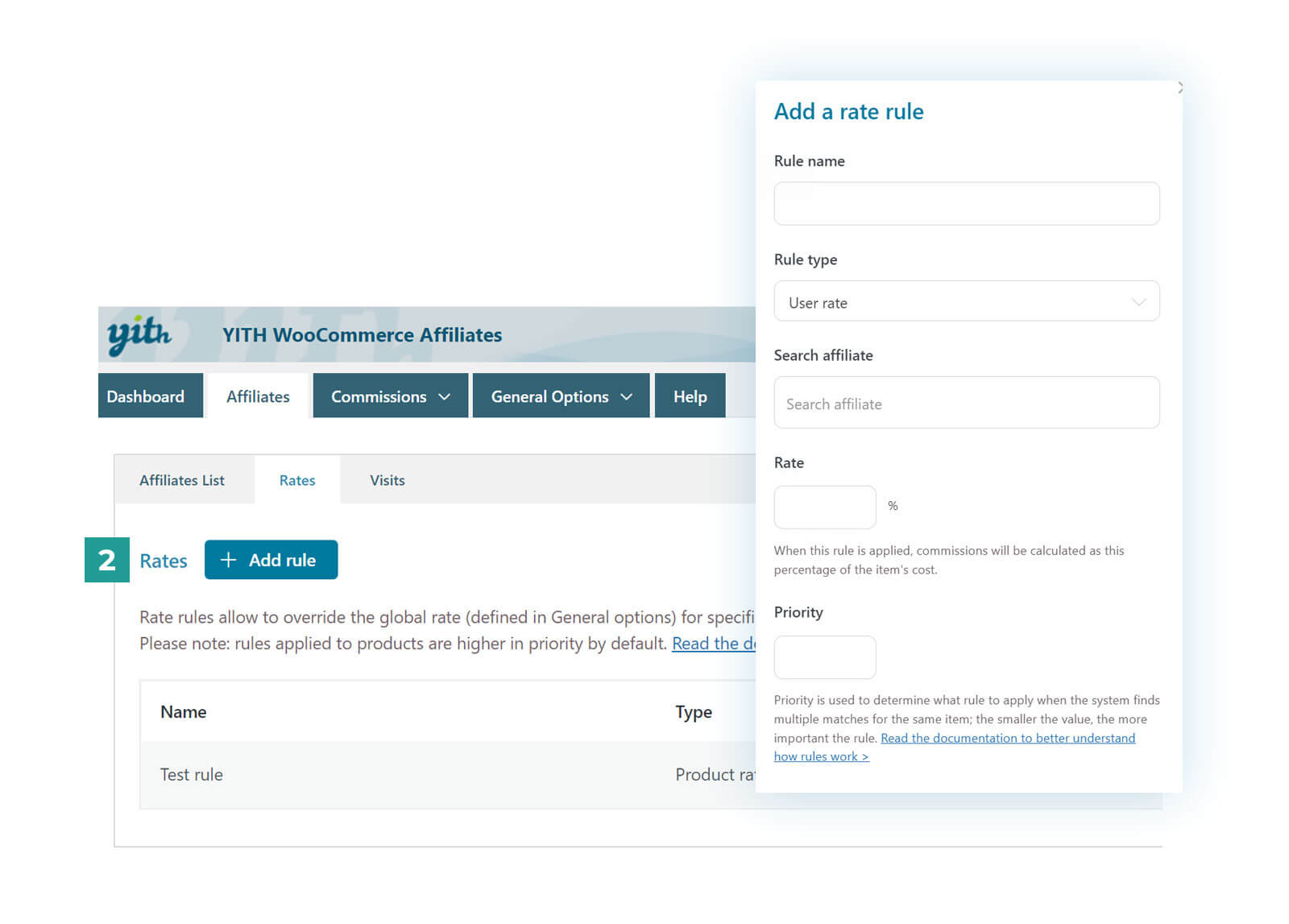 What commission rate should you set?
This is a tricky one as there is no one-size-fits-all solution.
Regarding the commission, it must be obviously attractive to the affiliate, but it will also depend on the price of the products. It is clear that a 10% commission is more interesting if the products have high prices (for a sofa that costs 1200€ a 10% commission means a 120€ gain for the affiliate) than if the products have low prices (imagine the same 10% on a 5€ t-shirt) the same commission would not have the same incentive.
However, it could be easier for the affiliate to promote and sell 20 t-shirts rather than a single sofa: in this way a sense of "game" is more important than the value. In fact, according to statistics, commissions range from 10% to 25% (we offer 30% but let's face it, we are one of a kind!).
Now, before choosing, grab your calculator and do the math: the commission is in effect a cost on the product sold, so try to understand what kind of revenue margin you have before defining how much you are willing to "lose" of that revenue. If, for example, on a product you sell your net income is 20% of the price of the product and you offer a commission of the same value to the affiliates, you would realize you end up empty-handed and that something is not working as it should. 😉
Create an effective affiliate registration form (and page)
Once you've set the commission your affiliates will earn, you need to structure an effective sign-up page.
Create something eye-catching inspired by the most influential brands: list the benefits reserved for affiliates, explain how the program works, use convincing text and a nice design with quality images. Make them feel that they are joining a family that is worth promoting and "work" for even though there isn't any financial guarantee. Not an easy task at all!
After structuring the page content, insert the registration form. You can do this by using the Gutenberg block "YITH Affiliate Registration Form" (3) or by pasting the shortcode [ yith_wcaf_registration_form ].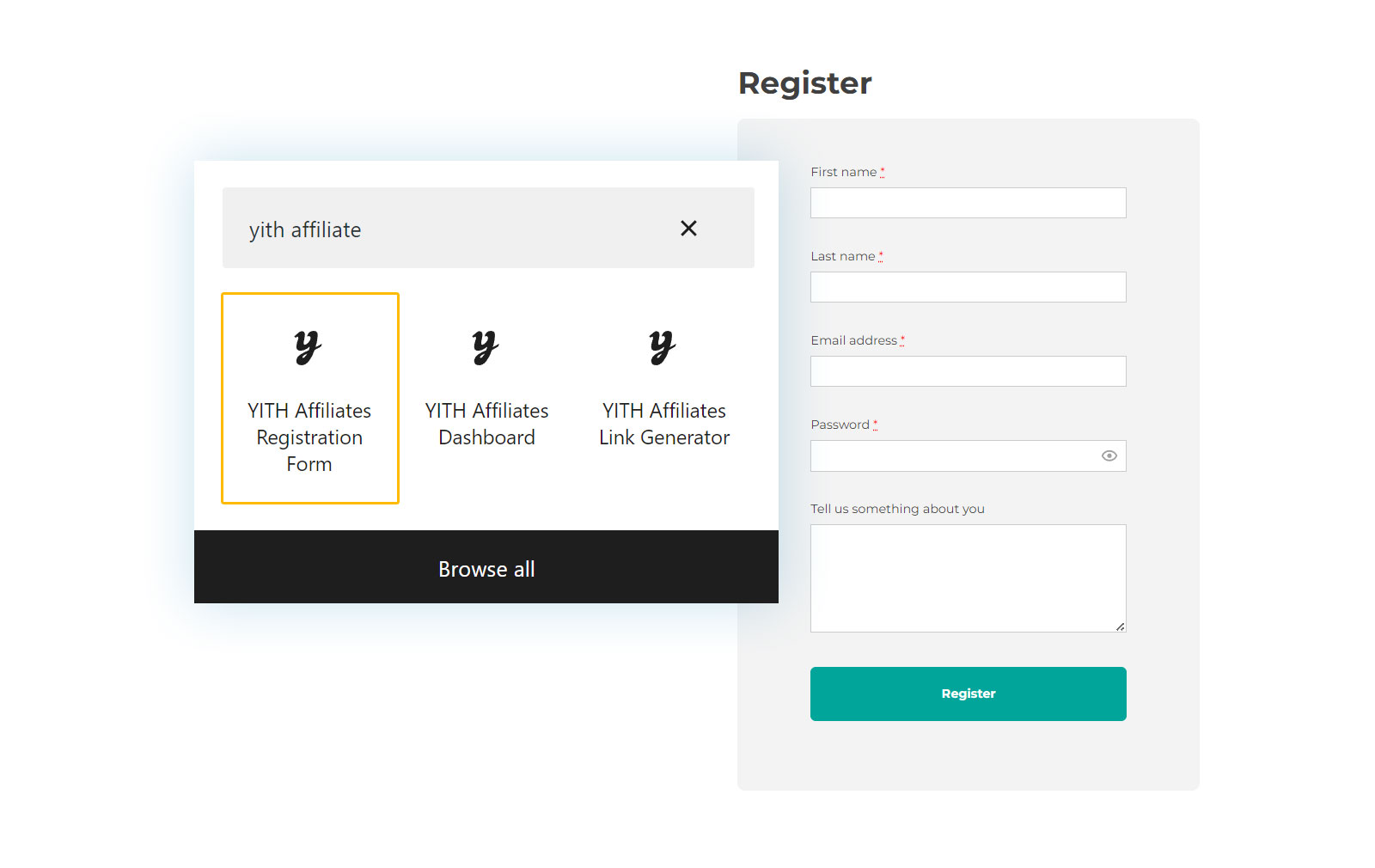 Save the page and publish it.
In General options > Affiliate registration you will find the form you inserted in the page and you can customize it as you like, choosing which fields to enable or remove, or adding ad hoc fields, by clicking on "Add field" (4).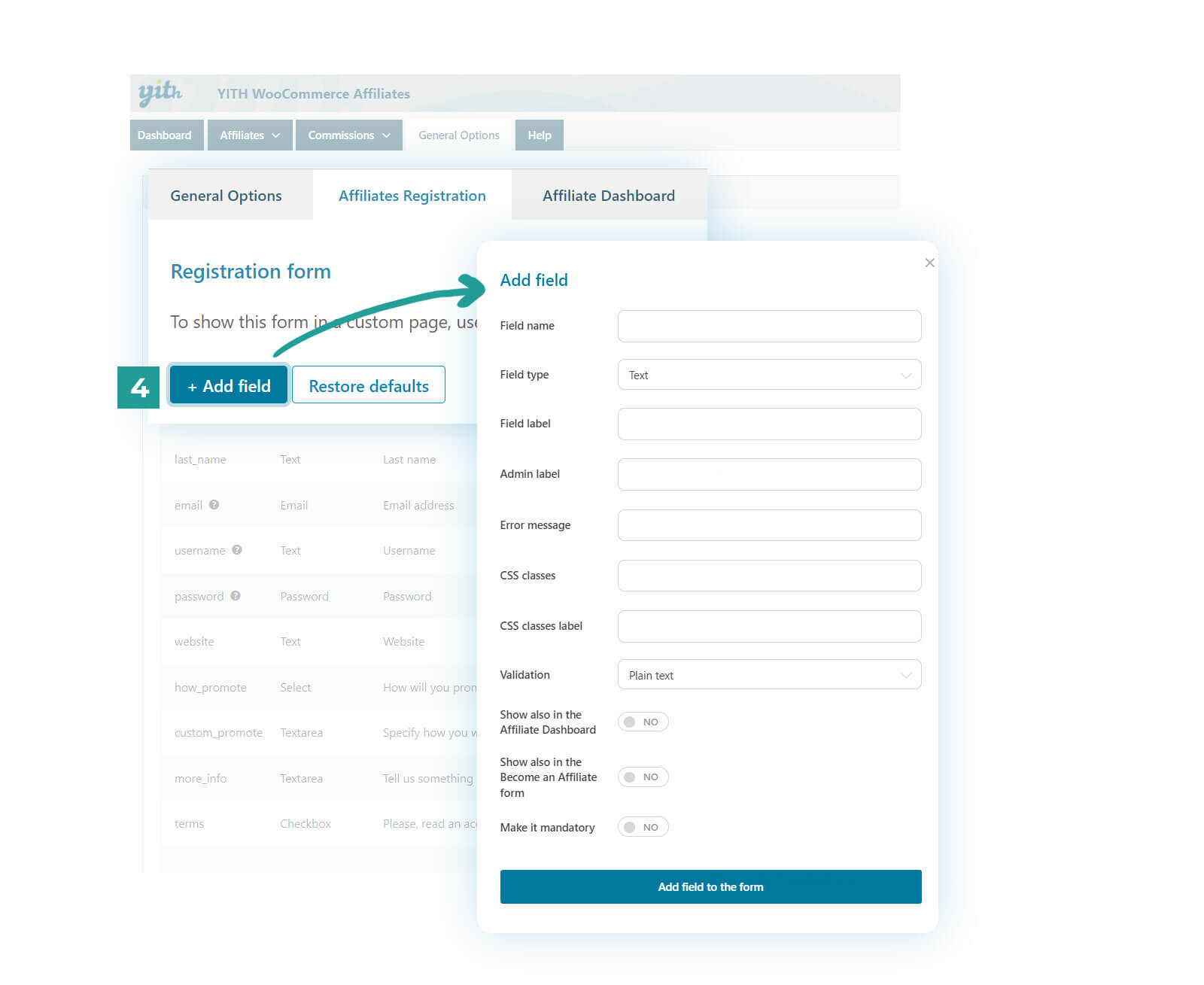 What information do you need to request from the user who applies as an affiliate?
Email and Password are required (and are needed to register the affiliate as a user of your site), but you could also ask for the URL of the blog or social profiles, or a brief description of the affiliate to get to know him better and to evaluate his candidacy. Sites like Shein also ask for the number of users that the affiliate manages to reach monthly or the number of followers on social networks… so you are free to create the form as you like.
Here is an example of an "affiliate recruitment" page made with YITH WooCommerce Affiliates: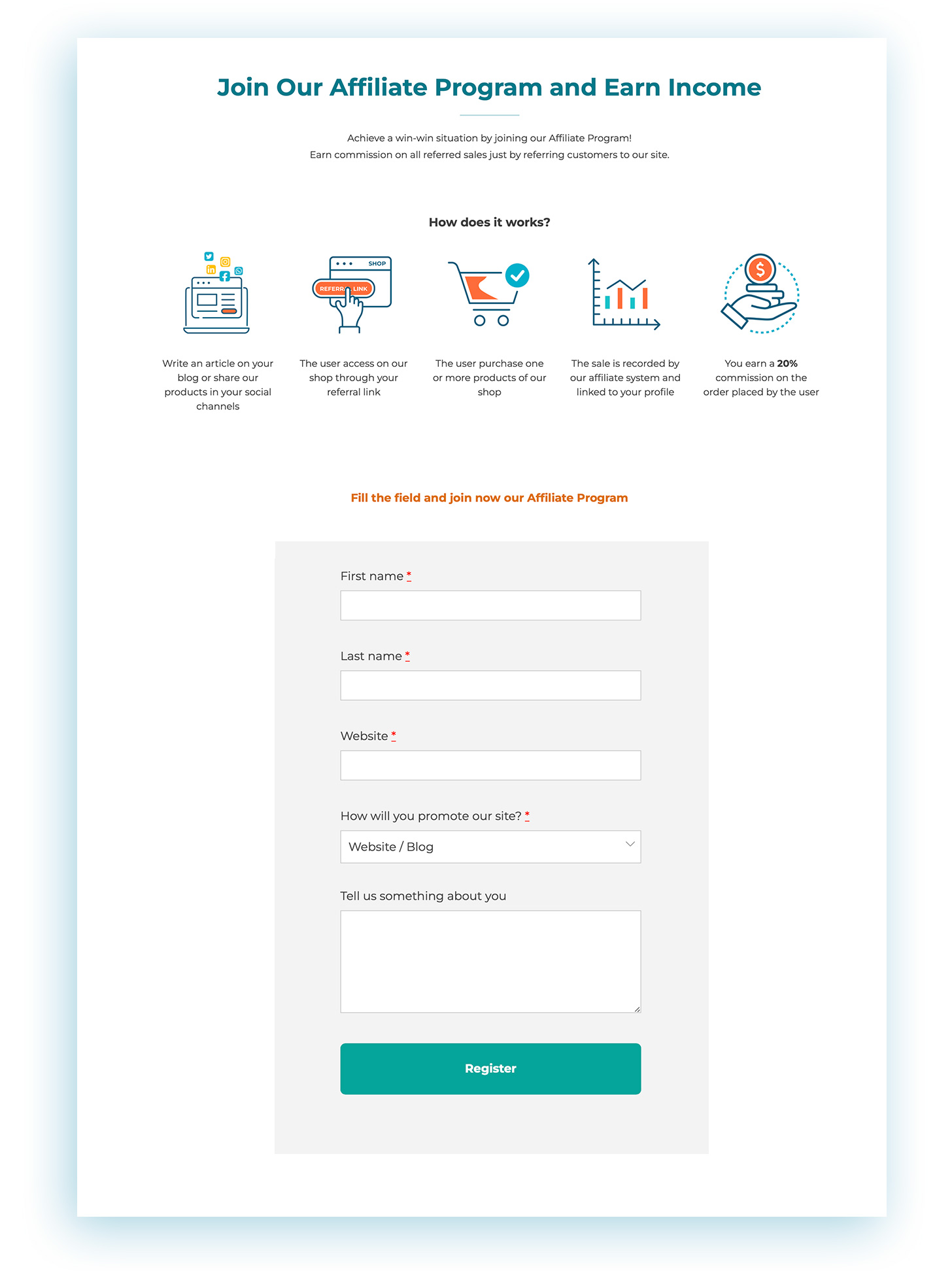 Set up the dashboard for your affiliates
After registration (and approval) affiliates will receive a "welcome" email that will give them access to their "dashboard". The dashboard is the panel where they can generate their referral link and track clicks, conversions and commissions earned.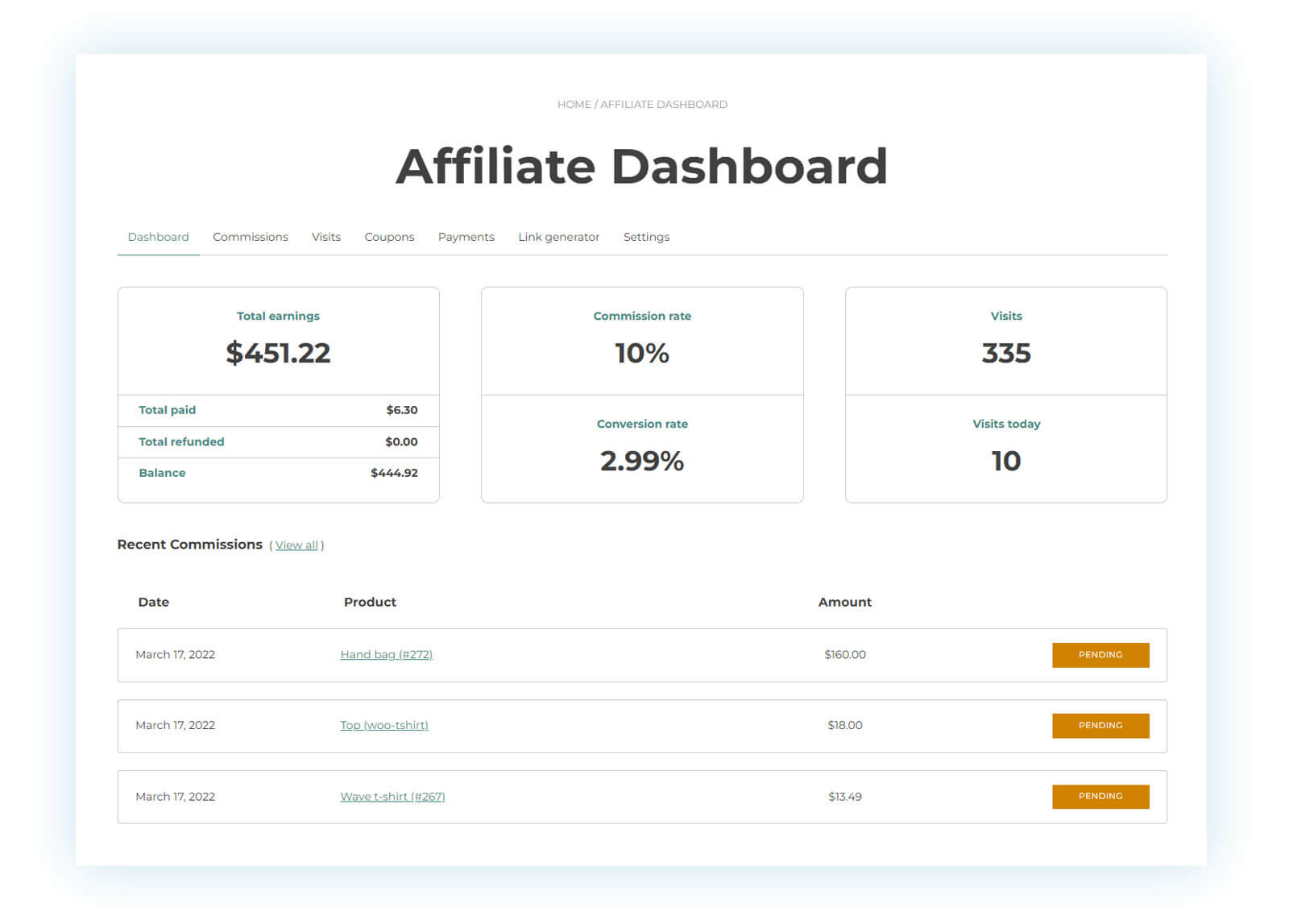 The plugin automatically creates a "Dashboard" page that you can find between the pages of your site (5):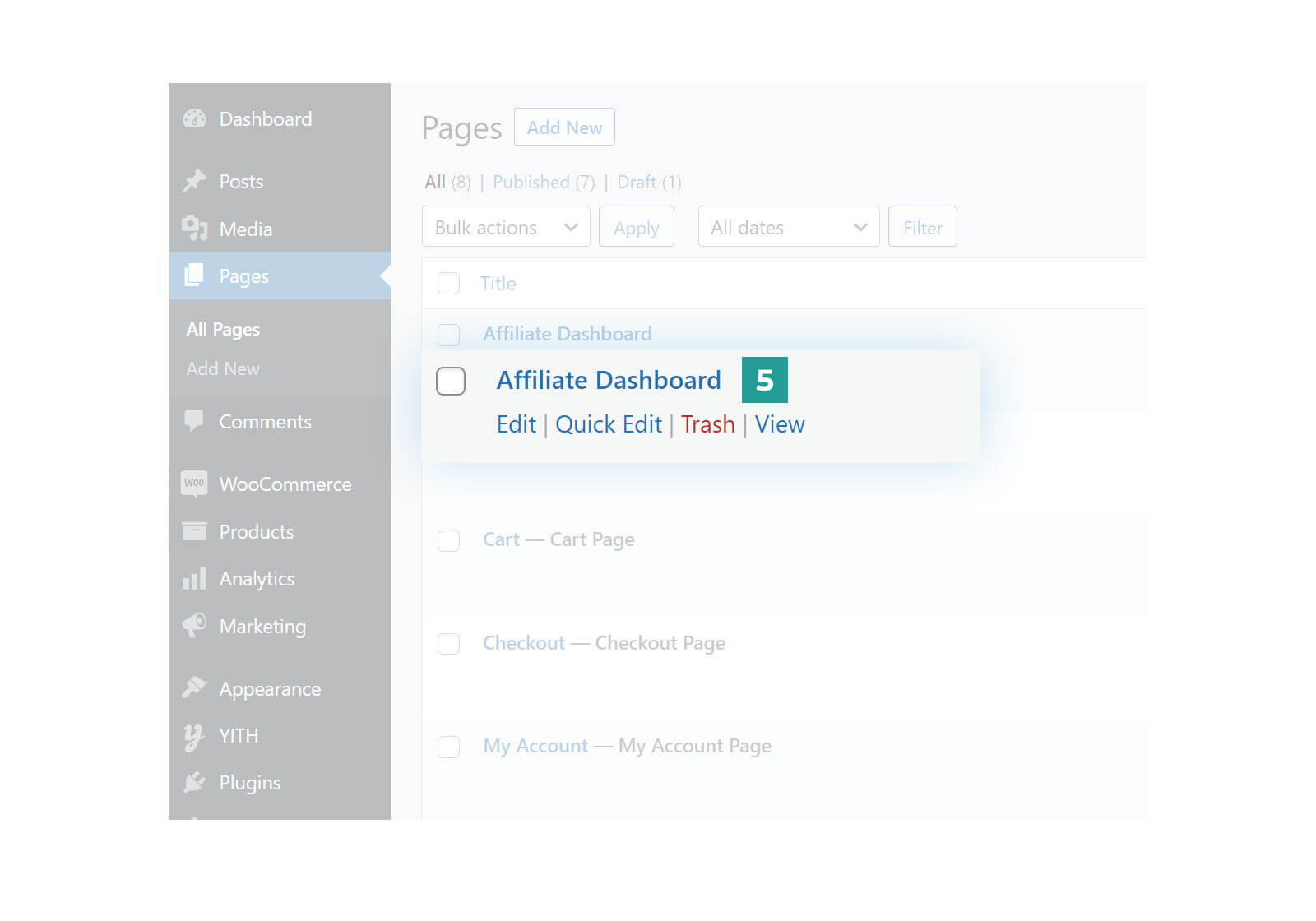 If you prefer, you can choose to place the dashboard inside the user's "My Account" section or in a specific tab, using the option in General Options > Affiliate Dashboard (6). This will be a better way for the customer to have his options organized in the same area.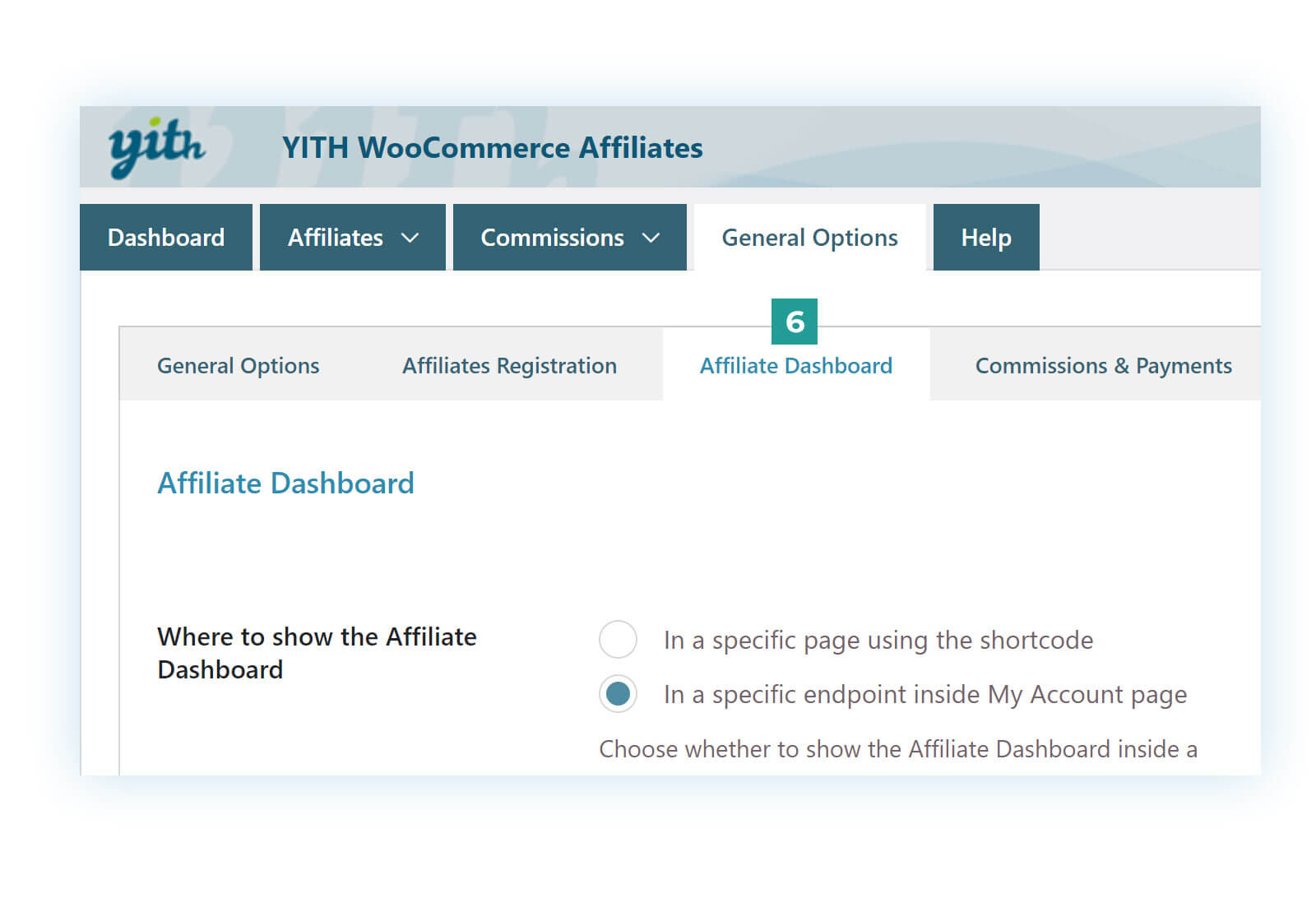 Set discounts and coupons to help affiliates to promote your products
One of the most attractive options of the plugin is the one that allows you to generate and assign to your affiliates a discount coupon. Even if it's a small one, a discount is always a great incentive to attract traffic to your site and also could make the advertising job easier for the affiliates.
To assign discount coupons to your affiliates, enable the "Assign coupons to affiliates" option in General Options > Coupon Options (7).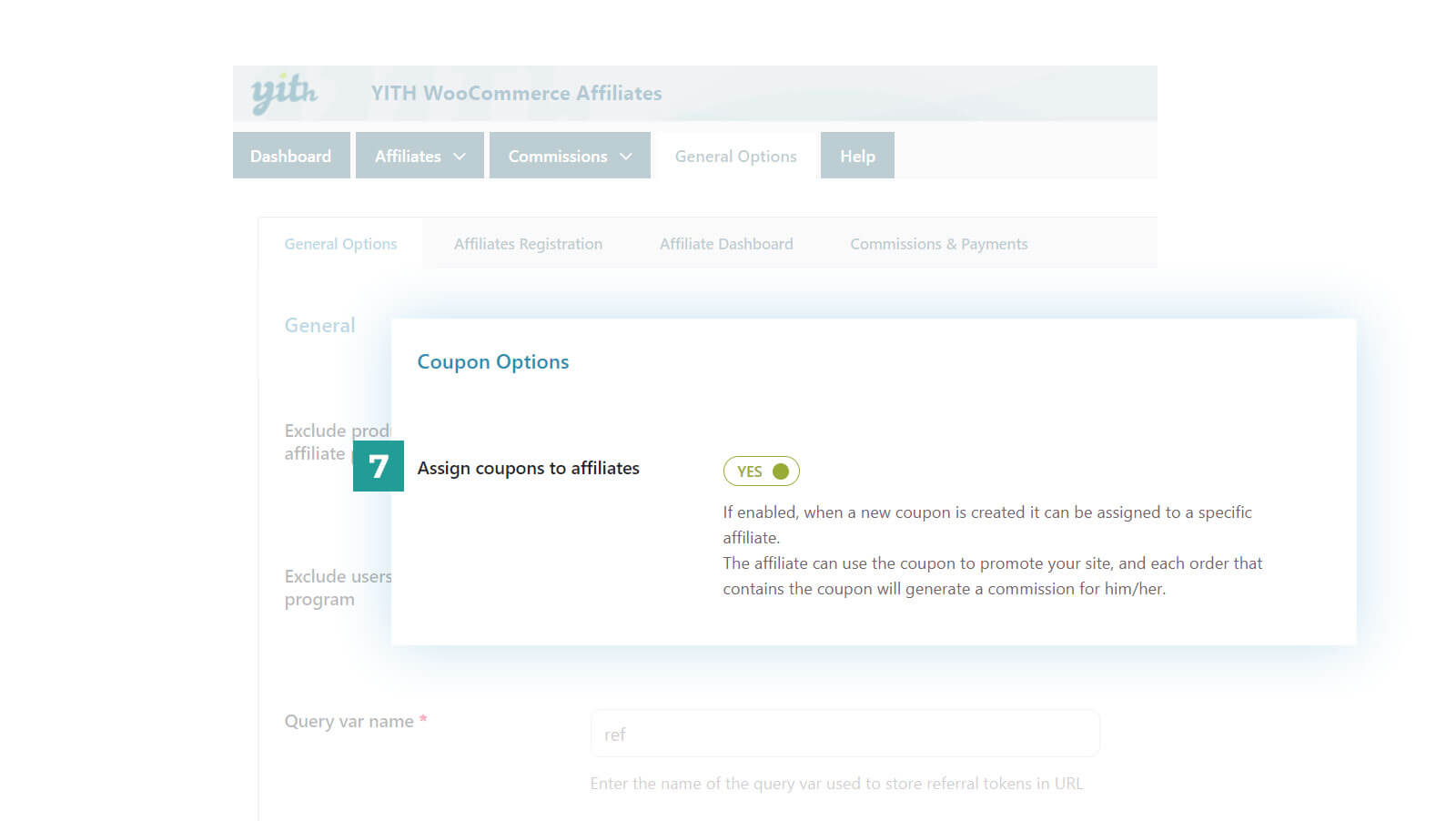 Then, you can create unique coupons for each affiliate. For example, if we want to assign a 5% discount coupon to our affiliate John Doe, just go to Marketing > Coupons (8) and create a new coupon by setting the code, the 5% discount in the General tab and in the "Affiliates" section choose the affiliate John Doe from the select.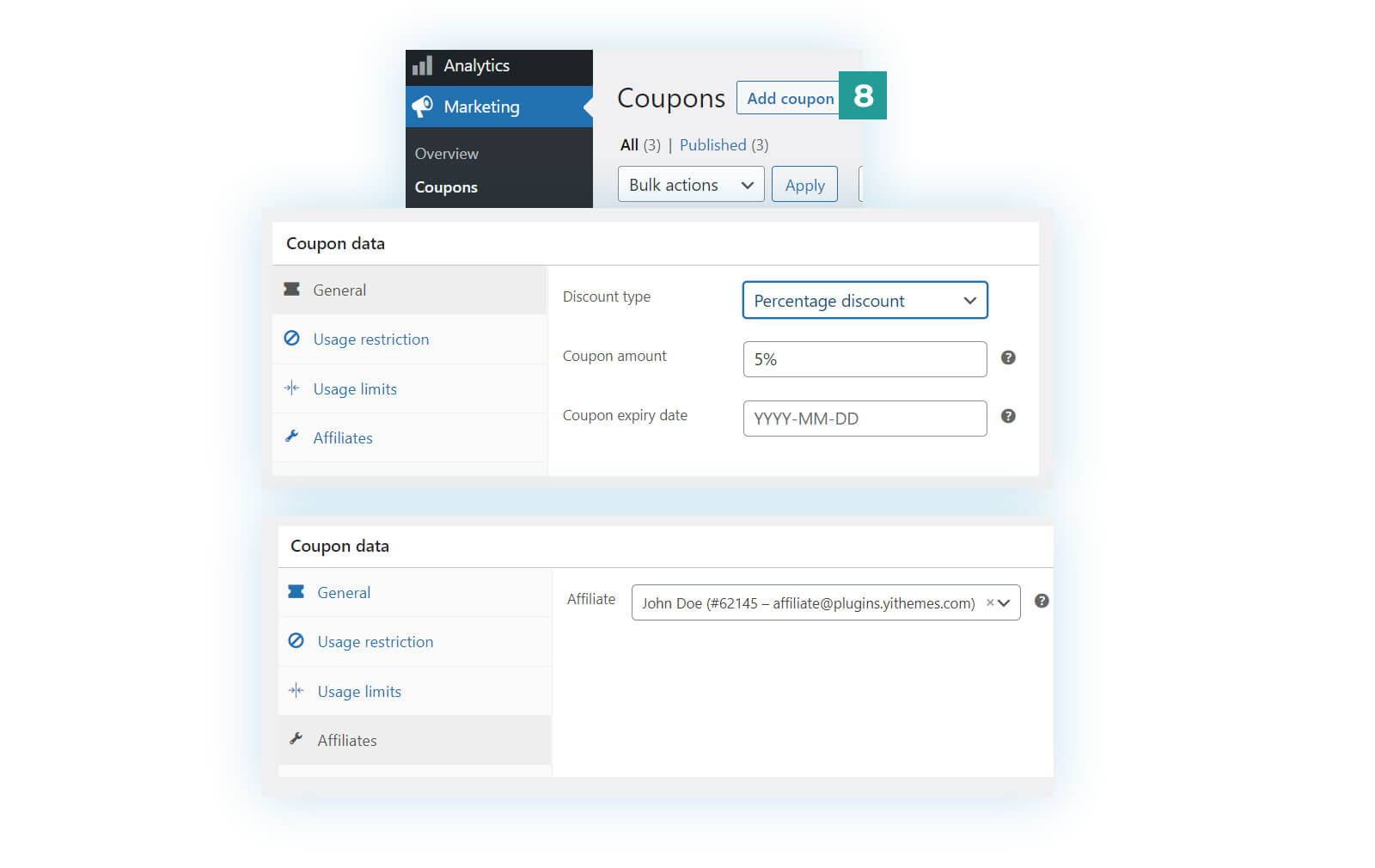 John Doe will find his coupon code in his dashboard and will be able to share it with his users when advertising your shop.
Manage affiliates and commissions easily
In version 2.0 of YITH WooCommerce Affiliates we have added so many features that we would need many articles to list them all.
The good news is that managing affiliates and commissions has never been so easy.
Regarding affiliates you can, for example:
Choose to automatically approve each application rather than doing it manually one by one
Enable, disable and ban specific affiliates
View detailed information about each individual affiliate
Set up an ad-hoc commission for each affiliate
In regards to commissions, we invite you to take a look at the options available in the General Options > Commissions and Payments tab. Among many, the most important are the ones related to the payment of commissions.
But, when and how should commissions be paid to affiliates? Good news, here, the choice is yours too.
With the option "Payment type" (9) you can choose how to manage payments, whether to leave the affiliates free to manually request the payment through the dashboard (and in this case you can also set a minimum and maximum amount) or to automate the payment when a certain threshold is reached and/or on a certain day of the month.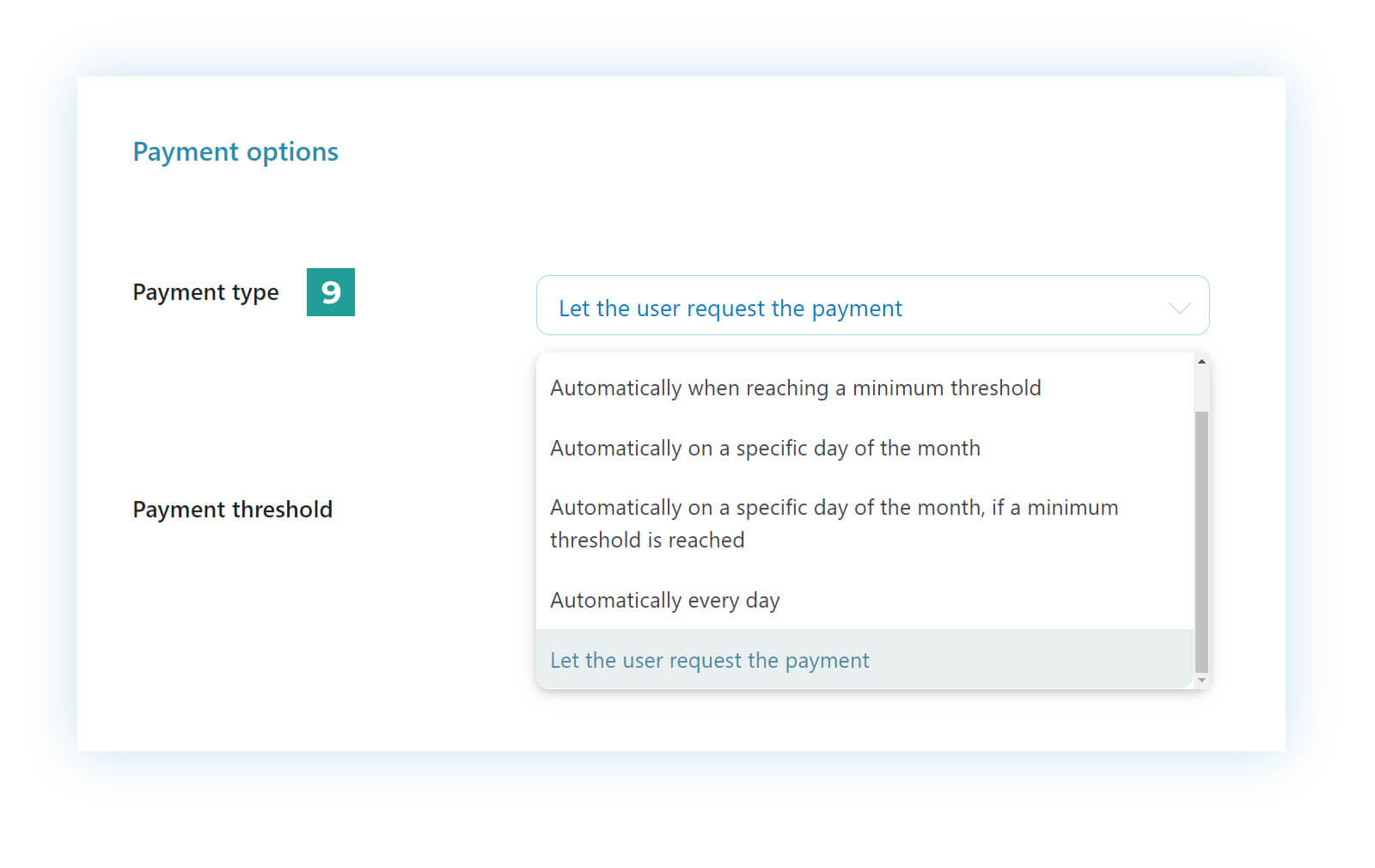 In the "Payment Gateways" section (10) you can choose with which gateway to make the payment of commissions. The main options are bank transfer or an automatic process using other plugins (PayPal MassPay or YITH PayPal Payouts), but you can also decide to use our YITH WooCommerce Account Funds and benefit from the integration to allow your affiliates to use their commissions as credit in your store.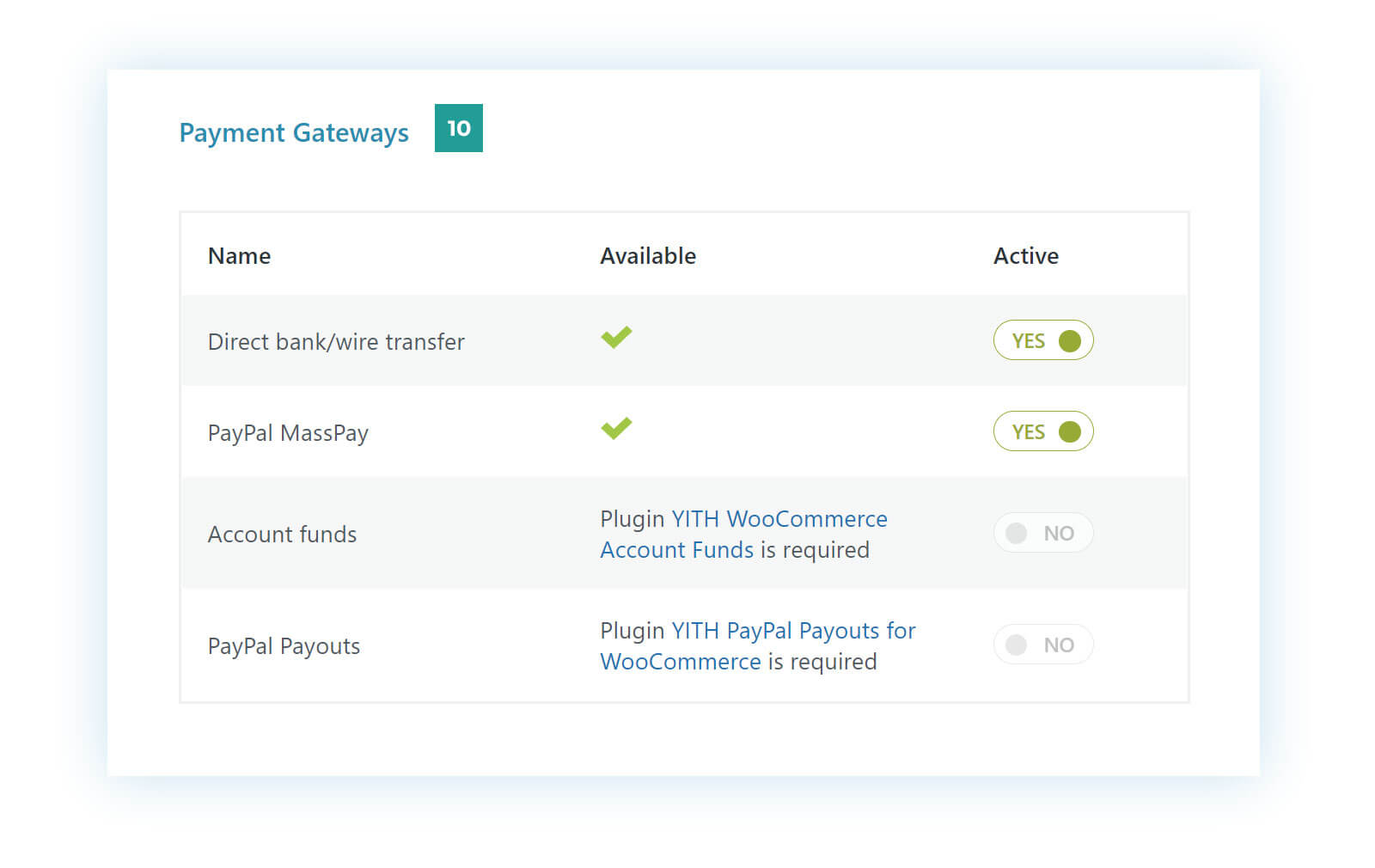 Recruit the best affiliates for your shop
You've created your affiliate registration page, set up the commissions and defined how to pay for them. Now you just need the affiliates! Again this is not an easy task, you might be wondering: "How can I do this?".
Well, start by advertising the affiliate campaign you've created:
If you already have customers, send them an email with detailed information about the news and how they can benefit from promoting your shop. Usually loyal customers (with a large amount of followers) are more than happy to advertise and join the program.
Design an eye-catching and intriguing image for social media to encourage users to access the page in your website that explains how to become an affiliate.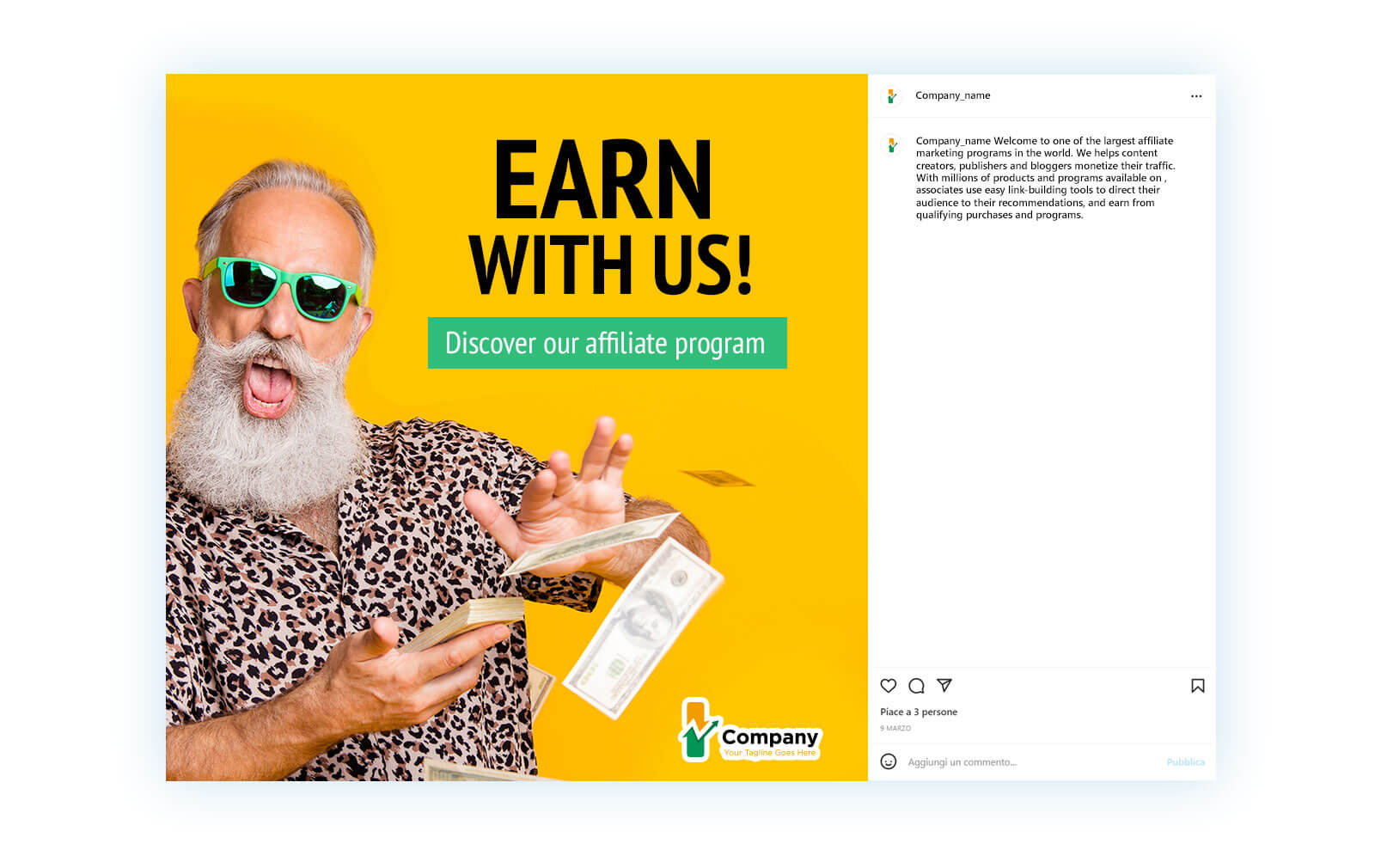 At the same time, you can also look for well-known bloggers and influencers in your industry. Believe it or not, in any niche, even the smallest, there are "blogs" and "experts" who publish tutorials, reviews, trivia, advice, and more. Do your research and contact those that best represent your customers and brand, you can even offer a higher commision to the first 20 affiliates, for example. This will encourage them to accept the proposal faster.
Remember that Influencer Marketing is the most powerful form of advertising. Still don't know what this is all about? We'll explain it to you.
How to use the influencer marketing to engage customers and boost sales
Influencer Marketing is a form of marketing based on the influence that some people have over the buying power of others. In simple terms: if you're skilled in communication and you can manage to convince hundreds to buy X product, you can call yourself an influencer and you use this ability as a source of income.
In the United States, one of the most famous influencers of the fashion industry is Miranda Kerr. Miranda is an Australian model that started her career in 1997 at the age of 13, even though she was very young, she has not stopped working since and nowadays she owns an organic brand of cosmetics and a very popular Instagram account with over 12 million followers.
Although this is her personal account and the content varies, in the example below you can see how she takes advantage of her broad audience to advertise for Amazon and her own brand Kora Organics by offering a 20% discount for all products in the shop bought through Amazon. As you can see, the image has 54k likes and more than 300 comments. If we evaluate the response we can assume the promotion had a good impact and it is likely that many customers will visit and purchase a product.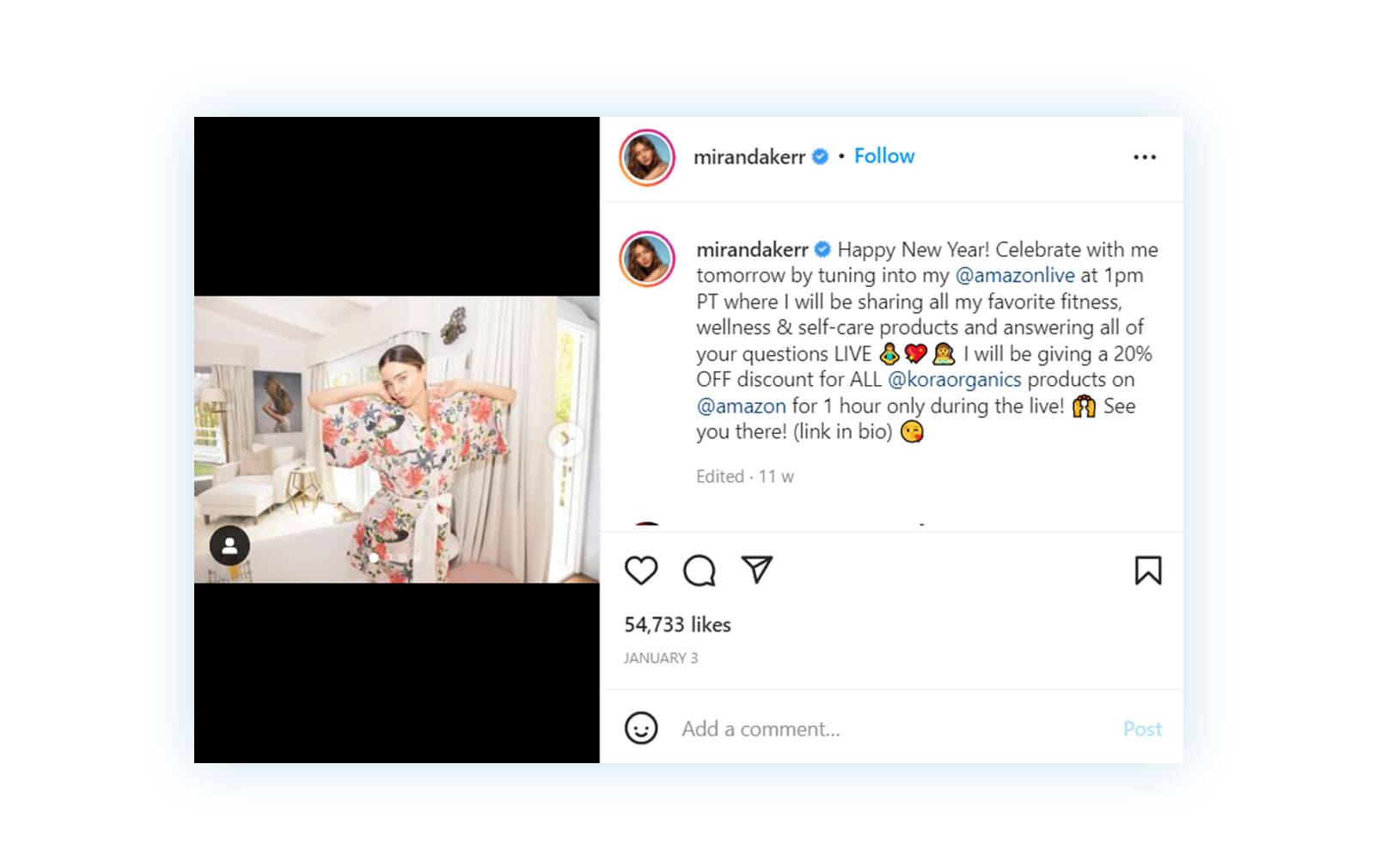 This is what to aim for when searching for affiliates, it might be difficult, but you need to try to understand your audience and find a person that they listen and follow. Once you find one (or many), don't hesitate to offer extra incentives like a high personal discount in your shop or higher commision rate. Do not worry, your e-commerce can only have benefits resulting from this partnership.
Track performance and earnings to improve your affiliate strategy
If you thought that once you have found your affiliates and they start to generate sales, the job is done, well… not yet! Now it's time to monitor the results.
Results are as important as choosing the right affiliate because this is where you will realize who are the ones that truly are increasing your revenues and what products are being chosen by the public. You must take this data seriously in order to strengthen each successful partnership and also to monitor your sales.
In the YITH Affiliates for WooCommerce dashboard you can track all this information and much more, to understand the real impact and potential of your affiliate campaign.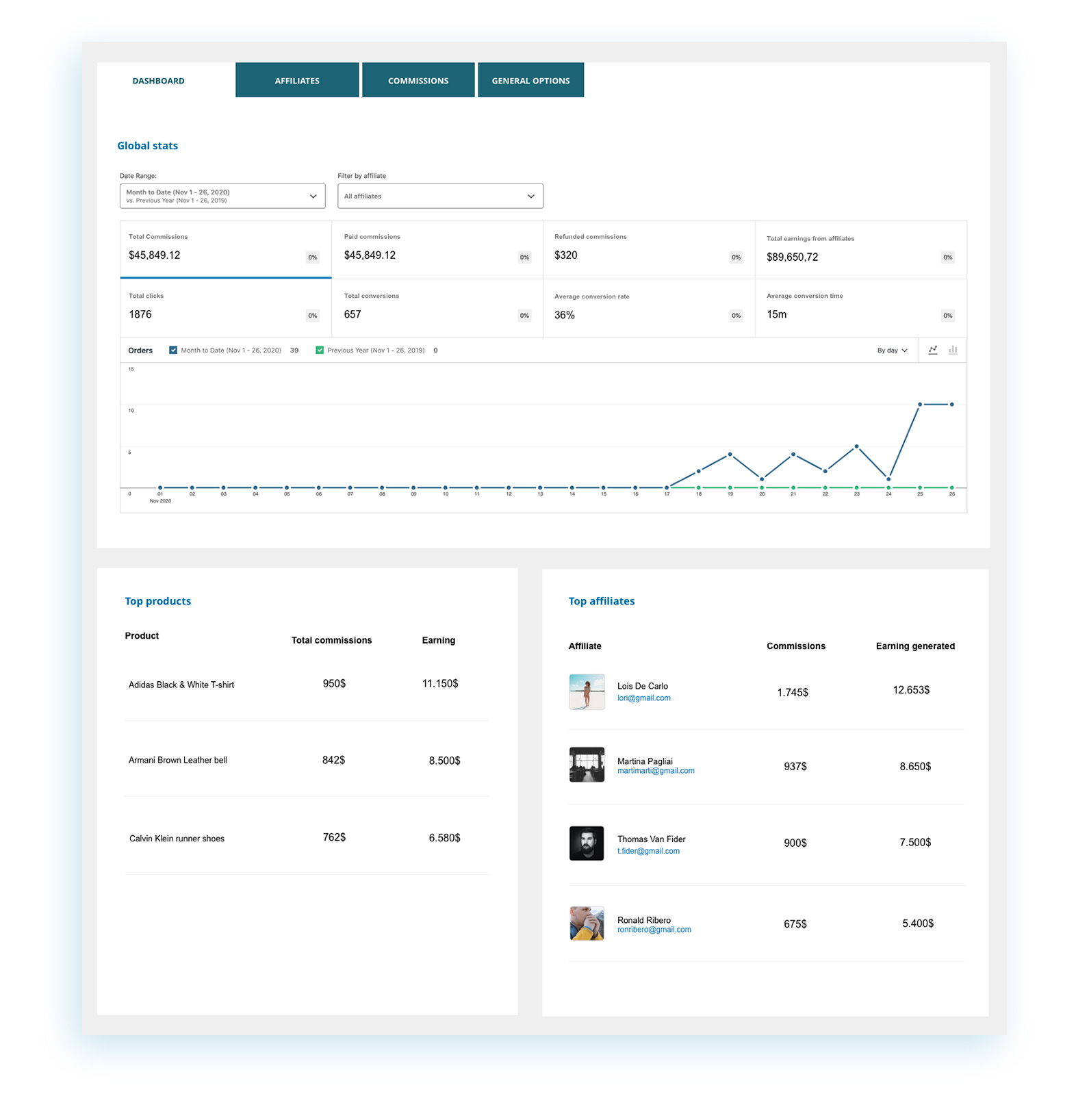 Conclusion
After all we have learned from this article it is clear that having affiliates is the way to get to the people that will buy in your store and will probably become loyal customers. It does not matter the product or the target, you can always take advantage of the benefits that an affiliate campaign can offer.
It could be difficult at first but with the right tools and a little patience (especially in finding and recruiting the right affiliates to promote your products) you can get really interesting results.