The world of publishing is not as poetic and romantic as we might think. The books and comic books market is strongly linked to a supply and offer system as any other one, to the point that new authors often find it hard to get their creations published.
If back in the day emerging authors and writers would have given up and started looking for other jobs, today, thanks to the internet, everybody can start digging for their own personal gold mine.
That's how new, self-releasing authors made it possible to spread the word about their work, often reaching a higher level of popularity then their colleagues. And this is also how web comics were born.
Many illustrators and comics creators try out the way of self promotion by experimenting on social networks and improving themselves thanks to the feedback they receive, building up their fan base step by step.
Facebook in particular, made many authors famous, some of which have huge worldwide fanbases, think about Explosm that, thanks to its funny and irreverent comic strips "Cyanide & Happiness", got more than 11 million "likes" on Facebook.
After reaching a high level of popularity  though, many authors feel the need to turn their digital product into paper, in order to monetize their creations.
There are a number of ways to do this, from direct sales on social networks to fundraising on websites such as Kickstarter or Indiegogo.
This kind of need extends to each and everyone who is willing to sell their creations and, in case of those that come in many issues (such as magazines, comic book series, episodic books etc.) publishers might need to sell yearly subscriptions, rather then single issues.
In this tutorial I am going to analyze the fastest most efficient way to sell your products on a yearly subscription plan using WooCommerce.
All we need is a plugin and a few clicks.
Required plugin
Plugin settings
Onche the plugin is installed and activated, you can create our subscription. I'm going to create a yearly subscription, the plugin, however, allows you to decide the duration of the subscription, in order to meet all your needs (it could be a monthly subscription, quarterly, semiannual etc.).
Just like you would with any other product in your store, browse to WooCommerce > Products. To make things clear, I decided to call my subscription plan "Subscrioption – 1 Year"

Once your subscription plan has a name, further down you will find the product options, in which you are going to have to check the Subscription box.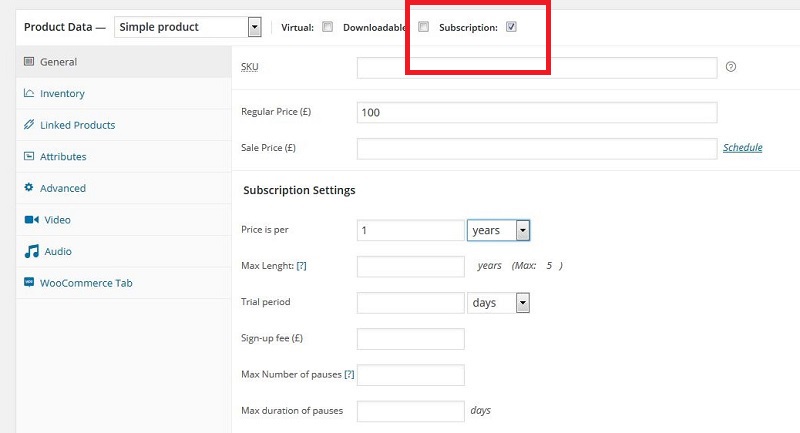 Lower down you will see the Subscription Settings: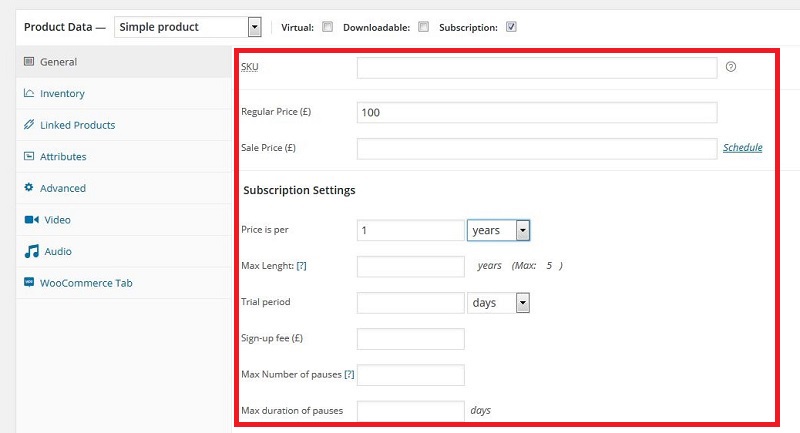 Among all the parameters we can tweak, you will find (and I've set random parameters considering a yearly subscription worth 100£):
Regular price – 100£ (The price of each subscription renewal).
Price is per – 1 year (The amount of time before the subscription needs to be renewed. This is a yearly subscription so I have set it to one year, you are free to pick the value you desire – days/weeks/months/years).
Max Lenght – 0 (shows how many times the subscription is going to renew itself. Leave it at 0 in order to let it autmatically renew for an indefinite amount of times until customers will cancel the subscription).
And you're set! In just a few click you have created a yearly subscription plan you can sell to your customers, that you can use for magazinesm comic books, novels or anything else!
This is what the subscription page should look like to your customers (the image is just an example):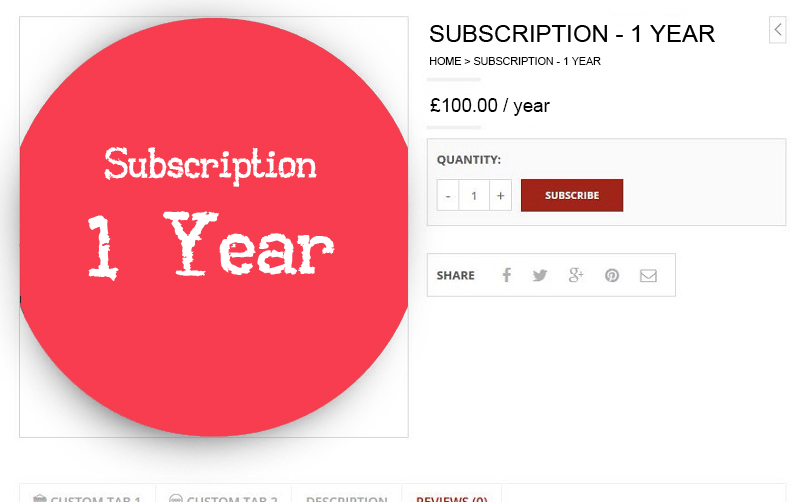 The most interesting aspect of this plugin is that once customers buy a subscription type item (such as the one above), it will create a recurring payment service thanks to automatic renewal system, which will occur at the end of the chosen time span, without any need for customers to do anything.
This will allow you to send your comic book/ magazine/novel issue as soon as the order payment is received.
And this is only one of the possible uses of this plugin, it is possible to combine its use with other plugins such as Woocommerce: Membership which will create a bridge you can use in order to selected members and subscribers only.
As I have stated in another article of mine, it is possible to create several WooCommerce membership levels, each with their own benefits, for instance you can sell learning courses and dedicate a part of your website to membership content only, or create variable subscription levels which offer a different amount of content according to the price.
Before concluding, here is a word of advice: non everybody uses PayPal as their default payment system and to this day credit card payment is the most commonly uesed one.
This is why I recommend you add the credit card payment option to your e-commerce store, which will allow your customers to perform payments directly on your website.