Comparison of the two most popular eCommerce platforms
When starting an eCommerce business, the main challenge is choosing the right service or platform for your online store. You might have found our previous comparison between WooCommerce and Shopify helpful, as these are two of the most widely used solutions.
In this article, we'll be comparing WooCommerce and PrestaShop. We'll explore how each platform operates and highlight their strengths and weaknesses. Our comparison will cover essential factors in setting up and running online stores, such as cost, user-friendliness, features, adaptability, and optimization. So, let's dive in and see which one comes out on top!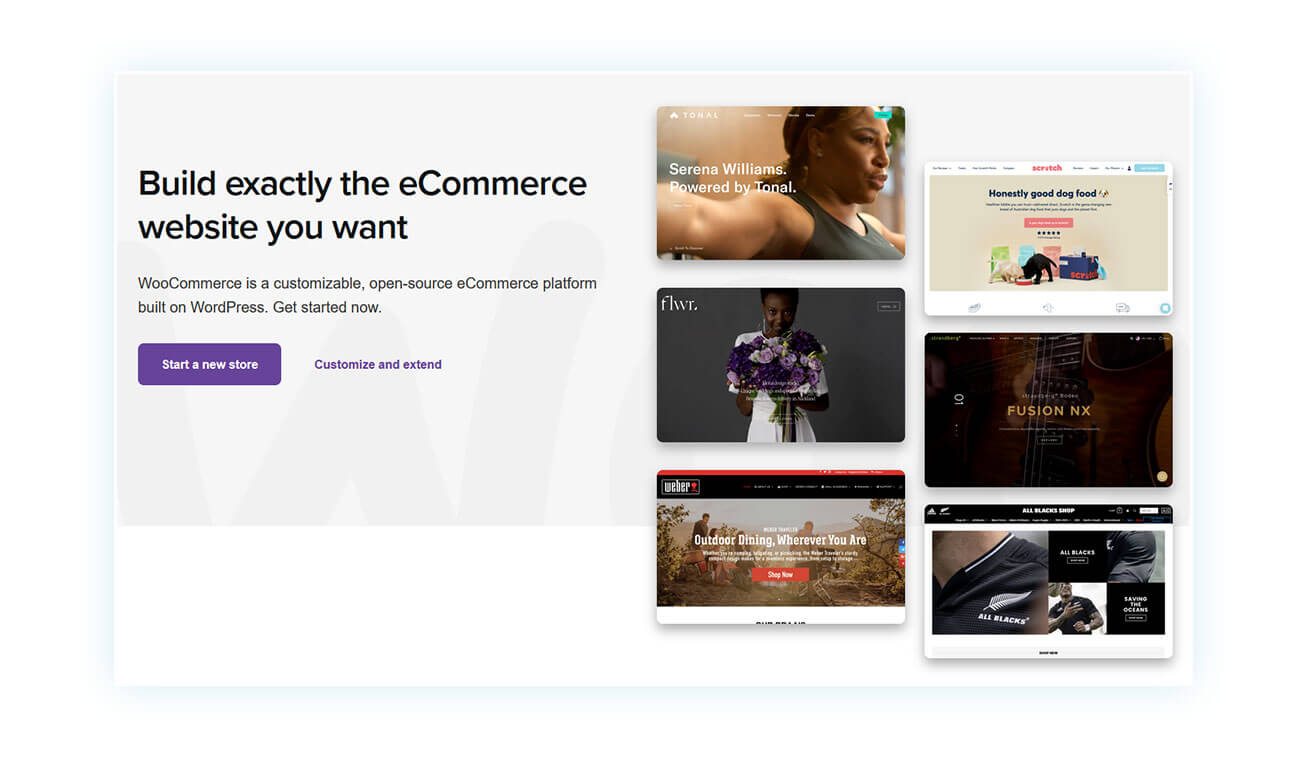 Considering the similarity between the platforms, it's important to make a comparison between them, particularly for those new to the eCommerce market who might find it confusing. While Shopify offers a slightly different service at a relatively higher cost, PrestaShop and WooCommerce are two very similar solutions. The only difference being the use of modules in PrestaShop, as opposed to plugins in WooCommerce.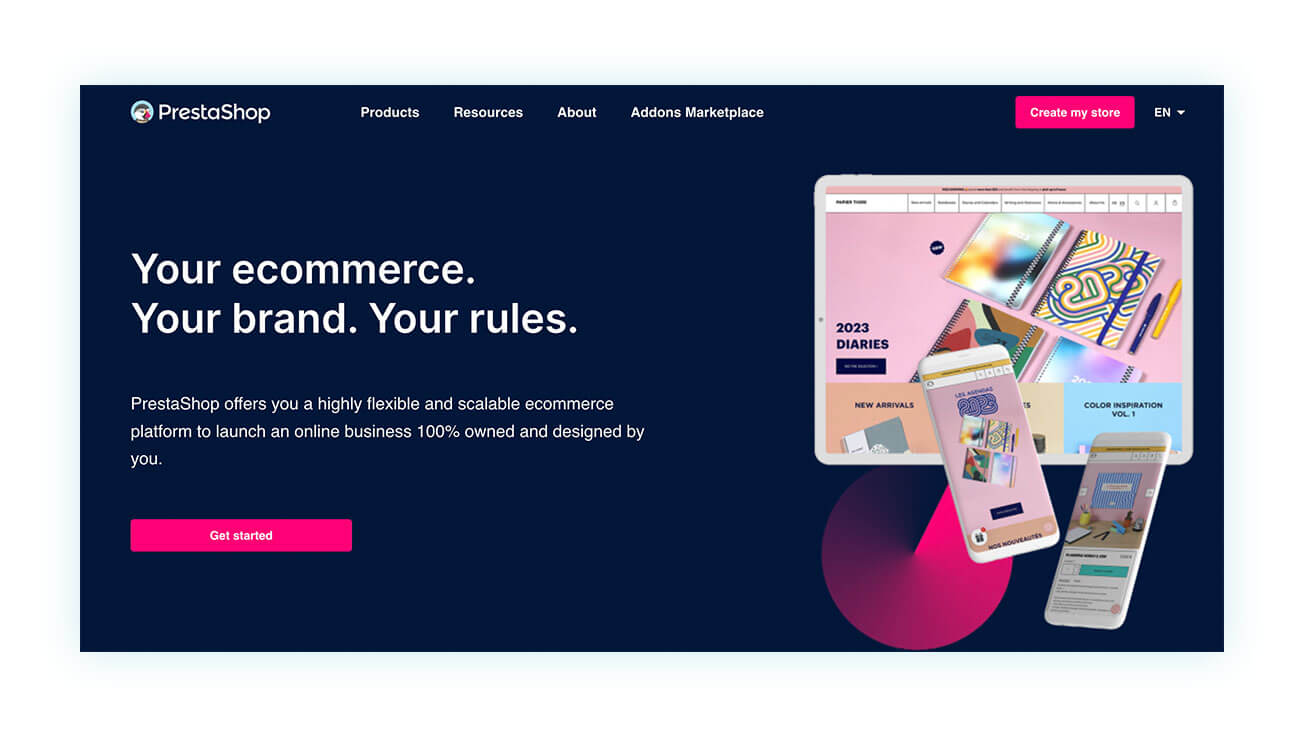 The purpose of sharing this information is not to claim it as the ultimate solution, but rather to offer the best-suited option based on your needs.
Features of PrestaShop
PrestaShop, an open-source platform, may not have as many installations as WooCommerce, but it has a significant community backing it up with over a million users, as mentioned on their official website.
We're discussing a no-cost option that involves downloading specialized software and installing it onto your own server. This will allow you to set up your own PrestaShop store.
Overall, PrestaShop appears to be a good yet slightly technical option that requires some time to set up but has the potential to deliver great sales outcomes in the future.
Features of WooCommerce
On the other hand, we have WooCommerce which is essentially a plugin for WordPress that allows you to turn a regular website into an eCommerce store. One of the key benefits of using WooCommerce is that it's easy to understand and implement, especially for those who have prior experience with the WordPress dashboard and its options.
As of July 2022, this platform boasts over 6.5 million active websites, holding the highest market share at 36.68%. It is a versatile system that offers thousands of plugins, making it more easy to understand and capable of performing a wide range of functions.
We have an accessible platform with huge possibilities, but it demands some initial focus during its development stage.
In contrast to PrestaShop, WooCommerce doesn't need any external downloads. Rather, it can be conveniently downloaded as a WordPress plugin.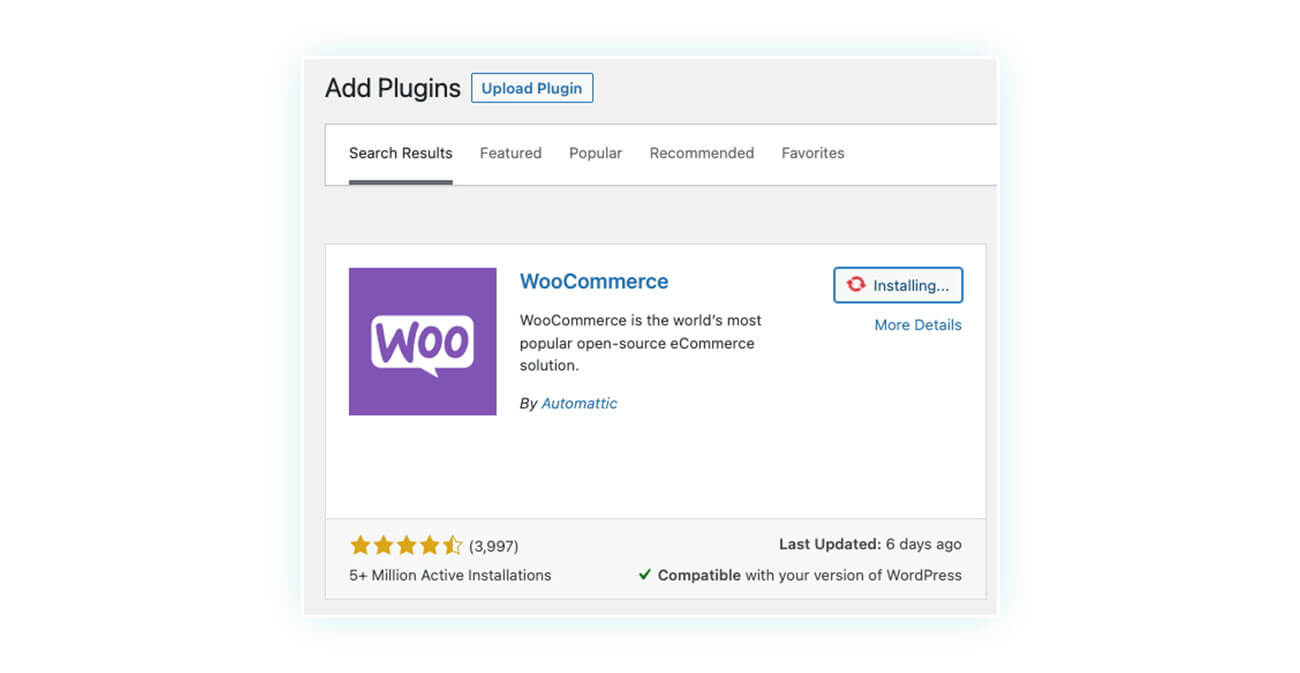 Keep reading to discover the details of the comparison between PrestaShop and WooCommerce.
Comparison between PrestaShop and WooCommerce
Moving on to the comparison of the two platforms. To ensure we cover all the important aspects for sellers, we have divided this section of the guide into multiple categories. These include:
Cost – The costs needed to create a store with both options.
Usability – Both in terms of installation and configuration, and store management.
Flexibility and functionality – How the store created with each of the two platforms can be customized and integrate special functions.
Support – The kind of help you can get while developing and managing the online store.
Security – A very important element for a store. We'll see what can be expected in both cases.
Performance – Site browsing speed, a key element for final sales.
Our aim is to offer our users a detailed overview so that they can make the best decision based on their requirements. We are confident that our analysis, will be helpful in this process.
1) WooCommerce vs PrestaShop: COST
The primary point of focus is the expenses involved in each option, including initial investment and ongoing payments. This is a crucial consideration that needs to be taken into account.
In this case, you will be pleased to know that both WooCommerce and PrestaShop are 100% free solutions. Since they are both open-source tools, they can be downloaded and used freely by anyone.
Of course, there is the cost of creating the site, linked to the hosting provider and the domain, which remains the same between WooCommerce and PrestaShop.
An extra cost to take into account is related to plugins and modules: these allow the integration of additional features (as we will see later) and in both cases, you can find free and paid options.
While the average cost may be similar for both options, it's common to come across PrestaShop modules that are priced higher than the standard. However, there is no clear winner between the two solutions, and the comparison doesn't favor one over the other.
2) PrestaShop vs WooCommerce: USABILITY
When it comes to setting up and maintaining your online business, an important factor to consider is the platform you choose. Whether you're working with a web development agency or going the DIY route, you will need a platform that is easy to manage afterwards.
It's hard to declare a champion between these two options. Both platforms prioritize ease of use as a core aspect of their functionality.
However, when comparing eCommerce platforms, WooCommerce seems to have a slight advantage. It is incredibly easy to install as it does not require any downloads, and you can simply search for the WooCommerce plugin. Additionally, if you are already familiar with WordPress interface, managing your store on WooCommerce is very intuitive.
If you have ever created an article or page on WordPress, creating a product for sale should be simple for you as the process is quite similar. First-time shop managers might find this helpful, yet, if you are already familiar with the WordPress website, we highly recommend using WooCommerce as it is more suitable for your needs.
3) WooCommerce vs PrestaShop: FLEXIBILITY AND FEATURES
When it comes to online stores, each one is unique and needs specific features to reach its full potential. That's why we believe that customizing the store with accessory elements is key. In fact, it's one of the most important factors we consider in our analysis.
Let's highlight the similarities between PrestaShop and WooCommerce in this regard. Both platforms offer a solid foundation for sellers to build upon by using modules (PrestaShop) or plugins (WooCommerce). This allows for customization and improvement of the platform to meet specific needs.
Even though both platforms have a variety of options, WooCommerce themes comes out on top due to the larger community behind them, and its plugins, of course. This results in greater flexibility and more choices for users. Currently, PrestaShop has around 4,000 modules available while WordPress/WooCommerce has nearly 50,000.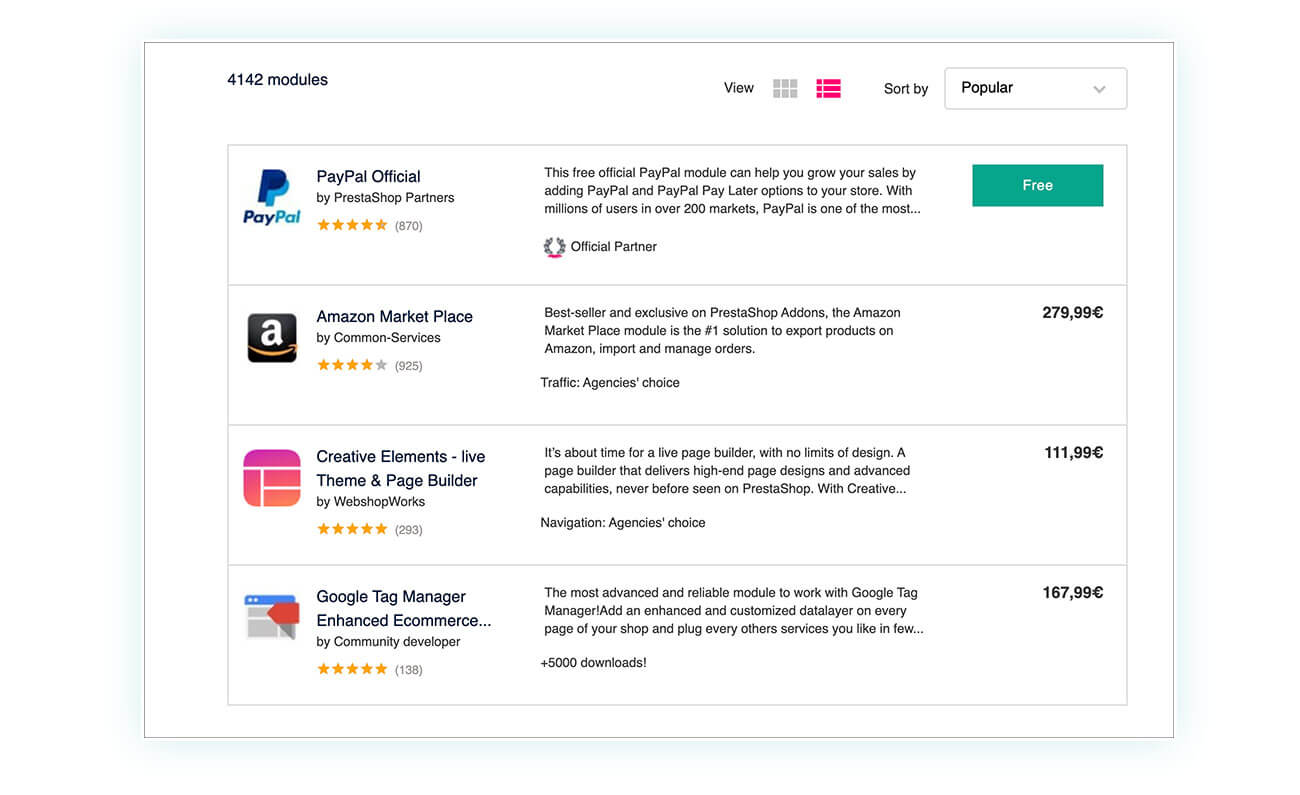 When it comes to WordPress and WooCommerce, it is important to note the difference between the two. Although WooCommerce is a WordPress extension, certain plugins that are designed exclusively for WordPress may not work perfectly with WooCommerce integration, leading to unplanned outcomes. It is important to keep this in mind while working with these platforms.
Although it is atypical, it is important to read customer reviews and take their opinions into consideration to avoid any potential risks. Don't worry too much though, it's not a common issue.
4) WooCommerce vs PrestaShop: SUPPORT AND ASSISTANCE
Store owners who are looking to launch their own online store may feel overwhelmed by the idea of managing the entire process by themselves. While an agency can be hired to handle all this work, it can be expensive and still require them to learn how to manage the store.
When discussing support, there are three key areas to consider:
Customer assistance for any issues that may happen.
Availability of online resources.
Support by the webhosting service.
Customer service and direct support
We've seen that both platforms are user-friendly and adaptable, but what if you encounter any issues or queries with the website? Who can you rely on for assistance?
When it comes to supporting WooCommerce and PrestaShop, there may be some challenges. Unlike using a paid service like Shopify, these platforms demand the seller's full participation. It's important to keep this in mind while working with them.
For both platforms you can opt for paid support services. Whether you choose PrestaShop Support Plan, Verified WooCommerce Experts, or Codeable freelancers, these services can be quite expensive.
If you're looking for PrestaShop technical assistance, you might find that the pricing for level 1 – Easy is around 300€. However, it's crucial to note that this type of support isn't unlimited and comes with a set number of hours for the seller.
Online resources and communities
There's no need to worry as there is a lot of resources available online such as documentation, articles, guides, tutorials, YouTube videos, and forums. These resources give an opportunity to seek help from the community, in a direct and convenient way.
Based on what I've seen, this usually does the trick in smoothing out any minor bumps in the road that may appear while developing your website. After that, just a bit of digging should get you up to speed on how to fully handle your store.
It's clear that WooCommerce has access to more resources than other services, thanks to its widespread use by people all over the world.
Support for webhosting
If the idea of setting up your own store feels overwhelming, there's a helpful option to consider. Your webhosting service provider could be an important ally in this process. It's important to keep in mind that they can provide valuable support and guidance.
Actually, many of these service providers are happy to set up a simple website for you with your preferred program already installed. Specifically speaking about WordPress.
As a reliable service, SiteGround makes sure to ask their users right away if they want to create a website using WordPress or WooCommerce, ensuring that no important information is left out.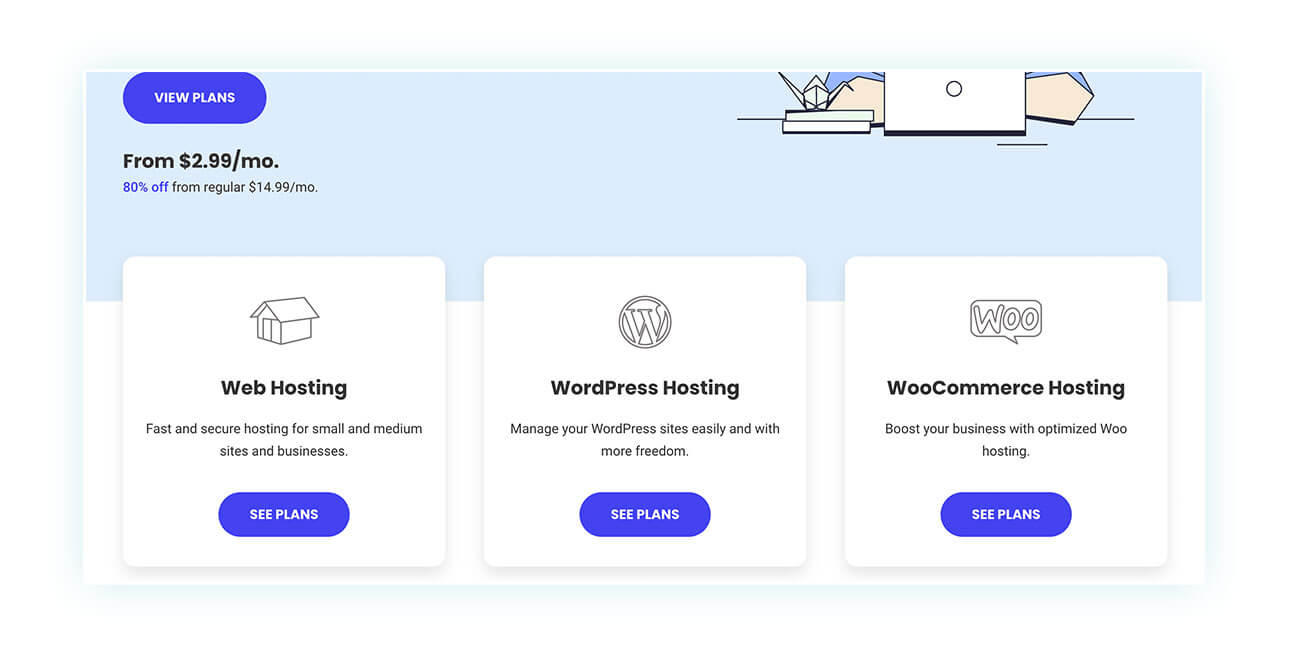 It's common for PrestaShop and WooCommerce to offer assistance to their customers during installation or if they experience performance issues. This is an important factor to consider when deciding between the two platforms. As a professional, it's recommended to prioritize this aspect and choose the option that provides friendly and helpful support.
In most cases, most of webhosting companies offer support for WordPress and WooCommerce, but it might be a good idea to do some additional research if you're looking to use PrestaShop.
5) WooCommerce vs PrestaShop: SECURITY
One thing that is incredibly important to all sellers is the safety and security of their website. It's not just about keeping your store's information safe, but also ensuring that your customers' personal details are protected as well.
It's vital to avoid any attacks that could cause significant economic and reputation damage. Therefore, when it comes to security, which platform should you choose?
Actually, there isn't a significant contrast between the two platforms, but PrestaShop seems to have more security issues. As of now, there are 76 vulnerabilities on CVEDetails, with certain problems scoring as high as 10/10.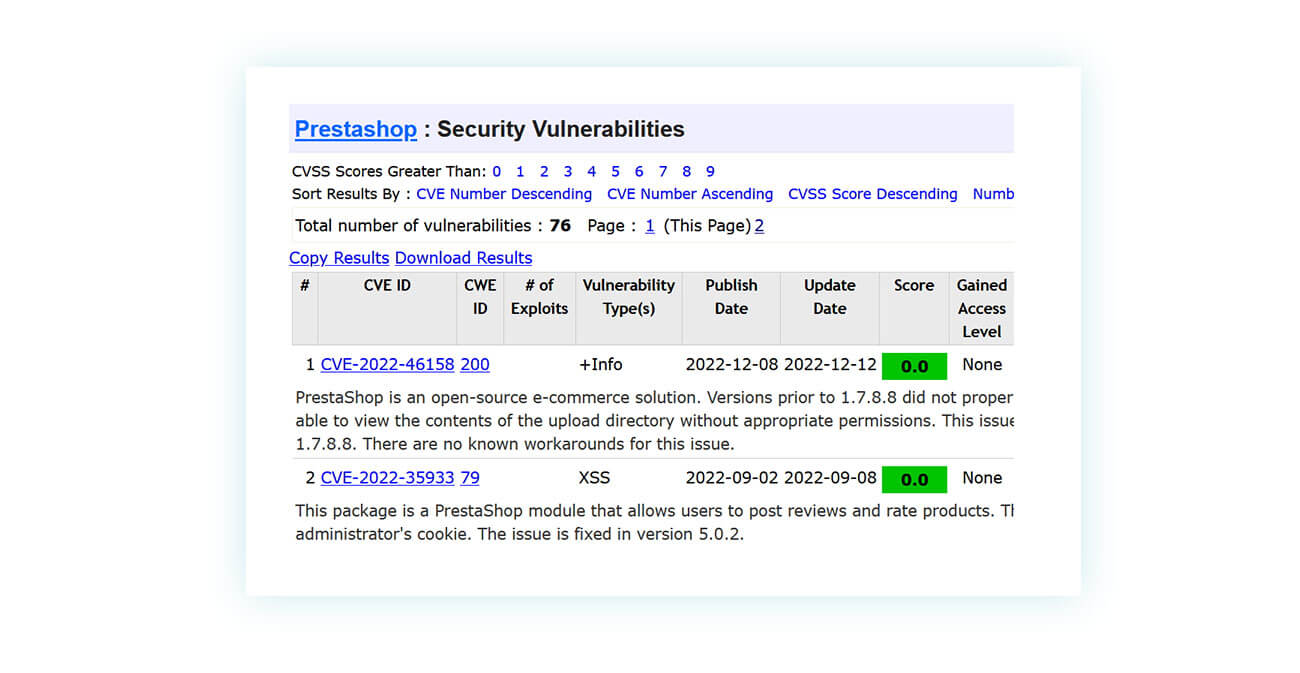 Regarding WooCommerce, however, we can count about 20, with a lower score.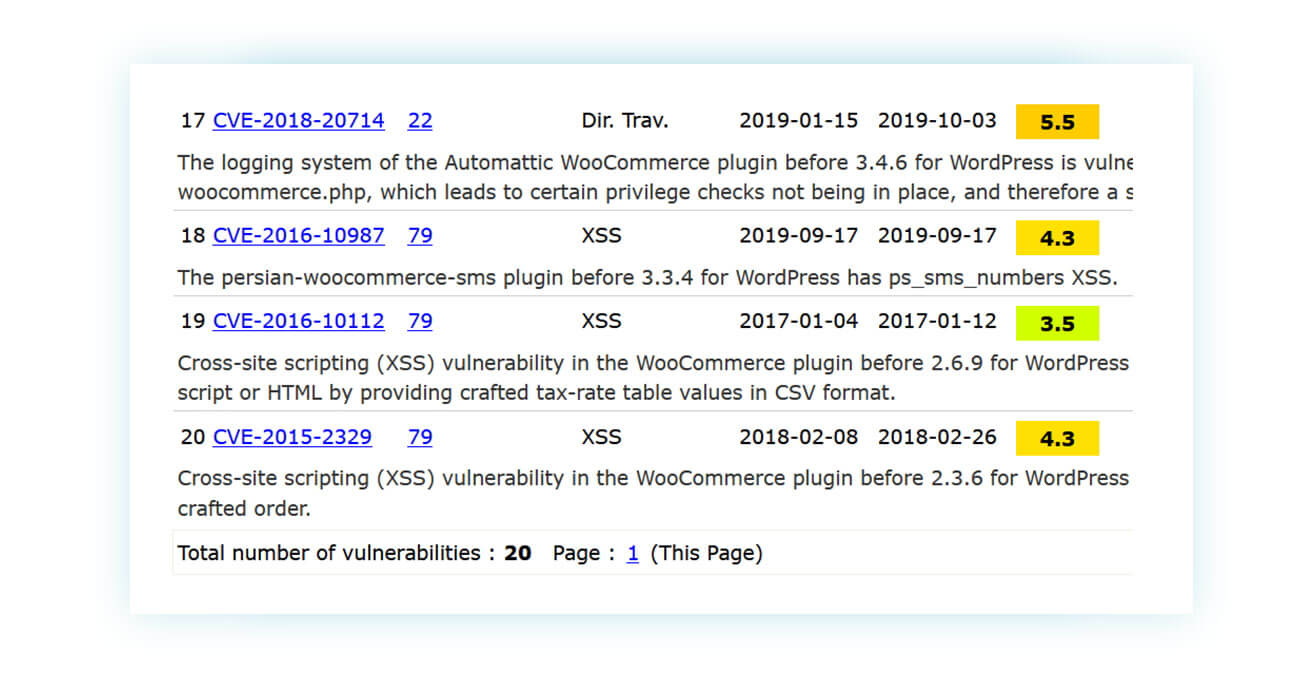 The level of danger cannot be set between the two solutions, as the risk is dependent on the seller's actions. This is to say that the seller's behavior is what ultimately determines the level of risk involved.
To minimize the risks to your WooCommerce store, we recommend taking the following steps:
Keep WooCommerce and WordPress updated.
Use plugins developed by renowned and recognized companies and keep them up to date.
Rely on a secure and reliable hosting service.
6) WooCommerce vs PrestaShop: PERFORMANCE
When it comes to the final aspect of our comparison, it's hard to declare a clear winner. The speed of a website and its navigation can be influenced by many factors, but by focusing on those factors, it's possible to achieve great outcomes in either case.
Our suggestion is:
When you're buying hosting, don't only focus on finding the cheapest option. Keep in mind that opting for a low-quality server can negatively impact your website's overall performance.
It's important to only install and use the essential modules for your PrestaShop and plugins for WooCommerce to guarantee that your site runs smoothly without any unnecessary programs weighing it down.
Use a module or plugin to optimize your site.
Why choose WooCommerce over PrestaShop
While both PrestaShop and WooCommerce have similarities, the comparison between the two leads to the conclusion that WooCommerce is the better option. It is more versatile, reliable and easier to use. Even though setting up and maintaining the store requires some effort, the learning curve is considerably shorter compared to other eCommerce platforms.
It's important to consider the popularity of WooCommerce and the huge community supporting it when trying to draw comparisons. This results in plenty of resources available, both free and paid.
WooCommerce vs Shopify
On our blog, we have made several comparisons like this one, and we will continue to do so. As the number of people wanting to be successful in the world of online marketing grows, having a good understanding of the different eCommerce options available becomes more and more important.
After analyzing the pros and cons of WooCommerce and Shopify and reviewing the results of the WooCommerce vs PrestaShop comparison, we will evaluate other platforms like Magento and Wix, among others.
The initial step in creating a store involves selecting a suitable platform, and we are here to assist you with this crucial decision.
FAQ
What are the main differences between WooCommerce and PrestaShop?
Both PrestaShop and WooCommerce work in a similar way, but they differ in their approach. PrestaShop has modules while WooCommerce has plugins. WooCommerce has a more extensive community than PrestaShop, but both are reliable platforms for digital marketing.
Which platform is best suited for small businesses?
Small and medium-sized businesses have shown a greater preference towards using WooCommerce, which has gained significant popularity.
Which platform is more user-friendly?
They are both simple, but PrestaShop tends to change its UI more often than WooCommerce, which is more complicated for those with less experience.
Which platform offers more flexibility for eCommerce site customization?
Thanks to the variety of plugins available and the adaptable nature of WordPress, WooCommerce has become an excellent eCommerce solution.
Which platform has a more active developer community and better support?
WooCommerce, which has a wider reach globally.
Which platform offers more security for managing customer data?
At the time of analysis, WooCommerce had only 20 security flaws, which is considerably less than the 76 of its competitors.
Which platform has a wider range of plugins and integrations available?
WooCommerce has significantly more plugins in comparison to PrestaShop's modules.
Which platform is cheaper?
The choice between the two free solutions depends on the paid or free plugins and modules that you opt for in your eCommerce platform.
Which platform offers a better mobile experience for customers?
Both are mobile-friendly.
What platform is the most capable of expanding alongside your business?
Your webhosting plays a big role in this, but even though large companies prefer to install PrestaShop, WooCommerce is still capable of achieving the same level of success.