Welcome back to this WooCommerce guide!
In the previous chapter I have gone through the procedure of installing a theme on your WooCommerce store, today we are checking out how to configure your store's general options.
To better understand how to do this right, let's go through a practical example.
In the following settings, I'm going to set my choices in order to create an e-commerce store that:
Is headquartered in Spain but sells worldwide.
Uses the dollar ($) currency to sell its products.
Deals in different kinds of women clothing.
Once we clearly have in mind what kind of e-commerce store we want to create, let's proceed with your store configuration by selecting WooCommerce > General from the main menu, in here we find two distinct sections: General Options and Currency Options.
Let's begin from the first one.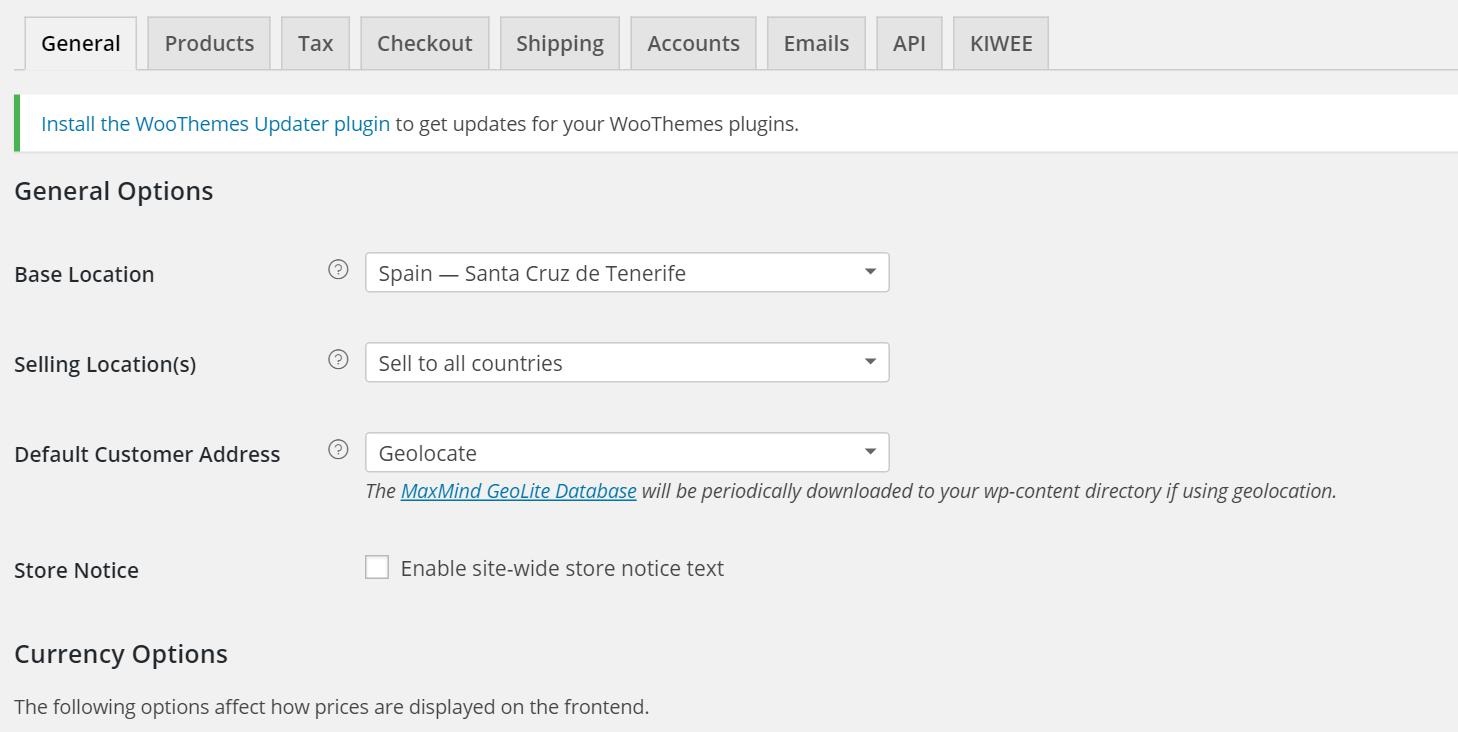 Let's go through the most important elements on this list one by one:
Base Location – This is the physical location of your store (the tax rating is based on this country's laws). In my case I entered "Spain", since that's where the aforementioned store is located.
Selling Location(s) – This parameter allows you to chose between selling worldwide or limiting your sales to selected countries.
Store Notice – Allows you to enter a custom notice anywhere in your store, a useful option if your website is undergoing maintenance or tests and you don't want to cause any issue to your customers.
Now we can set the currency settings and the price format of your WooCommerce store.
Currency – The default currency used by your store that will be displayed on your prices and used for payments.
Currency Position – Shows the position of the currency symbol (left or right) and whether or not it needs to be preceded by a space.
Thousand Separator – The punctuation mark used to separate the thousand, in our case it's a comma.
Decimal Separator – The punctuation mark used to separate the decimals, in our case it's a dot.
Number of Decimals – The number of decimals that follows the integer, in our case it shows up to the hundredth.
And you are set! In just a few simple step we have set up the general options of our WooCommerce based store.
Always remember to click on "Save changes" before leaving the page to avoid losing the changes you have made.