Everyone running an e-commerce shop is suffering the plague of an increasing rate of users' abandoned carts and checkouts.
In the past decades the abandoned cart rate has been growing to reach stable values between 50 and 70%.
This means that more than half of those users that add a product to the cart will not finalize the purchase. It's such a considerable rate that it cannot be ignored and that should push every online business to an accurate and in-depth analysis of what is causing it and what solutions are available.
Why do users abandon shopping carts?
There might be many reasons why users abandon a shopping cart or leave the checkout process and they can differ based on the products that you sell, on your target and on the devices used by your site visitors.
In general, most users state that they leave because:
They see additional fees showing up in the checkout, like too high shipping rates or tax that they had not taken into account;
They are asked to create an account and fill out a huge number of fields (first and last name, address, phone number and so on) which took too long;
They find the checkout process too complicated: too many details to add and unclear descriptions made them feel so frustrated that they prefer putting the purchase off.
Mobile user experience is not the same as a desktop. Long forms with irrelevant fields stop mobile users from checking out.
A well-built checkout, then, is essential to help users finalize the purchase with a serene attitude. Our Multi-Step Checkout plugin allows splitting the checkout process into smaller steps, guiding users one step after the other until they complete the order without overwhelming them with too many details to add on one page.
To be able to offer an even better user experience, we have just released an updated version to refresh the plugin interface and make it even more usable and above all to add the most popular options in demand.

Multistep checkout – what's new
1- The new user interface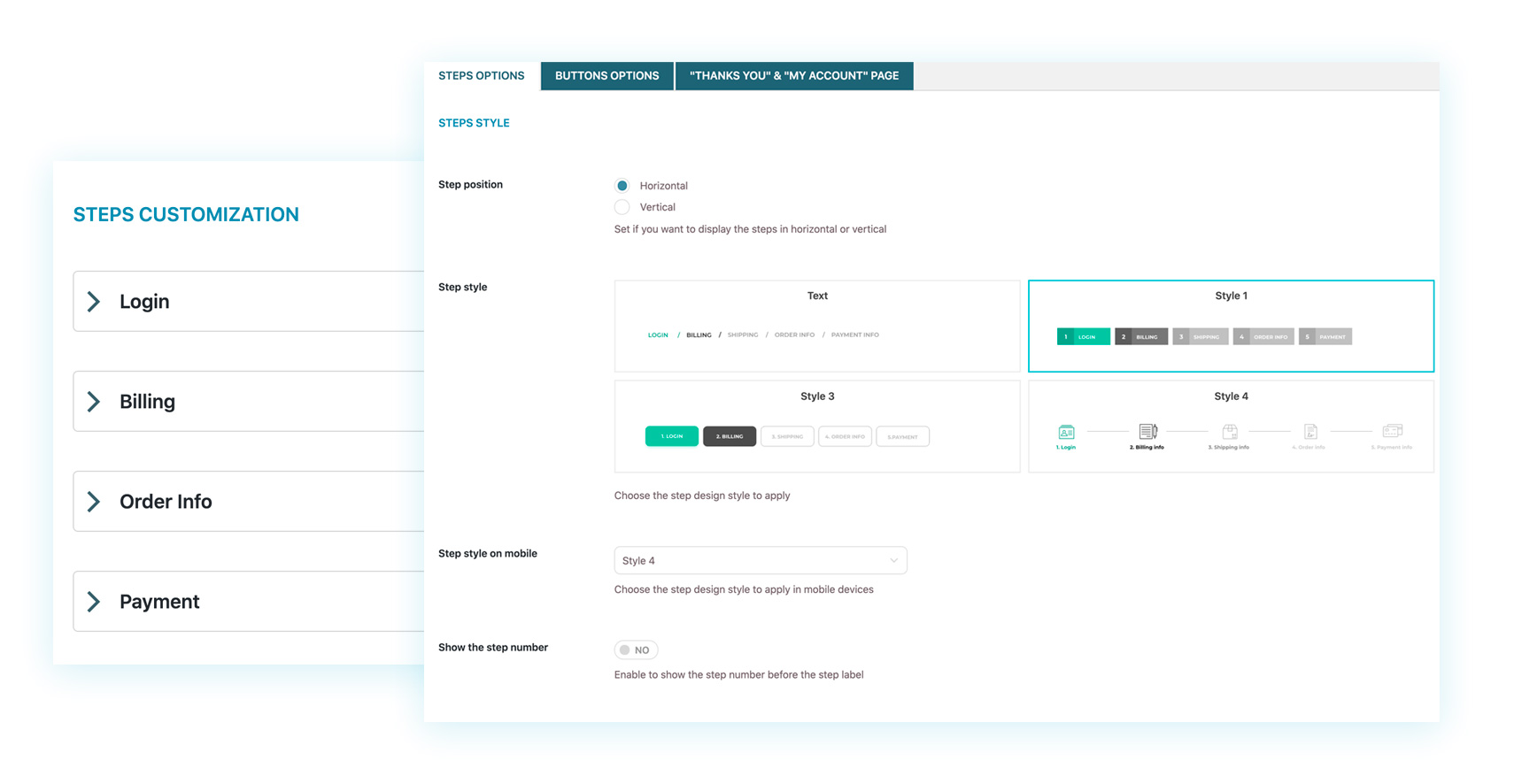 As well as for all the plugins that we have redesigned during the past year, it was time for Multi-Step Checkout of a new panel redesign. We carried out a UX analysis and repositioned the options to make them more intuitive and the plugin easier to set up.

2- A new style for the checkout steps, modern and even more mobile-friendly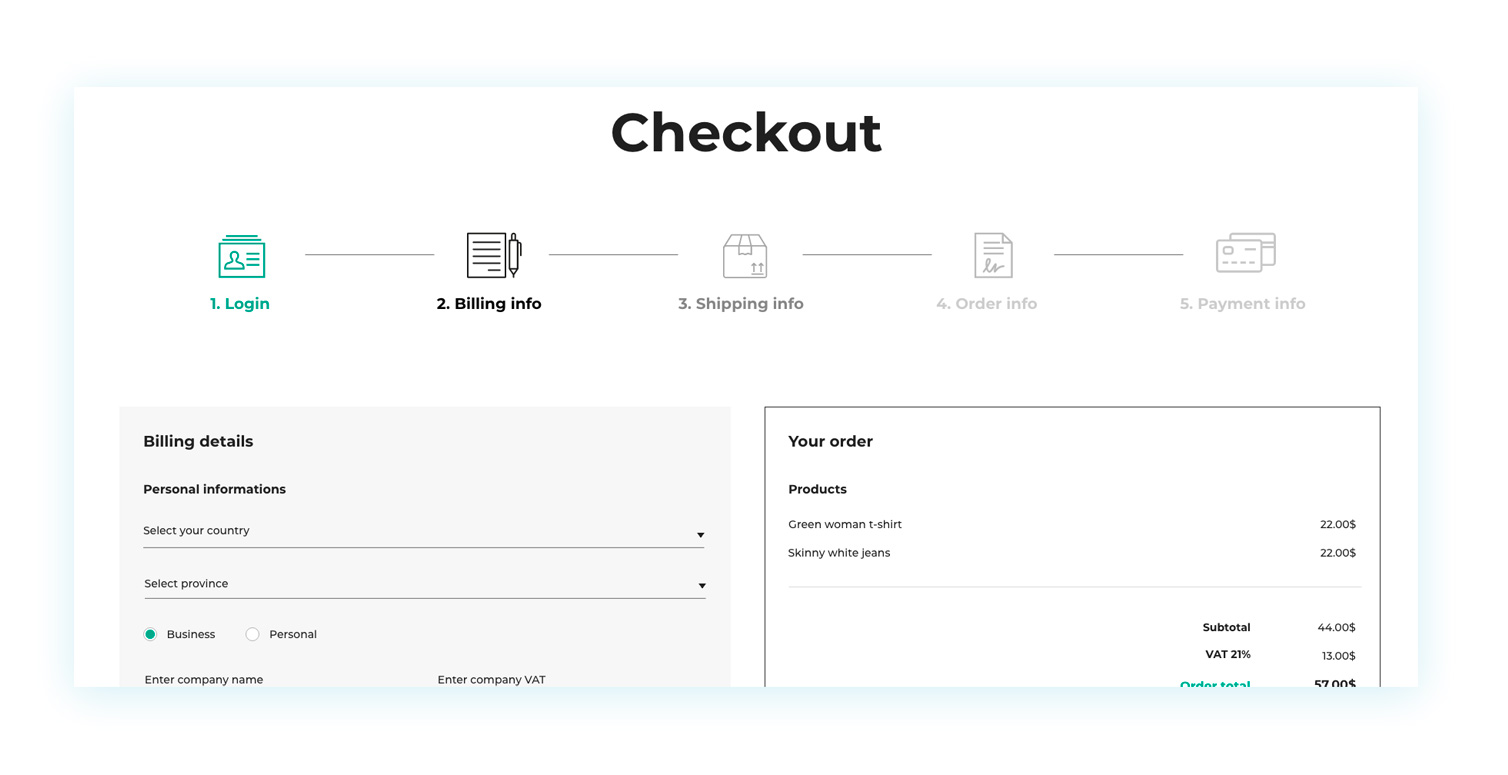 The plugin already offers many styles for the checkout steps so that every user can choose the one that best suits the theme. In this update, however, we have added one more style, based on a modern graphic design that fits any kind of e-commerce shop. A minimal design and SVG icons grant a perfect output on every device, also retina ones. This new style works great also on mobile devices, where the steps will work as accordion menus, as recommended by usability best practice.

3- More step customization options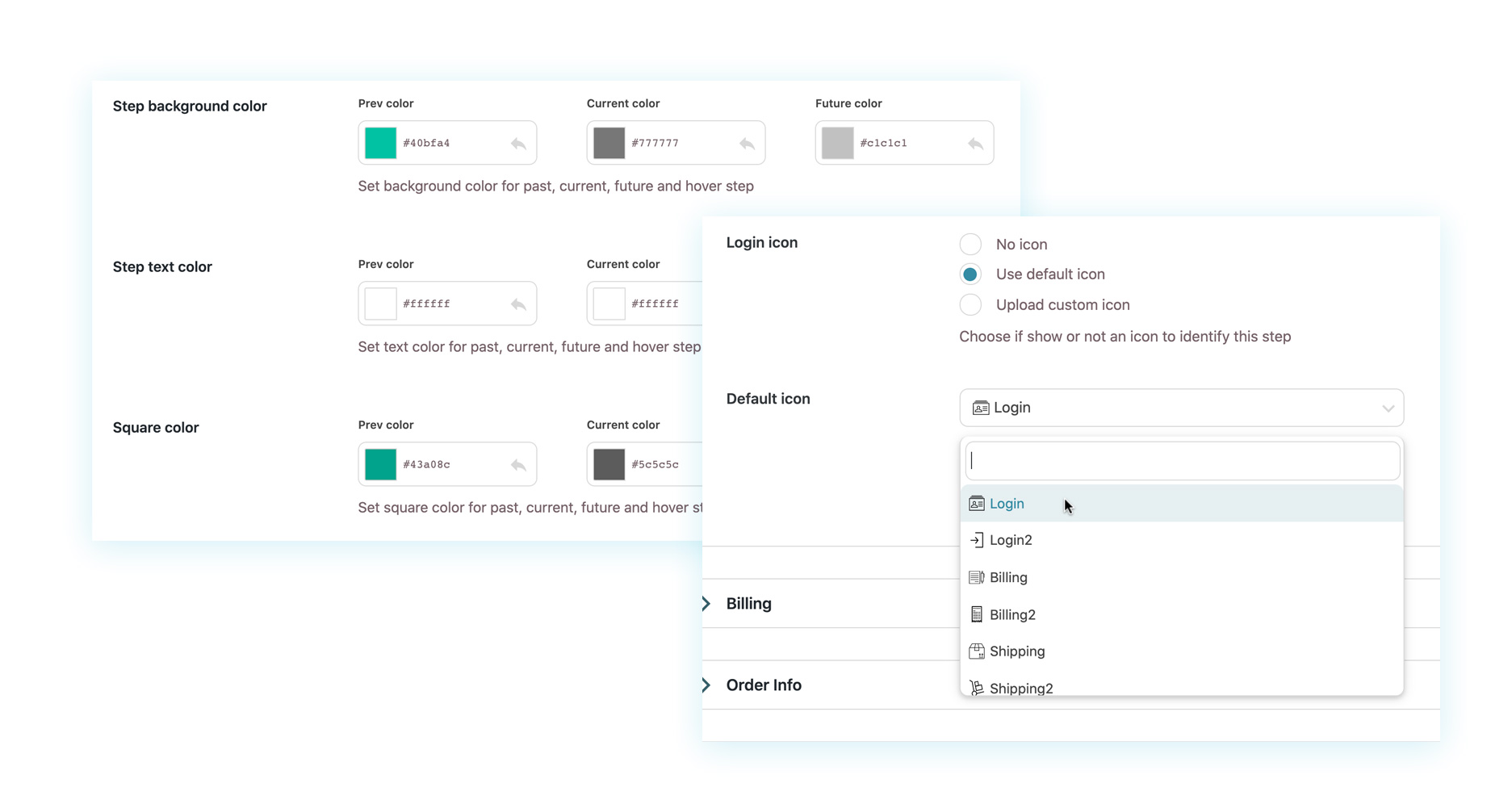 Now for every step, you can customize colors (current, previous and next step) and choose one of the high-quality icons we designed or, as an alternative, upload your custom one. We decided to increase the number of options so that with just a few clicks you can create an original-design checkout totally in line with your e-commerce look.

4- Option to merge Billing/Shipping and Order Info/Payment steps.

According to many usability studies, a multi-step checkout is really effective when the total steps are no more than four because too many steps would slow down the purchase process, not to mention making it a frustrating task. That's why we have listened to your requests and added an option to merge the two Billing and Shipping tabs into one step (the Shipping tab can however be disabled if there's no product to be shipped) as well as Order Info and Payment. This way you will be able to build a checkout with only 3 steps: easier and quicker than this would be impossible.
Huge thanks to the many users of our YITH Multi-step Checkout that with their precious feedback helped us improve the plugin and make it one of the best ones on the market. We can't wait to hear what you think about it!
Take a look at the new demo of YITH WooCommerce Multi-step Checkout >
Visit the landing page of the plugin YITH WooCommerce Multi-step Checkout >
Note: for a better user experience and to keep the checkout abandonment rate even lower, we suggest you combine YITH Multi-step checkout plugin with our YITH Easy Login & Register for WooCommerce.