Among the many plugin updates that we've released, YITH Auction for WooCommerce is absolutely the most noteworthy.
While we were updating the plugin demo with the newly added options, we ended up wondering:
"What options was the plugin actually offering before the update?"
Actually, it was a good plugin with always positive feedback from its users.
But, let's face it, it's a quality product now taken to the next level.
A level that we found in no other auction plugin for WooCommerce that we've been analyzing in the past months.
Because of the new UX that will make it even easier to create and handle auctions of any type, and because of the many new functionalities that we've integrated. From today on, it is possible to create sealed auctions and reverse auctions (where it's the lowest bid that wins), as well as asking users to pay a fee before they can bid and check – if using our YITH Stripe plugin – if they have added a valid credit card as a payment method before their bid can be accepted.
Below you find the main awesome features of YITH Auction for WooCommerce 2.0.

1- The new UX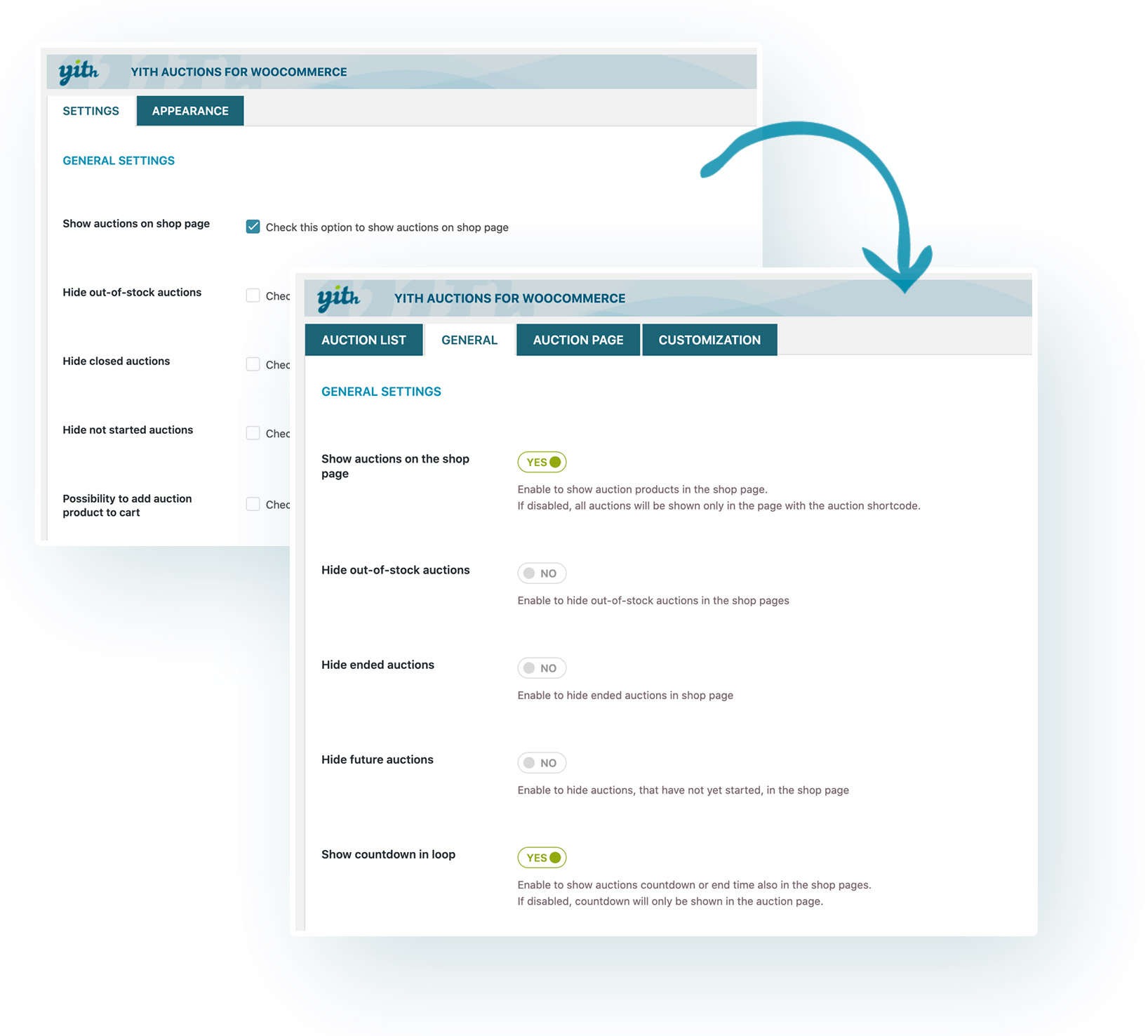 Making the plugin easy to set up is the first goal of the redesign process that our plugins go through. Thanks to common patterns used across all the plugins and options that clearly explain what they are for, even inexperienced users will be able to configure advanced auctions and set them up in every detail.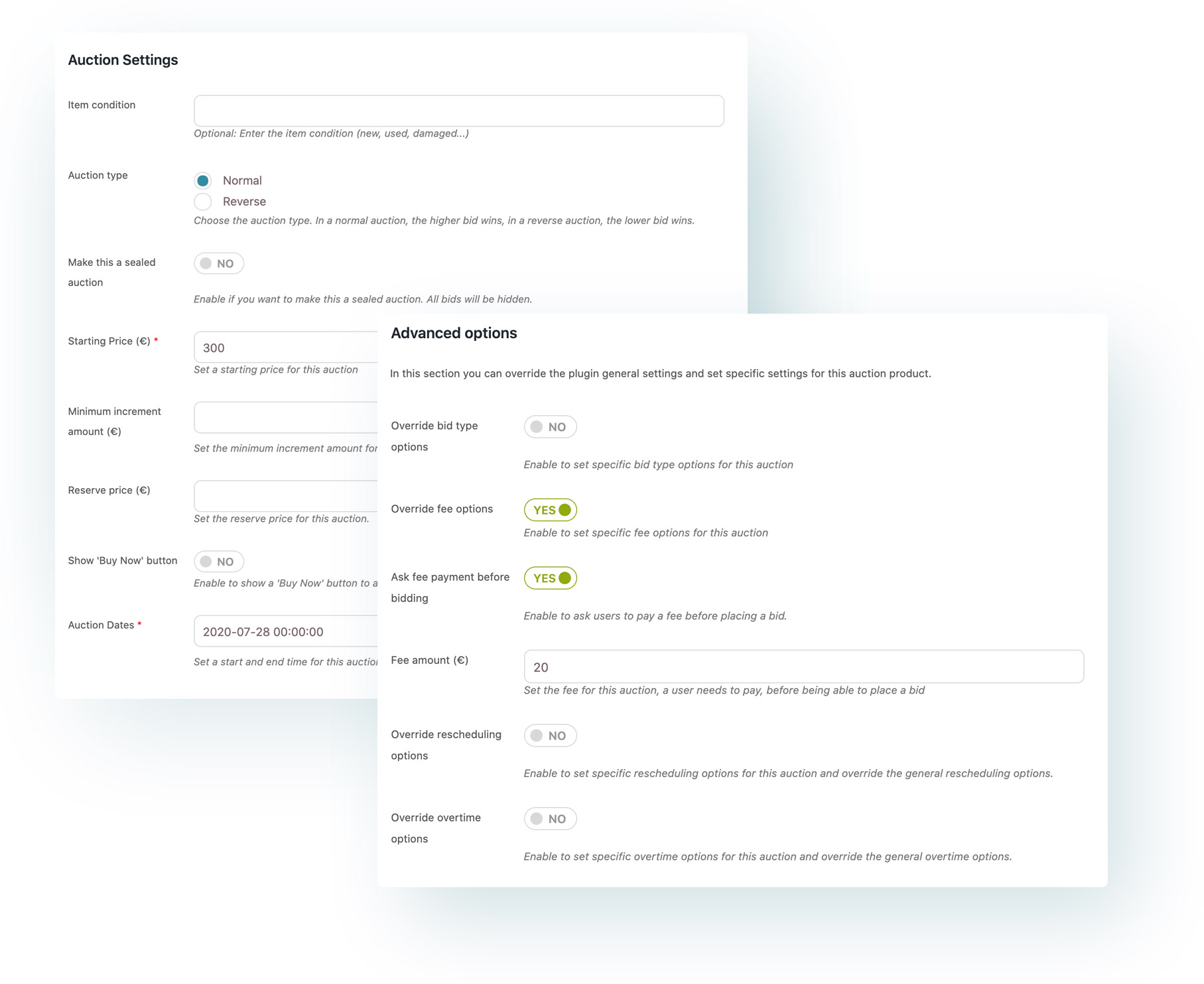 Most of the global options can be overridden from individual auctions: so, you can configure the general settings but change them on a product basis, if for example, you want that particular auction to charge a different fee amount.

2- An integrated dashboard to monitor the auctions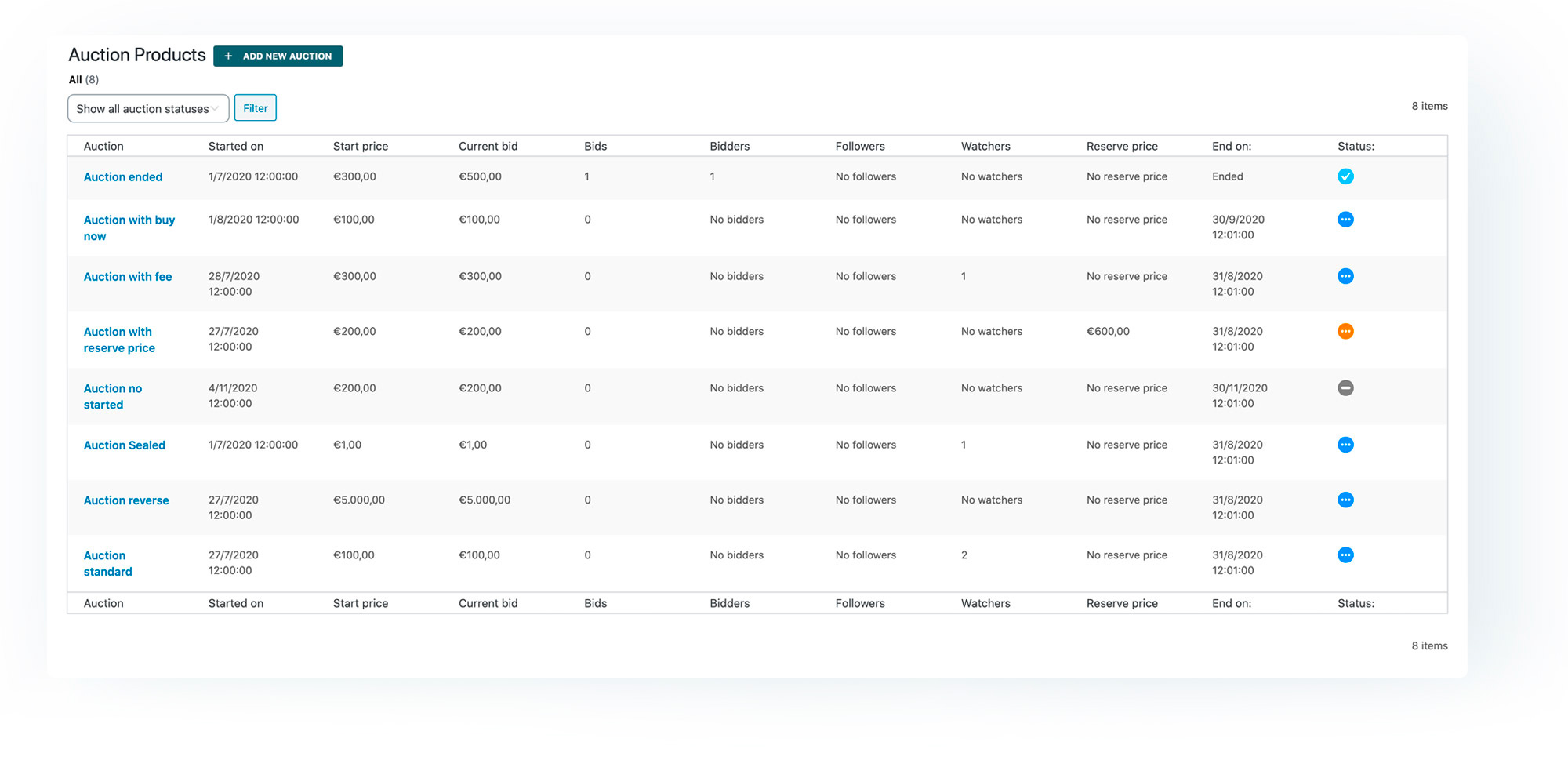 We have implemented a dashboard where you can monitor in a very easy way the status of all the auctions: the current bid, the number of bids and bidders, the number of users watching the item, those who left their email address to be notified, and much more.
You will be able to check everything at a glance without leaving the plugin panel.

3- Create classic and/or reverse auctions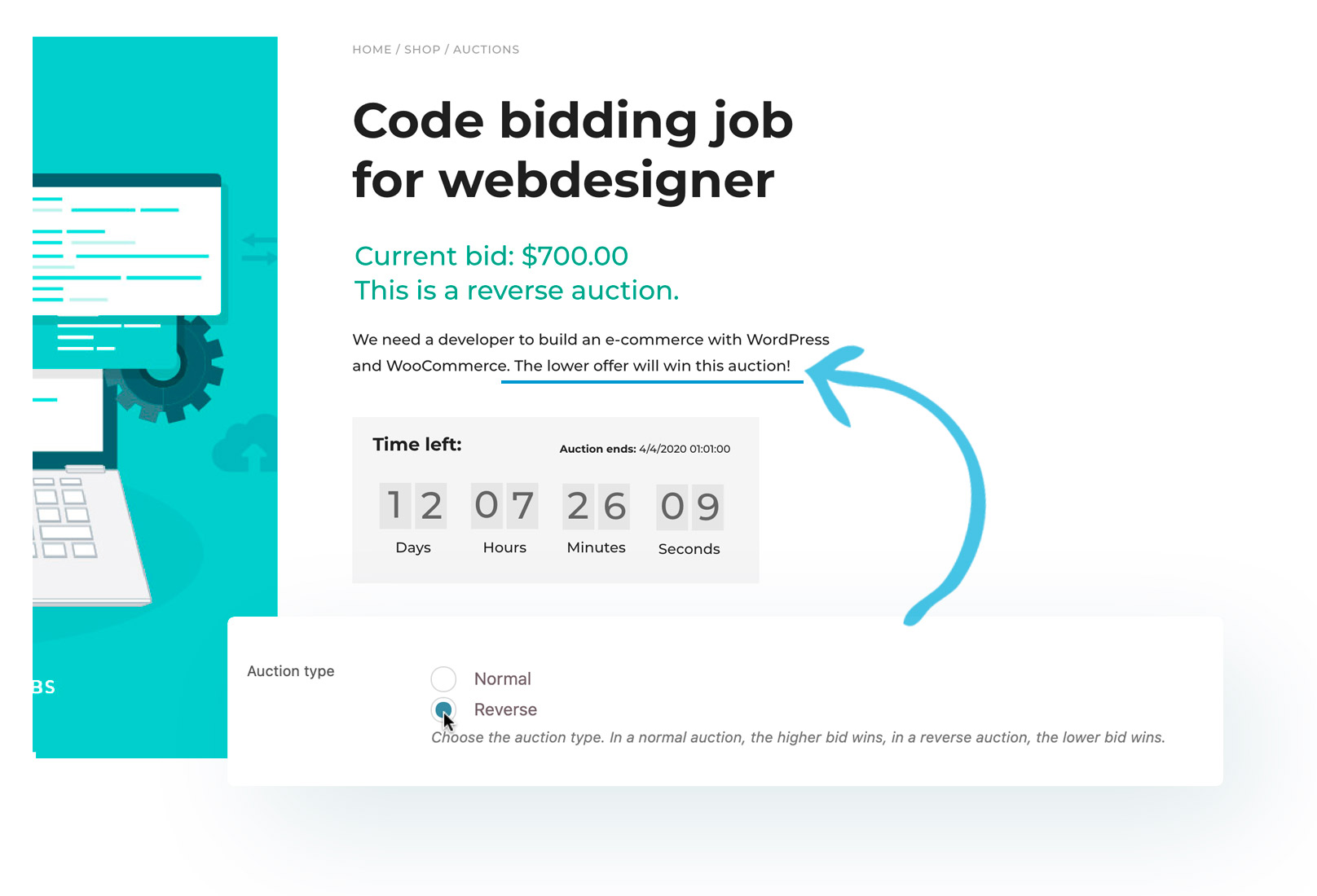 Since version 2.0 you will be able to create reverse auctions, that is auctions where it's the lowest bid that wins, contrary to what happens with the standard auctions. This is a really sought-after feature, one of the most popular among our users. A typical example of how it is used is when you offer a job and you award it to the user who will carry it out at the lowest price.

4- Start sealed auctions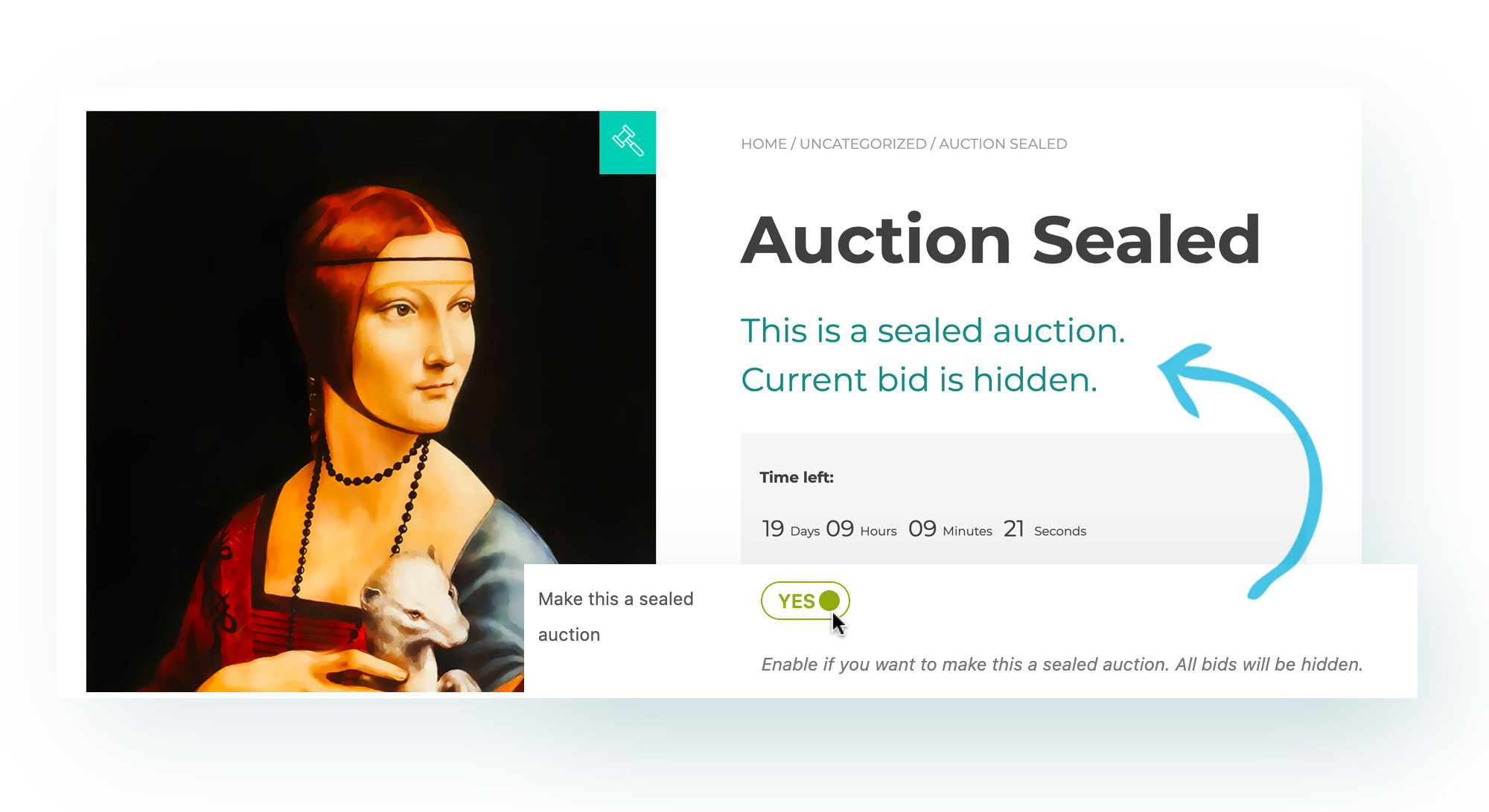 Now it is possible to set an auction as "sealed", meaning that bids are private and not visible to other users on the auction page. Bidders will only be able to see their own offers and receive a notification informing them if their bid is the highest one or if there's any higher bid, but they will not be able to see other users' bids.

5- Charge a fee to users who want to take part in an auction
Since version 2.0, you can charge a fee to users who want to take part in an auction and bid. It is possible to either apply a global fee (the same amount to all auctions), disable the fee on some auctions or charge a different amount (smaller or higher) on selected auctions. When the user clicks on "Pay now", they will be redirected to the checkout page to finalize the purchase.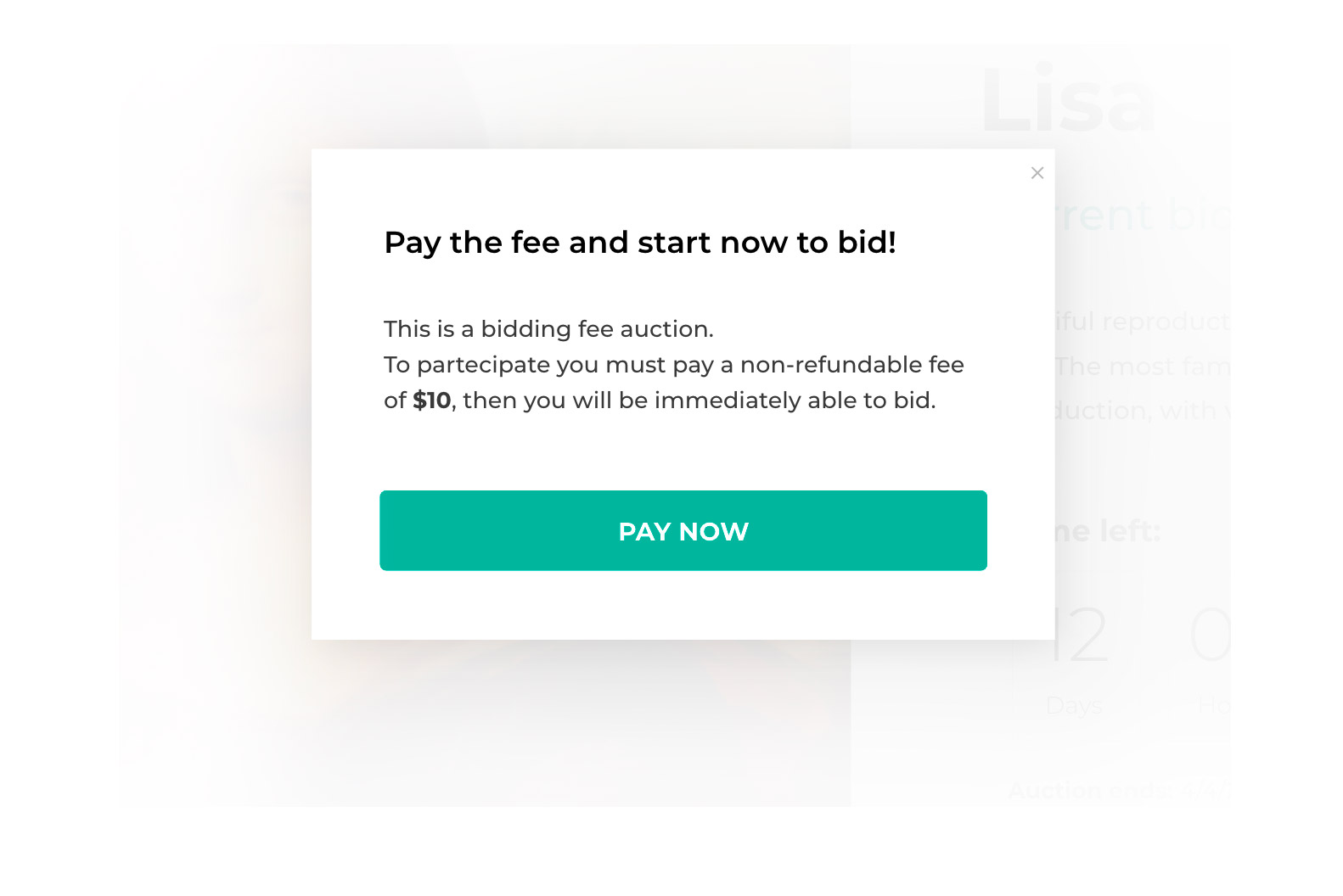 We have also added another interesting feature, which is a confirmation reminder that the user has to click on before making a bid. In this way, you can remind bidders that they are committing to buy the item in case they win and reduce the number of accidental bids placed by those who did not think twice.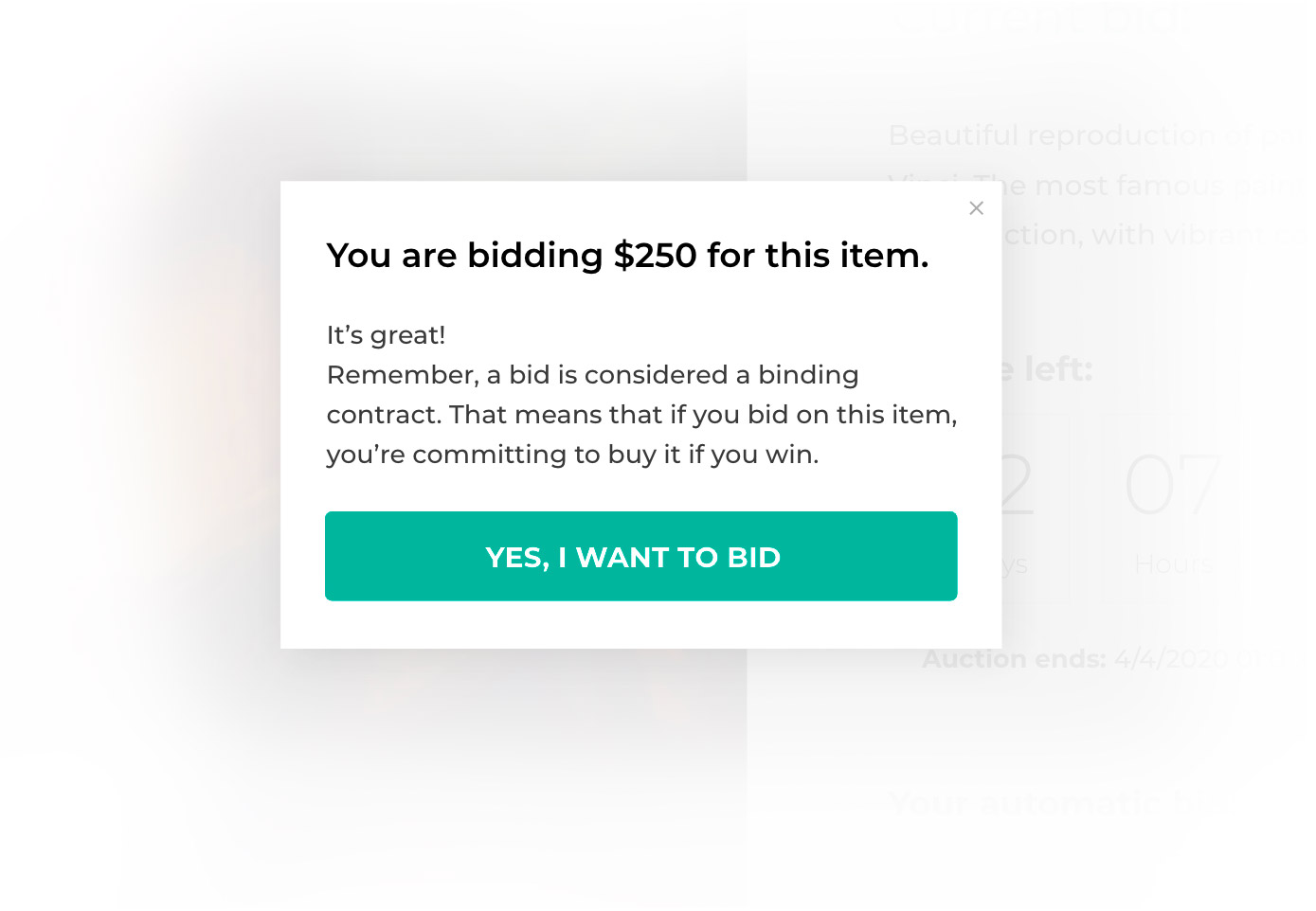 6- Verify the bidder's payment method thanks to the integration with our Stripe plugin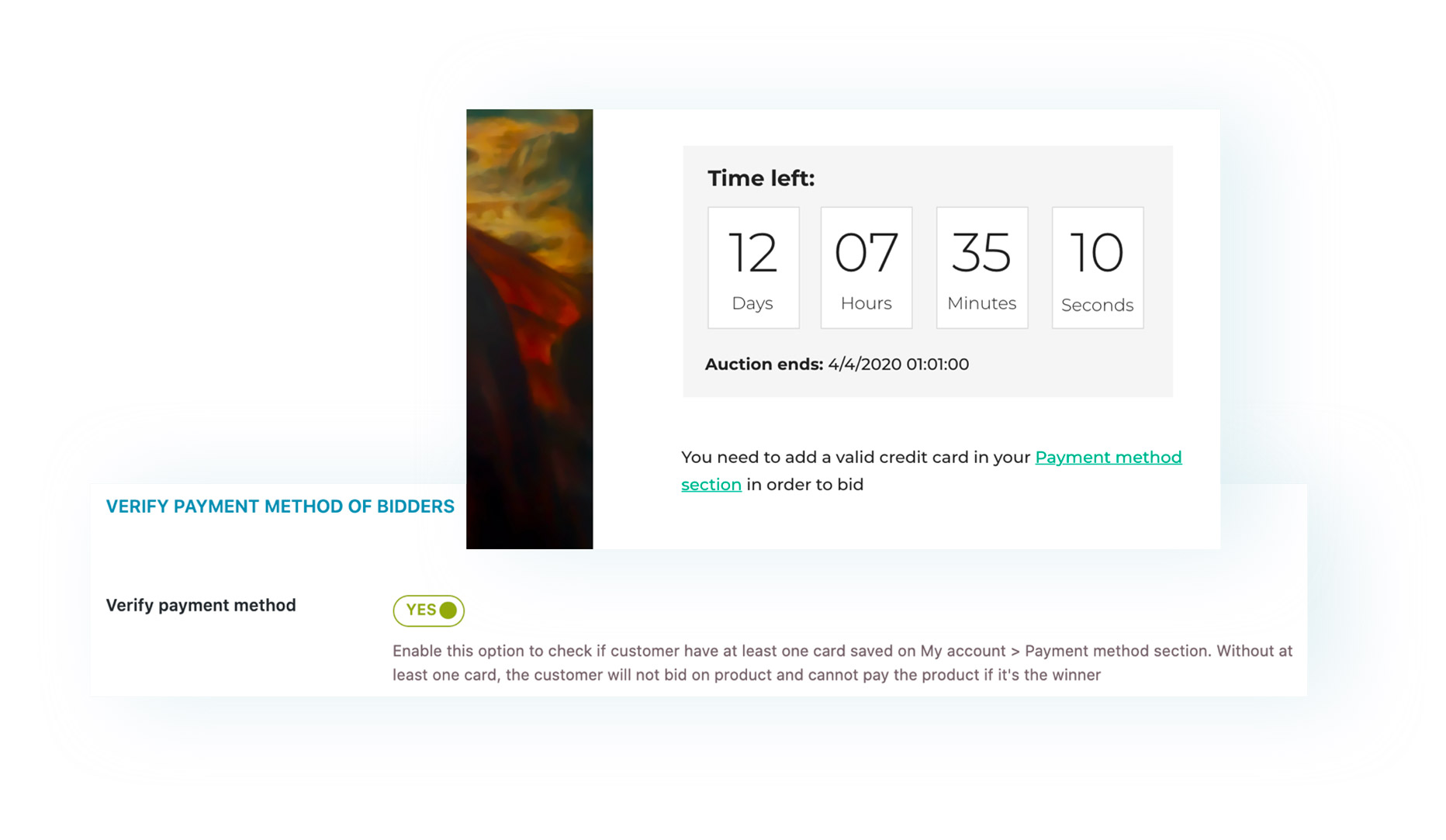 It was not easy, but we managed to give a shape to one of the most popular features requested by our users. By combining YITH Auction for WooCommerce with YITH WooCommerce Stripe plugin, you can also check whether users have a valid credit card saved in their account and prevent them from making a bid until one has been added.. On the auction page, users will see a notification that will redirect them to the "Payment methods" section in their account.

7- More options for better management of automatic bids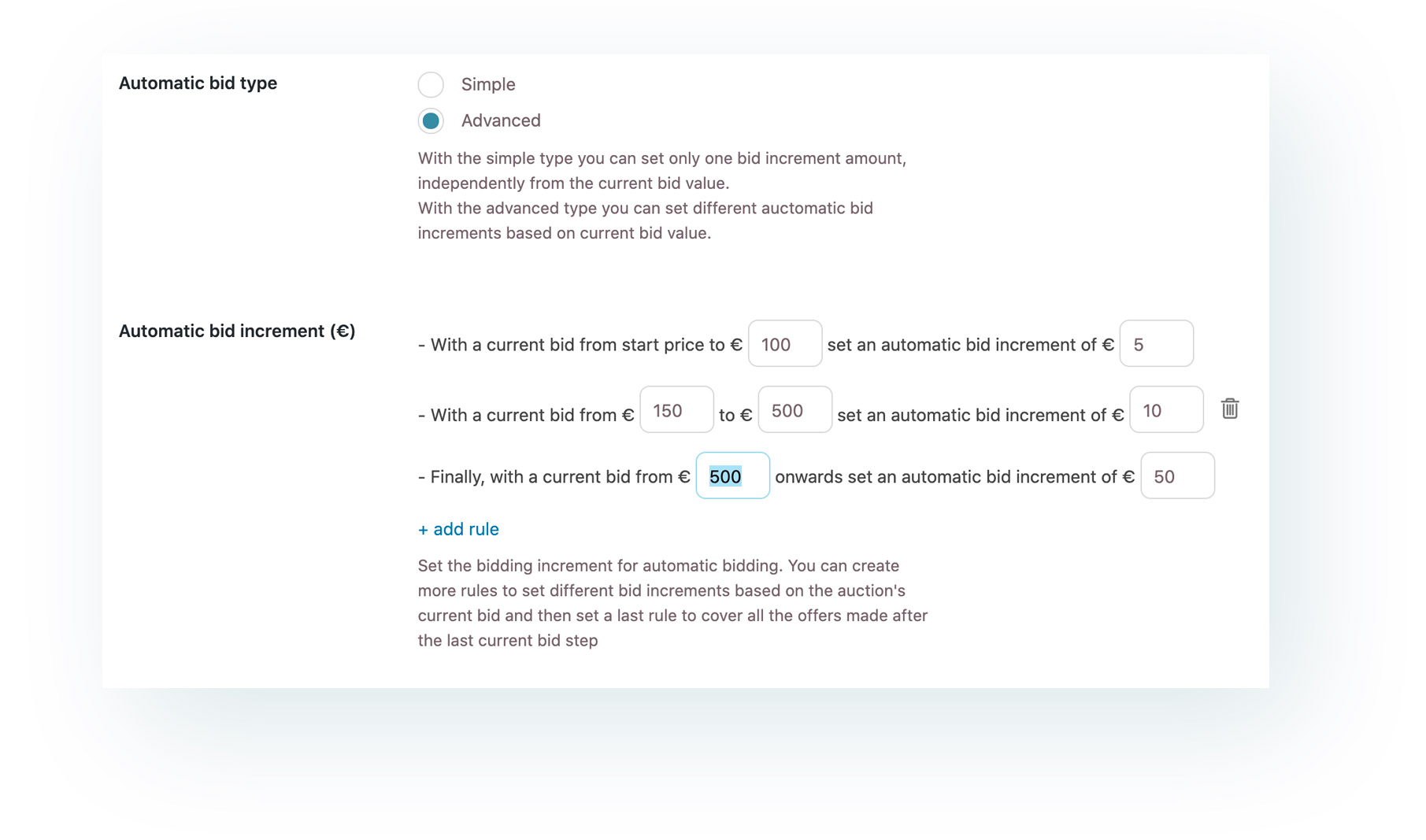 It is possible to choose whether users can place manual or automatic bids: in the first case they will have to manually add a new bid whenever other users overbid them; when it comes with automatic bids, though, they can just enter the maximum amount they are willing to pay for that item and the system will automatically bid on their behalf to make sure their bid is always the best bid within the limit.
Moreover, in this update, it is possible to set automatic bid amount increments both in an easy and advanced way. With the easy way, it's the admin who sets a global bid increment, for example $10 and every automatic bid will be automatically incremented of that amount. With the advanced mode, it is possible to set automatic bid increments based on the current offer: for example, if the current offer is $100, the automatic bid will be +$20, but if the offer is $1000, the automatic bid will be +$100 and so on. This is a system used by the most popular auction platforms like eBay.

8- More options for better management of unpaid items or auction rescheduling

Thanks to some advanced settings, now it is even easier to set up how to deal with an unpaid item or with auctions without a winner.
For example, if the winner does not pay for the item within a certain time, you can choose whether to re-publish the auction, send an email to remind them of the payment or send an "auction winner" notification email to the second-highest bidder.
If neither the second-highest bidder pays for the item, it is possible to set after how long the auction will be automatically published again.

9- A "Watchlist" for all users who want to keep an eye on the auctions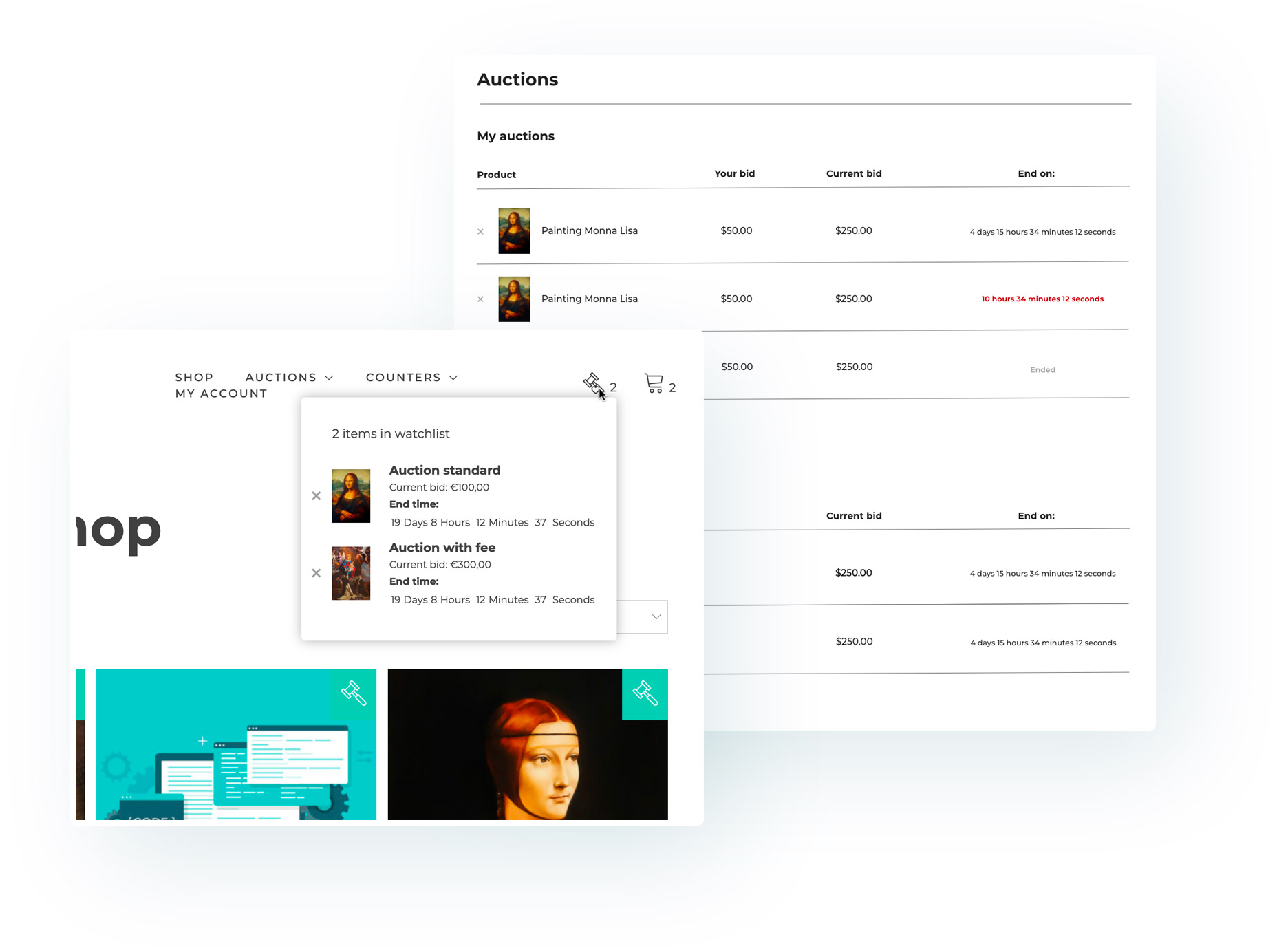 Before the update, the plugin could show a field on the auction page where users could type their email address and get notified about the auction progress.
In version 2.0 we have added new functionality that we were able to find in many other online auction platforms: the watchlist. Thanks to it, users can save an auction product that they find interesting in a dedicated area in My account, and thanks to the integrated widget they can monitor and easily locate all the auctions they are watching. This feature helps enormously those users who are watching or bidding on many auctions at the same time, so they can see the status of all their auctions at a glance and in real-time, with current bids and time left for the auction to end.

10- Compatibility with our Easy Login & Register plugin to let users log in or register without leaving the auction page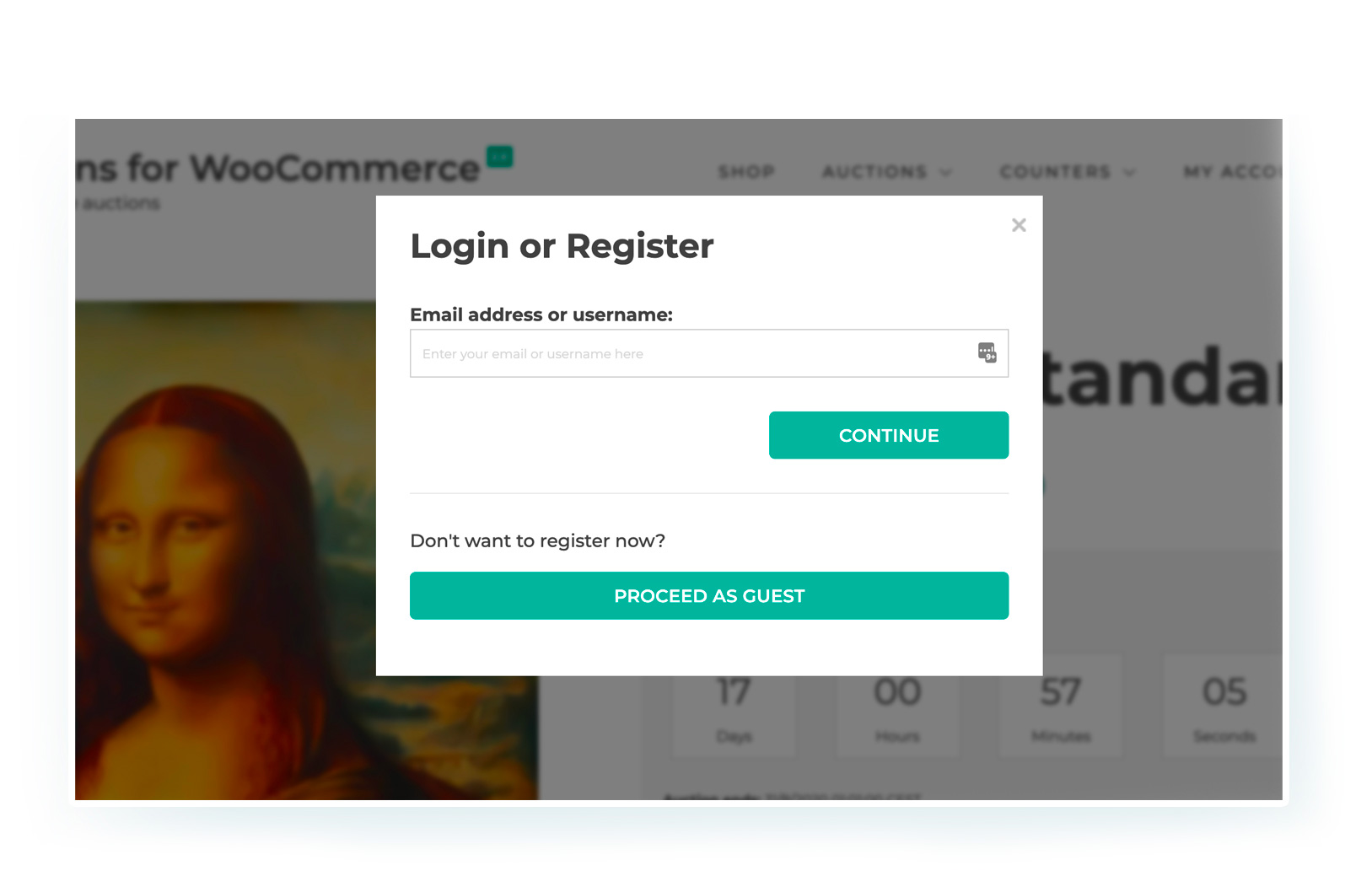 Users who want to place a bid will have to either register or log in and to do that they will have to leave the auction page. To prevent this from happening, we have added the integration with our plugin Easy Login & Register Popup for WooCommerce. If you install this plugin as well, your users will be able to register a new profile or log in to their account right from the auction page.

11- A modern design and more customization options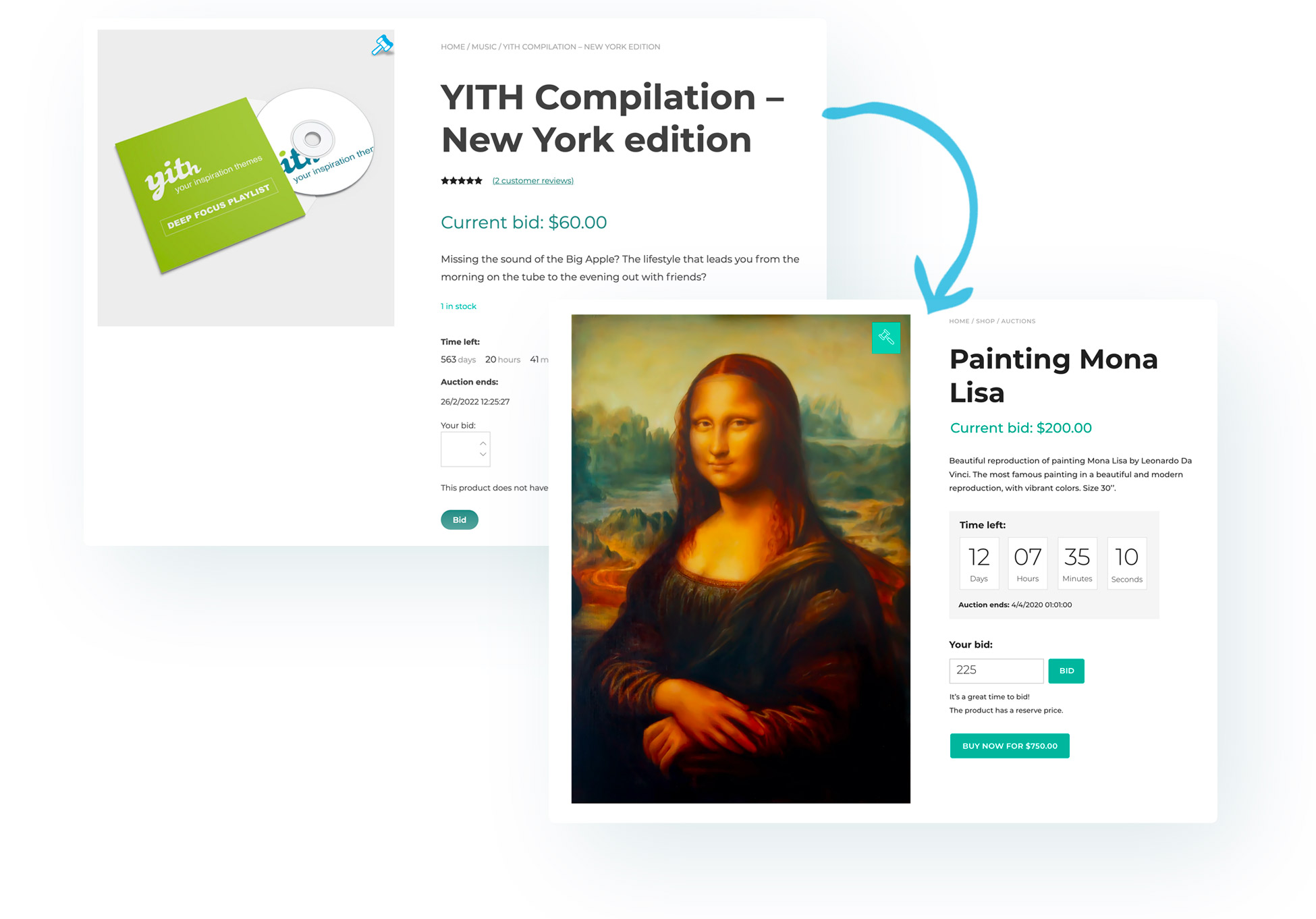 And as we all know that you should also please the eye, we have accurately designed the new UI to make it modern and appealing. The user notifications use a graphic style inspired by the most famous online auction sites and it is possible to choose among 4 different countdown styles with customizable colors and make them suit any type of layout or theme.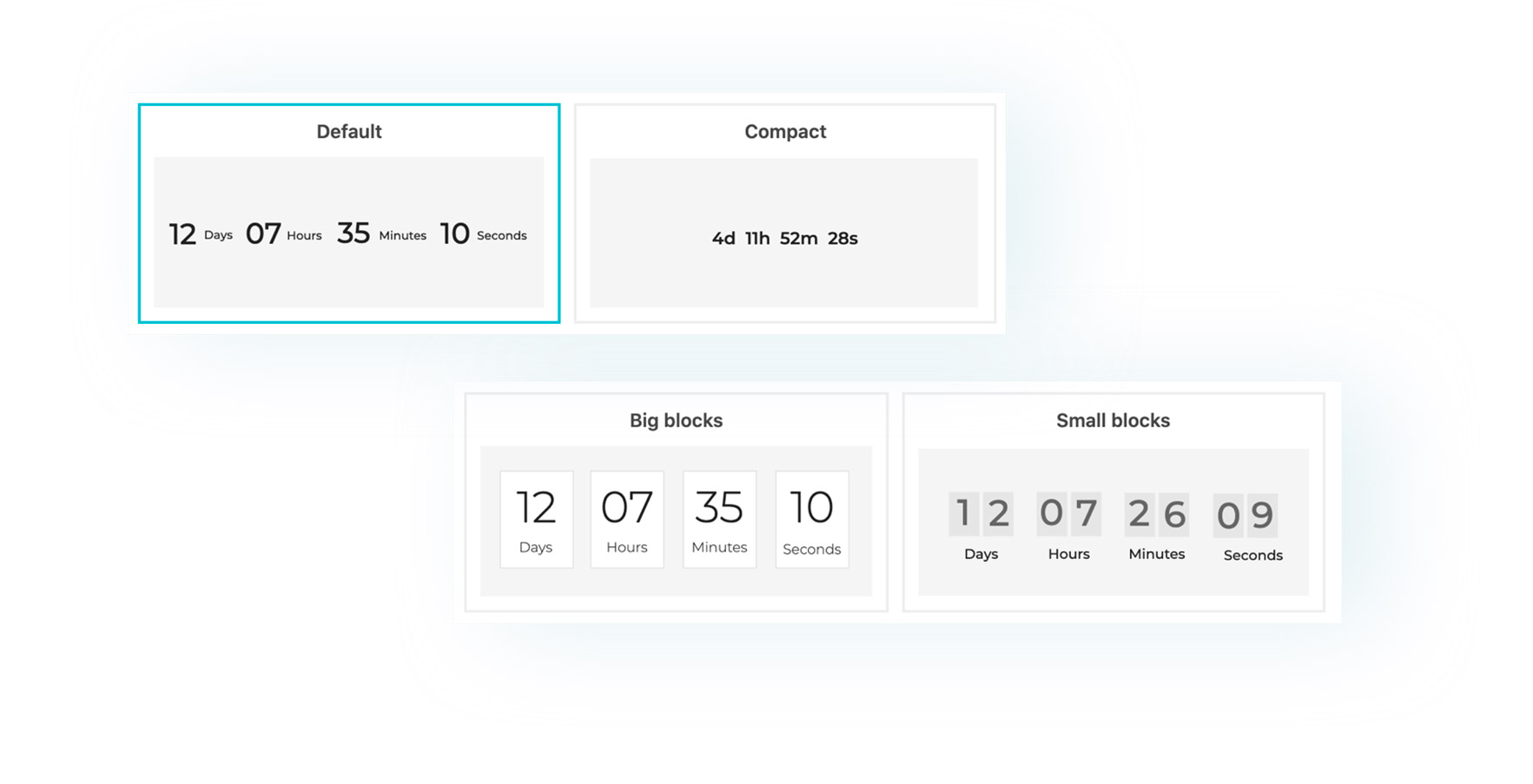 Moreover, it is possible to customize the badges and change the countdown color when the auction is going to end soon (we suggest using red to emphasize the urgency!), add custom texts in the auction winner notifications, add the time zone code… and many more options in the new version 2.0 of YITH Auction for WooCommerce!
Even if we might sound a bit pretentious, we feel like saying that we can now offer the best auction plugin for WooCommerce available in the market. Test it yourself and see if you can say it's not true 🙂
To learn about all the new features of this new update, you can visit the product page of YITH Auction for WooCommerce or the plugin live demo. Don't forget to click on "Launch Admin Demo" button to see and test also the administration panel.
As usual, we are always here for any questions you might have and we can't wait to read your feedback!