We are really pleased to announce that our recently released Proteo Theme is now available on wordpress.org. This is a first for YITH as, although we have been creating themes for many years, we've never made them available on WordPress.org. This means that anyone can add the Proteo theme for free, in three clicks.
Why was the Proteo Theme developed?
YITH developers decided to create a new and lightweight theme that would be compatible to test with all of our plugins. This then evolved into a theme that was actually looking good and easy to use. The idea was to make this available to all our users and anyone who would want to use it. The design and functionality of the new theme evolved since September 2019, with the first version available to download from GitHub in December 2019. Unfortunately, it took a few months to get it approved, mainly due to a backlog from the WordPress theme review team. But we'd like to thank @basantakumar, @ideagrafica and @franchidesign for supporting the process.
The theme was designed by our talented UX/UI designer, Sara Presenti, and developed by Francesco Grasso with support from the rest of the YITH team. The first users could also add feedback and improvement ideas to Github. But thanks to Francesco's dedication and determination to the project he saw it through to the end with much success.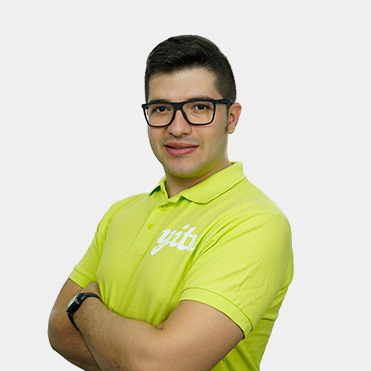 Francesco Grasso
"This theme is designed to be another integration point between our plugins… it will be updated often to provide a better user experience."
What is Proteo Theme?
A theme is like the jacket of your website. Not every jacket fits well and each jacket is better suited for different activities. You wouldn't go running in a dinner jacket, would you? Although it might fit, it will not be the most comfortable. It is the same for a theme, you find the best style and features that help your website perform better.
Just by installing and activating Proteo, you instantly have something that feels and looks good for an e-commerce website. With some adjustments, you can start selling with confidence in hours. The theme is optimised to work with a number of key plugins like YITH WooCommerce Wishlist and YITH WooCommerce Ajax search, giving some great e-commerce functionality to your shop.

10 key benefits of using Proteo
Supporting WooCommerce and coded under the strict WordPress theme code of conduct
Advanced Customizer options to style the Proteo theme to your liking in minutes
Multiple header and footer layouts. I.e logo centred or menu right
Sidebar management for each page and product of the site – great for category filters and brands add-on
Full-screen search for improved user experience.
Different cart page layouts for a distraction-free checkout process
Supports Gutenberg and all popular page builders
SVG icons supported, for a crystal clear design
Custom WooCommerce messages and animated WooCommerce alert notices;
Last but not least, it supports all YITH plugins, guaranteed
There are so many more beautiful aspects of using Proteo which can be found on proteo.yithemes.com
Free and easy to download from WordPress
Easy it is as all you need to do is go to the themes submenu under appearance and search for Proteo. Once installed and activated you are ready… you will be surprised how quickly you feel ready to start selling.
Step 1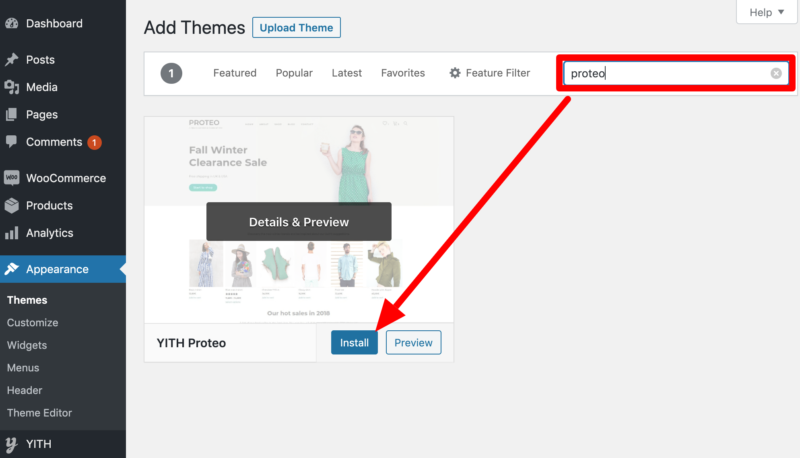 Step 2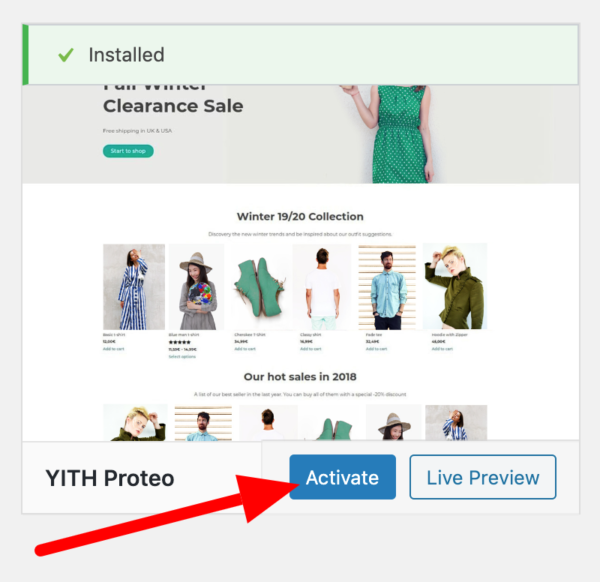 Step 3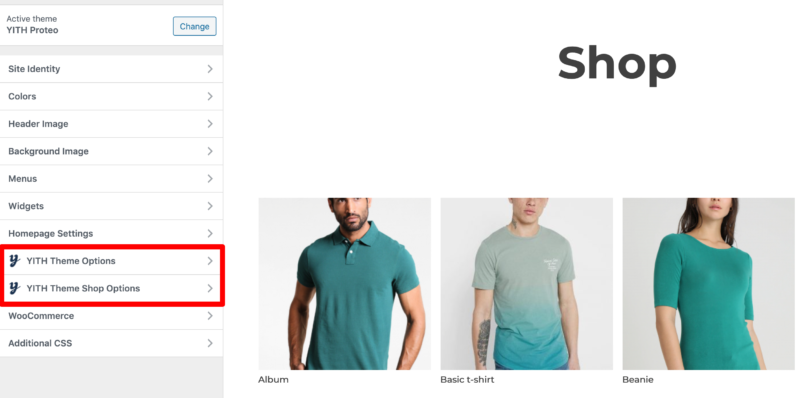 Creating Child Themes with Proteo
The longterm plan is to bring out different styles of Proteo, in the form of child themes. These might include styles that work well with an auction site and one that looks better for multivendor or market places.
It is commonly known that when you update themes it can override your changes. Using the customizer will not override these, but if you add PHP or other code to your theme files, there is a good chance that these will be lost after the next theme update. If you are planning to add code to the theme files, we recommend you take a look here >
Here are some more recourses to get started…
WordPress.org – Link to the Proteo theme
The Proteo Theme Demo
More on the Proteo Theme 
We'd love to hear your thoughts and feedback, but in the meantime, we will continue to improve and develop Proteo for you 👍🏻