---
Valentine's Day can cause two totally different reactions in people: those who love it and can't wait for all the romanticism of that day and those who stay away from it and consider it only one of the many commercial constructs invented to push customers to spend more and more.
If you own an e-commerce website, your feelings and your relationship status are put to the back burner: for any store owner Valentine's Day is first of all a huge opportunity to build an efficient marketing campaign and to sell more.
Do you need ideas for Valentine's day? In this article we are going to share 7 Valentine's Day marketing ideas to increase your sales with WooCommerce and, why not, to make your customers fall in love with your store and products.
What is the economic impact of Valentine's Day?
The first question to ask ourselves is: should we really pay attention to the Valentine's Day event? The data, not the heart, is going to answer this question. According to NRF, expected spending since 2009 in the U.S. has been rising to $27.48 billion in 2020. That's crazy!
Flowers and chocolates are still the most popular gifts, but not just that, there are tons of companies that see their revenue increase on this date. People gift jewels, clothing, shoes, trips, romantic escape packages (like SPA or dinner deals in memorable locations etc.)… and timeless beloved gift cards too! What matters, then, is not what you sell, but your ability to use it at your own advantage on this occasion, maybe by drawing inspiration from the best leading stores.
For 2021, according to Statista, these expectations have dropped to $17 billion, but the truth is that this is still an astonishing figure. Especially considering the most popular type of gift: chocolates, flowers, jewelry, letters, clothing, gift cards… In other words: anything. Flowers and chocolates are still the most common gifts, but the truth is that Valentine's Day has become a real revolution where love and consumption have gone hand in hand.
Think of Amazon or AliExpress. They have campaigns created for Valentine's Day and not only that: the second company has promoted Singles' Day, a day of discounts in China that is celebrated on November 11 and is increasingly present in the rest of the world. If it were not profitable or an opportunity on a global scale, do you think these big companies would care about it?

How can I increase sales on Valentine's Day
Increasing sales in your online store is not an easy task. There must be an analysis from the point of view of your store for the efforts to give results. There are many techniques, ways or strategies that you can carry out to increase sales in your store. Here are some marketing ideas that will help you achieve your goal.
7 Valentine's Day marketing ideas
1. Look at last year's data and improve performance
In any marketing strategy, it is important to take into account the data of the previous years. By looking back, we can tell what worked and what did not: strategies in social networks, site images, offers, among others.
For all this, it is really important to archive data, extract metrics and know the result of a strategy that can later help us to correct mistakes or repeat actions. This will lead to improved performance and success in our future campaign.
2. Create a look for your Valentine's day communication (site and social)
The second step to take is to decorate the store. If at Christmas, we feel allowed to overuse lights and snow decorations, for Valentine's Day we can give our shop a romantic touch to emotionally engage our users and improve their purchase experience.
A heart-shaped popup with a welcome coupon code, a red or pink banner in the homepage slider or in the header are simple but great ideas.
Don't just take care of the look of your website, though, but spread love through your social networks as well. If the user sees your profile picture change or some content related to the event, they will be drawn in and will likely visit your shop and look for special offers or promotional packages.

3. Create Offer of the day / Timed offers (urgency)
Once your customers land on your site, no matter on which occasion,they will ask themselves: what about the offer? Let's face it, for years now, users have got used to Black Friday, Halloween and Christmas discounts, or end of season sales, so they expect to find an offer on Valentine's Day too: it's important that we do not deceive them. A sense of urgency will play an important role here. For example, you can create a 10% storewide offer with a countdown timer to urge shoppers to make the purchase as soon as possible.
You can create different promotions and discounts that start and end automatically using a plugin like Dynamic Pricing and Discounts. With such a tool you will be able to create targeted offers and increase the average order value through discounts based on the quantity or the total amount in the cart.

4. Offer free and maybe personalized gift wrapping
Many physical stores offer gift wrapping for free during the holidays and it makes a good impression on shoppers. Online stores like Amazon do not fall behind for sure.
Did you know that you can also offer it in your online store? Very simple: with the Product Add-ons & Extra Options plugin you can create options that your customers can enable or disable. The package wrapping is just an example, but you could also give the possibility to add an extra greeting card. You have many opportunities to discover.
5. Offer gift cards with a visible button and a Valentine's Day look
A high percentage of people who are going to buy a Valentine's Day gift do not know what to buy. Others, because of the global situation and the pandemic, prefer to shop online and enjoy Valentine's Day at home. Those who prefer going the easy way can opt for gift cards, and make a gift that is always appreciated. Take a look at the stores that you normally visit: all or almost all of them offer gift cards. The good news is that you can do the same.
A gift cards plugin with a visible button and a romantic look to match the event can increase conversions during the holidays by allowing your customers to gift their friends and relatives without the stress of finding the perfect gift.

6. Offer a Valentine's bundle for this day only
Who wouldn't like to receive a Valentine's Day package with chocolates, flowers and a bottle of wine? In 2021, candies, greeting cards and flowers were the top three gifts that day, according to a survey conducted by NRF. So why not take this opportunity to create promotional packages that include these or other items?
This way you will increase the average order value, increase your e-commerce conversions and your customer will be very happy about the result. A good plugin like Product Bundles to create special offers in your store offering Valentine's Day promo with discounts and special prices can be a great marketing idea.

7. Think about possible upsells and cross-sells of products
Imagine you want to buy a bouquet of flowers and, on the product page, other suggested items appear that are normally purchased together with the product you are looking at. For example, a heart-shaped balloon or a simple box of chocolates appears. Who wouldn't think of completing their Valentine's Day giveaways?
This is one of the most effective marketing strategies. With a plugin like Frequently Bought Together you can leverage the social proof strategy to encourage users to buy the products that other customers normally buy and thus increase the average order value. We win, you win and your special person also wins.
How can I promote my product on Valentine's Day?

1. Gift Guides
How to promote products during sales, Christmas or Valentine's Day is one of the questions that most store managers ask themselves. Now imagine you are the owner of a boot store. An interesting way to promote is to create a gift buying guide. Surely many times you have seen guides called "Gifts for her" or "Gifts for him" in many e-stores. This is precisely what we are referring to: a section where you can give the user ideas to buy as a way to promote products.
These guides would be published on your site and, little by little, they would get targeted traffic, that is, traffic from people interested in the specific topic of the gift guide. This way you will reach your audience through organic search.
2. Social campaigns
Another interesting point is the creation of social campaigns and the use of online Valentine's Day advertising to give you visibility. In a time as visually appealing as Valentine's Day, remember to give off love with each of your publications. Use high-impact images, shoot a short video on the subject, publish love poems, famous quotes and – why not – add an ironic touch: you can get more shares and let people talk about you. In this blog post, you find the best Valentine's Day campaigns of 2021: push customers to fall in love with themselves, funny videos about what living together really means for couples, V-Day's competitions. If you have a good imagination, you can make the difference.
3. Remarketing
Did you ever happen to enter the official website of an airline to look for the price of a flight and after 20 minutes see an ad in your Facebook dashboard that offers you that same unmissable offer with the same airline,origin and destination? Magic? No, but… almost there.
Now imagine that you want to attract people through social networks. It will be very simple: an interesting way to re-engage your audience is with remarketing, a system that allows you to create tailored or personalized ads for users who previously visited a website. In a few minutes you can create personalized audience lists with Facebook Ads to reach your target audience or do the same with Google Ads. Those people who came to see your gift guide will see an ad with the observed product as soon as they log into one of their social profiles like Facebook or Instagram. It can give amazing results, you just have to give it a try.
4. Cart recovery emails
It's estimated that every year e-commerce users abandon around $4 trillion worth of products in carts. What's interesting is that more than 60% of these carts can be recovered and transformed into purchases. What better time to do it than on an event as important as Valentine's Day?
Some add-ons like Recover Abandoned Cart puts you in touch with users who have added products to the cart without completing the order. You can send them a cart recovery email with coupons or an additional Valentine's Day offer.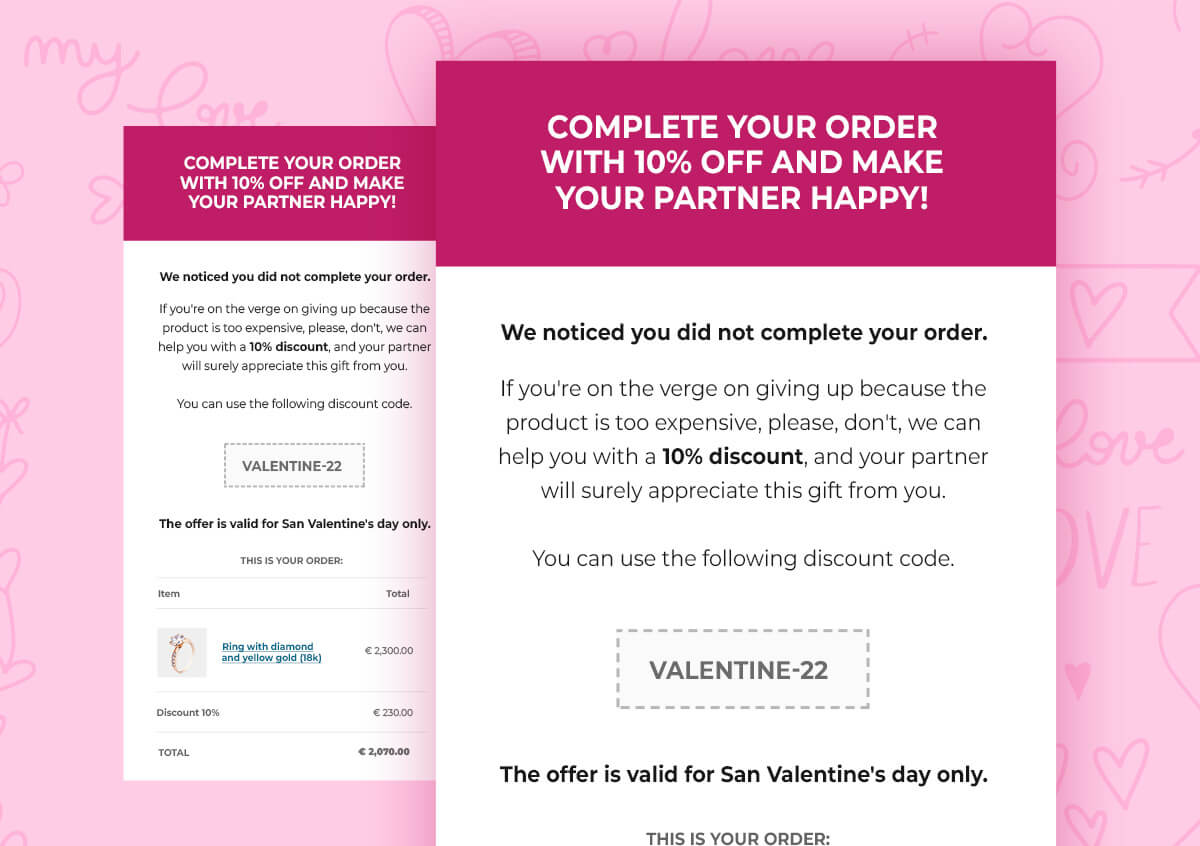 5. Emails and alerts
As we have seen, emails are a powerful weapon to push users to buy. You can create campaigns focused on each type of customer or event, such as Valentine's Day.
There are some Mailchimp or Active Campaign tools with which you can go a long way: you can send an email to all your customers or the segment you decide informing them about Valentine's Day offers or discounts. With a few clicks they will be able to receive all this information in a simple email.
6. Discounts and incentives
Continuing with the usefulness of emails, you can also send messages exclusively to those who have made purchases in previous events. For example, users who purchased a product at Christmas get 10% on Valentine's Day. In this way you will loyalize your customers – and let them feel valued – and encourage them to spend more.
7. Emails with urgencies and deadlines
It has probably happened to you that you receive emails, you open them, you think about taking advantage of an offer but then you forget about it. This will also happen to your customers and nothing will happen: you can send emails in which you warn them of the imminent expiration of the offer.
Keep in mind that most people buy the gift at the last minute. In addition, the sense of immediacy will trigger in the user the need to buy at that moment. This technique can help you increase conversions.
When you should start advertising on Valentine's Day
Scheduling and organization is really important for any marketing campaign. Valentine's Day is no exemption. Although users often wait until the last minute, don't they?
Start planning Valentine's Day on the return to calm after the Christmas vacations, when you have enough energy and desire to start the new year right. Help your customers avoid the stress of last-minute shopping by using messages that create a sense of urgency.
Conclusions
Valentine's Day is an opportunity for online stores. There are just a few things to keep in mind: organization, marketing and choosing the right offers are very important in any strategy you want to carry out in your store. But the most important thing is to manage your store and treat your customers with love. Not just on 14th February 😉