Let's focus on businesses that take bookings in any form whether it is for accommodation, running appointments for a general practice or managing a hire business.
For this month's example, we are pretending to run a Holiday Let in a very touristic area. Of course, you want to make the most out of the high-season but also create a unique experience for your guests. This could include selling trips, experiences, car hire and making sure they come back year after year. It is often the case that people browse for different options on various sites. It is important that you catch their attention and ideally their details so you can remind them of the great place you offer for their holiday.
First of all, why manage your booking with WooCommerce? There are three very good reasons why…
Once you have added your hosting costs, premium plugins and set credit cards fees, you pretty much know how much your costs are going to be for each year. No commission to third party listings sites!
Your platform can host as many listings as you want and this data is owned by you. Actually, when you combine it with a Multi-Vendor plugin you can set up your own listings site like Airbnb, but that is for another 'Level up your store with YITH'
Do you want to rank higher for your local area? With a bit of effort and some hours of blog writing (or get guest writers), you will start to climb the Google Ranking ladders which are completely in your benefit.
So once you have WordPress and WooCommerce installed, with a few extra YITH plugins you are ready to go and rent out your accommodation.
Booking and appointments
The most important functionality on your website is to actually manage and take the booking in the first place. YITH Bookings and Appointments does just that. You set the availability, terms and costs for each of the holiday lets. The options are available to manage extra charges and discounts are plentiful. In the demo site, you can see a handful of them, but you can easily imagine how flexible this system is.
For the person booking your holiday let, the experience is really nice and straightforward as seen in the example. If you set the WooCommerce option to redirect to the basket after submission, you can create a really nice user experience.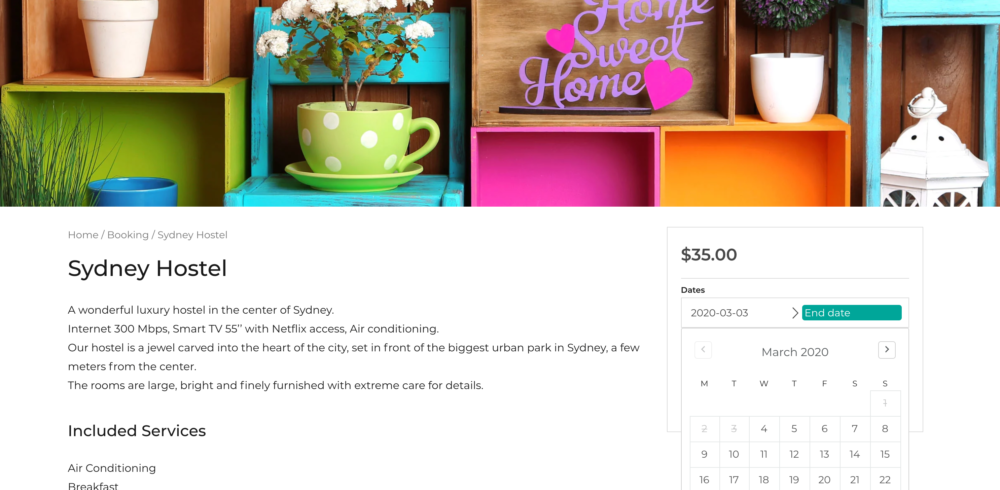 Try it out yourself on our demo site, where you can see all the settings in the backend or just place a few bookings and see how easy it is, or view the description here.
Get deposits and down payments
To get more conversions and create a low threshold for people to reserve a booking, why not ask for a deposit? This works particularly well if you take group bookings or reserve slots in a busy/festive period. You see it more and more that for a 10% deposit you can reserve your place for next year and relax knowing it is yours. An automatic email reminder can be sent to settle the remaining costs with YITH WooCommerce Deposits and Down Payments.
Just like with the Booking and Appointment Plugin you can set the rules and amounts to what suits you. Another important part is that you have full control over the deposits including refunds. No more matching reference numbers and names with your booking and bank accounts.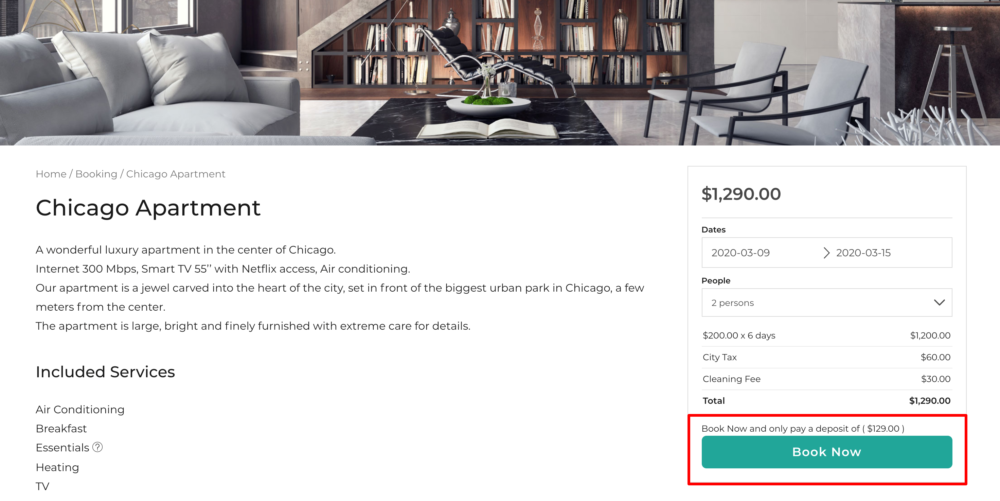 To see the full capability of this plugin view the description here or try the demo here
Just one more deal
Your customer is ready to check out, but while you have their attention and the credit card is out, you might just want to offer one more deal that they can not refuse…
With YITH Deals for WooCommerce, this is super easy to achieve. At the point of checkout, based on the conditions you set, you can create a pop-up with an accept or decline button. Options to upsell can include the following examples:
A filled fridge on arrival for self-catering accommodation
Add extra towels for all guests for the beach
First dinner or a picnic hamper added to the booking
Airport transfers and day trips
And many more…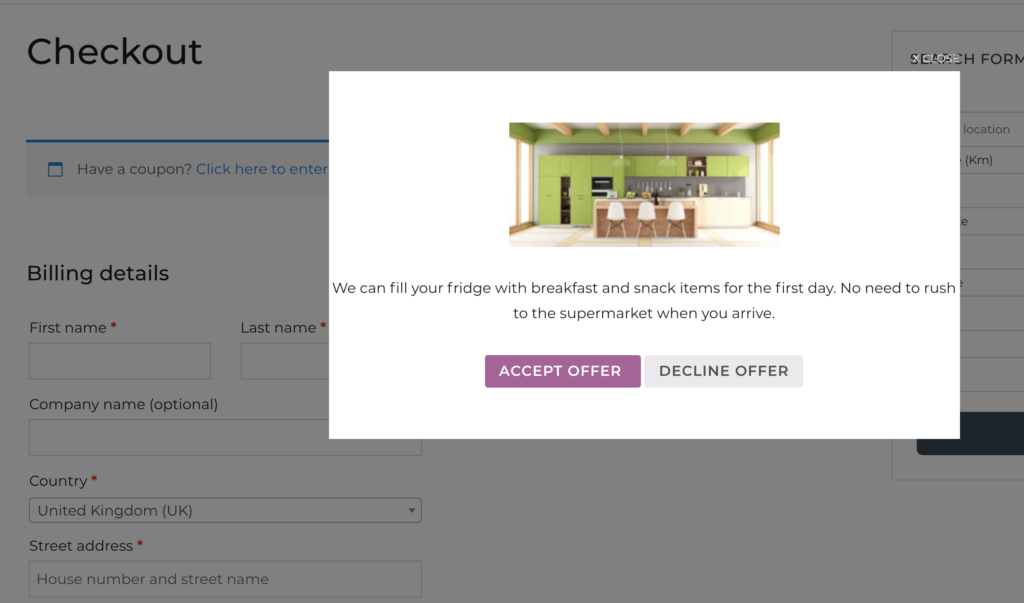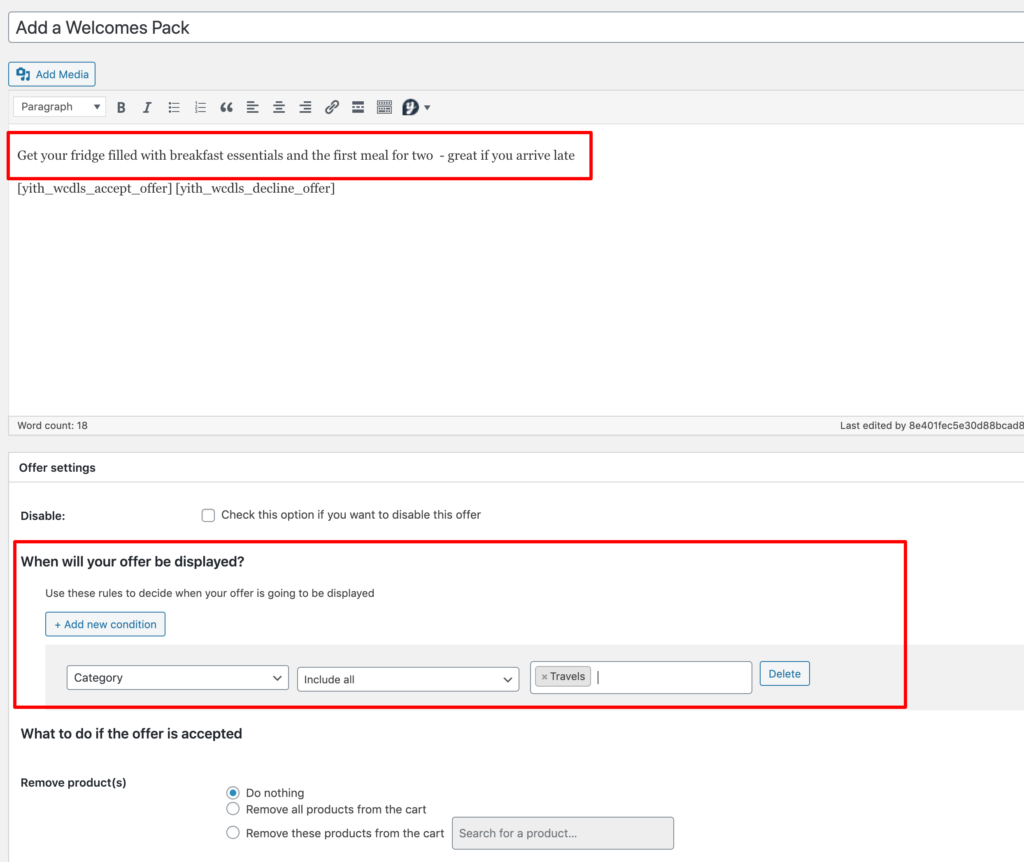 Wishlist – if you have a catalogue of options
Not everyone is ready to book without doing a bit of research first. Or it might be the case to save for later and share the accommodation options with friends. YITH WooCommerce Wishlist is a perfect plugin to do just that. A visitor can create an account and add their favourites to a list. The best part for the site owner is that you can see what is saved in this list and you can act on this by sending an email with an offer for available weeks or last-minute deals. This is obviously a very powerful feature compared to a customer sharing a link via social media for example.
(Please note that the wishlist does not store the selected dates)
Check out the demo and play with all the different settings. The YITH WooCommerce Wishlist recently had a revamp with code review and new design, making it one of the best wishlist plugins.
Sign up to send last minute offers
For past and future customers, it is a great way to keep in touch. Actually, it is much more than that, as you can push for a 100% occupancy by communicating offers of available weeks or seasons that are always low in occupancy. YITH WooCommerce MailChimp plugin collects customer's data, which can be tagged by interest, group, etc. With a signup form you can catch potential new customers who are undecided or are very early on with their research.
MailChimp is not all about sending emails with offers. You can ask for feedback after someone has stayed with you and improve your reviews and scoring.
Make it look good with Proteo
Proteo is our theme that is light, slick and very useful to get started with any WooCommerce project, and it's totally FREE!. It is compatible with almost all YITH plugins as well as with the Gutenberg blocks and many other page-builders.
Take a look at the Proteo demo here and for more details and features here
List of all plugins:
Make sure you are signed up to our newsletter as we often share discounts like this month, a 10% off on the featured plugins. However, the best value is when you sign up to our Clubs. Not only do you get the 5 plugins for one yearly price but you can access an additional 100 which can be installed in 6 or 30 sites each, giving you a value of over $16,000.